Starfield saw its proposed release date slip from later this year into 2023 recently, disappointing and exciting would-be PC and Xbox Series X players of Bethesda's upcoming space adventure in the process. As much as being made to wait for the game said to include multiple planets, each one bigger than the entire Skyrim map, the excitement comes from knowing Bethesda is under more pressure than ever to show something concrete at E3 2022. We already know a fair bit about Starfield's locations and story details, but we'll be keeping our eyes locked on the E3 2022 schedule for more in the coming weeks. Until then, here's everything we know about Starfield.
Starfield reveal trailer
The Starfield trailer might have leaked just hours before the Microsoft and Bethesda showcase, but it didn't make it any less exciting to see. The Starfield trailer shows alpha in-game footage of an employee of an organization called Constellation making their way through some sort of space base, before boarding a ship called Frontier NG 1350. The trailer ends with the release date, November 11, 2022, which we now know has slipped into 2023.
We got another peek at Starfield in progress thanks to the recent Skyrim 10th anniversary concert. Starfield composer Inon Zur introduced an orchestral performance of the 'Starfield Suite,' during which new concept art appeared on a screen. You can see the images in this clip from the concert.
Starfield release date on Xbox and PC just got delayed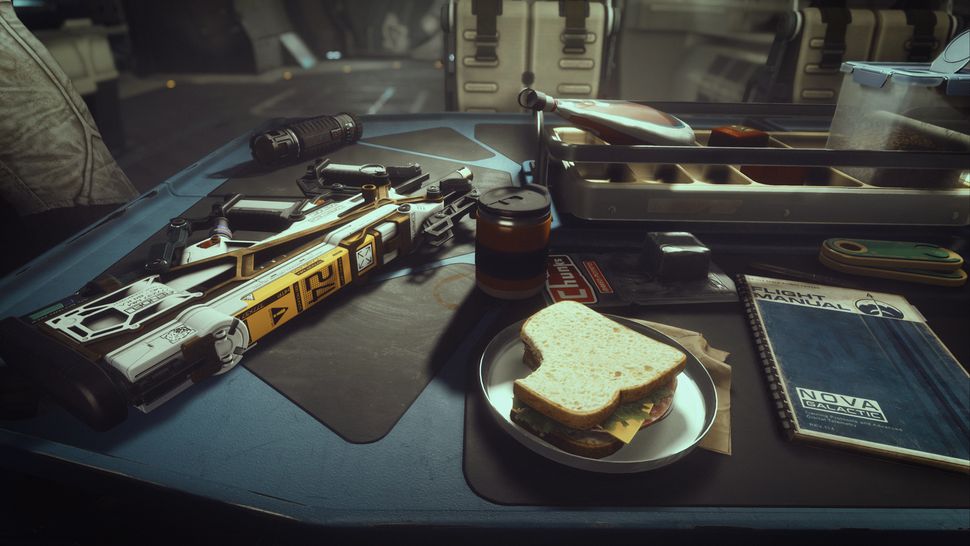 Sadly, the Starfield release date has now been delayed. Although we got a November 11, 2022 back at E3 2021, but that's now been pushed back.
On May 12, 2022, Bethesda confirmed the Starfield delay, alongside a similar push back for fellow Xbox exclusive Redfall. Starfield will now launch in "the first half of 2023", but with no specific date set.
"We've made the difficult decision to delay the launches of Redfall and Starfield to the first half of 2023. The teams at Arkane Austin (Redfall) and Bethesda Game Studios (Starfield) have incredible ambitions for their games, and we want to ensure that you receive the best, most published versions of them," said Bethesda in a Twitter post (opens in new tab).
"We want to thank everyone for their excitement for Redfall and Starfield. That energy is a huge part of what inspires all of us every day and drives our own excitement for what we are creating."
When Starfield does arrive though, it will be released on Xbox Series X, Xbox Series S, PC, and will be available on Xbox Game Pass on launch day.
The game was first announced in 2018 with a teaser trailer that really was all tease. Since then there have been rumors and leaks, but E3 2021 is our first real look at the game, or any details about it.
Bethesda Game Studios boss Todd Howard has called Starfield "the biggest most epic science fiction thing you could possibly imagine" during an interview with NoClip (opens in new tab). According to Howard, Bethesda has been working on the IP in some form or another for over ten years, though the company only filed the trademark in 2013, which was around the time it entered full pre-production on the game in earnest.
Still, four studios under the Bethesda Softworks family (Washington, Montreal, Dallas, and Austin) are currently helping out on Starfield in some form or another, which perhaps explains why Howard thinks the company is now "uniquely positioned to pull this game off." So yeah, Bethesda is really going to town on this thing, in case you had any doubts.
Starfield story and gameplay
Bethesda is known for its sprawling RPGs, and Starfield will be no exception. This is the official word from Bethesda:
"In this next-generation role-playing game set amongst the stars, create any character you want and explore with unparalleled freedom. Harnessing the power of next-gen technology and built on the all-new Creation Engine 2, Starfield takes you on a journey through space as you strive to answer humanity's greatest mystery."
In an interview with the Washington Post, the Starfield development team shared more intriguing details that hinted at what we can expect the game to feel like. While Todd Howard called it "Skyrim in space", Bethesda MD Ashley Cheng compared it to Star Wars.
"For me, Starfield is the Han Solo simulator. Get in a ship, explore the galaxy, do fun stuff," said Cheng.
The interview also confirms that, as in Skyrim and Fallout, you'll be able to customize your character to make your adventure feel more personal. The game is set around 300 years in the future, so while some tech will feel familiar, there will be a lot of new developments to get to grips with, like a helpful robot companion called Vasco.
"He's a utilitarian heavy industrial machine well suited to the rigors of space travel," explained Starfield lead artist Istvan Paley in a video.
"Vasco's design is based on a standard type, a bipedal chassis capable of traversing rough terrain with all the survival gear and payload capacity needed for extended overland journeys. Vasco does have defensive capabilities should the need arise but his primary role is peaceful."
I don't want to sound insane, but I haven't even met Vasco yet but if anything ever happens to him I will murder everyone in the room.
"This is going to sound cliche, but I mean it," Howard said. "When you look up in the sky, there is this drive to know, what is out there? Are we alone? What are the origins of space and time and all of those things? What role does religion play in some of that as well? So, we do get into some big questions. I think a game like this is a good place to do that. There are movies and books that have done it as well, but we haven't seen a game do it in this way. And we'll see how successful we'll be."
If that has you excited, you should also check out this incredible concept art, showing Mandalorian-style weapon mounts.
In an interview with IGN, Howard also explained why now was the right time for the studio to make Starfield.
"We wanted to do something else for a long time, and play in a new universe. Well, if not now - I'm going back in time, we started right after Fallout 4, so 2015 - if not now, when?" Howard asked. "It felt like if we didn't do it then, the 'when' could be 'never.' So we felt pretty good with where Elder Scrolls was as a franchise - particularly with Elder Scrolls Online - that, hey, now is the time to do Starfield."
Starfield setting
Three Starfield videos gave us a sneak peek at some of the game's locations. All narrated by design director Emil Pagliarulo, they introduce us to the cities of New Atlantis, Neon, and Akila.
New Atlantis is the capital city of the United Colonies, so expect to find a lot of missions there. "The city is a true melting pot and its residents come from every race creed, and ethnicity says Pagliarulo. "In a lot of ways, New Atlantis is a true reflection of the future of our world."
Neon is a pleasure city. "The Xenofresh Corporation built a giant fishing platform on a rather nondescript aquatic world. They wanted to catch fish until they discovered a fish with psychotropic properties. They could make way more money selling a drug than they could fish.
"That drug is Aurora and is legal only on Neon. People come from all over to experience it and everything else Neon has to offer."
Finally, Pagliarulo introduced us to Akila, the capital of the Freestar Collective.
"The city itself is home to a variety of people," he explained.
"They all have one thing in common. They believe in the sanctity of personal freedom and individuality. Akila City is walled for a reason and stepping outside those walls means facing the deadly Ashta, alien predators that are a cross between a wolf and a velociraptor."
Starfield mod support
Good news for the technologically creative, Starfield will support mods.
"Our plan is to have full mod support like our previous games," said Howard in a Reddit AMA.
"Our modding community has been with us for 20 years. We love what they do and hope to see more make a career out of it."
We'll keep you updated on all the latest Starfield news as it happens. Until then, this is a big hitter on our list of upcoming Xbox Series X games.