Starfield traits are perks you can pick for a character build that add a balance of pros and cons to certain abilities. You can have three in total with the trick being balancing the advantages and disadvantages they unlock with your play style. There's no point picking a trait that gives you a buff with a companion, and a debuff if you're alone alone and then never taking anyone with you. Or how about an Alien DNA trait that makes you the product of a weird experiments that means you have higher health and endurance but find healing items don't work as well on your altered form.
Starfield traits are very distinct from the Starfield background and starting skills you use to initially set up your characters, and the Starfield skills then level up to develop them. Traits also seem to be permanent at the moment. That's not to say a respec option is out of the question, although considering how these can tie into things like factions, religions and even home ownership, it seems unlikely you'll be able to change things.
So Starfield traits have a significant impact on your character and because of that let's take a look at what we know about them in Starfield, what options are available and what thay do.
All Starfield traits we know about so far
Here's the full list of the 16 Starfield traits we currently know about:
Alien DNA
Dream Home (originally Starter Home)
Empath
Extrovert
Freestar Collective Settler
Hero Worshiped (originally Unwanted Hero)
Introvert
Kid Stuff
Neon Street Rat
Raised Enlightened
Raised Universal
Serpent's Embrace
Spaced
Taskmaster
Terra Firma
United Colonies Native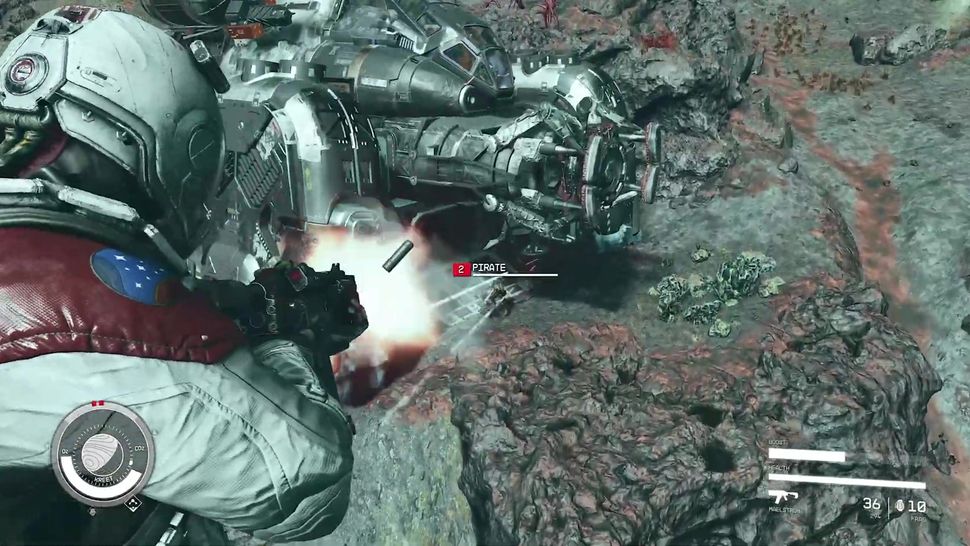 Starfield ship building and customization
Of course, no background is prevented from building and piloting their own giant spaceship. Find out about Starfield ship customization here!
Starfield Traits seem to largely function as perks, with each one giving you some sort of buff and debuff combo. Depending on your playstyle, or allegiance to a group. faction or religion, you might be willing to take the downsides for the advantage you get in return.
It's basically a balancing act will give you a small, usually fairly specific advantage to some small skill or ability, countered by a similarly specific disadvantage. It's up to you to weight up the literal pros and cons. Does starting with a base via the Dream Home make the 50K a week mortgage you have pay off seem worth it? Is Spaced's ability to get extra health in space worth the cost of being weaker on a planet? It all depends on what you think you'll actually be doing.
Starfield traits and effects explained
Below are the effects of all the Starfield traits we've seen revealed.
Starfield Alien DNA trait
Pros: Higher health pool and greater endurance
Cons: Healing items are less effective
Starfield Dream Home trait (originally Starter Home)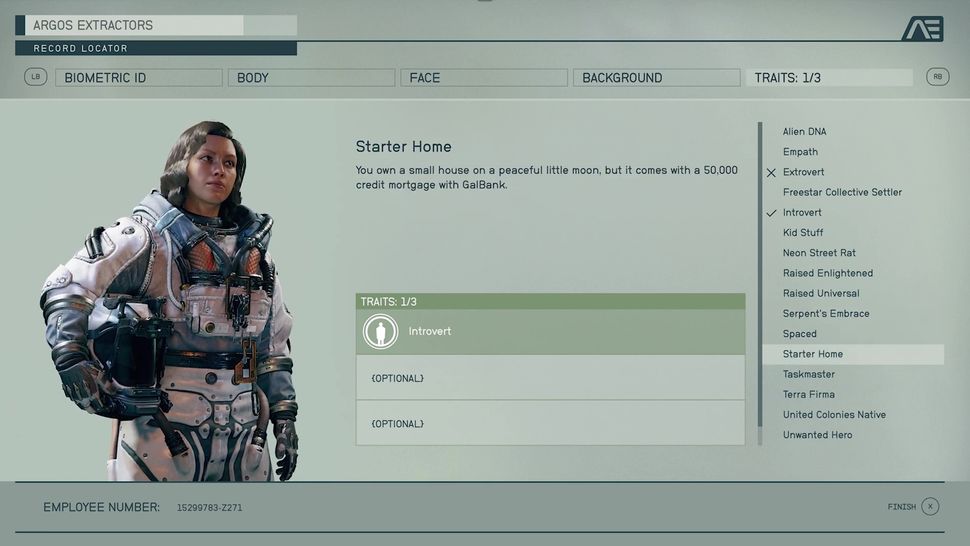 Pros: You start with a small house on a "peaceful little moon"
Cons: You have a 50,000 credit mortgage with GalBank (exact payment methods and penalties unknown)
Starfield Empath trait
Pros: Performing actions your companion likes creates a temporary increase in combat effectiveness.
Cons: Performing actions your companion dislikes creates a temporary decrease in combat effectiveness
Starfield Extrovert trait
Extrovert
Pros: Exerting yourself using less oxygen adventuring with human companions.
Cons: Exerting yourself using more oxygen adventuring alone.
Starfield Freestar Collective Settler trait
Pros: Access to special Freestar Collective dialogue options and better faction rewards.
Cons: Crime bounties towards other factions are greatly increased.
As a Faction Allegiance trait this can't be combined with another Faction Allegiance trait. (See more about Starfield factions here.)
Starfield Hero Worshipped trait (originally Unwanted Hero)
Pros: A talkative 'adoring fan' will appear randomly and give you gifts.
Cons: A talkative 'adoring fan' will appear randomly.
Starfield Introvert trait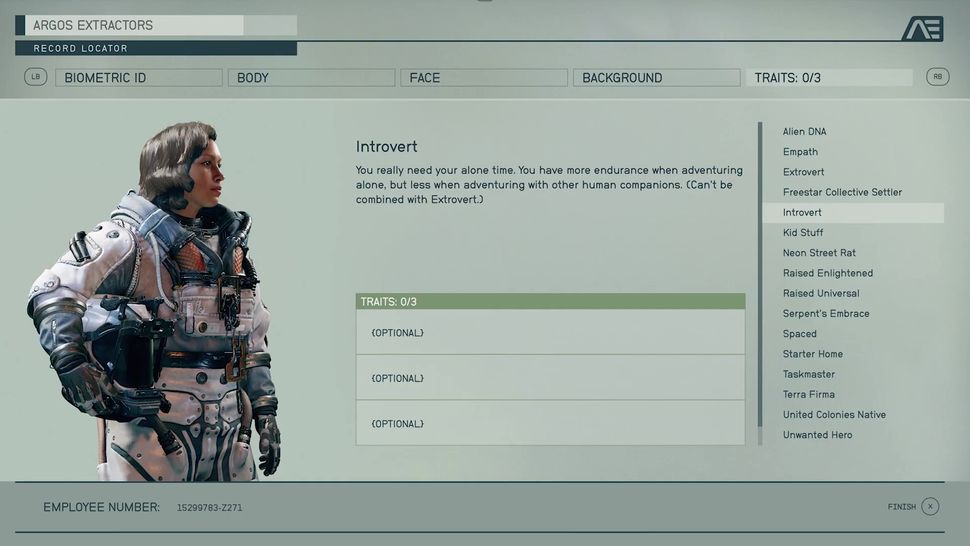 Pros: Greater endurance when adventuring alone
Cons: Less endurance when adventuring with other humans
Notes: Can't be combined with Extrovert trait
Starfield Kid Stuff trait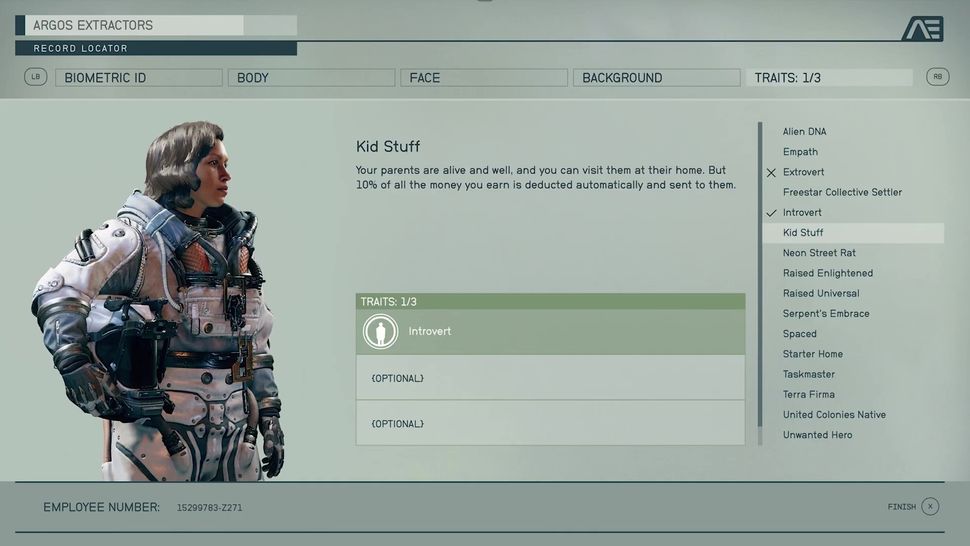 Pros: You can visit your parents at their home (exact benefits unknown)
Cons: 10% of all money you earn is automatically sent to parents
Starfield Neon Street Rat trait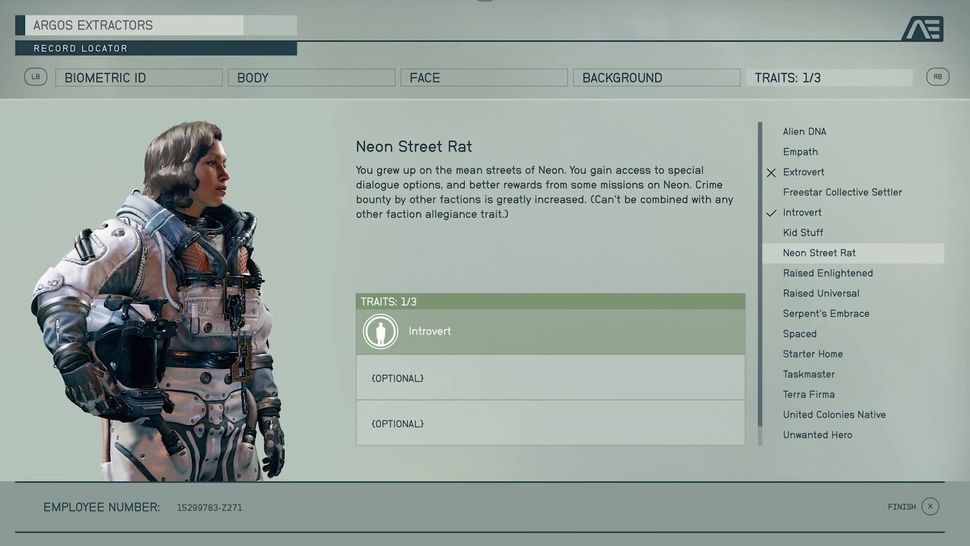 Pros: Special dialogue options and better rewards from certain missions from Neon
Cons: Crime bounty by other factions is greatly increased
This is a Faction Allegiance trait, and cannot be combined with another Faction Allegiance trait. Learn about the city of Neon with our Starfield cities guide.
Starfield Raised Enlightened trait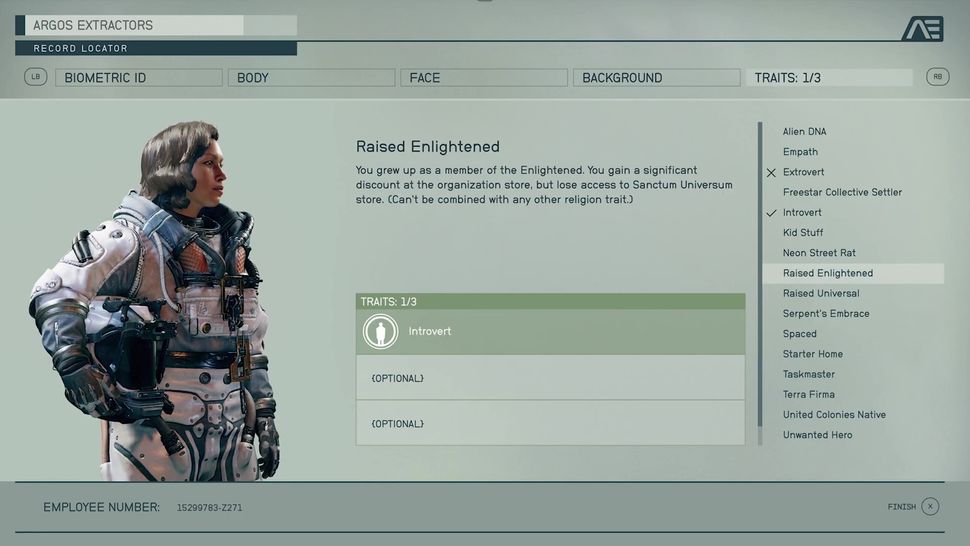 Pros: Significant discount at Enlightened organisation store
Cons: Lose access to Sanctum Universum store
As a Religion trait this cannot be combined with another Religion trait.
Starfield Raised Universal trait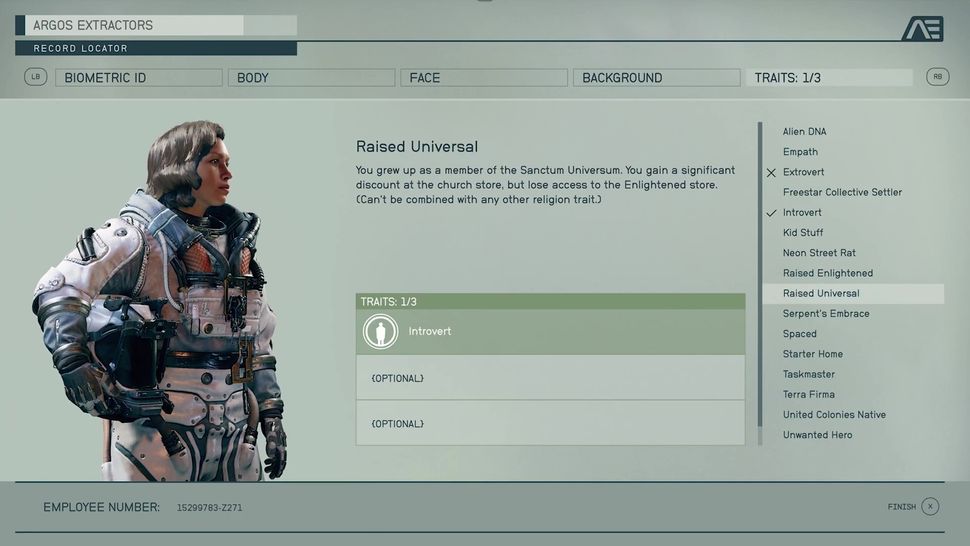 Pros: Significant discount at Sanctum Universum store
Cons: Lose access to Enlightened store
Cannot be combined with another Religion trait.
Starfield Serpent's Embrace trait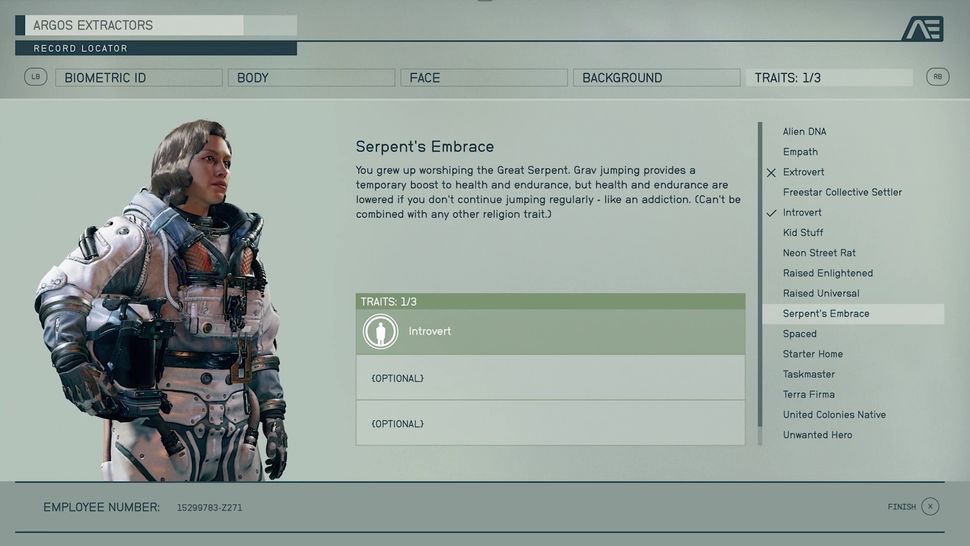 Pros: Grav jumping provides a boost to health and endurance
Cons: Health and endurance are lowered if you don't grav jump regularly.
Religion trait - can't be combined with another Religion trait.
Starfield Spaced trait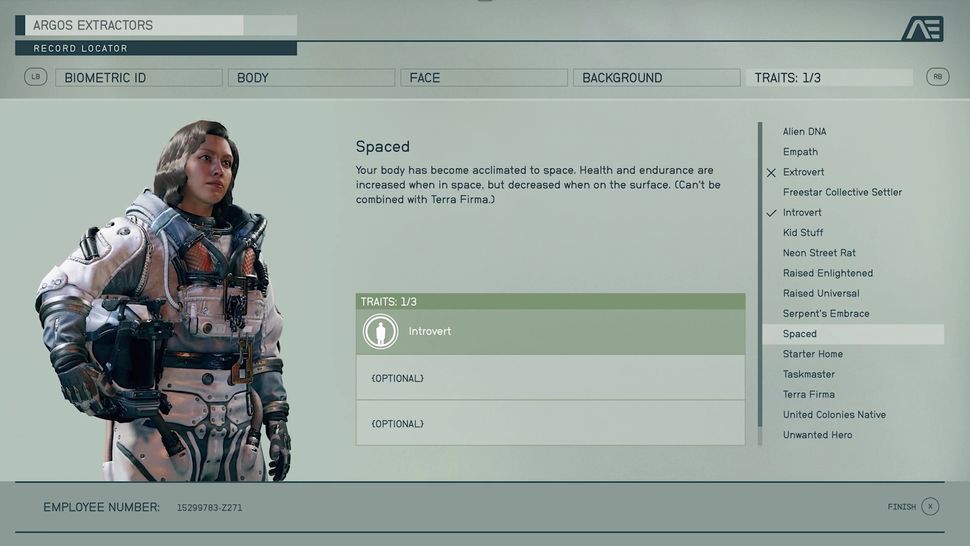 Pros: Health and endurance are increased when in space
Cons: Health and endurance are lowered when on the surface
Can't be combined with Terra Firma trait