We may steadily be approaching the end of year, but that doesn't mean the upcoming game releases are slowing down anytime soon. This list of new games of 2019 is here to help you stay on top of all the great releases heading our way, because let's face it, there's a lot of them. With titles like Pokemon Sword and Shield and The Outer Worlds just around the corner, we really are spoilt for choice already, but there also so many games coming out beyond 2019 that you can look forward to as well. This list is continually expanding with a hearty list of all the best future titles coming to PS4, Xbox One, Nintendo Switch, and PC. There are also some smaller indie numbers to keep things interesting.
We've helpfully put this list together in order of release date so you can stay on top of what's coming out first. From big releases like Cyberpunk 2077 to Death Stranding and Animal Crossing: New Horizons, to newly announced games like Need for Speed Heat that have recently been added, there's something for everyone to get hyped about. So if you want to make sure you've got the right release date booked off work, or you want to make sure you have all the best upcoming releases on your radar, get ready to take a trip through the best upcoming games of 2019 (and beyond).
Code Vein
Platform(s): PC, PS4, Xbox One
Release date: 27 September, 2019
You'd be hard-pressed to find a game that blends anime vampires, gothic horror, and grim depictions of a metropolitan apocalypse than Code Vein, an intriguing new action RPG from Bandai Namco. You and your AI-controlled partner will roam the thorny, defiled wastes, slaying monsters and sucking up blood wherever you can as you slice up enemies in familiar 'dodge, attack, disengage, repeat' fashion. The enemy designs are Anime Bloodborne to a tee, with slime waifus and knights clad in impossibly bulky armor, and it looks like there will be plenty of cutscenes to help establish a sweeping story amidst all the action.
Indivisible
Platform(s): PC, PS4, Xbox One, Switch
Release date: October 8, 2019
Back in 2015, over $2 million in crowdfunding was raised for Indivisible, and it's easy to see why: this RPG/Metroidvania hybrid has gorgeously drawn, beautifully animated visuals and inventive combat mechanics to match the captivating presentation. Made by Lab Zero Games, the studio behind the equally stylish fighter Skullgirls, Indivisible follows the intrepid Ajna as she encounters environments and monsters inspired by Southeast Asian mythology. As you explore 2.5D forests, temples, and tombs using your host of acrobatic abilities, you'll recruit party members called Incarnations (which boast some delightfully unconventional character designs). The Indivisible Prototype Beta is still available on PSN if you want to check it out, and the game's come a long way since that already-impressive showing.
The Outer Worlds
Platform(s): PC, PS4, Xbox One
Release date: October 25, 2019
If you're one of the many folks who was disappointed by the largely lifeless wasteland of Fallout 76, and you've still got a hankering for a truly great first-person RPG, The Outer Worlds could very well be the cure for what ails ya. This sci-fi adventure comes to us courtesy of Obsidian Entertainment, the studio behind Fallout: New Vegas, and it's packed with space-age personality. You'll meet chatty NPCs and shoot up all kinds of bandits and rogue robots during your travels, exploring an alien frontier that blends the Wild West with the Silver Age of space heroics. If you have a soft spot for Fallout, Borderlands, Rage, or any combination of the three, The Outer Worlds is definitely one to keep an eye on.
Death Stranding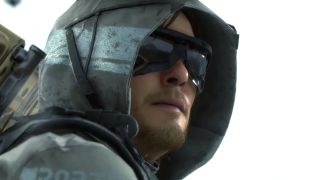 Platform(s): PS4
Release date: November 8, 2019
Death Stranding is Hideo Kojima's first game after the Metal Gear franchise, and it's exclusive to PS4. Naturally, it features weird old babies and stars Norman Reedus, Mads Mikkelsen, Lea Seydoux, and other familiar faces from Hollywood. Each trailer has generated even more questions while giving few answers, but everything we've seen has been breahtaking, with main character Sam (Reedus) narrowly avoiding all kinds of nightmarish creatures as he delivers parcels around the world. Here's the best breakdown you'll read, but if you want the TLDR version: it's Kojima doing another high-quality action adventure with a ridiculously big budget, so get excited.
Need for Speed Heat
Platform(s): PC, PS4, Xbox One
Release date: 8 November 2019
Need for Speed is making a comeback and it's bringing the Heat to roads of the fictional open-world of Palm City. In a turbo-powered trailer shown at Gamescom 2019, the neon-tinted title and speedy vehicles want to shift the series up a gear with competitions by day and illegal racing by night. The money you earn in competitions can be used to fully customise and kit out your cars so you can really try to be the best illicit racer there ever was and give the police the slip while you're at it. The authorities are said to play by the rules during the day, but they'll still come after you. At night though, they will come in hot pursuit. You'll have a heat metre, and the higher it is, the more police attention you'll get. This is one to watch if you're looking to give your racing itch a good scratch.
Pokemon Sword and Shield
Platform(s): Switch
Release date: November 15, 2019
Game Freak's best-known series officially enters Generation 8 now we know Pokemon Switch is called Pokemon Sword and Shield, the second set of mainline games on the Nintendo Switch after Pokemon Let's Go Eevee and Pikachu. The catch-'em-all, Gym-battling adventure takes place in the region of Galar this time around, which resembles modern-day England with its sprawling, picturesque countryside, contemporary city, and snowy villages. We're already having the most difficult time choosing between the three Pokemon Gen 8 starters, but social media seems to be quite taken with Sobble, the timid Water Lizard type.
Star Wars Jedi: Fallen Order
Platform(s): PC, PS4, Xbox One
Release date: November 15, 2019
Respawn Entertainment's Star Wars Jedi: Fallen Order had quite the showing at Star Wars Celebration 2019, and it looks like the Star Wars game we've been waiting for. This single-player, third-person adventure follows Cal Kestis, an incognito Jedi who avoids detection by following three cardinal rules: "Don't stand out. Accept the past. Trust no one." But when he uses the Force in desperation, he finds himself on the run from an Imperial Inquisitor known as the Second Sister, who will stop at nothing to wipe this Jedi out like all the rest. Fallen Order takes place between Episodes 3 and 4 (hello there, Star Wars: Rogue One), when Order 66 is in full effect, so we can't wait to see how Cal fights for his survival using his lightsaber, Force powers, and wits.
Shenmue 3
Platform(s): PC, PS4
Release date: November 19, 2019
The Shenmue series was never a huge commercial success, but thanks in part to Kickstarter and thousands of fans' hard-earned dollars (plus some generous funding from Sony), the project is fully underway. In Shenmue 3, you'll take the role of a martial artist named Ryo Hazuki as he attempts to uncover who is responsible for his father's murder. It promises to have gameplay reminiscent of the previous titles, enabling players to take on enemies in hand-to-hand combat, upgrade combat abilities, and explore a living world full of villages, shops, and an active populous.
Doom Eternal
Platform(s): PC, PS4, Xbox One, Switch
Release date: November 22, 2019
Of course a sequel to 2016's Doom reboot is happening. Not only was it a magical comeback for FPS veteran developer id Software, but the game's flippant approach to contemporary game design and indulgent storytelling was a breath of fresh air in a claustrophobic corridor of play-it-safe products. Doom Eternal will bring the horrors of Hell to the Terra Firma itself, and Doomguy is not happy about it. Ready your trigger fingers for another epic battle with the underworld's pantheon of demonic fiends and nasties.
Click 'Next Page' below to see even more new games of 2019 and beyond!