As 2018 comes to a close, it's time to start looking ahead to all the fantastic new games of 2019 (and beyond, in the case of to-be-confirmed release dates). Maybe you're still making your way through the best games of 2018, but it's never too early to look ahead to the future, and figure out what you need to start saving up for. We've compiled some of the biggest new games of 2019 that we're looking forward to, along with some sleeper hits you might not know about (or forgot existed). It's all ordered by release date for easy browsing, with weekly updates to expand the lineup and catch any new announcements or narrowed-down launch windows. So be sure to check back regularly, and prepare yourself for another year of wonderful games big and small.
Ace Combat 7: Skies Unknown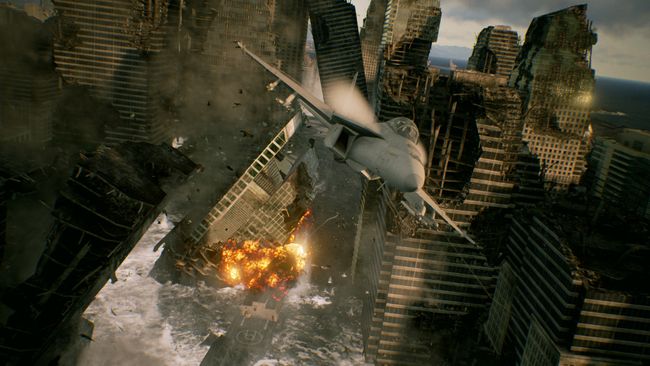 Platform(s): PS4, Xbox One, PC
Release date: January 18, 2019
Bandai Namco's cult favorite series of flight sims is gearing up for a big comeback, bringing the dogfighting action back to the alternate universe of Strangereal for Ace Combat's current-gen debut. The fast-paced aerial skirmishes look great whether you're piloting from the first-person cockpit or a third-person view, and the campaign promises to contextualize the theater of war in the skies with a healthy dose of political intrigue and Top Gun-esque melodrama. Those who own a PlayStation VR headset get the added bonus of PS VR-exclusive missions that should ideally make you feel like you're actually flying your very own fighter jet.
Travis Strikes Again: No More Heroes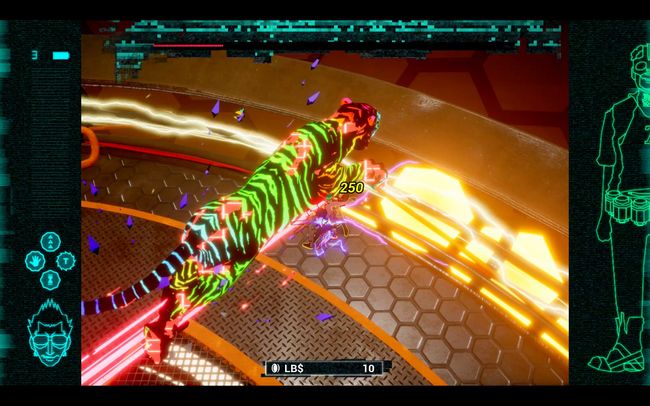 Platform(s): Switch
Release date: January 18, 2019
The brash, twisted, beam katana-wielding assassin Travis Touchdown is back, and he's looking stylish as ever. Don't think of this as No More Heroes 3 - instead, it's something of a spin-off, revolving around crossovers with notable indie games like Hotline Miami. Badman, the burly father of the slain Rank #2 assassin Bad Girl, is itching for some murderous revenge on our sideburned anti-hero. But while the two are duking it out, they're sucked into the Death Drive MK-2 game console, trapping them in deadly worlds lifted from beloved indie hits. Expect Suda51 and his team at Grasshopper Manufacture to stuff Travis Strikes Again full of their trademark panache, absurdity, and over-the-top violence.
Resident Evil 2
Platform(s): PS4, Xbox One, PC
Release date: January 25, 2019
Fans demanded it, and Capcom has responded in kind. The Resident Evil 2 remake takes you back to a survival horror classic, reacquainting us with Leon Scott Kennedy and Claire Redfield as they fight for their lives in the virus-infected Raccoon City. It's staggering to see what the Resident Evil 7 engine (and 20 years of graphical progress) has done for the visual revamp of this 1998 classic: the highly detailed zombies are covered in blood, slime, and rotting flesh, and the foreboding environments look frighteningly lifelike. The third-person, over-the-shoulder camera should bring the gameplay more in line with modern expectations, making for some truly claustrophobic scares, and the reimagined cutscenes strive to be legitimately spine-chilling as they retell the original story. Put simply, this remake won't be for the faint of heart.
Kingdom Hearts 3
Platform(s): PS4, Xbox One, PC
Release date: January 29, 2019
What better way to start the year than with the ultimate Final Fantasy/Disney mash-up? Kingdom Hearts 3 may have been delayed again at E3 2018, but this time Square Enix is really serious about its January launch window, with a firm date in sight for the proper threequel in the beloved series of titles. From Frozen to Wreck-It-Ralph, Kingdom Hearts 3 is making full use of the Disney brand, but the question is whether the gameplay of the PlayStation 2 era still holds up so many years later. Not long until we'll be able to say for sure...
Jump Force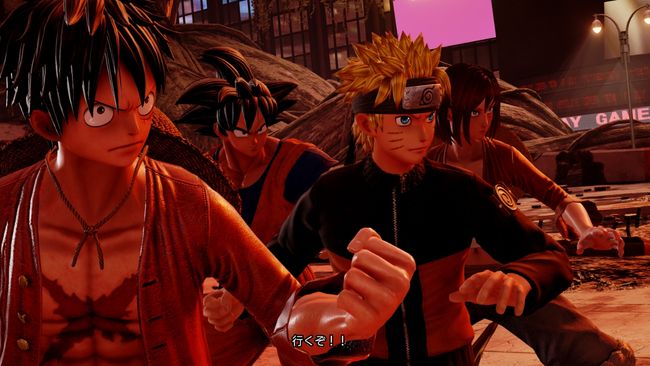 Platform(s): PS4, Xbox One, PC
Release date: February 15, 2019
For anyone unfamiliar with the longstanding series of Shonen Jump crossover fighters, you've been missing out on some all-out brawls between characters from the biggest anime and manga properties around. Bandai Namco's Jump Force is the latest to join the legacy, with fighters hailing from Dragon Ball Z, One Piece, Naruto, and Bleach, to name just a few. There are some atypical features to this 3v3 brawler: the action is viewed from a behind-the-back, third-person perspective, and your trio of combatants share one health bar even as you switch between them or call in assists. It may not have the competitive depth of its fighting game peers, but Jump Force looks like it'll be a fun time for fans thanks to its wildly diverse roster of iconic heroes and villains.
Crackdown 3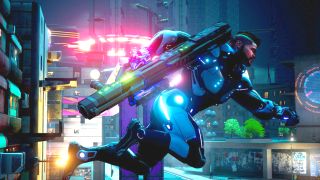 Platform(s): Xbox One, PC
Release date: February 15, 2018
In Crackdown 3 you're a super-cop in an open-world city, using your powers to fight crime and smash the whole place up in the process. While there's still a story campaign to tackle, the online co-op for up to four players is where it's at, letting you and your Agency buddies tear up this futuristic metropolis in chaotic style. You'll be leaping between buildings using your jumpjets in one moment, then raining down high-tech bazooka missiles onto any poor criminals the next. The addition of Terry Crews as a playable character is the perfect cherry atop this city-obliterating sundae.
Anthem
Platform(s): PS4, Xbox One, PC
Release date: February 22, 2019
Anthem is essentially EA's answer to Destiny: a shared-world shooter that aims to fully immerse players in a gigantic sci-fi universe. You play as a Freelancer (don't call them Guardians) engaging in third-person, Mass Effect-style shootouts, armored up in your Javelin exosuit to explore and exterminate within some gigantic alien biomes. As you might expect, there's an emphasis on party play (for up to four-player co-op) and the pursuit of increasingly impressive loot. It's also promising to hear that Anthem will be penned by the writer of KOTOR and the first two Mass Effect games. Fingers crossed that Anthem will circumvent all the microtransaction controversy and ire that plagued Star Wars Battlefront 2 by skipping purchasable, randomized loot boxes entirely.
Metro Exodus
Platform(s): PS4, Xbox One, PC
Release date: February 22, 2019
Metro Exodus is the third game in this criminally underappreciated post-apocalyptic FPS series, transporting you to the irradiated ruins of modern civilization, now teeming with mutated animals, which somehow still manage to look beautiful (in a bleak, desolate kind of way). You play as a hardened survivor slowly making your way across Russia during a harsh nuclear winter, fending off gigantic rats in abandoned subway tunnels and scavenging for supplies topside. Just be sure to keep an eye out for any radioactive bears that could get the jump on you.
Devil May Cry 5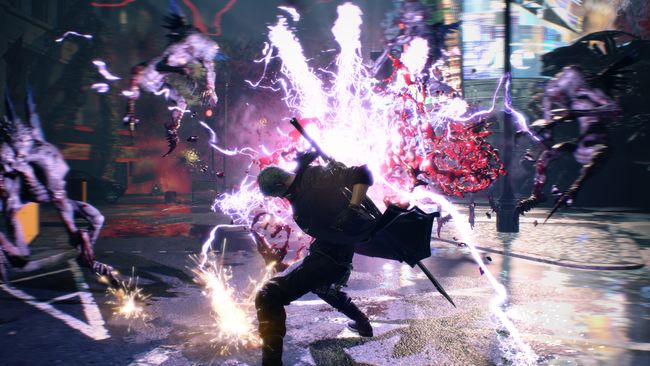 Platform(s): Xbox One, PS4, PC
Release date: March 8, 2019
Devil May Cry 5 keeps the grimy aesthetic from Ninja Theory's DmC, but ditches the reboot's plot for a continuation of the numbered games' story. Described by Capcom as a "true sequel" to Devil May Cry 4, the game puts players in control of Nero, a demon hunter with a robot arm and sword he can rev like a motorcycle engine. Yes, it's a bit silly. But who cares when your game's hero is surfing rockets like a surfboard right into a demon's face?
Sekiro: Shadows Die Twice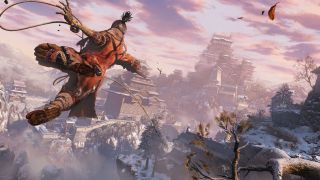 Platform(s): PS4, Xbox One, PC
Release date: March 22, 2019
A new game from the masters of the action-RPG FromSoftware tends to be a blessing and a curse all at once. A blessing, because it means another lovingly crafted world to explore and soak up for months. A curse, because it also means we're going to be terrified, beat up, and killed over and over again by the studio's punishing approach to gameplay challenge. Set in a mythologised take on Feudal Japan, Sekiro: Shadows Die Twice will continue the FromSoft hack-and-slash tradition with thematic tweaks and forward-thinking changes to suit the new milieu. The most enticing feature spotted so far? A grappling hook, which could drastically change how we traverse the expertly made zones and arenas. Get ready to die all over again.
Click 'Next Page' below to see even more new games of 2019 and beyond!