2023 is here, which means we're on the countdown to the launch of Starfield and Redfall as probably the biggest contenders for the best Xbox Series X games for the year (confirmed so far anyway). Just the presence of those two alone will no doubt cause chaos on this list, and that's before we even get to anything else that's due to drop over the next 12 months. We've actually had a sneaky new addition to the list in the form of Hi-Fi Rush, which stealth launched in February and took us all by surprise – both by existing, and also by how seriously awesome it is.
In our pick of the best Xbox Series X games, you'll find a range of third-party delights and Xbox exclusives, you're sure to find something here that speaks to you. For those who have an Ultimate subscription on Xbox, it's also worth noting that many of these gems can be found in our selection of best games on Xbox Game Pass. So, if you're looking for something to tuck into on the latest Xbox console, read on below to discover our list of the best Xbox Series X games you can play right now.
25. Control Ultimate Edition
Remedy Entertainment earned itself a reputation for creating wonderfully immersive worlds and creative combat systems through Alan Wake, Max Payne, and Quantum Break. That's something which the studio took to the next level with Control, a supernatural action game where Jesse Faden must learn to navigate the labyrinthian Oldest House and battle against the Hiss as they begin to seep through the cracks of reality. While Control originally released in 2019, the Ultimate Edition arrived a year later bringing 4K visuals and slick 60 frames-per-second performance to Xbox Series X, making it one of the best action games available on the platform.
24. Tunic
There's more to Tunic than meets the eye. On the surface, it looks like a cutesy adventure which stars an adorable fox. And while the fox is indeed adorable and the visual design is entirely cute, the underlying framework of Tunic is pretty unforgiving. It takes the style of 2D The Legend of Zelda games and mixes it with the combat fundamentals of the Dark Souls series, making for a challenging game that you'll delight in bashing your head against. With a weird world that you'll fall in love with and challenging encounters that'll test your reactions, Tunic is a must-play.
23. Gears Tactics
Turn-based tactics games on console are a somewhat risky proposition, but there's a comfortable rhythm to the cadence of Gears Tactics' combat that makes it easy to recommend – particularly if you're trying the genre for the first time. Gears Tactics is optimized to run on Xbox Series X at 4K resolution and 60 frames per second and, as a result, it looks beautiful, runs smoothly, and plays surprisingly well with a controller – although the option to plug in a mouse and keyboard is there if you want it. Gears Tactics sets a benchmark for how turn-based tactics games can play on new-generation systems, should more developers choose to bring the genre over from PC.
22. It Takes Two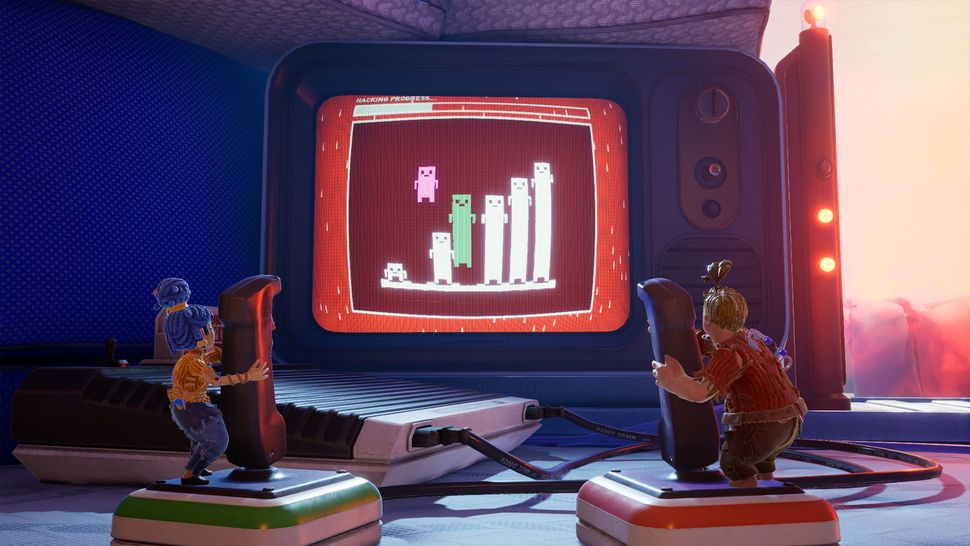 It Takes Two is one of the most innovative puzzle games on Xbox Series X. In fact, it's also one of the best co-op games, with developer Hazelight specifically engineering this exploration of fracturing relationships to be played by two players sitting on the same couch. Whether you decide to play it online or locally, It Takes Two is a powerful adventure which takes great pleasure in bending genre expectations – constantly switching up its control schemes and gameplay mechanics to ensure that this is one experience which will always keep you guessing.
21. Marvel's Guardians of the Galaxy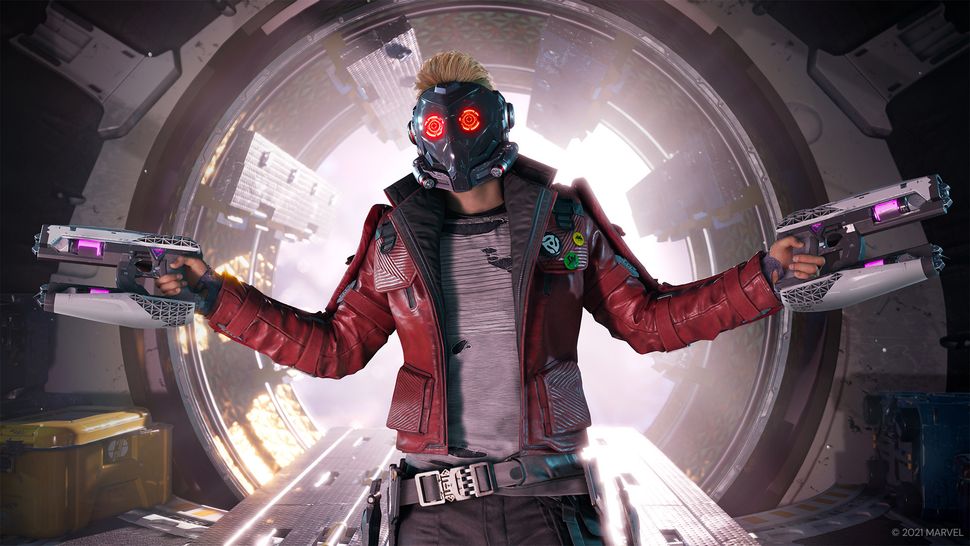 Simply put: Guardians of the Galaxy is one of the best Marvel games around right now. It's a genuinely delightful, absurdly generous single-player adventure which is standalone from the movie and comic book versions of these outlandish characters. Marvel's Guardians of the Galaxy features some truly outrageous scenario design and story beats, which blend nicely with the tactical combat and light RPG progression systems. Basically, Guardians of the Galaxy is a whole lot of fun, and as an added bonus, it also has one of the best rock soundtracks to ever grace a video game.
20. Assassin's Creed Valhalla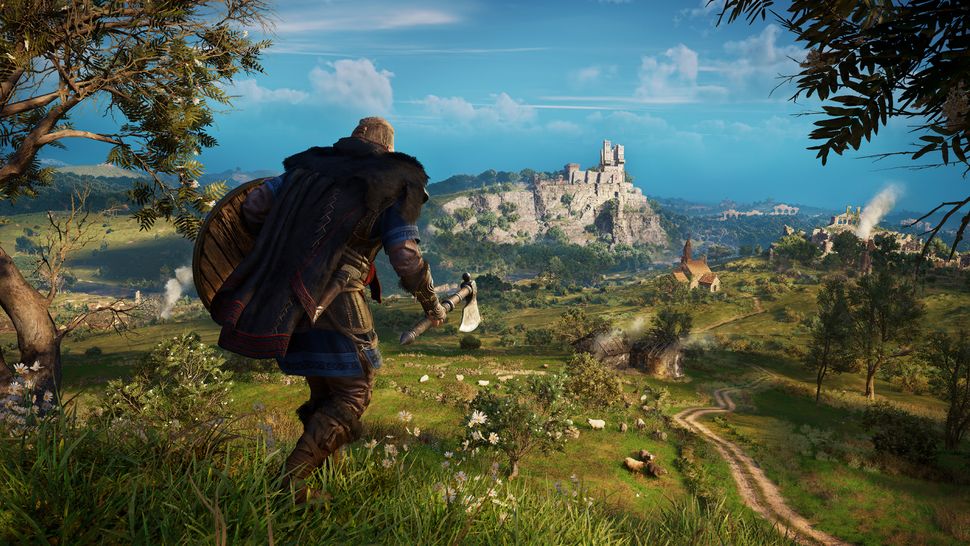 Assassin's Creed Valhalla launched alongside the Xbox Series X on November 10, and it's a clear day one purchase for any of you that are after a sprawling open-world adventure to show off the capability of the new generation of consoles. Running at 4K and a stable 60 frames per second, Assassin's Creed Valhalla looks quite unlike any other game in the series that has come before it. Not only does it look stunning and feel incredibly smooth, but it also boasts wickedly quick load times that help to ensure that your journey across England's Dark Ages in the 9th Century is frictionless. Assassin's Creed is back and better than ever.
19. Vampire Survivors
Vampire Survivors may look like a retro throwback, but the worst thing you can do is write this game off without trying it for yourself first. Just be warned: Vampire Survivors is the ultimate time vampire; developer Poncle has created a twin-stick shooter here with an uncanny ability to just decimate your spare time, with hours slipping away into the pursuit of surviving until dawn against waves of thousands of enemies. Vampire Survivors has a simple premise, but its simple control scheme and light roguelike elements combine to create something that is exceptionally difficult to put down.
18. Gears 5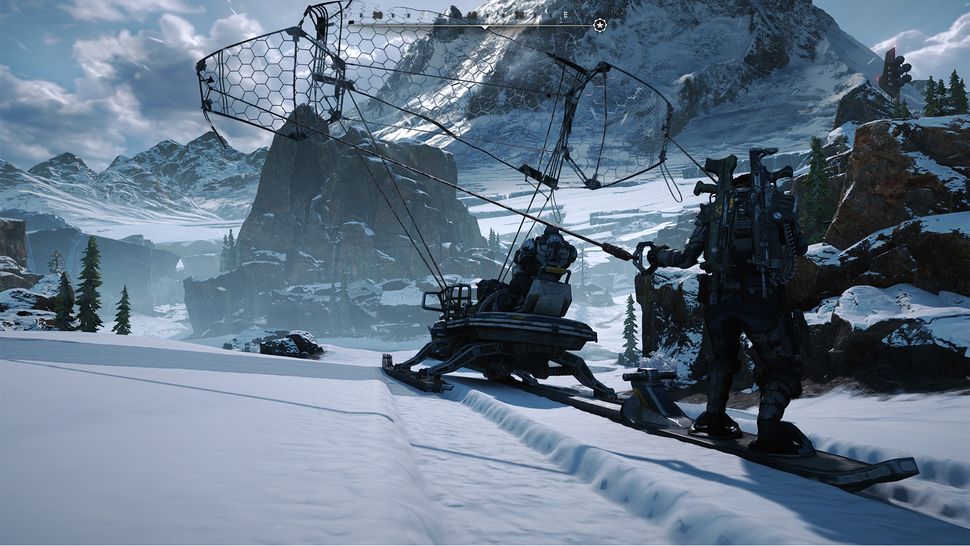 Available as a standalone purchase and through Xbox Game Pass, Gears 5 is the game you'll want to stick on once it's safe to have friends over to your house. Gears 5 launched in 2019 and The Coalition has spent much of the last year optimizing its action game for Xbox Series X, working to deliver stunning native 4K graphics and 60 frames per second performance for the game's campaign. If you've never played a Gears of War game, Gears 5 is a great place to start and undoubtedly one of the best entries into the series yet. Should your 4K TV support it, there are also 120hz performance modes for multiplayer for a faster, more responsive experience. Don't sleep on Gears 5.
17. Microsoft Flight Simulator
Microsoft Flight Simulator can often feel like a window into a different world. From the comfort of your living room you can travel to any corner of the globe, in some of the most impressive airplanes ever designed. Microsoft Flight Simulator is a genuine wonder, regardless of whether you're playing with a controller or if you've made the investment in one of the best joysticks for flight simulators. If you're curious, give this one a try on Xbox Game Pass and see if you're into it – Microsoft Flight Simulator can be challenging, given the complexity of the simulation, but there's no better feeling than soaring through the skies once you get the hang of it all.
16. Hi-Fi Rush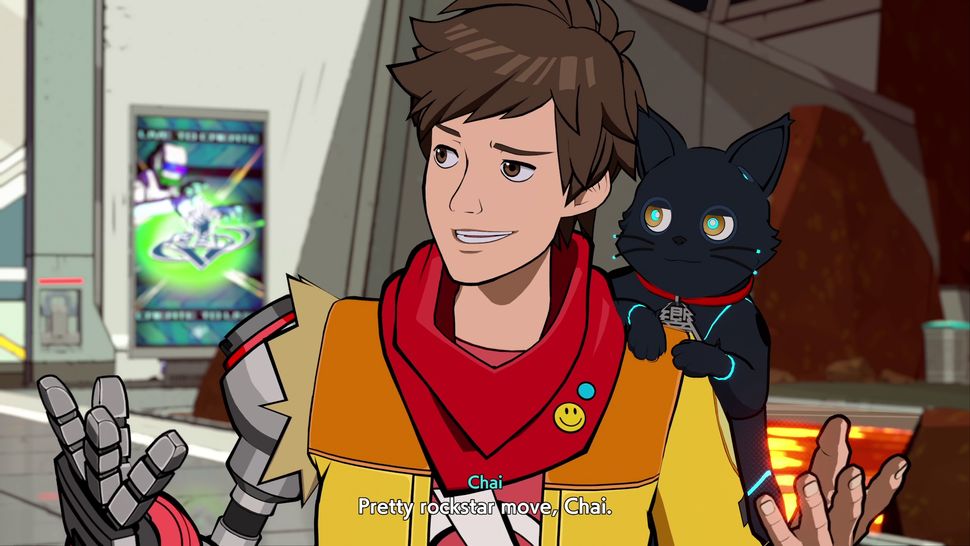 Hi-Fi Rush launched as a complete surprise at an Xbox live-stream event, and has immediately leapt into the list of best Xbox Series X games. It was a surprise in so many ways, particularly as this colorful, cel-shaded, rhythm action title is coming from the same game studio that brought us The Evil Within and Ghostwire: Toyko. Horror this is not. Instead, it's a toe-tapping action game where you let loose attacks and build up combos by moving to the beat. It's mad fun, with an epic soundtrack, creative boss fights, and amusing music-inspired finishing moves. It's a genuine triumph from Tango Softworks.
15. Mass Effect Legendary Edition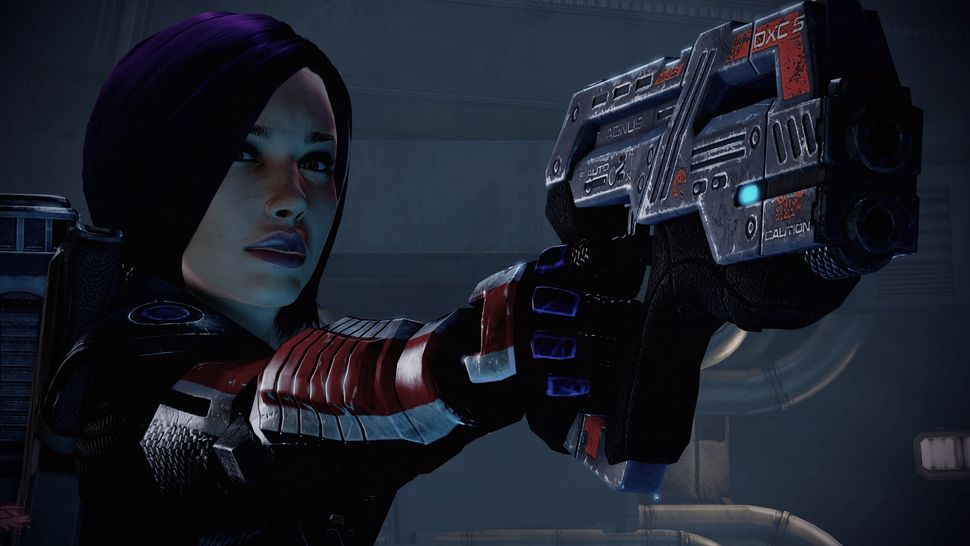 Taken individually, the video games which make up the Mass Effect trilogy are long considered to be some of the best RPGs of the modern era. That's why the Mass Effect Legendary Edition is so essential; BioWare has taken its three legendary role-playing adventures and given each an impressive remaster treatment – not only bringing the visuals up to modern standards, but ironing out some of the creases in their original design. Environments have been streamlined, combat is smoother than ever before, and the incredible story – charting Commander Shepard and the crew of the Normandy's struggle against an invading synthetic-organic force – is even better when played in one package.
14. Dead Space Remake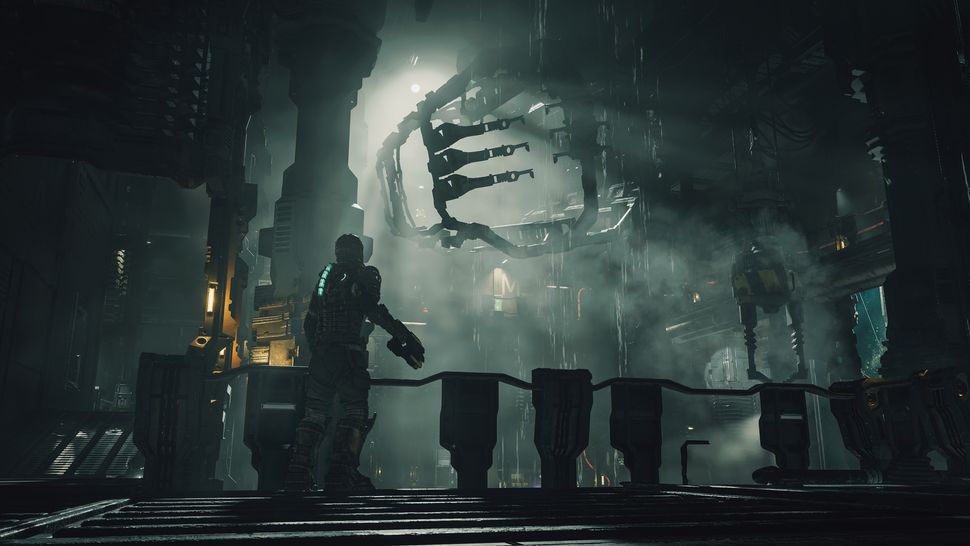 Did Dead Space really need a remake? That's something we were considering as we neared the release of Dead Space Remake, given that the original only released in 2008 and is still pretty damn good. Here's the thing, Motive has done an unbelievable job. The studio has taken the underlying design of Dead Space and given the fundamentals a complete overhaul – expanding the story, deepening the characters, and making the USG Ishimura a destination that is simply stunning to get lost in. Dead Space Remake is not only one of the best Xbox Series X games, it's one of the very best horror games available right now.
13. High on Life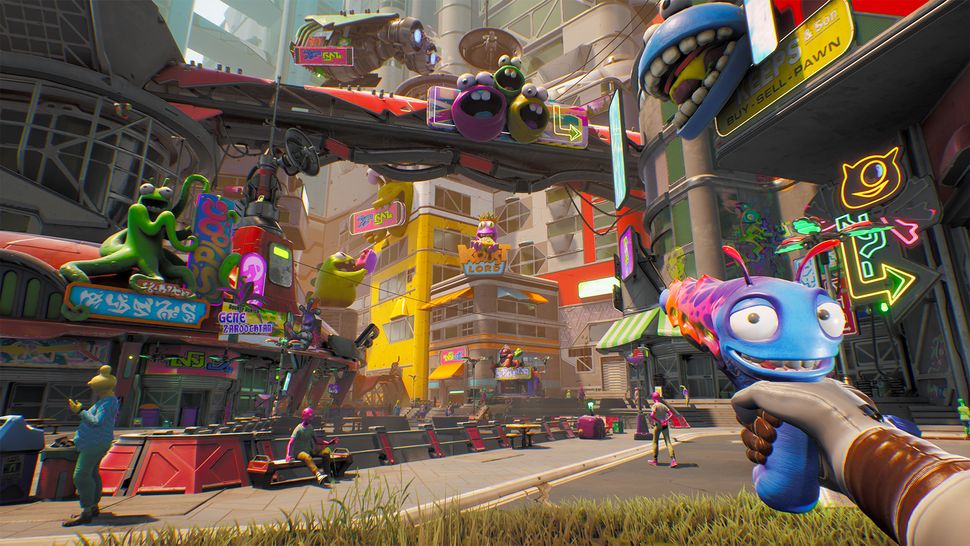 High on Life is an FPS like no other. From the brain of Rick and Morty creator, Justin Roiland, this is a sci-fi romp where you've got to save the world (and your parents) from an alien race that have released that humans are the best drug you could possibly take. Cue a planet-hopping adventure featuring your new mentor Gene, your sister, and an entire arsenal of talking weapons. Told you it was different.
12. Grounded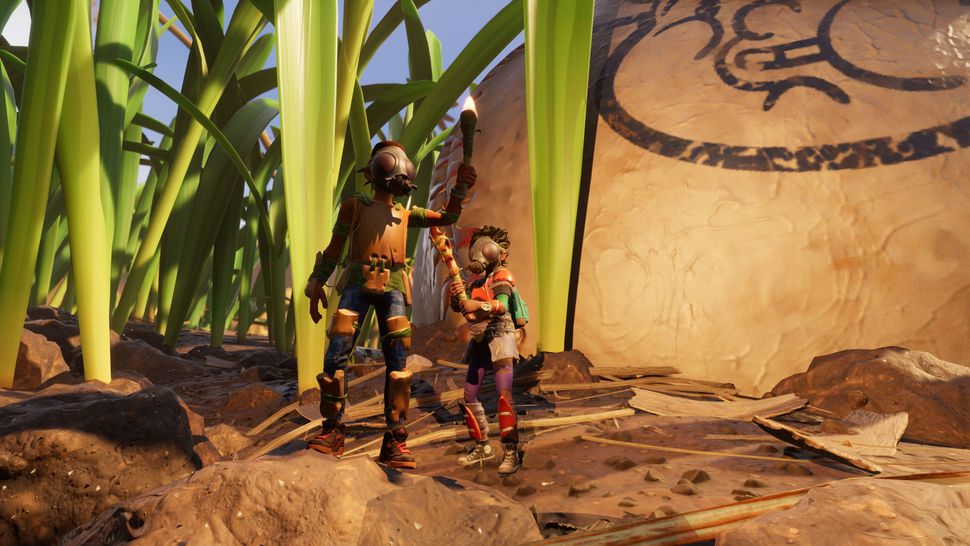 Grounded has really established itself as one of the best Xbox Series X games over the course of its couple of years in Early Access. In September 2022, the title launched in full, rounding out its story and adding even more content. This isn't the end for the Obsidian title though, with more content planned to continue the game's success in the future. It's a brilliant survival game, where you play as kids trying to exist in the wilderness that is the back garden, Honey I Shrunk The Kids-style. So think blades of grass as huge forests, sandpits for deserts, and really, really big bugs.
11. Immortality
You've probably never played anything quite like Immortality. Directed by Sam Barlow, the creator behind subversive interactive film games like Her Story and Telling Lies, Immortality is an experimental narrative adventure where you pick through three decades of archive film footage to try and uncover what happened to actor Marissa Marcel. It's a heady mystery, with some legendary twists which are impossible to anticipate. Immortality makes smart use of the form, has a thought-provoking narrative throughline, and features some truly stunning set and costume design. Do yourself a favor and give Immortality a try – just try and resist the urge to go to Google if you get stuck to avoid ruining the surprises.
10. Resident Evil 4 Remake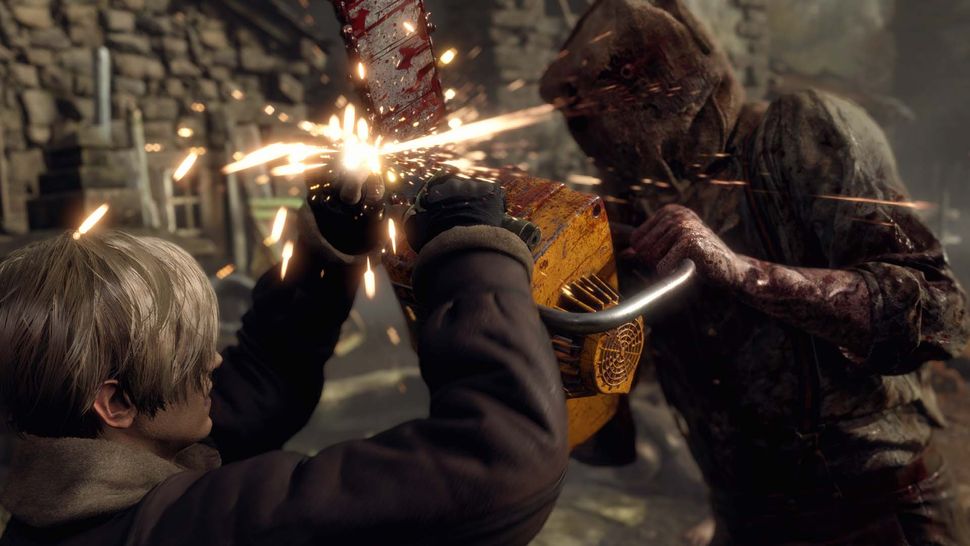 Capcom had success with its remakes of Resident Evil 2 and 3, but how could the publisher possibly reimagine the fourth installment of the mainline series – one of the best Resident Evil games, if not the most influential action game of the last 20 years. With apparent ease, is the answer. Resident Evil 4 Remake takes everything that made the original so special – its imaginative design, claustrophobic combat, and absurd characters – before infusing it all with modern production values. Resident Evil 4 Remake is one of the best looking games on Xbox Series X, it plays wonderfully, and is just a thrilling adventure from start-to-finish.
9. Pentiment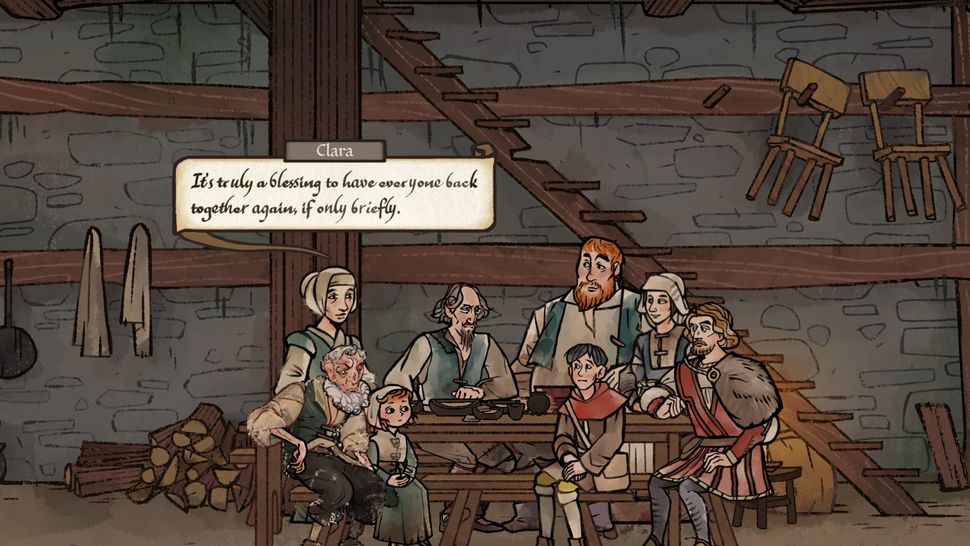 Pentiment is unlike any of the other games on our best Xbox Series X games list and all the better for it. It's essentially a triple murder investigation, but one that takes place over the course of 25 years in the 16th Century. You'll immerse yourself in town, which looks like an ancient comic book, and learn all about its inhabitants as you try to solve the mystery of what's happened. It's all about the dialogue, both in what they say and how it's presented, with different fonts used amazingly well to demarcate dialect, education, and other elements. There's a lot to dive into, and love the course of its three acts you'll discover Pentiment is one of the best mystery games around right now. Whodunnit? Well, that's all down to you to find out.
8. Hitman 3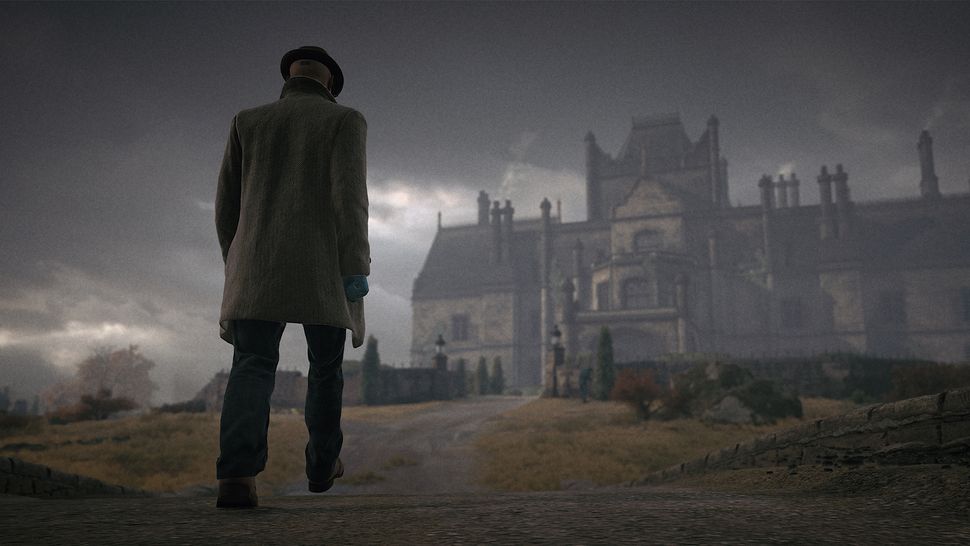 Agent 47's latest adventure also happens to be his greatest. With his global journey now taking him to new locales like Dubai and the UK's Dartmoor, the game offers huge scope and inventiveness that bring each level to life. Everything can be used as a weapon, and in fact, everything should be used as a weapon. It's all about murderous playfulness here, and you'll be celebrated for it in Hitman 3.
7. Halo Infinite
Halo Infinite is the best shape the series has been in for quite some time, with a confident campaign that celebrates the series' legacy. In it you'll be exploring a new ringed world, accompanied by a new AI with a familiar face and voice, with Master Chief trying to save the world again. Of course, the campaign is just one part of it though, with the multiplayer launching as a free-to-play entity. There's a Battle Pass to purchase, as you'd expect from a FTP game, but it's got plenty to enjoy in one great package.
6. Ori and the Will of the Wisps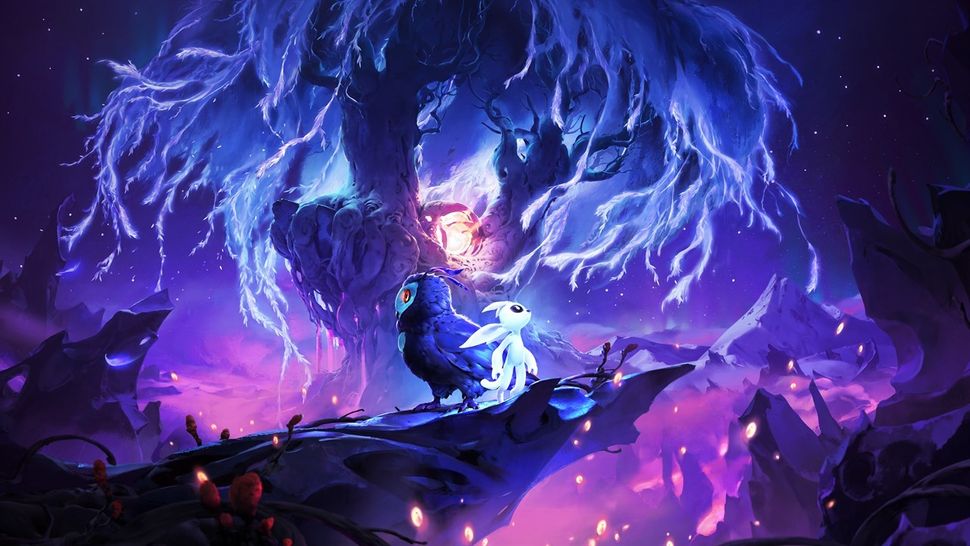 It may have been released on the Xbox One originally, but the Xbox Series X patch takes this stunning adventure to a whole new level of pretty. Running at 120fps at 4K and with HDR, the Xbox Series X is the ultimate way to experience the game. For those who haven't taken a trip to the forest with Ori yet, it's an amazing action-platformer with some metroidvania elements. You play as the titular Ori and although this is the second game in the series, you don't *really* need to have played the original to enjoy this latest adventure. However, both titles have had the Xbox Series X upgrade and are available via Game Pass - we'd just say that Ori and the Will of the Wisps is the superior experience.
5. Sea of Thieves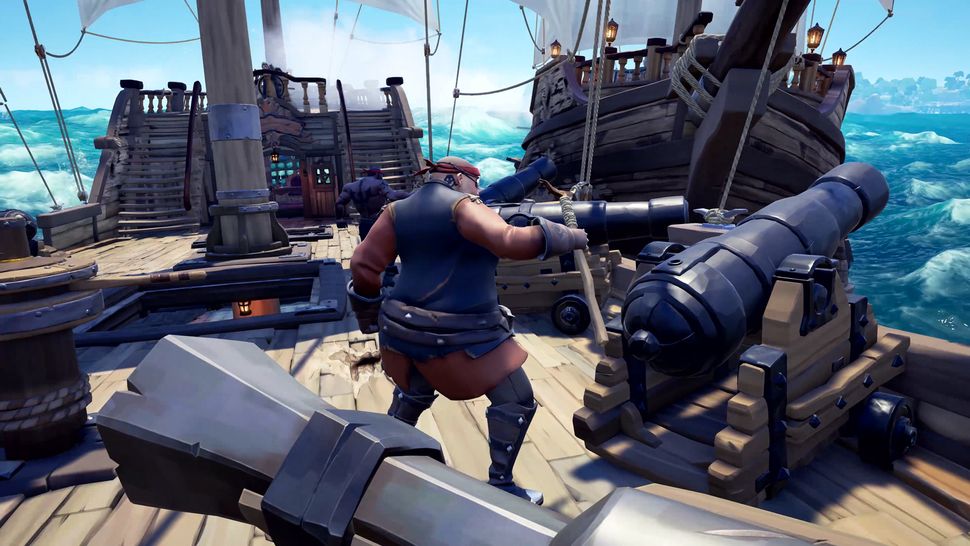 Sea of Thieves has quietly become one of the leading console exclusives for Xbox. Rare's pirate simulator is the ultimate expression of Xbox Live, letting you and your buddies (or randoms, should you have the patience for all manner of shenanigans) explore some truly gorgeous oceans and locales in search of fame and fortune. Sea of Thieves has been optimized for Xbox Series X, now running at 4K and 60 frames per second, and it remains a real delight. Despite releasing in 2017, the game continues to be updated and iterated upon, making it a flagship title of sorts for Xbox Series X – available, of course, as both a standalone purchase or through Xbox Game Pass.
4. Deathloop
Deathloop may have started life as a timed PS5 exclusive, but Arkane Studios' time-loop shooter is undoubtedly one of the best Xbox Series X games available today. Steered through development by the team behind the critically acclaimed Dishonored and Dishonored 2, Deathloop sees you gearing up to assassinate eight Visionaries in a single day – complete this tricky task and you'll break the loop; fail and the entire cycle resets. Deathloop is a slick shooter with a distinct style and personality, making it one of the most unique games available on the platform. Better still, you can also find it in the Xbox Game Pass library.
3. Psychonauts 2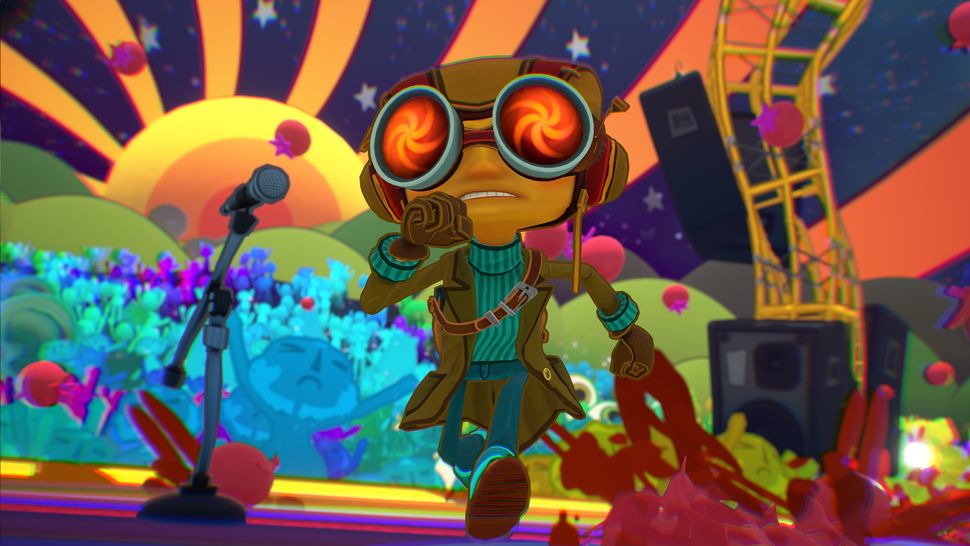 Psychonauts 2 is the long-awaited sequel to the 2005 cult-hit, and it is easily one of the best Xbox Series X games to date. Available on Game Pass, and also on PC, this Double Fine original is an absolute delight of a platformer, full of inventive ideas and wonderfully weird ideas. Don't worry if you've not played the original either, as it offers up a handy recap before the game begins that'll get you up to speed. Trust me, if you love quirky stories and platforming games with inventive worlds, you're going to love this one.
2. Elden Ring
FromSoftware has done it again. The studio responsible for titans like Dark Souls and Sekiro: Shadows Die Twice has delivered perhaps its finest game to date in Elden Ring, the open world fantasy adventure which challenges players to conquer The Lands Between. One of the reasons Elden Ring works as well as it does is because it offers you choice – if you get stuck on a boss battle, there's a whole world out there for you to explore, and plenty of customization options for your character to help refine your build. With its beautiful visual design and seemingly-endless replayability, there's no question that Elden Ring is one of the best Xbox Series X games that you can play right now.
1. Forza Horizon 5
Forza Horizon 5 is a true showcase of the power of the Xbox Series X, and an absolute must for console owners. Playground Games delivers stunning graphics that show off the diverse landscapes of Mexico and the vast library of cars in impressively realistic detail. With biggest open-world yet, the latest entry in the Forza series gives you so many reasons to get behind the driver's seat time and again, with a wealth of different races, challenges, new social features, and updated modes. With impeccable audio design, smooth, responsive controls, and a beautiful world to speed your way through, Forza Horizon 5 sets a new benchmark for racing games of this generation.
---
What Xbox Series X games are coming out soon?
The upcoming Xbox Series X games that you need to know about for the next few months are Minecraft Legends on April 18, Star Wars Jedi Survivor on April 28, Redfall on May 2, Diablo 4 on June 6, and Starfield on September 6.
Which of the best Xbox Series X games are also on Game Pass?
If you're an Xbox Game Pass subscriber, the majority of the games on our best Xbox Series X games rankings are available as part of the Xbox Game Pass list to play for free as part of your subscription.
These are:
Control, Tunic, Gears Tactics, Marvel's Guardians of the Galaxy, Vampire Survivors, Gears 5, Microsoft Flight Simulator, Hi-Fi Rush, Mass Effect Legendary Edition, High on Life, Grounded, Immortality, Pentiment, Hitman 3, Halo Infinite, Ori and the Will of the Wisps, Sea of Thieves, Deathloop, Psychonauts 2, and Forza Horizon 5.
The only games currently unavailable on Game Pass from this list are:
Assassin's Creed Valhalla, It Takes Two, Dead Space Remake, Resident Evil 4 Remake, and Elden Ring.