Sometimes saving the world is a two man job, but that's also true of running a kitchen, mowing down zombies and generally kicking butt. Two heads are better than one, and two trigger fingers definitely are. Whether it's mad sessions of Overcooked 2 shouting at your mum, or just figuring out how to get out of jail in A Way Out. It's nice to have a bit of company every now and then. In an attempt to prevent you from arguing which one to play first, we've got the top 25 best co-op games right here. So grab your friend (better give them ample warning first, though), and have a glance below at the next title you'll be tackling together.
25. Spelunky
Co-op type: Local
What's better than exploring a randomly-generated series of caves filled with dangerous creatures and obstacles? Well, er, quite a few things, actually. The answer we were looking for is: exploring a randomly-generated series of caves filled with dangerous creatures and obstacles with a friend. Yeah? Ok, this joke has out-stayed its welcome.
Grinding through Spelunky solo is a tough gig, as the game can be unforgiving at times, so taking a buddy along for the ride is a good call - especially if you make use of the various abilities they can bring.
Play it on: PS4, Xbox One, PC
24. Gears of War 4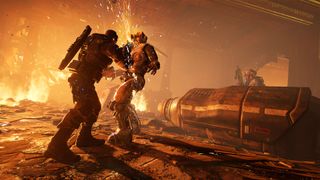 Co-op type: Local and online
Gears of War 4's campaign demands to be played with a friend. While the tone of this game is darker than the original trilogy, there are still epic set-pieces and golden opportunities for cooperative butchery. In fact, the campaign is very much designed for co-op play, with many more branching paths and alternative vantage points than previous games.
On top of that Gears 4 lets you and a bunch of buddies carve up Locust in the series' now infamous horde mode, which sees you facing down waves of enemies together.
Play it on: Xbox One, PC
23. Borderlands: The Handsome Collection
Co-op type: Local and online
Few feelings in gaming are sweeter than shooting massive guns and collecting loot with your buddies. That's exactly what Borderlands 2 brings with its drop in, drop out co-op. For the more casual gaming session, you can just rock up and shoot through some grunts, sharing out their kit for later trade-ins. Hey, maybe you level up a little: whatever.
However, you can also kick it up a notch and tackle some of the game's mega-bosses by getting properly coordinated with both kit and tactics. Those who do often reap the rewards of mega-rare loot drops and - more importantly - you get to reminisce with real friends about that time you took down Crawmerax The Invincible with only a sliver of health remaining. Good times.
Play it on: PC, Xbox One, PS4, PS3, Xbox 360, PS Vita
22. Far Cry 5
Co-op type: Online
You might want to call your dad. You're in a cult. Or, at least fighting one. As you explore the violent-rocked landscape of Montana in Far Cry 5 , it might be safest to rope in a friend. With drug-fuelled cultists ready to kill you with a baseball bat, others setting anyone who doesn't believe on fire and eating them, or even just willing die for Eden's Gate leader Joseph Seed, turns out this place is a dangerous one.
Fight bears, fly planes, soar across the treetops in a wingsuit... whatever you do is only better - and safer - with a friend in toe. And what fun you'll have.
Play it on: PC, PS4, Xbox One
21. Don't Starve Together
Co-op type: Local and online
The threat of permadeath is somehow softened when it's shared. I mean, you'll all still die but at least there's comfort, and blame, when you're playing co-op. Don't Starve's resource gathering, base building challenge was already great fun, but it's even more so with a friend. Especially as you can split the workload and responsibilities as you tend to your home or farm, and explore the world to find more of whatever you need to make it through another day.
Play it on: PS4, Xbox One, PC
20. Divinity: Original Sin 2
Co-op type: Online
Perhaps not one for a quick casual game with a friend, given this is a huge RPG environment filled with more potential, stories and events than most of us will ever see in one go. But, if you fancy a really deep co-op experience then this will keep you busy for years. As well as an entire nuanced world to explore you can play co-operatively or competitively, with players potentially trying to complete missions in different ways, or to different ends.
Play it on: PC
19. Payday 2
Co-op type: Online
Sometimes you just feel like robbing a bank. Payday 2 might only do one thing but it does it well as you and four friends case joints, play with alarms, and try to rob a bank as much as possible before the police get involved. It's a much more focused experience than some co-op games but that clear direction makes for some some great tension as you rely on your friends to stick to the plan and not shoot the first customer that looks at them funny.
Play it on: PS4, Xbox One, PC, Switch
18. Warframe
Co-op type: Online
Tens of millions of people play Warframe so it must be doing something right. It's an online four player co-op shooter where you explore and fight your way through space in ultra futuristic suits, gaining powers, abilities and new weapons along the way. That's basically the main draw here - battle things to get more gear to battle more things. Like the Destinys and Monster Hunters of the world this is all about chasing better shotguns and space boots.
Play it on: PS4, Xbox One, PC
17. Lego Marvel Super Heroes 2
Co-op type: Local and online
If you've never sat on a couch and played a Lego game with your child, friend, sibling, or significant other, you're really missing out on the great things in life. Yes, there are a ton of co-op Lego titles out there, but the most recent one - Lego Marvel Super Heroes 2 - is our new favourite.
You get to play as just about any Marvel character you can think of, from Rocket Raccoon to Squirrel Girl. The cute aesthetic, simple gameplay, and adorable cutscenes are incredibly charming, and they can be enjoyed by everyone. Except people who hate Marvel, whoever the hell they are.
Play it on: PC, PS4, Xbox One, Switch
16. Mario + Rabbids Kingdom Battle
Co-op type: Local
If you fancy something a little lighter, that you can take your time with, then Mario XCOM's turn-based battles are perfect for an afternoon of strategising with a friend. If you've not played it before then don't be fooled by the happy plumber and the fat rabbits in costume. This is a challenge that starts off simple and slowly ramps up to seriously involving multistage battles and boss fights. Before long you'll be pacing the floor to discuss tactics and planing your attack before grabbing the Joy-Cons and (hopefully) making the winning move.
Play it on: Switch
Click 'next page' to see titles 15 - 9 in our countdown of the best co-op games.