Looking for something new to play with your friends? Then you've come to the right place, because our list of the best online games are perfect for a little friendly competition and collaboration. Whether you're looking for a social space to hang out in or some of the best multiplayer games to put your skills to the test, there's something for everyone here.
From fun games for all the family like Among Us to Fortnite to more competitive experiences which will have you arguing over K/D ratios like Halo Infinite and Call of Duty: Warzone, these really are some of the best online games that you can play today. We also have specific lists on the best co-op games or the best MMORPGs if that's more your speed, but otherwise keep on reading for our pick of the 25 online games you should play today.
25. League of Legends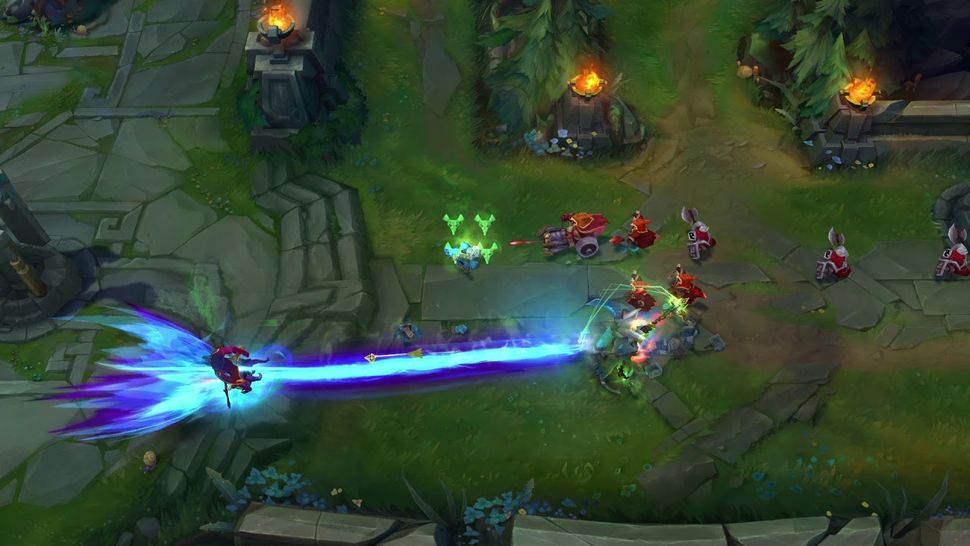 Developer: Riot Games
Platform(s): PC
There are a few games on this list that could be described as the definitive article– the one example of a genre that stands tall – and nowhere is that truer than with League of Legends. It's the archetype MOBA, a world beating esport, and the inspiration for a whole universe of spin-offs. Pick your champion, pick your lane, pick your poison, and have at it – you and your team need to find a way to push through the opposition team to their base. Sounds simple enough, but 13 years of strategy development, of upgrades and patches, mean that while League of Legends is as approachable as it's ever been, the depth of high level competitive play is remarkable.

RELATED: Best MOBA games, from Arena of Valor to League of Legends
24. Valheim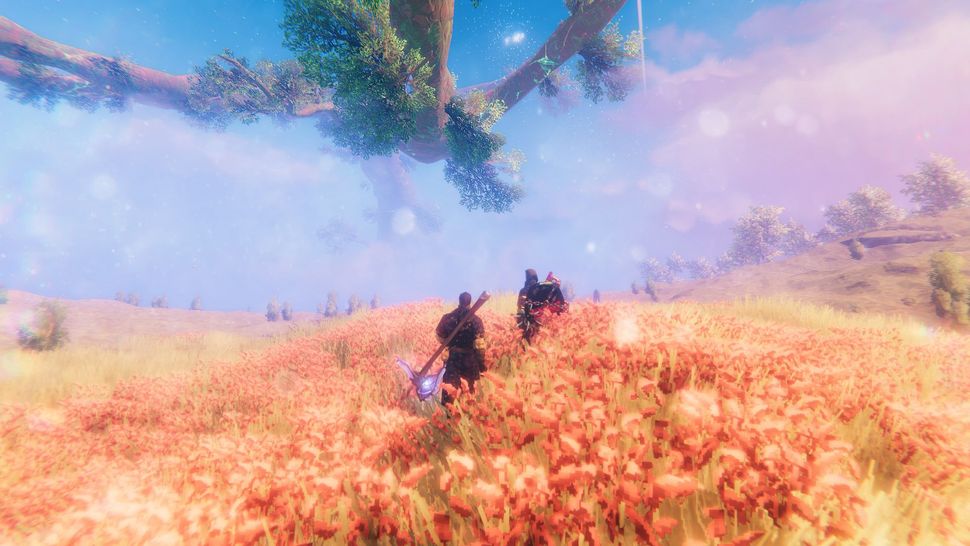 Developer: Iron Gate Studio
Platform(s): PC
Survival games are ten a penny, you can't move in the Steam store without treading on another base crafting, resource gathering title. But Valheim stands out from the pack; it nails the basics of the genre and iterated upon those ideas smartly, and the resulting early access experience is truly remarkable. Core survival mechanics are all present and account for: chopping trees, building your base, getting some food, and killing nasties. But developer Iron Gate Studios has excelled by making it all simple to grasp, with layers of depth waiting underneath. Beyond the objective of simple survival, Valheim includes boss battles, making co-operative online play a key focus; get all your vikings as beefy as possible, ready to take on these epic fights.

RELATED: Best survival games, from ARK: Survival Evolved to Sons of the Forest
23. Valorant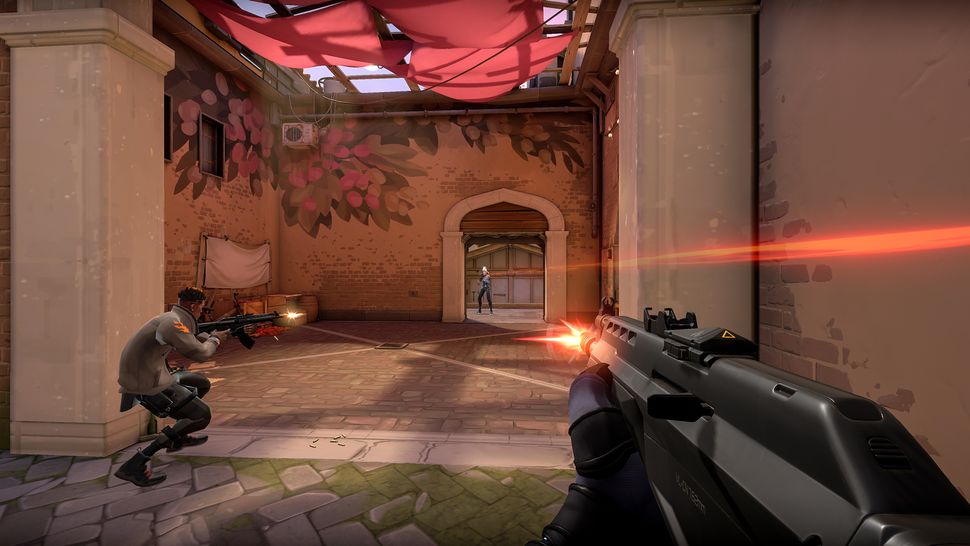 Developer: Riot Games
Platform(s): PC
League of Legends developer Riot Games has applied its vibrant and exciting character design ethos towards this punishingly precise first-person shooter. The result is a tightly tactical team-based game with a miniscule time to kill, a defined art-style, and heroes with a whole lot of character. Getting involved with competitive games of Valorant is exhilarating, and you'll need teamwork and communication to be on point to survive them – rounds of Valorant can often be won or lost by a degree of milliseconds and millimeters. It isn't the most approachable FPS on this list, but if you can get a handle on Valorant you'll find that there's nothing quite like it.
22. No Man's Sky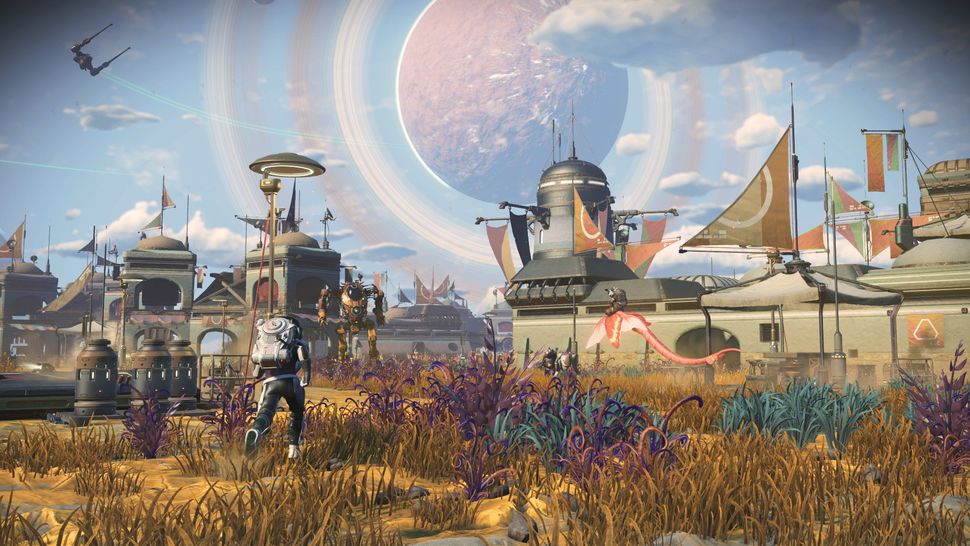 Developer: Hello Games
Platform(s): PC, PS4, PS5, Xbox One, Xbox Series X
One of the all time great video game fairy tales, a game with a troubled launch pulling itself up by the bootstraps and becoming better than ever thought possible. Update after update have made No Man's Sky a constantly outstanding and surprising title. Space exploration and survival with friends in this beautiful sci-fi illustration of a game now exists in a much more traditional and satisfying manner, making it easier than ever before to party up, build a home base, and travel the universe together. You never know what you'll find out there in the procedurally-generated stars of No Man's Sky, but sharing discoveries with friends makes the experience truly unforgettable.
21. Rainbow Six: Siege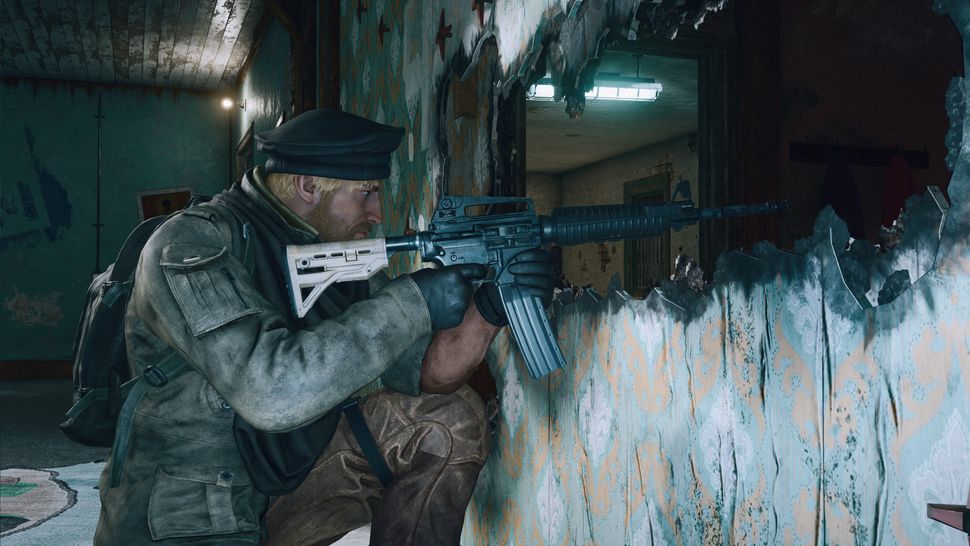 Developer: Ubisoft Montreal
Platform(s): PC, PS4, PS5, Xbox One, Xbox Series X
Rainbow Six Siege is not for the faint of heart, it's tense and it's precise, popping your head around the wrong corner will end your match in no time at all, so you have to be careful and you have to be sure. The defending team gets one minute to set up shop, mount their defenses, and plan their tactics until the attackers are unleashed to put paid to all that. Ubisoft has done fantastic work to transform Rainbow Six into a suspenseful, round-based PvP shooter and the experience that exists today is a truly multiplayer behemoth. Few other games are able to match the level of nervousness and tension that Rainbow Six Siege can generate.
20. DOTA 2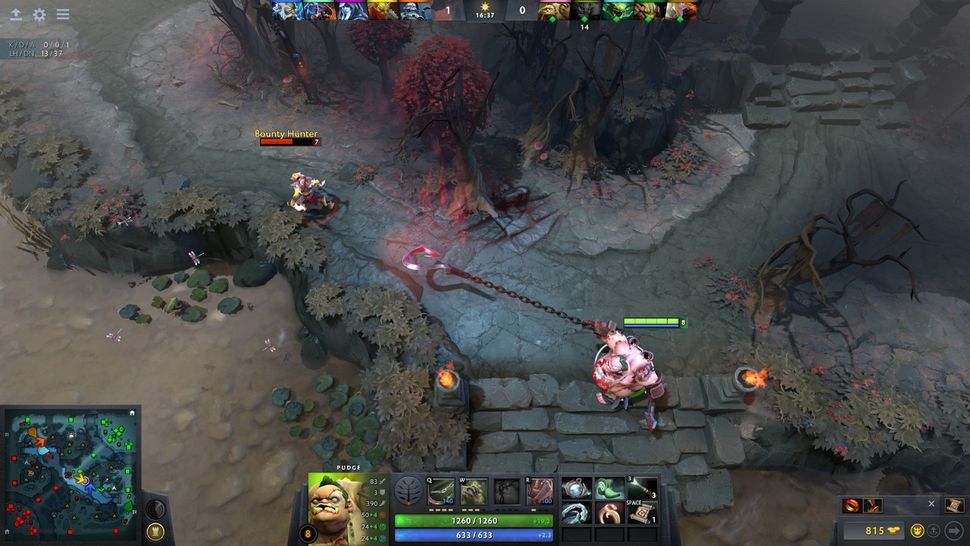 Developer: Valve
Platform(s): PC, Mac
DOTA 2 might be a decade old, but it's one of the most popular and best online games to this day for a reason. Its satisfying gameplay loop sees two teams of opponents going head-to-head in a battle arena-meets-tower defense-style tactical showdown. It's free-to-play, too, meaning you get a whole lot of content for the cool price of $0. Widely regarded as one of the best Valve games out there alongside the Half Life series, DOTA 2 is one to check out if you're looking for a classic multiplayer experience that, if its track record holds up, looks set to withstand the ravages of time.
19. Monster Hunter World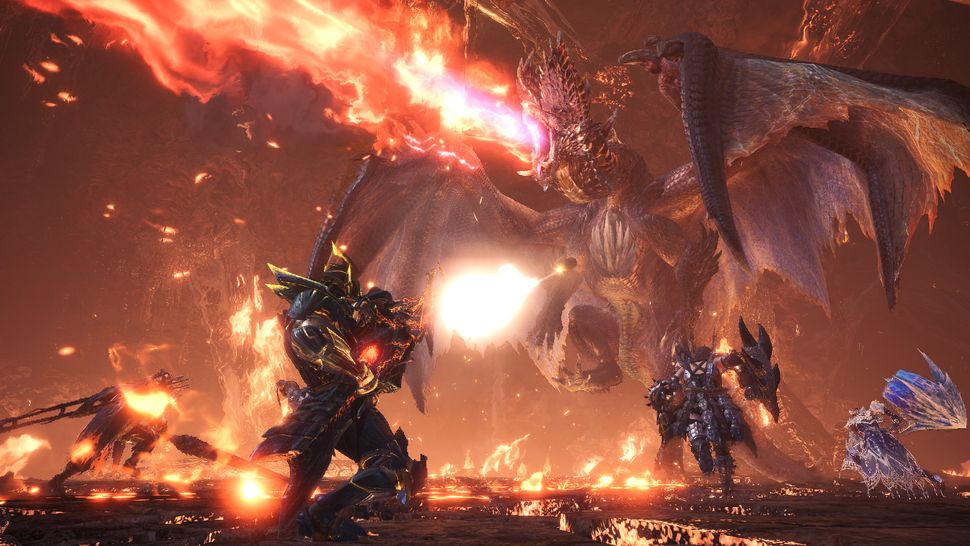 Developer: Capcom
Platform(s): PC, PS4, PS5, Xbox One, Xbox Series X
Capcom is hitting a rich successful streak at the moment, and nowhere is this more evident than in the glorious success of Monster Hunter World, a cooperative action RPG with a strong focus on obtaining better and better gear to take on bigger and badder beasts. There is a primal thrill to grouping up with your friends, following the tracks of a vicious and dangerous monster, and then outwitting it in a session of truly bombastic combat. The satisfaction of taking down a monstrous enemy is only surpassed by the satisfaction of the new loot you will have acquired in order to allow you to take on the next monster, together.
18. Overcooked 2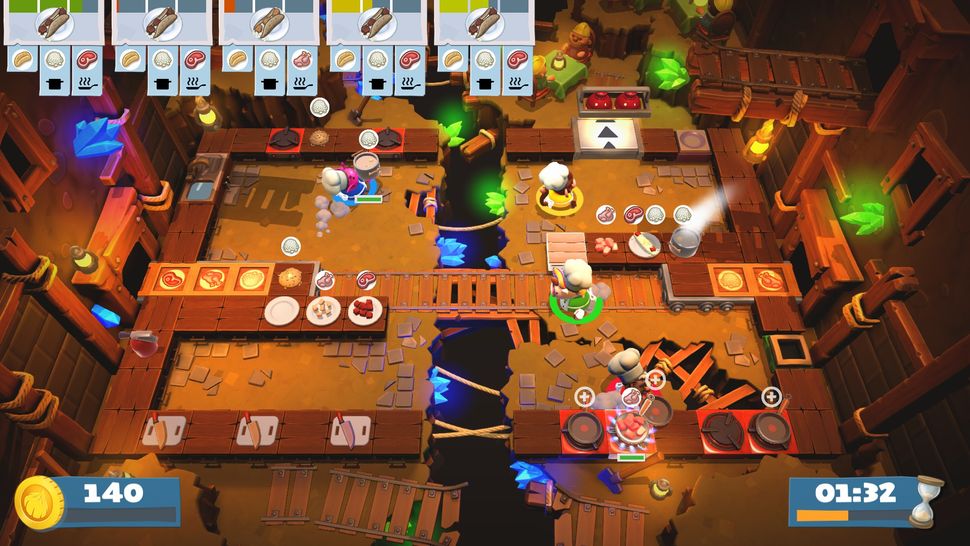 Developer: Team17
Platform(s): PC, PS4, PS5, Xbox One, Xbox Series X, Nintendo Switch
To a pair of sweet innocent eyes, it looks like Team17 created a friendly co-op cooking adventure, but be in no doubt, Overcooked 2 is a brutal test of even the closest friendship and family groups. What happens in the kitchen, stays in the kitchen. You will be screamed at, and you will scream at your nearest and dearest – probably about the lack of chopped onions. The box may claim that Overcooked 2 is a co-op game, working together with your other chefs across a variety of restaurants, but you mark my words: a head chef will emerge. Someone will do more shouting than most, and that kind of thing doesn't get forgotten quickly in social circles.
17. Rocket League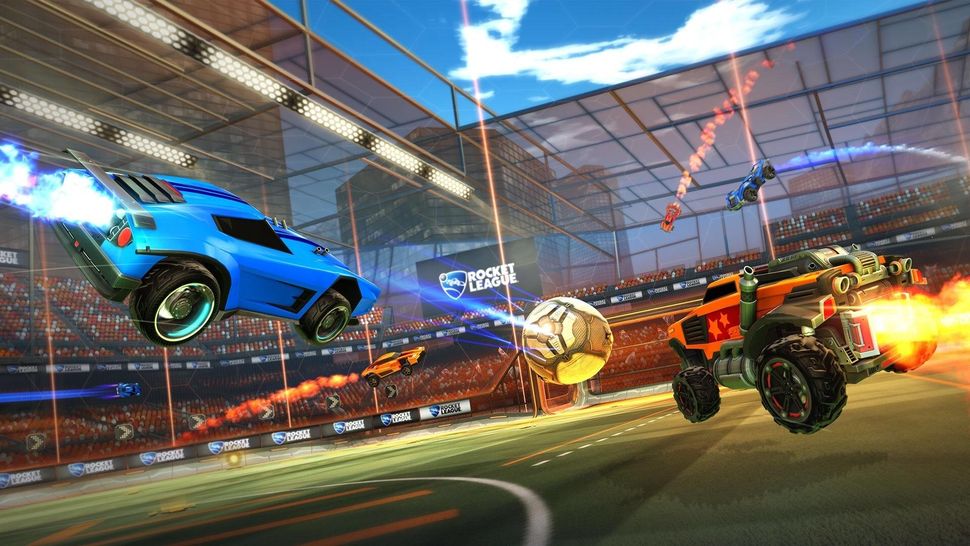 Developer: Psyonix
Platform(s): PC, PS4, PS5, Xbox One, Xbox Series X, Nintendo Switch
The gulf between a fresh player to Rocket League, and a grizzled veteran is at first glance insurmountable. One will be shifting their car back and forth to get a touch like Austin Powers trapped in a corridor, the other will be gliding gracefully through the air, the ball glancing off the bumper, arcing majestically into the goal. But that difference soon diminishes, a game or two in and the basics will be down, you'll have your camera of choice, and get a grip on those angles. It might take a while to learn to fly. For a game with turbo boosted cars playing football, communication with your teammates is crucial, and that communication boils down to two essential lines. In order to win a game of Rocket League, someone always has to call out "I'll stay back!" or "Get in the middle!" beyond that, you can do what you like.
16. Dead By Daylight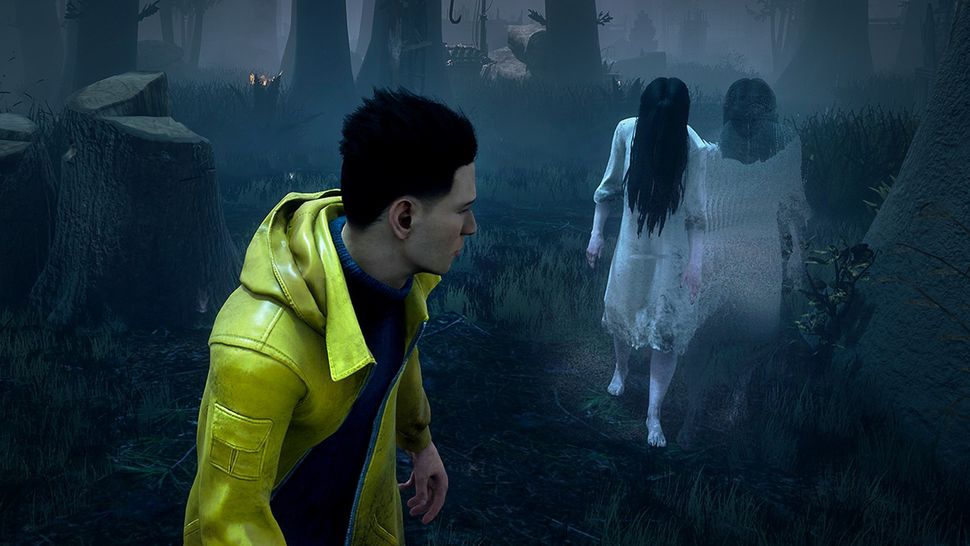 Developer: Behaviour Interactive
Platform(s): PC, PS4, PS5, Xbox One, Xbox Series X, Nintendo Switch, iOS, Android
Four versus one – that seems unfair, doesn't it? Until we consider that the one is a ruthless killer, working at the behest of a malevolent entity of pure evil, and the four are a bunch of scared victims with some iffy generator repair skills. Dead by Daylight is the asymmetrical multiplayer game that stood the test of time. It's easy to get hooked, whether you're stalking the grounds as a famous horror icon, or teaming up with other survivors to fix the generators in a bid to escape. An evergreen title on the twitch homepage, Dead by Daylight is as exciting to watch as it is to play, and is still growing, both original characters and tie-ins to famous horror franchises are regularly added to keep things fresh.
15. Among Us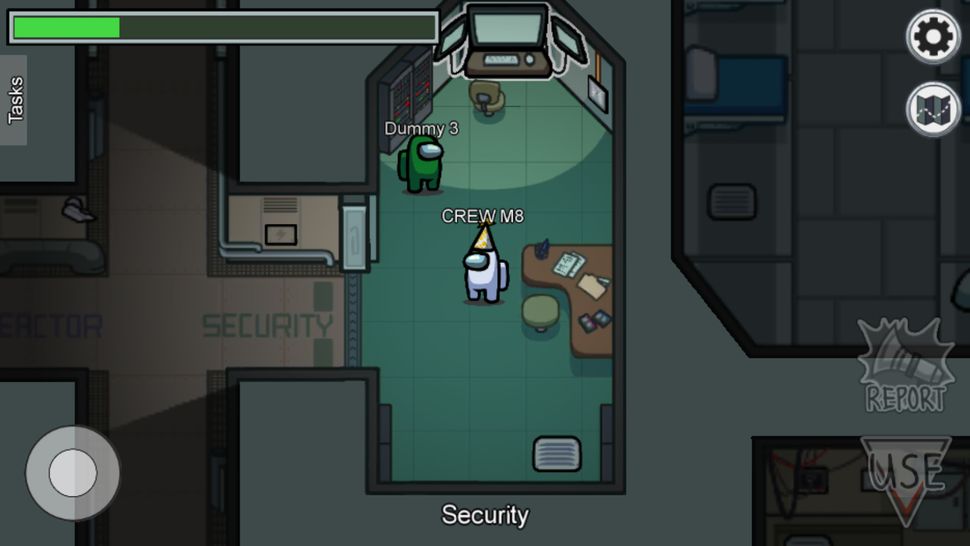 Developer: Innersloth
Platform(s): PC, PS4, PS5, Xbox One, Xbox Series X, Nintendo Switch, iOS, Android
How good are you at lying? Can you spot a fishy excuse a mile off? That's what Among Us comes down to. Players are randomly selected to become an imposter, whose objectives shift from the completing wholesome honest tasks to being much more nefarious; sabotage and murder! The pure gold in the heart of Among Us is the suspicion, the social drama that plays out when things start to get real as the bodies start to pile up. Can the real crew spot the imposters before it's too late, will the lies and quickly-improvised stories be enough to fool your friends, or do they know how to spot when you're lying? Among Us isn't just one of the best co-op games out there for all the family, it's one of the best online games full-stop.
14. Super Smash Bros. Ultimate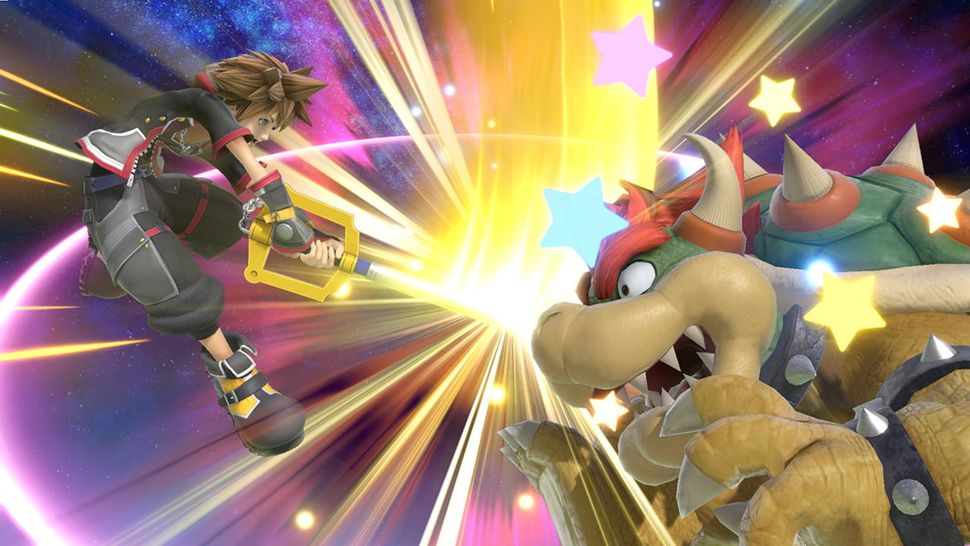 Developer: Nintendo
Platform(s): Nintendo Switch
Long before the Metaverse became a trademarked term, Nintendo was smashing its brands together to fight it out. From a roster of 12 exclusive Nintendo characters in the 1999 original to an outrageous 89 playable characters in 2018's Super Smash Bros. Ultimate from across the gaming multiverse, this is a truly unbeatable fighter. Nintendo has given us a truly definitive edition of Smash Bros. here – music, stages, costumes, fighters, and modes are in abundance. As well as being a pure party game, Super Smash Bros. Ultimate has also become a popular competitive fighting game – showing that there's depth hiding behind that glossy surface. No matter how you look at it, Super Smash Bros. Ultimate is one of the best fighting games of all-time.
13. Stardew Valley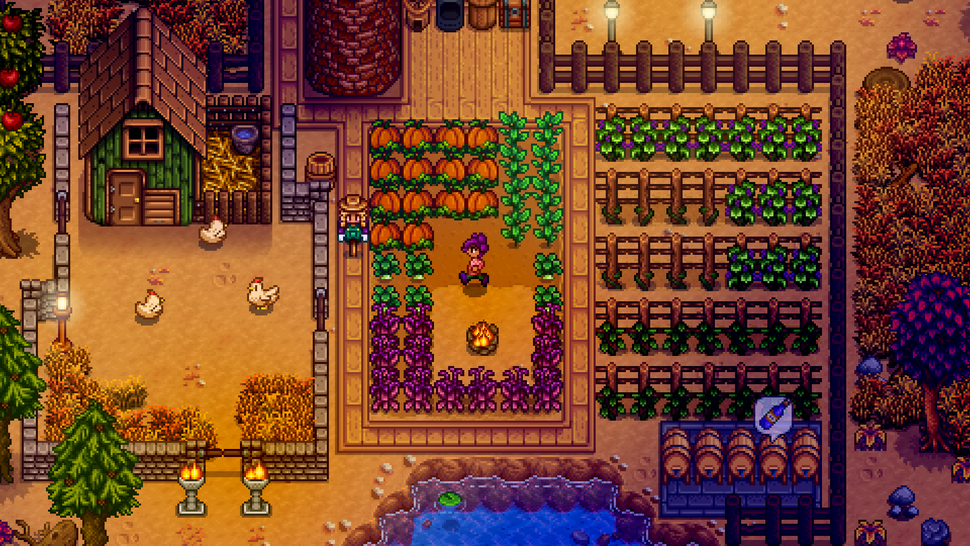 Developer: ConcernedApe
Platform(s): PC, PS4, PS5, Xbox One, Xbox Series X, Nintendo Switch
Almost all of life's rich experiences exist in Stardew Valley; sleeping, planting crops, killing bats in a cave – it's all there. And how better to spend the moments when you just want something incredibly chill, than to invite a few friends over to your farm and have a lovely, positive time together. Chillout wholesome games are a unique corner of the multiplayer online gaming world, and Stardew Valley is the best of them all. The stakes can be as high or low as you want them, choosing from where to plant your blueberries, to which dagger will save your life deep in Skull Cavern. Stardew Valley may have launched without online multiplayer, but it's now an essential component to the farming sim's composition.
12. Halo Infinite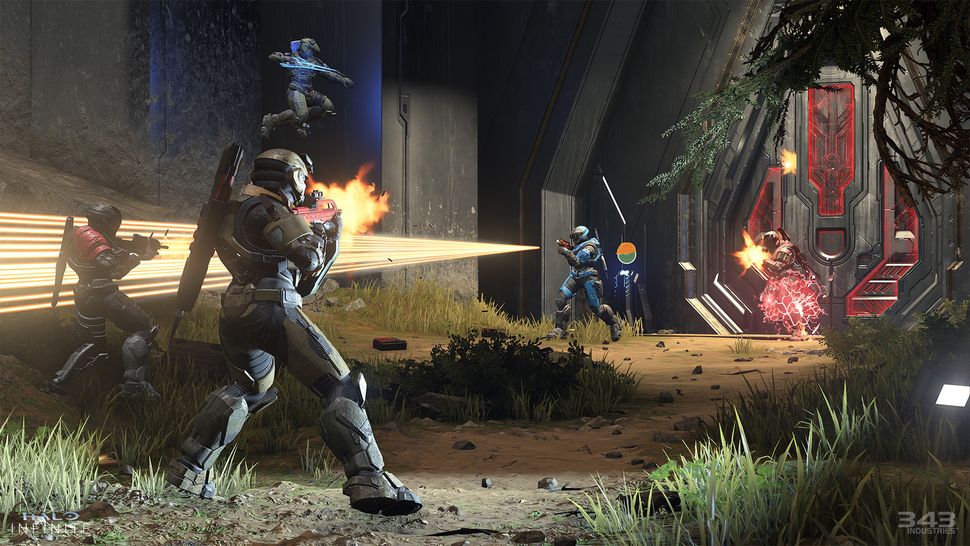 Developer: 343 Industries
Platform(s): Xbox One, Xbox Series X, PC
If you're going to get one thing categorically correct in a Halo game, it's got to be the feel of combat – the unique formula and dynamics that makes Halo… Halo. Thankfully, even with a troubled launch, and a constantly developing and improving raft of content in the pipeline, developer 343 Industries has had that unique combat feel just right from day one. Whether you're picking from the unfettered chaos of a Big Team Battle, or the tightly contested objective modes in ranked Arena play, there's something undeniably fun about climbing online in Halo Infinite. Given its strong foundations, this is one free-to-play experience that's great now, and only going to get better over time.
11. Apex Legends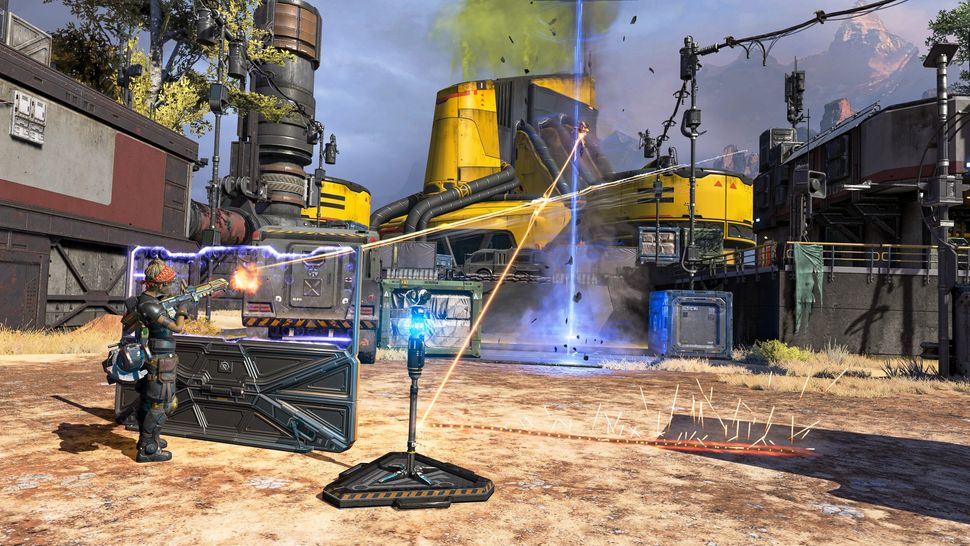 Developer: Respawn Entertainment
Platform(s): PC, PS4, PS5, Xbox One, Xbox Series X, Nintendo Switch
In a crowded battle royale space, Apex Legends stands out for simply doing so many things right, hitting the balance between fun character abilities and vibrant designs, and just honest-to-goodness great shooting mechanics. For the ping system alone, Respawn Entertainment have left an indelible mark on the formula of battle royale games. The ability to drop into a squad game, without my usual squad, and non-verbally make my intentions clear is truly game changing – as is the way this system works to improve approachability and accessibility in the genre. Apex Legends continues to thrive, so grab the two biggest FPS fans in your friend group and get online already.
10. Destiny 2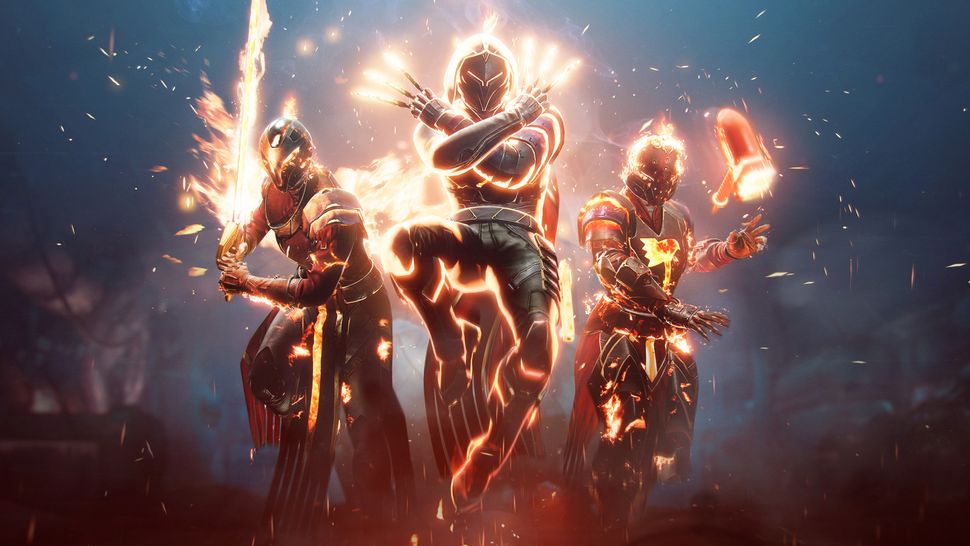 Developer: Bungie
Platform(s): PC, PS4, PS5, Xbox One, Xbox Series X
Moving Destiny 2 to a free-to-play model, which is always expanding through seasonal updates and premium expansions, has allowed Bungie to expand its ambitious shared-world shooter in ways we never thought were possible when the game first launched back in 2017. The Destiny 2 that exists today is an ambitious, compelling FPS experience no matter your playstyle preferences – whether you're following the intricate sci-fi plot, or just in it for the big explosions and satisfying first person shooting. Pull your friends into a Discord group, make sure your schedules align, and make your excuses with loved ones – Destiny 2 has the capacity to dominate your free time, especially when you start gearing up for the Nightfall Strikes, Raids, and blood-bath that is the Crucible.
9. GTA Online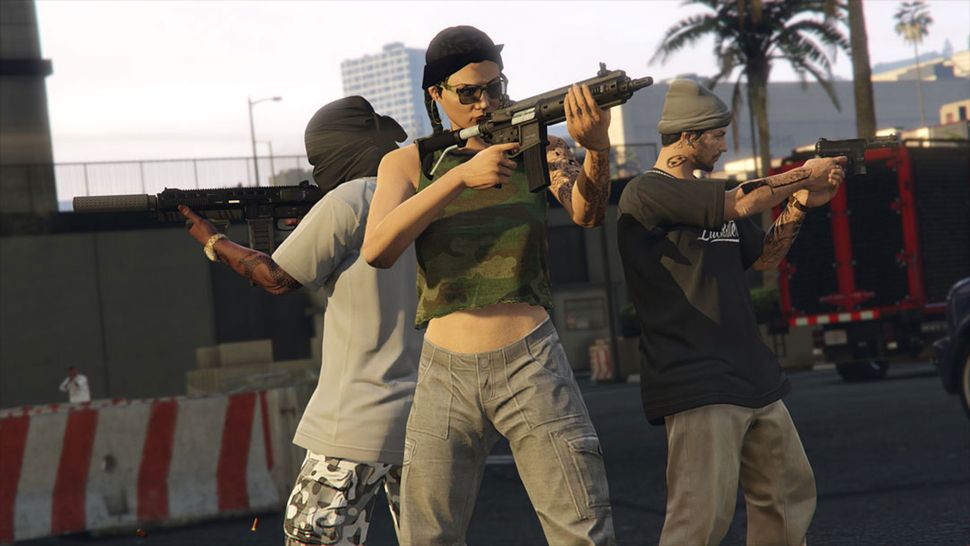 Developer: Rockstar North
Platform(s): PC, PS4, PS5, Xbox One, Xbox Series X
Even in these advanced years for GTA Online, let's not forget this game launched on the Xbox 360, PS3, and PC back in 2013. Almost a decade later, and the world of San Andreas, and the possibilities for stories to be told in its streets, is still astonishing. Rockstar created a wildly malleable online experience in GTA Online, one which will allow your imagination to run wild. Do you fancy logging on and doing some gun running, set up a little weed empire, or get all heisty with a crew of friends to take down a bank or a casino? You can be whatever you like in GTA Online, although admittedly whatever you like is going to have to involve some level of crime, but come on, the clue is in the title.
8. Forza Horizon 5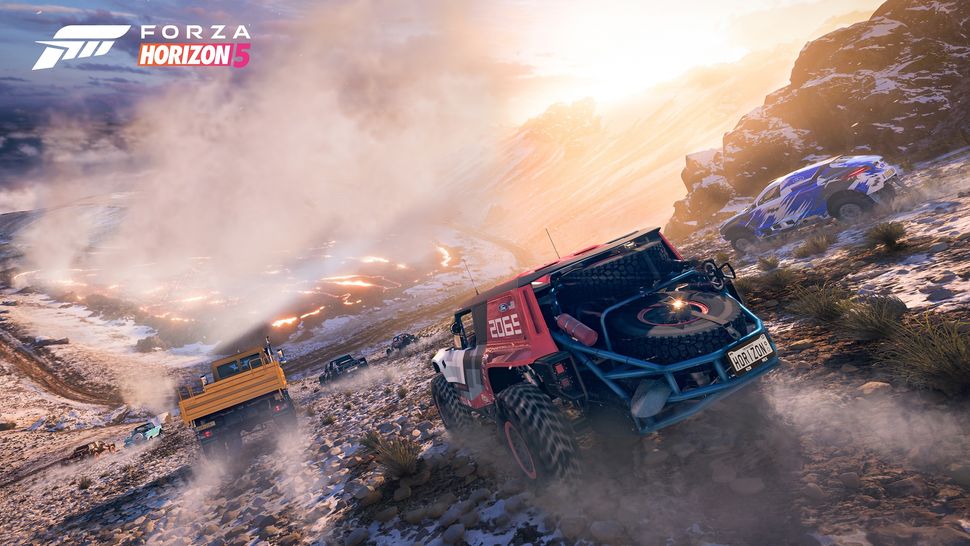 Developer: Playground Games
Platform(s): Xbox One, Xbox Series X, PC
Yes, there are more accurate car simulators, perhaps more faithful to the physics of the real world, but Playground Games has again prioritized sliding, screeching, and airborne thrills in its latest installment to the Forza Horizon series. Joining an online game in Forza Horizon 5, whether that be a dedicated game mode or just whipping about the beautiful Mexican open world, is almost guaranteed to generate a smile or two. Forza Horizon 5 is not shy about throwing content at you, with car unlocks and in-game currency coming at you fast, meaning you can always roll up on your friends eager to show off a snazzy new ride.
7. Minecraft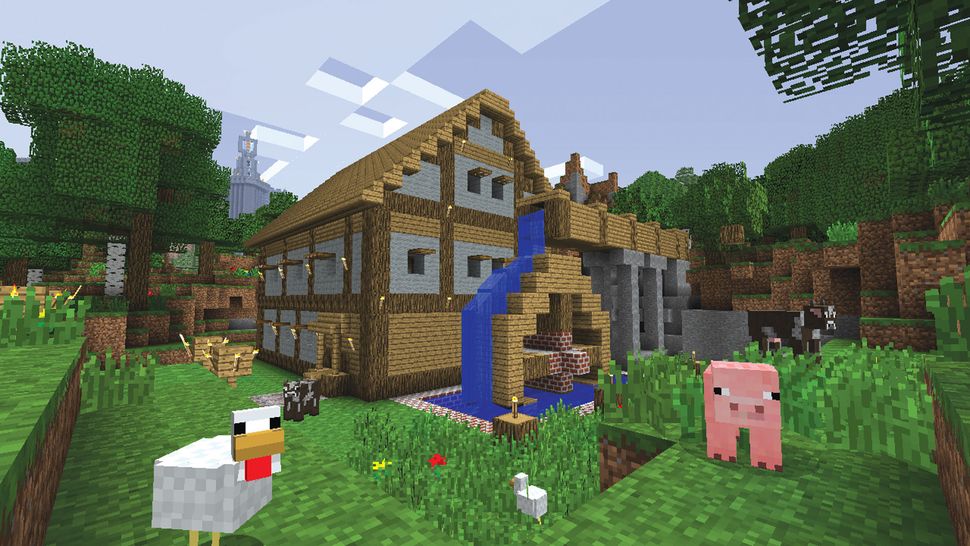 Developer: Mojang
Platform(s): PC, PS4, PS5, Xbox One, Xbox Series X, Nintendo Switch, iOS, Android
While Mojang is hard at work expanding the Minecraft universe with its spin off multiplayer titles – Minecraft Dungeons in 2020, and Minecraft Legends set for release in 2023 – the original core title still claims a spot on this list for its purity and accessibility. Players can go from building a basic four walls and a roof shelter to keep out the spiders, to going down a YouTube rabbit hole to look up redstone circuit ideas in a matter of mere hours. It's a cliche to say, but the limit of Minecraft truly is the imagination of the player, something that's exponentially compounded once you log into an online session with friends. If you aren't starting an open play game with the question "so, what are we building today?" you're doing it all wrong!
6. Sea of Thieves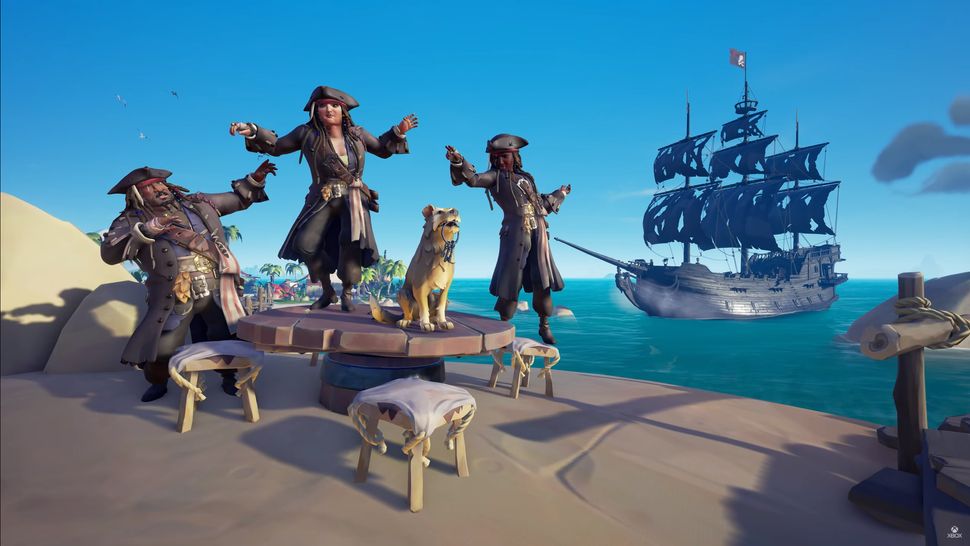 Developer: Rare
Platform(s): Xbox One, Xbox Series X, PC
Rare is certainly sailing with the wind at its backs, constantly delivering new journeys on the high seas for Sea of Thieves players. Following on from its collaboration with Disney in A Pirate's Life, additional adventures and tall tales are regularly introduced as the seasons roll past. Playing Sea of Thieves is truly a unique experience, especially so with a crew of loyal sea dogs beside you, keeping an eye on the horizon, scanning for rival crews to hone in on, or to desperately sail away from. Whether you're risking solo play in dangerous always-online waters or teaming up with friends – arguing over whether you should drop anchor at that next island to search for more riches, or make a beeline to the nearest port for safety – there really is something for everybody in Sea of Thieves.
5. Diablo 4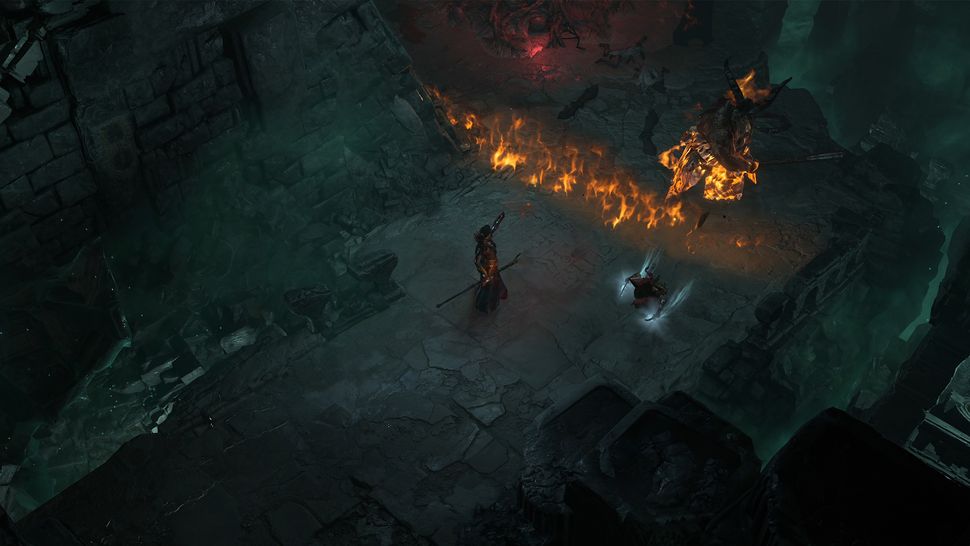 Developer: Blizzard
Platforms: PC, PS5, Xbox Series X, PS4, Xbox One
Demonic dungeon-crawler Diablo 4 is the latest chapter in Blizzard's high-octane RPG series, and it's bigger and better than ever. With the Queen of Hell back in action, we're tasked with laying waste to all manner of hellish denizens as we hack and slash our way through Diablo 4's myriad chambers. Whether you're a Necromancer or Sorcerer, this top-down online experience allows you to customize your build to play and slay however you see fit, and that flexibility is just one reason why it's one of our top online games right now.
4. Call of Duty: Warzone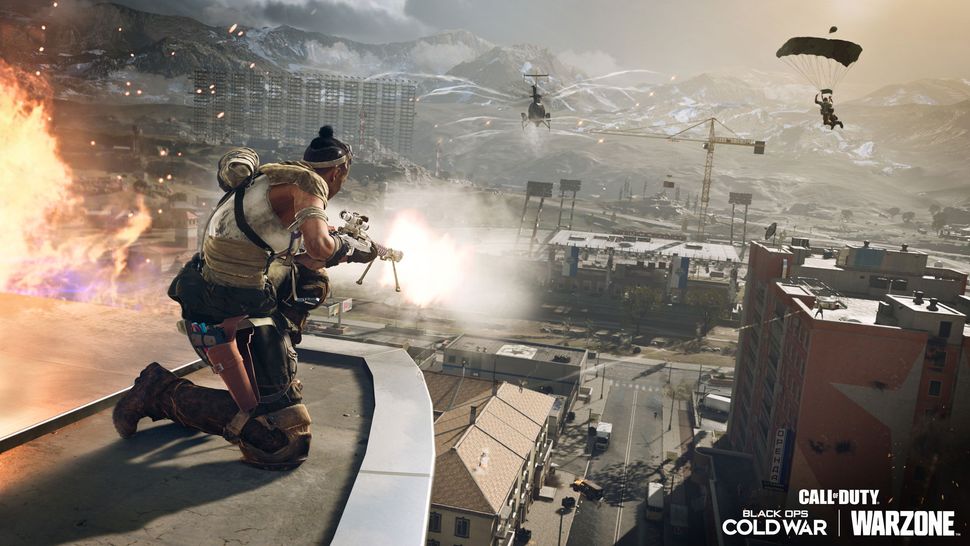 Developer: Infinity Ward, Raven Software
Platform(s): PC, PS4, PS5, Xbox One, Xbox Series X
When I receive a text asking if I fancy some Call of Duty, I know what this really means. It's asking if I want to drop into Call of Duty Warzone, with the battle royale having long eclipsed the traditional multiplayer experience. Warzone took inspiration from the battle royales that came before it, along with the signature high speed Call of Duty shooting mechanics, and truly delivered. Infinity Ward carved out a unique space in Warzone, using loadout drops to give you access to custom weapons and perks, and the gulag giving you a 1v1 chance at an extra life – it all makes for an incredibly compelling experience. Warzone has changed significantly in the last two years but, between its core Battle Royale and faster Resurgence offerings, it's become an unbeatable and competitive multiplayer experience.
3. Fall Guys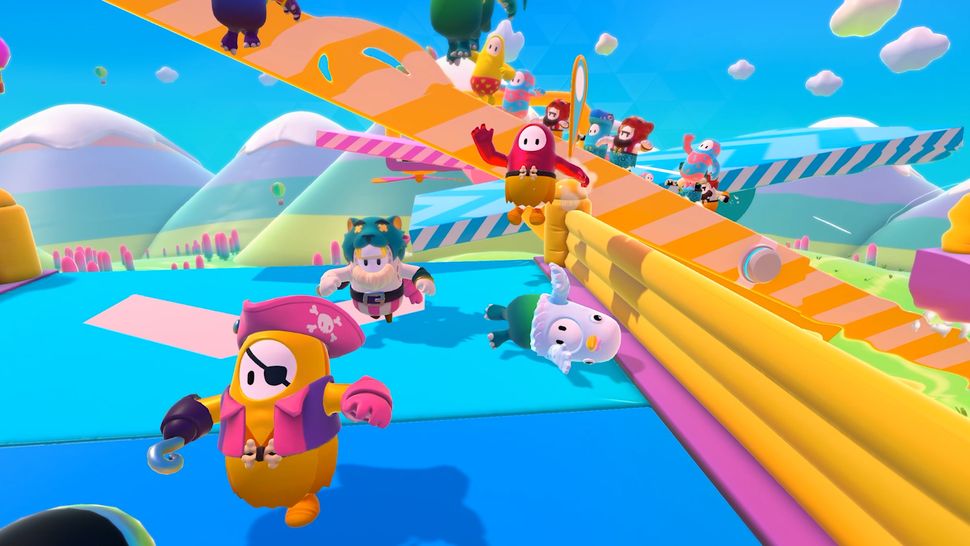 Developer: Mediatonic
Platform(s): PC, PS4, PS5, Xbox One, Xbox Series X, Nintendo Switch, iOS, Android
Chaos is not in short supply in Fall Guys, a rapid fire succession of candy coloured knockout games, but just to make sure the chaos quota stays at absolute peak, the move to free to play, release of the Xbox and Nintendo Switch versions, as well as the addition of full cross-play and cross-progression guarantees that those little beans are just going to keep on falling. Mediatonic have created a joyful, hilarious battle-royale, and while there can only be one bean left holding the crown at the end, everyone is in there having an absolutely lovely time. Whether you're rolling online solo or jumping in with friends, there's something undeniably fun about Fall Guys: Ultimate Knockout's presentation and play that shouldn't be ignored.
2. Mario Kart 8: Deluxe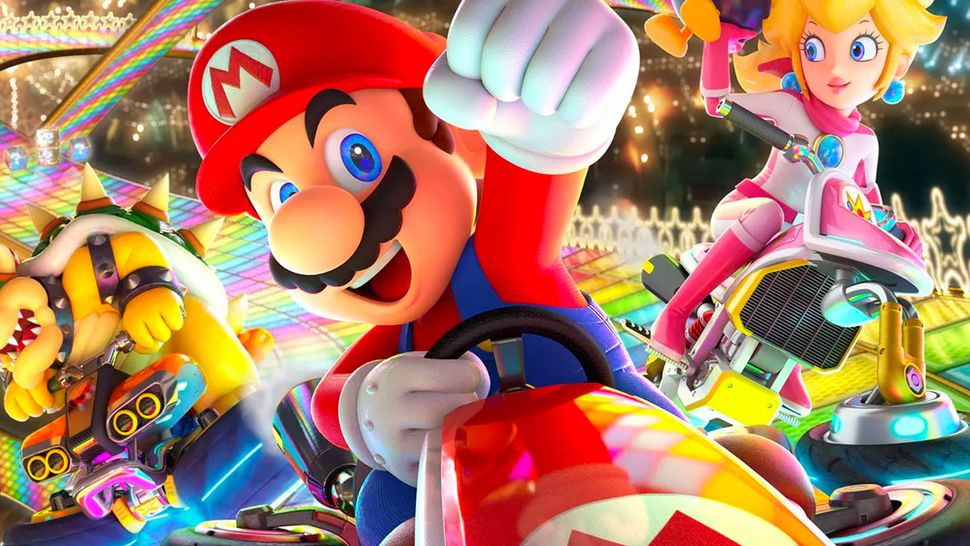 Developer: Nintendo
Platform(s): Nintendo Switch
Look, I'm not going to insult you by describing Mario Kart 8 Deluxe to you, it's Mario Kart – only better, and more content rich than any installment to the series before it. While it's true that there are any number of previous Mario Kart titles that are capable of eliciting a warm glow in your heart as a personal favorite, there can be little argument over which Mario Kart is the most luxuriously comprehensive of the bunch. Not content with adding 16 tracks when Mario Kart 8 on the WiiU had its deluxe lick of paint for the Switch release, a further 48 tracks are coming as part of the Booster Course Pack before the end of 2023, bringing the offering to a whopping 96 tracks! We're not going short on bananas and blue shells any time soon.
1. Fortnite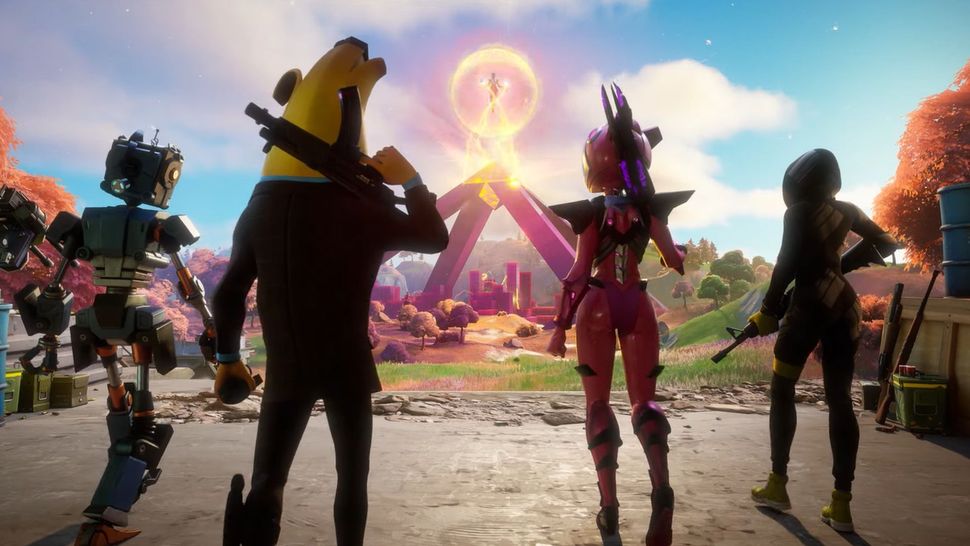 Developer: Epic Games
Platform(s): PC, PS4, PS5, Xbox One, Xbox Series X, Nintendo Switch, iOS, Android
Fortnite has been with us for over five years, but in that relatively short time it's become part of the furniture. Everyone has heard of Fortnite, my mum has heard of Fortnite, so we know it's something of a big deal. Given its size you could be forgiven for thinking Epic Games would settle down on their winning formula, but new mechanics, new items, and new quests are constantly popping up in this 100-player battle royale, and it is thriving. Fortnite's original unique selling point was the building of forts, it's right there in the name; those who were quick on the draw could erect elaborate structures to provide instant cover. But Fortnite has pushed past these boundaries now, with a Zero Build playlist available for those who lack architectural skill, while creative and social hubs exist for those who just want to mess around with friends. Fortnite continues to evolve as a game and transform as a platform, and we can't wait to see what this fantastic online game does next.