Fortnite is undoubtedly the best known battle royale game out there, with millions of players still regularly duking it out for a chance to bring home that coveted Victory Royale. Although it has been around for five years now, there are still fresh storylines and mechanics being added each season to keep things feeling fresh for loyal players. Of course, at the core of it you still have the same concept of outlasting all enemies to be the last one standing, but there are now many more ways to play and different experiences to be had.
With so many updates launching regularly, we've assembled this Fortnite guide to help you keep track of everything. We've got a full selection of walkthroughs and explainers, so whether you want to know how to complete quests, what weapons are available, where to find wildlife, or something completely different, you'll find the answers in this complete Fortnite guide.
Fortnite Battle Royale guides
If you're looking for help with Fortnite then you've come to the right place. We've spent hundreds of hours exploring the island, experimenting with tactics, and solving quests to bring you a definitive selection of Fortnite guides, covering all the information you'll need to fight your way to a Victory Royale.


Season 4
We're currently in Fortnite Season 4 of Chapter 3, where Chrome is starting to spread around the island and turn everything it touches into metal. Players can use this to their advantage, by becoming a Blob of liquid metal capable of faster movement and air dashing. Furthermore, you can phase through solid walls that have been coated in Chrome, allowing you to access areas quicker and get the jump on opponents.


Patch Notes
The game is updating on a regular basis, so if you want to keep up on the latest developments you should follow our Fortnite patch notes guide and always be aware of what's new and what will be coming next.


Live Event
Fortnite has become well known for its spectacular end of season showdowns and other live extravaganzas, so keep an eye out for details of the next big Fortnite live event.


Are the servers down?
If you're having trouble loading the game or connecting to a match, then you may be asking is Fortnite down? We've got all the information on how to check, so you can find out exactly when things will be up and running again. We also have a rundown of what the Fortnite error codes mean, should you see any.


Tips
If you're new to the Fortnite battle royale then you may be looking for some pointers to get started, or if you're a more experienced player then perhaps you'd like to top up your existing knowledge. Either way, we've got advice on how to play Fortnite to get you started, along with a set of Fortnite tips for all the things you should know before playing.


Map
The Fortnite map has received a number of changes for Season 4, with several new or updated named locations to visit around the island. You can already see the Chrome spreading out from Herald's Sanctum, and this is bound to shape the map further over the course of the season.


Quests
Fortnite quests are still accessed through the menu in their various forms, where you'll find the usual Daily Quests, Weekly Quests, and Milestones Quests with significant targets to hit which should keep you occupied throughout the season. Alongside these there are the Paradise Quests, which will fill out the storyline and ongoing lore for the current season.


Characters
The island is populated by a cast of Fortnite characters, who are NPCs you can interact with to initiate a variety of activities. Fortnite gold bars can be spent with them, to purchase items and services offered by the characters. Characters no longer offer Fortnite bounties, so you'll need to get those from bounty boards.


Weapons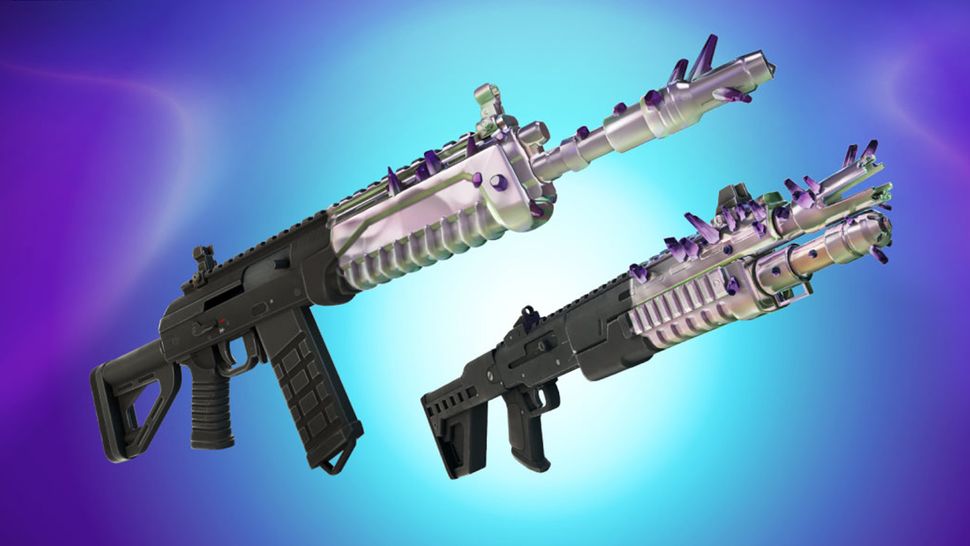 The pool of weapons available in Season 4 has been revised once again, but we've got details of all the Fortnite new weapons you can pick up in the game, including any returning from the vault. You can also purchase weapons from certain Fortnite vending machines (though watch out for Fortnite malfunctioning vending machines that drop random items instead), and once you have them you can improve them using Fortnite weapon upgrade benches.


Victory Crown
There are two ways to get hold of a Fortnite Victory Crown – either win a Victory Royale, or eliminate another player who is wearing one. Carrying the Crown makes it easier for your enemies to spot you, but if you win with it in your possession then you'll secure a Crowned Victory Royale and receive a special emote to show off your achievement.


Wildlife
There are various wild animals roaming the island, which can help or hinder your progress. Fortnite chickens let you glide through the air if you grab them, while Fortnite wolves and Fortnite boars will attack you on sight but can also be tamed to follow you around and attack your opponents.


Motorboats
With plenty of rivers crisscrossing the island, it makes sense to have a vehicle that can navigate them efficiently. That's where the Fortnite motorboats come in, as not only can they whizz around on water but thanks to their rocket boost they can also travel over land, plus they fire missiles!


Cars
If you need to travel somewhere fast, then Fortnite cars let you motor around the island at top speed. You'll want to know where to find Fortnite gas pumps so you can avoid running out of fuel, and adding some Fortnite off-road tires to your vehicle will stop any obstacles from getting in your way.


Ballers
Fortnite Ballers have an advantage over other forms of transport on the island, as they can easily cover off-road terrain – combine their grappling hook and boost ability to launch through the air or scale steep surfaces.


Foraged Items
If you're looking for a quick way to boost your Health or Shield, then consuming some Fortnite foraged Items could be just the ticket. There are apples, cabbages, mushrooms, coconuts, corn, bananas, and more to eat, each of which provides different benefits.


Campfires
If you're looking for a quick boost, then Fortnite campfires can help you when your health is low. We've got all the locations where you can light them up, then keep them stoked with wood for a longer benefit.


Reboot Vans
If you're playing in one of Fortnite's team modes such as Duos, Trios, or Squads, then elimination does not necessarily mean you're completely out of the game any more. If a teammate grabs the Reboot Card you drop when you're down and out before it disappears, they can take it to one of the Fortnite Reboot Vans found in all named locations and use it to respawn you back into the action – we've got all of their locations in our guide, though the process will alert every other player in the vicinity so be ready for a fight.


Llamas
If you're lucky enough to spot a llama piñata during a match then make a beeline to grab it, as they're super rare and contain lots of useful items and resources. They've also come to life now, so you'll have to chase them and deal as much damage as possible before they teleport away! For more information on these elusive llamas and what they contain, visit our Fortnite llamas locations guide.


Creative Codes
Thanks to Creative Mode, players have been able to construct all sorts of ingenious custom maps – from miniature recreations of the entire island, to adventures filled with puzzles and even a mini golf course! We've been following developments in this area, to bring you our selection of the best Fortnite Creative codes.


2FA Two-Factor Authentication
It's a sad fact of life on the internet that there will always be bad people trying to steal your information, and Fortnite is not immune from this. If you want to keep your Epic account (and your V-Bucks) safe then make sure you enable Fortnite 2FA – turning on Two-Factor Authentication will also reward you with the epic Boogie Down emote, so it's a win-win situation.


How to enable cross platform matches
If you're wondering how to enable cross platform Fortnite matches, then we can help. Did you know it's possible to play with absolutely anyone else on Fortnite, no matter what platform they're on? Xbox can play with PlayStation, PC can play with Android, and everything in-between. Our guide explains how you can make that happen.


How to link game and Twitch accounts
If you want to earn special items for your locker by watching certain streamed events then you'll need to know how to link Fortnite and Twitch accounts, and we've got all the information on what you need to do.


How to level up fast
If you want to keep unlocking rewards from the Battle Pass, then knowing how to level up fast in Fortnite will help you get the required XP quicker.


How many people play?
It's one of life's biggest mysteries, but we've actually got an answer to how many people play Fortnite. You'll have to read the full article to find out, but spoiler: there's a lot of them.


How to get free V-Bucks
Everyone wants to know how to get free Fortnite V-Bucks, as the in-game currency will unlock new emotes, outfits, wraps, and more. If you're looking for a route to some cheap V-Bucks as well, then the latest Fortnite Starter Pack offers the best value for money.


Similar games
Perhaps after all of that you're starting to feel a bit of Fortnite fatigue, and are looking for a different challenge? If that's case, we've picked out a selection of games like Fortnite you could try instead.


Fortnite Save the World guide
With all the hype surrounding Fortnite Battle Royale, it's easy to forget that there's a whole other PvE game available in Fortnite Save The World. Although Epic have repeatedly stated that this mode will become free to play at some point, for the time being you'll have to invest in a Founder's Pack if you want early access. For those playing right now, here's some help for fighting off the zombie hordes.


Save The World Tips
Fortnite Save the World features a whole host of layered menus, systems, and meta-game content, which aren't fully explained by the in-game tutorials and can seem overwhelming, so we've broken things down to make it more manageable. If you're playing the PvE mode then you should check out our Fortnite Save the World tips for hints on how to survive, thrive, and win.