We all know that Fortnite is huge right now. How many people play Fortnite, you ask? At least 45 million, according to Epic. That's a pretty crazy figure, and although Fortnite Season 4 may be drawing to a close, there's no sign of things slowing down as we've recently had everything from stink bombs to shopping carts added (and shopping carts taken away again). With Fortnite Season 5 just around the corner, expect a new theme and plenty more changes to come.
With all that in mind, jumping into battle with 99 other players can feel like a daunting prospect, especially as some of Fortnite's systems take a bit of practice to get used to. We've collected all of our tips and tricks, walkthroughs, and other guides here to ensure you have the knowledge to be victorious.
Fortnite Battle Royale guides
If you're looking for help with Fortnite then you've come to the right place. We've spent hundreds of hours exploring the Fortnite map, experimenting with various tactics, and solving challenges to bring you a definitive selection of guides, covering all the information you'll need to fight your way to a Victory Royale.
Fortnite Tips
If you're new to Fortnite Battle Royale then you may be looking for some pointers to get started, or if you're a more experienced player then perhaps you'd like to top up your existing knowledge. Either way, take a look at our Fortnite tips for 12 things you should know before playing.


Fortnite Battle Pass Challenges Guide
Every week, Battle Pass holders get seven Battle Pass Challenges to complete, which level up their characters and unlock new items such as outfits and emotes. Some are straightforward, whereas others require certain actions to be performed or collectibles to be found, and we've got everything covered in our regularly updated Fortnite Battle Pass Challenges guide.


Fortnite Tier 100 Challenge Guide
What happens when you earn enough Battle Stars to reach Battle Pass Tier 100? The answer is you unlock one final set of challenges to complete, and you can see exactly what they are in our Fortnite Tier 100 Challenge guide.


Fortnite: Search between a Bear, Crater, and a Refrigerator Shipment
The Fortnite Season 4 Week 8 treasure hunt is another geography-based quest. If you're struggling to search between a Bear, Crater, and a Refrigerator Shipment then we will show you the way.


Fortnite: Search Hungry Gnomes
The search for collectibles continues in Fortnite Season 4 Week 8, as you need to track down seven different hungry gnomes hiding in areas near food. We've found all the Fortnite hungry gnomes locations to help you complete your set.


Fortnite Treasure Map: Pleasant Park
The treasure hunt in Fortnite Season 4 Week 7 starts off with finding the map hidden in Pleasant Park. Collect your bonus Battle Stars for the week by solving the Fortnite Pleasant Park Treasure Map.


Fortnite: How to Score a Goal on Different Pitches
The celebrate the World Cup kicking off during Fortnite Season 4 Week 7, this challenge requires you to kick various balls into goals. We've got all the Fortnite football pitch locations for you, including additional secret pitches to help you hit your goal scoring target.


Fortnite: Search between a Playground, Campsite and a Footprint
Another treasure hunt for Fortnite Season 4 Week 6, this time relying on your knowledge of the map geography. If you want to complete your search between a Playground, Campsite and a Footprint in Fortnite we'll show you exactly where to go.


Fortnite Carbide and Omega Posters: How to Find and Spray Over Them
In Fortnite Season 4 Week 6, one of the challenges involves using your spray emotes to cover up Carbide and Omega posters displayed around the map. We've found all the Fortnite poster locations to help you wrap this one up.


Fortnite Treasure Map: Greasy Grove
The Fortnite Season 4 Week 5 treasure hunt involves finding and following a map hidden in Greasy Grove. If you want to locate those bonus Battle Stars then here's how to solve the Fortnite Greasy Grove treasure map.


Fortnite Rubber Duckies: How to Find Them
A Fortnite Season 4 Week 3 challenge is to locate 10 of the 19 ducks currently hidden around the map. If you need help finding all of the Fortnite rubber duckies then our guide will tell you where they are.


Fortnite Letters: How to Find Them and Spell Out F-O-R-T-N-I-T-E
The Fortnite Season 4 Week 1 challenge to spell F-O-R-T-N-I-T-E means searching the map for 8 letters from 15 possible locations. If you need help with finding the Fortnite letters our complete guide will spell it out for you.


Fortnite Llama Locations Guide
If you're lucky enough to spot a llama piñata during a match then make a beeline to grab it, as they're super rare and contain lots of useful items and resources. For more information on these elusive llamas and what they contain, visit our Fortnite Llama locations guide.


Fortnite Secret Locations and Easiest Chests
All Fortnite players will be familiar with the enticing chime of a nearby chest waiting to be opened, but unless you're one of the first to reach an area then chances are they may have all been cleared out already. If you want to find hidden loot in secret locations then follow our Fortnite secret chest guide.


Fortnite Weapons Guide
With so many different weapons available and only five slots to keep them in, it can be hard to decide what to take with you and what to discard. If you're looking for advice, then read our Fortnite weapons guide to find out which are the best guns and learn some strategies for victory.


Fortnite Vending Machines Locations Guide
As well as building, you can now use your wood, stone, and metal resources in vending machines to exchange for weapons and items. Take a look at our Fortnite Vending Machines guide to find out what's in them and where they are.


Fortnite Easter Eggs and Secrets
If you want to know about Fortnite Easter eggs and secrets, our interview with lead designer Eric Williamson explains why despite its 40 million players, no-one has found all of Fortnite's Easter eggs.


Fortnite Save The World guide
With all the hype surrounding Fortnite Battle Royale, it's easy to forget that there's a whole other PvE game available in Fortnite Save The World. Although Epic state that this mode will become free to play at some point in 2018, for the time being you'll have to invest in a Founder's Pack if you want early access. For those playing right now, here's some help for fighting off the zombie hoards.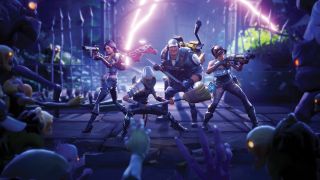 Fortnite Save The World Tips
Fortnite Save the World features a whole host of layered menus, systems, and meta-game content, which aren't fully explained by the in-game tutorials and can seem overwhelming, so we've broken things down to make it more manageable. If you're playing the PvE mode then you should check out our Fortnite Save the World tips for hints on how to survive, thrive, and win.
Looking for more? Then Fortnite: A Wildlife Documentary is the David Attenborough inspired Battle Royale replay you need to watch right now.