As we've all spent more time stuck indoors, the yearn to escape has never been stronger – and thankfully the games industry has been happy to oblige. Birthing a shiny new generation of elusive consoles and providing third-party and first-party epics alike, there is an embarrassment of best single-player games riches waiting to be enjoyed. 
Yet despite the recent boon in AAA blockbusters, just a few years ago, it seemed as though we might witness the death of single-player entirely. As consumers started shifting their focus to online experiences, publishers like EA, Activision, Microsoft and Ubisoft followed suit, siphoning their money away from AAA stories into always-online experiences. Thankfully for us, gamers voted with their wallets and bought narrative-led epics in droves.
To celebrate the stubborn persistence of the narrative-driven epic, we've put together a list of the best single-player games you can play right now. From shiny 4K adventures to stone-cold classics playable on the latest hardware, here's our tribute to the wonderful world of single-player gaming.
25. Hitman 3
If you're missing the thrill of exploring the world right now, then Hitman 3 is the perfect antidote. With each Hitman level suddenly throwing an out of place 47 into a new country for a brief stint, there's only just enough time for him to get in and hastily get the job done before he's suddenly whisked away to his next 'business trip'. Sending players everywhere from a cavernous Berlin club to a strange country manor, this endlessly inventive arcade-like sandbox is a wonderfully varied global murder fest. With more tools for destruction at your disposal than ever before, this endlessly replayable action game lets you be as creative as possible, offering players a litany of hilarious ways to dispatch your marks. Move over Microsoft Flight Simulator, Hitman 3 is the true virtual MVP travel experience.
24. Before Your Eyes
If you're looking to be emotionally devastated, then look no further. Telling the tale of a man's life flashing before his eyes, this webcam-controlled adventure sees the player using real world blinks to navigate in-game memories. Thanks to its innovative control scheme, the game feels deeply personal – and by the time you reach its finale, it's hard not to find yourself bawling uncontrollably. While Before Your Eyes is undoubtedly the briefest title on our list, this film-length tale packs an emotional punch that will linger long after the credits roll. 
23. Returnal
Part old arcade school shoot em up, part Hideo Kojima-esque narrative opus, Returnal is a bizarre, ambitious and utterly enthralling ride. It's also unrelentingly brutal. Light on save points and big on punishment, this all-consuming PS5 exclusive definitely isn't an easy ride. Yet thanks to its slick-feeling movement, all-consuming sense of atmosphere,  and brilliant sense of intrigue, it's a game that constantly beckons you to return. Blending a sickeningly detailed Aliens-esque aesthetic with some of the most satisfying combat this side of Platinum games, this story-led sci-fi roguelike is a creation that's refreshingly unique.  Whether you're new to the genre or are an old hand, Returnal is a gorgeous, ambitious, and completely essential experience.
22. Star Wars Jedi: Fallen Order
If you're itching to wield a virtual lightsaber after binge-watching the Mandalorian, then look no further. Taking its cues from Dark Souls and Hollow Knight, Jedi Fallen Order is a giddy blend of Uncharted-esque cinematic adventure and challenging Metroidvania. Yet more crucially for Star Wars stans, the tale it tells is entirely cannon. Featuring characters from Rogue One and tying neatly into the events of Rebels, the Bad Batch and The Clone Wars, Fallen Order is a must for anyone who's found themselves falling back in love with a galaxy far, far away.
21. Cyberpunk 2077
It may not have got off to the best launch, but make no mistake – Cyberpunk 2077 is still well worth your time. For the murky background behind its development and its (initial) litany of game-ruining bugs, Cyberpunk's Night City is undeniably an exhilarating place to explore. Featuring a brilliant soundtrack, industry-leading voice acting and enough side quests to shake a Bloody Baron at, Cyberpunk 2077 is about as epic as an open-world epic can get. Receiving a constant stream of patches and a full current-gen upgrade after its disastrous launch, it's an experience that is only getting better over time. Sure, it's not The Witcher 3, but if you fancy a dystopian sci-fi RPG, there are few better.
20. Outer Wilds
Not to be confused with Obsidian's sci-fi RPG, The Outer Worlds (more on that later), Mobius Digital's indie darling is also set in the far flung reaches of space, yet offers an entirely different narrative experience to the game it shares two thirds of a title with, and indeed any other title out there. 
Outer Wilds puts you in the astronautical boots of a newly trained spacefarer for an alien race, but it just so happens your first day on the job also coincides with a solar supernova wipes out the entire galaxy. I'll refrain from spoiling anything else beyond that, but suffice to say that what follows is a daring, deviously clever investigation into time and space that will have you awe-inspired from the moment you take off. 
19. Final Fantasy 7 Remake
Final Fantasy 7 Remake achieves what we thought was impossible. It takes just the first section of Square Enix's 1997 JRPG, stretches it out into a full, 50 hour experience, switches up turn-based combat for real-time action, and subverts everything you thought you know about the original story. 
And yet, even with those daring, potentially controversial changes, Final Fantasy 7 Remake is incredible, and arguably an even more timeless and magical experience than the beloved title it's inspired by. If this is just the beginning for a multi-game re-imagining of one of Japan's most beloved stories, then count us in for every new chapter. 
18. Half-Life: Alyx
I am fully aware that few people have the financial means to play Valve's unexpected prequel to its Half-Life series, which released earlier this year as a virtual reality exclusive on PC. That being said, it would be criminal to ignore the achievements that Half-Life: Alyx makes for immersive storytelling, and the VR platform as a whole, making this a must buy if you happen to own a headset and PC right now. 
Not only is it a brilliant experience on its own merit, however, Alyx makes important statements about the future of Half-Life itself, with our titular scavenger's adventure connecting to the series' overarching narrative in jaw-dropping ways. Here's hoping Valve brings out a non-VR port sometime soon. 
17. Pokemon Sword and Shield
Nintendo's latest return to its beloved critter collection franchise is the most ambitious Pokemon entry yet. Set in the UK-inspired Galar region, your trainer travels on Nintendo Switch features a gorgeously rendered, three-dimensional world full of dynamic encounters, quirky characters, and - yes - hundreds of Pokemon to find, battle, and evolve. What's more, with two new expansions on the way, there's never been a better time to pick Pokemon Sword and Shield, and begin your adventures across Galar and beyond. 
16. Gears Tactics
The turn-based strategy genre might seem like unexpected territory for the Gears franchise to wade into, but it turns out The Coalition is onto something here, as Gears Tactics represents a fantastic debut entry in what could be a new spin-off franchise for Xbox's beloved shooter series. 
Maintaining everything you love about Gears' combat, from its cover-focused rhythms to its love for OOT viscera, Tactics demonstrates a clear love for its source material even while it drags it kicking and screaming into the top-down, turn-based framework. What's more, its comprehensive campaign boasts A-grade production value, and connects itself to the ongoing Gears saga in surprising ways. Marcus Fenix would be proud. 
15. The Outer Worlds
If you've never played an Obsidian game before, you're in for a treat with The Outer Worlds. The studio's latest new IP is a ragtag, zigzap tour through the future of the final frontier, one where corporations are in control, and as jovial and joyous in tone as it is cynical in satire. 
Obsidian's talent for classic role-playing immersion is firing at full throttle here, complete with branching storylines, deep and robust character customisation, and a whole cast of companions to befriend and explore the galaxy with. Hopefully The Outer Worlds is just the start of many a new adventure in Halcyon, because we already love what Obsidian has shown us so far. 
14. Resident Evil 2 Remake
Capcom's initial announcement of Resident Evil 2 Remake was naturally met with some scepticism at first, but we couldn't have been more off-base. The studio's loving recreation of its 90's survival horror classic is the perfect example of how to modernise an old game while staying true to its roots. 
Leon's harrowing gauntlet through the Raccoon City Police Department is one of the scariest, toughest campaigns we've ever had the joy of running through, completely accessible to series newcomers yet still littered with easter eggs to delight the Resi faithful. This is how horror is done, and proves just how much life there is in Capcom's seminal franchise yet. 
13. Spider-Man: Miles Morales
The current crop of consoles may have got off to a bit of a shaky start, but Spider-Man Miles Morales was a clear launch highlight. Picking up where 2018's Marvel's Spider-Man left off, this 15-hour standalone adventure puts players in the shoes of the other Spider-Man. Not only is Insomniac's second Spidey outing drop-dead gorgeous, it's an utter joy to play, too. Stepping up the level of cinematic storytelling and giving players a toybox full of new suit upgrades to play with, Miles Morales' Christmas-time Harlem is an utter joy to swing through. If you're after something fun and story-led, then look no further. 
12. Ori and the Will of the Wisps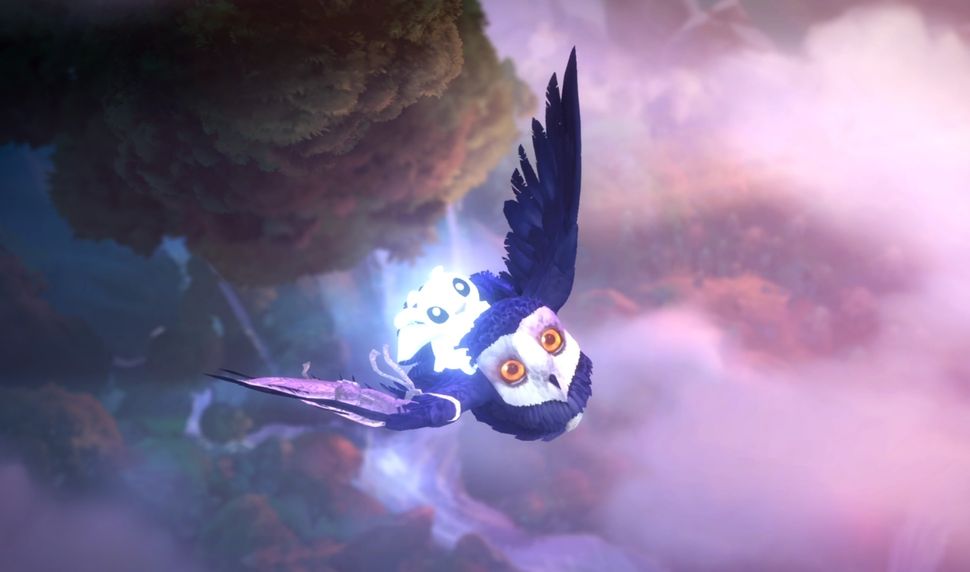 Ori and the Will of the Wisps is magical. There are moments where you'll ponder just how a platformer has managed to pull off such a wonderful experience. From the very start, you'll be weeping like a willow as you're re-introduced to Ori, Naru, Sein, alongside equally adorable new character, Ku. 
Gameplay-wise, Developer Moon Studios also manage to refine and finesse everything that was great about 2014's Ori and the Blind Forest, bringing new depth and joys to combat, exploration, and platforming. A mesmerising adventure from start to finish. 
11. Football Manager 2020
If you enjoy football/soccer, then you've missed a beat if you've never tried the Football Manager series before. Football Manager 2020 is the latest instalment and it's the "best in the series by some distance". Whether you want to play as the biggest club in the world - Manchester United, of course - and dominate the Premier League with all the riches you could dream of, or start from the very bottom and work your way up, Football Manager 2020 has it all. 
Turn to the next page for ten more of the best single player games to enjoy right now. 
10. Control
Remedy's latest delve into new weird is perhaps the studio's strangest, and finest, work yet. Putting you in the boots of the Federal Bureau of Control's newly appointed Director, Jesse, it's up to you to journey into the depths of its HQ, the Oldest House, which is as creepy, magical, and mysterious as it sounds. 
With its supernaturally flavoured third-person shooter combat, delectably off-kilter story, and genuinely jaw dropping visuals, Control is a preternatural pill of kaleidoscopic carnage, with every moment managing to top the last in its pure, surreal wonder.  Oh, and without getting too spoilery, Alan Wake fans do not want to pass this one. 
9. The Legend of Zelda: Breath of the Wild
Who'd have thought that of all games, the Zelda series would be the one to introduce one of the best open worlds of all time? Legend of Zelda: Breath of the Wild is Zelda's first... sorry, Link's first journey on the Nintendo Switch and it's one of his best ever. There's so much to do! From searching for the 900 Korok Seeds to hunting down Guardians and completing shrines, Breath of the Wild is perhaps the best RPG available on Switch right now.
8. God of War
The God of War franchise has always been great, but God of War PS4 has taken things to the next level. It's gone from linear storytelling to a semi-open world, where players control Kratos and explore worlds taken straight from Norse mythology. It's brutal, bad ass, and bafflingly beautiful, which is why we called it one of "PlayStation's finest moments".
7. Assassin's Creed Valhalla
To say that Assassin's Creed has become stale in recent years would be a bit like saying COVID19 has been a mild inconvenience. Thankfully, for its 12th mainline adventure, Ubisoft heard our grumbles. Dropping the series tedious forced stealth and fully committing to a grin-inducing historical power fantasy, Assassin's Creed Valhalla lets players embrace the fury of a blood-soaked Viking. Following years of climbing towers and walking really slowly behind enemies, Valhalla's head cleaving, fortress toppler is a breath of fresh air. Offering up the most life-like and varied Ubisoft open world to date, and refreshingly weighty combat, Valhalla's Ye Olde England is a world to really lose yourself in. 
6. Super Mario Odyssey
Everyone's favourite plumber leapt onto the Nintendo Switch with a purpose with Super Mario Odyssey, along with his new best pal Cappy. Embark on another treacherous journey across multiple worlds to save Princess Peach from Bowser's clutches and meet numerous friendly and fearsome characters along the way. Super Mario Odyssey retains the charm and captivating gameplay from previous instalments, while keeping up with modern gameplay elements and introducing new mechanics of its own.
5. Kingdom Hearts 3
Who needs a significant other when you can journey through various Disney worlds with Donald Duck and Goofy by your side? Kingdom Hearts 3 is the long-awaited third instalment in the franchise and it hasn't disappointed. From climbing the North Mountain in Arendelle (Frozen) to exploring Andy's Room in Toy Box (Toy Story) and flying around San Fransokyo (Big Hero 6), Kingdom Hearts 3 is a lengthy JRPG that is perfect for veterans and newcomers to the series alike.
4. Red Dead Redemption 2
Is there a better way to kick off this list than with Rockstar's western epic? A prequel to the first game, Red Dead Redemption 2 places you in the shoes of Arthur Morgan. Explore the staggeringly beautiful wild west on horseback, hunt animals, play poker, go fishing and more as you saunter around as part of Dutch van der Linde's gang. When you've finished with the 80+ hour journey, jump into Red Dead Online for even more wild west action.
3. Horizon Zero Dawn
Robot dinosaurs. Need we say anything else? Probably not, but we will anyway. Take control of Aloy in Horizon Zero Dawn, an open world RPG where she discovers herself and her history. Robot dinosaurs inhabit the landscape, from small Watchers to terrifying Snapmaws and Thunderjaws. Horizon Zero Dawn rarely puts a foot wrong, from the plethora of ways to engage in combat to travelling across the map and exploring the various tribes that have set up homes and towns in every corner. 
2. The Last Of Us
One of the oldest games on this list, The Last Of Us is a heart-wrenching journey set in the near future. Without spoiling too much, a deadly disease has covered most of the world and your goal is to escort the only known immune human to a research lab, so a cure can be created. What ensues is a tale of love and loss, with breathtaking moments that tugs on the heartstrings like never before.
1. The Witcher 3: Wild Hunt
If you can get your head round a brand new style of combat that does away with most conventions seen in other games, the rest of The Witcher 3 could be considered perfect. You are Geralt of Rivia, a Witcher - also known as a monster slayer to you and I. There's so much to do and see in The Witcher 3, it may seem overwhelming at first, but after you complete your first few monster contracts and begin Geralt's journey to find the ones he loves, you will not put the game down until you've reached the end and slain thousands of enemies.