After giving us a month to get stuck into the massive world of Red Dead Redemption 2, Rockstar have now opened the stable doors and welcomed players into the new frontier of Red Dead Online. Initial feedback suggests there is some room for improvement, and Rockstar have announced that Red Dead Online's stingy economy will be addressed in its first major update, which could be coming as soon as the end of this week. Whether you're looking to form a Posse with friends to hunt and complete co-operative story missions together, go exploring in the wilderness, or take on other players in competitive game modes and races, there's plenty that you can be getting on with.
That amount of choice can prove to be overwhelming, especially if you have a specific goal in mind such as reaching a certain rank or earning enough money to buy that special item you've set your sights on. That's why we're here to assist, and as we learn more about Red Dead Online we'll be sharing our wealth of knowledge and experience with you - supplying guidance on everything you need to know about Red Dead Online, as well as gathering a complete set of guides covering all the individual areas you need to focus on in more detail. Saddle up partner, and we'll begin...
Red Dead Online Beta
Although Red Dead Online is now up and running, it's still currently in the beta phase, with Rockstar asking for feedback on any technical issues players may encounter. This means that not all modes and systems will be operational for now, with tweaks and alterations to the game likely as the initial launch kinks are ironed out. We'll keep you posted on all the updates and changes to the Red Dead Online beta, as they happen.
Red Dead Online Tips
We're in the early days of Red Dead Online, so many players are still finding their feet and getting used to how the game's systems work in the online setting. If you're looking for advice on the best horse to choose, how to avoid enemy fire, and much much more, then take a look at our essential Red Dead Online tips to know before you play.
How to earn XP fast in Red Dead Online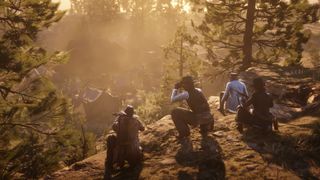 Earning XP is super important in Red Dead Online, as your character's level (or rank) determines what items, weapons, and even horses you have access to. As with most online games, there are many ways to grind out XP, but some are more efficient and enjoyable than others - we'll outline all of these as we show you how to earn XP fast in Red Dead Online.
How to make money fast in Red Dead Online
They say that money makes the world go round, and that holds true in Red Dead Online. If you want to purchase high-level items, new weapons, and upgrades, then you need to have the cash to back it up, and with the current state of the game's economy it's pretty hard to come by. We've investigated different strategies for earning a crust, to bring you the best methods for how to make money fast in Red Dead Online.
Red Dead Online Microtransactions
Thanks to the runaway success Rockstar have had with the GTA Online Shark Card, you can guarantee that a similar system will be put in place with Red Dead Online, allowing players to pay real money to jump ahead with their progression and access the coolest items quicker. The exact details of how Red Dead Online microtransactions will work have yet to be revealed, though we suspect acquiring gold bars will be involved when the system launches soon.
Red Dead Online Character Creator
The Red Dead Online character creation is incredibly detailed, and you can pretty much customise everything about your cowboy or cowgirl right down to the redness of their eyes and the sound of their horse whistle. When getting yourself set up, remember that you're potentially going to be spending a long time with your Red Dead Online character, so make sure you're happy with their look before committing. There will no doubt be options to change your haircut and trim your beard (as appropriate), but plastic surgery was not very advanced in the early 1900s so don't expect a full facial reconstruction any time soon.
Red Dead Online's First Mission
If you've not had the chance to try out Red Dead Online for yourself yet, we have complete footage of the very first mission above. What starts out as a simple delivery job quickly turns into a gang shootout, a treasure map hunt, and much more - we won't say any more for now, but it's all there if you want to watch. Red Dead Online promises to provide plenty of story-based missions, as well as all the hunting, foraging, and other free-roam activities you've come to expect from the single player experience.
Could you reach rank 50 of Red Dead Online in 10 weeks?
Red Dead Online is now live, and our new video series Red Dead Online The Road to Rank 50 asks the question - can we reach rank 50 in the next ten weeks? It may sound easy, but our first week hasn't exactly been a rousing success. See how we got on in part 1, then keep checking back each week and follow our progress. Will we make it to our lofty target? Only time will tell.
More Red Dead Online guides