Red Dead Online Game Modes
At launch, there are five different competitive game modes available in Red Dead Online, which are detailed below. Currently, there isn't a way for players to choose a specific game mode, so to enter one of them you'll need to join a competitive mode playlist. The larger the playlist, the more chance you have of encountering a variety of game modes, but at this stage it's still very much luck of the draw as to what you'll get.
Shootout and Team Shootout
Shootout and Team Shootout are your classic deathmatch modes, where you need to work individually or with your team to score more kills before your time runs out. You have unlimited respawns, but remember that each one is a point for your opponents so try not to get reckless. Should the scores be tied at the end of a round then Sudden Death will kick in, with the next kill securing victory.
Most Wanted
In Most Wanted you're battling against your opponents to secure your place at the top of the leaderboard. The more kills you get, the higher you'll rise up the list, but as you close in on the top your enemies will get more points for eliminating you. Pay attention to the current score to identify the most valuable targets, but also be aware of when you're doing well and the others will be gunning for you.
Make It Count
Make It Count is Red Dead Online's take on battle royale, with up to 32 players duking it out to be the last one standing. Starting out with either a bow and a few arrows, or a small cluster of throwing knives, you'll need to use both stealth and ruthlessness to survive in the ever decreasing game area and outlive all your opponents to take the win.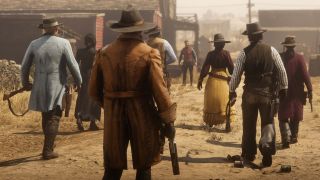 Name Your Weapon
Name Your Weapon has both free-for-all and team variants, but the core concept is the same for both - the more difficult the weapon you use to get your kills, the more points you'll score for them. It's up to you whether you want to go big with a powerful weapon and rack up lots of kills for low points, or take a more tactical approach with something tricker and make your kills count.
Hostile Territory
In the team-based Hostile Territory, the aim is to capture and hold territories to start accruing points for your side. Work together to hold on to your land, and make sure you're earning points faster than your enemies to secure the victory. Your team can also win the match outright if you manage to capture all territories at the same time.
More Red Dead Online guides
Red Dead Online Game Modes