Red Dead Online is finally live on PS4 and Xbox One, but those who don't own the Ultimate Edition of Red Dead Redemption 2 won't be able to play until later this week, and may be wondering what the opening moments of Rockstar's new multiplayer experience looks like.
Conveniently, we've already been sinking our teeth into Red Dead Online, and have captured the first five minutes of the game for your viewing pleasure above, which shows off the character customisation menu, as well as the first cutscene setting the story for your personalised cowboy.
Read more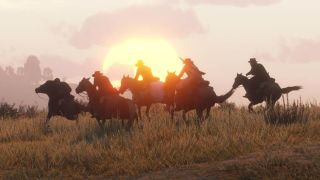 Red Dead Online guide: Everything you need to know to succeed in Rockstar's online Wild West
As you can see, Rockstar's level of detail has not been forgotten in the jump to multiplayer, as players can tweak with anything, from the pitch of their character's horse whistle to the structure of their eye socket. We decided to put the tools to their limit, creating some sort of rabid, portly pensioner in the process. Perhaps this is what Gandalf looks like after one too many malt beers down at The Prancing Pony.
Don't worry if you grow to hate your new Wild West avatar, though. You'll no doubt be able to change your character's appearance in-game throughout the world of Red Dead Online, whether visiting the tailors, barbers, or shaving station just as you would in the single player portion of Red Dead Redemption 2.
We'll also have loads more Red Dead Online content to show you throughout the week, as everyone - regardless of when they bought the game - will be able to jump into the servers from Friday, November 30, onwards.
Speaking of single player, check out our guide to the Red Dead Redemption 2 Legendary Animals, and catch 'em all to unlock every costume at the Trapper.