Get ready to saddle up, because Red Dead Redemption 2 will finally be released next month on October 26. Yes it's been eight years since the original, but everything we've seen suggests it will be worth the wait. Rockstar has given us some enticing glimpses of a lush and lively Wild West, packed with colorful characters like the Van der Linde Gang and new protagonist Arthur Morgan.
You can pre-order the game now, then just start counting down the days, minutes and hours until you can experience life as an outlaw for yourself. The game is released on PlayStation 4 and Xbox One on October 26. Until then, find out everything you need to know about Red Dead Redemption 2 below.
Red Dead Redemption 2 release date: October 26, 2018
Formats: PS4, Xbox One
Developer: Rockstar
Price: $59.99 / £49.99
Red Dead Redemption 2's latest screenshots to obsess over
We've just gone hands on with the most anticipated game of the year. You can read all about it here, and then obsess over this bounty of new rootin' tootin' screenshots.
Image 1 of 23
Image 2 of 23
Image 3 of 23
Image 4 of 23
Image 5 of 23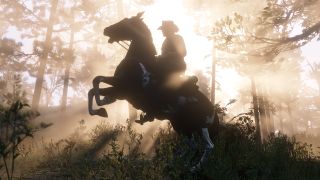 Image 6 of 23
Image 7 of 23
Image 8 of 23
Image 9 of 23
Image 10 of 23
Image 11 of 23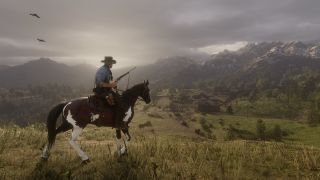 Image 12 of 23
Image 13 of 23
Image 14 of 23
Image 15 of 23
Image 16 of 23
Image 17 of 23
Image 18 of 23
Image 19 of 23
Image 20 of 23
Image 21 of 23
Image 22 of 23
Image 23 of 23
Red Dead Redemption 2's characters are a rogues' gallery
Some outlaws are lone wolves, but usually not the kind that live very long. In Red Dead Redemption 2 you'll journey with an impressive assortment of renegades and thieves. Some of them you've met before, like Dutch van der Linde, Bill Williamson, and Javier Escuella - all targets of John Marston's manhunt in the original Red Dead Redemption. But many more are new faces that help round out the gang as not just a band of thieves but a little society unto itself. Traveling with the likes of Susan Grimshaw and Charles Smith sounds pretty cool.
Red Dead Redemption 2's new hero
Arthur Morgan is an outlaw, part of Dutch van der Linde's gang and not the sort of cowboy you want to take home to mother. While robbery and violence are an unavoidable part of the outlaw job description, you can decide how honorable Morgan will be. The choices you make will - according to Rockstar - have consequences down the line, opening up new opportunities depending on your behavior,
Some familiar Red Dead Redemption faces are back
Dutch van der Linde was, of course, one of the major antagonists of the first game, and this prequel will let you spend some quality time with the criminal boss as you travel the American West. Some other key players also return, including John Marston, right around the time he got those manly scars.
Rockstar has also revealed that Bill Williamson, Javier Escuella, Sadie Adler, Charles Smith, Micah Bell, Hosea Matthews and assorted other travelers will all play important roles in outlaw life. It'll be interesting to see the origin stories of some of the characters, like old Bill, after hunting them down in Red Dead Redemption all those years ago.
Camping and hunting is a big part of Red Dead Redemption 2 life
Being an outlaw means adopting a nomadic lifestyle, so camps will be a key part of surviving and thriving on the prairie. Camps will act as a hub where you can get to know gang members, learn secrets and pick extra missions. It feels like relationships with your allies will be key to your experience of the world, and you can improves things by contributing to the camp by hunting, contributing provisions or just sharing your wealth. How much you contribute is optional, there's a lot of world to explore out there on your own, and a lot of hunting and fishing to keep you away, but you can bet there'll be benefits to communal living. The latest trailer suggests that camps are a family affair, with a small child - a young John Marston, Jr? - visible by the campfire.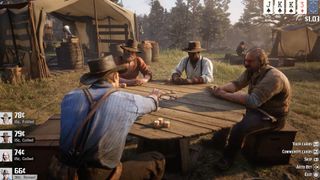 Meeting the locals
Of course there's a world away from the campsite too, and with the honor system and more choices on how you interact with its inhabitants, you'll have your chance to make a mark on strangers. You can start chatting to anyone in the world, from a casual "nice horse" as you're riding by to holding up a passing stagecoach just because you feel like it. Someone up to know good might be willing to let you pass without a fight if you move along fast, while hanging around will mean a shoot out for sure.
Life as an outlaw also means shootouts, robbery, and intimidating witnesses into silence. Or just killing them. Both work right? The fact that the newest trailer showed Arthur being berated for killing someone's cousin suggest your actions will have consequences though, so it might be worth thinking about who you send to the great saloon in the sky.
Red Dead Redemption 2's wildlife
The most important animals in Red Dead Redemption 2 are horses, because just like in the first game they're your companions, and your transport. Just as with humans, a new level of depth has been added to your interactions with your steed, and building a relationship with grooming, feeding, care and time will be key to having a horse that will stand by your side - or under your butt - when things get wild in the west. Different breeds will be better suited to different situations, and different horses will react differently to terrain, water, fear and Arthur himself.
Your horse will also act as living luggage, allowing you to carry extra weapons and the carcasses of any animals you've slain on your travels. The latest trailer showed wolves, bears, moose, deer, vultures and fish, and you can get you'll be able to take a shot at all of the above when you're out in the wilds. Some animals will take more than a single shot to kill, and we saw Arthur tracking a moose in-game.
Most importantly, dogs confirmed.
The Red Dead Redemption 2 release date is confirmed as October 26, 2018 for PS4 and Xbox One
We have a confirmed Red Dead Redemption 2 release date of October 26, 2018 with publisher Take Two CEO Strauss Zelnick saying he was 'confident' there would be no more delays. This isn't the first time the game has been pushed back, however. When Rockstar first announced it was pushing back Red Dead Redemption 2's release date from Fall 2017 to Spring 2018, our inner outlaws were crushed. Hadn't we waited long enough for a sequel to the 2010 masterpiece? The developer cited the upcoming sandbox sequel "needs some extra time" to get it up to the standards we all expect from the first game out of the studio since Grand Theft Auto 5. Since then, an earnings call with Rockstar's parent company shed further light on the reasons behind the delay.
Speaking to investors in late May 2017, Take-Two CEO Strauss Zelnick was adamant that Red Dead Redemption 2 has merely been delayed to ensure can Rockstar "deliver the most extraordinary [experience] we're capable of providing." When an analyst subsequently asked if the delay signaled the epic Old West adventure is suffering development woes behind the scenes, Zelnick was quick to shoot down the suggestion.
"We have not run into particular issues," Zelnick said. "We are building a new game from the ground up for the first time for new-generation consoles. And the pressure that we put on ourselves to deliver excellence and to delight consumers is extraordinary."
Zelnick went on to add that Rockstar has the full backing of Take-Two over the delay. "We support emphatically the label's decision, and we are utterly confident that it will prove in time to be wise first and foremost creatively and artistically, economically as well." Turns out, when your previous game sells over 70 million copies (and counting), a publisher is going to back you no matter what.
A new leak has even suggested we might see it on PC too, if someone's badly thought out LinkedIn update is anything to go by.
Red Dead Redemption 2 leak from TrustedReviews points to three new online modes, vehicles and multiple open-world activities
We'll talk in more detail about the rumoured new online modes below, but the volume of open-world distractions listed by Trusted Reviews sound promising. Activities include herding, fishing, a poker mini-game, gold mining, and a variety of shooting challenges. Rumour is you'll constantly receive rewards for your adventures e.g. for travelling a set distance, and the world will feel much more alive, with shopkeepers packing away their stalls at the end of the day. Plants and herbs can be collected, as per the previous game, and you'll be able to upgrade your tents, much like GTA Online's apartments. There's also talk of an official companion app, plus vehicles such as handcarts, minecarts and horse-drawn carriages; with hints you'll be able to ride a train. As plausible as it all sounds – and the Trusted Reviews leak did contain two new images which look fairly authentic – this is far from confirmed. Watch this space.
The Red Dead Redemption 2 map looks like it's already been leaked
This looks pretty legit. Early last year, a Red Dead 2 map was leaked on (RIP) NeoGaf. The fidelity of the design - and specificity of the names on said map - only lend further credence to this being an accurate blueprint of the Western world we'll hopefully all be roaming around next year.
Look closely at the leaked map, and you can see an area labelled 'The Great Plains'. This significant chunk of prairie real estate was one of the most visually striking locales from the first Redemption - remember that sweeping valley with all the grazing buffalo?
The presence of islands and caravan sites on the leaked document are also interesting. Couple the former with the trailer shots of the canoe, and it would seemingly all but confirm that boat travel is in Red Dead 2. The inclusion of caravan sites also suggest this is a less-populated take on the Old West than the original Redemption's. Again, this points towards Red Dead 2 taking place before Marston's adventure, during a time when the American Frontier was still being discovered by European settlers.
Red Dead Redemption 2's multiplayer, Red Dead Online, hits open beta this November
Rockstar recently confirmed that Red Dead Redemption 2 will feature a multiplayer mode largely inspired by GTA Online. It's called Red Dead Online, and Rockstar says it's a mix of GTA Online and the original Red Dead Redemption's underrated multiplayer. Red Dead Online will go live after Red Dead Redemption 2's release, and a public beta is planned for this November. Anyone who owns the base game will be able to play the online mode for free.
"Red Dead Online is an evolution of the classic multiplayer experience in the original Red Dead Redemption, blending narrative with competitive and cooperative gameplay in fun new ways," Rockstar says. "Using the gameplay of the upcoming Red Dead Redemption 2 as a foundation, Red Dead Online will be ready to be explored alone or with friends, and will also feature constant updates and adjustments to grow and evolve this experience for all players."
Speaking with IGN, Rockstar design director Imran Sarwar described Red Dead Online as a totally separate product from Red Dead Redemption 2 which will "grow and evolve independently." Sarwar said it will leverage the strengths of GTA Online and build on the multiplayer mode in the original Red Dead to combine "really fun and complex competitive and cooperative experiences" with new narrative elements.
Red Dead Online's announcement didn't touch on the rumored Red Dead battle royale mode. However, we still don't know what game types the online mode will feature, so it's entirely possible Rockstar may add battle royale to its stable as well.
Red Dead Redemption 2 probably isn't going virtual reality (in case you were wondering)
Sure, Rockstar is currently hard at work giving LA Noire the virtual treatment - but don't expect Red Dead Redemption 2 to have any PlayStation VR-specific bonus modes for now. Speaking at a Take-Two telecom conference on May 31, Zelnick sounded pretty down on virtual reality games and their ability to generate cash. "So far there is not a significant entertainment market for VR software," said Zelnick. "I think that's a factual statement." Unless LA Noire in virtual reality sets new sales records, don't get your hopes up over Red Dead squeezing in some VR six shooter battles.
Red Dead Redemption 2 pre-order details
Pre-orders are now live for Red Dead Redemption 2 on Xbox One and PS4. If you place your order early you get the War Horse - a pretty iron-grey-colored Ardennes steed - and Outlaw Survival Kit, which gives you items to replenish Health, Dead Eye and more.
If you pre-order the Special Edition you'll get the above plus exclusive content for Story Mode including a Bank Robbery mission, a Gang Hideout, a 'Dappled Black Thoroughbred', Talisman and Medallion gameplay bonuses, gameplay boosts, cash bonuses and discounts, and the Nuevo Paraiso Gunslinger Outfit, plus free access to additional weapons.
The Ultimate Edition gets you all the above again, but with extra online bonuses like bonus outfits for your online character, rank bonuses, a black chestnut horse, free access to the Survivor Camp theme and more. Plus an exclusive Ultimate Edition printed map and collectible steelbook.
This isn't even to mention the physical Collector's Edition (£89.99/$99.99), which is basically a giant "Metal Tithing Box" complete with (among other things) playing cards, bandana, and an actual puzzle. You can currently only pre-purchase this from the Rockstar Warehouse, and it doesn't actually include a copy of the game itself (boo!), but the studio has promised that select retailers will also be selling the product in time for release.
Real Rockstar diehards will want to grab the Collector's Edition which doesn't actually include the game - you'll download that anyway right? - but does come with an insane amount of real world goodies like playing cards, a cowboy bandana, a collectable coin, a sturdy lockbox, a treasure map and more.
Related Red Dead Redemption 2 stories
The real-life outlaws behind Red Dead Redemption 2 that make Dutch van der Linde look like a good guy
"Make her playable": Check out these Red Dead Redemption 2 trailer reactions
Red Dead Redemption 2 trailer breakdown - every revealing detail you might've missed
Red Dead Redemption 2 trailer breakdown - what's hidden in that reveal?
Will John Marston ride again in Red Dead Redemption 2? Check out these character theories
Red Dead showed us the death of the Wild West - here's what should happen next
Forget the Old West, partner - Red Dead Redemption 2 should be set in the modern day
Red Dead Redemption was Rockstar's masterpiece... and still is