The Resident Evil 4 Remake will be one of the biggest new games for 2023. Capcom is working on a complete overhaul of the 2005 classic, which is still considered to be one of the best horror games of all-time. The story has been tweaked, the combat has been modernized, and the visuals have been given a new coat of paint to take advantage of the PS5 and Xbox Series X.
The Resident Evil 4 Remake is one of the upcoming horror games for the new year, and below you'll find everything you need to know about it – including the Resident Evil 4 Remake release date, gameplay details, how it compares to the original game, and so much more.
When is Resident Evil 4 Remake coming out?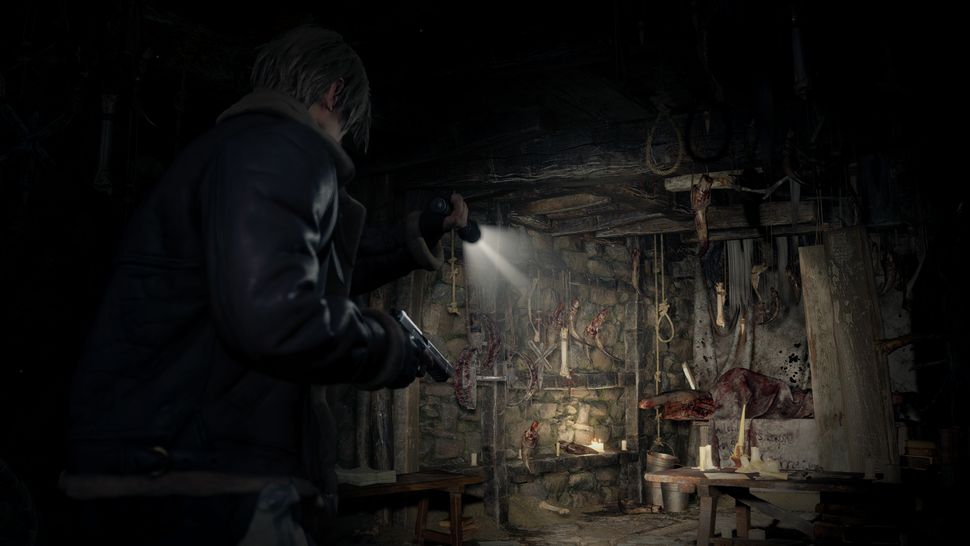 The Resident Evil 4 Remake release date is set for March 24, 2023. The news was announced at Sony's June 2022 State of Play broadcast, alongside the official reveal of the game. The original incarnation of RE4 launched as a GameCube exclusive in early 2005, although it eventually arrived on other platforms.
Resident Evil 4 Remake platforms
When it was unveiled, Capcom confirmed that the Resident Evil 4 Remake will be available on PC, PS5, and Xbox Series X. The publisher has since revealed that a Resident Evil 4 Remake PS4 version is in development, although there's no word yet on whether it will arrive on Xbox One.
Resident Evil 4 Remake trailer
Following a teaser at the Sony State of Play in June, Capcom revealed the first Resident Evil 4 Remake gameplay trailer as part of its Resident Evil Showcase on October 20, 2022. It's a great overview of what to expect from this iconic survival horror game revival, showing off the stunning visual overhaul and how faithfully Capcom is treating the source material.
Resident Evil 4 Remake Collector's Edition
You can now secure a Resident Evil 4 Remake pre-order, which you'll want to do to secure the highly coveted Collector's Edition. There are three editions of RE4: Standard, Deluxe (which includes a number of digital extras, including the ability to swap the Remake soundtrack with the original), and the Collector's Edition. The latter costs $249/£249 and comes with unique costumes and weapon skins, an artbook, an awesome figure of Leon S. Kennedy, and more.
Resident Evil 4 Remake gameplay
Capcom is working to keep the spirit of the Resident Evil 4 Remake gameplay in line with the original 2005 release, even as it makes sweeping changes to the visual fidelity and mechanical design. This version of RE4 will be a third-person action-horror game, although from what we have seen and played of it so far, it's clear that the publisher is working to heighten the horror. It's doing this by making the environments more claustrophobic, drawing the camera in a little closer to Leon S. Kennedy's shoulder, all while increasing the scale of the enemies and world around you.
What's fantastic to see is that Capcom is retaining some of the summer blockbuster flourishes that helped define the original release. Leon still strikes a leading-man pose every time he leaps through a window or is able to roundhouse kick a group of Ganados away from him. Of course, there are some key changes made too, such as Kennedy now able to move and shoot simultaneously – rather than having to plant his feet and fire, which was a defining characteristic of RE4 in 2005 and its subsequent remasters.
The Resident Evil 4 Remake is being built much in the same way as the Resident Evil 2 and Resident Evil 3 remakes that came before it then, with Capcom using the past as a blueprint, and then working diligently to modernize elements of play that would feel otherwise antiquated when lined up against modern standards.
Resident Evil 4 Remake vs original
The Resident Evil 4 Remake is authentic to the original game, but that doesn't mean that Capcom is leaving the story alone entirely. There are small changes – such as the dog already being dead by the time you reach the bear trap, meaning you'll no longer have the option of assistance in the El Gigante battle – and far larger ones which help to dial up the tension and atmosphere. For example, the opening sequence where Leon S. Kennedy investigates a cabin before reaching the village has been completely overhauled, and it's now a longer and more nightmarish scenario to help properly set the tone.
It also looks like Resident Evil 4's somewhat ridiculous codec calls have been replaced with full cutscenes, giving us a better sense of the supporting characters throughout the story. We know that the vast majority of Resident Evil 4 characters will be returning, albeit with new visual designs that are faithful to the originals – from Ashley Graham and Ada Wong, Luis Sera to Bitores Mendez. However, it looks like iconic villain Ramon Salazar has been given a total overhaul, and there's still no sight of Krauser – although some Resident Evil 4 Remake leaks and rumors have suggested that the infamous, knife-wielding agent may have been cut.
Resident Evil 4 Remake VR
The Resident Evil 4 Remake is one of our most anticipated upcoming PSVR 2 games, although it's worth noting that Capcom isn't bringing the entire game to Sony's new virtual reality platform. The Resident Evil 4 Remake will have specific "PSVR 2 content", although the publisher is yet to provide additional details as to what that will look like. Of course, if you think you have the stomach to survive a version of this legendary horror game from a more personal perspective, Armature Studio did release a Resident Evil 4 VR game in 2021 for Oculus Quest 2 – a fantastic conversion that's well worth your time, should you have the equipment to get involved in it.