This Star Wars Jedi Survivor guide has all sorts of tips for Lightsaber combat, essential collectibles, and secret areas in the latest laser-sword-toting action game from Respawn Entertainment. We've broken down things like Lightsaber Stances, Force powers, and even the entire game's story path in our walkthrough. It's a substantial step up from Star Wars Jedi Fallen Order in nearly every aspect too with there being so many enemies to fight, regions to explore, and things to do outside of the main story – there are even plenty of ways to customize Cal and BD-1's appearances.

Because of the massive increase in size and scope of this adventure, Jedi Survivor was also one of our most anticipated upcoming Star Wars games for some time. Now that it's out, you can also read our full review – we reckon it's one of the best games of 2023 so far! However, this much new stuff to do in such a huge game means you might want some help getting to grips with it all. Here's our full guide on Star Wars Jedi Survivor, which should take your understanding of the game from padawan to master in no time.
Star Wars Jedi Survivor review
In our Star Wars Jedi Survivor review we found that Respawn Entertainment has delivered a "more ambitious, confident, and heartfelt adventure" which surpasses Jedi: Fallen Order in just about every way imaginable. With its massive scope and scale, Jedi Survivor shows what a modern Star Wars story can be. To read the full review, be sure to click the link above.
Star Wars Jedi Survivor platforms
Star Wars Jedi: Survivor is available now on PC, PS5, and Xbox Series X. Game director Stig Asmussen said that next-gen features, such as real-time ray tracing, have allowed Respawn to work "at a fidelity that's well beyond anything that we've ever produced before." The decision to drop support for PS4 and Xbox One has also allowed Respawn to reduce load screens and times, and invest in DualSense haptic feedback support on PS5.
How long is Jedi Survivor?
Need to know how long to beat Star Wars Jedi Survivor? It varies a lot depending on how you play through the story and how much non-story stuff you play too. With so much to see and do outside of the story, you could feasibly spend over 50 hours playing Jedi Survivor, but if the story is all you're after, it'll probably take you half that time or less.
Star Wars Jedi Survivor story
Picking up five years after the events of Star Wars Jedi Fallen Order, which saw Cal Kestis destroy a holocron to keep Force-sensitive children safe, Jedi Survivor sees Cal working with a new crew to fight the Empire head-on. Since he sacrificed the only way of rebuilding the Jedi Order, Cal is now much more focused on striking back against the Empire directly, despite its tightening grip around nearly the entire galaxy.

However, an opportunity presents itself to not only find safety from the Empire, but to also reform the Jedi Order. Seeking to get the original gang back together, Cal faces an increasingly desperate fight protect himself, his allies, and the legacy of the Jedi Order as the galaxy descends further into darkness.
Star Wars Jedi Survivor walkthrough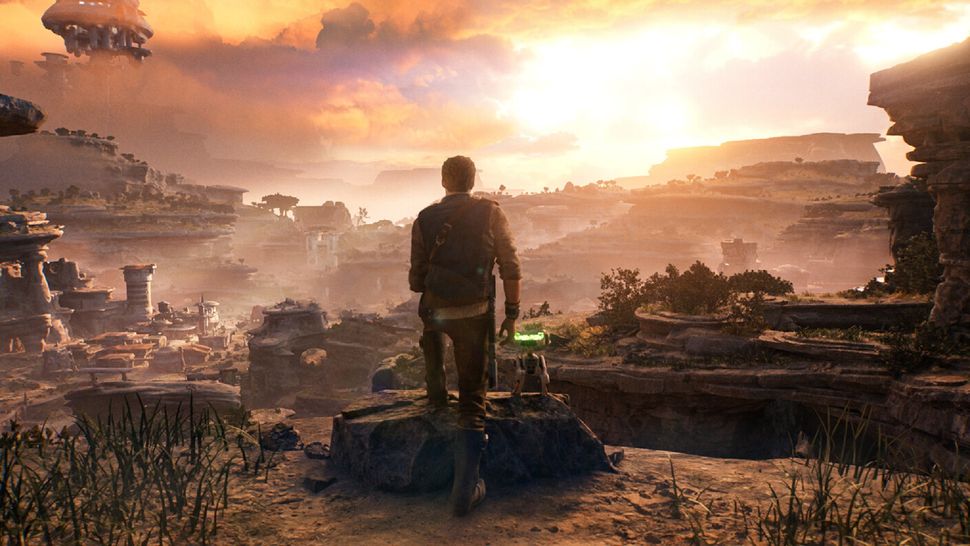 If you thought Star Wars Jedi Fallen Order was big, Jedi Survivor is even bigger. With so much space to explore on each planet across vast regions and intricate, maze-like areas with hidden paths, it can be quite tricky to navigate at times, so if you want to make sure you're on track with the main story, look at our Star Wars Jedi Survivor walkthrough.

Throughout the story, you'll also have to perform the occasional Jedi mind trick – in fact, early on you'll need to decide how you'll proceed in the Star Wars Jedi Survivor trust or reward Senator mind trick.

Later, you'll also have a two-part objective that allows you to visit two locations – Koboh or the Shattered Moon – in whatever order you want. While this doesn't affect the story in any way, both locations have unique unlocks, so read here to see what you get from the Star Wars Jedi Survivor Shattered Moon or Kobo choice.
Star Wars Jedi Survivor tips
If you're struggling to learn the ropes of combat, can't figure out why a certain path is unavailable, or want to know which Skills you should get first, we've also got some Star Wars Jedi Survivor tips to help you. Read these and look at the walkthrough and you'll be able to bring the fight to the Empire and Cal's other foes with ease.
Star Wars Jedi Survivor Lightsaber Stances
You get to have two Star Wars Jedi Survivor Lightsaber Stances equipped at once and you can switch between them on the fly. These stances determine the attacks you can perform, and each stance has unique properties that make them suited for a particular fighting style or enemy type. The standard single blade is a great all-rounder, but if you're after something more specialized, the rapid strikes of the dual wield stance or the slow attacks but high defense of the crossguard stance might be for you. You can even try the new blaster stance, even if it is uncivilized for a Jedi Knight.
Star Wars Jedi Survivor Stims
BD-1 isn't just a glorified door key as he also stores Cal's healing Stim canisters, ready to use in the heat of combat. Since BD-1 starts with just two Stims, you'll want to explore a little off the beaten path every so often to see if you can find any large chests that contain a canister, although you will get a few just from the story. We've found all 10 Star Wars Jedi Survivor Stims, so be sure to collect them and keep Cal in tip-top shape.
Star Wars Jedi Survivor Force powers and upgrades
There's a whole host of Star Wars Jedi Survivor Force powers and abilities for you to unlock as you play through the game's story. For example, you've no doubt come across Star Wars Jedi Survivor green laser barriers, but you can only get past them once you're given a special charm about halfway through the story.

Skill Points can also be spent on upgrades that improve Cal's Force powers or add new attacks to his Lightsaber Stances. Although, with so many options available, it's hard to know which ones to get straight away and which ones you should save up for. Either way, we've got a guide on the best Star Wars Jedi Survivor Skills based on our experience which should help you out.
Star Wars Jedi Survivor Rumors and secrets
As well as the main story, Star Wars Jedi Survivor is packed with side quests and secrets known as Rumors. We've laid out a few notable ones that you might come across as you play:
Shortly after arriving on Koboh and making your way through the tar pits, you'll come across the Star Wars Jedi Survivor droid puzzle, which sees a pit droid in need of help. You'll need to come back later, so check out our guide to see what you need.
If you stray off the path on Koboh, you'll probably encounter the Star Wars Jedi Survivor Vashtan Wolfe character – or rather their voice – in a cave. Read our guide to learn what their deal is.
While you'll encounter the Star Wars Jedi Survivor friendly creature early on when you first arrive on Koboh, you should pay it another visit later as it can lead you to new loot!
Star Wars Jedi Survivor priorite shards are found all over the place on Coruscant and Koboh, and you'll need them if you want to trade with Doma – perhaps you should spend them on the Star Wars Jedi Survivor mysterious keycode to unlock an extra room in Doma's shop.
You might have stumbled into the Star Wars Jedi Survivor Rancor boss quite early on Koboh. It has some brutal attacks that make it a formidable boss to face – definitely one to return to later once you've got Cal some new powers.
You should seek out the Star Wars Jedi Survivor abandoned shack on Koboh as it leads into a subterranean area with some great items inside – notably a map upgrade that reveals certain collectibles! Be warned though, this area is quite a challenging.
You'll find the Star Wars Jedi Survivor Crypt of Uhrma puzzle on Jedha, which features a bunch of bolts that you can move in a door using the Force. Check out our guide to help you get the solution.
Star Wars: Jedi Survivor has taken the number two spot on our list of the best Star Wars games of all-time!