***UPDATE Feb. 22: Pyre and Sonic Mania have been added to the list!***
As far as video games are concerned, 2017 is off to a fantastic start. The so far have set quite a precedent, but there's still so much left to look forward to in the near and distant future. We've sifted through all the , , and to present you with the most exciting titles on the horizon, organized by release date so you can calculate just how soon you need to start saving up. Some are innovative new ideas, others are highly anticipated sequels; some have definitive release dates, while others might be over a year away. But whatever the case, we can't wait to play them.
Horizon Zero Dawn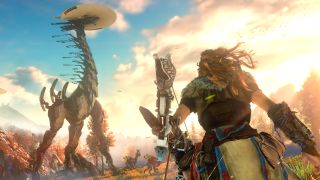 Platform(s): PS4
Release date: February 28, 2017
Horizon Zero Dawn takes all the elements you love in an open-world RPG and turn them up to 11. Unique universe? Check. Epic story about fate, destiny, and identity? Check. Cool weapons and combat options? Check. Possessed robotic dinosaurs rampaging around attacking people? Okay, maybe that's not a standard feature, but it's here and we're really excited. It's a showcase game for PS4 Pro too, so expect it to look absolutely sensational in 4K.
The Legend of Zelda: Breath of the Wild
Platform(s): Wii U, Switch
Release date: March 3, 2017
When The Legend of Zelda: Breath of the Wild arrives in 2017, the Zelda series will be over 30 years old. This game, the series' debut not just on the beleaguered Nintendo Wii U but the brand new NX, is actually very close in spirit to the NES original from all those decades ago. Emphasizing a wide open world that's primarily monster-infested wilderness rather than a populated landscape prone to cutscenes, Breath of the Wild is a dramatic shift from the handholding adventures Nintendo has traded in during the 21st century. We couldn't be more excited.
Nier: Automata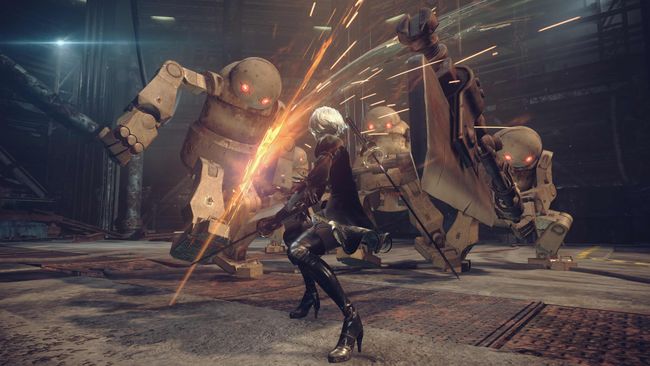 Platform(s): PS4, Xbox One, PC
Release date: March 7, 2017
, fusing the kind of hyperactive third-person combat PlatinumGames is best known for with the grim sci-fi setting from Square Enix's thought-provoking, wonderfully weird cult classic Nier. Millennia from now, a hostile alien force has sent legions of robots to invade Earth, forcing humanity to retreat to the Moon. Now, the former Earthlings are fighting back with teams of highly skilled combat androids armed with an arsenal of swords, including our hero 2B and her teammate 9S. Expect fluid melee combat, bullet-hell-style boss battles, and heart-wrenching displays of the atrocities between man and machine in this gorgeous, cerebral hack-'n'-slash.
Tom Clancy's Ghost Recon Wildlands
Platform(s): PS4, Xbox One, PC
Release date: March 7, 2017
Ubisoft is taking two of its biggest strengths - open-world sandboxes and Tom Clancy games - and combining them into a gritty modern-day entry in the Ghost Recon series. This time, the tactical, squad-based shooting takes place in a huge expanse of Bolivia, where a cocaine cartel called Santa Blanca has seized total power. deploys you and your team of operatives into the vast deserts, mountain ranges, and swamps surrounding the cartel's operation and lets you take it from there, giving you everything you need for stealth assassinations, infighting instigation, guns-blazing assaults, or any option in between. You have the choice of suiting up alongside AI or online squadmates throughout the campaign, so you can approach this lawless, violent playground however you see fit.
Star Trek Bridge Crew
Platform(s): PSVR, Vive
Release date: March 14, 2017
Delayed from its original Nov 2016 launch window, this four-player VR game is basically your chance to play out the Kobayashi Maru simulation. Not sure if you can beat it, though. In Star Trek Bridge Crew you can assume various roles on the bridge of the Enterprise and actually wander around with your friends. In VR. As a piece of fan-service, this is looking absolutely stunning.
Mass Effect: Andromeda
Platform(s): PS4, Xbox One, PC
Release date: March 21, 2017
Commander Shepard may have taken out the Reapers and saved the day, but there's plenty more adventure yet to be had in the Mass Effect universe. BioWare's been keeping details for Mass Effect: Andromeda mostly under wraps, although the footage that has been revealed certainly looks slick. Here's what we do know, though. It appears the story will take us on a journey to try to find a new home for humanity. Many of the more familiar concepts from the original trilogy - conversations, romances, and shooting things - are back in action. The game now has a first release date - March 21 - so we're officially hyped.
Snipperclips: Cut It Out Together
Platform(s): Switch
Release date: March 2017
Ah, co-op: a force that can bring us closer together in one moment and threaten to end friendships in the next. That playful dynamic is what drives Snipperclips, an inventive puzzle game that makes perfect use of the Switch's built-in two-player courtesy of the Joy-Con controllers. Each single-screen brainteaser requires the combined efforts of your adorable paper protagonists, which can snip overlapping chunks off their partner to reshape them for puzzle-solving purposes (or just a bit of friendly griefing; fortunately you can easily reform or undo cuts with the press of a button). The cartoony aesthetic and the cute faces you can make are chock-full of charm, and the teamwork needed to perform tasks (like popping balloons or fixing up cars) using your irregularly shaped bodies looks like a ton of cooperative fun.
Persona 5
Platform(s): PS4, PS3
Release date: April 4, 2017
After nearly a decade of development and a leap from PlayStation 3 to PlayStation 4, Persona 5 will finally, finally arrive in April 2017. While the role-playing game still follows high school students with supernatural powers in a highly stylized world, Persona 5 does represent a dramatic shift in tone for the series. Where Persona 3 and Persona 4 focused on fairly typical teens in unusual circumstances - secret paramilitary ghost fighters in the former, a Japanese riff on Scooby Doo mystery solving in the latter - Persona 5 follows a group of flamboyant young cat burglars. Think Lupin the Third by way of Degrassi.
Yooka-Laylee
Platform(s): PS4, Xbox One, Wii U, PC
Release date: April 11, 2017
One of the bigger Kickstarter successes in 2015, this colorful 3D platformer (made by some of the key minds behind Banjo-Kazooie) looks to recapture the simple glee of N64 collectathons. In place of a bear and a bird, you'll be guiding around the duo of Yooka the chameleon and Laylee the bat through utterly gorgeous landscapes, full of things to run across, jump over, and snag from perilous heights.
Prey
Platform(s): PS4, Xbox One, PC
Release date: May 5, 2017
Don't worry if you missed the 2006 FPS Prey - this reimagined Prey by the same name chucks everything from its predecessor out the window. Developed by Arkane Studios, the team behind the Dishonored games, this sci-fi shooter has you confined on a space station that's been overrun by shape-shifting, shadow-like aliens. Protagonist Morgan Yu will have to fight back against these invaders in a struggle to survive, even as his (or her) sanity seems to deteriorate bit by bit.
Click 'Next Page' below to see more great upcoming games in 2017 and beyond!