This year is already jam-packed with amazing games thus far, and it's not slowing down any time soon. With so many exciting titles in the works, it's never too early to start planning for the future and figure out what you need to start saving up for now. We've compiled some of the biggest new games of 2019 that we're most anticipating, along with some sleeper hits you might not have heard of. It's all ordered by release date for easy browsing, with weekly updates to expand the lineup and account for any unfortunate delays. The Outer Worlds has just been added to the list, while Total War: Three Kingdoms and Phoenix Point have been pushed back by a few months. Be sure to check back regularly, and prepare yourself for another year of wonderful games big and small.
Anthem
Platform(s): PS4, Xbox One, PC
Release date: February 22, 2019
Anthem is essentially EA's answer to Destiny: a shared-world shooter that aims to fully immerse players in a gigantic sci-fi universe. You play as a Freelancer (don't call them Guardians) engaging in third-person, Mass Effect-style shootouts, armored up in your Javelin exosuit to explore and exterminate within some gigantic alien biomes. As you might expect, there's an emphasis on party play (for up to four-player co-op) and the pursuit of increasingly impressive loot. It's also promising to hear that Anthem will be penned by the writer of KOTOR and the first two Mass Effect games, set in a world where ancient gods have abandoned a realm where humanity must fend for itself against monsters borne of a omnipresent power known as The Anthem.
Trials Rising
Platform(s): Switch, PS4, Xbox One, PC
Release date: February 26, 2019
It's been a while since the high-flying motorcycle stunts of the futuristic Trials Fusion, but Ubisoft's one-of-a-kind racing/platformer hybrid is back with Trials Rising, featuring a new suite of devilishly difficult challenges. As always, you'll need to launch off ramps and overcome awkward obstacles using nothing more than than your trusty motorcycle and the power of physics, aiming to cross the finish line as fast and flawlessly as possible. Unlike the sci-fi setting of Fusion, Rising takes you on a world tour of exotic, inventive courses, and mixes in some ludicrous set pieces to go with the more traditional tracks. This will also be the first Trials game on a Nintendo platform, and being able to attempt tracks while you're on the go with the Switch version sounds like a great fit.
Dirt Rally 2.0
Platform(s): PS4, Xbox One, PC
Release date: February 26, 2019
If you're looking for a driving hit this year then Dirt Rally 2.0 should have you covered. The classic rally series takes you on a racing adventure through tracks in New Zealand, Argentina, Spain, Poland, Australia and the USA, with over 50 cars to wreck/win with. This instalment leans into the idea of playing the long game with track deformation that degrades the course and changes grip as you race. And car damage carries over from event to event meaning you'll need to really master the 'My Team' mode to hire specialists to keep you in the running, as well as tune your car to perfection.
Dead or Alive 6
Platform(s): PS4, Xbox One, PC
Release date: March 1, 2019
With Tekken 7 and Soul Calibur 6 going strong, it was only a matter of time until the other big 3D fighting game series entered the fray. They say if it ain't broke, don't fix it, so Dead or Alive 6 is offering more of Team Ninja's flashy, fast-paced fighting full of counterattacks and ridiculous stage hazards. Two new characters join a roster of fan favorites - NYC brawler Diego and electricity-infused Nico - and beginners should enjoy the addition of a one-button autocombo called the Fatal Rush. Dead or Alive 6 will have a full-fledged (and no doubt endearingly corny) story mode, and also features another extensive array of character costumes.
Devil May Cry 5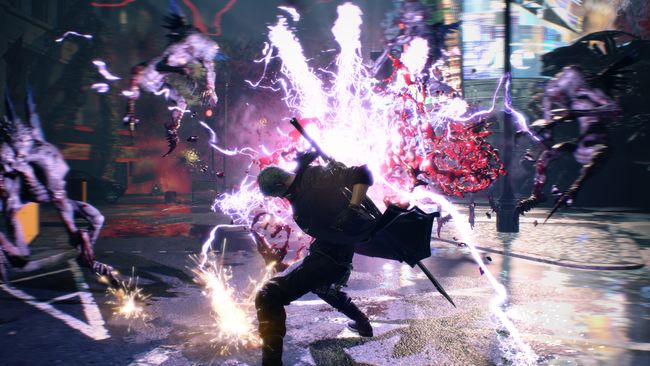 Platform(s): Xbox One, PS4, PC
Release date: March 8, 2019
Devil May Cry 5 keeps the grimy aesthetic from Ninja Theory's DmC, but ditches the reboot's plot for a continuation of the numbered games' story. Described by Capcom as a "true sequel" to Devil May Cry 4, the game puts players in control of Nero, a demon hunter with a robot arm and sword he can rev like a motorcycle engine. Yes, it's a bit silly. But who cares when your game's hero is surfing rockets like a surfboard right into a demon's face?
The Division 2
Platform(s): PS4, Xbox One, PC
Release date: March 15, 2019
As shared-world multiplayer games go, Tom Clancy's The Division has enjoyed such an interesting, surprisingly long lifespan. Ubisoft's third-person shooter, set in the snowy streets of smallpox-afflicted New York City, was a commercial success at launch, but the sparse end-game content eventually left many players cold. Undeterred, the development team kept refining the game with years' worth of improvements, leading to what is now a cult hit with a small army of dedicated players. The Division 2 aims to build on that success, taking place in Washington, D.C. seven months after the events of the first game's outbreak. With the new class system, eight-player raids, and an overhauled game engine, there should be a lot to love in The Division 2 for anyone who enjoys shooting thugs and looting their bodies for better gear.
Sekiro: Shadows Die Twice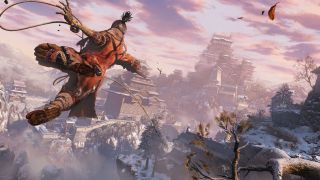 Platform(s): PS4, Xbox One, PC
Release date: March 22, 2019
A new game from the masters of the action-RPG FromSoftware tends to be a blessing and a curse all at once. A blessing, because it means another lovingly crafted world to explore and soak up for months. A curse, because it also means we're going to be terrified, beat up, and killed over and over again by the studio's punishing approach to gameplay challenge. Set in a mythologised take on Feudal Japan, Sekiro: Shadows Die Twice will continue the FromSoft hack-and-slash tradition with thematic tweaks and forward-thinking changes to suit the new milieu. The most enticing feature spotted so far? A grappling hook, which could drastically change how we traverse the expertly made zones and arenas. Get ready to die all over again.
Yoshi's Crafted World
Platform(s): Switch
Release date: March 29, 2019
Nintendo's lovable dino has swapped out his wool look for a felt aesthetic in Yoshi's Crafted World, the Switch follow-up to the delightful (if a bit samey) Yoshi's Wooly World on Wii U. The levels in this vibrant 2.5D platformer are built from colorful construction paper and cardboard, as the legion of multicolored Yoshis chase after Baby Bowser to reclaim the pieces of the Sundream Stone. To make the most of the Switch's built-in two-player via the Joy-Con controllers, Crafted World includes two-player co-op, which allows for a sort of Yoshiception where one player can ride the other's back. As with previous Yoshi games, you'll need to slurp up enemies and make some precision egg shots - but the primary innovation in Crafted World is the ability to flip your view of the stage, highlighting foreground and background elements that are surely hiding crafty secrets.
Mortal Kombat 11
Platform(s): Switch, PS4, Xbox One, PC
Release date: April 23, 2019
NetherRealm Studios has such a good thing going, able to alternate its mastery of highly polished fighting game design between the Mortal Kombat and Injustice franchises. This year, NetherRealm is going back to its bone-crunching, intestine-obliterating roots with Mortal Kombat 11, which expands on the different playstyles of Mortal Kombat X's Variations with customizable moves, and includes collectible gear in the same vein as Injustice 2. You can expect another extensive, lavishly rendered storyline in Mortal Kombat 11, which will focus on the corrupted Dark Raiden and the evil machinations of time travel.
Days Gone
Platform(s): PS4
Release date: April 26, 2019
If you think zombies have been done to death, well... you're right, but that isn't stopping the PS4-exclusive Days Gone. The enemies in this open-world post-apocalypse aren't technically undead - the so-called 'Freakers' are actually infected humans who have gone feral and seem eager to devour our hero Deacon (voiced by and modeled after Sam Witwer, who you might recognize as Starkiller from Star Wars: The Force Unleashed). What really sets the Freaker horde apart is just how many can be chasing you at once; there are times when they're practically flooding out of the environment, and all you can do to survive is simply run.
Click 'Next Page' below to see even more new games of 2019 and beyond!