***UPDATE June 21: Overhauled the entire list following the announcements from E3 2017!***
It's never too early to start looking ahead - and even though we're still just past the midway point of 2017, there's already lots to anticipate in 2018. After the whirlwind of E3 2017, we've seen plenty of surprise reveals and confirmed release windows for next year (and quite possibly beyond). Whereas our list of the has the rest of this year covered, we'll be keeping tabs on an ever-expanding list of the games you can look forward to playing in 2018. Though exact dates are still up in the air for the majority of these exciting titles, we've ordered them by their planned launch window, from 'soonish' to 'probably a ways away'.
Kingdom Come: Deliverance
Platform(s): PS4, Xbox One, PC
Release date: February 13, 2018
- this large-scale, first-person medieval RPG takes place in a massive open-world devoted to the real-world history of Bohemia (no Rhapsody here). In some ways, it's even more hardcore, stripping away the HUD indicators and minimap markers you've probably come to expect from giant RPGs. And amazingly, quests and world events will carry on with or without you, adding a real sense of urgency to your hero's actions; stopping to chit-chat with every NPC could mean missing out on the melee battle of a lifetime. Kingdom Come's refusal to hold the player's hand sounds like a refreshing change of pace, and if the finished product can pull off the kind of grandiose living world suggested by our preview, it should be something special indeed.
Far Cry 5
Platform(s): PS4, Xbox One, PC
Release date: February 27, 2018
won't take place in some exotic far-off region like Far Cry 4's Kyrat, or an ancient history setting as in Far Cry Primal - it'll be bringing its first-person mayhem to the US of A. The fictional region of Hope County, Montana is thrown into disarray by a cult known as the Project at Eden's Gate, led by the charismatic Father Joseph who advocates religious fanaticism and militia-style stockpiles of high-powered firearms. As Hope County's newest deputy sheriff, you'll have to band with the unturned townsfolk to take down Eden's Gate in the most chaotic ways possible - including aerial dogfights and bombing runs in a pilotable plane, or vicious takedowns using pitchforks, sledgehammers, or trusty animal companions, to name a few options.
Monster Hunter: World
Platform(s): PS4, Xbox One, PC
Release date: Early 2018
This marks the new era for Capcom's beloved, long-running action series, as Monster Hunter: World trades handheld portability for exceedingly shiny graphics, refreshing the co-op, third-person hunts for the modern market. This new Monster Hunter has you pursuing some very big game - think dinosaurs and dragons - as you lurk through tropical jungles and conceal your approach using foliage-based camouflage. It's all in the name of fancier armor and outlandishly large weaponry, and a new grappling hook should add a new layer to the series' hard-to-master movement and attack options.
Sea of Thieves
Platform(s): Xbox One, PC
Release date: Early 2018
Who doesn't love pirates? The swashbuckling, the loot, the rum, the fabulous hats - most of us have at one time or another wished we could leave our world all behind and run away to sea. The time has come to live out that dream and to bring friends along for the ride. is Rare's latest, with first-person pirating (the fun, family-friendly kind) full of cooperative crewmates collaborating in the pursuit of treasure. Competitive types can also try to rule the seas by battling (and ideally sinking) other players' ships.
A Way Out
Platform(s): PS4, Xbox One, PC
Release date: Early 2018
Now you can experience your very own Shawshank Redemption courtesy of , a co-op only jailbreak story written and directed by the mind behind the affecting puzzle adventure Brothers: A Tale of Two Sons. Whether you're playing with a partner on the couch or online, A Way Out is always played in splitscreen co-op, as inmates Leo and Vincent begrudgingly work together to bust out of prison and reclaim their freedom. The persistent splitscreen presentation creates some intriguing opportunities for teamwork; for instance, one player might be locked in a cutscene, while the other can freely move about, planning the duo's next move or viewing critical story scenes from a different perspective.
Red Dead Redemption 2
Platform(s): PS4, Xbox One
Release date: Spring 2018
has a lot to live up to, so it's reasonable that Rockstar Games wants a little more time to get this open-world Wild West sequel just right. Given the delay from 2017 into mid-2018, concrete details on RDR2 are still relatively scarce, besides the fact that there'll be a multiplayer mode to complement the single-player story this time around. tides us over with visions of lush woodlands, dusty prairie roads, and grandiose train robberies, making it that much harder to bear the extra wait.
State of Decay 2
Platform(s): Xbox One, PC
Release date: Spring 2018
If The Walking Dead has taught us anything, it's that forging bonds between survivors and building up a community is essential to surviving the zombie apocalypse. State of Decay 2 takes those values to heart with co-op for up to four players, provided you all agree to work together instead of backstabbing one another for precious supplies. To build up your customizable encampment, you'll need to scavenge on foot or four wheels, splattering the skulls of countless undead along the way. And if someone's unfortunate enough to get bitten, their allies will have the tough choice between curing them with a limited supply of medicine, or ending their impending suffering with a bullet to the brain.
Anthem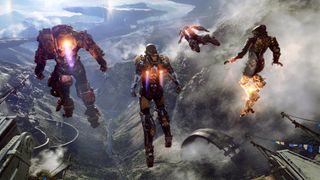 Platform(s): PS4, Xbox One, PC
Release date: Fall 2018
is essentially EA's answer to Destiny: a shared-world shooter that aims to fully immerse players in a gigantic sci-fi universe. You play as a Freelancer (don't call them Guardians) engaging in third-person, Mass Effect-style shootouts, armored up in your Javelin exosuit to explore and exterminate within some gigantic alien biomes. As you might expect, there's an emphasis on party play (for up to four-player co-op) and the pursuit of increasingly impressive loot, and it's promising to hear that .
Skull and Bones
Platform(s): PS4, Xbox One, PC
Release date: Fall 2018
Sea of Thieves isn't the only open-world pirate game on the horizon - Ubisoft's Skull and Bones is also setting sail for 2018, with a much more realistic take on pirate battles on the high seas. , as it's being developed by much of the same team behind Black Flag, and promises a sweeping solo campaign as you vie for control over the 18th-century waters in the Indian Ocean. But the real focus looks to be player-versus-player ship skirmishes online, where each player controls their very own warship in team-based fleet battles. There will also be supernatural elements amidst all the cannon-fire, like the colossal tentacles of a terrifying kraken lurking in the deep.
Shenmue 3
Platform(s): PS4, PC
Release date: Second half of 2018
The Shenmue series was never a huge commercial success, but thanks in part to Kickstarter and thousands of fans' hard-earned dollars (plus some generous funding from Sony), the project is fully underway. In Shenmue 3, you'll take the role of a martial artist named Ryo Hazuki as he attempts to uncover who is responsible for his father's murder. The game promises to have gameplay reminiscent of the previous titles, enabling players to take on enemies in hand-to-hand combat, upgrade combat abilities, and explore a living world full of villages, shops, and an active populous.
God of War
Platform(s): PS4
Release date: TBC 2018
Having torn the Greek pantheon asunder, Kratos (now sporting a scruffy beard) has set his sights on a new mythology to conquer: Norse. The fourth main entry in the legendarily brutal PlayStation series - - drops the numbering and looks like it'll force Kratos to control his endless rage, as he raises his young son Atreus to become a hardened warrior. Don't worry, you'll still slay plenty of fantastical creatures along the way, using Kratos' new lightning axe main weapon - but expect a lot more character development and quieter moments in between all the carnage.
Darksiders 3
Platform(s): PS4, Xbox One, PC
Release date: TBC 2018
First there was War, then Death, and now Fury is the next Horseman (or more accurately, Horsewoman) of the Apocalypse to star in her own fantastical action adventure. The Darksiders series is famous for essentially being a blood-soaked, bone-crunching take on The Legend of Zelda's open-world exploration with a dash of Devil May Cry combat mixed in, full of ridiculously proportioned (but undoubtedly cool-looking) character designs by cult favorite comic artist Joe Madureira. 's leading lady Fury is more magic-focused than her compatriots, and wields a spiky whip as her signature weapon. You'll be cutting down swaths of demons across the ruins of post-Biblical-apocalypse Earth, fighting back against hellish embodiments of the Seven Deadly Sins themselves.
Click 'Next Page' below to see more great upcoming games for 2018 and beyond!