George Lucas swore that there would never be another Star Wars movie. "There is no Episode 7," he vowed in 2005. There would be television shows like The Clone Wars and the aborted Star Wars: Underworld, but movies? Those should be relics from a more civilized age. But now, as we look through every upcoming Star Wars movie on the horizon, we see that Disney's vision for Lucasfilm's most famous, profitable, and inspiring series is rich with brand new moving pictures. And that was before Rian Johnson's new trilogy was announced!
With Star Wars: The Last Jedi in cinemas now, here is every upcoming Star Wars movie we know about (so far) - from the ongoing adventures of the Skywalker family and friends, which began with Star Wars: The Force Awakens, to the new anthology films that Star Wars: Rogue One kicked off.
Solo: A Star Wars Story
Release date: May 25, 2018
Han Solo got the ultimate send off in The Force Awakens, a warm and (most importantly) relevant starring role that saw Harrison Ford turn in his third best performance as the character. (Come on - this Han Solo was way awesomer than Return of the Jedi Han Solo.) While it's hard to imagine anyone else playing the character, Alden Ehrenreich will step into the sweet '70s space boots in the Han Solo spin-off movie, Solo: A Star Wars Story, out in 2018.
Read more: Why the young Han Solo movie is a bad idea
The Solo movie was originally going to be directed by Phil Lord and Christopher Miller, the duo behind The Lego Movie and 21 Jump Street, but the pair left the project in June 2017 over 'creative differences' with Disney and were replaced by Ron Howard. During this time Community's Donald Glover joined the cast to play a young Lando Calrissian, while Woody Harrelson signed on to play Bennet, Solo's mentor and likely a father figure. Joining them are Game of Thrones' Emilia Clarke and Westworld's Thandie Newton, but both their roles are being kept under wraps. And of course, it wouldn't be a Han Solo story without Chewbacca, who will be brought to life by Joonas Suotamo who's now taken over the role from Peter Mayhew full time.
Star Wars 9
Release date: December 20, 2019
With Star Wars: The Last Jedi out in cinemas, attention now turns to Star Wars 9 and how the story will conclude. There's no doubt that the end of Star Wars 8 left us with some pretty big questions about what will happen in Episode 9, but I won't go into them here in case you haven't seen the movie yet.
Read more: Star Wars sequels, spin-offs and the risk of ruining mystery
Originally going to be directed by Jurassic World's Colin Trevorrow, who left in September 2017 over - you've guessed it - 'creative differences', the concluding chapter to the latest Star Wars trilogy will be written and directed by The Force Awakens' JJ Abrams. As Episode 8 is only just out, we know very little about the sequel, but it's a safe bet that everyone who survives to the end of The last Jedi will make an appearance... with the exception of Carrie Fisher. Yes, one thing we do know about the movie is that General Leia Organa will not appear. After much speculation, Disney confirmed that following Fisher's tragic death in 2016 her character wouldn't make an appearance in Episode 9 either in CGI form or otherwise, which makes The Last Jedi her final film.
Untitled third Star Wars anthology movie
Release date: 2020
The anthology movies may not be a distinct trilogy, but there will definitely be three of them! Disney CEO Bob Iger has confirmed multiple times that a third anthology film is on the way, but beyond saying that an unnamed writer is currently working on it, that's all we know... officially.
Read more: Why an Obi-Wan movie could redeem the forgotten hero of Star Wars
There's been much talk that the third movie will be an Obi-Wan Kenobi spin-off and The Hollywood Reporter seemed to confirm this in August 2017, saying that the man behind Billy Elliot and The Hours, Stephen Daldry, was in early talks to direct. Having said that, we've had no official word from Disney on who (or what) the third anthology will be about, so we can't say for sure yet. The same goes for the movie's working title which is supposedly Joshua Tree, according to sources, and hints at a Tatooine location, but, again, we've had no confirmation from Disney. If it's not an Obi-Wan movie, there's also rumours of a Yoda movie or even a Boba Fett film, but fingers crossed we'll find out either way soon. We can't take the suspense much longer!
Another Star Wars trilogy
Release date: Unknown
The Last Jedi director Rian Johnson must have impressed someone at Disney because just before Episode 8 hit cinemas, it was announced that he would be heading up a brand new Star Wars trilogy featuring "new characters from a corner of the galaxy that Star Wars lore has never before explored."
Read more: What story should Rian Johnson's new Star Wars trilogy tell? There's one clear front-runner, and it's another prequel
Obviously, we don't know very much about this new trilogy at this point, but Johnson will definitely write and direct the first entry and he recently revealed the pitch which got him the job. Just to warn you, there's not much to it: "One story told over three movies. Go new places, meet new folks, come up with a new story to tell in the Star Wars universe. The sky's the limit… and they [Disney] really responded to that." Based on that short and sweet pitch, Disney gave him responsibility for three new Star Wars movies so you know he's good. From that little teaser, it sounds like the trilogy will feature characters never seen before in the Star Wars universe which is pretty exciting. Watch this space!
2021 movie and beyond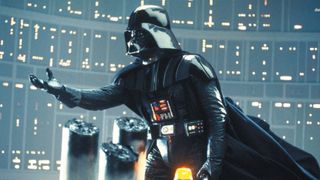 Release date: 2021
Even before Rian Johnson's new trilogy was announced, we knew we'd be getting more Star Wars movies after 2020. "I had a meeting yesterday with Kathy Kennedy and we mapped out--well, we reviewed--the Star Wars plans that we have until 2020," said Disney CEO Bob Iger in September. "We have movies in development for Star Wars until then, and we started talking about what we're going to do in 2021 and beyond."
Did this conversation eventually become Johnson's new trilogy or have Disney and Lucasfilm got plans for something else? We just don't know, but I wouldn't be surprised if it was the latter. There seems to be an unending appetite for Star Wars movies and filmmakers to make them, so why wouldn't Disney oblige?