Exclusive: Aaron Johnson Talks Kick-Ass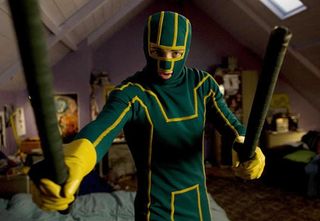 On the costume...
"At first you feel like, you know, you've only got an eye space. We ended up having to make a mouth because it's normal and he couldn't hear anything, which is a bit of a shame because, you know, we kept everything looking almost exactly right and then we had to put a mouth in it.

So it's a bit of a gimp mask. I got used to it. It was on everyday. I could only go the toilet like once a day as well. When it got to lunchtime I would run straight to the toilet and that would be it for the rest of the day."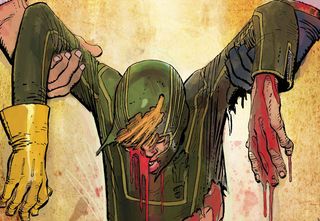 On getting beaten up...
"So he goes out normally in a personal scuba diving outfit with nothing on it and these other gangs have got knives and stab him .

And after that he comes out with a couple of bats, so afterwards he just waves his bats around and if he gets hit he doesn't feel anything so he just keeps going.

It's a justice thing: he's not gonna stop until it's right; that's the hero side to him."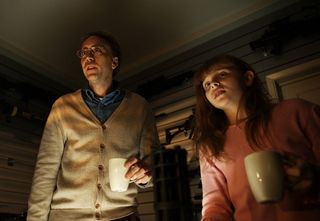 On Hit Girl...
"Hit Girl is this like fucking mini-Kill Bill. She had a couple months worth of training and she had nice sticks.

If you can imagine a little 11-year-old girl who gets out two samurai swords, chops this guy's head off, he drops to the floor and she goes, "What cunt's next?" An 11-year-old girl is going, "What cunt's next?"!

And then kills everybody in a massacre. And then picks up cocaine.

She clears all their coke, takes all their money and then runs off with it. It's bad-ass."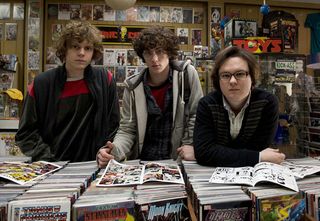 On his geeky mates...
"They're the outsiders, the people that nobody will talk to. They just enjoy life, they go to the comic book store and they talk about comics. He's quite a lonely soul.

He ends up putting on a mask to hide this shy side and then builds up his confidence. Cos behind the mask, no one knows who you are. I guess he's seen as a geek. But he comes out of his shell.

He can still be this ordinary kid that no one wants to talk to but yet he's one of the coolest icons out there. Because Kick-Ass becomes really, really famous on YouTube and stuff like that. And he's quite tough around the town, around New York."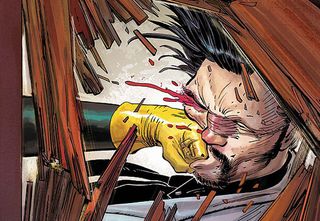 On why Kick-Ass will be better than Wanted...
"Wanted, yeah – it's really kind of action-packed like that. Wanted didn't… A lot of comic-book readers I don't think were impressed. I just wasn't that impressed because the comic-book is incredible.

They've only taken like the first 20 pages and the ending. With Kick-Ass we're well ahead of the comic books. But all the stuff is in there."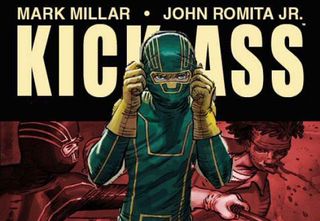 Why Kick-Ass will kick-ass...
"It's not just for comic book readers. I mean it's got a lot of stuff to go through the editing process yet but so far it's already rating an R and it's too violent and there's swearing in it and stuff like that. It's packed with really fucking cool shit. It's any boy's dream really.

You're in there, you're fucking Arnold Schwarzenegger and it's all teenagers swearing. It's what you'd be like in school, it's not all Disneyed up. It's as natural as we can possibly make it.

The whole idea with Kick-Ass is actually a reality, it's not like Spider-Man, it's anyone can do it, anyone can dress up. All the things that happen, the events that Kick-Ass goes through are very traumatic…"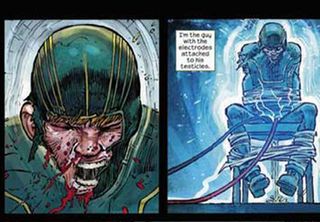 On reading comics for the role...
"I wasn't a fan, and I was jumping into a world where you need to know a ton about comics. I started off with all the Mark Millar stuff just to build into what all his ideas were, so I read Wanted, War Heroes… at the time Kick-Ass was only on the third issue.

Other stuff like Watchmen. And then I got really into it. We got a lot of comic books on set so it was quite cool. And Clark Duke, who's also in it, he's a big comic book fan so we used to hang out a lot and chat about them."