When you think of video game to movie adaptations, it may be difficult to stay positive given the genre's somewhat 'colorful' history. Even blockbusters like Prince of Persia can't hold a candle to the excellent games and worlds that inspired them. But as the ever-changing landscape of the film industry reshapes itself, and games become an ever-more standard part of mainstream entertainment, we can't help but continue to hope for newer, more memorable, and more faithful tales, worthy of the established names they've been given.
And there's a whole bevy of video game-inspired movies on the horizon, ranging from wow (Uncharted) to WTF (Asteroids, The Sims). Even if it takes them forever and a day to actually release, we can't wait for these movies to hit theaters, for better or worse.
Tomb Raider
Release date: March 16, 2018
Just as the video game franchise rebooted in 2013, the Tomb Raider movie franchise is also restarting, as an adaptation of the new games. Alicia Vikander is in as Lara, Walton Goggins is the bad guy, and we know that the film starts in a boxing or MMA ring, thanks to a delicious, possibly accidental leak of the script's first page.
Rampage
Release date: April 2018
A dumb retro adaptation that could actually work, there's a two-word reason that this update of the '86 Midway game has potential: The Rock. Dwayne Johnson is starring in this tale of a giant gorilla, lizard, and wolfman wrecking skyscrapers through multiple cities, and has cheerled the project – otherwise headed up by the same creative team behind Earthquake disaster movie San Andreas - for a year or so. There's currently a release date of April 2018, and unlike a lot of projects on this list, it might actually hit that, as the film is shooting right now. This photo from The Rock's Twitter account proves it.
Call of Duty
Release date: 2018/2019
As of 2015, Activision is actively pursuing a multimedia business, by way of Activision Blizzard Studios. And entirely unsurprisingly, chief among its concerns is a Call of Duty movie franchise. More specifically, the publisher is talking about a Call of Duty cinematic universe. Given the game series' historical jumps between World War Two, Vietnam, modern conflict, and near-future warfare, that actually makes a hell of a lot of sense, provided the venture can find a neat, Marvel-style way of tying together the franchise' various eras and stories. As for distribution and funding, Acti doesn't seem particularly concerned about finding partnership deals. Given its own ludicrous cash reserves, it intends to produce its cinematic content independently in order to maintain creative control, and is open-minded about whatever distribution methods might be most appropriate. Read that to mean 'everything from cinema releases to online distribution is on the cards'.
Minecraft
Release date: May 24, 2019
After The Lego Movie found massive success with the younger set, it seemed like a no-brainer that the wildly popular sandbox title from Mojang would head to the big screen. Confirmed by Notch himself back in February 2014, Mojang and Warner Bros. Pictures (and presumably now Microsoft) are working together to make the film a success, with It's Always Sunny in Philadelphia's Rob McElhenney directing.
Uncharted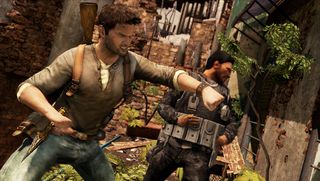 Release date: TBA
The saga of the Uncharted film is long and arduous, but Sony's refusal to give up shows the resolve of a platform-holder confident in its movie's (eventual) success. The project started in 2011, but issues over budget and story have led to a five-year revolving door of directors and writers. Recently though, a script (written by Blazing Aces scribe Joe Carnahan) seems to have been nailed down, so Sony's determination might now actually start to pay off. It turns out that the Uncharted movie is now a 'Young Drake and Sully' prequel, starring new Spider-Man Tom Holland. As Drake, obviously.
Though we demand Bruce Campbell as his cigar-chomping father figure.
Sly Cooper
Release date: TBA
The film purportedly centers on Sly racing to recover pages from the Thievius Raccoonus before it falls into the hands of Clockwerk. It was set to feature voice actors from the video game series, with the exception of Kevin Miller (Sly Cooper), with a 2016 release planned, but as of the failure of the Ratchet & Clank movie, its release window, budget, and presumably entire worthiness as a production, are being re-evaluated. So it might not actually ever come out.
The Last of Us
Release date: TBA
Sony and Naughty Dog told us that The Last of Us would be transitioning to the big screen, with the game's story writer Neil Druckmann penning the movie script as well, and we immediately tried to think of the best cast for the film. Alas, since then - and despite the involvement of Sam Raimi as producer - the film seems to have fallen into development hell and somewhat stalled. Though according to Raimi, it hasn't been outright cancelled.
Watch Dogs
Release date: TBA
Ubisoft must be awfully big on Watch Dogs - a movie was on the cards before the game was even out. The project went quiet for a good three years after that, but was re-announced - as a co-production with Sony - at E3 2016, so presumably the production is ramping up.
Monster Hunter
Release date: TBA
File this one under 'vague but possible'. A Monster Hunter movie has (vaguely) been announced as being in the works by Capcom, and a prospective Hollywood pitch has since been (vaguely) discussed. Discussed in terms of a long-term franchise, in fact. The only problem? The person doing that pitching is Paul W.S. Anderson, of Resident Evil (and a whole slew of other, terrible films) infamy. And he wants to make a film about a man in the real-world travelling to the realm of Monster Hunter in order to train to fight monsters invading Earth. Probably in slow-mo. No doubt to a cheesy industrial-techno soundtrack, and shot with a pathologically kinetic camera.
Seriously, someone stop this man making films.