The decade has come to a close, and what an awesome ten years it was for cinemagoers. However, there are a tonne of amazing upcoming movies coming in 2020 and beyond to look forward to – despite this being the first year since 2014 not to boast a new Star Wars movie.
The exciting roster of upcoming movies includes No Time to Die (AKA Bond 25), two new movies from the Marvel Cinematic Universe (Black Widow and The Eternals), two original Pixar films, Christopher Nolan's Tenet, Wonder Woman 1984, and the return of Wyld Stallyns in Bill & Ted Face the Music. Excellent!
Put simply, when it comes to upcoming movies, the next few months are going to be epic. So read through this list of the most exciting films heading your way and start planning your cinema trips now!
Movie release dates | New games 2019 | Video game release dates | New horror movies | Upcoming video game movies | New Star Wars movies | New Disney movies | New TV shows
Little Women
Release date: December 25 (US) / December 26 (UK)
Anyone order a movie adaptation of a classic American novel directed by an Oscar-nominated filmmaker and starring a cast of who's currently who in Hollywood? Well, you're in luck, as just before the New Year breaks, the eighth adaptation of Little Women, directed by Lady Bird's Greta Gerwig and starring Saoirse Ronan, Timothée Chalamet and Meryl Streep, among others, is coming.
Little Women, based on Louisa May Alcott's novel of the same name, also stars Emma Watson, Florence Pugh, Laura Dern, Chris Cooper, Louis Garrel, Tracy Letts, James Norton, Bob Odenkirk, and Eliza Scanlen.
The synopses reads: "Gerwig has crafted a Little Women that draws on both the classic novel and the writings of Louisa May Alcott, and unfolds as the author's alter ego, Jo March, reflects back and forth on her fictional life. In Gerwig's take, the beloved story of the March sisters – four young women each determined to live life on her own terms -- is both timeless and timely."
1917
Jojo Rabbit
Release date: December 25 (US) / January 10, 2020 (UK)
From director Sam Mendes (Spectre) comes 1917, a World War One movie that follows two young British soldiers, Schofield (Captain Fantastic actor George MacKay) and Blake (Dean-Charles Chapman), who are given a seemingly impossible mission. The official synopses says the pair are "in a race against time" as "they must cross enemy territory and deliver a message that will stop a deadly attack on hundreds of soldiers— Blake's own brother among them."
The movie reunites Mendes with cinematographer Roger Deakins, marking their fourth collaboration following Jarhead, Revolutionary Road, and Skyfall. Mendes co-wrote the script with Penny Dreadful's Krysty Wilson-Cairns.
Release date: Out in the US / January 3, 2020 (UK)
Hot off the back of Thor: Ragnarok, Taika Waititi's next movie probably isn't what most people were expecting. Based on Christine Leunens' World War II set novel Caging Skies, Jojo Rabbit centres on a young German boy (Jojo) who finds out his mother's hiding a Jewish girl in the attic. But there's a weird twist in the tale, because Jojo has an imaginary friend: Adolf Hitler, played by Waititi himself. "I didn't base him on anything I'd seen about Hitler before," he told Deadline. "I just made him a version of myself that happened to have a bad haircut and a shitty little moustache. And a mediocre German accent."
Waititi's assembled an impressive cast for his latest movie, with Marvel's Scarlett Johansson, Three Billboards…' Sam Rockwell, Pitch Perfect's Rebel Wilson, Leave No Trace's Thomasin McKenzie and The Office's Stephen Merchant.
Release date: December 19 (UK) / December 20 (US)
A movie that needs no introduction... Star Wars: The Rise of Skywalker marks the final instalment in the Skywalker saga and promises to be an epic conclusion to all nine episodic movies.
Kylo Ren's now Supreme Leader of the First Order and that the Resistance are living in each other's pockets on the Millennium Falcon. To some surprise, Emperor Palpatine's back, and Daisy Ridley's Rey looks set to turn to... the Dark Side? How director JJ Abrams will fit this all into one movie – and that's without mentioning returning roles from Mark Hamill, Carrie Fisher (through unused footage from Force Awakens), and Billy Dee Williams as Lando Calrissian – remains a mystery. Whatever the case, there's no denying that we're extremely excited to blast out into a galaxy far, far away once again.
Birds of Prey (And the Fantabulous Emancipation of One Harley Quinn)
Release date: February 7, 2020
Margot Robbie's baseball bat-wielding Harley Quinn was one of the few things DC fans liked about Suicide Squad. It's therefore no surprise that Warner Bros. is keen to give the villain a spin-off all of her own. Harley's not traditionally affiliated with the all-female superhero team Birds of Prey in the comics, but rumour has it she's left the Joker to go solo in Gotham City, which may have prompted a change of allegiances.
We're not sure how Birds of Prey fits in with the wider DCEU continuity – Winstead has said "it's sort of a spin-off of Suicide Squad", though the Suicide Squad movie James Gunn is shooting before Guardians of the Galaxy Vol 3 is "a total reboot" that... also stars Robbie? It's all a little confusing.
The King's Man
Release date: February 14, 2020
After Kingsman: The Secret Service announced the arrival of a fun new spy saga, follow-up The Golden Circle fell a little flat. Now, director Matthew Vaughn gets a chance to reinvigorate the series (based on Mark Millar and Dave Gibbons' comic book series) by going back to the early 20th century in this prequel – we're thinking of it as The League of Extraordinarily Tailored Gentlemen.
A big advantage of visiting the origins of the titular undercover organisation is the chance to roll out a lot of famous actors playing even more famous historical figures: Ralph Fiennes, Liam Neeson is Lord Kitchener, Rhys Ifans is Rasputin, Gemma Arterton is Mata Hari, and Tom Hollander is King George V, Kaiser Wilhelm II, and Tsar Nicholas II – the three monarchs were cousins and the spit of each other. Expect ridiculous gadgets, over-the-top action and plenty of innuendo.
Sonic the Hedgehog
Release date: February 14, 2020
The Sega icon was meant to reach cinema screens in 2019, but negative fan reaction to the famous blue hedgehog's live-action look prompted a delay as studio Paramount gave him a makeover – or, as director Jeff Fowler diplomatically put it, they're "taking a little more time to make Sonic just right".
Film adaptations of game characters have previously been patchy at best, and this upcoming movie will need to worry about more than aesthetics if it's going to win over cinema audiences. The first trailer gives an indication of how the filmmakers are translating Sonic's signature moves to the big screen – and reveals a very broad Jim Carrey as Dr. Robotnik – but after that initial backlash, the famous blue blur faces one of his biggest ever battles if he's going to conquer the box office.
Mulan
Release date: March 27, 2020
Aside from owning Star Wars, Marvel and Pixar, Disney also have a massive back catalogue of animated classics to remake in live-action. So, the latest cartoon to get the Beauty and the Beast, Dumbo and Aladdin treatment is Mulan, the 1998 story of a young woman in Imperial China who pretends to be a man to join the army.
Chinese/American actor and pop star Liu Yifei takes the title role with support from Rogue One's Donnie Yen as mentor Commander Tung, and Jet Li as the Emperor. Whale Rider's Niki Caro directs. Watch the Mulan trailer for a better look at the movie.
Onward
Release date: March 6, 2020
With Pete Docter now in control at Pixar, the animation studio is prioritising original ideas over sequels (hoorah!). First out of the starting blocks is Onward, a fantasy tale where elves, gnomes, dragons, unicorns, and centaurs roam the world. However, unlike Lord of the Rings, these creatures live like modern Americans, with with houses, cars and rock music. Marvel veterans Tom Holland and Chris Pratt are the elf brothers who set out on a quest to help bring their father back to life. Monsters University director Dan Scanlon is helming the movie.
The New Mutants
Release date: April 3, 2020 (Direct to Disney Plus)
The New Mutants was due a long time ago. In fact, the X-Men spin-off was originally set to come out in April 2018 – before both Deadpool 2 and X-Men: Dark Phoenix – until reshoots and Disney buying Fox pushed the release date back to its current April 2020 berth... And it's now coming straight to Disney+, the streaming service.
Directed by Josh Boone, The New Mutants will follow a group of teen mutants trapped in a research facility against their will. They have to face up to their powers – and their personal demons – to survive and escape.
No Time to Die
Release date: April 3, 2020 (UK)/April 8, 2020 (US)
After the departure of original director Danny Boyle and an injury to leading man Daniel Craig, No Time to Die, AKA Bond 25, has taken its time getting to the big screen. Hopefully, it's a case of better late than never, however, because this will mark Craig's last outing in the tuxedo before he hands back his license to kill.
Plot details are unsurprisingly scarce, but we do know that the movie kicks off in Jamaica, with Bond enjoying some R&R after the events of Spectre. Reports hav indicated that a new 007, played by Lashana Lynch (Captain Marvel), will bring Bond back into the fray, with Bohemian Rhapsody actor Rami Malek acting as the main villain. Ana de Armas (Blade Runner 2049) will also appear in the movie, with Léa Seydoux, Ralph Fiennes, Ben Whishaw, Naomie Harris, Rory Kinnear and Jeffrey Wright all returning. Behind the camera, True Detective and Maniac director Cary Fukunaga becomes the first American to helm an official Bond movie, while Fleabag creator/star Phoebe Waller-Bridge is on the writing team.
Black Widow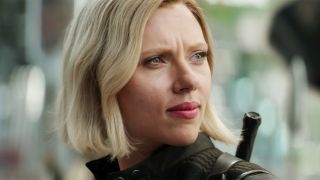 Release date: April 24, 2020 (UK) / May 1, 2020 (US)
The next stop in the MCU will be the Black Widow movie, arriving on May 1, 2020.
Directed by Cate Shortland, the confirmed cast includes Scarlett Johansson returning as Natasha Romanoff; Stranger Things' David Harbour as Alexi; Florence Pugh as Yelena Belova (a "sister figure to Natasha" who takes up the Black Widow mantle in the comics, hint, hint); O-T Fagbenle as Mason, and Rachel Weisz as an unknown character. The Taskmaster will also be in the Black Widow movie.
Footage was shown off at San Diego Comic-Con 2019, with Romanoff and Pugh's character, Yelena, tussling in Budapest in a flat-out ferocious fight scene. They use everything at their disposal – including a literal kitchen sink – but it ultimately ends in a chokehold stalemate. The short clip ends with a car chase; Black Widow crashes and is met by Alexi, played by David Harbour, who blocks her rapid-fire gunshots with a shield.
Continue to Page 2 for more of the biggest upcoming movies of 2020