Cinemas and theaters around the world are finally back in full swing – which means we have a lot of exciting upcoming movies to look out for. Following the Year of the Plague, we have dozens of major blockbusters heading to the big screen, including the first cinematic entries in the Marvel Cinematic Universe, a new Fast and Furious movie, and some exciting potential awards contenders. We're not only getting delayed movies – such as No Time to Die and Dune – but some other colossus films in the shape of The Matrix 4, Spider-Man 3, and The Batman.
It's never been a better time to be a film lover. Below, we go through all the major upcoming movies we're most excited for. So, get your dancing shoes on, your webslingers ready, and your treasure maps out – these are the blockbusters to watch in 2021 and beyond.
F9: Fast & Furious 9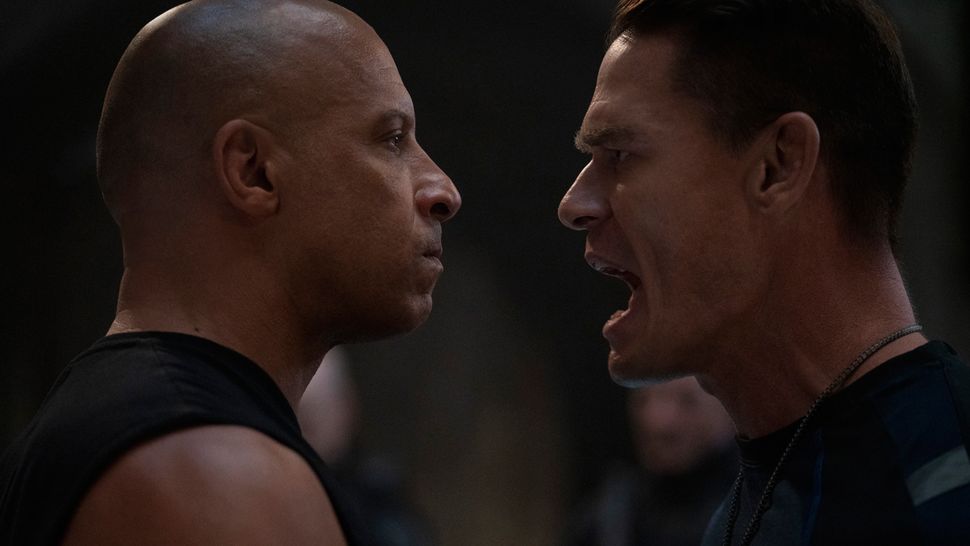 Release date: June 24, 2021
Who'd have believed back in 2001 that a fun, relatively unspectacular Vin Diesel movie about street racing and heists would spawn a multi-billion-dollar franchise that's still here nearly two decades later? With spin-off Hobbs & Shaw having played during the summer of 2019, the main series revs up its engines for the ninth time with regular director Justin Lin back behind the steering wheel (he called the shots the third, fourth, fifth and sixth movies in the series).
Alongside Fast stalwarts Vin Diesel and Michelle Rodriguez, Jordanna Brewster is back for the first time since her character, Mia, walked into the sunset with the late Paul Walker's Brian in Fast & Furious 7. John Cena will also appear in the movie, as Dom's brother, and Han is back. As the trailer promises: Justice. Is. Coming.
Black Widow
Release date: July 7, 2021 (Disney Plus via Premiere Access + theatrical)
Once due to kick off Marvel Phase 4 (that's now WandaVision's honor), Black Widow may have been delayed, but it's certainly undefeated. Directed by Cate Shortland, the movie stars Scarlett Johansson returning as Natasha Romanoff; Stranger Things' David Harbour as Alexi; Florence Pugh as Yelena Belova; O-T Fagbenle as Mason; and Rachel Weisz as another Black Widow. The Taskmaster will also appear, though his/her identity remains unknown. Prepare for some awesome action and some "important" messaging, according to Pugh.
Space Jam: A New Legacy
Release date: July 16, 2021 (HBO Max and theatres)
Welcome back to the Space Jam. Michael Jordan is out and, in his place, slam-dunking megastar LeBron James. The sequel is looking to do things bigger and better, too, bringing in all sorts of Warner Bros. properties (everything from Game of Thrones to the Iron Giant has been referenced in its first trailer) to really hammer home the nostalgia.
With a cast that includes Don Cheadle, Sonequa Martin-Green, and even a handful of NBA superstars as the villainous Goon Squad, appearing alongside the cartoon cast of Bugs Bunny and company, this is an all-star crossover you're not going to want to miss on your return to the cinema.
Jungle Cruise
Release date: July 30, 2021 (Disney Plus via Premiere Access + theatrical)
Picking up where Pirates Of The Caribbean left off, Jaume Collet- Serra's Jungle Cruise turns the ride into a swashbuckling adventure, with Dwayne Johnson playing Frank, the grumpy captain of a riverboat who gets embroiled with Emily Blunt's scientist Dr Lily Houghton. A swashbuckling adventure to look forward to seeing on the big screen.
The Suicide Squad
Release date: August 6, 2021 (HBO Max + theaters)
Harley Quinn and a few familiar faces return to the big screen in this quasi-sequel reboot of the Suicide Squad. You'll recognise a few, but will have absolutely no idea who the others are. The cast is ludicrous – everyone from Nathan Fillion, Peter Capaldi, Pete Davidson to Idris Elba, John Cena, and Margot Robbie – are set to appear in The Suicide Squad. With James Gunn at the helm, this will surely be one bombastic ride.
Free Guy
Release date: August 13, 2021
Prepare for a video-game movie unlike any other. Ryan Reynolds stars as the eponymous non-playable character (NPC) Guy, who finds himself suddenly gaining autonomy and realising that he's actually a video game character. The game itself – which, itself, is a deadly GTA knock off – is being closed down, and it's up to Guy and one of the game's developers (played by Killing Eve's Jodie Comer) to save the day. Expect laughs aplenty when this one finally arrives.
Candyman
Release date: August 27, 2021
Say his name five times in the mirror and the Candyman will appear. Well, Jordan Peele has done exactly that, and will be bringing the results to cinemas. This "spiritual successor" to the original movie will be directed by Nia DaCosta and has Peele on as producer. Tony Todd returns as the eponymous ghost looking to wreak havoc. The movie will also introduce Anthony, played by Watchmen star Yahya Abdul-Mateen II. Throughout, he's tormented by Candyman's history. Get ready for another scary tale.
Shang-Chi and the Legend of the Ten Rings
Release date: September 3, 2021
Once the third movie scheduled in Marvel Phase 4, now the second due to consistent moves in the release schedule. Destin Daniel Cretton (who worked with Captain Marvel herself Brie Larson on The Glass Castle) has signed on to direct Shang-Chi –also known as the Master of Kung Fu – who will be Marvel Studio's first lead Asian superhero, and will be played by Simu Liu. Tony Leung will play the villain The Mandarin in the movie, with Awkwafina playing a supporting role.
The Many Saints of Newark
Release date: September 24, 2021 (US, HBO Max + theaters), October 22, 2021 (UK)
Are movies based on TV shows ever that successful? The number is low, yet David Chase has decided he's not done with The Sopranos – arguably the best television show of all time. The showrunner will act as writer and producer on The Many Saints of Newark, with Alan Taylor directing. The story concerns Christopher Moltisanti's and Anthony Sopranos' fathers back in the '60s and '70s. Jon Bernthal, Corey Stoll, Billy Magnussen, Ray Liotta, and James Gandolfini's son, Michael Gandolfini, all star. It launches a month later in the UK, so Sopranos fans across the pond will have to hold tight.
Venom: Let There Be Carnage
Release date: September 24, 2021
Venom was a surprising success, launching Sony's own Marvel cinematic universe, including Morbius (see above). Venom: Let There Be Carnage will return Tom Hardy to the big screen as the eponymous symbiote, while Woody Harrelson returns from the Venom post-credits scene as Cletus Kasady, better known as Carnage. Andy Serkis has directed this one, the Gollum actor no doubt putting his CGI know-how to the test.
Dune
Release date: October 1, 2020 (HBO Max + theaters)
Is Frank Herbert's supposedly unfilmable classic sci-fi novel Dune genuinely unfilmable? The jury's still out after David Lynch's ambitious but flawed 1984 attempt. However, if anyone can get an adaptation right it's Arrival director Denis Villeneuve, the man who directed the excellent Blade Runner 2049.
He's lined up an impressive cast to tell the story of double-dealing and skullduggery on the desert world of Arrakis, the source of the valuable "spice" that makes interstellar travel possible. Timothée Chalamet plays the lead Paul Atreides, with Mission: Impossible: Rogue Nation's Rebecca Ferguson as his mum Lady Jessica, and some top Star Wars and Marvel talent in the form of Oscar Isaac, Josh Brolin, Stellan Skarsgård, Dave Bautista and Zendaya.
No Time to Die
Release date: September 30 (UK), October 8 (US) 2021
After the departure of original director Danny Boyle, an injury to leading man Daniel Craig, and the coronavirus pandemic, No Time to Die has taken its time getting to the big screen. Hopefully, it's a case of better late than never, however, because this will mark Craig's last outing in the tuxedo before he hands back his license to kill.
Plot details are unsurprisingly scarce, but we do know that the movie kicks off in Jamaica, with Bond enjoying some R&R after the events of Spectre. Reports have indicated that a new 007 – played by Lashana Lynch (Captain Marvel) – will bring Bond back into the fray, with Bohemian Rhapsody actor Rami Malek acting as the main villain. Ana de Armas (Blade Runner 2049) will also appear in the movie, with Léa Seydoux, Ralph Fiennes, Ben Whishaw, Naomie Harris, Rory Kinnear, and Jeffrey Wright all returning. Behind the camera, True Detective and Maniac director Cary Fukunaga becomes the first American to helm an official Bond movie, while Fleabag creator/star Phoebe Waller-Bridge is on the writing team.
Halloween Kills
Release date: October 15, 2021
Michael Myers returns – again! Jamie Lee Curtis will be back for the follow-up to the 2018 Halloween reboot, and the boiler-suit clad follow up promises to be bloody. Halloween Kills isn't the only sequel on the way. Halloween Ends will finish the new trilogy the following year. We don't know much about either movie, only this announcement from Universal that lets us know that the story of Michael Myers and Laurie Strode, conveniently for us, 'isn't over.' More of the same means disturbing (trick or) treats arriving for Horror Christmas two years in a row. Yum.
The French Dispatach
Release date: October 22
Wes Anderson returns with The French Dispatch – the director's first output since 2018's Isle of Dogs – centres on a group of journalists working for an American newspaper outpost based in a fictional French City. The cast features a mixture of Anderson favourites and newcomers: Bill Murray, Adrien Brody, Léa Seydoux, Owen Wilson, and Tilda Swinton star alongside Timothée Chalamet, Benicio del Toro, and Jeffrey Wright. Its trailer has all of the hallmarks we expect from a Wes Anderson film; bright colours, flat line delivery, and meticulously stylised shots. And, of course, we cannot wait for this hopefully whimsical affair.
Last Night in Soho
Release date: October 22, 2021
Edgar Wright returns with what will be slightly less funny and more horror than we're used to from the director. Last Night in Soho follows Anya Taylor-Joy's fashion designer who mysteriously ends up in the '60s. Not al is as it seems (as you would expect) and things get slightly out of hand. The movie will also feature Diana Rigg's last performance.
Eternals
Release date: November 5, 2021
Eternals was the second Marvel Phase 4 movie, but now comes third! It comes with a stellar cast including Richard Madden as Ikaris, Angelina Jolie as Thena, Kumail Nanjiani as Kingo, Salma Hayek as Ajak, Brian Tyree Henry as Phastom, and many more. Feige himself has given a small peek into what to expect from the Eternals story, having said: "It will be a story that will introduce you to this incredibly eclectic group of immortals, they're the focus of the story." He said of the setting: "It takes place in our universe – it takes place in the MCU."
Chloe Zhao, who will be directing Eternals, said at SDCC: "I just really, really wanted to make a Marvel movie for so long… For this film, The Eternals, it's about this incredible group of immortals but, through their journey, we get to explore what it means to be human."
Ghostbusters: Afterlife
Release date: November 11, 2021
Who you gonna call? When it comes to having another crack at rebooting Ghostbusters, it seems the answer is Jason Reitman. The Tully director announced via a teaser trailer that he's inherited the megaphone from his dad, original Ghostbusters director Ivan, for a movie Reitman Jr. has described as "a continuation of the original franchise". That means the new movie will pick up decades after New York was terrorised by insurgents from the spirit world, meaning the unfairly maligned 2016 movie now sits alone in its own parallel timeline.
With Fargo's Carrie Coon, Stranger Things' Finn Wolfhard, McKenna Grace (the young Carol Danvers in Captain Marvel) and Ant-Man himself, Paul Rudd, heading up the cast, it promises to have a very different feel to the "four guys team-up to fight ghosts" vibe of the original movies.
Top Gun: Maverick
Release date: November 19, 2021
Thirty-five years after the original Top Gun, Tom Cruise feels the need to go back to the role that made him the biggest movie star on the planet. This time around, his Pete "Maverick" Mitchell is an instructor at the eponymous San Diego flight school, and he's set to come into contact with trainee pilot Bradley Bradshaw (played by Whiplash star Miles Teller) – who just happens to be the son of Maverick's late co-pilot Goose…
The first Top Gun was a glorious example of '80s excess and style over substance, so don't expect the sequel to be a deep examination of a pilot's psyche. But with director Joseph Kosinski having Tron: Legacy and Oblivion under his belt, the upcoming movie is bound to look spectacular. Meanwhile, the return of Val Kilmer as Iceman is a nice link to the original – he can be our wingman anytime...
West Side Story
Release date: December 10, 2021
There aren't many genres Steven Spielberg hasn't tackled over the course of his long and impressive career, but the musical is one of them. He's about to change all that with this new take on West Side Story, but seeing as Robert Wise and Jerome Robbins' 1961 Oscar-winner is widely regarded as one of the best song-and-dance flicks of all time, the director certainly isn't taking the easy option.
Famously an update of Romeo And Juliet, the story focuses on a doomed romance against the backdrop of gang war between the Jets and the Sharks in 1950s New York. Baby Driver star Ansel Elgort and newcomer Rachel Zegler play lovers Tony and Maria, with Rita Moreno (who won an Oscar playing Anita in the original movie) back to play Valentina, a reimagined and expanded version of the role of Doc. We know the tunes are good – the question is, can Spielberg make everything else sing as well?
Spider-Man 3
Release date: December 17, 2021
The currently untitled third instalment of the Tom Holland-fronted Spidey franchise may see the return of a few familiar faces – multiverse rumours have been brewing for a while now, with Andrew Garfield, Emma Stone, and Kirsten Dunst reportedly reprising their roles from previous Spider-verses. We know we can also expect appearances from Doctor Octopus and J. Jonah Jameson, too. Other than that, everything is still pretty up in the air, plot-wise, but we've got high hopes for Spider-Man 3.
The Matrix 4
Release date: December 22, 2021 (HBO Max + theaters)
After months of rumours, it was finally confirmed that The Matrix 4 is actually happening. Keanu Reeves and Carrie-Anne Moss are back as Neo and Trinity, while Lana Wachowski returns as director. New cast members include Yahya Abdul-Mateen II, Neil Patrick Harris, and Jessica Henwick, though none of their roles have been specified. Actually, not much else has been specified at all. We know very, very little about The Matrix 4, but it's worth noting that he Aleksandar Hemon – author of The Lazarus Project – and David Mitchell, who wrote the book Cloud Atlas, are both on board as co-screenwriters with Wachowski. Now, if that's not the recipe for some deep, action-packed philosophical conundrums then we don't know what is.
The King's Man
Release date: December 22, 2021
After Kingsman: The Secret Service announced the arrival of a fun new spy saga, follow-up The Golden Circle fell a little flat. Now, director Matthew Vaughn gets a chance to reinvigorate the series (based on Mark Millar and Dave Gibbons' comic book series) by going back to the early 20th century in this prequel – we're thinking of it as The League of Extraordinarily Tailored Gentlemen.
A big advantage of visiting the origins of the titular undercover organization is the chance to roll out a lot of famous actors playing even more famous historical figures: Ralph Fiennes, Liam Neeson is Lord Kitchener, Rhys Ifans is Rasputin, Gemma Arterton is Mata Hari, and Tom Hollander is King George V, Kaiser Wilhelm II, and Tsar Nicholas II – the three monarchs were cousins and the spit of each other. Expect ridiculous gadgets, over-the-top action, and plenty of innuendo.
Morbius
Release date: January 21, 2022
After the massive (and possibly unexpected) success of Venom, Sony's going full-steam-ahead on the Spider-Verse that may or may not be attached to the MCU (Tom Holland will be appearing in Spider-Verse movies, and we already know Vulture is in Morbius, so we're guessing so). Morbius centers on another troubled villain/antihero (delete as appropriate) – this time it's Michael Morbius, a scientist with a rare blood disorder whose experiments to find a cure end up giving him a form of vampirism.
Dallas Buyers Club Oscar-winner Jared Leto is playing the so-called "living vampire", so expect impressive levels of commitment from an actor who famously went method playing the Joker in Suicide Squad.
Marry Me
Release date: February 11, 2021
She's a mega pop star, who discovers her latest beau is cheating on her. He's a high school maths teacher, who happens to be holding up a sign that says 'Marry Me' at one of her concerts. And so what happens? She plucks him out of the audience and a whirlwind romance starts. So begins Kat Coiro's charming-sounding Marry Me, a romcom that you can take the whole family to.
Uncharted
Release date: February 18, 2022
After seven (yes, seven!) director changes, the Uncharted movie finally wrapped filming. That means we can expect to see the Tom Holland-led adaptation of the games in cinemas during our lifetimes. We didn't think it would happen after such a turbulent production process. But here we are. Mark Wahlberg is set to play Sully, a mentor-type to Holland's Nathan Drake. This will be set a little before the games, which centre on older versions of the characters. But by going young, Sony has set themselves up for a franchise. Expect sequels. Many, many sequels...
The Batman
Release date: March 4, 2022
Robert Pattinson takes over the cowl in The Batman, the upcoming adaptation of the Caped Crusader from director Matt Reeves. If you discount Batman v Superman, this is the first solo Batman movie in a decade (The Dark Knight Rises released in 2012), making it the longest gap between Bat-Flicks since Tim Burton's Batman arrived onto the scene. Taking place outside the currently established DCEU, The Batman will pit R-Batz against a host of villains, including Riddler, The Penguin, and Catwoman. Prepare for an action-packed and bloody take on Batman unlike any other.
Mission: Impossible 7
Release date: May 27, 2022
Yes, there have already been six of these action-packed blockbusters, and the series continues for good reason. Tom Cruise was born to do death-defying stunts, and this series is full of them. This time around, he's joined by series newcomers Hayley Atwell and Pom Klementieff, while Ving Rhames, Henry Czerny, Simon Pegg, Rebecca Ferguson, Vanessa Kirby and Angela Bassett all reprise their roles from previous movies. Christopher McQuarrie is back in the director's chair, and a sequel – Mission: Impossible 8 – is already dated for July 2023.
Jurassic World: Dominion
Release date: June 10, 2022
There's nothing quite as fun as bringing the gang back together. Jeff Goldblum, Sam Neil, and Laura Dern are all returning to the dinosaur franchise for Jurassic World 3: Dominion. The pre-historic beasts are now out in the wild, away from the insular parks that kept them hostage. Prepare for carnage and familiar faces.
Tomb Raider 2
Release date: Unknown
Alicia Vikander returns as Lara Croft for another adventure. We know very, very little about the upcoming video-game adaptation, but Ben Wheatley has dropped out as director, with Misha Green (LoveCraft Country) replacing him. Filming was set to take place in a variety of countries across the globe – including Finland and Chine – but was later whittled down to just England and South Africa. Now, with the director change, everything's unknown, but hopefully some good news will come soon.