Forget planning your early Christmas gift buying (everyone loves Amazon vouchers anyway), it's your upcoming movie schedule which needs attention. Making sure you don't miss the biggest cinematic releases of the year is important work after all and any committed film fan likes to plan ahead. With more and more movies releasing every year (not to mention all the must-watch TV), it gets harder and harder to keep up with everything. That's where we come in.
Read on for a complete breakdown of the most anticipated upcoming movies of 2018 AND 2019 in release date order, so you can make sure you don't miss any of the big releases still to come this year and start planning for next year. From Fantastic Beasts: The Crimes of Grindelwald and Aquaman this year, to Avengers 4 and It: Chapter 2 next year, there's so many amazing upcoming movies on the horizon, the hardest thing is going to be deciding what to see first.
Widows
Release date: Out now (UK)/November 16, 2018 (US)
This upcoming movie from 12 Years a Slave director Steve McQueen promises to be a heist film like no other. When criminal Harry Rawlings and his crew all die in a job gone wrong, they leave behind their widows who know nothing about their illegal activities. Worse still, their dodgy dealings are coming back to haunt their families thanks to a criminal kingpin who comes a-calling looking for the money their husbands stole from him. Faced with no alternative, the women decide to take their fate into their own hands and finish what their husbands started. With award-winning talent both behind and in-front of the camera (the cast includes Viola Davis, Liam Neeson, Michelle Rodriguez, Elizabeth Debicki, Jon Bernthal, Colin Farrell, and Daniel Kaluuya), Widows is already getting rave reviews after its premiere at Toronto International Film Festival earlier this year.
Overlord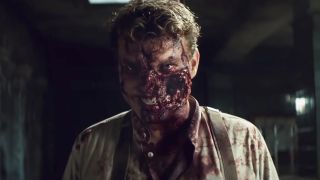 Release date: November 7, 2018 (UK)/November 9, 2018 (US)
From producer J.J. Abrams and director Julius Avery we have upcoming movie Overlord, which follows a group of American soldiers trapped behind enemy lines during WW2, who come face-to-face with some gruesome creatures courtesy of the Nazi's experiments. Originally rumoured to live within the Cloverfield universe, we're now not so sure and Paramount are certainly keeping quiet if that is the case. The trailer has a distinct war-movie-meets-action-movie-meets-horror-movie feel to it, but hopefully when the film his cinemas this November all those different elements will blend together to create one hell of ride. Starring Black Mirror's Wyatt Russell, Game of Thrones' Pilou Asbæk and Jacob Anderson, Spider-Man: Homecoming's Bokeem Woodbine, and Agents of S.H.I.E.L.D's Iain De Caestecker, Overlord is shaping up to be a geek-tastic dream come true, and it got a rave reception at its recent world premiere at Fantastic Fest.
Read more: "Like Indiana Jones on acid" - The Overlord cast on the movie's secretive origins (and whether it was ever a Cloverfield spin-off)
The Girl in the Spider's Web
Release date: November 9, 2018
If you're a fan of The Girl with the Dragon Tattoo movie franchise (either the Swedish trilogy or the American remake) you'll be please to hear that Lisbeth Salander will be returning to the cinema this year with an adaptation of the fourth book in the series, The Girl in the Spider's Web. This time played by The Crown's Claire Foy, who is taking over from Rooney Mara who took on the role in the American version, Lisbeth finds herself once again embroiled in a dangerous mystery. Very little is known about the film's plot, but as you can tell from the trailer, it sounds like the vigilante will be visited by her past. Evil Dead and Don't Breath director Fede Alvarez is helming the project and Swedish actor Sverrir Gudnason is playing her partner in crime and sometimes lover Mikael Blomkvist, taking over from Daniel Craig who starred opposite Mara.
Outlaw King
Release date: November 9, 2018
Netflix continues to try and conquer the world of cinema the same way it has the world of TV streaming with another Netflix Original movie this year. Starring Chris Pine as Scottish rebel Robert the Bruce, Outlaw King tells the tale of Scotland's resistance to the oppressive occupation of King Edward of England. Basically Braveheart crossed with Robin Hood, the trailer promises plenty of extraordinary action set pieces, and although the American Pine seems like an odd choice to play the historical Scottish leader, I'm impressed with what I've seen so far. Helmed by Hell or High Water director David Mackenzie and co-starring Aaron Taylor-Johnson, Florence Pugh, and Billy Howle, Outlaw King has enough talent behind it to be counted among the most anticipated upcoming movies of the year.
Read more: The best movies on Netflix you can watch right now
The Ballad of Buster Scruggs
Release date: November 16, 2018
Another Netflix Original film coming out this year is an exciting upcoming movie courtesy of the Coen brothers. An unconventional western, The Ballad of Buster Scruggs is presented in six chapters covering six different stories from the wild west, one of which is the incident referenced in the title. Doing the film festival circuit earlier this year, it won the Golden Osella Award for Best Screenplay at Venice Film Festival and was picked up by the streaming service for a limited theatrical (from November 8) and worldwide streaming (on November 16) release. Starring Tim Blake Nelson, Liam Neeson, James Franco, Zoe Kazan, Tyne Daly, and Tom Waits, the latest trailer makes it look like both a brutal drama and a hilarious comedy (which is pretty impressive) and if it's as good as the critics are saying, it will soon join Tarantino's Django Unchained and The Hateful Eight as one of the best new modern westerns.
Read more: The 25 best Western movies to ride off into the sunset with
Fantastic Beasts: The Crimes of Grindelwald
Release date: November 16, 2018
The second of an intimidating five movie series revolving around Fantastic Beasts and Where to Find Them author Newt Scamander (Eddie Redmayne), The Crimes of Grindelwald takes us further into familiar Harry Potter territory. While Gellert Grindelwald (Johnny Depp), surfaced at the end of the first movie, Dumbledore's friend turned nemesis is taking the limelight this time around as the action moves from New York to Paris. Scamander returns with the motley crew from Fantastic Beasts and this time will be joined by Jude Law as a young Professor Dumbledore. San Diego Comic Con 2018 provided us with our very first trailer, which not only showcased a young Newt and Dumbledore at Hogwarts, but also showed us a great deal of big bad Grindelwald. It also revealed that Dumbledore sends Newt to stop Grindelwald because he can't move against him himself, and did you spot Nicholas Flamel's cameo at the end? A magical Christmas lies ahead.
Read more: The best Harry Potter movies (including Fantastic Beasts), ranked
Robin Hood
Release date: November 21, 2018
This year is also set to bring us another film interpretation of the classic tale of Robin Hood, starring Kingsman's Taron Egerton in the title role. While it's definitely questionable whether we need another Robin Hood movie, it's worth keeping an eye on this upcoming movie for the cast alone. Egerton is joined by Ben Mendelsohn as the Sheriff of Nottingham (does he ever play a goody?), Jamie Foxx as Little John, Jamie Dornan as Will Scarlet, Tim Minchin as Friar Tuck, and Paul Anderson as Guy of Gisborne - with the less well-known Eve Hewson completing the line-up as Maid Marian. It's the first big screen directing gig for Otto Bathurst, who's mainly worked on TV shows like Peaky Blinders and Black Mirror before, and the trailer promises an action-packed adventure. One to watch.
Read more: The 20 best Medieval movies to watch while we wait for the next Game of Thrones
Ralph Breaks the Internet: Wreck-It Ralph 2
Release date: November 21, 2018 (US)/November 30, 2018 (UK)
Like your Grandma Ethel, Wreck-It Ralph is finally getting hooked up to the internet. The sequel to 2012's love letter to arcade games focuses on what happens when the arcade that Ralph calls home gets plugged into the world wide web. He and Penelope venture into the electric interwebs to try and find a part to fix Penelope's game, Sugar Rush. We've now had a full trailer, which proves that things get real meta, with Penelope visiting a Disney fansite called Oh My Disney (which exists IRL) and meeting all the Disney Princesses, as well as getting involved in a intense online racing game called Slaughter Race where she meets Shank, voiced by Wonder Woman's Gal Gadot. There'll also be cameos from Star Wars favorites, Marvel's Iron Man and Gamora, and - we'd bet our cheezeburger loving cat on it - meme references aplenty. Let's just hope Ralph and Penelope don't take a wrong turn down a broadband pipe and end up on 4chan. No one wants to see that.
Read more: The 10 best video game movies of all time
Creed 2
Release date: November 21, 2018 (US)/November 30, 2018 (UK)
Just when everyone thought the Rocky movies were done, 2015's Creed brought the boxing franchise back with a big old punch. Expertly intertwining the origin story of boxing newcomer Adonis Johnson (played by Michael B. Jordan) with the legacy of icon Rocky Balboa (a returning Sylvester Stallone), we now get to see what the next chapter holds for both Adonis and Rocky now that the former has cemented himself as a future star. Jordan, Stallone, and Tessa Thompson are all back and rising talent Steven Caple Jr. is taking over directorial duties from Ryan Coogler, with the official synopsis and first trailer revealing that Adonis is struggling to balance family life with his boxing commitments. Add to that "an opponent with ties to his family's past" and it looks like Johnson is going to need all the help he can get. Luckily, Rocky is right by his side as always.
Read more: Is it just me, or are all boxing movies basically the same?
Assassination Nation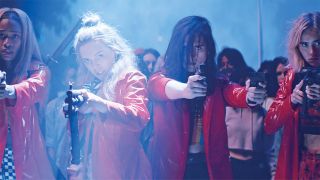 Release date: Out now (US)/November 23, 2018 (UK)
Produced by the Avengers: Infinity War directors the Russo brothers, Assassination Nation is only the second directorial project for Sam Levinson, but it looks like it's going to be a doozy! Starring Odessa Young, Hari Nef, Suki Waterhouse, Abra, Bella Thorne, Maude Apatow, Bill Skarsgard, and Joel McHale, it focuses on the town of Salem as it falls apart amidst a hacking scandal, which sees the majority of its citizens darkest secrets leaked. As the intense trailer states: "When 17,000 people's texts and emails get leaked, people get really weird." The movie clearly riffs of the Salem witch trials with an added generational conflict, which sees the older members of the town blaming the younger population because of their relationship with technology. Add to that a Purge element with everyone losing their minds and killing each other and you've got yourself one hell of an exciting upcoming movie.
Read more: Assassination Nation is a young generation's 'f**k you' from the directors of Avengers: Infinity War
Continue to Page 2 for more upcoming movies