If you think this year's biggest movies have been and gone, well... I've got news for you. There's still loads of exciting upcoming movies scheduled to make it onto the big screen in the next few months, from Venom and Halloween, to Aquaman and Fantastic Beasts: The Crimes of Grindelwald. Besides, why only concern yourself with the hottest upcoming movies of 2018 when you can look at what's coming next year too? 2019 will be here before you know it and oh boy, is it filled with some juicy upcoming movies just for you. Captain Marvel, Avengers 4, It: Chapter 2, Bond 25, Wonder Woman 1984, Star Wars 9... *drools*
Below you'll find a breakdown of all the hottest upcoming movies you don't want to miss, from the big blockbusters we all know about, to the indie flicks that might pass you by. It's everything you need to plan your year (and next...) of movie watching, so what are you waiting for? Keep on scrolling to read all about the most anticipated upcoming movies of the next couple of years and let us know in the comments section below, which you're most looking forward to.
Venom
Release date: October 5, 2018
Venom is an outlier in the world of comic book movies. It isn't attached to other universes – as much as Sony wants it to be – and it's got to tempt audiences with the idea of a solo film starring a character who is predominantly known as a villain. So, how do you get that done? Cast Tom Hardy as Eddie Brock, that's how. While the trailers haven't exactly won everyone over so far, if successful, Venom could kickstart a Sony-led cinematic universe with the (*counts on fingers*) three characters not owned by Disney. If nothing else, it's packing a killer cast: Hardy is joined by Rogue One's Riz Ahmed, Solo's Woody Harrelson, and Oscar nominee Michelle Williams. With the movie calendar awash with new Marvel movies from now until the end of time, this could be a nice palette cleanser for those who like their Marvel flicks a little darker, and filled with symbiotes.
Read more: No, the Venom movie doesn't need Spider-Man - and here's why
Bad Times at the El Royale
Release date: October 5, 2018 (US)/October 12, 2018 (UK)
The El Royale Hotel is a pretty unique place to stay. Not only does is straddle the boarder between Nevada and California meaning you can choose which state you want to sleep in, it also has an impressive array of backrooms which can be used to watch the guests without their knowledge. The Cabin in the Woods director Drew Goddard is bringing us a retro thriller later this year, which sees seven strangers check into the rundown El Royale each seeking something different, but finding out pretty quickly that nothing ever goes to plan. With an all-star line-up which includes Jeff Bridges, Dakota Johnson, Jon Hamm, and Chris Hemsworth, the trailer tells you all you really need to know. This upcoming movie is stylish, dark, and dangerous - and you won't be able to tear your eyes away.
Apostle
Release date: October 12, 2018
Netflix is going dark. Very dark. Upcoming movie Apostle looks to be one hell of a full on horror film and it will be hitting the streaming service later this year. Written and directed by The Raid's Gareth Evans and starring talent such as Dan Stevens, Lucy Boynton, Mark Lewis Jones, Bill Milner, Kristine Froseth, Paul Higgins, and Michael Sheen, this is one horror movie you don't want to miss. And if the first trailer doesn't sell you on it, the official synopsis certainly will: "The year is 1905. Thomas Richardson travels to a remote island to rescue his sister after she's kidnapped by a mysterious religious cult demanding a ransom for her safe return. It soon becomes clear that the cult will regret the day it baited this man, as he digs deeper and deeper into the secrets and lies upon which the commune is built." Intrigued? Us too.
Read more: The 25 best movies on Netflix you can watch right now
Halloween
Release date: October 19, 2018
I know, I know. If Texas Chainsaw Massacre, Final Destination, Saw, and Friday the 13th are anything to go by, reboots and modern sequels to classic horror franchises never end with good results. But the 2018 Halloween movie could be different. Jamie Lee Curtis is returning as franchise icon Laurie Strode, Danny McBride is helping pen the script (suggesting that the movie will have a healthy sense of self-aware humour), and John Carpenter himself is on board to produce and score. Heck, even the original man behind the mask, Nick Castle, is back to reprise his role as knife enthusiast turned serial killer Michael Myers. Add to all this, the chilling trailer, which has recently been released and we may have a revived slasher horror masterpiece on our hands come this October.
Read more: The 25 best horror movies of all time, whatever your taste in terror
The Hate U Give
Release date: October 19, 2018 (US)/November 2, 2018 (UK)
Based on Angie Thomas' best-selling YA novel of the same name, The Hate U Give is set to blow us all away later this year. Directed by George Tillman Jr. this upcoming movie tells the story of black teenager Starr Carter - played by The Hunger Games' Amandla Stenberg - who's drawn to activism after witnessing the fatal shooting of her childhood best friend by a white police officer. Spending most of her time either at home in the poor, mostly black, neighbourhood where she lives, or the rich, mostly white, prep school she attends, Starr is torn between two worlds, but the shooting compels her to take a stand. While not based on a specific true story, the parallels between The Hate U Give and real world events are obvious and from the looks of the trailer, it's going to be one of the most harrowing yet powerful movies of the year. Make sure you don't miss it.
Read more: The 30 best book to movie adaptations you'll want to watch AND read
Bohemian Rhapsody
Release date: October 24, 2018 (UK)/November 2, 2018 (US)
Much like the song it's named after, Bohemian Rhapsody's ongoing journey to the big screen has already been marked by a frenzy of ups and downs. First Sacha Baron Cohen quit after working on pre-production for six years on the biopic, before director Bryan Singer then departed the project only last December, reportedly due to an unprofessional demeanour that didn't sit well with star Rami Malek, who's set to play Freddie Mercury himself. Thankfully, we've since had a couple of trailers for the movie, which not only seem to show that the movie hasn't suffered from its behind-the-scenes drama, but also pretty much knocked everyone's socks off! With Malek doing more than justice to the legendary singer (from what we've seen so far) and every Queen smash hit stuffed into the film as well, this looks to be one for Queen fans and newbies alike. Seriously, watch the latest trailer and tell me you don't want to see this upcoming movie asap?
Read more: The 30 best music movies of all time
Slaughterhouse Rulez
Release date: October 31, 2018
This is one for fans of the Three Flavours Cornetto trilogy (Shaun of the Dead, Hot Fuzz, and The World's End) as Simon Pegg and Nick Frost are back together again in comedy horror Slaughterhouse Rulez. Written and directed by the relatively unknown Crispian Mills, this flick definitely falls into the more indie group of this year's upcoming movie releases, but if you're looking for some alternative Halloween viewing, you could be onto a winner here. Also starring the legendary Michael Sheen, Slaughterhouse School is a boarding school with a difference... mainly that a lot of the students end up dead eaten by something in the woods. Imagine Harry Potter, but instead of living in a world with magic, these kids have wandered into a real life horror film. Pegg plays a new teacher who is struggling to balance teaching his students with saving them from a gruesome fate, and if the first trailer is anything to go by, it looks like a lot of light-hearted fun.
Overlord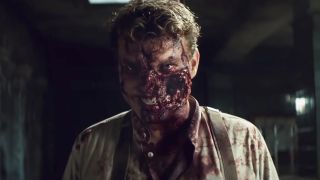 Release date: November 7, 2018 (UK)/November 9, 2018 (US)
From producer J.J. Abrams and director Julius Avery we have upcoming movie Overlord, which follows a group of American soldiers trapped behind enemy lines during WW2, who come face-to-face with some gruesome creatures courtesy of the Nazi's experiments. Originally rumoured to live within the Cloverfield universe, we're now not so sure and Paramount are certainly keeping quiet if that is the case. The trailer has a distinct war-movie-meets-action-movie-meets-horror-movie feel to it, but hopefully when the film his cinemas this November all those different elements will blend together to create one hell of ride. Starring Black Mirror's Wyatt Russell, Game of Thrones' Pilou Asbæk and Jacob Anderson, Spider-Man: Homecoming's Bokeem Woodbine, and Agents of S.H.I.E.L.D's Iain De Caestecker, Overlord is shaping up to be a geek-tastic dream come true, and it got a rave reception at its recent world premiere at Fantastic Fest.
Read more: The 25 best war movies - from Dunkirk to Downfall (and everything in between)
The Girl in the Spider's Web
Release date: November 9, 2018
If you're a fan of The Girl with the Dragon Tattoo movie franchise (either the Swedish trilogy or the American remake) you'll be please to hear that Lisbeth Salander will be returning to the cinema this year with an adaptation of the fourth book in the series, The Girl in the Spider's Web. This time played by The Crown's Claire Foy, who is taking over from Rooney Mara who took on the role in the American version, Lisbeth finds herself once again embroiled in a dangerous mystery. Very little is known about the film's plot, but as you can tell from the trailer, it sounds like the vigilante will be visited by her past. Evil Dead and Don't Breath director Fede Alvarez is helming the project and Swedish actor Sverrir Gudnason is playing her partner in crime and sometimes lover Mikael Blomkvist, taking over from Daniel Craig who starred opposite Mara.
The Ballad of Buster Scruggs
Release date: November 16, 2018
Netflix is continuing its attempts to secure cinematic glory with an upcoming movie courtesy of the Coen brothers. An unconventional western, The Ballad of Buster Scruggs is presented in six chapters covering six different stories from the wild west, one of which is the incident referenced in the title. Doing the film festival circuit earlier this year, it won the Golden Osella Award for Best Screenplay at Venice Film Festival and was picked up by the streaming service for a limited theatrical and worldwide streaming release. Starring Tim Blake Nelson, Liam Neeson, James Franco, Zoe Kazan, Tyne Daly, and Tom Waits, the first trailer makes it look like both a brutal drama and a hilarious comedy (which is pretty impressive) and if it's as good as the critics are saying, it will soon join Tarantino's Django Unchained and The Hateful Eight as one of the best new modern westerns.
Read more: The 25 best Western movies to ride off into the sunset with
Continue to Page 2 for more upcoming movies