Okay, the upcoming horror movies of 2018 are getting silly now. This year already looks like a bona fide classic, and we're still not even halfway through. The eclectic brilliant just wont stop coming. New movies are being announced all the time, and this week alone we've had three brilliant new trailers for very exciting up-and-comers.
The new Halloween trailer feels beautifully authentic to John Carpenter's original. The trailer for The Nun is a solid gold slice of slick, James Wan atmosphere and jumps. The Little Stranger's first promo is classy as all hell. And there's also a trailer for the amazing-sounding Suspiria remake knocking around, but I'm not watching it because I'm just too damn excited about that one. But there's so, so much more to be excited about this year - including a murder-faced Nic cage drenched in gore - so read on and let's dig into the whole lovely lot of it, shall we?
Hereditary
Release date: June 8, 2018 (US)/June 15, 2018 (UK)
Yeah, this one looks downright horrifying. That it also seems to be the next frontrunner for 'Horror that happens to be a legitimate, proper chunk of finely crafted cinema' is downright delightful. With a trailer that alone will have you deeply disturbed disturbed the slowly unfurling wrongness of everything happening on-screen, and some seriously powerful casting headed up by Toni Collette, this looks like an entirely uncompromising tale of supernatural dread and troubling family legacy.
When her mother dies, Collette's character starts to notice strange, unsettling occurrences around the family house. Is it a ghost? Is it something else? Is it all imaginary, stemming from grief and unresolved issues? No-one knows, but she's going to have to dig into a whole of darkness to find out. The surface synopsis might sound a bit been-there-before, but the texture and tone of the film-making appears far removed. It's the kind of preview that leaves you nightmarishly transfixed, before looking away as much to avoid spoilers as out of fear. Though there's undeniably a great deal of the latter. I'm not going to say "Could be this year's Babadook", but it totally could.
The First Purge
Release date: July 4, 2018 (US)/July 6 (UK)
James DeMonaco's Purge franchise has not-so-slowly sneaked away from the claustrophobic dystopian horror of the original entry and into a far more action-based affair. It's still about a day you can do whatever you want without the force of the law - yay, time to get your own back on whoever stole your lunch sandwich - but the chaos of totalitarian cities under siege was clearly too irresistible for DeMonaco, and a lot of the grim, intimate horror has diminished.
It doesn't look like this is going to change for the fourth film, which takes us back in time and shows exactly how the Purge came into being. Regardless of the removal of pure frights, it'll be fun to see how it all starts in Staten Island in New York. And clearly there's a whole lot more socio-political commentary to be had this time round. That red hat used in the teaser posters is loaded with meaning.
Slender Man
Release date: August 24, 2018
While the Slender Man myth has been around since 2011, when it reared its featureless face as a user-created entry to a horror Photoshop content on the Something Awful forums, recently the skinny bogeyman has made headlines for all the wrong reasons. Two twelve-year-old girls (both since committed to mental health facilties), thinking they were working under the Slender Man's influence, attempted to murder their friend in the woods in 2014. Thankfully the young girl survived her knife wounds, but the appeal of the Slender Man as a fun source of scares has, quite understandably, waned since.
Fast forward to 2018 and someone has thought it a good idea to fill a seven-year delayed Slender Man movie about the subject with troubled young girls, scary forests, and stabbing. Bad taste doesn't really cover it. Also, it looks pretty bad. I'm just here to tell you it's coming. If you'd like to know more about the whole Slender Man story, including the tragedy currently fuelling the movie backlash, head here.
The Little Stranger
Release date: August 31, 2018
Sometimes, you just need to get back to basics. Tradition. The good old classic comfort zones. Sometimes you just need a big country house full of posh British people all being terribly polite and repressed about a clear case of eldritch, seething horror that no-one wants to acknowledge because doing so just wouldn't be the done thing at all. Must be delusions. Damn stress of the war. Ghosts? Barmy.
That's what we've got with The Little Stranger, which looks to be an excellent iteration of the sub-genre. Directed with cold, staid atmosphere by Room's Lenny Abrahamson, and packing a premium-quality cast headed up by Domhnall Gleeson, Ruth Wilson, and Charlotte Rampling, it might just be set to be one of the classiest - and most classically styled - horror movies of the year.
The Nun
Release date: September 7, 2018
You can scoff at the blatant franchise milking and endless spin-offs from spin-offs from spin-offs, but delving further into The Conjuring has proved to be pretty worthwhile so far. While The Conjuring 2 was a bit of a hot mess - let's not talk about the architectural 'observation' of an English council house with a creepy flooded basement - Annabelle: Creation was a delightfully scary surprise last year, and The Nun could easily follow suit.
Starring American Horror Story's Taissa Farmiga (real-life sister of The Conjuring's Vera) this origin story for the demonic nun, Valek, is set in 1952, where a young nun has died under mysterious circumstances. Cue much Christ-compelling as a Romanian Monastery becomes the battleground between heaven and hell. Given that It writer Gary Dauberman is on screenplay duties, working from a story by himself and James Wan, there's plenty of delicious potential at work here.
It's time to get back in the habit. And I apologise immediately for that joke.
(No I don't)
The Predator
Release date: September 14
Yep, the Predator is back and this time, he's directed and co-written by none other than Shane Black. Not only a fantastically sharp writer and director (responsible for Lethal Weapon, Iron Man 3, and Robert Downey Jr's original comeback in Kiss Kiss, Bang Bang), Black played Hawkins in the original Predator. After the drawn-out misery of the Alien Vs, Predator debacle, all signs now point to 'Finally the right person for the job'.
Arnie sadly won't be returning to the franchise, but Olivia Munn and Alfie Allen are primed to take on the dreadlocked one and Black's trademark dark sense of humour is apparently making this a a funnier experience than previous entries. Not that it's exactly lightening the tone. Black has emphatically stated this take of a Predator in suburbia, as well as bringing back the series' sense of sci-fi wonder, will be a full-blooded, R-rated gorefest.
"Just to be clear," he says on Twitter. "PG-13 is for pussies. Spines bleed… a lot."
The House with a Clock in its Walls
Release date: September 21, 2018 (US)/September 28, 2018 (UK)
Family-friendly kids' lit adaptations aren't the first thing you think of when Eli 'Hostel and The Green Inferno' Roth pops up in conversation but here we very much are. The director is taking a break from his long-standing predilection for graphic dismemberment to steer Jack Black, Kyle MacLachlan, and Cate Blanchett through the tale of a house with a heart ticking away inside its walls. A heart with the potential for supernatural disaster.
All Hell literally breaks loose when a ten year old boy accidentally awakens the dead - elbow on the reanimate button when distracted by Twitter, happens all the time - and a sleepy town becomes filled with all kinds of interesting, dark, and decidedly non-living creatures. With a script from Supernatural writer Eric Kripke, expect plenty of laughs alongside the kid-friendly scares.
Halloween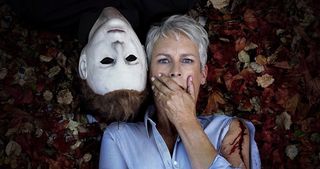 Release date: October 19, 2018
To everyone's delight last year, the original Scream Queen herself, Jamie Lee Curtis, revealed that she'll be back in a brand new addition to John Carpenter's legendary franchise. Not only that, but this time it really will be John Carpenter's, as the long0-absent master of horror (and brutally atmospheric synth) is stepping back into the breach to oversea the quality and authenticity of the film.
Coming from Blumhouse Productions - who saw that coming? - the new Halloween will see Curtis taking on the role of poor Laurie Strode once again, in a film wiping to be a direct sequel to the original 1978 movie. What does that mean? Strode has been free of Michael for the last 40 years and, helpfully, hasn't actually been murdered. Not only is Carpenter executive producer on the project, he's also promised a fresh new soundtrack (arguably as important as any other part of the equation), meaning this might just be the true Halloween sequel we've been waiting for all these years.
Suspiria
Release date: Fall 2018
I know, okay? There's no way this one should even be acceptable as a concept, let alone promising as an actual film. A remake of Dario Argento's Suspiria? One of the most classic of classics? The relentless, claustrophobic, atmosphere-drenched, burning hot Technicolor nightmare against which all surreal supernatural horror Must Henceforeth Be Judged? No way. Not happening. But actually, yes way, Bill and Ted. Because this thing sounds savagely good.
Smartly eschewing a straight remake in favour of a reinterpretation of the original film's core idea (young ballet dancer moves to prestigious academy, finds all-pervading, witchcraft-driven horror), the new Suspiria, helmed by Luca Guadagnino (Oscar and BAFTA-nominated director of Call Me by Your Name and A Bigger Splash), sounds like a serious slab of finely crafted, uncompromising horror. Swapping Argento's throbbing, primary coloured palette for something colder and "really dark", Suspiria 2018 follows through with a cast headed up by Tilda Swinton, Dakota Johnson, and Chloe Grace Moretz, and an original score composed by Thom York of Radiohead.
And apparently, based on early preview footage, it's downright horrific, in thunderously inventive ways. Oh, and it's two and a half hours long, which should make it one of the most imposing, gruelling, and entirely head-spinning horror films of the year.
Mandy
Release date: TBA 2018
The chances are that you haven't seen Beyond the Black Rainbow. Released in 2010, it remains relatively obscure, despite its profoundly disturbing, consummately stylish recreation of Cronenbergian, '80s sci-horror. It's also bloody brilliant, like Stranger Things grew up and got into heavy cyberpunk nihilism on the back of a really nasty comedown. It's beautifully made, and will leave you feeling very weird for a few days afterward. Exactly my kind of horror, basically. But its director, Panos Cosmatos, hasn't made a follow-up. Until now.
And oh God, what a follow-up. I can't entirely yet evoke its potential splendour in complete sentences, so let me just give you a few keywords and see how you react. 1983 American wilderness setting. Bloody, supernatural revenge drama. Sinister cultists, and demons on motorbikes. Chainsaw duels and NICOLAS GODDAMN CAGE. Nicolas goddamn Cage with a spear on his back, madness in his eyes, and positively painted with other people's blood.
Oh, I see you're vibrating with excitement. Welcome to the party, friend. Fingers crossed we don't explode into bloody gibs of fevered anticipation before Mandy gets a firm release date. But no promises. Early word from festival screenings is that it's really, really good.