There's never been a better time to get back into horror movies. Whether you were scared off by the churn of gory Saw movies during the noughties, or got bored of the jump scare cycle, times have well and truly changed. Films like the It movie, Hereditary, and A Quiet Place have guaranteed horror's place in cinemas once again and that means another terrifying slew of movies are on the way. Prepare for a list of the most exciting upcoming horror movies.
If you're the kind of person who can't cope with the suspense of scrolling, 2018 and 2019 are positively littered with fresh horror movies. The Suspiria remake is on the way this November to haunt your nightmares, there's a festive horror musical inbound at the end of November, next year we've got Jordan Peele's Get Out successor, Us, and Fox's The New Mutants is finally arriving in 2019 with its unique blend of superheroics and scares. It all adds up to plenty to watch while hiding behind your popcorn.
Oh, and if you're looking for the most anticipated upcoming movies no matter what the genre, or just the best horror movies of all time, we have that too. How organised of us.
2018
Mandy
Release date: Out now (US)/October 12, 2018 (UK)
The chances are that you haven't seen Beyond the Black Rainbow. Released in 2010, it remains relatively obscure, despite its profoundly disturbing, consummately stylish recreation of Cronenbergian, '80s sci-horror. It's also bloody brilliant, like Stranger Things grew up and got into heavy cyberpunk nihilism on the back of a really nasty comedown. It's beautifully made, and will leave you feeling very weird for a few days afterward. Exactly my kind of horror, basically. But its director, Panos Cosmatos, hasn't made a follow-up. Until now.
And oh God, what a follow-up. I can't entirely yet evoke its potential splendour in complete sentences, so let me just give you a few keywords and see how you react. 1983 American wilderness setting. Bloody, supernatural revenge drama. Sinister cultists, and demons on motorbikes. Chainsaw duels and NICOLAS GODDAMN CAGE. Nicolas goddamn Cage with a spear on his back, madness in his eyes, and positively painted with other people's blood.
Oh, I see you're vibrating with excitement. Welcome to the party, friend. Fingers crossed we don't explode into bloody gibs of fevered anticipation before it arrives. But no promises. Early word from festival screenings is that it's really, really good. Oh, and the new trailer confirms that Predator's Bill Duke is in it so YES INDEED.
Read more: Nic Cage "bottles the essence of every whack-job he's ever played" for his most wild-at-heart performance yet in Mandy
Halloween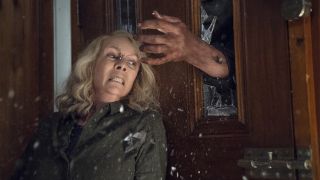 Release date: October 19, 2018
To everyone's delight last year, the original Scream Queen herself, Jamie Lee Curtis, revealed that she'll be back in a brand new addition to John Carpenter's legendary franchise. Not only that, but this time it really will be John Carpenter's, as the long-absent master of horror (and brutally atmospheric synth) is stepping back into the breach to oversea the quality and authenticity of the film.
Coming from Blumhouse Productions - who saw that coming? - the new Halloween will see Curtis taking on the role of poor Laurie Strode once again, in a film wiping to be a direct sequel to the original 1978 movie. What does that mean? Strode has been free of Michael for the last 40 years and, helpfully, hasn't actually been murdered. Not only is Carpenter executive producer on the project, he's also promised a fresh new soundtrack (arguably as important as any other part of the equation), meaning this might just be the true-sequel we've been waiting for all these years. The new Halloween trailer certainly looks and feels right in every single way.
Suspiria
Release date: November 2, 2018 (US)/November 16, 2018 (UK)
I know, okay? There's no way this one should even be acceptable as a concept, let alone promising as an actual film. A remake of Dario Argento's Suspiria? One of the most classic of classics? The relentless, claustrophobic, atmosphere-drenched, burning hot Technicolor nightmare against which all surreal supernatural horror Must Henceforeth Be Judged? No way. Not happening. But actually, yes way, Bill and Ted. Because this thing sounds savagely good.
Smartly eschewing a straight remake in favour of a reinterpretation of the original film's core idea (young ballet dancer moves to prestigious academy, finds all-pervading, witchcraft-driven horror), the new Suspiria, helmed by Luca Guadagnino (Oscar and BAFTA-nominated director of Call Me by Your Name and A Bigger Splash), sounds like a serious slab of finely crafted, uncompromising horror. Swapping Argento's throbbing, primary coloured palette for something colder and "really dark", Suspiria 2018 follows through with a cast headed up by Tilda Swinton, Dakota Johnson, and Chloe Grace Moretz, and an original score composed by Thom York of Radiohead.
And apparently the early preview footage recently shown off behind closed doors is downright horrific, in thunderously inventive ways (you can get a small taste of that in the trailer). Oh, and it's two and a half hours long, which should make it one of the most imposing, gruelling, and entirely head-spinning horror films of the year.
Anna and the Apocalypse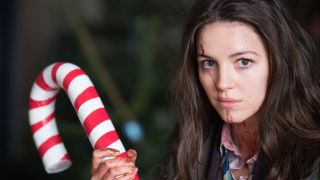 Release date: November 30, 2018
Fans of Dr Horrible's Sing-Along Blog and Buffy the Vampire Slayer episode Once More With Feeling, the wait is over. There might just be a worthy successor that will tick all your wonderfully horrific musical needs. Anna and the Apocalypse is a Christmas-themed zombie musical, complete with High School Musical-style songs. Oh, and it's Scottish. Yes, I can't believe it's a thing either, we truly are living in a golden age of cinema. Anna (yes, she of Apocalypse fame) is trying to get out of her tiny Scottish town - cue an excellent 'I want' song to kick things off - when the zombie apocalypse hits and she and her friends must fight to survive.
Combining the jingling bells of Christmas with all the gore of Dawn of the Dead, Anna of the Apocalypse sounds like the perfect kind of bloody festive treat that 2018 needs. Starring Ella Hunt and directed by John McPhail, this horror comedy is looking exceptionally promising as your new alternative favourite Christmas film. Who needs Home Alone 2 when there are zombies to sing about?
2019
Happy Death Day 2U
Release date: February 14, 2019
What could be a better Valentine's Day present than a trip to see the sequel to the hilariously comic horror Happy Death Day? Find yourself the right horror partner and perhaps nothing. In brilliant news, Jessica Rothe is returning for the follow up to the murderous Groundhog Day. If you missed the original, the concept is simple. A sorority girl gets stuck in a time loop where she's murdered and repeats the day over and over again with the same memories. It's a gory, dark delight with a hilarious central performance from Rothe as she relives the same violent day on campus.
Thankfully, as fun as it would be, we won't be treading old bloodied ground for the follow up. "Chris has done this incredible thing where the sequel, the way he described it to me, elevates the movie from being a horror movie – and I wouldn't even say it's just a horror movie because it's a horror, comedy, rom-com drama – into a Back to the Future type of genre film where the sequel joins us right from where we left off," Rothe told Collider earlier this year. "It explains a lot of things in the first one that didn't get explained, and it elevates everything." Depending on how excited you are, you can just reread that quote over and over. How do you break the loop, you ask? By going onto the next entry…
Us
Release date: March 15, 2019
It's rare that we know so little about a movie before it's released but this "new nightmare from the mind of Academy Award winner Jordan Peele" is positively shrouded in mystery. Just like Get Out, Us is apparently another 'social horror thriller' but no-one, especially Peele himself, is revealing much. The cast includes Lupita Nyonhg'o, Shahadi Wright Joseph, Black Panther's Winston Duke, and Elizabeth Moss and even they are remaining tight lipped on the premise.
"All I can kind of say is, I'm obviously a huge fan of Get Out, as is the rest of the world, and I think this movie's gonna be really good," Moss has said in an interview with Indiewire. "I just think it's gonna be good. It's just gonna be really good, and that's it. It's true to what Jordan wants to make, which are these thought-provoking popcorn movies." Get Out breaking into Oscar territory was much deserved for Jordan Peele. Us isn't a sequel in any way but it's going to be chilling to find out what's next.
Pet Sematary
Release date: April 5, 2019
We must have prayed to all the right gods to get two Stephen King adaptations in one year. The grim Pet Sematary is one of the horror maestro's seminal texts and given that the 1989 movie is still ingrained in the minds of a certain generation - oooh, that bit with the Achilles tendon - this new version has big scary shoes to fill. From the directors of Starry Eyes and the Scream TV series, Kevin Kolsch and Dennis Widmeyer, this will once again tell the story of a family leaving the big city behind and moving to the country to start a new life. They just happen to have started that new life within walking distance of a burial ground that resurrects the dead. It is a King book, remember?
Official images mean that we've already caught a glimpse of the family cat, Church, after he's been to meet his maker and still decided to come back for more Dreamies. There's something distinctly unnerving about just this one undead cat picture and you know so much worse is waiting in the wings. The Crown (and everything else's) John Lithgow has been cast as the family neighbour Jud Crandall, while Jason Clarke and Amy Seimetz star as Louis and Rachel Creed. Hopefully this can follow in It's footsteps and deliver another terrifying King story. The source material is still painfully relevant. After all, how far would any of us be willing to go to see someone we love again? Maybe don't answer that…
The New Mutants
Release date: August 2, 2019
It's been moved around the release calendar like an X-Men themed chess piece but The New Mutants is finally slated for an August 2019 release date. It's been disappointing to watch it further and further delayed as this blend of superheroics and horror looks far too intriguing to have to wait for. Starring a whole new - yes, hence the title - set of teenagers, each with their own mysterious powers, the trailers we've seen so far have promised a far darker twist than any X-Men movie that's come before.
It turns out that it's definitely not all sweetness and light having abilities that people want to harness you for like a AA Battery, and there's a clear horror heart beating here. Starring Game of Thrones' Maisie Williams, The Witch's Anya Taylor Joy, and Stranger Things' Charlie Heaton, the original trailers look like an escape movie as the mutants attempt to flee a secret testing facility but it's unknown how much will change before release. Adamantium claws crossed that the horror hasn't been dialled down.
It: Chapter 2
Release date: September 6, 2019
Despite seemingly sending the many-faced monster back into the abyss, The Losers Club, like Thanos, will, of course, return. If you're aware of King's horror tome, you'll know that half of the book is dedicated to Beverley, Bill, and co. 27 years on as they return to Derry to vanquish Pennywise once and for all. Director Andres Muschietti didn't want to to muddy the first movie with flashbacks and instead focussed on telling a coming of age story but with more monsters. It: Chapter 2 though will introduce the very grown up losers.
Here's where things get really exciting. The full It 2 cast has been revealed and if you think there's anyone more perfect for Beverley than Jessica Chastain, we point blank refuse to even hand you a flashlight before we kick you into Derry's sewers. Other exciting casting decisions include James McAvoy as Bill, and Bill Hader as Richie. Don't worry though, unlike the first movie, we will be flashing back to the '80s occasionally as the kids are still an important part of the story. Given the necessary humour that lurked among the disembodied arms, that's probably a very good idea.
Zombieland 2
Release date: October 11, 2019
Yep, a whole decade after its original Twinkie-hunting release, Zombieland is getting a sequel. And of course it counts as horror movie. There are brains to eat, after all. Thankfully this isn't just a quick cash grab as the full original writing and directing team are back for Zombieland 2. Ruben Fleischer, also responsible for next year's Venom, is back at the helm with Paul Wernick and Rhett Reese on script duties. Wernick and Reese have worked on both Deadpool and Deadpool 2 since the original so expect a seriously sharp script after the pair have honed their craft with Wade Wilson's sharp tongue. Well, that doesn't sound right at all.
Anyway…. the full cast is returning too. Emma Stone, Woody Harrelson, Jesse Eisenberg, and Abigail Breslin are all back for the zombie apocalypse. Plotwise, according to the official announcement, Zombieland 2 will "once again put the focus on comic mayhem, taking the quartet from the White House to the American heartland as they face off against new kinds of zombies that have evolved since the first movie, as well as some new human survivors." We'll have to wait and see if this includes a rumoured love interest for the dough-hungry Tallahassee, and a return for Bill Murray. They didn't Double Tap him after all...