Guess what? Horror is well and truly back in business for 2018. The wider Hollywood world has finally decided that Blumhouse and co need to stop being the only ones benefiting from relatively low budget movies (grim) reaping all that box office dollar. This means there's one hell of a lot of upcoming horror movies in 2018 to discuss, try not to get too excited about, and then be brutally disappointed or pleasantly surprised by. Oh, the life of a horror fan. Helpfully, I've gathered together my most anticipated movies in one bloodied clump right here for easy digestion. Yes, that was meant to deliver exactly that cloying, choking feeling in the back of your throat. Let's begin, shall we?
Mom and Dad
Release date: January 19, 2018 (US)/ March 2, 2018 (UK)
Who knew that watching Selma Blair and Nicholas Cage try and kill their kids would be this much fun? Mom and Dad happily turns the suburban dream on its head, pitting parents against their beloved spawn in a murderous fight to the death as they're suddenly driven to grievously harm their own offspring. With scenes in the trailer of not-so-loving parents swarming the school gates like some of Romero's finest, and Cage acting like someone has put a firework in his skull as he sings the Hokey Cokey while armed with a sledgehammer, Mom and Dad looks like a hilarious, if dark, way to start off the year.
The Open House
Release date: January 19, 2018
I've learned a lot from watching horror movies. One of the vital life hacks I've gleaned is 'don't move house if your current abode isn't infested with demons.' It's worked surprisingly well so far. Meanwhile Logan (13 Reasons Why's Dylan Minnette) and his mother have not followed this essential tip, and go to stay in a house in a remote mountain town where misery duly ensues. What's intriguing about this Netflix Original movie is whether the things that literally start to go bump in the night around the house are supernatural in nature, or the doings of the overly attentive neighbours in a town where everyone knows your name. Give me a city with Starbucks where no one can spell - let alone remember - my name any day.
Winchester
Release date: February 2, 2018
No, you aren't dreaming, horror fan. Helen Mirren is Mrs Sarah Winchester, the very real designer and architect of the infamous Winchester Mystery House in California, who believed that the spirits of those killed with her family's rifle were haunting her. It's a guilt that makes sense, but the rest of us might not have built an ever-growing, labyrinthine house to keep them all in, but who's judging? Getting to use the 'inspired by real events' tagline, Winchester looks like it should be a deliciously rich ghost tale, but time will tell if the Spierig brothers, guilty of last year's Jigsaw, can deliver smart enough frights. I'm hoping the Queen herself takes it up a star or two just by gracing it with her presence, but the mirror scares of the trailer fill me with the wrong kind of dread.
Annihilation
Release date: February 23, 2018
And here's what the writer and director of Ex Machina did next. Alex Garland is back with an adaptation of Jeff VanderMeer's sci-fi horror book series that follows a biologist - played by Natalie Portman - as she joins a group of fellow scientists and anthropologists heading into a mysterious realm that's arrived on earth. So far, so sci-fi but the horror comes in when the creatures inside reveal themselves to not be unicorns, and there's a distinct Alien flavour to the proceedings as the team of women are hunted down. Given Garland's genre chops, it'll be interesting to see just how nasty this gets.
Game Night
Release date: February 23, 2018 (US)/May 4, 2018 (UK)
It might not be filled with scares but Jason Bateman and Rachel McAdams' Game Night is positively packed with death, meaning we get to claim it as our own. The premise here is simple. Imagine settling down to your monthly game night, complete with wine and cheese, and some, like, actual murder taking place. Of course you would still think it was all make believe. Right? Right. IQ levels of its main characters aside, it looks like there's some genuine hilarity here as Bateman and McAdams' go to town. Goons get eaten by jet engines, guns become very, very real, and a Scottie dog gets covered in spilled blood. No, not its own blood. I'm not a complete monster.
The Meg
Release date: March 2, 2018 (UK)/ August 10, 2018 (US)
I only need to give you six words to add this to your watch list. Jason Statham vs a GIANT SHARK. See? Told you. Based on the book, Meg: A Novel of Deep Terror - who knows why they didn't stick with that? - The Meg follows a deep sea rescue diver who has been hired to save the crew of a submersible from becoming lunch for a 75 foot long white shark. Yep, Meg is short for megalodon and of course the submersible is stuck at the bottom of the deepest trench in the Pacific. It looks like you can happily add this to your shark-related guilty pleasures pile alongside Deep Blue Sea, 47 Metres Down, and The Shallows.
The Strangers: Prey at Night
Release date: March 9, 2018
Doesn't time fly when you're being stalked by doll mask-wearing killers? It's been ten years since Liv Tyler and Scott Speedman were hunted in their own home by a creepy trio of, well, strangers, so it was about time that sack face and co returned. Things seem a little more chaotic and, dare I say fun, this time around with a whole family being subjected to the pointy end of knives at a low-end trailer park. There's a distinct '80s vibe to the whole affair too with Tiffany's 'I Think We're Alone Now' blasting through the trailer. Hopefully things do feel a little fresher though as we've had no shortage of Purges over the last few years to lessen the effectiveness of a scary mask or six. It'll be fun to find out if The Strangers can still pack a punch.
A Quiet Place
Release date: April 6, 2018
Now this looks brilliant. Emily Blunt stars in this atmospheric looking horror about things that can only hunt you if you make noise. There's no clue in the trailer as to why the terrified family can't move from the farm where they live, but the wooden floor is taped in safe places that can be trodden on without fear of squeaks, and the only way to converse is sign language. It's unclear exactly what lurks in earshot, but given the giant claw marks on the family home, I'm guessing it's not some aurally sensitive hamsters. With everything set to silent, expect jumps a plenty at even the smallest thing. The tension in the trailer alone is enough to claw your own ears off so I have high hopes for this one. Just don't be that person with popcorn in the cinema.
Ghost Stories
Release date: April 13, 2018 (UK)/ US release TBC
A veritable smorgasbord of British talent, this horror from directors Jeremy Dyson and Andy Nyman can't come soon enough. Nothing ever goes particularly well when an arch skeptic decides to find the 'scientific' cause of inexplicable hauntings so expect much terror to befall The Hobbit and Fargo's Martin Freeman when he attempts to find a logical explanation for some terrifying hauntings. This is based on the directors' play of the same name and if it's even fifty percent as scary, we're in for a seriously spooky treat. Take someone to hide behind.
Untitled Cloverfield Movie
Release date: April 19, 2018 (US)/April 20, 2018 (UK)
Cloverfield movies like to appear out of nowhere like a monster rising out of the sea while you're having an existential crisis about your ex. This really doesn't mesh well with the Hollywood marketing cycle so this addition to JJ Abrams' universe might not have a name but it has had its release date moved three times already. We know a little more about this sequel than we did about the brilliant 10 Cloverfield Lane. The movie's based on a script originally named God Particle where a team of astronauts uncover a dangerous secret and end up fighting for their lives on an international space station. I'm going to guess it might be a prequel to the original found footage horror and we'll see exactly how the Cloverfield creature made it to earth in the first place.
Truth or Dare
Release date: April 27, 2018 (US)/May 4, 2018 (UK)
Fine. I admit it. I like shit teen movies a lot and this looks right up my corpse-strewn street. The set-up is simple, a simple game of truth or dare going awry when you don't do the requested truth or, indeed, dare. I have no idea what the rules are but who cares when really pretty early twenty-somethings start dying in spectacularly awful ways? The trailer alone shows off a Final Destination-style level of love and attention as a young man slips on a billiard ball and breaks himself entirely on his way to the floor. Throw in entirely unexplained but super creepy smiles that make Pennywise look like Ronald Mcdonald and Truth or Dare looks like a trashy delight.
Slender Man
Release date: May 20, 2018
While the Slender Man myth has been around since 2011 when it reared its featureless face on site Something Awful, recently the skinny bogeyman has made headlines for all the wrong reasons. Two twelve-year-old girls, thinking they were working under the Slender Man's influence, attempted to murder their friend in the woods in 2014. Thankfully the young girl survived her knife wounds, but the appeal of the Slender Man as a fun source of scares has, quite understandably, waned since. Fast forward to 2018 and someone has clearly thought it was a good idea to fill a horror movie about the subject with young girls, forests of demons, and blood running from faces. Bad taste doesn't really cover it. I'm merely here to tell you it's coming. If you'd like to know more about the sad crime itself, head here.
The Purge: The Island
Release date: July 4, 2018
James DeMonaco's Purge franchise has not-so-slowly sneaked away from the claustrophobic dystopian horror of the original entry and into a far more action-based affair. It's still about a day you can do whatever you want without the force of the law - yay, time to get your own back on whoever stole your lunch sandwich - but the chaos of totalitarian cities under siege was clearly too irresistible for DeMonaco and a lot of the grim horror has diminished. It doesn't look like this is going to change for the fourth film, The Island, which takes us back in time and shows exactly how the Purge came into being. Regardless of the removal of frights, it'll be fun to see how it all starts in Staten Island in New York. I predict masks. And screams.
The Predator
Release date: August 2, 2018 (US)/August 3, 2018 (UK)
Yep, the Predator is back and this time, he's directed by none other than Shane Black. It's been eight years since one of these ugly motherf*ckers last graced our screens in Predators so it was about time we witnessed another group of humans becoming lambs to the slaughter. Arnie sadly won't be returning to the franchise, but Olivia Munn and Alfie Allen are primed to take on the dread-locked one and Black's trademark dark sense of humour is allegedly making this a far funnier experience than previous entries. And don't worry about a blood-free sequel. Black has already stated this will be very much an R-rated gorefest. "Just to be clear," he says on Twitter. "PG-13 is for pussies. Spines bleed… a lot." Phew.
The Nun
Release date: August 10, 2018
You can scoff but delving further into The Conjuring Universe has already proved to be far too much scary fun. While The Conjuring 2 was a bit of a hot mess - let's not talk about the architecture of an English council house with a creepy flooded basement - Annabelle: Creation was a delightfully scary surprise last year, and The Nun could easily follow suit. Starring Taissa Farmiga, this origins story for the demonic nun, Valek, is set in 1952 where a young nun has died under mysterious circumstances. Cue much Christ compelling as a Romanian Monastery becomes the battlegrounds between heaven and hell. Given that It writer Gary Dauberman is on screenplay duties for a story from himself and James Wan, there's plenty of delicious potential at work here. It's time to get back in the habit.
The House with a Clock in its Walls
Release date: September 21, 2018 (US)/ October 19, 2018 (UK)
An adaptation of a children's book isn't the first thing you think of when Eli Roth pops up in conversation but here we are. The Hostel director is clearly taking a break from butchering well-meaning students on gap years to steer Jack Black, Kyle MacLachlan, and Cate Blanchett through the tale of a house with a heart ticking away inside its walls. All hell literally breaks loose when a ten year old boy accidentally awakens the dead - elbow on the reanimate button, happens all the time - and a sleepy town becomes filled with all kinds of interesting dark creatures. With a script from Supernatural writer Eric Kripke expect plenty of laughs as well as kid-friendly scares.
Halloween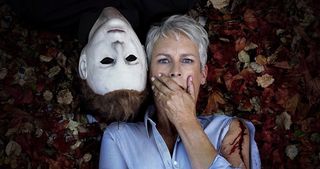 Release date: October 19, 2018
To everyone's delight last year, the original Scream Queen herself, Jamie Lee Curtis, revealed that she'll be back in a brand new addition to John Carpenter's legendary franchise. From Blumhouse Productions - who saw that coming? - the new Halloween will see Curtis taking on the role of poor Laurie Strode once again. Thankfully, the official canon has been wiped clean of all bloodshed since the original 1978 movie, meaning Strode has been free of Michael for the last 40 years and, helpfully, hasn't actually been murdered. Not only is Carpenter executive producer on the project, he's also promised a fresh new soundtrack, meaning this might just be the true Halloween sequel we've been waiting for all these years. H20? More like H2 NO.