Tis the year of great new TV shows, it seems, as 2019 is set to offer up such treats as Game of Thrones season 8, The Witcher Netflix series, Star Wars: The Mandalorian, and much more. There's so many to keep track of, in fact, that you've probably already forgotten about a couple, which is where our 2019 TV viewing guide comes in to help you out.
Featuring all the new TV shows that are worth keeping an eye on, we have every juicy piece of info on the release dates, cast, and more for each new TV show on the way, along with our best arguments for why you should be watching them. We'll be updating this regularly, too, so keep checking back in for all the latest and greatest details about the new TV shows you shouldn't be missing in 2019.
Brooklyn Nine-Nine season 6
Where and when can I watch it? NBC on January 10, 2019 (US)/TBC (UK)
As bad as 2018 might have been, at least some good news has come out of it. After closing up a predictably stellar fifth season, Brooklyn Nine-Nine was abruptly cancelled by Fox in May of last year, only for NBC to swoop in at the final hour after the internet went into meltdown mode at the thought of a world without Jake, Amy, Terry, Holt, and the rest of New York City's 99th precinct. Another comedy baby of Michael Schur (Parks and Rec, The Good Place, The Office), Brooklyn Nine-Nine is a show that's easy to love, aided by a diverse, well rounded cast, a cosy sitcom structure, and some of the best cold openers since that fire alarm went off in Dunder Mifflin. Hopefully NBC won't have changed a single ingredient in the show's winning recipe as proven by the most recent trailer.
Star Trek Discovery season 2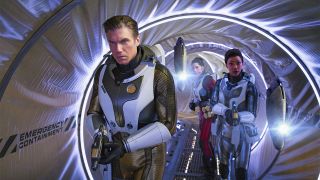 Where and when can I watch it? CBS All Access from January 17, 2019 (US)/Netflix from January 18, 2019 (UK)
Burnham is back for Star Trek Discovery season 2, and she's got a handful of new crew members. Joining the Discovery cast is Captain Pike (before he becomes an Admiral and mentor to Kirk) and Spock, Burnham's adopted brother. The remainder of the cast, including Tilly, Saru, and Stamets will be back full-time, while other big players from the first season like Ash Tyler, L'Rell, and even The Emperor will return in some capacity. Hot news is that Jason Isaacs, who played Lorca in the first season but dies, has said he's been in talks about an appearance too. As you'd expect after the Star Trek Discovery season 1 finale, the USS Enterprise will play a big role in season 2, along with the shadowy Section 31 (which you may know from Deep Space 9), which deals with the covert protection of the Federation. Intriguing.
Read more: Star Trek Discovery season 1 ending explained - everything you want to know
The Punisher season 2
Where and when can I watch it? Netflix on January 18, 2019
The era of Marvel and Netflix's street level superheroes might be coming to an end, but at least it's going out with a bang. We've already given our verdict on The Punisher season 2 and - spoiler - it's good. You can watch the trailer now, which promises the return of Jon Berthnal as Frank Castle, the gun-blazing antihero who probably would have beat Thanos to a bloody pulp if Marvel had the guts to put him in Avengers: Infinity War. While story details remain light, set photos have revealed that frenemy turned arch-nemesis Ben Barnes (AKA Jigsaw) is back for round two, and you can expect plenty of bloody violence and revenge drama that typifies the comic book character like no other. In other words, best not to watch this one during dinner time.
Russian Doll
Where and when can I watch it? February 1 on Netflix
The time loop story is a tried and tested premise for all sorts of great movies, from Groundhog Day to Edge of Tomorrow, but Netflix might be the very first to bring the concept to TV with new Netflix Original Russian Doll. The show centres around Nadia (Natasha Lyonne), a downbeat party animal who suddenly finds herself dying and repeating the same series of events over and over again with seemingly no way out. We've been here before, but the talent both behind and in front of the camera (including Parks and Rec's Amy Poehler) suggests Russian Doll won't be a small screen copycat of its overt inspirations. The newly released trailer, for instance, is already enough to suggest we're in for a morbid, black humoured hoot.
The Walking Dead season 9 - Part 2
Where and when can I watch it? February 10, 2019 on FOX (US)/February 11, 2019 on AMC (UK)
After saying goodbye to Rick Grimes and jumping years into the future, The Walking Dead season 9 has been taking an extended break over Christmas, but its return is not too far away. AMC is introducing famous comic book villains The Whisperers into the mix for this latter half of season 9, promising a return to the stripped back horror roots of the zombie genre that inspired The Walking Dead in the first place. Can the serial apocalypse drama continue its winning streak after the blowback the show received with The Walking Dead season 8? We'll soon find out in the next handful of eight episodes that will bring season 9 to a close.
Read more: What will The Walking Dead movies be about? Our biggest questions about the upcoming trilogy
The Umbrella Academy
Where and when can I watch it? February 15, 2019 on Netflix
While Netflix may have said goodbye to almost all of its Marvel shows this year, the streaming service still intends to give superhero fans their recommended dosage of high powered bingeing via The Umbrella Academy. Based on the comic book series of the same name by Gerard Way, The Umbrella Academy focuses on a dysfunctional family of super powered individuals, who re-band to investigate the death of their surrogate father. Think the basic plot synopsis of X-Men crossed with the weird, wacky zeitgeist of Legion, and you get the idea. It even stars former Marvel alumnus Ellen Page, alongside the likes of Mary J. Blige, Tom Hopper, and Robert Sheehan, who's also had previous experience playing a superhero in sci-fi comedy thriller Misfits. The trailer alone is enough to sell The Umbrella Academy to any sceptics, so give it a watch, and mark your calendars for February 15, when it hits Netflix worldwide.
American Gods season 2
Where and when can I watch it? March 10, 2019 on Starz (US)/TBC on Amazon Prime Video (UK)
It's been a while since we've heard anything about American Gods. The TV adaptation of Neil Gaiman's post-modern mythology novel received rave reviews when its first season graced us in 2016, but its follow up has been troubled by set drama, production woes, and last minute hirings and firings of several cast and crew members. We've yet to see any images or trailers from season 2, either, but Starz has finally given us a firm release date of March 10, 2019, which isn't too far away at all. American Gods' second season intends to pick up where the last season left off, chronicling the emerging battle between two divine factions, with befuddled human Shadow Moon caught in the middle. Hopefully the behind-the-scenes turmoil won't make this comeback any less of a success than its original debut.
Read more: American Gods ending - everything you need to know after watching
Chilling Adventures of Sabrina season 2
Where and when can I watch it? April 5, 2019 on Netflix
As if by magic, Netflix has already released a teaser trailer for Chilling Adventures of Sabrina season 2, only one month on from the release of the first. Clearly, the streaming service in confident in this dark interpretation of the Archie comic books, which - if you've seen it - is a far cry from '90s sitcom Sabrina the Teenage Witch, and you can understand why. From the rich, evocative set dressing to its assured, genuinely spooky storytelling, Chilling Adventures of Sabrina has already left a strong impression, and while that April 5 release date leaves little breathing room between seasons 1 and 2, we've already cleared our calendars for the inevitable binge-a-thon.
Read more: Chilling Adventures of Sabrina ending explained - everything you need to know after watching
Killing Eve season 2
Where and when can I watch it? BBC America on April 7, 2019 (US)/TBC (UK)
Back before we could even come to a solid conclusion on what exactly went down in the first season, we knew we were getting Killing Eve season 2. It's scheduled to return this Easter, at least for those who reside in the United States, but it likely won't hit the UK until the Autumn of this year, so the spoiler adverse may want to avoid social media from April 7 onwards. In any case, it's been confirmed that both Sandra Oh and Jodie Comer will be returning as the two lead stars, alongside newcomers Nina Sosanya, Edward Bluemel, and Julian Barratt. That said, Pheobe Waller-Bridge won't be on scripting duties this time around, so it remains to be seen whether Killing Eve can maintain its sharp, savvy style in her absence. We'll find out soon enough.
Game of Thrones season 8
Where and when can I watch it? HBO on April 14, 2019 (US)/Sky Atlantic on April 15, 2019
It's the TV event of 2019, and maybe even the decade. The final season of Game of Thrones is coming, and HBO has confirmed that we'll start watching it in April. There are six episodes in total, with most expected to be between an hour-long and feature-length, which is good because there's a LOT of plot-threads to tie up. The main battle between the White Walkers and the living will dominate this last season, and has been spiced up by the fact the Night King has bagged himself a dragon. The big questions right now are what will become of Jon Snow and Daenerys (who is seen meeting Sansa Stark in the first released footage of season 8), will Cersei raise her army and take Westeros from Kings Landing upwards, is Tormund still alive, and will The Hound ever get a crack at The Mountain? It's going to be epic. There will be tears. There's already been an ominous trailer. And Game of Thrones - the biggest show on TV - will come to an end.
Read more: Game of Thrones ending - 31 quotes from the cast about the final season (and what they could mean)
Continue to Page 2 for more new TV shows