2018 is already a great year for PS4. Top games like Monster Hunter World and Far Cry 5 are already out there, God of War is imminent, and persistent online shooters like Fortnite: Battle Royale are stronger than ever. But what about the upcoming PS4 games of 2018 (and beyond)? What are the big exclusives coming up? Which of the wealth of indies are the most interesting? We have the answers to all these questions and more.
What follows is a list of the best forthcoming PS4 games. Most are due this year, but some are a little further away. What links them all is that they're potentially awesome, and you'll be able to play them on your PlayStation console... at some point. Each entry is bang up to date with the latest release info and features, so you know what you're getting and when you're getting it. There really has never been a better time to own a PS4 - and it's only going to get better.
Read more:
Yakuza 6: A Song of Life
Release date: April 17, 2018 Genre: Action-adventure
What is it? The latest story-adventure about former Yakuza boss Kazuma Kiryu, which mixes exploration, combat, and mini-games
Why it's so interesting: The Yakuza series has been a staple on PlayStation since PS2, and it retains a high standard of polish and great storytelling. This picks up after Yakuza 5, where Kazuma is arrested for his crimes and spends three years in prison. After being released, he discovers his friend Haruka has been injured in a hit and run accident, and she now has a son, so the game focuses on Kazuma's quest to discover what really happened. As ever, Y6 is stuffed full of mini-games and distractions, to keep you busy as you uncover the core mystery. Combat has been beefed up too, and it looks as stunning as ever. Long time fans will eat this up, but Yakuza 6 also boasts that it's an excellent entry point for anyone new to the series.
God of War
Release date: April 20, 2018 Genre: Action-adventure
What is it? Thor-get about Kratos? He's back and this time he seems to have ended up in Norse mythology…
Why it's so interesting: This surprising new context for the ol' angry slaphead. After the titular God of War Kratos killed all of the gods in Olympus, he seems to have been looking forward to retirement. He's grown out his beard, got significantly less angry, moved to a new country, and started up a new family, with his son Atreus on hand with a bow and arrow and the ability to translate runes as the pair journey together. Kratos' fighting style has also changed, with his Chaos Blades replaced by a mystical battle axe called Leviathan that can be summoned a bit like Thor's hammer. It's time to get comfy in your gaming chair for this one too as game director Cory Barlog has confirmed that the game will be 25 to 35 hours long. That's only twice the size of the previous games so expect a serious quest for Kratos and Atreus. Oh, and you can't jump...
Read more: God of War director talks FIFA-inspired combat, learning from Mad Max, and getting your gear from the dwarves who made Thor's Hammer
Detroit: Become Human
Release date: May 25, 2018 Genre: Action/adventure

What is it? Androids might be mainly composed of bio-gel and wires, but the inner struggles go on inside their heads prove they're very human indeed. Or, that's what Detroit: Become Human hopes to convince you.

Why it's so interesting: Detroit: Become Human puts you in the shoes of the androids who are - whether knowingly or not - right at the heart of the revolution against humans. Long consigned to taking care of their fleshy masters, your character will exhibit some forbidden emotions and it's up to you how far you take them. Choose carefully what to say to each person you're faced with in Detroit: Become Human's interactive story, but be careful - there are dozens of potential endings, and we're betting that very few of them are good. Do what you're told and put humans first, or decide that it's about time you did what you wanted and rebel against the system of servitude you were created to obey. So far we know of Kara, a domestic android who's faced with domestic abuse of a child (it's not for the faint-hearted), and Connor, a crisis negotiator who's trying to save an android from jumping off a roof with their child hostage. Sounds cheery, we know.
Read more: Detroit: Become Human's focus on discovering human emotions made me feel some strong ones of my own
Vampyr
Release date: June 5, 2018 Genre: RPG
What is it? The next game from Life Is Strange developer Dontnod.
Why it's so interesting: It's 1918 and London is sick. No, not in a good way. The flu is ravaging the streets and the city is dying. The good news is that you're a vampire so can't get sick. The bad news is that you're a vampire and really need to drink blood but also are still a Doctor so still have a duty of care to the city. Quite the bloodsoaked dilemma. Don'tnod's London is a beautiful gothic wonderland, full of vampire hunters and potentially very edible humans. Think fifty shades of morally grey and you get the idea. The further you unravel the narratives of the world, the richer their blood becomes. Do you keep helping or just dive into them like a happy meal with a toothy embrace? Find out in spring.
Read more: Stop it Vampyr, you're bloody spoiling us: 4 types of vampire (so far) and 3 ways to rip people apart?!
We Happy Few
Release date: Summer 2018 Genre: Adventure/survival
What is it? A first-person survival game set in an alternative 1960s Britain, where everyone take a drug called Joy to escape the horrors of the real world.
Why it's so interesting: This one is so weird, but the art style and concept are extremely compelling. Set in a fictional city in Britain, in an alternative 1960s, it shows a world where everyone is easily controlled and totally lacking in morals, thanks to mass addiction to a drug called Joy. You play as one of the few people to reject the drug and see the world for what it really is. The game is stuffed full of warped moral choices and unusual situations that you need to survive, so it's going to be quite unlike anything you've already played. Originally Xbox only, now headed to PS4, this is worth keeping an eye on.
Read more: 6 things you missed in the We Happy Few demo
The Crew 2
Release date: Summer 2018 Genre: Racing
What is it? Follow-up to the across-America racing game, which will allow you to drive more than just cars this time round
Why it's so interesting: While The Crew isn't the best racing game of all time, the core idea is solid. This sequel is letting players mix up the action by giving us cars, boats, helicopters, bikes and all kinds of vehicles... basically anything you can race. This frees us from the constraints of the roads and tracks, some of the weakest aspects of the original game. There will be a Beta at some point this year (expect it to be revealed at E3), so if you're interested you'll be able to sample the game for free.
Read more: The Crew 2 lets you race everything, everywhere and it's out in 2018
Metro Exodus
Release date: Fall 2018 Genre: Action/horror RPG
What is it? A return to the apocalyptically dangerous wasteland of Russia, complete with mutated rodents, scarce resources, and this time a giant train chugging along the tracks.
Why it's so interesting: The return to 4A Game's notoriously brutal world is a welcome one, as this time the landscape is looking remarkably colourful. Well, for a wasteland, that is. There's the return of the trademark low-tech clipboard for a quest menu, but the most interesting bit is that it looks like you're going to be travelling around above ground this time instead of sticking to the sewers. Thanks to the train rumbling down the tracks, you'll get to see more of the country and will probably be sent on supply runs for the locomotive. It looks like a welcome change of pace, and we can't wait to see what Metro is like this time around.
Read more: Metro is back with Metro Exodus, and the wasteland looks more horrifying than ever
Red Dead Redemption 2
Release date: October 26, 2018 Genre: Adventure
What is it? A sequel - well, prequel - to Rockstar's open-world adventure set in the Wild West.
Why it's so interesting: Given that this is Rockstar creating a follow-up to one of its most beloved games, that makes Red Dead Redemption 2 a big, big deal. We already know it'll have a big online mode, similar to GTA Online, and that we'll be following the "story of outlaw Arthur Morgan and the Van der Linde gang as they rob, fight, and steal their way across the vast and rugged heart of America." As open world sandboxes go, Red Dead Redemption 2 looks almost terrifyingly huge. From the glimpses we've seen in the trailer this is a world of forests, canyons, and sprawling deserts that's going to have you reaching for your photo mode buttons as often as the pistol slung around your waist.
Read more: Red Dead Redemption 2 trailer breakdown
Call of Duty: Black Ops 4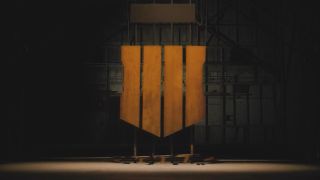 Release date: October 12, 2018 Genre: Shooter
What is it? The fourth in the Black Ops series, which has gone from Vietnam to modern to future warfare.
Why it's so interesting: The word 'intriguing' might be more accurate to describe Black Ops 4 because... all we have is a logo and a release date. There's a full reveal event happening on May 17, and it'll be broadcast to the community first, implying it's heavily geared towards multiplayer and eSports, so you're going to want to pick up a decent PS4 headset in time for release. The series could go literally anywhere after the events of Black Ops 3, which all got very weird towards the end. Perhaps we're looking at a step back in time to the Vietnam war (given how modern warfare is starting to get a little played out, and how COD went back to WW2 last year), or something completely different set even further in the future. Zombies should be back too, given how it's a Treyarch staple, but where you go from having a whole city to host the mode is... anyone's guess.
Read more: Call of Duty: Black Ops 4 trailer officially released with a hilariously unhype logo reveal
Marvel's Spider-Man
Release date: TBA 2018 Genre: Action-adventure
What is it? Insomniac's fresh take on the famous web-slinger.
Why it's so interesting: It's been some time since we've seen a promising Spider-Man game in the works, but the web-slinger's next title is a PS4 exclusive being created by none other than the Ratchet and Clank developer Insomniac. You can web-sling through the city, rip criminals from their getaway cars, and even skilfully manoeuvre through interior spaces with the superhuman agility the webhead is known for. Throw in Miles Morales into the mix, a potentially playable Mary Jane and some seriously explosive set pieces and we are very very ready for whatever Insomniac is up to.