The upcoming PS4 games list is looking pretty healthy after all those E3 2021 announcements - even if none of them were from Sony itself. Yes, Sony's last-gen console still has plenty of life in it, especially as PS5 stock is still so hard to find. There are specific PS5 releases among the plethora of upcoming PS5 games, but for 2021 at least, PS4 gamers have plenty to be excited about.
We've made sure this list only has games worthy of your attention, and to make your life easier we've listed them by release date. Here are all the upcoming PS4 games that are going to make 2021 and beyond a great time to be a PlayStation gamer.
2021
Little Devil Inside
Release date: July 2021
Genre: Action-adventure
What is it? You're on a mission, and your number one priority is survival.
Why is it so interesting? Not quite a survival game, but Little Devil Inside will have you fighting for your lite as you embark on missions and journies that question the choices you make. Giant monsters and glowing swords will feature heavily, along with an old man on a toilet, in this mysterious world that spans multiple biomes. Your task is to build a comprehensive encyclopedia of all phenomenal existence within the world, a bit like a Pokedex but slightly more aggressive creatures.
Where the Heart Leads
Release date: July 13, 2021
Genre: Narrative Adventure

What is it? A choice-based narrative adventure that takes you on a journey through the protagonist Whit's life.
Why is it so interesting? Armature Studio is bringing us a narrative adventure that blends imagination with reality as you explore the protagonist Whit's past and future. From his childhood to adult life and beyond, every choice you make will influence where Whit's path will lead, with many different endings to discover. From surreal to emotional moments and everything in between, Where The Heart Is takes you on a story-driven journey that explores familial ties.
Psychonauts 2
Release date: August 24, 2021
Genre: Platformer
What is it? Crowd-funded sequel to one of the most beloved cult games ever, picking up after Razputin makes it to the Psychonauts headquarters.
Why is it so interesting? Tim Schafer has a habit of crafting great adventures and Psychonauts is one of the best games you've (probably) never played. That's something you can rectify immediately as it has been re-released on PS4. We can't wait for the sequel, where you'll presumably be diving into the minds of all sorts of new characters as well as learning new PSI abilities to help you unravel emotional turmoil and uncover any evil plots. Expecting great things.
Kena: Bridge of Spirits
Release date: August 24, 2021
Genre: Narrative Adventure
What is it? A game about guiding spirits from one realm to the next, with the help of adorable critters.
Why is it so interesting? You play as Kena, a novice spirit guide searching for a sacred place of knowledge when she stumbles across an abandoned village afflicted with corruption where trapped spirits sow chaos and unnatural decay. Helped by the Rot, little chibi-esque soot sprites, you'll help the good ones and fight the bad.
Riders Republic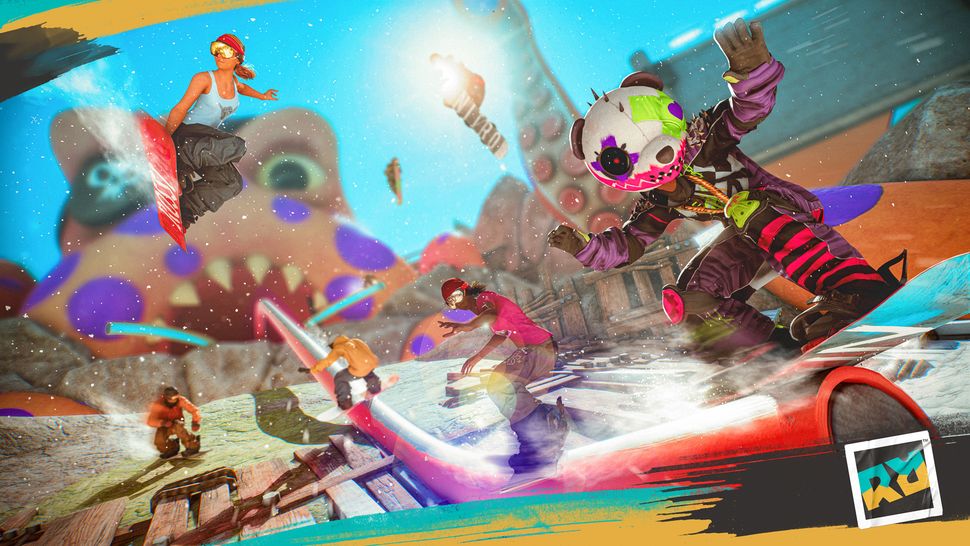 Release date: September 2, 2021
Genre: Racing/action
What is it? A multiplayer open-world sports playground where you can cycle, ski, snowboard, or fly with a wingsuit.
Why is it so interesting? If Steep was a bit chilly for you, then Ubisoft is delivering the significantly warmer goods with Riders Republic. In this constantly online sunny world, you can take on up to 50 other players at the same time, which is just as chaotic as it sounds, as well as make your way through a slightly more civilized sounding campaign mode. Whether you're soaring the skies in a wingsuit or embracing terra firma on a bike, this looks like a satisfyingly relentless open world to explore.
Life is Strange: True Colors
Release date: September 10, 2021
Genre: Narrative Adventure
What is it? Life is Strange is back with a brand new superpowered protagonist with True Colors.
Why is it so interesting? Deck Nine is bringing us a fresh Life is Strange adventure. The upcoming narrative adventure will follow Alex Chen, who has come from a troubled childhood but has just reunited with her brother Gabe after eight years. Tragedy strikes quickly though, as Gabe is killed in a mysterious accident, forcing Alex to investigate the truth using her psychic empathy power that allows her to read and manipulate their emotions.
Far Cry 6
Release date: October 7, 2021
Genre: Action/ Adventure

What is it? The sixth installment in the Far Cry series that takes place on the island of Yara.
Why is it interesting? The return of the Far Cry series will see you take on the role of Dani Rojas, a Yaran who fights with a guerilla group to free the island from the rule of Anton Castillo (voiced by Giancarlo Esposito), who rules a ruthless dictatorship. Castillo is set on restoring the island to its former glory "by any means" with his son Diego at his side.
Back 4 Blood
Release date: October 12, 2021
Genre: FPS / Horror
What is it? A co-op FPS zombie horror game that's a spiritual successor to the Left 4 Dead series.
Why is it so interesting? If you're still pining for a Left 4 Dead 3 (as are we), then you're going to love this. It's from the same team under the Turtle Rock Studios label, and is another four-player co-operative wave-based zombie shooter. You'll work your way through each chapter with your buddies, not knowing what you're about to face between you and the next safe room. The AI Game Director will change the enemy mix-up and quantities depending on how well you're doing, but this time you'll be able to use the game's card system to tweak your defenses and combat some of the Director's decisions.
Battlefield 2042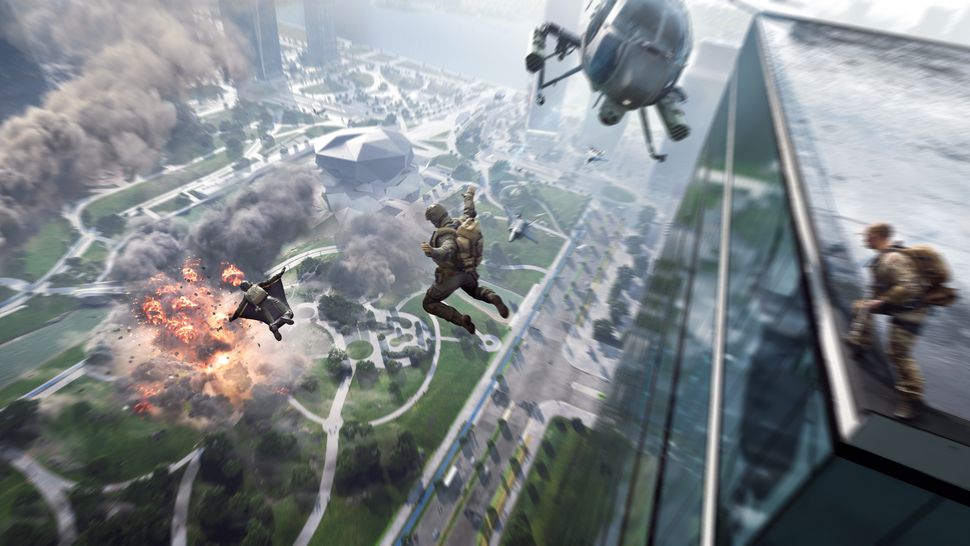 Release date: October 22, 2021
Genre: FPS
What is it? A multiplayer-only Battlefield offering set in a climate change ravaged future.
Why is it so interesting? If you needed a better excuse to sort your recycling and examine your carbon footprint, all you need to do is look at Battlefield 2042's near future inbound apocalypse. There's no campaign mode this time around but DICE has made sure there's no shortage of story to the 64 player chaos on the way on PS4. After years of rising sea levels, economies in ruins, and food shortages this is a world on the brink of permanent disaster where a group called the No-Pats or Non-Patriated must fight to survive. This is the backdrop to a variety of multiplayer modes including series' staples Conquest and Breakthrough as well as a new squad-based mode called Hazard Zone. There's no Battle Royale here but DICE's focus exclusively on multiplayer is a refreshing change that will hopefully pay off.
Marvel's Guardians of the Galaxy
Release date: October 26, 2021
Genre: Action-adventure
What is it? A single player space romp with a fresh Guardians story and an '80s mixtape.
Why is it so interesting? Let's face it, the Guardians of the Galaxy are pretty dysfunctional and that means that the best way to experience what it's truly like to be a part of the team, is to be, well, a part of the team. Eidos-Montreal's decision to let us only control Star-Lord might be questioned by some but the fact that we have to make decisions that will properly affect gameplay means that we'll constantly have to think about the interpersonal dynamics of Groot and co. Don't worry though, there's an all-star '80s soundtrack featuring Rick Astley so you're never going to want to give it up…
Stray
Release date: October 2021
Genre: Adventure
What is it? A game where you play as a street cat wearing a tiny backpack in a world of robots.
Why is it so interesting? There aren't many games that let you play as an adorable little tabby cat, but Stray is one of them. You are lost, alone, and separated from your family, but in order to get back to them you must untangle an ancient mystery in a long-forgotten city. Thankfully you find a small drone known only as B12, making you not quite alone any more.
Dying Light 2
Release date: December 7, 2021
Genre: RPG / survival horror
What is it? The sequel to Techland's zombie-filled parkouring survival horror, Dying Light.
Why is it so interesting? Dying Light came out back in 2015, and since then many have been hoping for a sequel, so when news hit that Dying Light 2 was in fact happening, the excitement for another zombie fest from Techland was palpable. The second game takes place 15 years after the first, and one human settlement still stands in the 'modern dark age' the infected world has fallen into. There are more RPG elements on offer this time around, with difficult choices and sacrifices to make to help or hinder the world. From what we've seen so far, the world's visuals look fantastic, and it looks set to be even bigger than the first. You can also once again play the entire campaign in four player co-op, and there's even more parkouring action to be had.
Horizon Forbidden West
Release date: Holiday 2021
Genre: Action/Adventure
What is it? Aloy's back with a brand new adventure, and this time - as the title suggests - she's heading west.
Why is it so interesting? As the sequel to Guerrilla Games' fantastic robotic, post-apocalyptic adventure, it's inherently exciting. Our hero Aloy is back and she's heading to the realms of San Francisco and co in the west of America, facing a new threat - and some old foes. Expect new robots, some familiar faces, and some seriously gorgeous graphics as this game launches across PS5 and PS4.
Jurassic World Evolution 2
Release date: TBC 2021
Genre: Theme park simulation
What is it? Another bite at the 'life finding a way' cherry as we build bigger and better dinosaur parks with even more toothy creatures.
Why is it so interesting? The original Jurassic World Evolution was a triumphant theme park sim that constantly kept us on the edge of our seats as we desperately tried to keep our velociraptors happy enough to not turn the visitors into lunch. The second game from Frontier Developments promises a grander full campaign that will leave the original Muertes Archipelago behind in favour of building in a series of fresh environments across the globe. The game is set after the potentially catastrophic events of the last movie and stars Jeff Goldblum as Mr Chaos Theory himself, Dr Ian Malcolm. Oh, and we've got flying dinosaurs this time around. He's going to love that…
Heavenly Bodies
Release date: TBC 2021
Genre: Adventure

What is it? A physics-based adventure in space where you control the arms and legs of a cosmonaut

Why is it so interesting? When it comes to being a 1970s cosmonaut in space, there's no such thing as a simple task. Without gravity in the starry expanses of space, everything is at risk of floating away, and any jobs you do are a little bit more complicated to carry out. You control the arms and legs of the cosmonaut, and each limb has different input, so you'll have to quite literally get to grips with the controls as you tinker with space tech in various scenarios.
Boundary
Release date: TBC 2021
Genre: FPS
What is it? A competitive first-person shooter set in space.
Why is it so interesting? It's a competitive first-person shooter set in space. Absolute madness. Not on a planet, or with ships, but astronauts armed to the teeth in the nothingness of space. You'll have multiple Astroperators to choose from (the devs term not mine), with various abilities and custom loadouts. There's a grappling hook too. It all looks a bit bonkers to be honest, and we're so down for it.
Solar Ash
Release date: TBC 2021
Genre: Action adventure
What is it? The latest title from the team that brought you Hyper Light Drifter.
Why is it so interesting? Solar Ash is Heart Machine's second game, and features a vivid, surreal, and stylized world that's filled with huge enemies. You'll move around at high speed via grind rails and other fluid movement options, battling creatures, and meeting allies along the way. You'll want to wishlist this for the graphics alone.
Open Roads
Release date: TBC 2021
Genre: Adventure
What is it? A story of a mother and daughter going on a road trip to discover the family secrets.
Why is it so interesting? Open Roads is coming to you from Gone Home and Tacoma developer Fullbright, and tells the tale of Tess Devine and her mother Opal. The pair are heading out on a road trip after discovering letters and notes tucked away in the attic of their home that will lead them to learn more about their family history.
2022
Tiny Tina's Wonderlands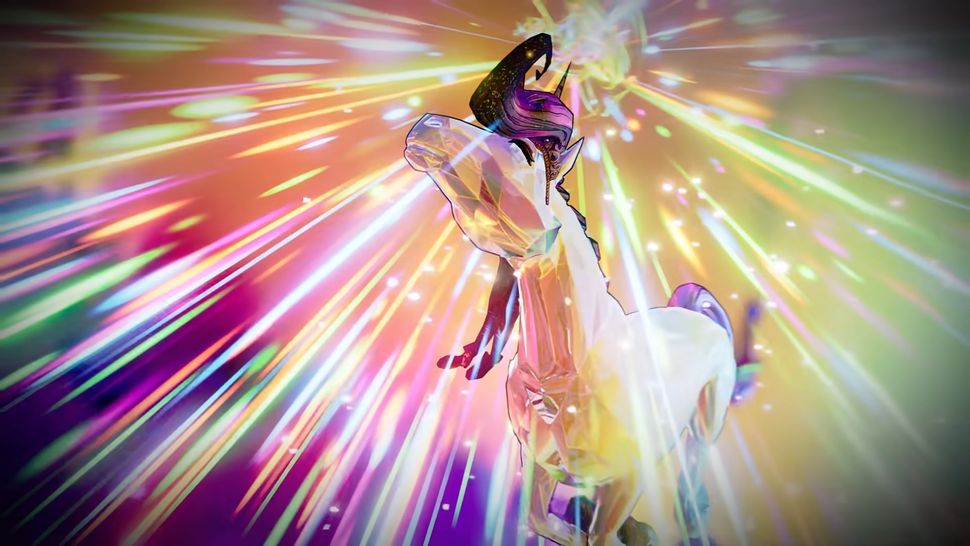 Release date: Early 2022
Genre: Looter shooter
What is it? A Borderlands spin-off set in a fantasy world controlled by the chaotic Tiny Tina.
Why is it so interesting? If you've played Borderlands 2's Tiny Tina's Assault on Dragon Keep DLC, you'll know exactly what you're in for here. If you haven't, then Tiny Tina has her own version of Dungeons & Dragons called Bunkers & Badassses and, of course, she's the Bunker Master. That means that while this fantasy world will have all the shooty hallmarks of a Borderlands game with added spellcasting, Tiny Tina will have complete control of proceedings and rewrite the rules when she gets bored. At least we can experience the madness with friends with the co-op campaign for up to four players.
A Plague Tale: Requiem
Release date: 2022
Genre: Action-adventure
What is it? Another jaunt through a terrifying world of rats and curses with a young brother and sister.
Why is it so interesting? A Plague Tale: Innocence wasn't top of our 'needs a sequel list' but we'll definitely take a follow up to the rat-based nightmares of Amicia and her brother Hugo's original adventure. The combination of the first game's heartfelt story and tense stealth sequences through plague-ravaged France made a compelling, if grim, experience. There's not been too much revealed about Requiem just yet but the mention of a curse means that we're probably not getting a happily ever after any time soon.
Skull and Bones
Release date: TBC 2022
Genre: Pirate ship sim
What is it? The naval combat sections of Assassin's Creed Black Flag, minus the stabby hooded free-running.
Why is it so interesting? Because it's the naval combat sections of Assassin's Creed Black Flag, minus the stabby hooded free-running. If your favourite part of Edward Kenway's floating adventures were peppering ships with mortars and watching masts crumble into matchsticks, welcome to Skull and Bones. Ubisoft knows how much you like big boats and has acted accordingly, throwing multiplayer into the mix and letting you take on your friends who all have lootable ships. Take them down in a hail of canon fire and you can steal their gold and unlock bigger targets. This is one worth walking the plank for.
TBC
Lego Star Wars: The Skywalker Saga
Release date: TBC
Genre: Action-adventure of the Lego variety
What is it? All nine Star Wars films in one Lego game.
Why is it so interesting? Lego and Star Wars is always a winning combination. Being able to play out every single Star Wars movie - from a New Hope to The Last Jedi - in Lego form makes for one delightful adventure, and that's exactly what we're going to get with the recently announced Skywalker Saga. While we've already gotten to experience most of the Star Wars films in the form of Lego games, we'll be able to play out the latest adventures with Rey and the gang, too. We're not sure if the previous games will be tweaked in any way or just remastered, but regardless, they're sure to be just as enjoyable.
Prince of Persia: Sands of Time Remake
Release date: TBC
Genre: Action / Adventure
What is it? A full-scale remake of the classic Prince of Persia: Sands of Time 2003 release.
Why is it interesting? The Prince of Persia: Sands of Time Remake will bring the 2003 adventure back for a new generation, with a host of enhancements and new features for modern consoles. Players will be able to fight against new enemy character models, see entirely new cinematic sequences, and experience the action with enhanced animations. Camera and combat controls have also been rebuilt and modernized to suit current consoles.
Vampire: The Masquerade - Bloodlines 2
Release date: TBC
Genre: RPG
What is it? A vampire RPG set in Seattle that's a sequel to the cult classic Vampire: The Masquerade bloodlines.
Why is it so interesting? Vampire: The Masquerade - Bloodlines 2 sees you play as a vampire who was sired as an act of vampire terrorism during the 'Mass Embrace.' Thrown into the seedy underbelly of Seattle where creatures roam the rainy city, you'll get caught up the politics of the different vampire factions as you try to grapple with your new abilities and a new way of life. Just like the first game, there will be a whole host of different vampire clans with different abilities and social standings. Heavy on RPG elements like player choice, a strong narrative, and dialogue options, the sequel looks set to build on the lore and elements of the first, and bring it to another generation with its own new features.
Beyond Good & Evil 2
Release date: TBC
Genre: Action-adventure
What is it? Long-awaited sequel to the 2003 game, set in an alien world where animals are fully evolved alongside humans
Why is it so interesting? Because we've waited 15 years for it! Ubisoft revealed the game at E3 2017, and showed loads more at E3 2018. The trailers showed a hugely different visual style to the original game (to be expected), and a different cast of hero characters and themes, although we see Pey'j in the latest trailer and a very evil Jade, who appears to have become the big-bad. This probably won't even make 2019, such is its ambition, but we do know that production on the game is in full swing, with Ubisoft even inviting the general public to create art that will be featured in the final product.