There aren't many weeks left in the year, but there are still some top upcoming PS4 games to look forward to yet. But then, for 2022 and beyond, it gets even more exciting. There are all manner of new PS4 games, adventures, and experiences to dive into in the next 18 months or so, and we've put together a list of all of the most anticipated new PS4 games to add to your wish list.
And to make your life easier, we've also put the list together in release date order, so you know what to look out for first. While some upcoming titles are still TBC, we'll also be updating this list with any developments about those all important launch windows so you can stay on top of everything that's on the way. So, without further ado, here all of the upcoming PS4 games to watch out for in 2021 and beyond.
Don't forget to check out our list of upcoming PS5 games too, if you're about to make the jump to next-gen.
2021
Five Nights at Freddy's: Security Breach
Release date: December 16, 2021
Security Breach is apparently the most ambitious in the Five Nights at Freddy's games yet, and features a brand new location called the Mega Pizza Plex. Freddy Fazbears' Pizza isn't just a small pizzeria chain anymore, and now you're looking a much larger space that's plagued by murderous robotic toys at night.
2022
Rainbow Six Extraction
Release date: January 20, 2022
Rainbow Six Extraction sees you playing as some familiar operators, but this time you're taking down a new breed of alien parasite that's decided to plague the human race. You operate in groups of three, and play in PvE patches to fight off these fast-moving, and utterly terrifying foes.
Dying Light 2
Release date: February 4, 2021
Dying Light came out back in 2015, and since then many have been hoping for a sequel, so when news hit that Dying Light 2 was in fact happening, the excitement for another zombie fest from Techland was palpable. The second game takes place 15 years after the first, and one human settlement still stands in the 'modern dark age' the infected world has fallen into. There are more RPG elements on offer this time around, with difficult choices and sacrifices to make to help or hinder the world. From what we've seen so far, the world's visuals look fantastic, and it looks set to be even bigger than the first. You can also once again play the entire campaign in four-player co-op, and there's even more parkouring action to be had.
Sifu
Release date: February 8, 2022
From the creators of Absolver comes Sifu. This is a story inspired by classic Kung-Fu films, where you play as a young martial arts student who's trained their entire life to take revenge. Specifically, that's revenge on the assassination squad that killed his entire family, and you'll be tracking them down one by one across the city. There's an ancient mystery to discover among the fighting too, which only adds to the excitement around this title from Sloclap.
Horizon Forbidden West
Release date: February 18, 2022
Aloy's back with a brand new adventure, and this time - as the title suggests - she's heading west. As the sequel to Guerrilla Games' fantastic robotic, post-apocalyptic adventure, it's inherently exciting. Our hero Aloy is back and she's heading to the realms of San Francisco and co in the west of America, facing a new threat - and some old foes. Expect new robots, some familiar faces, and some seriously gorgeous graphics as Horizon Forbidden West launches across PS5 and PS4.
Elden Ring
Release date: February 25, 2022
Elden Ring is the next FromSoftware title and it's the title that's been created as a partnership between the Japanese developer and Game of Thrones author George R. R. Martin. This is a brand new IP and you'll be following a new protagonist, with plenty of excellent creature designs, and of course bosses to boast about later. Including introducing a horse for the first time, you'll also be able to utilize melee, magic, and ranged combat to use against its giants, fantastical creatures, and other monstrosities.
Gran Turismo 7
Release date: March 4, 2022
Gran Turismo 7 is racing onto both PS4 and PS5 in March, and will feature a newly designed GT campaign mode. There's also a detailed Livery Editor with improved utility and accessibility, a vast collection of cars, and even the return of some classic circuits.
Tiny Tina's Wonderlands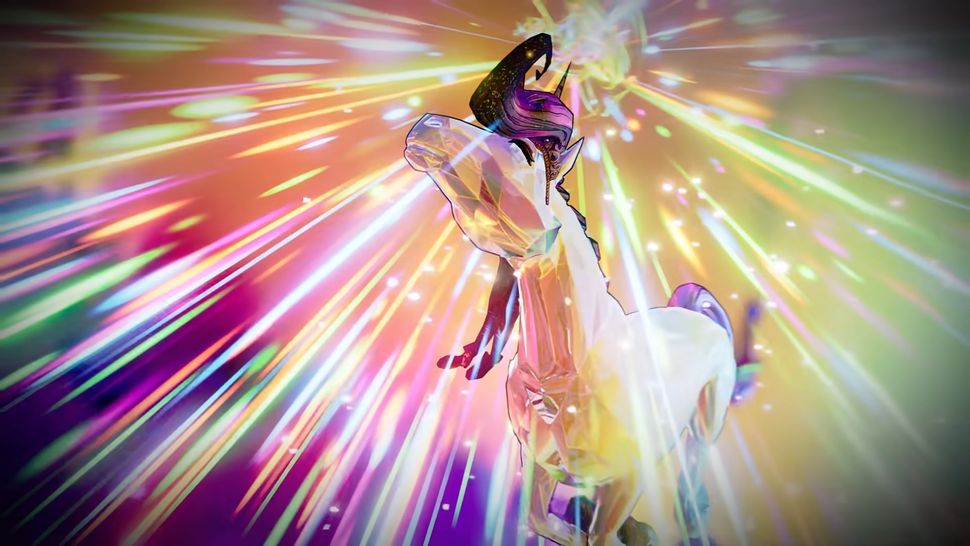 Release date: March 25, 2022
If you've played Borderlands 2's Tiny Tina's Assault on Dragon Keep DLC, you'll know exactly what you're in for here. If you haven't, then Tiny Tina has her own version of Dungeons & Dragons called Bunkers & Badasses and, of course, she's the Bunker Master. That means that while this fantasy world will have all the shooty hallmarks of a Borderlands game with added spellcasting, Tiny Tina will have complete control of proceedings and rewrite the rules when she gets bored. At least we can experience the madness with friends with the co-op campaign for up to four players.
Saints Row
Release date: August 23, 2022
Saints Row is taking us back to the beginning of the iconic crime gang with an origin story. You'll be starting out in the city of Santo Ileso, creating the Saints from scratch. It'll be up to you what they'll get up to and how they'll build their empire, leading them once again as the full customisable Boss. It's new faces and new names, but plenty of rival gangs to pick fights with and silliness to engage in - although this is a much more grown-up Saints Row than the dildobat-wielding of old.
TBC 2022
Stray
Release date: Early 2022
There aren't many games that let you play as an adorable little tabby cat, but Stray is one of them. You are lost, alone, and separated from your family, but in order to get back to them you must untangle an ancient mystery in a long-forgotten city. Thankfully you find a small drone known only as B12, making you not quite alone anymore.
Lego Star Wars: The Skywalker Saga
Release date: Spring 2022
Lego and Star Wars is always a winning combination. Being able to play out every single Star Wars movie - from a New Hope to The Last Jedi - in Lego form makes for one delightful adventure, and that's exactly what we're going to get with the Skywalker Saga. While we've already gotten to experience most of the Star Wars films in the form of Lego games, we'll be able to play out the latest adventures with Rey and the gang, too. We're not sure if the previous games will be tweaked in any way or just remastered, but regardless, they're sure to be just as enjoyable.
Little Devil Inside
Release date: TBC 2022
Not quite a survival game, but Little Devil Inside will have you fighting for your lite as you embark on missions and journies that question the choices you make. Giant monsters and glowing swords will feature heavily, along with an old man on a toilet, in this mysterious world that spans multiple biomes. Your task is to build a comprehensive encyclopedia of all phenomenal existence within the world, a bit like a Pokedex but slightly more aggressive creatures.
A Plague Tale: Requiem
Release date: 2022
A Plague Tale: Innocence wasn't top of our 'needs a sequel list' but we'll definitely take a follow up to the rat-based nightmares of Amicia and her brother Hugo's original adventure. The combination of the first game's heartfelt story and tense stealth sequences through plague-ravaged France made a compelling, if grim, experience. There's not been too much revealed about Requiem just yet but the mention of a curse means that we're probably not getting a happily ever after any time soon.
Open Roads
Release date: TBC 2022
Open Roads is coming to you from Gone Home and Tacoma developer Fullbright, and tells the tale of Tess Devine and her mother Opal. The pair are heading out on a road trip after discovering letters and notes tucked away in the attic of their home that will lead them to learn more about their family history.
God of War: Ragnarok
Release date: TBC 2022
We're about to get another adventure with Kratos as the cold winds of Fimbulwinter hit Midgard. With new challenges to face and characters to meet, Kratos and Atreus are said to have some tough choices to make as Ragnarok approaches. You know, the very end of the world in Norse mythology. We can hardly wait to discover everything the latest God of War holds for us, with Eric Williams now in the director's seat.
Skull and Bones
Release date: TBC 2022
It's the naval combat sections of Assassin's Creed Black Flag, minus the stabby hooded free-running. If your favourite part of Edward Kenway's floating adventures were peppering ships with mortars and watching masts crumble into matchsticks, welcome to Skull and Bones. Ubisoft knows how much you like big boats and has acted accordingly, throwing multiplayer into the mix and letting you take on your friends who all have lootable ships. Take them down in a hail of canon fire and you can steal their gold and unlock bigger targets. This is one worth walking the plank for.
TBC
Prince of Persia: Sands of Time Remake
Release date: TBC
The Prince of Persia: Sands of Time Remake will bring the 2003 adventure back for a new generation, with a host of enhancements and new features for modern consoles. Players will be able to fight against new enemy character models, see entirely new cinematic sequences, and experience the action with enhanced animations. Camera and combat controls have also been rebuilt and modernized to suit current consoles.
Vampire: The Masquerade - Bloodlines 2
Release date: TBC
Vampire: The Masquerade - Bloodlines 2 sees you play as a vampire who was sired as an act of vampire terrorism during the 'Mass Embrace.' Thrown into the seedy underbelly of Seattle where creatures roam the rainy city, you'll get caught up the politics of the different vampire factions as you try to grapple with your new abilities and a new way of life. Just like the first game, there will be a whole host of different vampire clans with different abilities and social standings. Heavy on RPG elements like player choice, a strong narrative, and dialogue options, the sequel looks set to build on the lore and elements of the first, and bring it to another generation with its own new features.
Beyond Good & Evil 2
Release date: TBC
This is the long-awaited sequel to the 2003 game, set in an alien world where animals are fully evolved alongside humans and we've waited over 15 years for it! Ubisoft first revealed the game at E3 2017, and showed loads more at E3 2018. The trailers showed a hugely different visual style to the original game (to be expected), and a different cast of hero characters and themes. Since then, we haven't heard or seen all that much about it. We do know that Ubisoft is still working on the game, though, with recent job listings surfacing for the project.