Even as Sony begins to sunset its last generation console, there's still a large slate of upcoming PS4 games to look forward to. The truth is, many of the new games for 2023 are beginning to focus on PS5 development now, but that isn't to say that there won't be anything for you PS4 owners to play.
Whether you're looking for exciting upcoming indie games to play or some of the biggest new FPS games and RPGs, there's still plenty on offer. So while you could check out the list of upcoming PS5 games to see what you're missing out on, you're better off scrolling down and seeing what excellent upcoming PS4 games you can look forward to through 2023 and beyond.
2023
LEGO 2K Drive
Developer: Visual Concepts
Release date: May 19, 2023
Lego 2K Drive is an open world driving adventure that will let you build your dream rides and then put them to the test in ridiculous, fast-paced races where the difference between winning and losing can come down to who has the better brick placement. This arcade racing game looks like a lot of fun, and we're keen to see whether this drive across Bricklandia has learned the right lessons from the likes of Forza Horizon and Mario Kart.
Amnesia: The Bunker
Developer: Frictional Games
Release date: May 23, 2023
One of our most anticipated upcoming horror games of the year is undoubtedly Amnesia: The Bunker, a first-person nightmare that's set in a desolate WW1 bunker. If you're new to the Amnesia games expect oppressive environments, horrendous jump scares, and a twisting story that will leave you shattered. And if you're familiar with these sorts of experiences, well… strap in for a wild ride, because Amnesia: The Bunker looks like it'll leave a scar.
Lord of the Rings: Gollum
Developer: Daedalic Entertainment
Release date: May 24, 2023
Lord of the Rings: Gollum is finally set to launch this May. The new stealth game from Daedalic Entertainment will track Gollum as he attempts to escape the Barad-dûr fortress and make it across Middle-Earth without being recaptured. Daedalic promises that Lord of the Rings: Gollum will draw on his dual-personality, and a world design inspired by Tolkien's own drawings.
Street Fighter 6
Developer: Capcom
Release date: June 2, 2023
Street Fighter 6 has been a long time coming. Its predecessor launched back in 2016 and quickly established itself as one of the best fighting games of the generation. Developer Capcom will be hoping to do the same again with this ambitious sequel, which is set to arrive on June 2 with an 18-character roster, overhauled online modes, and a World Tour campaign that'll not only let you create your own custom fighter but present a fresh opportunity to master the advanced combat mechanics being introduced.
Diablo 4
Developer: Blizzard
Release date: June 6, 2023
Almost a decade on from the release of Diablo 3, Blizzard is finally set to deliver a sequel. This legendary action-RPG series will return on June 6, and it's easy to understand why it is generating so much buzz. Diablo 4 is heading open world, and it's tapping back into the dark fantasy story and visual aesthetic that helped define the first two games. Blizzard says that release is just the beginning, with years of support and expansion planned for this monster co-op experience.
Goodbye Volcano High
Developer: KO_OP
Release date: June 15, 2023
We've been watching Goodbye Volcano High for a little while now, and developer KO_OP is finally ready to deliver after taking a little longer to get its narrative design right. It'll be well worth the wait too, given that Goodbye Volcano High is a cinematic narrative adventure where you'll guide a cast of characters through their final year of high school. It's a story of love, change, and our place in the world at the end of an era, so expect lots of difficult decisions and emotionally-charged scenarios to navigate.
Aliens: Dark Descent
Developer: Tindalos Interactive
Release date: June 20, 2023
Aliens: Dark Descent is one of those concepts you didn't realize you needed in your life until you see it in action. Set on Moon Lethe, you'll control a squad of Colonial Marines through a single-player tactical action game, issuing commands to help the team survive a Xenomorph outbreak. With squad dynamics in play, including the need to mitigate stress and fear, Dark Descent looks like one of the best adaptations of the Alien-verse yet.
Exoprimal
Developer: Capcom
Release date: July 14, 2023
While Capcom seems to fear an outright Dino Crisis revival, the publisher isn't too afraid of dinosaurs to steer clear of them entirely. Exoprimal is an upcoming action game where you'll team up with other players to fight hordes of dinosaurs which are rampaging through city streets. So while Valve has no plans to make Left 4 Dead 3, perhaps Exoprimal will scratch that same co-op itch when it lands this July.
Armored Core 6: Fires of Rubicon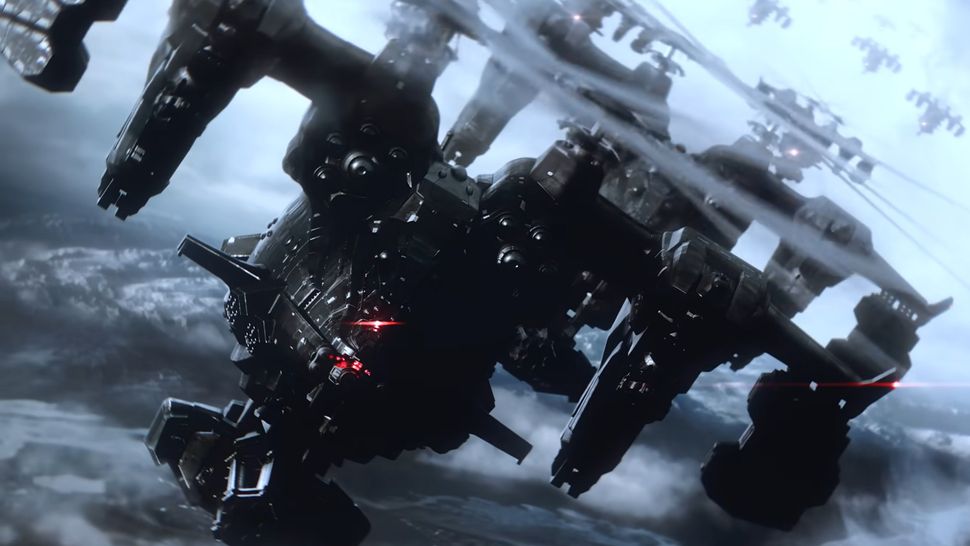 Developer: FromSoftware
Release date: August 25, 2023
FromSoftware may now be known for its action-RPGs – Elden Ring, Dark Souls, Bloodborne, and Sekiro: Shadows Die Twice – but the studio is returning to one of its most iconic creations this year. Armored Core 6: Fires of Rubicon has been a long time coming, and FromSoftware is promising to go suitably big to celebrate. A ruined world to fight through, massive mechs to control, and challenging boss battles to bash your head against – Armored Core 6 is shaping up to be a worthy sequel.
Sea of Stars
Developer: Sabotage Studio
Release date: August 29, 2023
Sea of Stars looks like a love letter to JRPGs from years gone by. With its tightly-designed turn-based combat, beautifully vibrant 2D pixel-art, and massive-scale world that focuses on exploration and adventure, Sea of Stars looks set to breathe new life into the retro revival of role-playing games that so many of us grew up playing. Sea of Stars will launch on August 29, and everything we've seen of it so far has been exceptional.
Endless Dungeon
Developer: Amplitude Studios
Release date: October 27, 2023
The Endless universe is expanding again this May, as Amplitude Studios delivers a tactical-action roguelite in Endless Dungeon. You'll recruit a team of heroes, dive into an abandoned space station, and fight for your life against a never-ending wave of monsters. To escape the nightmare you'll need to reach The Core, but you won't do that without dying a few (hundred) times along the way – so strap in for an action game that'll test your ability to react and respond to an ever-escalating set of situations.
TBC 2023
Assassin's Creed Mirage
Developer: Ubisoft
Release date: TBC 2023
Assassin's Creed has incrementally moved away from the values that once underpinned the series – stealth, parkour, and assassinations – as Ubisoft invested in increasingly large open worlds and refined its action-RPG focus. Well, in 2023 we are getting a love letter to the original adventures in Assassin's Creed Mirage. This smaller scale experience has quickly become one of our most anticipated upcoming Assassin's Creed games, one which will take us to ninth-century Baghdad and return to the social stealth foundations that helped propel the franchise to greatness.
Disney Dreamlight Valley
Developer: Gameloft
Release date: TBC 2023
Disney Dreamlight Valley from developer Gameloft is a new life sim adventure that has a similar feel to Stardew Valley and Animal Crossing. After waking up in a Valley that has been affected by a mystery force known as The Forgetting, you set out to restore it back to how it once was with the help of Dreamlight magic. Packed full of customization, you'll get befriend and help out a cast of beloved Disney and Pixar characters from Mickey Mouse to Goofy and Moana. As a free-to-play experience that's set to launch in full in 2023, you can also try out the early access launch by purchasing the Founders Pack – read our Disney Dreamlight Valley review here.
Hollow Knight Silksong
Developer: Team Cherry
Release date: TBC 2023
Hollow Knight: Silksong remains one of the most highly anticipated games out there. This long-awaited sequel to one of the best metroidvania games of all-time is set to launch this spring on PS4, with developer Team Cherry whisking players to the mysterious world of Pharloom. With a new protagonist, new enemies, new abilities, and a stunning new space to explore, Hollow Knight: Silksong will undoubtedly be one of the most talked about games of 2023.
Lies of P
Developer: Neowiz Games
Release date: TBC 2023
Lies of P could be a breakout action-RPG for 2023. This new soulslike from developer Neowiz has a bit of a strange premise, so stick with us here: You play as Pinocchio, who is fighting to both find his creator, Mr. Geppetto, and to become human – with a unique lying mechanic which can have grave implications on the world state and story. If you're a fan of Bloodborne or Dark Souls and you're looking for something new to play, be sure to keep a close eye on Lies of P in 2023.
System Shock Remake
Developer: Nightdive Studio
Release date: TBC 2023
System Shock is one of the best immersive sims, a game which helped to expand the boundaries of the first-person shooter when it first launched in 1994. This March, Nightdive Studio is going to introduce the classic to a whole new generation of players with System Shock launching on console for the very first time. While the authentically blocky visual design won't be for everybody, the combat and story of System Shock should not be ignored – the fight against a maniacal AI named SHODAN is something you'll never forget.
The Texas Chainsaw Massacre
Developer: Gun Interactive
Release date: TBC 2023
There's been no shortage of asymmetrical multiplayer games in recent years, and The Texas Chainsaw Massacre is the latest famed horror license to get in on the action. Four victims will attempt to escape from members of the family, such as Leatherface, the Cook, and the Hitchhiker. Naturally, with its creepy rural setting and roster of horrifying villains, The Texas Chainsaw Massacre seems like a natural fit for a multiplayer horror game in 2023.