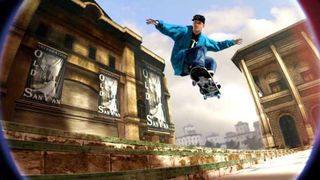 Getting sporty
Sports games are a funny animal. To the untrained eye, its easy to dismiss the genre as a series of annual roster updates and little innovation. But for those who actively play and understand the intricacies of the real-life game, its easy to see how annual evolutions drive games toward a more authentic and engaging experience. And besides, it's not like the best sports games are always annual simulators, either. Thats where we come in.
Here's a list of the best sports games you can pick up right now. Keep in mind that this isn't the same as the best sports games of all time, which is another discussion entirely.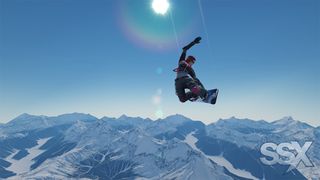 10. SSX
EAs reimagining of its extreme sports franchise redoes the experience as a sleek and challenging title. All of the familiar trappings--big air, combo-based multipliers--are still intact, but the addition of Deadly Descents adds a completely new dimension to SSX. These runs add natural disasters (and a finite amount of damage you can endure) into the mix, which creates a totally new sense of white-knuckle tension to accompany the trademark thrills and exhilaration.
While the World Tour mode gives you a plot among three snowy peaks and several events, its a primer for the incredibly deep Explore mode, which gives you countless opportunities to dive deeply into SSXs bag of tricks to top your personal bests, and thanks to its use of EAs Autolog technology, you can challenge your friends bests and keep some great rivalries going on the slopes. Theres lots to love about the new SSX, once youve adjusted to its Kilimanjaro-steep difficulty.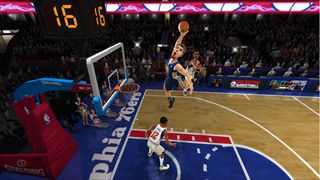 9. NBA Jam: On Fire Edition
Sports games arent always about sims. Theres plenty of room for arcade fun, and NBA Jam has been a perennial favorite. With NBA Jam: On Fire Edition, all of the hyperbolic commentary, cartoonish dunks, and stylish visuals make a return. The big upside to On Fire is that it takes all of the elements from 2010s NBA Jam reboot and shrinks it down into an appealing downloadable package that boasts online multiplayer and loads of fun.
If you have yet to Boomshakalaka and youre looking for a solid sports experience that doesnt take itself too seriously, NBA Jam: On Fire Edition is absolutely worth jumping into.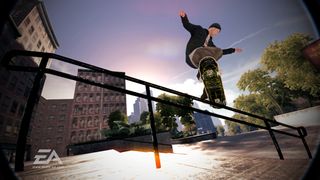 8. Skate 2
For years, skating games came and went in desperate attempts to overthrow or kill Tony Hawks Pro Skater, but it wasnt until EA entered the skatepark with the simply named Skate that anything actually accomplished that goal. Favoring realism over gratuitous air and bodacious tricks, the Skate series provided the genre with exactly what it needed, something the sequel continued.
Though it didnt attempt to reinvent the genre, the sequel brought some much needed polish, and added in the ability to travel on foot and move objects around to set up different obstacles. Creating these areas, and including the ability to share them online, added another dimension to the already blissful Skate franchise, and solidified its spot as one of the best sports games in history.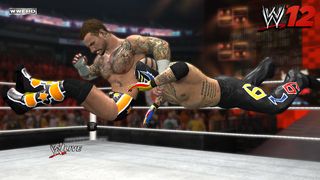 7. WWE 12
Technically a fake sport, pro wrestling is one of the most physically demanding and entertaining public spectacles around, and the larger-than-life performers have almost been as popular in gaming as they are in real life. Gamers have experienced classics like Fire Pro Wrestling and No Mercy, but in the modern era nothing touches THQs WWE games. Last years WWE 12 was the best longtime developer Yukes had produced to date, thanks to dozens of improvements over its defunct SmackDown series.
WWE 12 streamlined the control interface, speeding up the action both on defense and offense, making for faster matches paced more like the actual product. It has a big selection of match types and one of the deepest rosters to date, including a number of legends mixed in with todays superstars. And if a fan favorite wasnt included, you can use the insanely deep customization suite to create them and share them online. WWE 12s feature set is one of the deepest in gaming thanks to Yukes building it up for more than a decade, which, when mixed with the exciting in-ring action, makes for an incredible experience.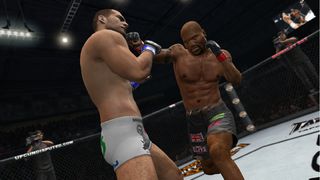 6. UFC Undisputed 3
MMA is among the fastest rising sports around the world. Games based on the sport have veered wildly. While EA is producing the next Ultimate Fighting Championship-licensed game, UFC Undisputed 3 is still a great mixed martial arts brawler with lots of improvements to Yukes formula. Plus, the game incorporates the fanfare and spectacle of Japans now-defunct Pride Fighting Championships, along with its rulesets.
With longer brawls, better grappling, and a satisfying, but tough-to-learn submission system, theres more than enough here to keep you punching and kicking until a wholly new UFC experience comes.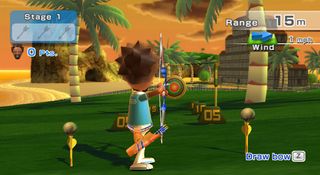 5. Wii Sports Resort
Dont be surprised. Nintendos sports title is still a benchmark of both the casual experience and precise controls. Many have tried to emulate its approach, and nearly all have failed. Its approach--simple ideas with intelligently designed gameplay--have ensured that its still loads of fun to play, several years after its initial bow.
From basketball and disc golf to table tennis and fencing, theres no shortage of games to dive into and enjoy for hours with friends. Even if the Wii is on its deathbed, Wii Sports Resort is an experience thats sound enough to enjoy, at least until an HD version drops for the Wii U...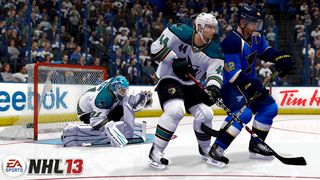 4. NHL 13
Even if the NHL season isnt happening thanks to a lockout, the action continues on the virtual ice. With True Performance Skating, NHL 13 introduces a totally new take on physics and player momentum. Youll need to keep a close eye on how forcefully you propel yourself down the ice. And the days of cutting on a dime and making accurate passes at top speed are a thing of the past. The realism brings with it new challenges, and they make the game more fulfilling.
NHL 13 also introduces GM Connected mode, which is the biggest online league in a sports game to date. Between a GM, team owners, managers, and each individual player, a GM mode can span over 700 possible players. Its staggering, sprawling, and in execution, its awesome. Theres plenty to love about EA Canadas refinements to the NHL formula, and NHL 13 is a watershed moment for the series this generation.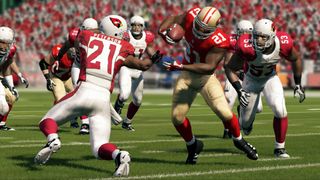 3. Madden 13
Madden has run the gamut from throwing interceptions to ekeing out hard-fought field goals this console generation, but with Madden NFL 13, everything gels together to deliver a fantastic gridiron experience. With the revamped Infinity Engine, all of the clips and hard-hitting tackles have more realism and heft than in past games.
Madden 13 also introduces Connected Careers, which implements a role-playing game element into your gridiron experience. Your career can kick off as a player or coach as you look to win titles, kiss the Vince Lombardi Trophy, and ultimately, make it to the Hall of Fame. With the numerous improvements and additions, Madden NFL 13 is the genuine article.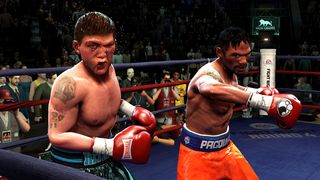 2. Fight Night Round 4
Fight Night Round 3 showcased this generation of hardware. Fight Night Round 4 perfected it. 2011s Fight Night Champion is a great game in its own right, but Round 4 stands out, thanks to the numerous refinements to the engine. Round 4 added new elements, such as glancing blows and a totally new defensive system that jettsoned parries and haymakers for something much more in-depth and strategic. Indeed, with the counter-punching system, a few well-timed shots could result in a knockdown if your opponent is foolishly throwing out too many jabs.
The detail and splendor in Round 4 elevates the standard-bearing visuals of Round 3 to another level. The swelling, cuts, and sweat captures the heat and physical taxation of stepping into the ring, and boxer animations are exceptionally fluid. Additionally, the game finally added Iron Mike Tyson to the roster, which marked a major milestone for EAs boxing series. Its hard to dispute that Fight Night Round 4 is among the finest examples of the Sweet Science in gaming this generation, if not the finest.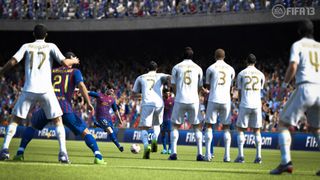 1. FIFA 13
FIFA 12 re-established the series with a number of new additions and implementations, including a new take on defending, revamped physics, and more intelligent teammates. FIFA 13 builds upon those elements and refines them to a great degree. With a new first touch mechanic that causes chaotic bounciness, it forces you to pass and receive with care.
FIFA 13s tweaks and improvements also extend into its career mode. In the wake of FIFA 12s Euro 2012 DLC expansion, FIFA 13 ties in World Cup qualification and all of the pageantry of international matches into both your career as a player and your options as a manager. For the first time, you can juggle both a club management position and a job managing a national team within career mode. Its an important step for the franchise. If FIFA 12 re-invented the wheel, FIFA 13 adds the right amount of spokes to make the ride even smoother than before.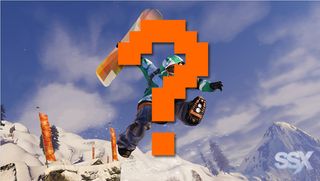 What are your top sports picks?
What sports games light your fire? What's kept you and your friends up late and competing over the last few years? Let us know in the comments!