There are a couple of things you should keep in mind when considering the best racing games you can play right now. In this ranked list, we've got simulation racing games, arcade racers, and everything in-between. We have tried to keep this collection of the best racing games focused on the games available on current and last-gen consoles; while there's some absolute classics available in the retro archives they can be a little difficult to find and play these days.
So whether you like kart racing or racing sims, games that just let you go really fast, or experiences that are a little more chaotic by nature, there should be something for everyone in our ranking of the 20 best racing games.
20. TT Isle of Man: Ride on the Edge
Platforms: PS4, PS5, Xbox One, Xbox Series X, PC
If you're looking for something a bit different and perhaps feel that there's not enough sense of danger in your gaming life, then look no further than this beauty. While it has had a sequel, it's the original that carries that inexplicable magic. Recreating miles and miles of real-life Isle of Man roads in alarming detail (just load up Google Street View and see for yourself), you'll only see said detail when you inevitably fall off your bike and brain yourself on a dry stone wall. The realism is truly punishing, as even a small jump can mean disaster unless you're pointing 100% straight forward at the time. Doing this must take a special kind of madness, but playing it is a rush like no other.
19. Hot Shot Racing
Platforms: Switch, PS4, PS5, Xbox One, Xbox Series X, PC
Here's another one that's available on all the main platforms. While it is an all-new title, it's very much made in the style of a '90s arcade game. Its flat-shaded polygon graphics hark back to another game further up this list, and the racing mechanics are simple enough for anyone to enjoy, yet provide advanced handling traits for those who delve deeper. Drifts and slipstreams fill your turbo boost, but slipstreaming itself can be enough to keep you with the rest of pack while you charge up, ready for a blazing finish to the race. Pretty, smooth and pleasantly wacky in its story scenes, this is only really missing car damage.
18. Project Cars 2
Platforms: PS4, PS5, Xbox One, Xbox Series X, PC
Why not Project CARS 3? Well, that's simple. The more recent sequel ditches loads of what made the first two games so good. And while the original game perhaps captures that real life track day atmosphere better than any other, the wealth of great content and more polished feel in the first sequel make that the one to go for. Realistic driving on real tracks in real cars is the order of the day and, when you find a category and track that work well together, you'll be driving for hours and hours.
17. Daytona USA HD
Platforms: PSNow, Xbox One (via Xbox 360)
Still on 'best racing game' lists after almost three decades, Daytona USA is simply one of the best arcade racing games ever made. With exquisite and deep car handling that takes years to truly master, three unforgettable and beautifully-designed tracks and one of gaming's most idiosyncratic yet awesome soundtracks, this is as fun to play as it ever was. You might have a little trouble getting it on your console, mind. It came out on PS3 and Xbox 360, but you can play it with PSNow. And while it runs in 4K on Xbox One X and above, you can't buy it on that machine or online, at least in the UK. Instead, sign into an Xbox 360, buy it from the store, and then redownload it on your new machine. Blue sky gaming awaits. Daytonaaaaaaa!
16. Dirt Rally 2.0
Platforms: PS4, PS5, Xbox One, Xbox Series X, PC
There have been a disproportionately high number of good rally titles released over the past few years, but it's Codemasters' Dirt Rally that's risen to the top, despite not having the official WRC license (at least, not yet - it will do from 2023). In the meantime, while the official WRC games are decent simulations of this most daredevil of motorsports, Dirt Rally 2.0 nails the feeling of driving at both low and high speed. It's ultra-smooth, ultra-realistic and every surface feels just right. Best played with a wheel and pedals (and a handbrake if you can get one), this is still lots of fun on a pad. Just be warned - there's a reason not everybody goes rallying at the weekends. It's very, very difficult.
15. GRID
Platforms: PS4, PS5, Xbox One, Xbox Series X, PC
This re-imagining of the 2007 classic Race Driver GRID is a showcase for modern graphics tech, looking absolutely superb on the more advanced consoles. The tracks are memorable, the weather effects are superb, and the handling is brilliantly forgiving, making this the perfect way to get into serious racing gaming without getting into "I can't even keep it on the track" territory. Just don't expect the amazing damage tech of the original, or even that of the Switch's GRID Autosport we just talked about; this one's a bit 'toned down'. Still, a solid racer, no question.
14. Horizon Chase: Turbo Edition
Platforms: Switch, PS4, PS5, Xbox One, PC
Another modern yet retro-styled game, this harks back to the late '80s and early '90s when racing games were still pseudo-3D, using sprite scaling to give the illusion of 3D depth. Of course, today such scaling is hyper-smooth, even on Nintendo Switch, and the game moves like greased lightning. The gameplay is simple, seeing you manage fuel levels by collecting canisters and picking up coins as you lap the track, all while dodging slower cars and using your turbo wisely. It's an absolute blast, and cheap too, so there's no reason to miss it.
13. GRID Autosport
Platforms: Switch
Originally a 360/PS3 racer, this Codemasters game represents the final hurrah for 'old' GRID. It's sadly only available on Nintendo Switch in terms of the modern consoles, but the game has been beautifully optimised for Nintendo's hardware, offering a 30fps detail mode and a target 60fps reduced-detail mode. Both look lovely, and the slightly simplified handling of the realistic cars on realistic tracks makes for the deepest racer on Switch, while still proving fun to play for novices. With everything from touring cars to single-seaters, this is true console-quality racing in your hand, and arguably better than modern GRID on the other consoles.
12. Wreckfest
Platforms: PS4, PS5, Xbox One, Xbox Series X, PC
Channeling the 32-bit classic Destruction Derby, Wreckfest is a racing game that's all about destruction. The cars exhibit soft-body physics, which means their bodywork bends and warps realistically with impacts from other vehicles and the walls of the track. Throw in about a zillion physics objects (and even a few more with the next-gen patch installed) and you've got yourself some crazy racing action. And that's before you add in bowl events that can see you abusing ride-on lawnmowers in an ultra-silly Battle Royale. It's utter chaos and may not hold your attention long-term, but it's undeniably great fun while it lasts.
11. Dirt 5
Platforms: PS4, PS5, Xbox One, Xbox Series X, PC
There's a warm and fuzzy feeling that comes from having a great-looking racing game to kick-start a new console generation, and Dirt 5 provided exactly that for PS5 and Xbox Series X/S. While by no means the deepest racer on this list - quite the opposite, in fact - it is nonetheless very good-looking, action-packed, and one of the most cheerful racers we've seen in a long while. What makes it even better are the Playgrounds mode which allows you to craft your own Time Trial and trick arenas, and the absolutely unbelievable 4-player split-screen, which is playable across the majority of the career mode. Both gorgeous on new-gen and particularly impressive on the now-aging PS4, this is a true return to form for the core Dirt franchise.
10. Crash Team Racing Nitro-Fueled
Platforms: Switch, PS4, PS5, Xbox One, Xbox Series X
Another game that's available on all three major platforms (but oddly not PC), Crash Team Racing: Nitro-Fueled started off life as two classic kart racers on PS1 and PS2. They've been recreated here with incredible authenticity, much like the Spyro Reignited Trilogy, retaining the feel of the original. You can even steer with the digital D-pad for true retro nostalgia. While the track design is superb and the weapon system's still great, it is rather difficult. So while patience is definitely rewarded, those who lack it may prefer something like Mario Kart 8. But for the rest of us, this is pure class.
9. Need For Speed: Hot Pursuit Remastered
Platforms: Switch, PS4, PS5, Xbox One, Xbox Series X, PC
Back when this originally came out on PS3/360, it was a revolution in social gaming. The 'Autolog' online leaderboard system encouraged friends to challenge each other and vie for automotive superiority. It was such a good idea that the template has been widely adopted across gaming. But fortunately, the core gameplay remains simply great fun. As illicit street racers or the cops chasing them, you must careen along highways and drift around arcing bends, deploying an arsenal of clever technological traps like spike strips, EMPs and even helicopters. Cooldown times are well weighted and the Burnout-esque crashes - while not quite as destructive as they should be - look gorgeous in 4K on the modern consoles. It's well worth a go; this is old school racing game fun.
8. Forza Horizon 4
Platforms: Xbox One, PC, Xbox Series X
Forza's off-road cousin is lining up for a fifth outing on Xbox, but the previous two installments in the series are both spectacular offerings. Both have been enhanced for Xbox Series S/X and both offer wonderful outdoor playgrounds to hurtle around in. But while we still love Australia's scenery in the third installment, Forza Horizon 4 has superior track design and a wonderful 'seasons' feature, changing the environment spectacularly over the game's virtual years. While not packed with quite as much personality as Burnout Paradise, you can still lose yourself for hours in these free-roaming worlds. Utterly beautiful and with an astonishing level of quality despite its size, you can't go wrong with this one.
7. Sega Ages Virtua Racing
Platforms: Switch
The breakthrough flat-shaded 3D racing game from 1992 has been remastered for Nintendo Switch using the original arcade game's source code. So everything looks and feels exactly as it should, only it's now running at 60fps instead of the arcade version's 30fps - and at 1080p in docked mode too, making for one of those rare conversions that's truly better than arcade-perfect. Gameplay-wise, it's beautifully simple: race a single-seater F1-styled polygon car around three blocky tracks, trying to win and not run out of time. It's pure arcade heaven and plays brilliantly. Don't miss it.
6. Burnout Paradise Remastered
Platforms: Switch, PS4, PS5, Xbox One, Xbox Series X, PC
If you haven't ever played Burnout Paradise, you need to fix that right now. With DJ Atomica talking you through the incredible open-world playground of Paradise City and its former DLC add-on Big Surf Island, this game absolutely nails the atmosphere it's going for. Huge jumps, seamlessly-integrated online gameplay, and still some of the best crashes in the business make this a masterclass in open-world racing game design. Quite why its template has been copied but never bettered is a complete mystery since it's 14 years old at this point, but it's still doing the business, even holding up surprisingly well on Switch.
5. F1 2020
Platforms: PS4, PS5, Xbox One, Xbox Series X, PC
The new F1 title is almost out already but, at the time of writing, there's no better licensed representation of a real-world motorsport than F1 2020. The career mode has everything from rivalry systems and team contracts through to R&D trees and component wear management. The way the game encourages you to participate in all the sessions over a race weekend in order to earn R&D points to spend on making your car better is inspired. The F1 series has been getting better and better for three games now, so in this instance we're not even sad it's so similar to its immediate predecessors. They all rock.
4. Mario Kart 8 Deluxe
Platforms: Switch
If you want fun over realism, then you simply have to buy a Nintendo Switch and a copy of Mario Kart 8 Deluxe. The Wii U version of the game had the makings of a classic, but felt slow and had poor multiplayer modes. That's all fixed for the Switch remaster, and it runs at 1080p and 60fps in single-player too. With beautiful Nintendo iconography everywhere, beautifully animated characters, and a balanced weapon system that does well to make sure everyone's involved in multiplayer, this is one of those rare games that can be enjoyed by young and old at the same time. 4-player mode split-screen is a blast, too, if you have enough Joy Cons.
3. Gran Turismo Sport
Platforms: PS4, PS5
If PlayStation is your machine of choice, you need this in your collection. Polyphony Digital's online opus has been updated many times since its launch and now offers a superb single-player experience to go alongside its trailblazing online mode. The online element is still the star of the show, however, with FIA-recognised championships and the best penalty system in racing, slowing down transgressors and ghosting them out before allowing them to rejoin the race. Great-looking and just as beautiful beneath the surface, Gran Turismo's still got it after all these years.
2. Forza Motorsport 7
Platforms: Xbox One, Xbox Series X
Simply put, Xbox's Forza Motorsport 7 is the best sim-racer on the market – it has everything a circuit racing fan could wish for. Accessible yet deep and so very, very detailed in its depiction of classic and modern automobiles, the game is made even better with the power of the newer Xbox models. Fixing the few problems of its predecessor, this time even the racing is as good as the car-gazing. Call it 'simcade' all you want - this is exactly how console racing games should be done and reason alone to buy an Xbox.
1. Forza Horizon 5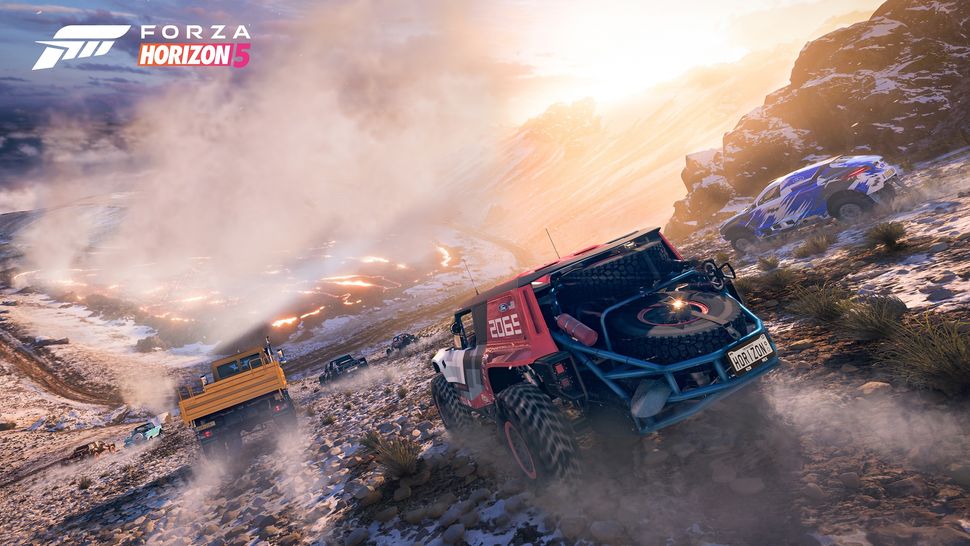 Platforms: PC, Xbox One, Xbox Series X
Forza Horizon 5 is a true delight. Releasing in November 2021 for Xbox Series X, Xbox One, and PC, Forza Horizon 5 saw Playground Games whisk us away to a fictionalised representation of Mexico for the ultimate arcade racing experience. With its bold, ever-evolving open world, finely-tuned racing mechanics, absurd selection of vehicles, and truly breathtaking vistas, Forza Horizon 5 demonstrates what can occur when new technologies collides with careful iteration. If you're into something more realistic, Forza Motorsport 7 or GT Sport is there waiting for you, but if you just want to jump into the fastest car you can find and have a wonderful time whipping it through a diverse array of locations at speed while surrounded by scores of other players, then you won't find a better racing game than Forza Horizon 5.
---
So there they are - the best modern racing games money can buy. And if you take your racing very seriously and own a PS4 or an Xbox One, then why not take a look at our racing wheel guides for PS4 steering wheels, Xbox steering wheels, or PC steering wheels. Racing's so much more fun with a wheel and pedals.