It's a very exciting time to be a PS4 gamer, as there are a tonne of brilliant upcoming PS4 games on the horizon. Plus, we're nearing the end of the console generation, so you've got PS5 to think about too - or whatever Sony eventually calls it. Thanks to backwards compatibility being totally a thing for next gen, it also means that there's even more reason to be excited about what the upcoming PS4 games are for this end of generation season.
A note on this list: it's all done in release date order, and we've picked out the biggest games we know about that are 100% confirmed to appear. These upcoming PS4 games aren't necessarily exclusives either, so some will appear on other consoles, and most will be Pro enhanced, so you should consider picking up a PS4 Pro deal ASAP. And for those that have a virtual reality element to them, be sure to check out the best PlayStation VR bundles here.
Here's all the upcoming PS4 games to get excited about for 2019 (and beyond).
Wolfenstein: Youngblood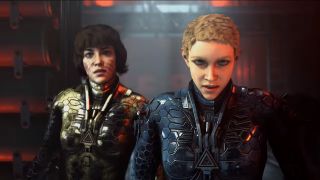 Release date: July 26, 2019
Genre: Action adventure
What is it? A new first-person co-op shooter in the Wolfenstein series where you play as twin sisters who take on Nazi-controlled Paris.
Why it's so interesting? Wolfenstein developers MachineGames teamed up with Dishonored's Arkane Studios to bring us a new action-packed adventure with some serious 80's flare. The entire game is designed to be played as a co-op adventure where you and friend play as twins Jess and Soph, the daughters of BJ Blazkowicz who has gone missing. You can also play solo with an AI sister, too. Set in Nazi-occupied Paris in Wolfenstein's alternative take on the 1980's, Youngblood is a shaping up to be a stylish, entertaining FPS with two badass protagonists who promise to bring heaps of personality to the Nazi fighting experience.
Read more: Wolfenstein: Youngblood went all-in on co-op, and it feels like it paid off.
Control
Release date: August 27, 2019
Genre: Action adventure
What is it? A mind-bending, reality-bothering shooter from Remedy, the people who made Max Payne.
Why it's so interesting: The very concept is a bizarre one. You play as Jesse Faden, the Director of the Federal Bureau of Control, responsible for everything mysterious and supernatural in the US. Your HQ is called The Oldest House, and it's a weird trans-dimensional space, shifting and changing impossibly, like an Escher painting. You'll be able to combine gunplay with psychic powers in game, and your weapon will change states to serve different purposes (so, loosely, expect it to organically morph from a pistol to a shotgun, for example). It all sounds very reminiscent of the likes of Second Sight from the PS2 era, and we're very ok with that. Expect Control some time in 2019.
Read more: Remedy's Control offers a supernatural take on 1984
Borderlands 3
Release date: September 23, 2019
Genre: Action / adventure
What is it? The long-awaited threequel to the Borderlands series; full of guns, puns, and its trademark silliness.
Why it's so interesting: Not only have fans been waiting a long time for Borderlands 3, from the looks of the trailer so far, it's nailed the tone of the series so far, and channels just the right amount of cocky swagger to bring joy to all fans. Fan-favourite characters like Lilith, Sir Hammerlock and Ellie are returning, but there are new things to come too. Over a billion guns, including some with legs, brand new transport like a motorbike that's basically a wheel you sit in, new locations and more. It's going to be an exciting time.
Ghost Recon Breakpoint
Release date: October 4, 2019
Genre: Tactical shooter

What is it? A new Ghost Recon military shooter that pits ghosts against former ghosts.
Why is it so interesting? For starters, Ghost Recon Breakpoint will see you go up against Jon Bernthal, who's reprising his role as Colonel Cole D. Walker from the Operation Oracle DLC that recently came to Ghost Recon Wildlands. Walker has the same training as a ghost, so his band of Wolves are going to be some tough opposition. This entry also puts more of a focus on survival, so you'll have to keep an eye on your injuries and use the environment to get through some hairy situations. Set on an island called Auroa that's home to the mysterious Skell technology facility, you'll also have to contend with drones and all manner of advanced tech.
Read more: Ghost Recon Breakpoint adds technology, survival, and Jon Bernthal to the party.
The Outer Worlds
Release date: October 25, 2019
Genre: RPG
What is it? A new sci-fi RPG from Obsidian Entertainment.
Why is it interesting? Knowing The Outer Worlds is coming from Obsidian is very promising in and of itself. The studio brought us the stellar Fallout: New Vegas, and are known for offering lots of player choice and its own brand of humour. Set in a colony in the furthest reaches of space, you get to control a customisable character who awakens from cyrosleep to find themselves caught up in a conspiracy that threatens the whole colony. With companions, dialogue choices, first-person combat, and a setting filled with colourful creatures and zany sci-fi weapons, The Outer Worlds looks set to be the next big time-stealer.

Read more: The Outer Worlds E3 2019 preview: The best RPG Bethesda never made.
Death Stranding
Release date: November 8, 2019
Genre: Your guess is as good as ours
What is it? Kojima and Norman Reedus team up for an interesting and mysterious collaboration in Death Stranding, involving babies and beached whales.
Why it's so interesting: Sure we don't have any actual gameplay yet but we do have plenty of 'in engine' footage of exactly what happens when Hideo Kojima gets to play in a mo-cap studio with Norman Reedus and Mads Mikkelsen. Death Stranding is, incredibly, still largely a mystery - remember when Kojjima was talking about sticks? - but thanks to last year's Game Awards we know there are babies, invisible creatures, sentient AI, and that Reedus plays a man called Sam. Best to check out our trailer breakdown to get the full lowdown on exactly what Kojima is cooking up for this PS4 exclusive.
Read more: Yes, this new Death Stranding trailer is even more confusing than the others but lets break it down
Star Wars Jedi: Fallen Order
Release date: November 15, 2019
Genre: Action / adventure
What is it? A brand new third-person Star Wars game made by Respawn Entertainment, the developer that brought you Apex Legends and the Titanfall series.
Why is it interesting? If you've been waiting for a new Star Wars game, this may be the one. Star Wars Jedi: Fallen Order is the game that's going to let you embrace the role of a Jedi, and all the glorious lightsaber, Force action that'll entail. Set just after the purge of Order 66 after the events of Star Wars Episode 3: Revenge of the Sith, you're on a quest to rebuild the Jedi Order playing as Jedi Padawan, Cal Kestis, who's lost, alone and on the run. There will be iconic locations to explore, along with weapons, gear and enemies aplenty. Plus, brand new and totally canon locales, characters, villains and more are inbound. Prepare to be excited.
Read more: Star Wars Jedi: Fallen Order story explained: How Respawn is exploring "dark times."
Shenmue 3
Release date: November 19, 2019
Genre: Adventure
What is it? Part crowd-funded, part Sony financed follow up to the expensive Dreamcast games that basically bankrupted the console.
Why it's so interesting: That Shenmue 3 isn't just vapourware is perhaps the most intriguing thing about it. There's clearly still a lot of love for Ryo and his insatiable hunger for seamen, as the game was crowd-funded hours after being re-revealed at E3 2015. During the PC Gaming show at E3 2019, a new gameplay trailer was revealed, showing off our hero taking on some drunken thugs with a lot of his trademark punches and kicks. The trailer also revealed the news that the release date has been pushed back from its initial date in August to November 19. After so many years since it was first revealed, it's good to know it's still making its way to us this year.
Read more: Shenmue 3: A couple video clips, a couple million bucks, and everything you need to know
Doom Eternal
Release date: November 22, 2019
Genre: Action
What is it? A direct sequel to 2016's Doom with more weapons, moves, and metal music.
Why is it so interesting? Just when you thought 2016's Doom gave you your fill of demon slaying action with reactive metal music, id Software drops the news that we're getting Doom Eternal. As a direct sequel, Doom Eternal promises to bigger and better, with combat that's really taking a step up with the addition of new weapons and a grappling hook. The story is much grander in scale too, with Doomguy jumping across dimensions to locations like Mars and Heaven in a bid to try and save Earth from being completely destroyed. And as if that wasn't enough already, it also features a new multiplayer mode that'll let you control demons and take on a fully kitted out Doom slayer. Oh, and there's a shiny collectors edition with a life-size wearable Preator helmet. Hell yeah.
Read more: I played Doom Eternal, and now all I want to do is play more Doom Eternal.
Skull and Bones
Release date: TBC 2019
Genre: Pirate ship sim
What is it? The naval combat sections of Assassin's Creed Black Flag, minus the stabby hooded free-running.
Why it's so interesting? Because it's the naval combat sections of Assassin's Creed Black Flag, minus the stabby hooded free-running. If your favourite part of Edward Kenway's floating adventures were peppering ships with mortars and watching masts crumble into matchsticks, welcome to Skull and Bones. Ubisoft knows how much you like big boats and has acted accordingly, throwing multiplayer into the mix and letting you take on your friends who all have lootable ships. Take them down in a hail of canon fire and you can steal their gold and unlock bigger targets. This is one worth walking the plank for.
Read more: Skull and Bones' naval multiplayer slugfest is great if you like big boats and you cannot lie
Turn to page two to see what other upcoming PS4 games are in store for 2020 and beyond...