The upcoming PS5 games list has grown in strength of release date and number of titles after the February 2021 PlayStation State of Play. While the big PS5 exclusives are still quite elusive, we've had new reveals and release date confirmation for a whole slew of upcoming PS5 games. Combine this little lot with all the PS5 launch games and some free PS5 upgrades for PS4 titles too, it's definitely a good feeling being a PS5 owner right now. 
Whatever your hopes for upcoming PS5 games, you're sure to find something on this list to get hyped about, with stunning sequels, innovative survival horror, and inspiring indie games on the way. We've made sure to bring you the latest updates on all of them, so you can make sure your PS5 wishlist is fully up to date and that you know when to plan some strategic vacation time during 2021. So here they are, all the upcoming PS5 games: 
Yakuza 7: Like a Dragon
Developer: Ryu Ga Gotoku Studio
Publisher: Sega
Release date: March 2, 2021

Already released in Japan, Yakuza 7: Like a Dragon is set to get a next-gen upgrade for PS5 in March. If you haven't played it, prepare for big changes from previous Yakuza games, replacing the trademark beat-em-up gameplay with turn-based RPG-style combat and a 4-person team fighting alongside you. Naturally, there will be some Yakuza loyalists apprehensive to embrace the big change, but the game has been positively received in Japan. The review team at Famitsu awarded Yakuza: Like a Dragon with a score of 38/40, which is roughly in-line with the best-received games in the series.
Outriders
Developer: People Can Fly
Publisher: Square Enix
Release date: April 1, 2021
What happens if you blend Doom and Mass Effect? Well, it seems to be Outriders, a brand new IP from People Can Fly (Gears Judgment / Bulletstorm), and published by Square Enix. It features dark, sinister alien forces against a humanity that's desperate to survive. But there's a twist. Humanity is trying to inhabit a new planet called Enoch after Earth is rendered unusual, but a strange energy storm they're calling The Anomaly has gifted them all with powerful abilities.
Oddworld: Soulstorm
Developer: Housemarque
Status: In development
Release date: April 6, 2021
Oddworld: Soulstorm, the latest adventure for our favorite Mudokon, Abe, is coming to PS5 (and PS4) as a free PS Plus game this April. Like the other games in the series, Abe is our accidental hero who needs to lead his fellow Mudokons to safety after he discovers a plan to eat them all. It's a 2.9D platformer, with puzzles to solve by commanding your troops. Plus this time, Abe can salvage, and craft a whole new arsenal to use and share. Of course, you can still take the pacifist route too if that's your jam. 
Returnal
Developer: Housemarque
Status: In development
Release date: April 30, 2021
Set on a hostile planet where you appear to be caught in a constant cycle, Returnal is said to transform "roguelike gameplay into a third-person shooter". With every death, the planet will change, so it looks like you'll have to keep adapting to your surroundings. In the recent trailer which debuted during the Future of Gaming showcase, we see a lone astronaut on an alien world. It has a very intense kind of mood to it, with some fast-paced combat and plenty of intrigue. The individual is clearly trying to keep their grip on reality and it certainly leaves us wanting to know more. 
Resident Evil 8: Village
Developer: Capcom
Publisher: Capcom
Status: In development
Release date: May 7, 2021
Resident Evil 8 Village is officially on the way and it's set to come to the PS5 in 2021. The next entry in the Resident Evil franchise takes place a few years after Resident Evil 7, featuring Ethan and Mia. Only, another familiar is also back, and he appears to be causing a spot of trouble for Ethan. Chris Redfield enters the scene and is said to set off a chain of events that leads Ethan to a mysterious village desperate for answers. Oh, and it also appears to feature werewolves. 
Deathloop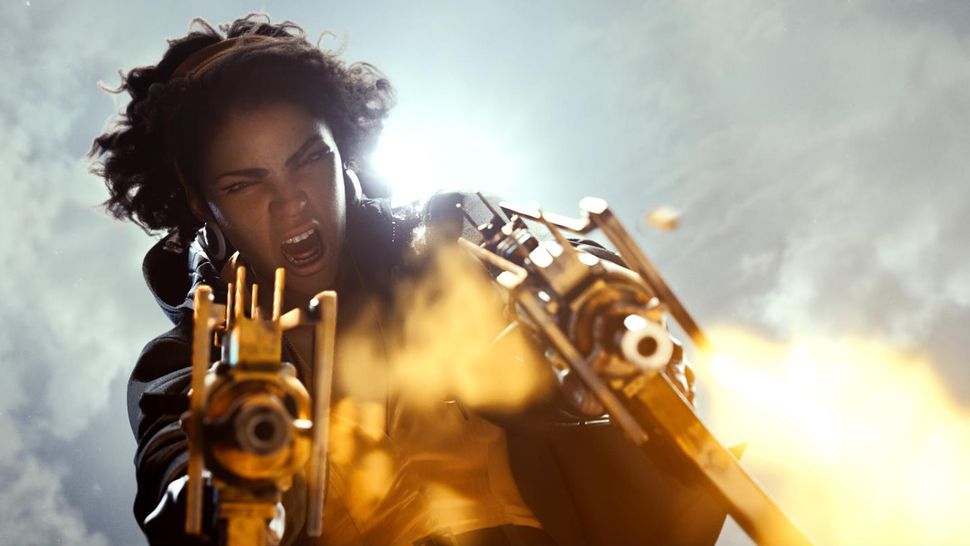 Developer: Arkane Lyon
Publisher: Bethesda
Release date: May 21, 2021
We got our first proper look at Deathloop gameplay during Sony's Future of Gaming show, and it looks like it's shaping up to deliver some assassinating action with Ground Hog Day vibes. From the developer behind the Dishonored series, Deathloop sees two rival assassins locked in a time loop, with eight targets to eliminate. Colt, one of the assassins, is hellbent on taking out the targets, while Juliana appears to want to protect them from harm. We get to see some first-person combat with plenty of supernatural-looking elements and it's left us keen to learn more. It's currently set to be a timed exclusive on the PS5 and will also be coming to PC. 
Knockout City
Developer: Velan Studios
Publisher: EA
Release date: May 21, 2021
Dodgebrawl anyone? Yeah, we hadn't heard of it either, but we're so in. Knockout City is a brand new multiple experience that takes the concept of dodgeball, let's you team up with friends, and take down rival Crews in battle. At its heart is the basic catching and throwing, but timing and trick shots really heighten the tactical nature of it. If you're not the one holding the ball, don't fret either as you can just become one instead. Yes, really. Add into that plenty of ways to modify your character's style and you've got the idea of what Knockout City will be. 
Final Fantasy 7 Remake Intergrade
Developer / Publisher: Square Enix
Release date: June 10, 2021
Final Fantasy 7 Remake Intergrade is the PS5 port of the JRPG released last year. This  upcoming PS5 game will take advantage of the new console's improved specs and power to deliver enhanced visuals and performance. You'll also be able to experience a brand new episode featuring ninja Yuffie Kisaragi, who's mission is to infiltrate the Sinra Corporation. If you own Final Fantasy 7 Remake on PS4, you'll get the upgraded PS5 version for free, but you'll still need to pay for the new episode. If you got Final Fantasy 7 Remake via PS Plus in March, you will also need to pay for the PS5 upgrade too. 
Ratchet & Clank: Rift Apart
Developer: Insomniac Games
Publisher: Sony
Release date: June 11, 2021
Ever since the reboot of the first Ratchet & Clank game that launched on PS4 (and had an accompanying movie!) in 2016, fans have been clamouring for a brand new game in the franchise. And boy, have their dreams been answered. Ratchet & Clank: Rift Apart is an all-new adventure following the dynamic duo through what seems to be multiple dimensions, with new tools in their arsenal. There's also a female Lombax who appears, although we don't know her name yet. Could we see another protagonist option, Assassin's Creed Syndicate-style?
Back 4 Blood
Developer: Turtle Rock Studios
Publisher: Warner Bros.
Release date: June 22, 2021
Back 4 Blood is Left 4 Dead 3 in all but name, and we're 100% here for it. Having spent some time with the alpha, we can assure Left 4 Dead fans that the same frantic team-focused gameplay, distinctive style, and loud personality are back in Back 4 Blood. Everything we've seen from Turtle Rock on Back 4 Blood is pure, nostalgia-inducing glee in the form of an upcoming next-gen co-op zombie bashing romp, and we absolutely can't wait to team up on PS5.
Little Devil Inside
Developer: Neostream Interactive
Status: In development
Release date: July 2021
Little Devil Inside first began life on Kickstarter back in 2015. Fast forward five years later and we see a debut trailer during the PS5 reveal stream with the news that it will be a timed exclusive. As an RPG with survival elements, Little Devil inside is set in the "Victorian-like" era in a semi-open world. The trailer showed off a whole host of monsters and also gave us brief glimpses of some of the combat elements and features. It was easily one of the biggest surprises of the recent showcase. 
Kena: Bridge of Spirits
Developer: Ember Lab
Publisher: Ember Lab
Release date: August 21, 2021
Ember Lab studio founders and brothers Josh and Mike Grier introduced their upcoming game Kena: Bridge of Spirits coming to PS5 during Sony's showcase, and it looks absolutely magical. With its beautiful world complete with adorable little fuzzy creatures known as Rot who act as your spirit companions that can manipulate the environment, Kena: Bridge of Spirits instantly piqued our interest. While we don't know too much about the game just yet, it's described as a "story-driven action-adventure in a charming world rich with exploration and fast-paced combat." 
Stray
Developer: BlueTwelve Studio
Publisher: Annapurna Interactive
Status: In development
Release date: October 2021
In this new adventure coming to the PS5 from BlueTwelve Studio, you play as a cat in a world filled with robots. As a cat exploring this strange world, you'll gain a unique perspective from the eyes of a feline who can sneak under cars, traverse over rooftops and go about unnoticed. Viv, the game and creative director at the studio, said, "we are inspired every day by Murtaugh and Riggs, our two cats. Most of the team are cat owners as well, giving us all a lot of helpful first-hand references. Cats are always so playful, cute, and lovingly annoying that it's an endless stream of gameplay ideas for us."
Ghostwire: Tokyo
Developer: Tango Gameworks
Publisher: Bethesda
Status: In development
Release date: October 2021
Ghostwire: Tokyo has officially been confirmed to be coming to the PS5 in 2021, and we also saw some gameplay footage showing off the first-person combat. Set in Tokyo, Japan, Tango Gameworks takes you to the city which has been overrun by paranormal threats. Strange occult events have caused devastation, and the vast majority of the city's population has mysteriously disappeared.  After you gain supernatural abilities of your own, it's up to you to explore and fend off evil spirits. Said to take full advantage of the PS5's hardware, Ghostwire Tokyo is set to deliver an immersive, supernatural experience.