PlayStation 4 is home to, arguably, the most well-rounded games library of any console. It's the first port of call for powerhouse AAA games, but also intriguing indie titles and now, with release of PlayStation VR, entirely new virtual reality experiences. Sony's console has really hit its stride and there's plenty more upcoming PS4 games to be excited about in 2017.

In the last few days, Sony's annual PSX 2016 event has given us even more new titles to get pumped for in 2017. Naturally the big-bucks projects – The Last of Us 2, Horizon: Zero Dawn, God of War – are all represented, but there are many that may have flown under your radar but are just as noteworthy. Yooka-Laylee, Farpoint, Psychonauts 2. Our upcoming PS4 games are listed in chronological order, starting with releases due over the next few days or weeks, and moving further into 2016 and beyond as we go.
Gravity Rush 2
Release date: January 18, 2017
Genre: Action-adventure

What is it? Follow up to up the brilliant Vita anime actioner, where you have the power to control gravity.

Why it's so interesting? Weightlessly jumping to the world of Hekseville, and starring a walking anime cliche called Kat, this game is all about messing with gravity to bust enemies and solve puzzles. You can walk on walls, switch gravity mid-jump, and stroll along ceilings. As is law, it's open-world, and there are light RPG elements too, but its gorgeous anime style will have you purring like Dusty, Kat's black sorta-cat.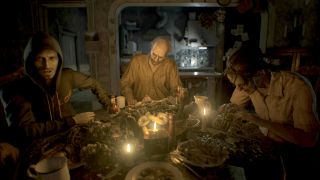 Resident Evil 7: Biohazard
Release date: January 24
Genre: Horror

What is it? Meet the Baker family, a clan who are intent on chasing you through their rather grubby home in the revitalised series.

Why it's so interesting? RE7 is moving from the action and going full wet-your-pants horror, changing the third person perspective and gung-ho protagonists for a frightening experience. Beginning Hour has already shown it'll utilise scare tactics from games like P.T., giving players a chance to explore creepy environments, uncover clues that allow them to progress through the story, and try to escape gruesome deaths at the hands of the Baker family. If you're feeling really brave, it's fully playable in VR as well.
Yakuza 0
Release date: January 24, 2017
Genre: RPG
What is it? An open-world action game set in 1988 Tokyo that serves as a prequel to the long-running Yakuza series.
Why it's so interesting? There's no better time for newcomers to hop into the ever-expanding cult classic Yakuza series than Yakuza 0. It's the first game in the series to make it to PS4 (in the West, anyway), so there's no need to break out your ancient hardware. It's also set in the late 1980s, acting as an introductory prequel to series protagonists Kazuma Kiryu and Goro Majima and their first few adventures in the Japanese criminal underworld. Yakuza 0 acts as sort of a cross between Shenmue and River City Ransom, combining hyper-realistic recreations of Japanese cities, stores, and general daily life, along with some of the most over-the-top fist-fights and mini-games you'll ever play. Run a nightclub, play a faithful recreation of OutRun at the arcade, and beat the everloving tar out those who deserve it - just another day in the life of a yakuza.
For Honor
Release date: February 14
Genre: Fighter

What is it? Ultimate Warrior-esque brawler, where Samurai, Vikings and Knights clash in perpetual war.

Why it's so interesting? A radical departure for Ubi, For Honor sees warriors facing off in one-on-one battles and a real emphasis on single combat as opposed to just mowing through hordes of faceless foes. That's why multiplayer is a big deal here - teams split into two groups of four and hack at each other until the opposition is crushed. There are AI opponents running around too, but it's very much focused on player vs player scrapping, putting it closer to a beat 'em up than a traditional hack 'n' slash.
LEGO Worlds
Release date: February 24, 2017
Genre: Building
What is it? The digital version of what LEGO does best: let people build stuff.
Why it's so interesting? Minecraft has often been described as "digital LEGO," but now you can go right to the source for your block-building needs. The appeal is pretty obvious: monkey around in a procedurally-generated landscapes all made out of LEGO. Make a mountain range, make a house. Fly a helicopter, fill your yard with mushrooms. Drop in prefab constructions or let your imagination take shape block by block. Might I recommend a double-decker couch?
Horizon: Zero Dawn
Release date: February 28, 2017
Genre: Action-adventure

What is it? In the far-flung future of Horizon: Zero Dawn, Robots roam the earth like dinosaurs and humans, like Aloy, try to live alongside of them.
Why it's so interesting? There's plenty of positives from Guerilla's first new IP since Killzone, but we're finding its unique open-world to be the most genuinely fascinating. You play as a nomadic hunter named Aloy in a far-future version of earth, filled with lush wilderness, primitive humans and, er, robot animals. Aloy and her tribe are forced to live off resources provided by strange, robotic creatures that she hunts. All the footage we've so far - including Aloy battling a giant robot T-Rex with a high tech bow that has a variety of explosive and robot-stunning arrows - looks great.
Ghost Recon: Wildlands
Release date: March 7
Genre: Action-adventure

What is it? The Ghost Recon team is looking to take out a dangerous cartel in the heart of Bolivia.

Why it's so interesting? The freedom to decide what missions to take, and how to accomplish your objectives in Ghost Recon: Wildlands' massive open world. Have a sniper team take out guards while another group infiltrates an enemy base, run in guns blazing, or hijack helicopters for an aerial assault. It's all up to you. You're fighting a war against an oppressive cartel, and in order to take it down, you'll have to interrupt its operations, rescue hostages, and take over its strongholds. Anything goes, and it looks like this'll be a blast in every sense.
Mass Effect: Andromeda
Release date: March 2017
Genre: RPG

What is it? A triumphant return to Bioware's brilliant series, just without a Shepherd to guide you through this new galaxy...

Why it's so interesting? Mass Effect: Andromeda seems to be more about exploration - you will be in the Andromeda galaxy after all - than the frantic action of Mass Effect 3. Don't fret, though: there'll still be plenty to get your pulse racing. Recent footage at the PS4 Pro event showed the male hero - you'll choose between a brother and sister whose surname is Ryder - having to outrun mysterious metallic robots with his team that includes an Asari. Info is being drip-fed, but everything we've seen points to another sci-fi classic.
South Park: The Fractured But Whole
Release date: Q1 2017
Genre: RPG

What is it? Four boys civilly discuss their problems. Just kidding, it's still South Park, except this time comic books are the target of its mockery.
Why it's so interesting? Another sharply hilarious takedown of whatever is getting on Trey Parker and Matt Stone's nerves. Mixing up the combat from the first game - you'll be able to move across a grid now - and taking on superheroes instead of wizards should give the jokes plenty of extra edge. South Park has only been getting better with age, and we're hoping The Fractured But Whole keeps the trend going.
Yooka-Laylee
Release date: March 2017
Genre: Platformer

What is it? A Rare return, as Kickstarter icons aim to become the modern Banjo-Kazooie.

Why it's so interesting? Platformers have been thin on the ground over the last decade (unless you're a certain red plumber who's name rhymes with 'Barry-o'), but Yooka-Laylee is looking to change that by introducing the world to a anthropomorphic chameleon and bat combo. If you've ever played Banjo-Kazooie you might be doing that eye-squint thing where something looks familiar but you're not sure why. Well that's because it is familiar as Playtonic Games, the team who are making it, is home to a lot of ex Rare staff who made Banjo so famous. They're sticking to the formula, so get ready for big open levels and an ocean of collectibles.