PS4 has established itself as the number-one-selling current-gen console – but with Xbox One unleashing an impressive arsenal of exclusives over the next 12 months, it's imperative that Sony's machine continues to deliver must-buy games in addition to making technological advances such as PlayStation VR.

To that end, GR+ has put together this list of upcoming PS4 games for 2016 and beyond. Naturally the big-bucks projects – The Last Guardian, Horizon: Zero Dawn, God of War – are all represented, but there are many which may have flown under your radar but are just as noteworthy. Yooka-Laylee, Farpoint, Psychonauts 2: even if you don't 'do' triple-As, you'll find at least one gem worthy of your watch list. Games are listed in chronological order, starting with releases over the next few days or weeks, and moving further into 2016 and beyond as we go.
Batman: Arkham VR
Release date: October 13
Genre: PlayStation VR

What is it? A chance to literally be Batman, solving crimes and checking yourself out in his skin-tight costume.
Why it's so interesting? You'll never get closer to feeling like Batman unless you dress up in hockey pads and go around attempting to fight crime. The utter delight of putting on the cowl in VR might seem like nothing but pure fan service, but Rocksteady's Batman: Arkham VR is anything but, as you solve crimes and get an array of gadgets to play with during The Dark Knight's investigations. Did you need an excuse to return the greatest Batman series on PlayStation?
Skylanders: Imaginators
Release date: October 13
Genre: Platformer

What is it? This year's version of the toy-to-life phenomenon comes with a surprise guest Crashing the party.

Why it's so interesting? The return of Crash Bandicoot is a huge deal and, while you'll be waiting a little while longer for his remaster, his new adventure in Skylanders is a chance to reacquaint yourself with PlayStation's beloved mascot. He'll be joined by Dr. Cortex and there'll be a level inspired by the original games called the Tumpin' Wumpa Islands. Plus, the hook for Skylanders this year - you'll be making your very own Skylander in-game, and saving it to a Crystal in the real world - is pretty neat.
Until Dawn: Rush of Blood
Release date: October 13
Genre: PlayStation VR

What is it? An on-rails VR spin-off where you blast away at things that go bump in the night.

Why it's so interesting? The GR+ team were big fans of Until Dawn, so it's a shock to see that the follow-up is a VR light-gun game. However, this follow-up shows promise, when you consider the new horrors it wants you to experience, including creepy zombie nurses and the role returning characters - like the Psycho - will play. This could end up being just as surprising as its predecessor.
Thumper
Release date: October 13
Genre: Rhythm-action

What is it? Rhythm action meets horror as you control a space beetle through a trap filled track.

Why it's so interesting? Touted as a 'rhythm violence game', Thumper sees you play as a space beetle taking on a giant head from the future. There's no defending how ridiculous that sounds, but plot isn't too important when you're hurtling through a kaleidoscopic space-scape, attacking enemies and moving in time with a noise-rock soundtrack by one of the members of Lightning Bolt. So imagine cult-classic Rez but with more chrome insects.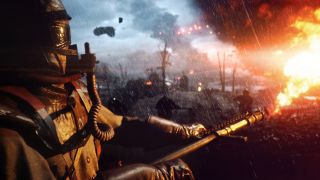 Battlefield 1
Release date: October 21
Genre: Shooter

What is it? DICE's sublime FPS series packs its gas mask and bayonet before marching off towards the muddy fields of WW1.

Why it's so interesting? Promising a chaotic and frantic fight inside the World War 1 era, get ready to feel almost distressingly close to this part of history in Battlefield 1. Developer DICE has shown off sabers, flame throwers, horses, plus huge vehicles like zeppelins in addition to the usual cadre of guns and jeeps. While it plays very much like Battlefield, it looks like it'll be bringing a refreshing variety to the slightly stagnating military shooter genre.
Titanfall 2
Release date: October 28
Genre: FPS

What is it? Respawn's free running and mech brawling sequel that

Why it's so interesting? A considered and fully developed single-player campaign. Where the original had an underwhelming story mode, the sequel is introducing the series' first full-blown plot detailing the relationship between pilot Jack Cooper and his Titan, BT-7274. If Respawn can find a way to keep players in the pilot's seat in its well-established multiplayer, then Titanfall 2 will be more than worth dropping in on.
World of Final Fantasy
Release date: October 25 (US), October 28 (UK)
Genre: RPG

What is it? The most adorable Final Fantasy game you'll ever see, covering the entire expanded universe in a new adventure.

Why it's so interesting? Like Final Fantasy but can't pick a favourite? Then this series spin-off might just be what you're looking for. Taking on the roles of two siblings as they explore the world of Grimoire, you'll meet bobble-headed heroes and monsters along the way. These lovely creatures can stack into adorable, chocobo-flavoured totem poles, which lets you pool your skills together. I just want to give them all a giant hug.
Call of Duty: Infinite Warfare
Release date: November 4
Genre: FPS

What is it? COD's first proper foray into space, bringing space dogfights and zero-g combat to the more typical action.

Why it's so interesting? While its multiplayer will almost certainly eat into the next year of your life, for once, Infinite Warfare's single player campaign looks to be its equal. Taking the fight into space, there's plenty of innovations to the usual COD formula, from the giant spaceship that serves as your hub to the weightless space shootouts and grapple hooks that form part of the new combat systems, all while hopefully maintaining COD's fast and snappy shooting. Oh, and PS4 players get a free VR mission, as a lovely little bonus.
Dishonored 2
Release date: November 11
Genre: Stealth/action-adventure

What is it? Set 15 years after the original, Corvo has taken Emily under his wing, with the pair assassinating targets in new city Karnaca.

Why it's so interesting? The deadly duo who you'll decide to play. Dishonored 2 gives you a choice of taking control of returning Empress Emily and original protagonist Corvo. Plump for the original master assassin and you'll get his blink and mind control abilities, so you can make enemies walk off balconies or get up-close and personal real quick. However it seems Emily doesn't share the same powers. Instead, she is able to morph into an inky, shadow-like form to slink through shadows and eviscerate enemies with her creepy tendrils. It adds another layer of exciting possibility to a game that - if it's as good as the first - will have plenty.
Watch Dogs 2
Release date: November 15
Genre: Open-world

What is it? Colourful return to Ubi's hack-em-up open world that is moving out to San Francisco.

Why it's so interesting? After the slightly dour original, Watch Dogs 2 is bringing a whole tonne of fun to the Bay Area. Your new hero is Marcus Holloway and we already love his Thunder Ball – a small ball attached to some string that he uses like a deadly yo-yo by whipping enemies with it. Thanks to a persistently online world, the possibility for mischief with your mates also looks even greater, meaning we have high hopes this is a big step forward for the series.
Final Fantasy 15
Release date: November 29
Genre: JRPG

What is it? The return of the legendary series has been ten years in the making and finally brings its bromance to PS4.

Why it's so interesting? After a decade of waiting and two different demos, the return of a main entry Final Fantasy is almost here. With plenty of gorgeous locations to explore - such as the Venice-esque Altissia - to the intriguing central dynamic between your party, Final Fantasy 15 may have large shoes to fill, but a darker storyline and remarkable realism makes us think it'll be worth the wait.
Steep
Release date: December 2
Genre: Extreme sports

What is it? Open world winter sports simulator where you can ski, snowboard and fly down the Alps.

Why it's so interesting? Steep is all about freedom. It sets you on the top of a mountain with a snowboard or skis and gives you treacherous slopes to carve your own path through. If that isn't risky enough for you, you can also strap on a paraglider or put on a wingsuit and throw yourself off a cliff. You're free to explore miles of mountain range but you won't be out in the wilderness on your own, as online players can enter your world and compete in customised challenges, or just explore the expansive snowy playground together.