The PlayStation 4 is enjoying a brilliant start to 2017, with the impactful and unsettling Resident Evil 7 successfully rebooting Capcom's faltering survival-horror series, and open-world robot-dinosaur adventure Horizon: Zero Dawn a surprise contender for, arguably, the best-exclusive PS4 game to date. Not to mention other great titles such as Yakuza 0, Sniper Elite 4 or For Honor. Now clearly in its stride, PS4 is home to some of the best games of all-time, from AAA hits, to indie gems and novel VR experiences. It's been a great year so far, and the list of upcoming PS4 games only gets better.

Here's a list of the biggest, most exciting games coming to PlayStation 4 this year… and beyond. Naturally the big-budget projects – The Last of Us 2, God of War and Uncharted: The Lost Legacy – are all represented, but there are many that may have dipped under your radar but are just as noteworthy. Persona 5, Rime and Psychonauts 2 to name a few.
Our upcoming PS4 games are listed in chronological order, starting with releases due over the next few days or weeks, and moving further into 2017 and beyond as we go.
Mass Effect: Andromeda
Release date: March 21, 2017
Genre: RPG

What is it? A triumphant return to BioWare's brilliant series, just without a Shepherd to guide you through this new galaxy...

Why it's so interesting? Mass Effect: Andromeda is available to play from March 16th for people signed up for EA Access, who get to enjoy six hours of the game before release. You play as Scott or Sara Ryder, as the Pathfinder, who needs to find humanity a new home after your ship emerges from 600 years in suspended animation. Bad news – the seven 'golden worlds' which the Andromeda Initiative's advance probes hoped would support life, have been blighted by the emergence of mysterious alien vaults. You'll need to solve this galactic puzzle, battle new villains The Kett and make sweet, sweet music with your human (or alien) team-mates – plus unlock scores of new weapons, biotics and tech upgrades – to succeed.
Persona 5
Release date: April 4, 2017
Genre: JRPG

What is it? You're an average student who takes the train to school, falls asleep in class, and hangs out with his friends at the mall. Oh, and you're also a master thief.

Why it's so interesting? As if high school wasn't complicated enough, some of the students in Persona 5 have much more to deal with than being popular, getting a date, or managing their acne. Your group of high school chums are the Phantom Thieves of Hearts. To accomplish their goals, you'll have to overcome a variety of challenges that include sneaking past guards, avoiding traps, and defending yourself in battle using your Persona (a guardian spirit). Persona 4 is rightly considered a masterpiece and its long awaited sequel should have more than enough style and depth to match it.
Yooka-Laylee
Release date: April 11, 2017
Genre: Platformer

What is it? A Rare return, as Kickstarter icons aim to become the modern Banjo-Kazooie.

Why it's so interesting? Platformers have been thin on the ground over the last decade (unless you're a certain red plumber who's name rhymes with 'Barry-o'), but Yooka-Laylee is looking to change that by introducing the world to a anthropomorphic chameleon and bat combo. If you've ever played Banjo-Kazooie you might be doing that eye-squint thing where something looks familiar but you're not sure why. Well that's because it is familiar as Playtonic Games, the team who are making it, is home to a lot of ex Rare staff who made Banjo so famous. They're sticking to the formula, so get ready for big open levels and an ocean of collectibles.
Prey
Release date: May 5, 2017
Genre: FPS

What is it? Mind-bending FPS that has you potentially experiencing a terrifying Groundhog Day (with zero Bill Murray). Publisher's Bethesda are on something of a roll, after the success of Doom, Skyrim: Special Edition and Dishonored 2.

Why it's so interesting? Prey is finally coming back and judging from the reveal trailer, the upcoming first-person alien shooter is going to be trippy. The video shows the presumed protagonist waking up in an apartment over and over again as if he is going about a repetitive (and boring) life - or maybe he's repeating the same day in a time paradox. Whatever the case, the man also is suffering from some sort of disease that's seemingly causing him to see himself talking to himself in the mirror. Yeah, it's weird. At least the gameplay showing the player shotgun blasting shadow-like creatures and smashing them with melee weapons looks pretty straightforward.
Injustice 2
Release date: May 16, 2017
Genre: Fighting game
What is it? Sequel to the brutal fighting game that pits heroes and villains from the DC Comic universe against each other.
Why it's so interesting? Powered by the same engine behind Mortal Kombat X, you can expect a really solid, very nasty fighter here. It shows the real dark side of the DCU too, and doesn't pull any punches when it comes to brutality - even when traditionally 'good' characters are in play. This time around you'll be able to collect gear, which alters your character over time, giving them new abilities. Interesting.
The Surge
Release date: May 16, 2017
Genre: Action RPG

What is it? Dark Souls set in the future. On the factory floor industrial robots have gone haywire, and your exoskeleton-wearing co-workers have lost the plot too. Fun times.

Why it's so interesting? Brutal combat isn't all The Surge has to offer: far from being a clone of the grim medieval saga Dark Souls, The Surge adds crafting to make slashing through hordes of enemies worthwhile. If you take a fancy to a bit of your enemy's armour, you can target that specific body part to chop it off. Do this over and over again to the same enemy and eventually you'll be able to craft that piece of armour. Die (which you'll be doing repeatedly) and a timer counts down how long you have to grab your dropped stuff – killing enemies along the way adds precious seconds. Chuck killable NPCs into the mix and a ton of suspicious corporate activity (which may have been the cause of the industrial glitch that's sent your co-workers insane) and you have The Surge: full of nuts, bolts, and blood.
Star Trek: Bridge Crew
Release date: May 30, 2017
Genre: simulation
What is it? A VR experience that puts you on the bridge of brand new Starfleetship, the USS Aegis.
Why it's so interesting? Commanding a ship in Starfleet is certainly a cool starting point, but what makes Bridge Crew particularly interesting is that it's a multiplayer VR game. You and three friends adopt the key roles of the bridge crew: engineering, tactical, helm, and the best of all, captain. (Look, every Star Trek fan out there has dreams about yelling "SHIELDS UP! PREPARE TO RETURN FIRE!" and if they say they don't, they're lying.) The crew needs to work cooperatively or your maiden voyage is going to be short, and the VR adds just that extra bit of authenticity as you yell back and forth to each other about scans, defensive maneuvers, and whether or not the engines can take any more, Captain.
Farpoint
Release date: June 30, 2017
Genre: PlayStation VR FPS

What is it? Sci-fi shooter where you need to blast your way through some rather icky looking bugs.

Why it's so interesting? Built to make use of the PS VR Aim Controller (a 21st century tongue twister if we ever saw one), this VR FPS abandons you on an arid, alien planet and forces you to shoot your way through the spidery monsters that populate it. If the more traditional FPS elements mix well with the immersion of VR, this could well prove what VR games are capable of.
Middle-earth: Shadow of War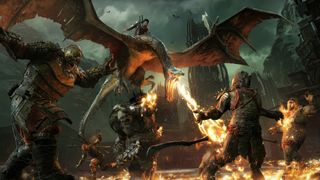 Release date: August 22, 2017
Genre: Action-Adventure

What is it? The drastically scaled-up sequel to 2014's surprise hit, this time with Dynamically engineered fortress sieges and friendly war-trolls.

Why it's so interesting? Because the first game's Nemesis system – which generates long-term rivalries with enemy Orcs based on gameplay outcomes – is now being applied to all facets of Middle-earth. Friendships and alliances will now be fuelled by the way you play, but most importantly, so will your huge great, castle-cracking army. You'll take down and take over a whole swathe of Helm's Deep-style forts across Shadow of War's map, but every battle will be defined by the systemic interactions between your units, just as your units will be defined by your history and relationships with them.
South Park: The Fractured But Whole
Release date: Q3 2017
Genre: RPG

What is it? Four boys civilly discuss their problems. Just kidding, it's still South Park, except this time comic books are the target of its mockery.
Why it's so interesting? Another sharply hilarious takedown of whatever is getting on Trey Parker and Matt Stone's nerves. Mixing up the combat from the first game - you'll be able to move across a grid now - and taking on superheroes instead of wizards should give the jokes plenty of extra edge. South Park has only been getting better with age, and we're hoping The Fractured But Whole keeps the trend going.