The PlayStation 4 is enjoying a brilliant start to 2017. Sony's console already has stand out games like horror reboot Resident Evil 7, open-world robot-dinosaur adventure Horizon: Zero Dawn, and now the smart space adventure Prey. Not to mention other great titles such as Yakuza 0, Sniper Elite 4, For Honor, and Mass Effect: Andromeda. Now clearly in its stride, PS4 is home to some of the best games of all-time, from AAA hits, to indie gems and novel VR experiences. It's been a great year so far, and the list of upcoming PS4 games only gets better. Here's a list of the biggest, most exciting games coming to PlayStation 4 this year… and beyond. Exclusives like – The Last of Us 2, God of War and Uncharted: The Lost Legacy – are all represented, along with big third-party titles like Star Wars: Battlefront 2 and Call of Duty WW2.
Read more: The 25 best games on PS4
Injustice 2
Release date: May 16, 2017
Genre: Fighting game
What is it? Sequel to the brutal fighting game that pits heroes and villains from the DC Comic universe against each other.
Why it's so interesting? Powered by the same engine behind Mortal Kombat X, you can expect a really solid, very nasty fighter here. It shows the real dark side of the DCU too, and doesn't pull any punches when it comes to brutality - even when traditionally 'good' characters are in play. This time around you'll be able to collect gear, which alters your character over time, giving them new abilities. Interesting.
The Surge
Release date: May 16, 2017
Genre: Action RPG

What is it? Dark Souls set in the future. On the factory floor industrial robots have gone haywire, and your exoskeleton-wearing co-workers have lost the plot too. Fun times.

Why it's so interesting? Brutal combat isn't all The Surge has to offer: far from being a clone of the grim medieval saga Dark Souls, The Surge adds crafting to make slashing through hordes of enemies worthwhile. If you take a fancy to a bit of your enemy's armour, you can target that specific body part to chop it off. Do this over and over again to the same enemy and eventually you'll be able to craft that piece of armour. Die (which you'll be doing repeatedly) and a timer counts down how long you have to grab your dropped stuff – killing enemies along the way adds precious seconds. Chuck killable NPCs into the mix and a ton of suspicious corporate activity (which may have been the cause of the industrial glitch that's sent your co-workers insane) and you have The Surge: full of nuts, bolts, and blood.
Star Trek: Bridge Crew
Release date: May 30, 2017
Genre: simulation
What is it? A VR experience that puts you on the bridge of brand new Starfleetship, the USS Aegis.
Why it's so interesting? Commanding a ship in Starfleet is certainly a cool starting point, but what makes Bridge Crew particularly interesting is that it's a multiplayer VR game. You and three friends adopt the key roles of the bridge crew: engineering, tactical, helm, and the best of all, captain. (Look, every Star Trek fan out there has dreams about yelling "SHIELDS UP! PREPARE TO RETURN FIRE!" and if they say they don't, they're lying.) The crew needs to work cooperatively or your maiden voyage is going to be short, and the VR adds just that extra bit of authenticity as you yell back and forth to each other about scans, defensive maneuvers, and whether or not the engines can take any more, Captain.
Farpoint
Release date: June 30, 2017
Genre: PlayStation VR FPS

What is it? Sci-fi shooter where you need to blast your way through some rather icky looking bugs.

Why it's so interesting? Built to make use of the PS VR Aim Controller (a 21st century tongue twister if we ever saw one), this VR FPS abandons you on an arid, alien planet and forces you to shoot your way through the spidery monsters that populate it. If the more traditional FPS elements mix well with the immersion of VR, this could well prove what VR games are capable of.
Crash Bandicoot: N Sane Trilogy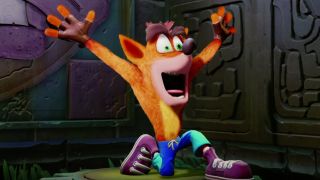 Release date: June 30, 2017
Genre: Adventure

What is it? A fully remastered version of the much-loved Crash Bandicoot, the bright orange marsupial with a penchant for apples.

Why it's so interesting? Getting Crash on the PS4 has been long overdue, and now we're going to be swarmed with his green-eyed self as includes a magnificent three games: Crash Bandicoot, Crash Bandicoot 2, and Crash Bandicoot: Warped. They've all been lovingly restored so now you can see each hair in his bushy eyebrows plus a new lease of life has been given to the dated, but still adored, levels. The gameplay is as retro as it ever was, with no new additions apart from the new look - because why change something when it's nigh-on perfect already?

Middle-earth: Shadow of War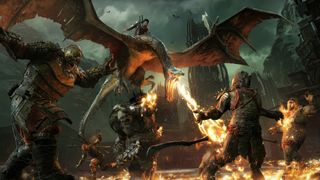 Release date: August 22, 2017
Genre: Action-Adventure

What is it? The drastically scaled-up sequel to 2014's surprise hit, this time with Dynamically engineered fortress sieges and friendly war-trolls.

Why it's so interesting? Because the first game's Nemesis system – which generates long-term rivalries with enemy Orcs based on gameplay outcomes – is now being applied to all facets of Middle-earth. Friendships and alliances will now be fuelled by the way you play, but most importantly, so will your huge great, castle-cracking army. You'll take down and take over a whole swathe of Helm's Deep-style forts across Shadow of War's map, but every battle will be defined by the systemic interactions between your units, just as your units will be defined by your history and relationships with them.
Destiny 2
Release date: September 8, 2017
Genre: Shooter
What is it? The sequel to the biggest shooter on PS4, and a continuation of Bungie's epic sci-fi space opera.
Why it's so interesting? Because it's goddam DESTINY 2! Ahem. Bungie is acutely aware of the fact that it didn't put enough overt story beats in the original Destiny, so that is being remedied for D2. Set a year after Rise of Iron, the Red Cabal have invaded and destroyed The Tower, and the Guardians are ready to fight back. Expect a more grand, sweeping plot, along with loads more MMO multiplayer at the core. We're playing it at E3 so will have loads more info very soon, to go with this excellent breakdown of Destiny 2's story.
Marvel vs Capcom: Infinite
Release date: September 19, 2017
Genre: Fighting

What is it? The latest incarnation of the fighting game, gives you the chance to pit characters from each franchise against each other and see which one comes out top.

Why it's so interesting? At last, at long last, we're getting Mega Man X in a Marvel vs Capcom game. As well as stalwarts like Ryu, the trailer revealed that we'll also be seeing Captain Marvel and Iron Man showing off their moves, and hopefully there'll be some new additions too. The Infinity Gems are going to spice up the combat, with the trailer showing that the stones add some nifty abilities. Captain Marvel's use of the Time stone means she can dodge attacks, and the Power stone makes Ryu's fists a flurry of destruction, but we'll just have to wait and see what the remaining gems do.
South Park: The Fractured But Whole
Release date: Q3 2017
Genre: RPG

What is it? Four boys civilly discuss their problems. Just kidding, it's still South Park, except this time comic books are the target of its mockery.
Why it's so interesting? Another sharply hilarious takedown of whatever is getting on Trey Parker and Matt Stone's nerves. Mixing up the combat from the first game - you'll be able to move across a grid now - and taking on superheroes instead of wizards should give the jokes plenty of extra edge. South Park has only been getting better with age, and we're hoping The Fractured But Whole keeps the trend going.
The Last of Us 2
Release date: TBA
Genre: Horror

What is it? The sequel to the phenomenal The Last of Us which sees you battle fungi-infected zombies in a post-apocalyptic world. It's from Naughty Dog, the creators of Uncharted, so the quality is nigh-on assured.

Why it's so interesting? The first game was an emotional toll to say the least, as you made your way across the land, scavenging scarce resources and counting every bullet you fired into spore-laden fungi zombies. The trailer for at PSX was brief, but it did give us a good look at an older Ellie, with cracked knuckles and a deadly glint in her eye. She's making a comeback and it sounds like she's got a serious chip in her shoulder about something, as she darkly remarks that she's going to "kill every last one of them". Who does she want to kill, and why? You'll just have to wait to find out.
Uncharted: The Lost Legacy
Release date: TBA 2017
Genre: Action adventure

What is it? A whole new Uncharted adventure with Chloe as the main character, the Australian treasure hunter who is more than a match for Nathan Drake himself.

Why it's so interesting? has given a star from Uncharted 2: Among Thieves her own DLC. This is stellar not least because it means we get more time with fearless fan-favourite Chloe, but it also promises formidable encounters in a India's towering Western Ghats mountains, all with mercenary leader Nadine Ross from Uncharted 4: A Thief's End by your side. A new hero guarantees some fresh new adventures with the Tusk of Ganesh as the ultimate prize, plus Chloe's distinctly grey morals could mean that we're in for some dubious missions.