2017 is an absurdly exciting time to own a PS4. We weren't exactly starved of games to begin with - check out our best PS4 games for proof of that - but the pre-Christmas selection is an incredible array of the best that gaming has to offer. The longer-term list of upcoming PS4 games is only getting better, with exclusives like The Last of Us 2, God of War and Spider-Man all on the way next year. Plus, don't forget the big third-party titles like Star Wars: Battlefront 2 coming very soon. Without further ado, here's a list of the biggest, most exciting games coming to PlayStation 4 this year… and beyond.
Read more:
Sonic Forces
Release date: November 7, 2017
Genre: Adventure
What is it? The latest 3D Sonic game, created specifically for the current generation of consoles.
Why it's so interesting: The main hook is that Sonic Forces lets you create your own characters and play them in game. Cue a horde of hideous 'Sanic' fan art mash-ups made real and posted all over social media. Aside from that it's the same Sonic in 3D formula that has been the hallmark of aggressively mediocre releases for over a decade now. Of more interest is Sonic Mania, the new 2D title, which takes the series' classic gameplay and refreshes it with new stages and enemies. Yes please.
Read more: The first Sonic Forces gameplay trailer looks like more 3D Sonic, for better or worse
Need for Speed: Payback
Release date: November 10, 2017
Genre: Open-world racer
What is it? The latest Need for Speed game by Ghost Games, the series having taken a year off between 2015's simply-titled Need for Speed and now.
Why it's so interesting: Because Payback is both fast and furious. Taking a distinctly cinematic route, this Need for Speed is billing itself as an 'action driving' game, pulling a lot from the collected works of Mr. Diesel and The Rock. With the series' trademark 'arcadey but demanding' driving model now transposed into a world of meaty combat driving and set-piece stunts, at one moment you might be expected to take down rival gang drivers, Burnout-style, while the next you'll be carefully positioning your vehicle next to a moving truck so that your crew can climb onboard and steal a supercar.
Read more: Need For Speed: Payback looks like the unofficial Burnout sequel we've always wanted
LA Noire
Release date: November 14, 2017
Genre: Open-world detective game
What is it? The remaster of Team Bondi and Rockstar's 2011, '40s-set detective story, with improved visuals, native 1080p resolution, and 4K support on PS4 Pro.
Why it's so interesting: LA Noire is pretty much the anti-GTA. Both games involve open-worlds and crime, yes, but while the more famous series presents a vast, unbounded sandbox for pure, chaotic action, LA Noire's period Los Angeles is an atmospheric container for more methodical, intimate intrigue. You'll steadily investigate crime scenes, digging out clues upon clues in order to build a case. You'll interrogate suspects one-on-one, looking for the tiniest flickers in their meticulously motion-captured performances in order to gauge innocence or guilt. The expected driving and goon-punching is in there as well, but really, it's all about the story and the solving.
Read more: L.A. Noire's shiny new 4K remake gets a trailer full of gorgeously remastered vintage crime
Star Wars: Battlefront 2
Release date: November 17, 2017
Genre: Shooter
What is it? The sequel to 2015's wonderfully authentic Star Wars Battlefront, now complete with a proper single-player campaign.
Why it's so interesting: So many reasons. In multiplayer, Battlefront 2 spans all eras of the Star Wars saga, so everything from The Phantom Menace through to the Last Jedi, including Rogue One too. You'll be able to mix and match heroes too, so Yoda can fight Darth Maul, for example. Space Battles are in too, which is something fans demanded after the last game left them out. However, the biggest new feature is a proper solo campaign that takes place in the time between the end of Return of the Jedi, and the start of The Force Awakens. You play as an Imperial officer as she seeks revenge on the Jedi for the death of the Emperor.
Read more: 20 cool things we saw in that Star Wars Battlefront 2 gameplay demo at E3 2017
The Sims 4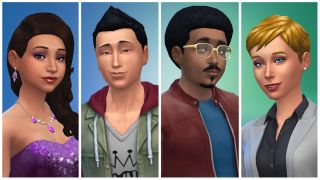 Release date: November 17, 2017
Genre: Life sim
What is it? A console version of the massively popular PC human simulator that you might just have heard of
Why it's so interesting: You can kill your Sims on PS4! Finally, The Sims 4 is hitting consoles, and that means you can be the kind of god who takes away the doors when there is a fire. Oh, wait, just us? Regardless of whether you're a merciful Sim god or a murderous designer of death traps akin to Jigsaw, The Sims 4 comes with the main base game and the tantalising tease of 'many' post-launch updates. Going by the number of add ons for The Sims 4, we're not going to run out of any new packs to purchase but all we really want is the Cats and Dogs pack that's been announced for PC.
Read more: Work a 9 to 5, then marry a ghost accountant when you live the Sims 4 life on PS4 and Xbox One
Elder Scrolls 5: Skyrim VR
Release date: November 17, 2017
Genre: RPG
What is it? The Skyrim you know and love, built for PS VR
Why it's so interesting: Fancy throwing around spells with your hands and actually going through the motions of shooting arrows at your foes? It's time to pick up your PS Move wands and take a trip into Skyrim VR. A PlayStation exclusive, at least for a while, Skyrim joins Doom VFR as Bethesda's PlayStation compatible virtual reality offerings this year. To tackle sickness while you're on your quests, the movement system is solely teleportation based so it takes a bit to get used to but at least you'll be vom free. Before you know it, you'll be admiring cheese wheels from all angles and trying to make sure you don't take your coffee table to the knee.
Read more: 9 fun things to do in Skyrim VR, Fallout 4 VR, and Doom VFR (including magic death raves)
Okami
Release date: December 12, 2017
Genre: Action-adventure
What is it? The latest re-release of Clover and Capcom's classic PS2, which is probably most famed for being great but not selling enough. And thus being re-released quite a few times.
Why it's so interesting: Because Okami has always been beautiful, and a new, 1080p version (with optional 4K on PS4 Pro) will be the most beautiful Okami of all. Effectively Zelda, except it's set in feudal Japan and you're a magic wolf god with the power to paint the world back into life, Okami's most striking quality – apart from, you know, its quality – is its art-style. Based on traditional Japanese ink work and woodcut printing, Okami's visuals are stunning to behold in still-frames, and even more impressive in motion, evoking a beautiful atmosphere still entirely unique. That Okami achieves this while also delivering a huge, varied, and really rather wonderful 60-hour journey cements its classic status forevermore.
Read more: But is it art? Why Okami is remembered so fondly
Ni No Kuni 2: Revenant Kingdom
Release date: January 19, 2018
Genre: JRPG
What is it? The follow up to the beautiful Ghibli-style RPG from Level-5, complete with new slicker combat system.
Why it's so interesting: Level-5's original beautiful RPG was ultra easy on the eyes but not so much on the thumbs as it required a serious amount of grinding through its turn based combat encounters. Switching things out for a much faster skirmish system, Ni no Kuni 2 makes it a little easier to enjoy the sweeping story, huge open world, and adorable creature creations. Of course the critters you use during battle are called 'Higgledies.' D'awwwwww.
Read more: Ni no Kuni 2: Revenant Kingdom adds tactical skirmish combat to its cocktail of cute