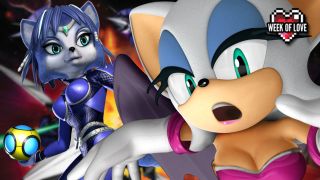 Furbidden love
It's not unusual to form some kind of affinity toward your favorite video game heroes. Sure, they just clusters of pixels and textures on a screen - but that doesn't mean they can't still find a way into our hearts. When these heroes start taking the form of talking personified animals, however, things start getting just a little bit... weird.
There's something unnerving about eyeballing an adorable, anthropomorphic dog - with cleavage and anime eyes, no less - especially when you end up tumbling (like, literally, searching through tumblr) down the wrong side of the slippery (and furry) slope. Most disturbing of all, sexualized animals are more common than you'd think - and these bipedal beauties are just the tip of the anthropomorphic iceberg.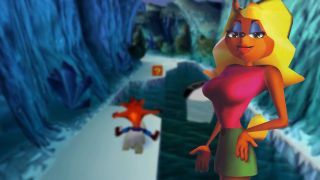 Tawna (Crash Bandicoot) - Bandicoot
Tawna makes Crash Bandicoot look like a first draft. Both are mutated Bandicoots created by series villain Dr. Neo Cortex, but their - ahem - proportions are strikingly different. Crash has no neck, stubby legs, and long arms jutting out of his cheeks. Meanwhile, Tawna has the physique of freaking Pamela Anderson with a pointy, button nose. I think it's obvious whose body that pervy doctor devoted most of his attention.
Much like Candy Kong - who appears later in this list - Tawna is an out-of-nowhere blonde bombshell getting kidnapped in an otherwise kid-friendly game. She later vanished from the Crash series - and it doesn't take Scooby-Doo to figure out why - only to return a decade later in Crash Boom Bang!, because by that point the only people left who enjoyed Crash (sorry) were already old enough to see Pamela's movies.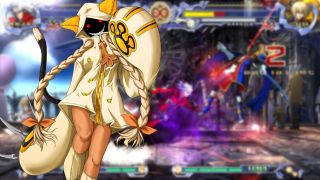 Taokaka (BlazBlue) - Cat
If you were to own a copy of both The Sims: Unleashed and The Sims: Makin' Magic then you would have access to a magical spell called A Friend Indeed (in the game, of course - everyone knows magic isn't real). This spell lets you transform the family pet into a human, so that you and it can take your relationship... um... to the next level. This is what I'm always reminded of when discussing the topic of catgirls.
Among the dozens and dozens of feline females in gaming, none is perhaps more sinister than Taokaka. Her entire demeanor seems fun and playful (if you consider giant metal claws playful) until you get to her face. Her true face is shrouded by her hood, so all we get to see are two red, beady eyes and a thin, toothy grin. She definitely has the whole Cheshire Cat thing down, with a bit of a demonic twist. Perhaps this underscores the sinister nature lurking within all cats.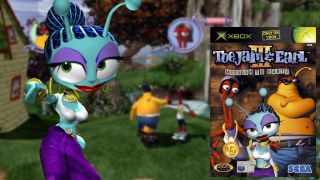 Latisha (ToeJam and Earl) - Alien
If you'll humor me for just a moment, I'd like to expand the parameters of the list just a bit. Latisha may not be an animal per se - she's more of an extraterrestrial, if there's a difference - but she certainly has the "uncomfortably sexy" part on lockdown. This azure alien helped kick off an edgier look for ToeJam and Earl in ToeJam & Earl III: Mission to Earth. Because that's what we needed in a funky fresh game about hippy aliens who loved being groovy.
It's interesting to note that, if you look at the box for ToeJam & Earl III closely, you can see that it looks like ToeJam (the red one) is resting his eye directly on Latisha's cleavage. There's also a nice bit of symmetry going on between the amounts of underwear peeking out of Latisha's and Earl's pants. Maybe I'm giving this too much thought. Let's move on. Oh - and I'm sorry to have to do this - Latisha also has her own rap video. Proceed with caution.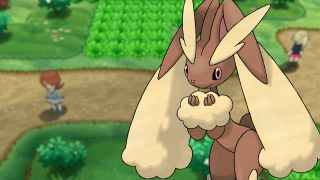 Lopunny (Pokemon) - Rabbit
The internet has a long history of sexualizing certain Pokemon. Aw heck, who am I kidding? The internet has a long history of sexualizing every Pokemon, but some certainly seem more, shall we say... popular than others (if Google image search is to be believed). And on a totally unrelated note, WHAT THE HELL IS WRONG WITH YOU PEOPLE!?
Lopunny is able to hang with the best of them - looking at you, Gardevoir - likely due to its curvy figure. Those hips, the butt-out, bent-over pose, its bubbly attitude, Game Freak had to have known what it was doing when it created this character. At least that lump fluff sticking out of Lopunny chest isn't what most people seem to think it is. It's actually a tuft of fur attached to Lopunny's arms (or legs, or whatever), which it's holding up to its chest. Be still my beating heart.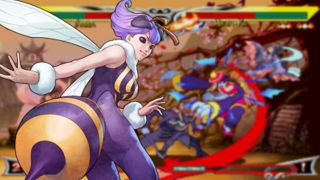 Q-Bee (Darkstalkers) - Bee
At first blush, Q-Bee doesn't seem so bad. She looks like a young woman wearing a bumblebee Halloween costume, complete with little pom-poms on the wrists. The solid black eyes are unsettling, but I'm sure - OH GOD THOSE AREN'T HER EYES. Turns out Q-Bee's real eyes are the massive, purple domes resting on top of her head. That's why she's always "looking" at the floor during a fight. She's actually looking right at you.
Q-Bee also has one of the best - and creepiest attacks - in any Darkstalkers game. She starts by grabbing her opponent, then uses her stinger to lay eggs inside of her opponent's body. She then dies and a new Q-Bee is hatched from the opponent's bloated, infested body. And this is all in one attack that lasts maybe five seconds. She's a busy bee-woman.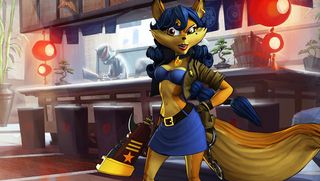 Carmelita Fox (Sly Cooper) - Fox
Inspector Carmelita Montoya Fox is as gorgeous as she is just. Her magnificently long hair and wide, doe-like eyes can imprison even the most anti-furry of gamers, while her fashionable heeled boots and lovely overcoat prove she's got style. And that little beauty mark of hers--ye gods that beauty mark--is practically crippling.
But before you get all hot and bothered, remember: Carmelita, though independent, strong, and beautiful, is not human. She's a fox. In a video game. So quit gawking, and stop making poor Sly jump to his death over and over again in a fit of jealous rage. This is one noble lady whose hand cannot be won over.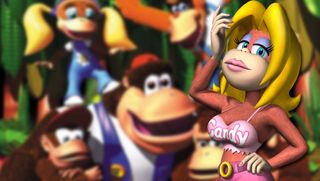 Candy Kong (Donkey Kong Country) - Ape
Candy Kong looks like some bizarre fusion of Daisy Duke and Miss Piggy. She's got the accurate curves of the former and the horrifying head of the latter, which together create one of the most haunting visages we've ever seen. She is simultaneously the subject of our nightmares and our most wonderful dreams, and we deeply wish she was neither.
Candy's a prime(ate) example of a character with an R-rated getup in an E-rated game--and if there's one character an all-ages platformer desperately needed, it was a sexy lady ape that managed save points. Oh, and in case you ever forget Candy's name, it's readily displayed on her skimpy bikini top. Don't let your eyes wander for too long, though, pervert.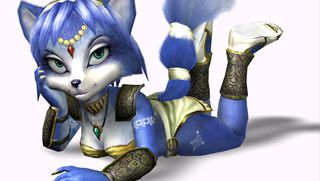 Krystal (Star Fox Adventures) - Fox
Ah yes--we'd be remiss not to include foxy femme fatale Krystal on a list such as this. Thanks to her kindness and calm-hearted nature, she charmed her way into the hearts of Star Fox fans all over the world during her debut appearance in Star Fox Adventures, despite, you know, not being all that human.
Unfortunately, her bizarre golden two-piece outfit landed her an involuntary starring role in a seemingly endless supply of fox fic erotica. Now, considering Star Fox Adventures was originally designed as a game called Dinosaur Planet--and that Krystal was initially conceptualized as a loincloth-wearing native of said planet--we guess we understand her Xena: Warrior Princess garb, but her fashion style in Adventures seems a bit out of place for a space-faring vixen.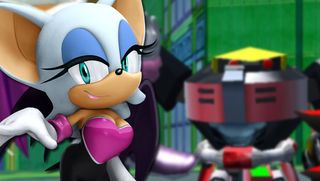 Rouge (Sonic the Hedgehog) - bat
Cutesy characters are common in Sonic the Hedgehog games. There's Miles, the adorable twin-tailed fox; there's the scatter-brained Charmy Bee; and, of course, there's the lovable, Sonic-obsessed Amy Rose. Then there's Rouge. She's the result of a Sega meeting in which someone must've said, "Hey, y'know what would get people to buy more Sonic games? A sexy bat. With voluptuous boobs. And when you draw her lips, make 'em supple. With lipstick. Yeah."
So the character designers drew Knuckles, removed his sweet dreads, and gave him breasts, a ton of eye shadow, and the sort of bat wings you might expect to find on a sleazy Halloween costume. But they didn't stop there. Nay, Rouge was further equipped with a skin-tight body suit adorned by a heart-shaped breast plate, just for good measure. Why anyone thought these totally uncharacteristic embellishments belonged within the framework of the light-hearted Sonic series is beyond us. Then again, Shadow the Hedgehog is a thing that exists (and also curses a lot), so maybe Rouge isn't all that surprising.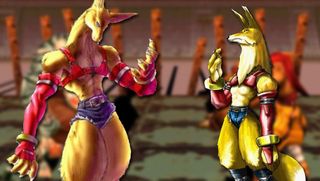 Hans the Fox (Bloody Roar) - Fox
This fierce vulpine is a heartless assassin, an incredible combatant, and one of the world's best dressers. Those hot nasty jorts let fly Hans' glorious mane of fur, while the pink bikini top allows the imagination to wander. With an outfit like that, coupled with the seductive combination of anklets and golden bracelets, it's no wonder this enchanting fox is so easy on the eyes.
To the unfamiliar Bloody Roar player, Hans might be the foxiest fox (seriously, what the hell's up with sexy foxes?) to ever grace the digital realm--and we agree. So much so, in fact, that he's the only male to make our list. You did know Hans was a dude, right?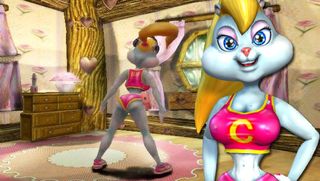 Berri (Conker's Bad Fur Day) - Chipmunk
Okay, let's review what we know about chipmunks. They're related to squirrels, they hibernate in the winter, and--oh! They're really sexy. The first time you meet Berri the chipmunk, she's bending over in the shortest pair of booty shorts any anthropomorphic animal has ever worn.
She stands, then bends over. She hums a tune, then bends over. The camera stays trained on her N64-era angular derriere--the curves of which are unnecessarily well-defined--long enough for any human to squirm in discomfort. And while this scene plays out for the next, oh, five minutes or so, you pray that none of your friends or family walk in to find you staring at a personified chipmunk's tail end.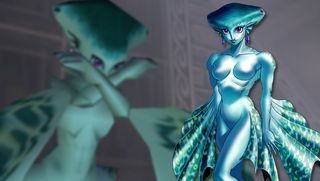 Ruto (The Legend of Zelda: Ocarina of Time) - Fish thing?
"What!? But she's a fish?" you say, questioning why, out of all the anthropomorphic bunnies and chinchillas, we'd choose a scaly creature with fins and gills. Yet, as that very protest escapes your lips, you can't help but notice the strange, enticing beauty of Princess Ruto (the grown-up version, of course--we don't mess with aquatic jailbait). Her elongated fins aren't sharp like those of an atlantic silverside or atka mackerel; they're smooth, delicate, captivating. It's impossible to look away.
Gazing into her alluring eyes, you have a flashback of your 13-year-old self playing Ocarina of Time. You remember Ruto now as you saw her then: foreign, but powerfully attractive. Your heart flutters with the sorrowful pang of a star-crossed love made impossible by the separation of both world and species. Then, she winks at you with her third eye, the one cradled like a hidden treasure atop her majestic crown of cartilage. Your knees quiver as you long to feel her scaly tou--OH GOD WAIT, NO.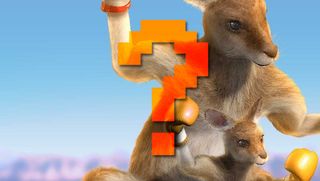 Furverted