Quick menu
1. The Quick List
2. Best overall
3. Best for most players
4. Best under $1,000
5. Best 14-inch
6. Most powerful
7. Best 15-inch
8. Best slimline
9. Best 17-inch
10. Best 18-inch
It's been a fantastic year for the best gaming laptops on the market. With Nvidia RTX 40-Series graphics cards entering the fray and new generation processors powering them, the jump in performance between this and last year's models is impressive. Obviously, these rigs can provide the power of a desktop machine with the portability of a much lighter device. However, truly great gaming laptops manage to do this while remaining cool, balancing price to performance value, and while packing high quality display into their costs. These are the kinds of machines we're interested in, and after extensive testing we've found the models you need to know about this year.
The best gaming laptop of 2023 is the Asus ROG Strix Scar 16 so far, but plenty of our favorite machines balance raw power with value for money. That means some of these top models won't run the most impressive graphics cards or pack bags of RAM - they will simply outperform their price tag. After all, if you don't need an all singing rig, why pay for one.
We've put a wide range of gaming laptops through their paces to find the best machines in the business, testing performance relative to the specs on offer, efficiency in design and temperature, and overall value for money. We run each machine through a series of performance benchmarks, and live, play, and work with the models we review for an extended period of time - you can check out exactly how we test gaming laptops in our dedicated guide. You'll find all our recommendations for the best gaming laptop on the market just below, and more information on choosing the right configuration for you and your budget as well.
What do our benchmark scores mean?
We run each gaming laptop we get our hands on through a series of tests across gaming and productivity performance. Of these scores, we're listing two with each of our favorite machines below; Fire Strike and Time Spy. Both tests stress both the graphics and processing of a laptop, returning one final score once completed. The higher the score, the better the performance.
The quick list
Load the next 3 laptops ↓
Best slimline
The best slimline gaming laptop
It's not the absolute slimmest gaming laptop on the market - that would be the Alienware x14, but the HP Omen 16 Transcend manages to pack both power and portability into that skinny chassis. That's tough to do in this RTX 40-Series generation.
Best 17-inch
The best 17-inch gaming laptop
17-inch laptops have a tough job, but the Razer Blade 17 packs some incredible performance while holding onto a slimline form factor. That's rare to find, especially with a screen this good.
Best 18-inch
The best 18-inch gaming laptop
Yes, the Scar 18 is the most powerful machine we've tested, but the cheaper configurations and more relaxed design of the Alienware M18 makes it the best 18-incher overall.
The best gaming laptop overall
Our favorite configuration: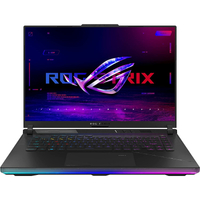 Asus ROG Strix Scar 16 | RTX 4080 | Intel i9-13980HX at Amazon
This is the CPU / GPU we tested in our Asus ROG Strix Scar 16 review, and even though you're not going for the top top RTX 4090 model it still provides an eye-watering amount of power. 32GB RAM will see you through the games of the future and that Nebula display certainly isn't to be missed either.

The Asus ROG Strix Scar 16 has taken over from the Razer Blade 15 (still featured below) as the best gaming laptop we've had our hands on yet. This thing flies through anything you can throw at it, without reaching the dizzying heights of other premium RTX 40-Series rigs. That's because the Strix Scar puts its power exactly where a PC gaming enthusiast wants it - cooling, CPU efficiency, and GPU power - all while still offering a crisp set of RGB panels and a Mini LED display worthy of its next generation chassis.
Buy It If
✅You prioritize performance over a slick chassis: The Asus ROG Strix Scar 16 is a powerful machine, but it's certainly not the most expensive model on the market - because it doesn't try and squeeze those components into a more portable form factor.

✅You value a high quality display: That Mini LED display does add to the final price, but it's well worth the additional immersion for that crisp QHD+ resolution.

✅You don't mind a more gamer-styled aesthetic: The Strix isn't going to fade into the background - while you can turn those glaring LEDs off, the translucent body and chunky grills scream gaming laptop.

Don't Buy It If:
❌You don't want to spend over $3,000: The Strix series is at the top of Asus's range, so we're unlikely to see cheaper configurations surfacing. While it's good value in its price bracket, it's still a premium machine.

❌You prefer a sleek form factor: The extra space required to achieve such performance is a necessary evil here.

❌You don't need the latest top of the range specs: If your Steam library simply won't make the most of those top shelf graphics cards and processors, the Strix isn't going to be worth it.

Design: This isn't a machine for the more subtle amongst us, though. While the RGB panel running across the lower lip can be switched off, this is still very much a gaming laptop. The translucent design across the main deck wasn't quite our favorite touch and does add to this gamer aesthetic while slightly cheapening the experience, but this is down to personal preference.
The lid sports a large ROG logo and a series of etched diagonal lines along the chunky grill towards the back, further removing this rig from your everyday office laptop. However, it's not such an in your face design, and putting those LEDs to sleep certainly keeps the vibe slick.
Features: We've also got one of the best screens we've had the pleasure of using on a gaming laptop. Asus has branded its Mini LED screens 'Nebula HDR', and they sing. Between 1,024 dimming zones and 1,100+ nits of peak brightness, colors pop with an excellent vividity and balance well with a deep, rich contrast. Throw in Dolby Atmos and a solid virtual surround system and you've got a seriously immersive experience.
That's, of course, backed up with a high-end set of configuration options. The ROG Strix Scar 16 can move up to an i9-13980HX CPU with an RTX 4090 card - those are specs that are sure to satisfy anyone looking for a top shelf rig.
Performance: We tested an RTX 4080 rig with the Intel i9-13980HX processor that comes with both this and the 4090 configuration, drawing a 17,611 Time Spy score and 32,876 Fire Strike score to beat out the Asus ROG Zephyrus M16 by some margin. The Scar 16 even beat the larger (and far more expensive RTX 4090-toting) Razer Blade 18 in these benchmark tests as well. Those are numbers that will comfortably see you through the next five years of gaming, and potentially much more if we don't see any particularly demanding graphical breakthroughs.
No, framerates weren't as impressive as the ROG Zephyrus Duo 16 listed below - but equally you're not spending an extra $1,000 on a fancy second screen (and the power to run it) you might not use. Plus, at three-figure framerates in Ultra settings across demanding titles, there's no arguing the raw horsepower baked into this machine.
Verdict: We're getting our hands on more RTX 40-Series gaming laptops all the time, but for now the Asus ROG Strix Scar 16 is the best model to pass our desks. It's well worth the investment for anyone on the hunt for a high-end machine with bags of power to spare for future releases.
Read more: Asus ROG Strix Scar 16 (2023) review
Swipe to scroll horizontally
Asus ROG Strix Scar 16 Benchmarks (RTX 4080)

| Benchmark Test | 1080p | QHD+ |
| --- | --- | --- |
| Shadow of the Tomb Raider | High: 201fps / Highest: 191fps | High: 179fps / Highest: 173fps |
| Total War: Three Kingdoms | High: 193fps / Ultra: 148fps | High: 121fps / Ultra: 87fps |
| Red Dead Redemption 2 | Balanced: 118fps / Highest: 107fps | Balanced: 95fps / Highest: 94fps |
| Metro Exodus | High: 134fps / Ultra: 115fps | High: 101fps / Ultra: 93fps |
| The Division 2 | High: 167fps / Ultra: 138fps | High: 140fps / Ultra: 108fps |
The best gaming laptop for most players
Our favorite configuration: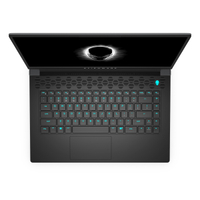 Alienware M15 R7 | RTX 3060 | Intel i7-12700H at Dell
We tested the Alienware M15 R7 with an RTX 3070 Ti GPU at the helm, but considering that configuration comes in at over $2,000 right now, you're getting solid value for money with this RTX 3060 build. You're still getting that uber powerful 12th generation processor, and 16GB DDR5 RAM in here. We've opted to keep the 360Hz panel we tested in this build - it's only $100 more for the luxury and it really was an impressive display, well worth the cash.

The Alienware M15 R7 brought the now mid-range line of luxury laptops up to 2022's standards last year, and while current sales hold out it's the go-to for anyone after a performance punching machine in 2023. With Intel's 12th generation processors and Nvidia's Ti GPUs at the helm, there's some serious power up for grabs here.
Buy It If
✅You need all-round power across a range of genres: The M15 R7 is well suited for a massive range of games, offering excellent performance at a solid mid-range price.

✅You're a more competitive player: With its super-fast display and Ethernet port, this is a machine built with competition in mind.

✅You want to save by opting for an older machine: The R7 has been superseded by the M16 in 2023, which makes it a generation behind. However, that means we regularly see it on sale.
Don't Buy It If
❌You travel regularly with your laptop: The Alienware M15 R7 weighs in at just under 6lbs (2.7kg) and packs a massive charger to boot. This isn't a backpack friendly machine.

❌You want the latest components: As a previous generation machine, you're locked into RTX 30-Series graphics cards and Intel's 12th generation processors. There's still plenty of power here, but not quite as much value as a newer build.

❌ You want a luxury chassis: Alienware shaves the price of its M-Series devices by dropping the premium build materials of its X-Series.
Design: It's worth noting that this machine is built purely for power. It's a stocky design, and a particularly heavy one at that - the charging brick alone nearly runs the full length of the keyboard. So no, this isn't going to be a gaming laptop you'll easily throw into a backpack - and those fans can certainly scream - but if you're looking for an all-rounder that can level with machines far pricier than itself, these are easy sacrifices to make.
Everything is as you would expect from an Alienware laptop, from the slim-bezel design on the face to the 15 watermark on the back - and of course that RGB strip running around the rear port area. The matte finish works hard to cover up a cheaper plastic chassis, but everything still feels durable - despite some considerable flex in the screen.
Features: The M15 R7 certainly doesn't disappoint when it comes to connectivity. There's a massive selection of ports here, so you're covered whether you're on the USB-C or USB-A train, and whether you prefer WiFi or Ethernet. The keyboard also manages to delight, with a taller 1.8mm travel distance and a tactile feel this is a particularly satisfying set of keys for both gameplay and typing.
Up top, our test unit sported a 360Hz FHD display which proved particularly adept at motion handling and tear reduction thanks to that incredible speed. We did notice lighter colors handling a little worse than darks, being a little washed out overall, but everything came together nicely even in bright conditions.
Performance: We were blown away by the performance of this machine. Our test unit featured an i7-12700H processor and an RTX 3070 Ti graphics card, and was easily sailing through our benchmarks and stress tests. This beast didn't even flinch at heavier titles like Red Dead Redemption 2 and Metro Exodus - offering up 76fps in RDR2's Ultra settings, and 72fps with all RTX set to max in Metro Exodus. Those are settings that would make the uber expensive RTX 3080 Ti Razer Blade 15 sweat.
Verdict: Alienware is, after all, a luxury brand. With its M-series now falling to the middle of its range (thanks to the advent of the X-series), the Alienware M15 R7 is affordable by the brand's standards. That means you'll find far cheaper machines out there, but without that Alienware pedigree to speak of. Still, with performance to rival some of the best gaming laptops in the business, and only a few sacrifices to get there for a great price, this is an excellent option for most players. You could consider the X15 technically the best Alienware gaming laptop on paper alone, but when it comes down to price and the wider market, this is the winner.
Read more: Alienware M15 R7 review
Swipe to scroll horizontally
Alienware M15 R7 Benchmarks (RTX 3070 Ti)

| Benchmark Test | 1080p |
| --- | --- |
| Shadow of the Tomb Raider | High - 148fps / Highest - 129fps |
| Total War: Three Kingdoms | High - 120fps / Ultra - 83fps |
| Red Dead Redemption 2 | Balanced - 79fps / Highest - 76fps |
| Metro Exodus | High - 98fps / Ultra - 72fps |
| The Division 2 | High: 124fps / Ultra: 97fps |
The best gaming laptop under $1,000 / £1,000
Our favorite configuration: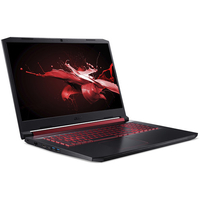 Acer Nitro 5 | AMD Ryzen 7 5800H | RTX 3060 at Amazon
The Acer Nitro 5 provides plenty of balance in this configuration, and the best part is we often see this model on sale at Amazon as well. Balancing some solid components under the hood, and a 144Hz display up top, there's some nice horsepower for your cash here. We often see it at between $1,049 and $1,329.

It's not about to blow anyone away with flashy features or top-tier performance, but the Acer Nitro 5 is a very respectable choice of gaming laptop for the busy gamer who doesn't want to break the bank.
Buy It If:
✅ You want high-end components without breaking the bank: The Acer Nitro 5 manages to pack some solid components without bumping the price up. That's because there are sacrifices elsewhere, but it does mean great value for money.

✅You're buying your first gaming laptop: With its low price and entry level features, the Nitro 5 is the perfect starter laptop. Use this for a couple of years to decide what you really value in a rig before you make a big purchase.

✅You play casually and not every day: If you don't think you'll be able to warrant the higher price tag of a more sophisticated machine with your daily use, it's well worth picking up a cheaper runner.
Don't Buy It If:
❌ You need a particularly fast display: The Acer Nitro 5 display isn't particularly impressive and has certainly been sacrificed to keep that price low.

❌ You prioritize aesthetics: Its older style aesthetics have been outdated for a while now, so that chunky, angular design won't be to everybody's taste.

❌ You're looking for a longer term investment: These are older laptops, so they're not going to be able to keep up with more demanding games of tomorrow.
Design: The Acer Nitro line has a distinct look about it, the most recent Nitro 5 doesn't stray too far. It's a plastic chassis which can collect fingerprints quickly, but feels remarkably durable in the hand. It also helps that at 2.3kg this is one of the lighter gaming laptops on the market right now. Yes, those bezels do keep the screen from looking its best and the angled corners and harsh lines feel a little old fashioned, but overall this is an inoffensive design scheme for a cheaper laptop.
Features: Regularly available for under $1,000 / £1,000, the RTX 3060 Nitro 5 manages to pack some impressive components into a budget price tag by dropping nice-to-have features. That makes it perfect for anyone after raw power without all the fancy extras that can sometimes bloat gaming laptop costs.
A good full-scale keyboard with numpad makes this laptop appropriate for both work and play. That means it's a great replacement for a full-tower desktop PC at home that also offers portability thanks to its relatively low weight as gaming laptops go. We found the screen to be somewhat dull compared to other laptops in the same price range, and the battery life is decidedly unimpressive, but given the budget cost, these do feel like fair tradeoffs. Especially since the display does retain an excellent 144Hz refresh rate.
Performance: The RTX 3060 GPU paired with a Ryzen 5800H processor offered up strong performance in our testing, hitting 86fps in High settings on The Division 2, and only dropping to 77fps in Ultra. While the SSD could be a bit speedier, it's not going to cause any major headaches. Most games will run above 60fps at maximum settings, and ray-tracing is also an option, though it does come with an associated performance hit.
Verdict: We'd recommend the Nitro 5 to anyone after their first gaming laptop - it's the perfect way to spend less, get a few good years of gaming in, and work out exactly what you need from a larger purchase further down the line.
You'll also find excellent options in the Dell G15 and Asus TUF Dash F15. The former is generally found on sale for slightly less than the Acer Nitro 5, but doesn't quite pack the same thermal regulation. Meanwhile, Asus's budget option is pitched at a slightly higher price point, sacrificing processing power for a 1440p display.
Read more: Acer Nitro 5 review
Swipe to scroll horizontally
Acer Nitro 5 Benchmarks (RTX 3060)

| Benchmark Test | 1080p |
| --- | --- |
| Shadow of the Tomb Raider | High: 118fps / Highest: 107fps |
| Total War: Three Kingdoms | High: 81fps / Ultra: 58fps |
| Metro Exodus | High: 79fps / Ultra: 39fps |
| The Division 2 | High: 86fps / Ultra: 77fps |
The best 14-inch gaming laptop
Our favorite configuration: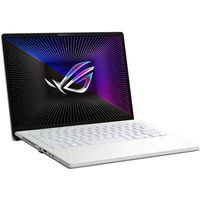 Asus ROG Zephyrus G14 | RTX 4070 | i9-13900H at Best Buy
We tested the RTX 4090 version of the G14, but that comes in at a whopping $3,799. While you're dropping the Mini-LED display on this RTX 4070 version it does strike the perfect balance in value for money.

The Asus ROG Zephyrus G14 long reigned over the slimline gaming laptop world. It was one of the first easily portable machines, built with a form factor that respected your backpack and your desk top. In 2023, Asus has doubled down on its power. With RTX 40-Series graphics heralding a return to Nvidia (last year's AMD build was certainly speedy but dropped a few fancy graphical tricks), and Intel's 13th generation processors at the helm, the latest iteration embodies that classic power / portability balance.
Buy It If
✅You travel regularly with your laptop: Its 14-inch form factor is the giveaway here, but the G14 is particularly easy to transport thanks to its light weight and sturdy design.

✅You want portability and power: While the Alienware x14 prioritizes portability at the expense of more powerful components, the Asus ROG Zephyrus G14 packs offers far greater choice.

✅You don't want to dip below Ultra settings: We noted that the Asus ROG Zephyrus G14 performed pretty much just as well at Ultra as it did High. That efficiency means you won't need to make sacrifices in the settings menu here.
Don't Buy It If
❌ You want the best display possible: Asus has cut back on the power of its MiniLED display in this 14-incher which means things aren't quite as vibrant as other 2023 releases.

❌ Weight is a key factor: The G14 is certainly compact, but it's got nothing on the slimline Alienware x14 when it comes to the scales. If you're looking for an ultralight experience, and you don't need all this power, Dell has it in the bag.
Design: The G14 nailed its aesthetic and build a long time ago, and the 2023 iteration only improves this slick but compact design ethos. The magnesium alloy chassis keeps things feeling dense and secure while still endlessly portable thanks to those soft rounded corners and 1.7kg weight. The AniMe Matrix LED display is still available, but we'd recommend avoiding it for a cheaper final price if you can. However, both models still look subtle enough to sit in a professional or gaming space.
One of our favorite design aspects was the hinge, though. Like in previous models, lifting the lid also angles the body of the laptop, creating space for extra ventilation and creating a floating effect. It's a luxury aesthetic that works hard to keep your laptop running at its best at the same time.
Features: While last year's venture into AMD graphics had us wanting a little more from the G14, 2023's return to Nvidia is triumphant. There's plenty of choice here as well, with configurations spanning all the way from RTX 4060 to RTX 4090.
You're still getting the 16:10 display introduced on the previous model, but at the top RTX 4090 tier Asus has added its Nebula HDR MiniLED panel. While a jump from IPS in its own right, though, this screen has had its specs trimmed to slot into the Zephyrus G14's bracket. Whereas other 2023 Asus laptops are wowing with their vibrant 1,100 nits of peak brightness and 1,024 dimming zones, the G14 trades down to 600 nits and 504 zones. That's a noticeable sacrifice having had the other models in-hand.
Performance: We managed to squeeze some impressive numbers out of this compact design as well. Consistently hitting well over 120fps in in-game benchmarks at a High setting, and holding that performance pretty well across Ultra, those new generation components certainly aren't put to waste in this smaller chassis. Whether you're in 1080p or 1440p, everything is silky smooth.
We did notice those temperatures creeping under intense workloads, though, so this will be one to keep on a desk rather than a lap. That said, not many 14-inch rigs can keep up with these specs, and even fewer can do so with the extra screen space afforded to you here.
Verdict: The G14 is the best 14-inch gaming laptop we've had our hands on so far. It manages to combine power and portability in a package that very few rigs can match. You're getting better value for money, more component choices, and lower prices than the Alienware x14, making it the go-to for anyone after a compact PC.
Read more: 2023 Asus ROG Zephyrus G14 review
Swipe to scroll horizontally
Asus ROG Zephyrus G14 Benchmarks (RTX 4090)

| Benchmark | 1080p | 1440p |
| --- | --- | --- |
| Shadow of the Tomb Raider | High: 165fps | Highest: 153fps | High: 130fps | Highest: 124fps |
| Total War: Three Kingdoms | High: 145fps | Ultra: 118fps | High: 117fps | Ultra: 86fps |
| Rainbow Six Extraction | High: 238fps | Ultra: 192fps | High: 170fps | Ultra: 141fps |
| Returnal | High: 131fps | Epic: 124fps | High: 122fps | Epic: 121fps |
| Hitman 3 | High: 121fps | Ultra: 115fps | High: 114fps | Ultra: 110fps |
The most powerful gaming laptop we've tested
Our favorite configuration: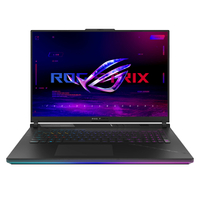 Asus ROG Strix Scar 18 | Intel i9-13980HX | RTX 4090 at Best Buy
This is the top spec of the Asus ROG Strix Scar 18 and the one we tested for three weeks. With that much power behind the Intel i9 processor it's begging to be paired with an RTX 4090 to truly run wild and the 32GB RAM certainly doesn't hurt.

18-inch gaming laptops are here, and while the majority struggle to define themselves against cheaper desktop PCs and infinitely more portable 16-inch laptops, the Asus ROG Strix Scar 18 just about wiggles its way into the top spot. After all with benchmark numbers putting it right at the top of our scoring table (and just toppling over the Asus ROG Zephyrus Duo 16), it's the most powerful rig we've tested to date. And that can't be ignored.
Buy It If:
✅ Performance is your top priority: There's no hiding it, the Scar 18 can work. If you're going all out on chasing the highest possible framerates (and making sure they're reliable), this is the best option we've found yet.
✅ You have a larger desk setup: That larger footprint commands quite the desk space. While this has been designed to stick close to your permanent setup, it's worth noting you'll need plenty of room to house it.
✅ You're an RGB fan: From the rear grill to the front lip, the Scar 18 shines bright with RGB LEDs. If you've got a setup built to take advantage of a more colorful design you're going to enjoy this one.
Don't Buy It If:
❌ You need to travel with your laptop: The Strix Scar 18 is by no means svelt enough to travel with on a daily basis, or even just regularly. If you need a companion for frequent trips, consider something smaller and lighter.
❌ You want to keep cables tidy: Each port is placed on the side, which is frustrating for a desk-bound giant. If stray cables are going to disturb your setup it's worth finding a model that keeps its IO on the back.
❌ You prefer a more subtle aesthetic: All those RGB lights certainly aren't subtle, but they can be switched off. The translucent plastic housing and bold angular lines on the lid can't though.
Design: Looks are subjective but the translucent plastic and RGB lights aren't the most subtle of aesthetics and won't be for everyone. That plastic chassis is a little disappointing in this price range... at first glance. Taking one look at the nearly $5,000 price tag on the all-aluminium Razer Blade 18 has us running back to this cheaper build, though. The plastic may feel a little less luxurious but it's solid, dense and feels durable under hand.
Instead, it's the ports that are going to get in the way of things. You're getting a solid selection, but placing each connection on the left or right flank of a gaming laptop designed to sit (and remain - this thing is 80% heavier than the Zephyrus G14) on a desk is an oversight. Those cables are going to get messy fast.
Features: Asus has steered clear of adding an expensive Mini LED display to its Scar 18, focusing the cost on its components instead, but we were still impressed by the clarity and contrast of this speedy 240Hz panel. Plus, this way we can enjoy the top of the range Intel i9-13980HX processor - and that's not something many gaming laptops can boast.
With a full sized (yes, including a number pad) keyboard, four excellent speakers, a MUX switch, and some strong cooling, there's still plenty going on here. That's a better feature set than the Razer Blade 18 (which neglects the number pad) in a chassis that stays lighter than the Alienware M18.
Performance: This is where we get to the good part. Before testing the Scar 18, the dual-screened Zephyrus Duo 16 was the best performing gaming laptop we'd had our hands on. Yes, the Duo 16 was pitching slightly lower numbers while running that second display - but on paper, the 18-incher has left it in the dust. With Fire Strike coming in at 34,507 and Time Spy pitching in with a 20,132 score, things were already off to a good start. It beat the RTX 4090 Razer Blade 18's 26,844 / 16,367 respective scores by a mile and levelled out with the 4090 Zephyrus's 36,768 / 15,713 numbers.
Throw in consistent 100+ framerates across top graphics settings in Returnal, Total War: Three Kingdoms, and Hitman 3 and it's obvious this is a powerful machine. The consistency of those scores makes this the most powerful gaming laptop we've tested yet.
Verdict: The Asus ROG Strix Scar 18 isn't going to be for everyone. In fact, it's for very few players at all. However, if you're after a desk top machine that also offers the option of portability every now and then it's the most powerful option we've tested so far.
Read more: Asus ROG Strix Scar 18 review
Swipe to scroll horizontally
Asus ROG Strix Scar 18 Benchmarks (RTX 4090)

| Benchmark Test | 1080p | 1600p |
| --- | --- | --- |
| Shadow of the Tomb Raider | High: 219fps | Highest: 199fps | High: 191fps | Highest: 187fps |
| Total War: Three Kingdoms | High: 220fps | Ultra: 170fps | High: 140fps | Ultra: 100fps |
| Returnal | High: 161fps | Ultra: 142fps | (1440p) High: 129fps | Ultra: 108fps |
| Rainbow Six Extraction | High: 270fps | Ultra: 253fps | High: 216fps | Ultra: 177fps |
| Hitman 3 | High: 198fps | Ultra: 173fps | High: 172fps | Ultra: 143fps |
The best 15-inch gaming laptop
Our favorite configuration: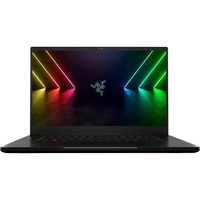 Razer Blade 15 | RTX 3080 Ti | Intel i9-12900H at Razer
This is the best 15.6-inch gaming laptop on the market right now, but you're going to be spending a lot to get it. If you've got the budget to play with we'd really recommend going to the top of this spec and packing an RTX 3080 Ti GPU with an i9-12900H processor and helping it all shine with a 144Hz 4K display. Of course, there are cheaper models out there, but if we're really talking about the best of the best, this is where you should start your benchmarks.

We got our hands on a beast of a Razer Blade 15, but it showed us just how powerful 15.6-inch gaming laptops can be. The RTX 3080 Ti / i9-12900H configuration I had on my desk was a true monster in its performance. However, this rig's ability to offer such performance while keeping the slimline chassis we've all come to know and love really cemented its top spot among the best gaming laptops on the market.
Buy If If:
✅ You want a good looking laptop: There's no doubt about it, the Razer Blade 15 looks good. A slick, slimline chassis with a matte black design fits into a range of scenarios well.

✅ You want a 4K option: We actually managed to squeeze some playable 4K framerates out of the Blade 15 - a rarity we didn't think possible from even the RTX 3080 Ti under the hood.

✅ You need a machine for work, content creation, and play: The display quality and sleek design means the Blade 15 is an incredibly versatile laptop, ready to take on anything you can throw at it.

Don't Buy It If
❌ You value performance over aesthetics: The Blade 15 is impressive, but it's not topping the charts. You can pick up better performance with an RTX 40-Series graphics card at the helm these days.

❌ You don't want to spend more on luxury: Razer comes with a tax, this is a luxury laptop after all. If you're not interested in paying more for that slick experience, you're better off with another brand.

❌ You won't get the miles out of it: If you're not going to be pushing the Blade 15 to its limits across work and play, its higher price might not make much sense.

Design: You know the drill by now. This is a Razer laptop, so expect a matte black brick with nothing but a shiny green Razer logo on the lid. The Blade 15 follows these design rules to a T, shimmying all those high-end components into a slimline build with nearly every detail paid due luxury attention. We say nearly every, because while this is a solid chassis, we did still notice some considerable flex in the display and wobble in the hinge. Still, this is as skinny as the majority of 15.6-inch laptops go - so there's only so much that back panel can take. The hinge itself proved to be super strong in our testing so we didn't have too many concerns.
Features: Opening the lid, you'll find a num-pad-less keyboard with extra ventilation underneath as well as a 4K display up top. This is a particularly strong screen - especially considering it managed to keep up with more demanding games in our benchmarking. Outside of performance numbers though, the vibrancy and clarity this panel will give all your games is unparalleled and certainly makes for a far more immersive experience.
Under the hood, Razer has managed to shove an RTX 3080 Ti into this chassis. At the time of review, only a handful of gaming laptops could boast this powerful GPU, and considering the i9 CPU it comes with there's plenty of power for those who can wrangle it.
Performance: I managed to run Shadow of the Tomb Raider at 74fps in 4K with everything turned up to 11 here. While more demanding titles still struggled in that UHD resolution, though, I was still impressed with the 60+ fps in 1440p on Red Dead Redemption 2 as well as the 78fps in the same resolution on The Division 2. I only needed to drop some more taxing visual effects to hit higher framerates in 4K, and everything looked incredible while doing so.
Verdict: You can't beat the Razer Blade 15 for performance, component horsepower, and portability. After all, the only other machines offering RTX 3080 Ti graphics cards at the time of writing still can't compete with that 4K 144Hz display for the price.
Of course, this is no cheap machine. The 2022 Razer Blade 15 starts at $2,499.99 for an RTX 3060 configuration. You're certainly paying for this luxury name here, but if you're on the hunt for one of the most technically capable machines in one of the most portable form factors, the cash is well invested.
Note: The 2023 Razer Blade 15 is on its way, and once we've had our hands on the newer device we'll update this guide accordingly.
Read more: Razer Blade 15 review
Swipe to scroll horizontally
Razer Blade 15 Benchmarks (RTX 3080 Ti)

| Benchmark Test | 1080p | 1440p | 4K |
| --- | --- | --- | --- |
| Shadow of the Tomb Raider | High: 101fps / Highest: 97fps | High: 94fps / Highest: 67fps | High: 66fps / Highest: 74fps |
| Total War: Three Kingdoms | High: 107fps / Ultra: 79fps | High: 67fps / Ultra: 49fps | High: 33fps / Ultra: 23fps |
| Red Dead Redemption 2 | Balanced: 84fps / Highest: 67fps | Balanced: 69fps / Highest: 52fps | Balanced: 43fps / Highest: 26fps |
| Metro Exodus | High: 87fps / Ultra: 67fps | High: 69fps / Ultra: 53fps | High: 42fps / Ultra: 25fps |
| The Division 2 | High: 107fps / Ultra: 86fps | High: 78fps / Ultra: 61fps | High: 45fps / Ultra: 35fps |
The best slimline gaming laptop
Our favorite configuration: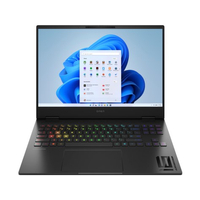 HP Omen Transcend 16 | RTX 4070 | Intel i7-13700HX at HP
While we were impressed with an RTX 4060 build, the HP Omen really feels best in its RTX 4070 configuration. Throw in a 1TB SSD and boosted WQXGA display and you've got a powerful machine squeezed into a slimline chassis.
We previously had the super skinny Alienware x14 in as the best slimline gaming laptop, but its drawbacks in the power department mean the slightly thicker but ultimately far more powerful HP Omen Transcend 16 has stolen the top spot. With components moving up to Intel 13th generation i9 processors and an RTX 4070 GPU there's plenty more choice here, and an excellently portable design to boot.
Buy it if:
✅ You travel regularly with your laptop: This is a slimline machine, especially by today's standards. Add that long battery life and 2.1kg weight into the mix and it's easy to carry around and work from.
✅ You find value the mid-range: With its RTX 4070 cap, the components under the hood here aren't top of the range. However, that also means you're not paying top shelf prices.
✅ You hate fan noise: No gaming laptop is silent, there will always be that whirr of fans running under the hood. However, the HP Omen Trascend blew us away with how quiet it runs compared to the competition.
Don't buy it if:
❌ You want an RTX 4080 or RTX 4090: That 4070 cap is going to frustrate those after a truly stacked machine in a slimline form factor. If you're going to be pushing that QHD+ display to its limits with ultra demanding titles it's worth investing elsewhere.
❌ You're going to be typing for long periods of time: It's a strange design quirk, but one that reared its head in our testing. The main keyboard is shifted ever so slightly too far to the left resulting in a slightly unbalanced feel. That's only going to be a deal breaker if you plan on working 8 hours a day in laptop mode, though.
❌ You're going all in on power: There are some performance sacrifices made to achieve this skinny design, which means numbers are reduced over a similar Alienware M16, for example. If you're keeping your laptop on your desk and want to invest more in pure performance, this might not be the right fit.
Design: A slimline gaming laptop is always going to feel compact, but there's something about the slick matte black aesthetic and cool magnesium-alloy materials that make the Transcend feel all the more svelt. It's a Razer-esque design language that works well, and while it doesn't feel as solid or premium as the real thing, it certainly looks and feels great. It helps that the whole thing weighs in at just 2.1kg - that's one of the lightest gaming laptops running these kinds of components we've had on the test bench.
While we did find the bezels to be a little more pronounced than you'll find on something like the Asus ROG Zephyrus G14 above, there's still plenty of screen space sitting above an improved hinge.
Features: Unlike the Alienware x14, the components available here are going to satisfy the vast majority of players out there. Bumping options up to an RTX 4070 and Intel i9 means only the very top end of the market isn't catered to here. However, if you're looking to spend more you can outfit your rig with a Mini LED 240Hz QHD+ display, up to 32GB DDR5 5600MHz RAM, and 2TB of SSD storage space. Those are some hefty specs, all crammed neatly into the very same ultra portable chassis.
We tested a 1080p job, and even at this lesser used resolution we were impressed with the quality of the display. It's not going to satisfy the cravings of an RTX 4070 GPU, but our 4060 test unit proved that there's still a spot for FHD gameplay in today's generation.
Around the sides, we were also impressed by a generous selection of ports (one of the first things to go in a slimline design). Between two USB-C Thunderbolt 4 options, an RJ45 and a couple of USB-As you're covered for pretty much everything here.
Performance: Even with our humble RTX 4060 whirring away under the hood, the HP Omen Transcend managed to put up some excellent numbers. Between 100+ framerates in the majority of our in-game benchmark tests and Time Spy / Fire Strike scores that can battle with the best of them, everything is working particularly well under the hood. The upgraded cooling system works hard to make sure things run smoothly and while temperatures can climb they're never uncomfortable or concerning.
Yes, a larger device is going to draw more out of its components. A like-for-like Alienware M16, for example, beat the Omen in dedicated benchmarks and in-game testing (apart from Hitman 3, strangely), but the fact that that performance was only boosted by between 2 and 8% is testament to the Transcend's overall efficiency and design.
Verdict: We were incredibly impressed with the HP Omen Transcend 16. While the brand has struggled to be taken seriously alongside Razer, Alienware and others over the last few years, this could be the start of a new era - and it's definitely the most well-rounded slimline gaming laptop we've tested so far.
Read more: HP Omen Transcend 16 review
Swipe to scroll horizontally
HP Omen Transcend 16 Benchmarks (RTX 4060)

| Benchmark Test | 1920 x 1200 |
| --- | --- |
| Shadow of the Tomb Raider | High: 138fps | Highest: 131fps |
| Total War: Three Kingdoms | High: 104fps | Ultra: 75fps |
| Rainbow Six Extraction | High: 169fps | Ultra: 136fps |
| Returnal | High: 68fps | Epic: 63fps |
| Hitman 3 | High: 117fps | Ultra: 102fps |
The best 17-inch gaming laptop