The best gaming laptops pit themselves directly against PCs these days, seeing as the performance gap is closing even further with every new mobile chip and graphics card. That makes these clamshell powerhouses the ideal PC for anyone looking to take their play on the road while also enjoying plenty of grunt at home. Configurations have moved up to RTX 3080 Ti heights now, but there's still plenty of high performance machines in the cheaper price brackets as well. Whether you're on the hunt for a turbo-charged beast, or something to tinker through some indie games with, there's something on the shelves for everyone these days.
What do our benchmark scores mean?
We run each gaming laptop we test through a series of tests across gaming and productivity performance. Of these scores, we're listing two with each of our favorite machines below; Fire Strike and Time Spy. Both tests stress both the graphics and processing of a laptop, returning one final score once completed. The higher the score, the better the performance.
Our favorite machines, though, balance that raw power with value for money. That means some of the best gaming laptops won't run the most impressive graphics cards or pack bags of RAM - they will simply outperform their price tag. After all, if you don't need an all singing rig, why pay for one.
We've put a wide range of gaming laptops through their paces to find the best rigs in the business, testing performance relative to the specs on offer, efficiency in design and temperature, and overall value for money. We run each machine through a series of performance benchmarks, and live, play, and work with the models we review for an extended period of time - you can check out exactly how we test gaming laptops in our dedicated guide. You'll find all our recommendations for the best gaming laptop on the market just below, and more information on choosing the right configuration for you and your budget as well.
The world of gaming laptops (and gaming PCs in general) is changing rapidly, with Intel's Alder Lake processors hitting some of the biggest models, and eyes on new GPU options as well. We're keeping this page stocked with all the latest models to make sure you're up to date with all the latest updates.
The best gaming laptops available now
Why you can trust GamesRadar+ Our expert reviewers spend hours testing and comparing products and services so you can choose the best for you. Find out more about how we test.
Our favorite configuration: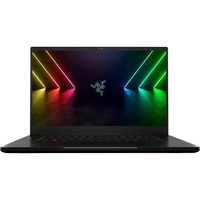 (opens in new tab)
Razer Blade 15 | RTX 3080 Ti | Intel i9-12900H at Razer (opens in new tab)
This is the best gaming laptop on the market right now, but you're going to be spending a lot to get it. If you've got the budget to play with we'd really recommend going to the top of this spec and packing an RTX 3080 Ti GPU with an i9-12900H processor and helping it all shine with a 144Hz 4K display. Of course, there are cheaper models out there, but if we're really talking about the best of the best, this is where you should start your benchmarks.

Scores (RTX 3080 Ti)
Fire Strike: 20,171
Time Spy: 9,690
We got our hands on a beast of a Razer Blade 15, but it showed us just how powerful gaming laptops can be these days. The RTX 3080 Ti / i9-12900H configuration I had on my desk was a true monster in its performance. However, this rig's ability to offer such performance while keeping the slimline chassis we've all come to know and love really cemented its top spot among the best gaming laptops on the market.
Of course, this is no cheap machine. The 2022 Razer Blade 15 starts at $2,499.99 for an RTX 3060 configuration. You're certainly paying for this luxury name here, but if you're on the hunt for one of the most technically capable machines in one of the most portable form factors, the cash is well invested.
That does mean this isn't necessarily the best gaming laptop for everyone - those playing lighter games won't need the horsepower on offer here, and if you're just after a machine you can sign into every now and then you won't get solid value by going all out. However, if you're interested in a top of the range rig (and have the budget to throw at it), our testing speaks for itself.
I managed to run Shadow of the Tomb Raider at 74fps in 4K with everything turned up to 11 here. While more demanding titles still struggled in that UHD resolution, though, I was still impressed with the 60+ fps in 1440p on Red Dead Redemption 2 as well as the 78fps in the same resolution on The Division 2. I only needed to drop some more taxing visual effects to hit higher framerates in 4K, and everything looked incredible while doing so.
You can't beat the Razer Blade 15 for performance, component horsepower, and portability. After all, the only other machines offering RTX 3080 Ti graphics cards at the time of writing still can't compete with that 4K 144Hz display for the price.
Read more: Razer Blade 15 review
Our favorite configuration: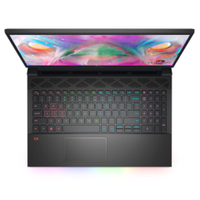 (opens in new tab)
Dell G15 | RTX 3050 | Intel i5-11260H at Dell (opens in new tab)
The Dell G15 works best when it's super cheap, which is why this entry level RTX 3050 configuration is our favorite. Those on the hunt for a rig designed for lighter gaming and the odd Apex Legends session will find great value here, without needing to break the bank on gaming laptops over $800.

The Dell G15 isn't going to light the world of the best gaming laptops on fire, but it is at least a dependable choice of gaming companion. Performance in both gaming and general tasks is good considering the price point, and all the features we've come to expect from gaming laptops are present and accounted for - apart from that bank-busting price tag. You'll often find these models on sale with RTX 3050 / RTX 3050 Ti graphics cards for well under $1,000 - sometimes as low as $699.99.
The appearance of this laptop could be a point of contention, though, as we found the chassis to feel a bit old-fashioned for 2022. A dark iridescent finish and thick central hinge feel like throwbacks to a forgotten age of tech design that should perhaps have stayed in the past.
The G15 also runs fairly hot when playing more graphically demanding titles, although not to a worrying extent; we've certainly reviewed laptops with noisier fans than this. As it stands, the G15 is a great all-rounder, ideal as a gift for a kid looking to break into PC gaming or the office employee consigned to remote working - and playing.
Our favorite configuration: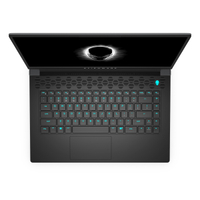 (opens in new tab)
Alienware M15 R7 | RTX 3060 | Intel i7-12700H at Dell (opens in new tab)
We tested the Alienware M15 R7 with an RTX 3070 Ti GPU at the helm, but considering that configuration comes in at over $2,000 right now, you're getting solid value for money with this RTX 3060 build. You're still getting that uber powerful 12th generation processor, and 16GB DDR5 RAM in here. We've opted to keep the 360Hz panel we tested in this build - it's only $100 more for the luxury and it really was an impressive display, well worth the cash.

Scores (RTX 3070 Ti)
Fire Strike: 24,894
Time Spy: 10,722
The Alienware M15 R7 is here to bring the now mid-range line of luxury laptops into 2022's standards. With Intel's new 12th generation processors and Nvidia's Ti GPUs at the helm, there's some serious power up for grabs here. While prices are looking a little higher than those of the predecessor (especially now that discounts abound on the outdated model), you're getting enough new tech under the hood to warrant the splurge.
We were blown away by the performance of this machine. Our test unit featured an i7-12700H processor and an RTX 3070 Ti graphics card, and was easily sailing through our benchmarks and stress tests. This beast didn't even flinch at heavier titles like Red Dead Redemption 2 and Metro Exodus - offering up 76fps in RDR2's Ultra settings, and 72fps with all RTX set to max in Metro Exodus. Those are settings that would make the uber expensive RTX 3080 Ti Razer Blade 15 sweat.
However, it's worth noting that this machine is built purely for power. It's a stocky design, and a particularly heavy one at that - the charging brick alone nearly runs the full length of the keyboard. So no, this isn't going to be a gaming laptop you'll easily throw into a backpack - and those fans can certainly scream - but if you're looking for an all-rounder that can level with machines far pricier than itself, these are easy sacrifices to make.
Alienware is, after all, a luxury brand. With its M-series now falling to the middle of its range (thanks to the advent of the X-series last year), the Alienware M15 R7 is affordable by the brand's standards. That means you'll find far cheaper machines out there, but without that Alienware pedigree to speak of. Still, with performance to rival some of the best gaming laptops in the business, and only a few sacrifices to get there for a great price, this is an excellent option for most players. You could consider the X15 technically the best Alienware gaming laptop on paper alone, but when it comes down to price and the wider market, this is the winner.
Read more: Alienware M15 R7 review
Our favorite configuration: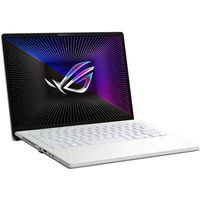 (opens in new tab)
Asus ROG Zephyrus G14 | Radeon RX 6700S | AMD Ryzen 9 6900HS at Best Buy (opens in new tab)
There is a more expensive RX 6800S configuration on offer, but it's not going to fix the performance under ray tracing conditions and we were still getting some excellent performance out of our 6700S. That means the cheaper option is our go-to for the G14, especially considering you're still getting the same Ryzen 9 6900HS CPU whirring away under the hood as well.

Scores (AMD Radeon RX 6800S)
Fire Strike: 21,728
Time Spy: 8,644
The Asus ROG Zephyrus G14 long reigned over the slimline gaming laptop world. It was one of the first easily portable machines, built with a form factor that respected your backpack and your desk top. 2022 heralds in a new AMD future for this fan favorite, and despite some thermal concerns and ray tracing throttling, the G14 is all the more impressive for it.
That's a serious amount of power to pack into this super small form factor after all, and we managed to squeeze some impressive numbers out of this compact design as well. While it does feel built for 1080p (framerates do cliff-dive at the native QHD+ resolution), we were getting some excellent scores in Fire Strike and in-game benchmarking considering the stress this machine is under. Metro Exodus was flying at High settings, hitting 82fps consistently, and The Division 2 managed to hold onto 78fps in Ultra settings as well.
Not only that, but the new 16:10 display was a sight to behold. Crisp and clean, the extra height offered in the display was easily welcomed over the cramped feeling Alienware and Razer offerings. You'll also find an improved LED display running along the back, with sharper customizable animations for an extra personal edge.
We did notice those temperatures creeping under intense workloads, though, so this will be one to keep on a desk rather than a lap. That said, not many 14-inch rigs can keep up with these specs, and even fewer can do so with the extra screen space afforded to you here. The G14 is the best 14-inch gaming laptop we've had our hands on so far.
Read more: Asus ROG Zephyrus G14 review
Our favorite configuration: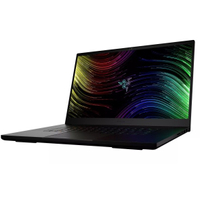 (opens in new tab)
Razer Blade 17 | RTX 3070 Ti | i9-12900H at Razer (opens in new tab)
This i9-12900H configuration of the Razer Blade 17 still manages to pack a serious punch even though it's sitting in the middle of the laptop's lineup. It's around $200 more than the same spec with an i7 CPU, but when you're spending this much it's well worth diving a little deeper. An RTX 3070 Ti will shine on this QHD 240Hz display (4K is overkill for even an RTX 3080 Ti GPU) and still stops you spending close to $5,000.

Scores (RTX 3080 Ti)
Fire Strike: 25,484
Time Spy: 12,244
2022's Razer Blade 17 is here, which means there's a new beast in town - and this one's looking particularly flashy. Don't get us wrong, this is a pricey piece of kit. The i7-12800H / RTX 3080 Ti model we tested runs in at nearly $3,999 / £4,099 - but if you're investing in a gaming and content creation powerhouse, this is the best 17.3-incher in the business. Yes, there's a Razer tax here. You'll find budget machines packing similar specs for slightly less (though not by dramatic amounts) out there, but in return you are investing in a durable, quality piece of kit with some excellent engineering under the hood.
For example, we were particularly impressed with the eight-speaker array - there's some serious power behind these grills, so much so that we didn't feel the need to slap on a gaming headset during our time. Similarly, the expansive display doesn't drop its clarity or color reproduction like many wider models. In fact, we found the screen so impressive that we would happily recommend it for more artistic purposes. Add a wide range of all the latest ports, that classic Razer suave aesthetic, and a clean, tactile glass touchpad and the Razer Blade 17 feels like it could handle anything.
And it can. This machine ripped through benchmarks like they were calculators, spitting out an impressive 25,484 Fire Strike score and a blitzing 12,244 Time Spy result when placed under stress. Results in real-world play were similarly breathtaking - Total War: Three Kingdoms ran buttery smooth at 98fps in High settings and Red Dead Redemption 2 continued to clock 90fps when cranked up to Ultra.
The only issues we faced in our testing were those standard of larger gaming laptops - namely the poor battery life and lack of portability. Of course, if you're in the market for a bigger machine you've already reconciled these facts of life - making the Razer Blade 17 the best 17-inch gaming laptop on the market.
Read more: Razer Blade 17 review
Our favorite configuration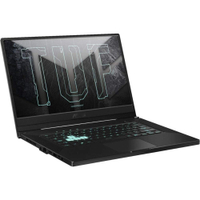 (opens in new tab)
Asus TUF Dash F15 | RTX 3070 | Intel i7-11370H at Amazon (opens in new tab)
The Asus TUF Dash F15 manages to pack some incredible graphics into a much smaller MSRP than you'd usually find because it sacrifices a little processing power. That i7-11370H processor will remain whichever configuration you choose, but it chugs along nicely and we never experienced any slowdown during everyday play on medium settings. Not only that, but this spec also sends you home with a 1TB SSD, 16GB RAM, and a 240Hz display to boot.

Scores (RTX 3070)
Fire Strike: 17,365
Fire Strike Extreme: 9,870
If you're looking to grab an RTX 30-Series card but don't want to break too far past $1,000 / £1,000, the Asus TUF Dash F15 is going to be your best bet. In our testing, we found this budget-friendly machine to charge through even some of the more demanding titles as if it sat in a much higher price bracket - despite the weaker 4-core i7-11370H processor at the helm. Plus, you're still getting the super slimline form factor that has proven so popular over the last couple of years.
The key here is that you can outfit it with the full 11th generation i7 / 1TB / 32GB RAM suite of turbo power - or you can pick up a more conservative spec for a little less cash. That means you won't need to spend on high-end gear that you might not even get to use if you're running less demanding titles.
We were particularly impressed by how well those more power-hungry components played together in a cheaper chassis. We didn't notice any over-heating issues here, and while we did have to make some sacrifices to more demanding titles, we still managed to hit 60fps+ on an RTX 3070 with consistency. We also tested an RTX 3060 unit and found similar performance levels when dropping a few sliders down a fraction as well, which means you're sorted at all ends of the budget here.
Read more: Asus TUF Dash F15 review
Our favorite configuration: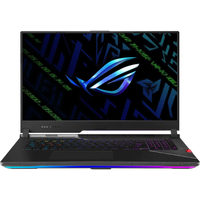 (opens in new tab)
Asus Strix Scar 17 SE | RTX 3080 Ti | i9-12950HX at Amazon (opens in new tab)
If you're going for speed, you might as well go for it. This lightning fast i9-12950HX configuration of the Strix Scar 17 SE packs all the latest and greatest components. Not only that, but the RTX 3070 Ti model is far harder to get your hands on these days.
Scores (RTX 3080 Ti)
Fire Strike: 29,616
Port Royal: 8,329
It's our top pick for the best Asus gaming laptop on the market right now, and the Asus Strix Scar 17 SE is one of the fastest rigs money can buy. With a 16-core 12th Gen i9-12950HX and 32GB of DDR5 memory, this beast of a laptop chews through tasks like a hot knife through butter. Add on the wicked fast 2TB NVMe SSD with read speeds of almost 7000MBs and the highest wattage NVIDIA Geforce RTX 3080Ti, the Scar 17 SE has no problems running games at a brisk clip.
Asus has designed everything about the Scar 17 SE to focus on the highest possible performance. The use of liquid metal thermal paste and an improved vapor chamber design leads to much cooler and quieter experience under load. The Scar 17 SE is one of the quietest gaming laptops we've ever tested but it can roar if you choose to run its Turbo mode.
It comes with a choice of either FHD 360Hz/ 3ms or QHD 240Hz/3ms display – the former more suited to eSports and competitive players while the latter is for the rest of us who want to do serious productive work on our laptops too.
The Scar 17 SE has plenty of ports that are conveniently placed out of the way on the back of the laptop including HDMI 2.1 and ThunderBolt 4. It doesn't have a webcam though which is just unacceptable in 2022 but if you can live without that, this is undoubtedly the best of the best in gaming laptops.
Read more: Asus Strix Scar 17 SE review
Our favorite configuration: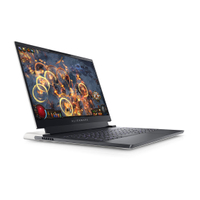 (opens in new tab)
Alienware x14 | RTX 3050 | Intel i5-12500H at Dell (opens in new tab)
The Alienware x14 holds most of its value in its super slimline form factor and flexible (though still incredibly luxurious) design. While cheap by Alienware's standards, though, it's still a costly affair. If you're looking for that super thin profile above all else, we'd recommend taking a look at the base RTX 3050 configuration. You're getting that luxury chassis with Intel's latest processing chip and DDR5 RAM for $1,499.99 here, the best value out of all the options.

Scores (RTX 3060)
Fire Strike: 17,408
Time Spy: 7,807
The Alienware x14 is the thinnest laptop we've had on our desks, and it delights in its performance relative to the lower mid-range components under the hood. Of course, Intel's latest 12th generation processors are helping those RTX 3050 / RTX 3060 graphics cards (as is that DDR5 RAM), but all together these specs are working particularly hard to offer silky smooth framerates in even more demanding titles.
We found that the overall build quality was particularly impressive here, with the x14 shrinking exactly what makes the Alienware x17 feel so solid and premium down into a super flexible form factor. This thing is only 14.4mm thick, and if it weren't for the glowing RGB alien head on the top panel you'd be forgiven for thinking it was a slick business ultrabook.
In fact, there's some serious gaming chops under the hood. Of course, we didn't get numbers to threaten RTX 3070 or RTX 3080-toting machines in our testing, but with the Nvidia optimised Shadow of the Tomb Raider hitting an average of 108fps on Highest settings, there's plenty we shouldn't take for granted here. The Alienware x14 did struggle under heavier titles like Red Dead Redemption 2, but we could still draw 55fps in High settings. With a little tweaking, these more humble configurations can easily soar thanks to the engineering under the hood.
During our testing, though, it quickly became obvious that the RTX 3050 / RTX 3050 Ti configurations would offer the best value for money here. We were a little disappointed by the 1080p 144Hz display considering the fact that our test unit was just knocking on the $2,000 price point. By contrast, this is a more than passable screen when placed on a $1,499 RTX 3050 rig. It feels like there's diminishing returns heading up the price scale here.
Still, if you're looking for a super slimline, easily portable machine, the Alienware x14 is an excellent premium option. Not only are you getting that backpack-friendly form factor, but the USB-C charging makes it particularly easy to juice up on the go as well.
Read more: Alienware x14 review
Our favorite configuration: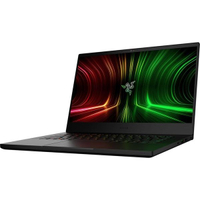 (opens in new tab)
Razer Blade 14 | RTX 3080 | Ryzen 9 5900HX at Razer (opens in new tab)
The Razer Blade 14 really needs a GPU that can put that screen to work. This RTX 3080 configuration comes in around $700 cheaper than the RTX 3080 Ti model, and strikes that perfect balance between power and value for money. In our testing, that RTX 3080 / Ryzen 9 5900HX offered an incredible performance in itself, but if you are interested in pushing this thing to the max, it's worth noting that the Ti configuration does also come with a 6900HX processor and DDR5 RAM these days.

Scores (RTX 3080)
Firestrike: 21130
Timespy: 9432
The Razer Blade 14 sold the idea of smaller, 14-inch gaming powerhouses to us in our testing last year. With some of the most powerful components on the market and an almost impossibly slim form factor, this is a rig to be reckoned with, and the best 14-inch gaming laptop on the market right now. That's because you're blending the best of both worlds here, with an AMD CPU and Nvidia GPU playing nicely together to create an incredible final experience.
The 1440p display and RTX 3080 GPU sung in our testing, blowing us away with impressive handling of High and Ultra settings across a range of games. We were especially impressed by just how much power was up for grabs considering the lightweight, slimline chassis.
The 14-inch form factor makes the power on offer all the more impressive, but we did notice ourselves wanting a slightly larger screen during certain moments, and having all that gear packed in did get a little warm at times. Still, we loved the 1440p / 165Hz pairing on the display - this machine doesn't feel like it would benefit from a costly 300Hz panel and, considering the size, it's easy to be blown away by the quality overall.
We managed to push Red Dead Redemption 2 to near-consistent 60fps on maximum settings in 1440p resolution - astounding considering the form factor here. While Metro Exodus did present more of a challenge (generally hitting 48fps with RTX Ultra settings), a few tweaks still saw us through to 66fps on High.
All of that means you'll easily get a better response from the Razer Blade 14 than you would the similarly designed Asus ROG Zephyrus G14. However, this is certainly a model reserved for those willing to pay for that premium quality. If you don't want to break $2,000 we'd recommend you head a little further down the page.
Read more: Razer Blade 14 review
Our favorite configuration: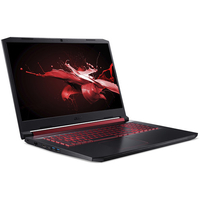 (opens in new tab)
Acer Nitro 5 | AMD Ryzen 7 5800H | RTX 3060 at Amazon (opens in new tab)
The Acer Nitro 5 provides plenty of balance in this configuration, and the best part is we often see this model on sale at Amazon as well. Balancing some solid components under the hood, and a 144Hz display up top, there's some nice horsepower for your cash here. We often see it at between $1,049 and $1,329.

Scores (RTX 3060)
Firestrike: 17,524
Timespy: 7,456
It's not about to blow anyone away with flashy features or top-tier performance, but the Acer Nitro 5 is a very respectable choice of gaming laptop for the busy gamer who doesn't want to break the bank. A good full-scale keyboard with numpad makes this laptop appropriate for both work and play. That means it's a great replacement for a full-tower desktop PC at home that also offers portability thanks to its relatively low weight as gaming laptops go.
The RTX 3060 GPU paired with a Ryzen 5800H processor offered up strong performance in our testing, hitting 86fps in High settings on The Division 2, and only dropping to 77fps in Ultra. While the SSD could be a bit speedier, it's not going to cause any major headaches. Most games will run above 60fps at maximum settings, and ray-tracing is also an option, though it does come with an associated performance hit.
We found the screen to be somewhat dull compared to other laptops in the same price range, and the battery life is decidedly unimpressive, but given the budget cost, these do feel like fair tradeoffs. Especially since the display does retain an excellent 144Hz refresh rate. At $1,129 (with other models varying from $700 to $2,100), the RTX 3060 Nitro 5 manages to pack some impressive components into a budget price tag by dropping nice-to-have features. That makes it perfect for anyone after raw power without all the fancy extras that can sometimes bloat gaming laptop costs.
Read more: Acer Nitro 5 review
Our favorite configuration: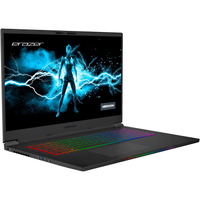 (opens in new tab)
Medion Erazer Beast X30 | i9-12900HK | RTX 3080 Ti at Ebuyer (opens in new tab)
The Medion Erazer Beast X30 excels in its most powerful configurations. This is a machine made to tailor to high end tastes while keeping costs low relative to the rest of the luxury market. That's why we'd recommend going all out with an i9-12900HK processor and RTX 3080 Ti GPU - it's in these extreme upper ranges that the costing on the Beast X30 makes the most sense.

Scores (RTX 3080 Ti)
Fire Strike: 26,542
Time Spy: 12,049
High end gaming laptops pack the latest and greatest specs into sleek, slimline chassis', but if you're in the UK we'd recommend looking to the traditionally budget-oriented Medion Beast line. We were impressed when we got our hands on the Beast X30 model, packed out with an RTX 3080 Ti GPU, i9-12900HK processor, 32GB RAM, and 1TB SSD. Yes, this machine will run you £2,699 at the time of writing - but you'd usually be paying far more for such luxurious specs at this.
As it stands, then, this is incredible value relative to today's market. The matte black coating and skinny design feels more like the Razer Blade 15 than the similarly budget-minded Acer Nitro 5, with a gorgeous overall form factor. Underneath that getup sits a solid spec list. It's rare to find all those components sitting under a 17.3-inch 240Hz QHD display - ticking all the boxes will usually see you cross the £3,000 threshold. The fact is not many machines can offer such a complete package at this price point - while pricey, anyone on the hunt for a luxury machine should certainly consider investing.
In practice, we found the Medion Erazer X30 to be more than capable of anything we decided to throw at it. With Fire Strike scores that almost caught up with that of i9 Razer and Alienware models and benchmarks running in at well over 60fps in High settings across 1080p and 1440p, there's plenty to love here. The only times we saw the Beast X30 drop below 60fps was in heavier titles like Red Dead Redemption 2 and Total War: Three Kingdoms, running both on Highest / Ultra settings at 1440p. Even then we only dipped to 58 / 59fps.
Unfortunately, the Medion Erazer Beast X30 is only available in the UK.
Read more: Medion Erazer Beast X30 review
---
How we test gaming laptops
Every gaming laptop that we review is stress-tested against a series of benchmarking processes and everyday use. We run a standardised series of performance tests on each rig, benchmarking on both High and Ultra / Highest across:
Shadow of the Tomb Raider
Total War: Three Kingdoms (Battle)
Metro Exodus
The Division 2
Red Dead Redemption 2
We carry out these benchmarks at both 1080p and other native resolutions offered by each individual system.
We then test the GPUs inside these gaming laptops against 3DMark Firestrike and Firestrike Extreme (for 1440p rigs), using Firestrike Ultra for our 4K machines. We also use PC Mark 10 tests (including battery performance), as well as Sky Diver, Cinebench, and Crystal Disk Mark.
Of course, we also live with these machines. We find the best gaming laptops by playing, binge-watching, and working with them for as long as we can, using them as we would our own machines (while pushing them a little further for the sake of science).
Read more about how we find the best tech with our full Hardware Policy and find out exactly how we test gaming laptops.
---
Best gaming laptops: FAQs
How to find the best gaming laptop for you
Not sure what screen size you'd ideally want and what minimum spec you'd ultimately like to get in your search for the best gaming laptop? If you need help working that out, we're here to help.
In our opinion, the key is to opt for something with a balance between performance, budget, and components – you want something that will play your favorite games now, but still have enough bandwidth to help you find a new favorite in the future.
So what's your first step when you start browsing for the best gaming laptop? You can start by having a budget or total price ceiling in mind, but generally (and somewhat predictably), you'll want to prioritize the hardware in the machine. As you've made it to this page, you're looking for a gaming-focused portable powerhouse and, as a result, want to aim high in the graphics card department, like a GPU from the RTX family of cards from Nvidia.
This can be an excellent starting point to refine your search - but don't forget to look at laptops with a 16-series card in too as they offer incredible value when complemented by other, well-balanced components. A quick note on components: availability, as everyone knows, has been incredibly unreliable and volatile in recent months. As a result, it might be that when you visit retailers or makers of these machines, only some configurations are available at the time.
If you're unsure of which components you need, it's wise to consider the CPUs and GPUs on offer in tiers. If you only play lighter games that aren't too demanding, you might fall into the entry level tier, if you're looking to hit High settings with a few tweaks and still hit 60fps, it's worth looking in the mid-range. However, if you're going all-in on Ultra settings for the most demanding titles, the best gaming laptop for you might be a more premium option.
Swipe to scroll horizontally
| Entry level | Mid-range | Premium |
| --- | --- | --- |
| 11th / 12th generation i5 | Ryzen 5 | 11th / 12th generation i7 | Ryzen 7 | 11th / 12th generation i9 | Ryzen 9 |
| Nvidia GTX 1650Ti / RTX 3050 RTX 3050Ti | RTX 3060 / RTX 3070 / RTX 3070 Ti | RTX 3070 Ti / RTX 3080 / RTX 3080 Ti |
| 8GB - 16GB RAM | 16GB - 32GB RAM | 32GB RAM |
| 256GB - 512GB SSD | 1TB SSD | 1TB - 4TB SSD |
| 60-120Hz | 144-240Hz | 240Hz - 300Hz |
| $600 - $1,000 | $1,000 - $1,800 | $1,800 - $3,000+ |
Which brand is best for gaming laptops?
Overall, the best gaming laptop brands include Razer, Alienware, MSI, Asus and Acer. However, there are a number of companies all competing for the title right now, from budget-oriented developers to high-end industry staples. Finding the best gaming laptop brand, however, may come down to how much you're willing to pay and how much you value extra features like mechanical keyboards and RGB lighting in your chassis. Alienware, for example, produces some incredible machines with these features built in, but at a significant premium - whereas Acer's machines tend to be more conservative in their builds but offer reduced prices.
Can you spend under $1000 on a gaming laptop?
It's absolutely possible to spend less than $1,000 and still pick up one of the best gaming laptops on the market. Our favorite models under this price range are the Dell G15 and the Asus TUF Dash F15, though the Acer Nitro 5 also offers plenty of value in its cheaper configurations as well. You might be dropping down to 8GB of RAM or a cheaper version of an Intel processor, but if you're playing lighter titles or you're not fussed about the latest and greatest in performance there are plenty of options out there.
Do you need a gaming laptop with an RTX GPU?
Picking up one of the latest Nvidia GPUs in your gaming laptop doesn't need to be a costly affair - RTX 3050 machines have been spotted at prices that would previously have sat on older GTX models. Nvidia's RTX chips are currently in their 30-Series, one up from the 20-Series launched last year, and you'll find the vast majority of gaming laptops on the shelves are sporting them. That doesn't necessarily mean you need one if you're just playing smaller games on a budget, in which case a GTX 1650 is still a worthy consideration. However, the bottom line is if you're buying a gaming laptop today, the choices on offer will revolve around the RTX 30-Series line.
If you're looking to save some cash, though, you'll find plenty of RTX 3050 laptop deals and RTX 3060 laptop deals if you're looking for something with a little more power. However, if you're going big, it's worth checking out all the RTX 3070 laptops on offer, as well as the serious savings on RTX 3080 laptop deals as well.
If you've managed to find the right rig for you, it's worth investing some thought into the best laptop backpacks to get you out and about. Or, check out our guide to the latest cheap gaming laptop deals if you're looking for more savings. Or, check out all the cheap Alienware laptop deals and Razer laptop deals currently on sale for some serious discounts.