The best Alienware laptops are about to get a little better. Recent announcements from CES 2023 offered up a new look at the next lineup from Dell, and things are getting big. We've got new Alienware M16 and M18 models heading to the shelves this year, and if you're after a little luxury, the x16 is making its debut as well. With previous 15.6-inch and 17.3-inch models holding steady, and a refresh of the Alienware x14 on the cards, there are more Alienware laptops than ever to choose from right now.
Whatever budget you're working with, then, we're helping you find the right Alienware laptop for you - whether that's a smaller (but cheaper) 14-inch model, or
a massive 17.3-incher at the top of the price list. Alienware laptops are taking the brand even further up the ranks of the best gaming laptops on the market, and these machines do come with a premium. Still, they remain popular among PC players for good reason, with a solid quality build and excellent engineering.
To help break the choice down a little, we've rounded up a shortlist of all the best Alienware laptops available right now. Based on our own testing, and the components up for grabs in each model, this list is compiled from both hands-on experience and price-checking competitors for value for money.
We've also listed all the lowest prices from around the web to ensure you save as much money as possible while making such a sizeable, but well-placed, investment.
The Quick List
The best Alienware laptop overall
Our favorite configuration: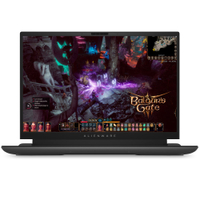 Alienware M18 | Intel i9-13900HX | RTX 4080 at Dell
We tested an RTX 4090 graphics card with this i9-13900HX processor, but considering you can get away with a sub-$3,000 price tag on an RTX 4080 configuration we're pitching slightly downwards for our favorite configuration.

The Alienware M18 marks the brand's return to big-screen gaming laptops, but it does so much more than slap an 18-inch display across its hulking chassis. This is a powerful machine running the latest components but still managing to stay within a reasonable price tag.
Buy it if:
✅ You want big-screen gaming without too high a cost: The M18 offers a range of configuration options, which means you can get away with a starting price of just $1,699.99 if you opt for an RTX 4060 version.
✅ You're keeping your laptop on your desk: This is a large, heavy device, and won't be a comfortable travel companion. If you plan on keeping your laptop on a desk for the majority of the time, though, it's a win.
✅ You don't want messy cables: It's a small point, but if you are going for the desk-based approach, those rear facing ports are going to be a life saver when it comes to cable management.
Don't buy it if:
❌ You're a competitive player but still want QHD+: There's a quirk in the configuration options here. A QHD+ screen drops your refresh rate down to 165Hz, whereas FHD+ options bump it all the way up to 480Hz. There's no real good spot in the middle.
❌ You want the best screen quality possible: Alienware isn't winning the screen quality race against competitors like Asus right now. If you want high-end HDR Mini LED displays you'll need to look elsewhere.
❌ You want more of an option to travel: Of course, if you do need to travel with your laptop, you'll need to look at something thinner and lighter, potentially sacrificing some screen real estate.
Design: Let's get one thing out the way first, this is a giant laptop. Its 18-inch display has to be housed with something after all. However, we were surprised that the M18 doesn't feel as big as it should, thanks to its curved lines and particularly effective sloped front lip. Compared to the Asus ROG Strix Scar 18, a fairly boxy design, this thing feels sleek. We're not getting carried away here, though - this is still a 4.23kg machine so regular transport is out of the question.
Everything else remains as you would expect from Alienware. Yes, that embossed number and cool gray lid, hexagonal grills and narrow keyboard all feels a little tired now, but it's an aesthetic that works and remains subtle while still giving you that RGB glow.
Features: That 18-inch display is going a lot of the heavy lifting when it comes to features. It's an expansive panel and the best option for anyone after the best Alienware laptop for pure immersion. You've got two display options, a 165Hz QHD+ model and a super speedy 480Hz FHD+ model. It would have been nice to see a split down the middle here, as Asus, Razer, and MSI all offer QHD+ panels in this size with a 240Hz refresh rate.
Nevertheless, motion remains slick and the overall picture is still solid - if a little darker due to the matte coating. You'll also find an expansive selection of ports to play with, an impressive 1080p webcam, and a super tactile keyboard with a full-sized number pad built in.
Performance: The M18 also benefits from have a wide range of configuration options - far more than Asus's competitor. That means you can run from an i7 / RTX 4060 model all the way up to Intel's turbo charged i9 processors and RTX 4090 graphics. We had a top end build in for review, and were blown away by the results. The M18 nearly bested the Asus ROG Strix Scar 18 (the most powerful gaming laptop we've ever had our hands on), offering some benchmark numbers that skirted a little higher than Asus overall.
Verdict: The Alienware M18 isn't without its drawbacks, but if you're after Dell's biggest and best rig you've come to the right place. With a massive range of configuration options, and the power to draw all the best parts of those components out, this is our favorite Alienware laptop overall.
Read more: Alienware M18 review
Swipe to scroll horizontally
Alienware M18 Benchmarks (RTX 4090)

| Game | 1080p | 1600p |
| --- | --- | --- |
| Shadow of the Tomb Raider | High: 210fps | Highest: 196fps | High: 184fps | Highest: 173fps |
| Total War: Three Kingdoms | High: 222fps | Ultra: 171fps | High: 144fps | Ultra: 105fps |
| Rainbow Six Extraction | High: 212fps | Ultra: 174fps | High: 168fps | Ultra: 148fps |
| Returnal | High: 183fps | Epic: 142fps | High: 152fps | Epic: 138fps |
| Hitman 3 | High: 168fps | Ultra: 153fps | High: 139fps | Epic: 121fps |
The best cheap Alienware laptop
Our favorite configuration: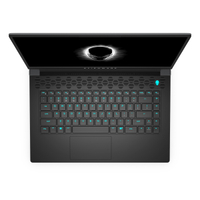 Alienware M15 R7 | RTX 3060 | Intel i7-12700H at Dell
The Alienware M15 R7 that we tested came with an RTX 3070 Ti GPU, but that configuration will run you over $2,000. For better value, we'd recommend putting that cash towards a 360Hz display if you're after a mid-range spec. The 3060 GPU under the hood here will still perform admirably thanks to the thermal engineering under the hood, and you're still getting a super fast 12th generation i7 processor and 16GB DDR5 RAM.

The Alienware M15 R7 is now a generation behind, since the release of the M16 this year. Featuring 12th generation Intel processors, and Nvidia's Ti graphics cards, you're still getting some solid power under the hood here, but we're seeing those prices tumbling now that it's a year on the shelves.
Buy it if:
✅ You care more about performance than design: The Alienware M15 R7 isn't the best designed laptop on the planet, but its benchmark numbers speak for themselves. If you're just after a workhorse this is an excellent bet.
✅ You've don't want to break the bank: Alienware laptops are expensive, but these days discounts on the M15 R7 are dropping those MSRPs considerably. This is your best chance of scoring one of these luxury machines without breaking the bank.
✅ You're not going to be transporting it too often: A chunkier chassis like this isn't going to be fun in a backpack - especially considering it packs an equally massive charging brick. If you're keeping your Alienware laptop firmly on the desk, this is where we'd put some cash.
Don't buy it if:
❌ You regularly travel with your laptop: Of course, if you do need to travel with your laptop regularly we'd recommend investing in something lighter and smaller - with a more portable charging brick to boot.
❌ You want new generation components: The new Alienware laptops don't come in this 15.6-inch form factor, but the M16 does manage to pack new generation components into a similar build.
Design: You're still picking up luxury Alienware design features, like the LED strip of RGB lighting running around the (plentiful) back ports. Plus, we were particularly impressed with the feel of the mSeries keyboard here. While not a true mechanical model (as featured in more expensive configurations of the X17), there's was a satisfying tension here, and a longer travel distance than we typically see in laptop decks. However, compared to the rest of the market, we were a little disappointed to see the same plastic chassis as the R5 and R6 models here. You'll find far cheaper rigs offering more durable build materials out in the wild.
Plus, this laptop hasn't been built with portability in mind. Weighing in at just under 6 lbs, and with a bulky form factor to prove it, this is one you'll be keeping firmly on your desk. We found that those sacrifices were easy to make considering the excellent power under the hood, though.
Features: Yes, the design is a little chunky but it's for good reason. Alienware has thrown everything it's got into the M15, with a generous selection of ports (all neatly kept to the rear), a tactile keyboard, two sets of stereo speakers with particularly high volume, and a speedy 360Hz FHD display up top. That's everything you need for a luxury feel at a reduced price.
Performance: This rig barely broke a sweat in our testing, sailing past 60fps in even the most extreme of benchmarking situations. Red Dead Redemption 2 on Ultra settings? Metro Exodus with RTX hitched all the way up? Absolutely no problem for this beast. This rig's numbers left the Razer Blade 15 in the dust - all while running a lower specced configuration. If you're more concerned with performance than looks there's plenty for you here.
Verdict: The Alienware M15 R7 is getting on a bit, but that means it's primed for some particularly strong discounts from Dell. That means, provided the right discount comes along, you could score yourself some incredible value for money - especially if we keep seeing RTX 3070 Ti configurations like this dropping down to the $1,300 price range.
Read more: Alienware M15 R7 review
Swipe to scroll horizontally
Alienware M15 R7 Benchmarks (RTX 3070 Ti)

| Benchmark Test | 1080p |
| --- | --- |
| Shadow of the Tomb Raider | High - 148fps / Highest - 129fps |
| Total War: Three Kingdoms | High - 120fps / Ultra - 83fps |
| Red Dead Redemption 2 | Balanced - 79fps / Highest - 76fps |
| Metro Exodus | High - 98fps / Ultra - 72fps |
| The Division 2 | High: 124fps / Ultra: 97fps |
The best value Alienware laptop
Our favorite configuration: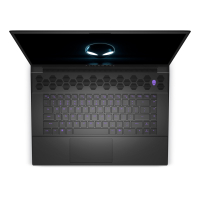 Alienware M16 | RTX 4060 | Intel i7-13700HX at Dell
This is the spec we tested, and the one that makes the most sense for the value-hunting deal buster. You're getting mostly three-figure framerates out of that RTX 4060 and Intel i7-13700HX, and saving cash on a laptop that sacrifices portability for power.
The Alienware M16 has taken over from the M15 R7, with a larger display and new Nvidia RTX 40-Series and Intel 13th generation components on board. That makes for an excellent jump in performance, even in the baseline RTX 4060 configuration we had our hands on. With a price difference of only around $150 from the cheaper M15, this is the best value Alienware laptop you can get your hands on right now.
Buy it if:
✅ You want the latest generation of components: The M16 is the cheapest Alienware laptops to offer new generation components, which means you can enjoy Nvidia RTX 40-Series GPUs and Intel's 13th generation of processors under the hood here.
✅ You don't want to spend on bigger configurations: If you don't want to stretch all the way up to an RTX 4090, the M16 also performs particularly well with an everyday RTX 4060 inside.
✅ Fan noise is off-putting: We noticed a considerable drop in fan noise in the new M16 model, so while things can still get loud you're going to have a better time overall compared to the M15 above.
Don't buy it if:
❌ You regularly travel with your laptop: Again, this isn't a lightweight device, despite the thinner sides. At over 3kg and with that squat form factor, this isn't a backpack friendly rig.
❌ You want to work or play on your lap: The grills take up a lot of space at the top of this inner deck, which means palm space is restricted below. That means it's not particularly comfortable to use for longer sessions on the lap.
Design: You're getting the same Alienware M-Series design on this new generation rig - but again, the design isn't Alienware's best feature. The large hexagonal grills running along the top of the main deck still push the keyboard and trackpad down uncomfortably close to the lip of the laptop, and the 3.25kg weight puts this as one of the heaviest machines on the market right now. This thing runs great on a desk - just don't think about slinging it in a backpack too often.
Features: The solid QHD+ display, high-end components, and the good old Alienware RGB glitz is still here. A selection of speedy ports helpfully placed along the back mean you can easily hardwire your setup without having to faff with too much additional connectivity. While the extra space towards the rear may prove cumbersome on smaller gaming desks, this is where the Alienware M16 feels most at home.
The M16 takes a new design route for its keyboard this year, dropping the deck itself into a recessed bay running horizontally across the main deck. The keys themselves remain tactile and responsive, though there's no number pad or dedicated media buttons. Cooling has taken another step forwards here, with fan noise being noticeably reduced compared to the M15 above.
Performance: That clunky form factor is the price you're paying for a high performing laptop at an - in Alienware terms anyway - affordable rate. Our RTX 4060 model came pretty close to the RTX 3070 Ti M15 we had our hands on last year in terms of Time Spy and Fire Strike scores, and outperformed that boosted GPU across in-game benchmarks as well. That's some seriously impressive stuff, especially considering the price jump isn't as large as those numbers suggest.
Verdict: The Alienware M16 is the brand's best value option right now. Considering its price comes in just a hair over the M15's MSRP (and isn't too over the top compared to other Alienware rigs), you're getting a strong price to performance ratio with next generation components under the hood.
Read more: Alienware M16 review
Swipe to scroll horizontally
Alienware M16 In-Game Benchmarks (RTX 4060)

| Benchmark Test | 1080p | 1440p |
| --- | --- | --- |
| Shadow of the Tomb Raider | High: 159fps | Highest: 150fps | High: 120fps | Highest: 111fps |
| Total War: Three Kingdoms | High: 132fps | Ultra: 102fps | High: 105fps | Highest: 74fps |
| Rainbow Six Extraction | High: 190fps | Ultra: 149fps | High: 122fps | Ultra: 97fps |
| Returnal | High: 124fps | Epic: 98fps | High: 103fps | Epic: 87fps |
| Hitman 3 | High: 92fps | Ultra: 86fps | High: 83fps | Ultra: 79fps |
The best 14-inch Alienware laptop
Our favorite configuration: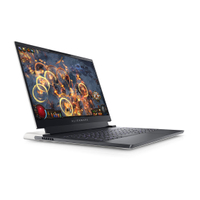 Alienware x14 | Intel i7-12700H | RTX 3050 Ti at Dell
The Alienware x14 is best served with an RTX 3050 Ti GPU and 12th generation i7 processor. After all, there's only $100 between this boosted version and the i5 / RTX 3050 configuration and the extra power is well worth the slight bump in price. You're picking this machine for its impossibly thin form factor and luxurious design, rather than its ability to pump out three-figure framerates, and there's diminishing returns the further up the price scale you go.

Dell has shrunk its premium line of gaming laptops with the Alienware x14. Taking the luxury design of the x15 and x17 models and whittling it down to a new 14-inch form factor, this is the smallest Alienware laptop currently on the market. That means you're dropping down a few pegs in terms of your configuration, especially compared to the high-flying specs of the larger models.
Buy It If:
✅ You need a laptop for work and casual play: This isn't a framerate monster, so the x14 makes the most sense for people looking for a work machine that can also hold up to some casual gameplay.
✅ You travel regularly with your laptop: The small form factor and super thin design means this is the perfect Alienware laptop for throwing into a backpack.
✅ You don't mind spending on a luxury design: The x14 is the cheapest in its range, but it's still a pricey rig. If you don't mind spending on those luxury features, it's a great option.
Don't buy it if:
❌ You're chasing framerates: This isn't the best performing Alienware laptop on the market, focusing more on remaining lightweight and portable. If you're after pure power, we'd recommend a larger machine.
❌ You don't need that slimline design: If you plan on keeping your laptop stuck to your desk, it's worth investing a little more in a larger machine with more to offer a static gaming setup.
Design: The Alienware x14 is all about its design. It's an impossibly slimline machine, measuring just 14.4mm thick. That's the skinniest machine we've ever tested, so if you're after a portable device this is where you need to be looking. Of course, you've still got that luxury X-Series build quality and aesthetic, with a crisp '14' embossed on the lid, and a futuristic but still refined design overall. The larger area behind the hinge may cause some transportation issues if you've got a particularly tight fitting backpack, and it's a little frustrating to see in this smaller form factor machine, but overall this thing is built to go everywhere with you.
Features: The x14 comes with an RTX 3050, RTX 3050 Ti, or RTX 3060 GPU, paired up with either an Intel i5-12500H or i7-12700H processor. Those smaller specs mean that this is one of the cheapest Alienware laptops currently available, when configured as such. We tested an RTX 3060 / i7 configuration, but that rig costs close to $2,000. We thought that was a little hard to swallow considering every Alienware x14 ships with the same 1080p 144Hz display. However, down at the bottom end of the price scale there's actually some solid value for money. That's why we'd recommend checking this machine if you're after form factor over performance, aiming for an RTX 3050 GPU.
Performance: Straight out the gate, it's clear this isn't a gaming laptop designed to prioritise performance. We were impressed with the 108 average frames per second on Highest settings in Shadow of the Tomb Raider, and while more demanding titles like Red Dead Redemption 2 did present more of a challenge, we were still benchmarking at 55fps in High. Your performance is hampered by the slimline design, but if you're just looking for a casual machine you'll get by.
Verdict: You're paying for the high-end engineering, design, and build quality here - all wrapped up in a super skinny machine that can slide easily into any backpack. While that means the Alienware x14 isn't going to win any benchmark comparisons, it does provide an excellent all-round approach to portable work and lighter play.
Read more: Alienware x14 review
Swipe to scroll horizontally
Alienware x14 Benchmarks (RTX 3060)

| Benchmark Test | 1080p |
| --- | --- |
| Shadow of the Tomb Raider | High: 116fps / Highest: 108fps |
| Total War: Three Kingdoms | High: 83fps / Ultra: 58fps |
| Red Dead Redemption 2 | Balanced: 55fps / Highest: 52fps |
| Metro Exodus | High: 65fps / Ultra: 47fps |
| The Division 2 | High: 90fps / Ultra: 68fps |
The best 15.6-inch Alienware laptop
Our favorite configuration: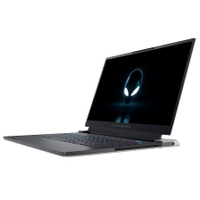 Alienware X15 R2 | Intel i7-12700H | RTX 3070 Ti at Dell
The Alienware x15 R2 is a premium piece of kit, so we'd recommend boosting your GPU up to an RTX 3070 Ti to get the best value over the baseline RTX 3060 option. There's around $300 between the two configurations, but that's cash well spent when you're at this level of investment.

Dell refreshed both the x15 and x17 back in 2022, though even today these are not cheap rigs. That said, paying for luxury certainly has its benefits - this was one of the best looking and feeling Alienware laptops we've ever had our hands on. Plus it's certainly not as pricey as the 17-incher.
Buy it if
✅ You've got the budget to spend: No Alienware laptop is going to be cheap, but the x15 R2 is particularly expensive compared to the M-Series. If you're after a top of the range configuration this is going to cost you far more than a more budget chassis would.
✅ You can deal with a little heat: The X15 R2 does run particularly warm, which means we'd recommend it more for those looking to work and play from a desk rather than a lap.
✅ You want a desktop solution that can also easily be transported: The X17 is too big to easily carry around with you all day, but the X15 still offers the rear IO ports and components to sit as a desktop fixture. If you're after that Goldilocks zone, this is your best Alienware bet.
Don't buy it if:
❌ You want the best value: The Alienware x15 R2 is flashy, but that means it's not the best overall value for money. If you're not tied to the brand there are plenty of cheaper models out there, but if you're after Dell's finest you'll find better a price-performance ratio out of the M-Series.
❌ You want the latest components: The x15 R2 didn't receive a 2023 refresh this year, which means there are no RTX 40-Series or Intel 13th generation configurations on the shelves. Considering the jump in performance we've been seeing in our own testing, it's worth considering a move up to the x16 or one of the newer M-Series models.
Design: If you're familiar with the Alienware X-Series nothing's going to shock you here. The crisp white shell of our test unit made the already super slim form factor feel all the more slick, and that 2.2kg is a feat of considerable engineering considering the components underneath. The inset hinge does add a little more to the footprint overall, but it's not as egregious as some of the more recent Alienware gaming laptops, and the RGB LEDs keep everything looking sharp in the meantime.
Features: The Alienware X15 R2 brings with it Intel's new 12th generation processors, the capacity to build up to that Nvidia's RTX 3080 Ti GPU, and extra attention paid to the LEDs running along the back of the chassis. It's still the slimline, highly powerful rig we've all come to welcome onto the premium shelf, but refreshed to keep up with 2022's components.
With four fans and the brand's 'Element 31' cooling solutions under the hood, Alienware has paid more attention to keeping things running smoothly. Unfortunately, it's still not quite enough to keep those temperatures down - the x15 R2 still runs particularly hot at full whack, with some impact to performance after around an hour of gameplay. Still, you're getting a gorgeous screen up top, a handy rear IO placement, and a snappy tactile keyboard - though the mechanical option will cost you extra.
Performance: If you do want to go all out in your configuration, you're in safe hands here. Our RTX 3080 Ti test unit posted some seriously impressive numbers - outpacing the Razer Blade 15 in industry testing and storming through in-game benchmarks. Three figure framerates were the norm in titles like Shadow of the Tomb Raider and Total War: Three Kingdoms, with more demanding games like Metro Exodus and Red Dead Redemption 2 still posting well above 60fps at Ultra settings.
Verdict: You're still getting that sleek form factor, Intel 12th generation chipset, and radical RTX 3080Ti opportunities, but without dropping an insane amount of cash like you would with the 17.3-inch version. Don't get us wrong, these are still premium machines - but with prices cutting slightly under those of the 17-incher things are that little bit more reachable here.
Read more: Alienware x15 R2 review
Swipe to scroll horizontally
Alienware x15 R2 Benchmarks (RTX 3080 Ti)

| Benchmark Test | 1080p |
| --- | --- |
| Shadow of the Tomb Raider | High: 161fps / Highest: 132fps |
| Total War: Three Kingdoms | High: 190fps / Ultra: 141fps |
| Metro Exodus | High: 96fps / Ultra: 77fps |
| Red Dead Redemption 2 | Balanced: 90fps / Top: 72fps |
---
How we test Alienware laptops
Finding the very best Alienware laptops is no mean feat. Of course, Dell only produces so many ranges and models per year - but not each one carries its price tag the same way. We run all gaming laptops that pass our desks through a series of industry tests, while working and playing with them for a considerable amount of time in every day life. That way we can accurately judge the value proposition on offer, and determine just how far that price tag will take you.
Our testing covers everything from GPU performance to storage speeds, using 3D Mark, Cinebench, PC Mark 10, and Crystal Disk Mark to ensure we have a set of baseline data to compare models. After that, we see how each Alienware laptop fares in the real world, with framerate tests across Shadow of the Tomb Raider, Total War: Three Kingdoms, Metro Exodus, The Division 2, and Red Dead Redemption 2.
These laptops also slot directly into our everyday lives when we're testing, which means we have the chance to see exactly how they fare against daily work and play, while also testing battery, portability, and overall quality of life as well.
You can find more information on how we review the products we recommend in our full Hardware Policy, and we're also showing you exactly how we test gaming laptops for more details as well.
Best Alienware laptops: FAQ
Which Alienware gaming laptop should you buy?
If you're looking in the current generation of Alienware gaming laptops, it's worth noting that the M15 R5 / R6 will be the perfect sweet spot in value for most. It's already stacked out with plenty of room for a powerful configuration, and you're getting a lower price than the previous mainline entry. Plus, you'll be able to pick up a lower spec model for far less cash if you don't think you're going to be playing demanding titles.
However, if you need more room for more substantial components, it's worth checking out the X15 instead. You're getting the new form factor, but also the ability to move up to an i9 processor if you want, as well as up to 4TB of SSD storage. That's a particularly costly spec, but well worth it if you're looking to spend more than $3,000.
The Alienware X17 is largely reserved for those who don't mind something that will take up far more desk space. This is a large laptop, and one that won't be easily transported.
How much does an Alienware laptop cost?
The best Alienware laptops can soar in price, especially when outfitted with the latest and greatest components. These are powerful machines with plenty of additional power keeping everything running under the hood, which means you're not exactly picking up a budget buy here.
The cheapest model in the current lineup is an entry level configuration of the Alienware M15 R6. This machine starts at $1,379.99 / £1,499 for an i7-11800H processor, RTX 3050 Ti GPU, 256GB SSD storage and 8GB RAM.
Meanwhile, the new X line pushing things into a more premium category. The Alienware X15 starts at $2,099.99 / £2,149 and the X17 model sits at $2,199.99 / £2,299.
Are Alienware laptops worth it?
At first glance, Alienware laptops might seem overpriced - you'd be justified in calling them the 'Apple' of gaming. However, they earn that price tag with accessibility, ease-of-use, and smart design that sets them apart from other manufacturers.
Alongside fierce technical capabilities that allow them to run today's games at their best, Alienware gaming laptops come ready-made and good to go, without a thoughtful design in both engineering and aesthetic.
Happily, Alienware is keen to make sure there's something to suit your budget as well. The official website lists a variety of builds with different costs, allowing you to pick and choose what you want. And if you decide you should have opted for more power down the line? It's often easy enough to open the case and upgrade your rig yourself.
New Alienware laptops 2023
With a new year comes a new slew of Alienware laptops to pick from, and 2023 is set to offer a monster leap in performance compared to previous iterations. We've got four new models on the shelves this year, spanning 14-inch all the way up to 18-inch devices. Here's what we know about each one.
Starting small, the new Alienware x14 R2 continues the previous model's spectacular performance in the slimline category. This almost miniature feeling machine will receive its first refresh in 2023, adding Nvidia RTX 40-Series graphics up to RTX 4060 and maxing out with the latest Intel i7-13620H processor. This isn't just a spec boost, though, Alienware has also upped its cooling game. Higher end configurations of the R2 will sport additional Element31 cooling on both the CPU and GPU, but all models will also offer the brand's new Smart Fan system. This allows the device to kick up individual fans when necessary, by reading temperature data from sensors across the rig. The Alienware x14 R2 will offer both QHD+ and FHD+ resolutions at 165Hz and 144Hz respectively, in a 16:10 aspect ratio.
Next up, the Alienware x16 is looking to take on the likes of the Razer Blade 16 and Asus ROG Zephyrus M16 with its graphics capabilities running all the way up to the RTX 4090. Add Intel's powerful i9-13900HK processors into the mix, up to 4TB of SSD storage space, and six speakers and you've got yourself a gaming powerhouse. The x16 will pack a 240Hz QHD+ display up top as well.
Of course, if you don't need the luxury design of the x16, Alienware is also launching another 16-incher with more of a power-focused ethos. The new M16 offers the latest Intel and AMD processors up to i9-13980HX or Ryzen 9 7945HX, as well as graphics up to RTX 4090. You've got two display options to choose from here as well, with QHD+ panels in either 165Hz or 240Hz refresh rates, or a FHD+ screen at a massive 480Hz.
The Alienware M18 is the big-un, and it's going all in on its size. This 18-inch device packs the same CPU and GPU options as the M16, while dropping the QHD+ 240Hz screen option of the smaller model. However, in true desktop replacement style, this device will ship with an abundance of ports - including two extra USB-A and one extra USB-C.
---
If you're shopping between brands, check out our guide to the best Razer laptops and best Asus gaming laptops on the market, and our roundup of the latest cheap Razer laptop deals as well. Or, to kit out your new rig, take a look at the best gaming mouse, best gaming keyboard, and best gaming monitor options available now.