If you're on the look out for a prebuilt machine then some of the best Alienware gaming PCs are a great option as they provide a much needed balance between style and power. It's worth noting that you are paying a little bit more for Alienware in comparison to other brands, however in turn you recieve the amazing build quality that the company offers.
An Alienware gaming PC of any variant, build, or stripe will offer some of the best experiences in games and the best performance that only the very best gaming PC contenders can offer. Simply put, if you're on the hunt for a pre-built behemoth, then we don't think you can go wrong at all with an Alienware PC - it'll be a real treat, and your setup will be quickly elevated.
That's why we've listed the best Alienware gaming PCs and their latest, lowest prices below; as well as spotlighting the primary models you should keep an eye out for, we've also listed the sales, discounts, and bargains you shouldn't miss.
Best Alienware gaming PC
Alienware Aurora R13 | Intel Core i7-12700KF | RTX 3070 at Dell (opens in new tab)
We think this spec of Alienware Aurora R13 is more modest than the review unit we had our hands on recently. However, with the 12th gen i7 and the RTX 3070 inside, this machine is more than capable of 1440p and 4K with ray tracing enabled at much kinder prices than you may expect. You've got PCIe 5.0 compatibility, including the latest DDR5 RAM for futureproofing, too.

The Alienware Aurora R13 is the latest in the long line of Dell's machines and it also happens to be the best in our opinion. Featuring a fresh new look, highly configurable components, and support for the latest PCIe 5.0 bandwidth, this is one space-age rig that's truly ready for the future of PC gaming.
Regardless of how you configure your device, one constant is the design of the Alienware Aurora R13 itself, with its new see-through window panel revealing more of the brand's impressive lighting and AIO cooler. Transparency is always appreciated in our book, as you get to physically see the components at work, making it easier to swap things out when needed, too, so it's a welcome addition.
The main weakness of the Alienware Aurora R13 is the same issue that's plagued many of the systems in our roundup, and that's the cooling. Dell has opted for a 120mm AIO water cooler in this machine this time around, and while a marginal improvement given the hardware here, the small size radiator/pump combo does struggle to cool the demanding components sometimes. It's loud, too. Still, the performance on display certainly speaks for itself and is easily the best Alienware you can get in 2022.
Alienware Aurora R10 | Ryzen 5 5600X | GTX 1660 Ti (opens in new tab)
This is the cheapest Alienware gaming PC on the market and will provide you with all you need for high-end 1080p gaming and decent 1440p in all the latest games. What's more, you're benefiting from a current-generation Ryzen 5 CPU, which is one of the best processors you can get right now in terms of value for money.

While carrying an MSRP of $1,400, you can commonly find the entry-level Alienware Aurora R10 Ryzen Edition selling around the $1,275 mark, which nets you a system that's more than capable of 1080p60 and 1440p with few compromises to speak of. It should be said that Alienware machines are far from the cheapest on the market, however, you do benefit from the brand's exceptional build quality and manufacturer's guarantee.
Deep diving into what's possible with the hardware inside this budget-built Alienware Aurora R10 Ryzen Edition machine, and this model certainly has enough grunt under the hood to keep up. This is because the GTX 1660 Ti is equipped with 6GB GDDR6 memory, and can deliver more-than-playable frame rates in titles such as Godfall, Resident Evil Village, Far Cry 6, and Doom Eternal well above a consistent 60 FPS in 1440p. Full HD performance is even stronger, with the same titles pushing upwards of the 100 FPS mark in some instances. You're lacking ray tracing and DLSS support, however, given the native prowess of the card in these resolutions, it isn't a feature that's essential for the price point.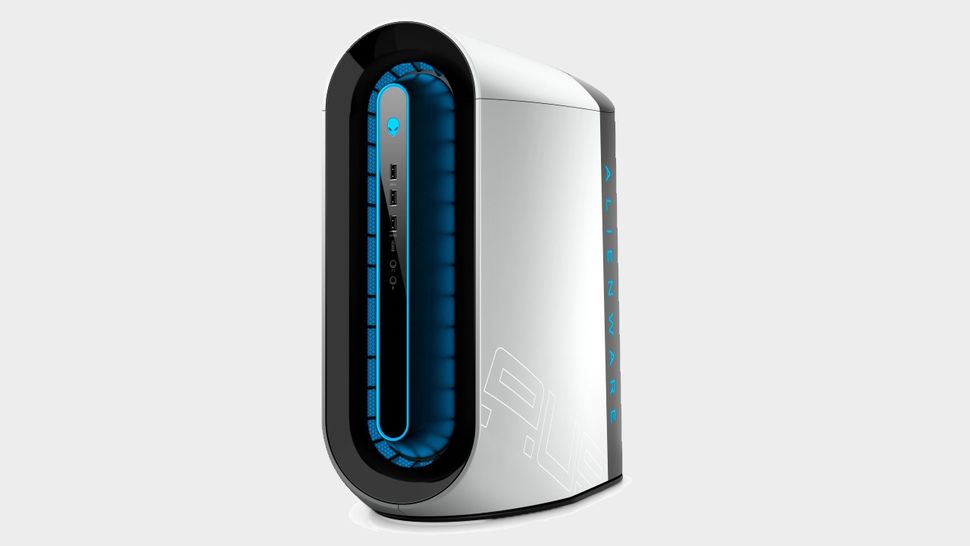 The Aurora R12 gaming pc is still a solid option in 2022. Basically, in short, this is the model to go for if you want to build your own Alienware gaming PC and ensure it has the latest gear inside it, even with the R13 now technically taking its place. The two systems live side-by-side.
Sporting the latest in Nvidia's 30-series graphics cards to offer best-in-class performance as well as the benefits of the latest in ray-tracing tech, DLSS, and more, these beasts will present your games to you in their best possible light (no pun intended.) Combined with the latest Intel processors, you can be sure that the power and capability of the PCs will be nothing short of impressive, and be able to handle anything thrown at it.
You'll have a great pick for supporting components too with up to a ridiculous amount of storage and RAM on offer too. The R12 really is one of the best Alienware gaming PCs that money can buy, and while they are a sizeable investment, there'll be no regrets about what you'll get out of it.
Best Alienware gaming PCs - Frequently asked questions
Is Alienware good for gaming?
Alienware is one of the best gaming PC brands with hardware and software geared specifically around gaming. Programmes such as Alienware Command Centre gives users good control over how their system operates in everything from the fan speeds to the RGB colors, too. In our testing, we've found Alienware machines to work incredibly well depending on their overall configuration.
Is Alienware worth it?
We think that Alienware is worth the price of investment despite the premium price tag these machines usually carry. All Alienware machines that we've had our hands on have been very well built and able to be pushed to their limits. One thing we can tell you, though, is that Alienware PCs do get quite loud and warm under stress, but that's ultimately par the course depending on how high-end you go for.
How much does an Alienware gaming PC cost?
Alienware gaming PCs generally start from around the $1,100 mark depending on what hardware you opt for in your machine. It's entirely possible to find Alienware gaming PC deals all year round, but you can also find deep discounts often, too, with frequent special events.
---
You'll also find guides to the best gaming mouse, best gaming keyboard, and best gaming monitor if you're refreshing your whole setup as well.