At GamesRadar, we take a thorough approach to testing the best gaming PCs, and this is because a computer is made up of many individual components, all of which in tandem make up the gaming experience. For instance, we take into consideration the processor, the graphics card, choice of RAM, and storage solutions.
We've briefly touched upon our ethos in the Hardware Policy, though it's worth reiterating here, too. At GamesRadar, we attempt to go in-depth with thorough testing and analysis while keeping the jargon and techno-speak to a minimum. Our job is to take an encompassing look at gaming PCs to deliver a verdict that can be easily understood by anyone who comes across our write-ups.
Many contributing factors go into the star rating which is usually the first and last thing you'll see in any of our gaming PC reviews. At its heart, we're PC gamers and use the latest and greatest rigs as they were our own for the period of time allocated. We don't just look at these machines as one-and-done items to tick off a checklist but immerse in the full capabilities of their potential.
Gaming PCs replace our regular rigs
When we review a gaming PC at GamesRadar, the vast majority of the time that machine will replace our everyday rig. This means setting up at our desks, with all our usual peripherals and monitors to fully ascertain what the rig is like in everyday use. This means that, as well as our suite of benchmarking software and select video games used to push the rig to its full potential, we also use the review units for everything else in our day-to-day lives including working, as well.
We ask and hope to answer a few questions regarding every gaming PC we have to test:
What are the internal temperatures like when idle, gaming, and being benchmarked?
What are the insides of the gaming PC like? Is it cramped? Can I upgrade easily?
How loud does the gaming PC get when under stress?
What is the build quality of the unit like as a whole?
How much bloatware is included on the unit?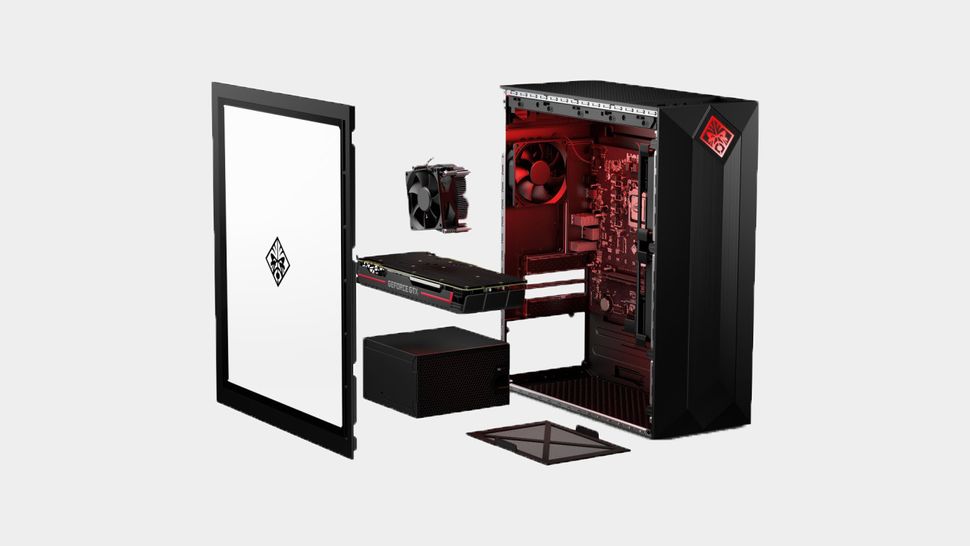 We test systems under a number of peak conditions
We use a series of software in order to test the performance of every gaming PC that we review here at GamesRadar, relating to far more than just its graphical prowess. In order to test the speed of the processor, we utilize Cinebench CPU for both a single-core and multi-core score which gives us an overall idea of how fast the chipset is in everyday tasks.
On the graphics card front, 3D Mark's various tools, such as Time Spy and Fire Strike in their various forms are instrumental in providing a decent average. Depending on the power of the gaming PC, we bench the programs in not only 1080p (Full HD), but also in 1440p and 4K should the system be up for the job. This means running the benchmarking tools at least three times in every resolution to attain an average we can use for our scores.
What gaming PC testing would be complete without testing how the system runs games. We use several demanding titles on the platform and collect an average FPS to give an overview of the performance you can expect. For example, should the PC be powerful enough, we will aim to test games in 4K with DLSS enabled where appropriate, normally set to Performance mode, to level the playing field. Games such as Red Dead Redemption 2, Metro Exodus, and Shadow of the Tomb Raider are still widely considered leading titles for testing hardware in their field.
Every gaming PC that we get our hands on at GamesRadar is bench-tested in 1080p and 1440p and we generally will run Ultra and High settings in the titles we put the machine through. Where available, we will use the in-game benchmark tool, however, should one not be present from within a menu or external file in the title's launcher, we take an average FPS ourselves.
The other major part of our gaming PC testing relates to the speed of the included SSD or hard drive, whether that be an NVMe model or a more traditional SATA. We use two programs to test the sequential performance of drives inside the rigs, these are CrystalDiskMark, which aims to give an accurate reading of the storage's read and write figures, as well as AnvilPro, where it is run several times for a full final score - the higher the better. We will also generally test game transfer times using Steam's built-in library client if more than one storage drive is available. Considerations are also made with manual file transfers in the Windows file explorer, too.
Considering our verdicts on machines
Once all of our testing and real-world hands-on experience is done, the only other consideration we need to make is in the price of the unit which factors into the gaming PC's final score. As you'll know, generally the more powerful a gaming PC is, the more expensive the configuration will be over its contemporaries. Value for money is paramount in our opinion, especially when making an investment so large as a high-end gaming PC, so competitive price points are certainly appreciated as far as the hardware is concerned.
We then give a potential of five stars to the gaming PC with our reasoning as such:
A score of one or two stars means that we cannot recommend that you go out and buy this particular gaming PC. It could be for several reasons, such as the unit being overpriced, the hardware inside being weak or outdated, as well as parts failing in operation.
A score of three stars generally indicates that we recommend a gaming PC, but that there is little to help it stand out from the crowd. You can expect competent gaming performance, meaning it does as advertised, but is unlikely to turn many heads or be exceptional across the board.
A score of four stars means that there's only really one thing that's holding the gaming PC back from greatness. This could be that it's just too loud when it operation, or that it gets a bit too hot far too often, etc. One flaw that would otherwise tarnish what would have been a perfect write-up.
A five-star review denotes a gaming PC that we believe to be as close to perfect as you can expect. This is the rarest rating that we offer and is typically only reserved for the best of the best on the platform. If a gaming PC is competitively priced, features stellar hardware, blows our performance tests out of the water, and is a genuine joy to use with few noticeable drawbacks, then this is the score it will receive.
Extras you want and need
Like anything the hardware team tests and reviews, one of the most important considerations is always value, which shouldn't be conflated with the price. We expect a PC to cost a little more if it's full of high quality, expensive parts, sure, but we want to ensure you're never being overcharged. Our process very much favors getting what you pay for and trimming unnecessary extras - liquid cooling may look great on a spec sheet, but if your machine is never going to generate the TDP to require it then it's a wasted cost. The ideal prebuilt comes with useful extras you can't get anywhere else at a price close to what it would cost you to put together the included parts yourself.
If you want to know more about how we test gear and our holistic approach to testing then check out our Hardware Policy.