The best PS5 accessories will accentuate your PS5 setup and take it, and your gaming experience, to new levels of enjoyment. Adding the best PS5 accessories will make gaming more immersive, clean up the look of your PS5 setup, and make everything a bit more manageable, organized, and uniform.
And now is a great time of year to be looking to pick up those extra bits: they make great gifts for friends and family, given (some) of the low price tags, or they make great gifts to yourself. From yourself. But whatever you're looking for, be it a PS5 DualSense charger or one of the best PS5 headsets, we've rounded up the official and some third-party items that make up a range of the best PS5 accessories going that will help you get the most of your new machine.
As we're still so early in the console's life cycle, these PS5 accessories are mostly from Sony itself, but we've already seen a good amount of third-party DualSense chargers that offer a good alternative to the elusive first-party charger. Of course, it's hard enough just to buy a PS5 right now, but if you have managed to get yourself one or you just want to prepare for the fateful day you find one, these are the best PS5 accessories to add to your list.
With that in mind, we'll be continually updating this guide as new items and products appear - our team will keep you up to date with the best PS5 accessories and deals as they come, just as we did with the PS5 price.
The 6 best PS5 accessories of 2023
Why you can trust GamesRadar+ Our expert reviewers spend hours testing and comparing products and services so you can choose the best for you. Find out more about how we test.
If you're looking to cut straight to the best PS5 accessories overall, or are on the hunt for some quick-fire advice before going out to shop for someone (or for yourself) then these are your top hits.
1. Sony PS5 DualSense controller
It has to be the absolutely brilliant DualSense if you're after another PS5 controller this winter. Featuring the awesome haptic and adaptive trigger tech, and excellent build quality, it's one of the best PS5 accessories going.
2. WD BLACK SN850 PS5 SSD
Expanding the PS5's storage is one of the best moves you can do with the awesome - and massive - PS4 and PS5 library combination. There aren't many better than the WD_BLACK SN850 too, so this is the pick of the bunch.
3. Razer Kaira X for PlayStation
In a time where we're all feeling the pinch a bit, a cheap-but-quality headset could be the ideal gap filler in a PS5 accessory lineup. Fitting that bill perfectly is the Kaira X from Razer with awesome game audio and a small price tag.
4. PlayStation 5 DualSense Charging Station
If you do pick up another DualSense controller, the official Charging Station quickly becomes a vital accessory to ensure you're not flying without charged pads - this is a great value unit, and frees up your USB slots too.
5. WD BLACK P50 external SSD
However, if your storage need is focused on portability, or on PS4 games, then a top external hard drive is the PS5 accessory for you this winter. And don't settle for less by snagging a superfast external drive like the P50 too.
6. PlayStation 5 Media Remote
Turn your PS5 into your streaming powerhouse this winter and control it with this purpose-built remote. It's smart, snazzy, and has all the shortcuts on it so you can navigate your streaming services neatly between gaming sessions.
The best Sony PS5 accessories
PS5 DualSense controller
The DualSense (opens in new tab) is the one PS5 accessory that's included with the console, but it's also one most of us will undoubtedly buy more than once. With the DualSense, games are more immersive when features like haptic feedback and adaptive triggers are adopted and incorporated into games' mechanics. Feel the textures of gravel in your fingers as you drive through streets, as well as the tension in the strings of your bow as you draw back an arrow.
Of course, with these exciting new features likely comes a more expensive PS5 controller. The DualSense costs a little more than the PS4's DualShock, but not prohibitively so.
And now that more colours - Midnight Black, Cosmic Red, Starlight Blue, Nova pink, and Galactic Purple - have joined the party, there's a bit more choice to work with and to inject some jazz and personalisation into your setup.
Away from the main colourways, though, you'll also find two new options entering the fray. The Limited Edition God of War Dualsense is perfect for fans of Kratos, and the DualSense Edge is the official premium, pro controller from Sony that will offer you an edge and a host of advantages. (The latter will turn from pre-orders to being available 'normally' soon, while the Edge will remain only on pre-order until its January release.)
PS5 DualSense Edge wireless controller
The DualSense Edge is the first 'pro' controller from Sony itself. The Edge offers a number of refinements of the DualSense - like rounded corners at the bottom of the grips, as well as a heftier weight - but there's more here, and more that will appeal to those who want customisation, and a competitive edge.
Clever software integration means you can fine-tune bespoke PS5 features like adaptive triggers and haptic feedback, and function buttons found under the control sticks help to change customisable profiles in a flash. You've also got two back button attachments that are extremely comfortable, and work very well no matter how you map them. The fact that there are only two of them is a bit of a disappointment compared to third-party controllers - but they then don't offer the DualSense's features too. You should also make note of the DualSense Edge's shorter battery life than the original DualSense - which is disappointing for such a premium controller and high price tag. You can also replace entire stick modules, allowing you to customise exactly how your pad plays.
As of right now, it's an exclusive at PlayStation Direct.
Pulse 3D wireless headset
3D audio was one of the key points of Mark Cerny's Road to PS5 (opens in new tab) talk from March, and the PS5 Pulse 3D headset is surely the best way to experience the new tech. With dual noise-canceling microphones, you can expect crystal clear communication between you and your team in multiplayer games, and the focus on facilitating 3D audio should make games incredibly immersive.
We ranked the official Platinum headset one of the best PS4 headsets (opens in new tab) around, and the Pulse 3D headset is well established among our picks for best PS5 headset and best PS5 wireless headset.
It'll cost $99.99 in the US, and you can get the latest PS5 Pulse 3D headset prices here, and we have started to see some great discounts to come along on it.
DualSense charging station
No more digging through drawers for a micro USB cable that still works - the DualSense charging station is a sleek, convenient addition to the PS5 accessories family that carries the same futuristic two-toned aesthetic as the PS5. You can charge two PS5 controllers at once without needing to connect them to the hardware like they're leeches - and it's shaped like a tiny PS5 too. Nice!
How much does it cost, then? We were expecting the DualSense charging station to be one of the cheapest PS5 accessories available, and it retails with a $29.99 MSRP in the US.
Media remote
The PS5's media remote is downright sexy. Its curvy, two-toned design is elegant and futuristic, and the uncluttered button layout looks easy to navigate. Given that for a lot of folks, the PS5 will end up their primary device for streaming movies and TV, the media remote is a useful accessory that won't use up your PS5 controller's battery while you're scrolling through your phone with Netflix running the background. Plus, official remotes are usually some of the more affordable console accessories, usually sitting around the $30/£23 price mark.
This particular model is $29.99 in the US and £24.99 in the UK.
HD camera
With streaming hitting its stride in 2020, the official PS5 HD camera is likely to be in high demand. The accessory allows you to seamlessly add yourself to gameplay and streams, and the flowy, two-piece design is an improvement over the fairly basic PS4 camera (opens in new tab).
Expect to pay a premium for Sony's official HD camera (it's $59.99 in the US and £49.99 in the UK), but if you value high-quality video capture and can't get enough of that PS5 aesthetic, the PS5 HD camera should be a worthwhile purchase.
The best 3rd-party PS5 accessories
Outside of the official lineup, there's an enormous wealth of PS5 accessories. The big headliners are of course those third party headsets, external game drives, and PS5 SSDs (and eventually controllers we presume). Internal PS5 SSDs particularly are the hottest of all PS5 accessories - these will expand the storage of the console while also offering super-fast speeds so it'll feel like games are running off the console's own SSD. We've included our top pick for both internal (best for large PS5 and PS4 game libraries) and external (best for PS4-only game libraries) SSDs below.
If you're on the hunt for a storage-based PS5 accessory then the out top internal SSD choice, the Seagate FireCuda 530 has blistering speeds, a steadily dropping price tag, and its own heatsink that's fully compatible with the PS5 - it really is the full package.
The transfer speeds are top drawer and even beat WD's equally excellent and ver -popular SN850 by edging over that 7,000MB/s mark - rather than aiming solely for it. Crucially it's got the latest in tech inside it as it sports 3D TLC NAND memory and next-gen PCIe 4.0. It's also worth remembering that Seagate and Sony go way back (relatively) when it comes to drives for PlayStation consoles. Seagate has made and does make a whole host of officially licensed drives so we know the relationship, history, and pedigree are there to rely on. All that means you can have faith in Seagate, and have confidence in its FireCuda 530 SSD for your PS5.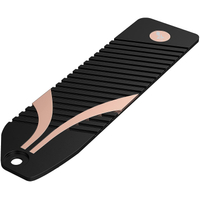 (opens in new tab)
Sabrent PS5 Heatsink | $19.99 at Amazon (opens in new tab)
Remember whatever PS5 SSD you buy as your sotrage-focused PS5 accessory, make sure you give it a heatsink! We cannot recommend this more - and by extension we cannot recommend this Sabrent model more either. Available to purchase on its owen and compatible with all PS5 SSDs, this replaces the whole SSD bay door and dissipates heat beautifully.
UK: £19.99 at Amazon UK (opens in new tab)
In a world where we are slowly but surely moving from traditional HDDs to SSDs when it comes to pretty much any kind of storage, it's no surprise that our pick for the best external storage PS5 accessory is a top SSD.
The P50 is a high-performing drive that is as close as it gets to having an internal NVMe SSD in a case, plugged into a USB port. Offering speeds and performances often reserved for those drives within the best gaming PCs and on best SSD for gaming lists, it is perfect for those who want the best fro their PS4 game library, and PS5 game library storage.
And you get all that performance within a unit that has a quality, cool design, and a robust build. It is military metal-styled, rectangular in shape, and features slick molded metal in black along with the traditional WD_Black aesthetics and markings. Its USB-C port can be used on your devices as either a USB-A or USB-C connection and in our testing, we got the same speeds through either port so it shouldn't matter which you have free or available, or if you change the device it's used with during its lifetime. When it comes to speeds, what you're told you're getting and what happens is pretty much bang on. Its incredible performance for an external SSD and the stated speed of 'up to 2000MB/s' was on the money in our testing.
How does that manifest in day-to-day, real-world performance? Well, it means that all your PS4 games are loaded incredibly quickly, files were retrieved in the snap of a finger, and the performance levels were incredibly consistent. It's a surefire SSD that will rapidly improve your gaming experience by far reducing the time looking at loading screens and increasing the time when you're actually playing. A true winner.
Fosmon PS5 DualSense Charging Dock
What really makes the Fosmon PS5 DualSense Charging Dock stand out among all the other docks hoping to find a home in your TV unit is the chunky connectors that clip on to your DualSense controller even while you're playing. Fosmon calls it their TYPE-C connector, and while it feels sturdier than some charging solutions, it's a slightly baffling decision. Why not just go with the slot-in style that Sony and every other manufacturer went for? The DualSense is such a carefully designed controller, and what it doesn't need is a strange plastic add-on strapped to its undercarriage.
However, if this wild choice thrills you, you'll find a dock that performs just as you'd want it to in every other way. It charged two pretty tired-out controllers at once in less than three hours, and there are LEDs to signal when you're all juiced up. The dock comes with a 1m short but serviceable USB-USB C cable and plugged happily into the back of the console.
The design is all white and rounded edges, a fitting complement to your space-age PS5, and a nice change of pace from the matte black that was all the rage for unofficial accessories with the last generation. It's no supermodel, but it won't ugly up your TV unit either.
Razer Quick Charging Stand for PlayStation 5
If you're looking for something more chic and with pure gaming pedigree from your DualSense charger then Razer has you covered.
These curved cradle-shaped quick chargers match the Dualsense's colourways perfectly and house the controllers securely, ensuring there's no wobble or movement. While there's only space for one DualSense on each Quick Charger, this is offset by the fact that you can quickly interact with it with just one hand, and the charger is quick - by its very name - so you won't have to be waiting long before you can free it up for another.
It's also mightily convenient being powered by USB rather than mains power. This ensures that wherever you have your PS5 setup it doesn't need to hog another mains power source and can just neatly slot into your machine.
Yup,m these chargers demand a little more of a premium but you get what you pay for, and there's no denying the classy look and the excellent functionality of them.
Razer's first dedicated PS5 headset is this, the Razer Kraken X, and it's a cracker of a PS5 accessory, particularly if you're looking for a cost-effective, wired solution.
And it's the bang for buck value that makes this a great first headset to consider as a PS5 accessory. If you're looking to save cash on a headset to splash out on another accessory then you can't go wrong here: the sound quality provided by Razer's TriForce 50mm drivers within the headset is excellent and uncompromising - full bass, rich middles, and tight, exquisite highs. In addition to this, the mix and surround are pretty great too for this price point. The mic is solid but doesn't quite have the warmth and overall richness of more premium headsets.
Yes, the Kaira X for PlayStation is a wired headset and this is a big reason that this is a budget option, but it's a braided cord, has a strong right-angle connection, and is the ideal length for having enough slack but without being overly long. For the price, this is an excellent Razer PS5 accessory.
If you're looking for a wireless headset as your next PS5 accessory then the familiar-looking SteelSeries Arctis 7P+ is a prime contender. An updated version of the 7P, this headset is a premium and excellent option.
The updates and enhancements, don't mess too much with the actual sound but offer a better means to enjoy the already-excellent audio. This comes in the form of improved connectivity, a greater 30-hour battery life, and a quick-charge function on the battery too.
For a headset as a PS5 accessory, though, sound quality is king, and the 7P+ continues where the 7P left off and offers excellent performance. The sound is clear, distinct, detailed, rich, and well-rounded - the lack of the bass is a slight complaint but that's our only real complaint. To round out the experience, the excellent build of the Arctis series remains too: the exceptional design and build remain though: there's a chic design, the build makes the headset strong and solid while retaining great comfort, and the ski-goggle headband is still as great as ever, as are the retractable microphone and onboard controls.
Backbone One Mobile Gaming iPhone Controller
The Backbone One is already well established in the field of the best mobile controllers for iPhone with its black, Xbox GamePass-focused version that was released at the end of 2020. However, now the fun comes to Remote Play fans on PlayStation with this officially licensed, asymmetrical controller for iPhone.
You'll notice that it has the same design language as the PS5 and the official PS5 accessories so it'll slot neatly into part of your arsenal. And while it has the same button layout as the original Backbone One, the stylings and finishes are all PlayStation (aside from the asymmetrical layout, of course).
Elsewhere you've got a low latency connection, pass-through charging, and a 3.5mm headphone jack for your headset, and will house almost any iPhone, including the iPhone 13 Pro and 13 Max.
If you're looking for one mobile iPhone controller to rule them all for your PlayStation remote-playing needs, then this is it.
Here's the rundown of all the best PS5 games, and the upcoming PS5 games (opens in new tab) we know about so you can plan your library and playing schedule.