Thought 2017 was a great year for TV? What with all the Game of Thrones and the Stranger Things and the Star Trekking? Well, this year is shaping up to be EVEN better, thanks to a mixture of returning shows, spin-off series, and some tantalising new original franchises. From big hitters like Westworld season 2, to interesting new entries like Castle Rock, and sequels like Jessica Jones S2, there's something for almost all tastes in the following list. You'll find all these shows on various streaming services like HBO, Netflix, Amazon, and BBC iPlayer, and many will appear as complete seasons, so you can start binging the second they appear.
As for stuff like Iron Fist S2, Dark season S2, Mindhunter S2… While they've been confirmed for second seasons, we don't know whether they'll hit in 2018 or not, so they don't make the list until a release date has been announced. And Game of Thrones season 8? That won't be around till 2019, I'm afraid… Here are our top picks for the TV we do know about in 2018.
Star Trek Discovery season 1 (part 2)
Where and when can I watch it? CBS Access (US), Netflix (UK) right now
What is it? The continuation of the brilliant new iteration of Star Trek. Discovery is set before the classic era show, and follows the exploits of disgraced Starfleet officer Michael Burnham, rogue captain Lorca, and the rest of the crew who have invented a system of travelling anywhere in the universe in a matter of seconds. The first half of the season sees them starting a war with the Klingons, and ends with the crew stranded… somewhere. Perhaps uncharted space, perhaps a mirror universe, perhaps who-the-hell-knows? What makes this show is its darker, more modern approach to Star Trek, and the excellent, diverse cast of characters. In fact, Burnham herself is the only slightly flat presence. It's the Star Trek season for people who aren't that fussed about Star Trek, and it's one of the best shows on TV right now.
Black Lightning season 1
Where and when can I watch it? The CW on January 16 (US) and Netflix on January 23 (UK)
What is it? If Justice League burned you out on any lasting hopes for the DC Extended Universe, it's worth remembering that CW is consolidating its very own DC inspired 'Arrowverse', made up of a host of great TV shows centred around Green Arrow, The Flash, and Supergirl. The next DC star to receive their own CW romp is Black Lightning; a lesser known comic book character, but an interesting perspective for a standalone series nonetheless. This is an older, wiser superhero, with Cress Williams starring as the retired vigilante of the title, otherwise known as Jefferson Pierce, now working as a school principal despite his incredible abilities to harness and manipulate electrical currents. Naturally, the show will chronicle Pierce's exploits as he's forced to get back into the superhero game, and the blend of fast action and family drama looks promising to say the least.
The Assassination of Gianni Versace: American Crime Story
Where and when can I watch it? FX on January 17 (US), and BBC 2 (UK) at a later date (TBC)
If you saw any of The People v. O. J. Simpson, you'll know there's good reason to be excited about what's next for FX's true crime anthology series. Focusing on the murder of designer Gianni Versace at the hands of serial killer Andrew Cunanan, the second season is another exposed look at a darker period in America's history with justice and, as before, the whole project is riddled with talent. Though the original showrunners will not be returning for The Assassination of Gianni Versace, Penélope Cruz and Édgar Ramírez are leading the ensemble cast, which bodes well for a story that is sure to be just as hard hitting and captivating as 2016's O.J. Simpson case study.
Counterpart season 1
Where and when can I watch it? Starz on January 21 (US), TBA (UK)
J.K. Simmons is the kind of character actor deserving of a show in which he stars as not one of, but both protagonists, and what we've seen so far of Counterpart proves that he's more than capable of pulling it off. Set in Berlin, it's a story of two alternate universes, and what happens when a mild-mannered, law-abiding citizen from one universe runs into his more rebellious doppelganger from the other. This is high concept sci-fi, then, but it's grounded by a spy thriller vibe, polished with snappy dialogue, and anchored by Simmons' enthralling presence[s] as two doubles from different worlds.
The Alienist season 1
Where and when can I watch it? TNT on January 22 (US), and Netflix on April 19 (UK)
No, this isn't a knock-off The X-Files clone, but another new and original series from TNT, with no extraterrestrials in sight. Instead, The Alienist follows criminal psychologist Dr. Laszlo Kreizler as he navigates the dark criminal underbelly of 1890s New York. Think Sherlock Holmes meets Ripper Street, and you get the idea. Judging from the amazing production value seen in the trailers and set photos so far, TNT has spared no expense in recreating The Alienist's backdrop of late modern America, putting the show on firm footing as a psychological thriller decked out in all the resplendent opulence of a period drama.
Altered Carbon season 1
Where and when can I watch it? Netflix on February 2
What is it? There are two things you need to know about Netflix's upcoming, hardboiled, high-concept cyberpunk series. Firstly, it's based on a series of novels by Richard K. Morgan, which concern a future civilisation of settled, extra-solar colonies and a technology that allows people to back up their memories in order to be rebooted in a new body after death. Secondly, the pilot episode is being directed by Miguel Sapochnik, who also crafted Game of Thrones episodes Hardhome and Battle of the Bastards. He is clearly a man you hire when you want something stern, hard-hitting, and nonsensically exciting. Oh, and there's a third thing. It looks bloody brilliant, having won our unremitting attention the second it dropped one of the best – if not the best – TV trailers of the year recently.
Star Wars Rebels season 4 (part 2)
Where and when can I watch it? Disney XD on February 24
The last season of Disney's first Star Wars animation reaches its climactic end this year, as Star Wars Rebels returns from a mid season break to finish up the adventures of Ezra Bridger and his gang of merry renegades. And what an adventure it's been, with lively visuals and fan servicing storytelling keeping us hooked from beginning to end. It's rumoured that Emperor Palpatine, voiced by Ian McDiarmid himself, will be making an appearance at some point in these closing six episodes, which tells you all you need to know about how high the stakes are for the rest of season 4. If you're a Star Wars Rebels fan, you are not going to want to miss out on this.
Jessica Jones season 2
Where and when can I watch it? Netflix on March 8
What is it? With Kilgrave dead, and Jessica (ever so slightly) having learned to play (sort of) well with others in The Defenders, we're looking at a lighter, more redemptive season this time around, right? Well thankfully no. Marvel's writers and producers are adamant that they're not taking any easy ways out following the first season's slow-burn, superpowered exploration of abuse and its psychological fallout. Jessica won't be magically 'fixed' just because she took out the bad guy (because people, basically, do not work that way) and if season 1 was about Jones's head, as she fought to take back control of her own psyche and focus her strength of will, then season 2 will apparently be about her heart. There are no specifics on exactly what that will mean, but expect her troubled, neglected friendships to get more of a look-in as Jessica further struggles to humanise while dealing with this season's (currently unidentified) big bad.
The Terror season 1
Where and when can I watch it? AMC on March 26 (US), AMC UK on BT TV on April, 24 (UK)
What is it? Another interesting, creepy, off-kilter offering for 2018, The Terror is an adaptation of Dan Simmons' 2007 historical horror novel regarding Sir John Franklin's lost, Arctic expedition to the Northwest Passage. In real life, Franklin's two-ship navigation became ice-locked, resulting in the loss of the entire crew. In The Terror, there's also disease, starvation cannibalism, and then the matter of the survivors being stalked across the Arctic by a monster. The book tells its story in a disjointed, non-linear fashion, and the TV show has been pitched as a kind of anthology to suit.
A Series of Unfortunate Events season 2
Where and when can I watch it? Netflix on March 30
What is it? Following the bittersweet ending of Netflix's first stab at A Series of Unfortunate Events, this second season will chronicle books five to nine of Lemony Snicket's dark humoured series of children's novels. Despite what some might have you believe, A Series of Unfortunate Events is not a TV show just for children. In fact, despite the pantomimey production (complete with the odd musical number), this is a black comedy series that demands your attention, especially as Netflix's first season may have slipped under your radar earlier this year. Highlights so far have included Neil Patrick Harris' extraordinary performance as Count Olaf, the delightfully extravagant set design, and Patrick Warburton's dry narration as Lemony Snicket underscoring the whole thing with a healthy dose of droll humour. Unlike the ill conceived Jim Carrey movie of 2004, Netflix's episodic format is the perfect canvas for exploring the segmented adventures of the Baudelaire children at a steady pace and, with books five to nine on the horizon for season two, A Series of Unfortunate Events is set to portray some of Lemony Snicket's best material. For a fan of the books, that's a dream come true, but this is a show for anyone who enjoys fable-like storytelling delivered with a black humoured punch.
Krypton season 1
Where and when can I watch it? Syfy (US) on March 21, TBC (UK)
What is it? As the name suggests, this is set in the Superman universe, although takes place 200 years before Kal-El is born. Oh, and it's all set on Krypton before the planet is destroyed and our hero is sent to earth to become Clark Kent / Superman. It follows the life of Kal-El's grandfather, Seg-El, who is dealing with the ostracising of his family within Krypton society. The showrunners on this one are David S Goyer (Batman v Superman) and Damian Kindler (who worked on Stargate SG-1), so at least the pair are familiar with the DC Universe and with sci-fi. I'm trying to be kind here, because Batman v Superman is a colossal mess. Seg-El is played by relative newcomer Cameron Cuffe, and he's joined by a smattering of British actors, most notable of whom is Ian McElhinney, who played Ser Barristan in Game of Thrones. There's a decent opportunity here for the DCEU to distance itself from the recent (sub-par) movies and tell an interesting story with some hot, up and coming actors. Equally, it could lack the talent required to spin a yarn on a par with most other modern TV shows. Let's hope it's the former.
Fear the Walking Dead season 4
Where and when can I watch it? AMC on April, 15 (US), AMC UK on BT TV on April 23 (UK)
What is it? AMC's big spin-off to The Walking Dead reaches its fourth season, and the transition from civilisation under siege to full-on zombie apocalypse is now complete. Kirkman and co have promised that 2018 will showcase the first crossover between Fear the Walking Dead and the main show its inspired by, with Lennie James crossing the fence to see fan favourite TWD character Morgan join up with Fear's survivors in Atlanta, though the details of how that mash-up is possible (given that Morgan is very much a presence in The Walking Dead's ongoing eighth season) are still unclear. After a bland and unpromising start, Fear the Walking Dead has been quietly improving with every new episode, and may well be on its way to becoming more a compelling show than The Walking Dead itself, given the downward trajectory of season 8 so far. With that in mind, now's a good time to catch up on the spin-off's previous seasons, as next year's string of episodes have the potential to transcend Fear The Walking Dead into the new king of zombie shows.
Legion season 2
Where and when can I watch it? FX (US) and Fox UK (UK) in April (TBC)
How do you follow up on something as surreal, hypersonic, and outright hallucinatory as Legion's first season? With much care and caution, I would imagine, but I'm so happy a second season is on the way, not least because it needs to address all of those burning cliffhangers from that masterful finale. Story details remain scarce for now, but with showrunner Noah Hawley still on board, you can expect more of season 1's electric eccentricity running through the very lifeblood of this anticipated follow up. Oh, and because of the Disney-Fox acquisition, there's the small possibility of Legion season 2 technically being a part of the MCU. A father-son reunion with Dan Stevens and Patrick Stewart, anyone? Alex Avard
Westworld season 2
Where and when can I watch it? HBO (US), Now TV / Sky Atlantic (UK). Spring TBC
What is it? Essentially this second season will deal with the fallout from the events of the original Westworld. The Hosts have begun to take back the park from the Guests, and there will be heaps of bloodshed as the security teams attempt to regain control. We should also see a bunch of different environments, with the biggest hints from both the teaser trailer and the end of season 1 pointing to Samurai World. Sadly, it seems Robert Ford (Anthony Hopkins) is gone, and he was the best thing about Westworld 1, so it'll be the job of Dolores, Maeve and Bernard to up their game, and make this second outing just as compelling. They're more than capable, and if the writing is just as sharp this time around, Westworld should be one of the best shows you'll see in 2018.
The Rain season 1
Where and when can I watch it? Netflix worldwide in Spring (TBC)
What is it? You've seen the end of the world brought about by zombies, mist, and nuclear warfare. Now, Netflix's first Danish original series wants to scare you with *whisper it* the weather. Set in a dilapidated Scandinavia years after most of its populace has been wiped out by a fatal virus carried by the rain, the show focuses on a group of survivors as they navigate the new world together and presumably avoid those perilous drops of precipitation at all costs. The big question? Will The Rain be able to make...well, the rain seem like a scary and formidable threat? Netflix's teaser trailer suggests that all signs point to yes, so you better start stockpiling the umbrellas.
Lost in Space season 1
Where and when can I watch it? Netflix in May
What is it? The latest of Netflix's nostalgia-bid remakes, this reimagining of the classic '60s sci-fi show (about the Robinson family, doomed to fruitlessly explore space in a bid to get home, after their space colonisation mission is thrown off course), promises a few updates to the original format. First up, it sounds like the action, at least for the first season, will centre upon the first planet the Robinson land (or crash) on, and the trials of survival they encounter in a (relatively) localised environment. Secondly, Dog Soldiers and Game of Thrones director (and the man responsible for Ygritte's death), Neil Marshall, is directing several episodes, so expect this one to be a fair bit bleaker than the original, or the '90s movie adaptation. Still, a version of the Robot (ie. one of the best of all TV robots) is coming back. Now if we could just get Apollo 440 to do a new version of the theme tune.
Sharp Objects season 1
Where and when can I watch it? HBO (US) and Sky Atlantic (UK) in Summer (TBC)
If you want to be certain about the prospects of an upcoming production, the rule of thumb is that if Amy Adams is involved, it's going to be good. Going by that maxim, Sharp Objects is already shaping up to be something very special indeed. It's HBO's next big crime thriller, centered around a psychologically tortured reporter returning to her hometown to investigate the disturbing murder of two young girls. If that plot synopsis hasn't already given it away, Sharp Objects isn't going to be an easy watch for the faint hearted, but with director Jean-Marc Vallée (Dallas Buyers Club, Big Little Lies) at the wheel, you can anticipate a certain prestige of filmmaking that HBO has always been good at cultivating. With Game of Thrones season 8 out of the picture till next year, this might just be your next favourite HBO show of choice for 2018.
Image: Entertainment Weekly
Doctor Who season 11
Where and when can I watch it? BBC in Autumn, TBC
What is it? The very first female Doctor (Jodie Whittaker) will get her premiere season late in 2018. While debate has - predictably - focused on the gender of this new Timelord, the show will ultimately live or die by the supporting characters, their chemistry, and the quality of the plotlines. Peter Capaldi's run only just got going in season 10, so let's hope that momentum carries over into the new show. The Christmas episode has already set the tone, but the rest of the narratives really are up for grabs. Whether or not you agree with Whittaker as the new Doctor... this show should be a cracking watch later in 2018.
Luther season 5
Where and when can I watch it? BBC. Date TBC
What is it? The surprise return of the character that first put Idris Elba on the map; Detective John Luther. It's a BBC mystery thriller series with a disturbing focus on London's serial killers, but the show has always thrived thanks to the charisma of its ever enthralling central star. The troubled British detective is hardly an original archetype, but Elba channels Luther's world-weary stoicism with such power and potency that it's impossible to look away, even when the show goes full blown gothic horror during its (many) murder scenes. The grizzly London setting is another standout, too, used effectively to establish the kind of sinister atmosphere that'll stay under your skin long after the credits roll. It looks as though the oft-discussed Luther movie remains firmly in the pipeline for now, but series co-creator Neil Cross has promised that four episodes will be airing on the BBC at some point in 2018. The details of the plot remains entirely under wraps, but hopefully it'll bring the return of Luther's enigmatic suspect turned accomplice, Alice Walker.
Maniac season 1
Where and when can I watch it? On Netflix later this year (Worldwide, TBC)
A Netflix remake of a Norwegian black comedy starring Emma Stone and Jonah Hill, you say? That's not a lot to go on, with no trailer or release date yet in sight, but it's more than enough to tickle the interest of anyone with a taste for the abstract. Set in a psychiatric hospital, Maniac follows the made-up adventures of two institutionalised patients as they imagine a fantasy life beyond the walls of their medical confines. It's directed by Cary Fukunaga, of all people, best known for his work on True Detective (the first, much better season), so it's safe to say that this dark comedy will probably be more dark than comedy, depending on your sense of humour. Either way, Maniac is one to watch for 2018.
G.L.O.W. season 2
Where and when can I watch it? Netflix. Date TBC
What is it? A second outing with the girls of GLOW (Gorgeous Ladies of Wrestling), who beat the odds to launch a women's-only wrestling TV show in the first season. Where it all goes from here is a mystery, but the plot is always secondary to the loveable cast of characters and the genuinely funny scripting. The rift between Ruth and Debbie is by no means healed, and it'll be interesting to see how they work together during GLOW's on-air run. We also know that Cherry has a new job in another TV show, so we'll either see her desperate to return to GLOW, or a replacement brought in to keep the girls in line. It seems unlikely Sam will change much, and his zero-fucks-given attitude is one of the best bits of season 1, although he will likely have to navigate the responsibilities of fatherhood in his own, unique way. Either way, as long as we get some killer 80s tunes, a bit of neon, and plenty of spandex, GLOW 2 should be a triumph.
Santa Clarita Diet season 2
Where and when can I watch it? Netflix. Spring 2018.
What is it? The ending of Santa Clarita season 1 is… unsatisfying. Despite the best efforts of the family to cure Sheila or her, er, death it seems the process is harder to reverse than first thought. As for her endless appetite for flesh. Yeah, that's probably going to be an issue in season 2 too. We'll likely see the death of Dan Palmer come back to haunt the Hammond family in some way, as it's too juicy a plotline to leave alone. Well, either his death, or someone will find the remains of Gary (Nathan Fillion) who departs spectacularly in the opening episode. Aside from that, expect the same delightful mix of horror, suburban comedy, and occasional sharp dose of gore. I genuinely can't wait.
The Witcher season 1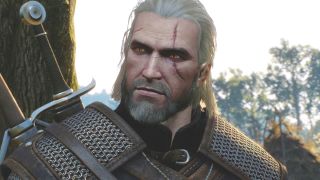 Where and when can I watch it? Netflix. Date TBC
What is it? Based on Andrzej Sapkowski's original novels rather than the video game series, Netflix's Witcher adaptation nevertheless sounds like it will translate all of the key elements that have made the series so beloved in all of its forms. The gritty, shit-encrusted, all-too relatable fantasy world, that eschews idealised heroes and unicorns (except in one NFSW case) for a place driven by the same social, economic, political, and personal ills that often plague the real world. The "unconventional family" of characters, who come together to wearily fight for the good in a crapsack world. The sheer, believable, human heart of the thing, from foibles, to ennui, to outright, often darkly weird, laughs. With the producers of the brilliant – and similarly grounded – sci-fi show The Expanse on board, this has all the potential in the world to get The Witcher right.
Taboo season 2
Where and when can I watch it? BBC. Date TBC
What is it? Watching Tom Hardy incomprehensibly growl his way through all eight episodes of season 1 was, genuinely, a bit of a TV highlight for me. The actor played James Keziah Delaney so enigmatically, punctuating his normally guarded exterior with moments of extreme violence and near-insanity, making for a show that felt delightfully unpredictable to the end. Now that Delaney and his friends are off to claim the (fun-to-say) Nootka Sound for themselves, we'll likely see an adventure set in America, with more tense diplomacy and - very likely - substantially more violence than the original season. Perhaps we'll get to the bottom of Delaney's visions, and the suggestion that he's practicing witchcraft. Maybe that was already explained in the first series, but Hardy's growl was just too low-pitched for the human ear to comprehend.
Castle Rock season 1
Where and when can I watch it? Hulu (US), TBC (UK). Date TBC
What is it? Okay, this one is very, very exciting indeed, more than a little weird, and has the potential to be the breakout horror hit of the year. A Stephen King adaptation headed up by JJ Abrams, Castle Rock isn't based on any one specific King novel or story, but all of them. Set in the titular town, which acts as the setting for, and a reference point in, tons of King's writing, the show is an attempt to connect the King universe in some tangible, but currently unexplained, fashion, with a teaser trailer that references characters and concepts from pretty much the author's entire body of work. With iconic King movie actors Sissy Spacek (Carrie), and Bill Skarsgard (It 2017) on board as unspecified characters, this whole show only gets curiouser and curiouser.
Daredevil season 3
Where and when can I watch it? Netflix. Date TBC
What is it? Following on from Matt Murdoch's implausible survival at the very end of The Defenders, it seems likely Daredevil will begin with his recovery at the hospital before leading to more city-saving, baddo-punching action. The final scene of Defenders echoes the Daredevil 'Born Again' comic plotline, in which Wilson Fisk (currently jailed) learns Daredevil's true identity. Karen and Foggy - both alive, kicking, and liberally hopping between Marvel TV shows - will almost certainly be back. The hot money is on Bullseye being the main antagonist in this season, although who he'll be played by and what he'll actually want is very much a mystery. Will we see cameos from other Marvel characters? Well, that seems inevitable after The Defenders, although let's hope the Immortal Iron Fist has decided to go on retreat to some far-away land for the duration of this season. No-one wants his sulky brand of punching in this show.