As the end of the year approaches, all eyes are turning towards next year's admittedly impressive TV offerings, but before you get too excited, there's still plenty of amazing new TV shows to come this year. If you've run out of things to watch (how is that even possible with all the great shows on at the moment?!), then perhaps you want to check out one of these upcoming series.
Netflix is still dominating the TV schedule with returning seasons of Daredevil and Making a Murderer, brand new series like The Chilling Adventures of Sabrina, and final goodbyes for shows such as House of Cards. That said, there's still some hot new TV shows to watch out for beyond the streaming service. The CW has another Vampire Diaries spin-off you might be interested in, Amazon Prime has its own original starring Julia Roberts called Homecoming, and an adaptation of George R. R. Martin's other book, Nightflyers, is coming to the small screen this year too. Read on for the best new TV shows still to come in 2018.
Daredevil season 3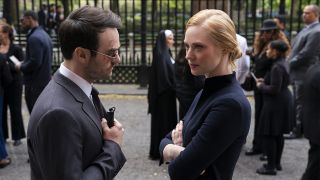 Where and when can I watch it? October 19 on Netflix
Following on from Matt Murdoch's implausible survival in The Defenders ending, it seems likely Daredevil season 3 will begin with the superhero's recovery before leading into more city-saving, baddo-punching action. Wilson Fisk is back and somehow out of prison, but he won't be the only villain the Devil of Hell's Kitchen will have to contend with as Bullseye makes his Netflix-Marvel debut. Karen and Foggy will also put in an appearance, but will we see cameos from any other Marvel characters? Well, that seems inevitable after The Defenders, although let's hope the Immortal Iron Fist has decided to go on retreat to some far-away land for the duration of this season.
Making a Murderer season 2
Where and when can I watch it? October 19 on Netflix
If you're even vaguely interested in true crime, Making a Murderer became one of the most talked about TV shows of the past few years. For those who haven't seen it, it tells the story of Steven Avery, a man exonerated for a previous crime of rape by DNA evidence, but who quickly finds himself the prime suspect in the murder of photographer Teresa Halbach. Despite his pleas of innocence, he and his nephew Brendan Dassey are both convicted of Halbach's murder. But since the original series was filmed, Dassey's conviction has been overturned by a federal judge on the grounds his conviction was "involuntary". According to Netflix, Making a Murderer season 2 will "provide an in-depth look at the high-stakes post-conviction process, as well as, the emotional toll the process takes on all involved".
Legacies season 1
Where and when can I watch it? October 25 on The CW
If you're a big fan of The Vampire Diaries and its spin-off show The Originals then I've got good news. There's another spin-off coming this year called Legacies, which will focus on Hope Mikaelson, the daughter of vampire Klaus Mikaelson and werewolf Hayley Marshall from The Originals. Now 17-years-old after a significant time jump, Hope attends a school for the gifted, which provides a safe haven for young vamps, witches, werewolves, and anyone else with supernatural abilities. The new cast and high school setting will no doubt provide the opportunity for plenty of supernatural teenage angst, which made The Vampire Diaries so popular. Airing on The CW in the US, there's currently no UK release date set, but it will hopefully be coming to Netflix UK at some point as with The Originals.
The Chilling Adventures of Sabrina season 1
Where and when can I watch it? October 26 on Netflix
Remember Sabrina the Teenage Witch? Yeah, this is not that. One of the hottest Netflix Originals coming this year, The Chilling Adventures of Sabrina is based on the more recent comic book iteration of the character and has a decidedly more horror tone to it than the comedy sitcom starring Melissa Joan Hart. Set in the same universe at the Riverdale TV show, this isn't about cute talking cats and love spell hijinks. Think more along the lines of deals with the Devil, satanic rituals, and the dead rising, and you'll have a better idea of what to expect from this new TV show. Everything we've seen so far about The Chilling Adventures of Sabrina, has us convinced that this will be the hottest new TV show around so make sure you don't miss it.
House of Cards season 6
Where and when can I watch it? November 2 on Netflix
Francis is gone and Claire is now President - and boy, does she have plans! Get ready for the sixth and final season of House of Cards as the incredible Robin Wright takes over as lead in the political drama, proving that she's just as, if not more, capable than her former co-star. While the final season of the hit Netflix Original had its fair share of challenges after the allegations against star Kevin Spacey, the decision to place Wright at the centre of the final season was inspired as Claire Underwood is just as much a part of why the series is so successful. And from the trailers we've seen so far, she's not pulling her punches: "When they bury me, it won't be in my backyard. And when they pay their respects… they'll have to wait in line." Shivers.
Homecoming season 1
Where and when can I watch it? November 2 on Amazon Prime
No, this isn't a Spider-Man: Homecoming spin-off, but the newest Amazon Prime Original starring A-lister Julia Roberts. Based on the psychological thriller podcast of the same name by Eli Horowitz and Micah Bloomberg, the TV adaptation is planning on bringing the intensely popular podcast to a new audience with Roberts in the role of Heidi Bergman. Caseworker Heidi works at a facility, which helps soldiers reintegrate into society, but it's clear from the trailers that something else is going on. Given it's high-calibre origins and star-studded cast, Homecoming obviously has potential and Amazon is clearly trying to proposition it as its Sinner, but we'll have to wait a little longer to find out if that's justified or not. One thing is for sure, this is a new TV show worth checking out.
Narcos: Mexico season 1
Where and when can I watch it? November 16 on Netflix
Narcos: Mexico was originally intended to be the fourth season of Netflix Original Narcos, but eventually became a spin-off about the illegal drug trade in Mexico in the '80s. With a completely new story and cast, but elements of what made the first few seasons of Narcos such compelling TV, Netflix hopes to breath new life into this series. Narcos: Mexico will chart the rise of the Guadalajara Cartel with drug lord Félix Gallardo and DEA agent Kiki Camarena at the center of the story, and with Rogue One's Diego Luna and Ant-Man's Michael Peña playing the roles respectively, the show isn't lacking in talent. If you're a fan of Narcos - or even if you're not - this is definitely one to watch.
Nightflyers season 1
Where and when can I watch it? December 2 on Syfy in the US and TBA on Netflix in the UK
We all know how the last televised adaptation of a George R. R. Martin's book series turned out, so there's high hopes for Syfy's Nightflyers, which tells a very different kind of story to the political fantasy seen in Game of Thrones. Based on Martin's novella and collection of short stories of the same name from the 1980s, Nightflyers is sci-fi horror with serious scale, which the author himself describes as "Psycho in space". Oh, and in case you were wondering, yes, there's going to be guts, gore, and plenty of violence. This is a tale from the man responsible for The Red Wedding, after all.
Marvel's Runaways season 2
Where and when can I watch it? December 21 on Hulu
It's easy to forget that amongst the Iron Fists and Inhumans of the world, there's actually some really good Marvel TV shows out there. And I'm not just talking about Daredevil and Jessica Jones. You might have missed the first season of Marvel's Runaways thanks to it's relatively limited release on US streaming service Hulu, but it received a positive reaction from fans and critics alike (not easily done), and now it's back for a second season. Time to get a Hulu subscription? The second season will continue the story of the superpowered teenagers who rebel against their villainous parents and promises more action and angst than you can handle.
The Orville season 2
Where and when can I watch it? December 30 on Fox
While The Orville didn't get a lot of love from critics who mostly saw it as a poor Star Trek spoof rather than a sci-fi comedy in its own right, the show became one of the most-watched series on Fox during its original 12-episode run. Returning for a second season later this year, creator and star Seth MacFarlane has promised new heights for The Orville. "I think what you're going to see in season 2 is a show that's even more comfortable in its footing in terms of existing in that goldilocks zone," he told IndieWire. "Every episode feels like a movie, and I think you're going to dig it." Beam us up!
For more on what you can expect this year, check out the most anticipated upcoming movies of 2018 and beyond.