From Chilling Adventures of Sabrina to Westworld season 2, 2018 has been a fantastic year for television, but the fun doesn't stop there with a bunch of new TV shows on the horizon for the remainder of December and beyond, into 2019. Just think: we've got Game of Thrones season 8 in April; Star Trek Discovery season 2 beaming down even earlier in January; and (fingers crossed) the anticipated release of Stranger Things season 3, if it doesn't get delayed again, that is.
We've rattled through the best new TV shows still on the way over the coming weeks and months, with all the latest information on when and where you can watch them. So, reactivate that dormant Netflix account, sign up to HBO, and plump up that sofa for another year in the golden age of television.
2018
Nightflyers season 1
Where and when can I watch it? December 2 on Syfy in the US and TBA on Netflix in the UK
We all know how the last televised adaptation of a George R. R. Martin's book series turned out, so there's high hopes for Syfy's Nightflyers, which tells a very different kind of story to the political fantasy seen in Game of Thrones. Based on Martin's novella and collection of short stories of the same name from the 1980s, Nightflyers is sci-fi horror with serious scale, which the author himself describes as "Psycho in space". Oh, and in case you were wondering, yes, there's going to be guts, gore, and plenty of violence. This is a tale from the man responsible for The Red Wedding, after all. The show has already aired in the US on Syfy, but Netflix has promised it'll come to the rest of the world this year although an official air date is yet to be announced.
Marvel's Runaways season 2
Where and when can I watch it? December 21 on Hulu
It's easy to forget that amongst the Iron Fists and Inhumans of the world, there's actually some really good Marvel TV shows out there. And I'm not just talking about Daredevil and Jessica Jones. You might have missed the first season of Marvel's Runaways thanks to it's relatively limited release on US streaming service Hulu, but it received a positive reaction from fans and critics alike (not easily done), and now it's back for a second season. Time to get a Hulu subscription? The second season will continue the story of the superpowered teenagers who rebel against their villainous parents and promises more action and angst than you can handle.
The Orville season 2
Where and when can I watch it? December 30 on Fox
While The Orville didn't get a lot of love from critics who mostly saw it as a poor Star Trek spoof rather than a sci-fi comedy in its own right, the show became one of the most-watched series on Fox during its original 12-episode run. Returning for a second season later this year, creator and star Seth MacFarlane has promised new heights for The Orville. "I think what you're going to see in season 2 is a show that's even more comfortable in its footing in terms of existing in that goldilocks zone," he told IndieWire. "Every episode feels like a movie, and I think you're going to dig it." Beam us up!
2019
Luther season 5
Where and when can I watch it? January 1, 2019 (UK) and TBC (US) on BBC One/BBC America
DCI John Luther is back, after quite some time away, for round five, with Idris Elba returning to the hardboiled crime show for more run-ins with the London underworld. And we couldn't be happier. Luther season 5 is going to be just as cruel on its central character, if the latest slate of trailers and clips are anything to go by, which have also confirmed the return of Ruth Wilson's femme fatale, Alice. While seasons 1-3 of the show were tense pockets of hard boiled crime, the two episodes that made up season 4 went off the rails a little, so hopefully we'll see Luther returning to a more realistic form in season 5.
Brooklyn Nine-Nine season 6
Where and when can I watch it? NBC on January 10 (US), UK TBC
As bad as 2018 might have been, at least some good news has come out of it. After closing up a predictably stellar fifth season, Brooklyn Nine-Nine was abruptly cancelled by Fox in May of this year, only for NBC to swoop in at the final hour after the internet went into meltdown mode at the thought of a world without Jake, Amy, Terry, Holt, and the rest of New York City's 99th precinct. Another comedy baby of Michael Schur (Parks and Rec, The Good Place, The Office), Brooklyn Nine-Nine is a show that's easy to love, aided by a diverse, well rounded cast, a cosy sitcom structure, and some of the best cold openers since that fire alarm went off in Dunder Mifflin. Hopefully NBC won't have changed a single ingredient in the show's winning recipe as proven by the most recent trailer.
Star Trek Discovery season 2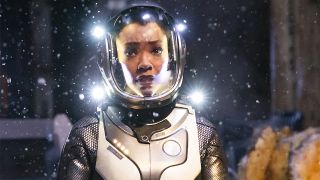 Where and when can I watch it? CBS All Access (US)/Netflix (UK) from January 17, 2019
Burnham is back, and she's got a handful of new crew members. Joining the Discovery cast is Captain Pike (before he becomes an Admiral and mentor to Kirk) and Spock, who is Burnham's half-sister. The remainder of the cast, including Tilly, Saru, and Stamets will be back full-time, while other big players from the first season like Ash Tyler, L'Rell, and even The Emperor will return in some capacity. Hot news is that Jason Isaacs, who played Lorca in the first season, but dies off, has said he's been in talks about an appearance too. As you'd expect after the S1 finale, The USS Enterprise will play a big role in season 2, along with the shadowy Section 31 (which you may know from Deep Space 9), which deals with the covert protection of the Federation. Intriguing. This will be the hottest show at the start of 2019.
Read more: Star Trek Discovery season 1 ending explained - everything you want to know
The Umbrella Academy season 1
Where and when can I watch it? February 15, 2019 on Netflix
While Netflix may have said goodbye to almost all of its Marvel shows this year, the streaming service still intends to give superhero fans their recommended dosage of high powered bingeing via The Umbrella Academy. Based on the comic book series of the same name by Gerard Way, The Umbrella Academy focuses on a dysfunctional family of super powered individuals, who reband to investigate the death of their surrogate father. Think the basic plot synopsis of X-Men crossed with the weird, wacky zeitgeist of Legion, and you get the idea. It even stars former Marvel alumnus Ellen Page, alongside the likes of Mary J. Blige, Tom Hopper, and Robert Sheehan, who's also had previous experience playing a superhero in sci-fi comedy thriller Misfits. The trailer alone is enough to sell The Umbrella Academy to any sceptics, so give it a watch, and mark your calendars for February 15 next year, when it hits Netflix worldwide.
Chilling Adventures of Sabrina season 2
Where and when can I watch it? April 5, 2019 on Netflix
As if by magic, Netflix has already released a teaser trailer for Chilling Adventures of Sabrina season 2, only one month on from the release of the first. Clearly, the streaming service in confident in this dark interpretation of the Archie comic books, which - if you've seen it - is a far cry from '90s sitcom Sabrina the Teenage Witch, and you can understand why. From the rich, evocative set dressing to its assured, genuinely spooky storytelling, Chilling Adventures of Sabrina has already left a strong impression, and while that April 5 release date leaves little breathing room between seasons 1 and 2, we've already cleared our calendars for the inevitable binge-a-thon.
Read more: Chilling Adventures of Sabrina ending explained - everything you need to know after watching
Game of Thrones season 8
Where and when can I watch it? HBO (US)/Sky Atlantic (UK) in April 2019
It's the TV event of 2019, and maybe even the decade. The final season of Game of Thrones is coming, and HBO has confirmed that we'll start watching it in April. There are six episodes in total, with most expected to be between an hour long and feature length, which is good because there is a LOT of plot-threads to tie up. The main battle between the White Walkers and the living will dominate this last season, and has been spiced up by the fact the Night King has bagged himself a dragon. The big questions right now are what will become of Jon Snow and Daenerys, will Cersei raise her army and take Westeros from Kings Landing upwards, is Tormund still alive, and will The Hound ever get a crack at The Mountain? It's going to be epic. There will be tears. And Game of Thrones - the biggest show on TV - will come to an end.
Read more: The best Game of Thrones theories you need to know about going into season 8
Good Omens season 1
Where and when can I watch it? Amazon Prime Video in TBC 2019
This show is based on the novel by Terry Pratchett and Neil Gaiman - something of a sci-fi writing dream-team - and follows the exploits of the demon Crowley (David Tennant) and the angel Aziraphale (Michael Sheen). While opposing forces, the pair have grown accustomed to life on earth, and they work together to try and prevent the impending apocalypse, where all life on the planet will end. While the book is set in 1990, this show is modern day and was filmed earlier in 2018. It'll span six episodes. Other notable appearances see John Hamm as the Archangel Gabriel, and Frances McDormand as the voice of God.
Continue to Page 2 for more new TV shows coming soon