The upcoming Xbox One games list isn't going anywhere, especially thanks to Microsoft's promise to keep including the now last-gen console as part of the Xbox gaming ecosystem with the Xbox Series X and Xbox Series S on the horizon - and all of the upcoming Xbox Series X games and Xbox Series X launch games to accompany them - along with PC. Bascially there's still plenty to look forward to on the Xbox One. 
We've highlighted all of the upcoming Xbox One games we're most looking forward to, ordered by launch date, followed by a list of all the known Xbox One release dates. 
Twin Mirror
Release date: December 1, 2020
Genre: Psychological thriller
What is it? A new narrative-led game from Dontnod Entertainment, the developer behind Life is Strange.
What to look out for: There's something unusual about Sam, and it's not just the fact he's just found his shirt covered in blood in his hotel room. He's also got an alter-ego, known as The Double, who acts as his advisor, representing the self-confidence he himself lacks. But, wait, there's more. As Sam tries to work out what happened on the night of his best friend's funeral, he uses his unique memory visualisation ability - entering his own mind palace - to reconstruct locations and crime scenes, to solve puzzles, find solutions to mysteries, and more as he comes across them and pieces together the story. You'll switch between real locations and Sam's mind to uncover the full story.
Immortals Fenyx Rising 
Release date: December 3, 2020
Genre: Adventure
What is it? A new adventure set in a Greek world of mythology from the creators of Assassin's Creed Odyssey. 
What to look out for: Formerly known as Gods and Monsters, Immortals Fenyx Rising is a brand new storybook adventure from the team behind Assassin's Creed Odyssey, which will bring us a brand new, fantastical adventure based on the stories found in Greek mythology. The Gods of Olympus have turned to you for help, embuing you with their powers to take on the mythological creatures that have invaded the Isle of the Blessed. Saving Gods and killing Monsters is your focus, and this adventure will be wrapped up in a beautiful art style with Breath of the Wild vibes. 
Cyberpunk 2077
Release date: December 10, 2020
Genre: RPG
Buy: Cyberpunk 2077 pre-orders
What is it? The Witcher meets Deus Ex in a sci-fi RPG where advanced technology has both cured and cursed humanity.
What to look out for: And you thought The Witcher was big. CD Projekt RED has already confirmed that Cyberpunk 2077 "far, far bigger" than Geralt's last hurrah, another open-world RPG taken from an unusual source - in this case a pen-and-paper role playing game last heard of a decade ago. You'll explore an open world called Night City in the first-person perspective, encountering all kinds of friendly or hostile NPCs and trying to fend for yourself in this technologically advanced future.
Senua's Saga: Hellblade 2
Release date: Holiday 2020
Genre: Adventure
What is it? A surprise sequel to Hellblade coming to Xbox Series X. 
What to look out for: Okay, so technically this is really for our list of upcoming Xbox Series X games, but we have a sneaking suspicion it may well also launch across the Xbox One family too. The sequel, called Senua's Saga: Hellblade 2 is a bit of a mystery right now, as all we've had for it is a slightly unnerving teaser trailer, which involves face paint/blood, scary singing and chanting, and more disembodied arms with fingers trying to grab at you. Nightmarish. It all suggests another harrowing journey for our troubled hero.
Turn to page 2 for more upcoming Xbox One games for 2020 and beyond...
Rainbow Six Quarantine
Release date: TBC 2020
Genre: Action
What is it? A brand new three-player tactical co-op FPS set within the Rainbow Six universe. 
What to look out for: Rather than existing as a spin-off of the highly successful Rainbow Six Siege, this is actually a new game entirely. Rainbow Six Quarantine is is a brand new three-player co-op PVE multiplayer title, where you play as Rainbow Operators facing off against a mutated alien parasite that's started infecting the human race. Yum. 
Lego Star Wars: The Skywalker Saga
Release date: Spring 2021
Genre: Action adventure / Lego
What is it? All nine Star Wars films remade in one Lego game. Epic. 
What to look out for: The Star Wars / Lego crossovers have consistently delivered blocky brilliance, but this is going to be something else. Being able to play every Star Wars movie in one ultimate compendium is going to be amazing, especially when you consider that this isn't a remaster of the original Lego Star Wars game, but brand new games with graphics that blend realistic elements with Lego blocks and figures, with constant splashes of developer TT Games' trademark humour. Just watch the trailer and tell me I'm wrong.
Vampire: The Masquerade – Bloodlines 2
Release date: TBC 2021
Genre: RPG
What is it? A vampire RPG - need we say more?
What to look out for: Vampire: The Masquerade - Bloodlines 2 throws you into the seedy underbelly of Seattle where creatures roam, but thankfully you're a vampire. Turned as an act of vampire terrorism during the 'Mass Embrace', you'll soon get caught up in vampire faction politics, where you're still just trying to deal with your new way of life. This is an RPG at its core too, filled with player choices, a strong narrative, and branching dialogue options too. 
Halo Infinite
Release date: TBC 2021
Genre: Action-adventure
What is it? The next-gen, next stage adventure for Master Chief and co.
What to look out for: Originally slated to release in Holiday 2020 as an Xbox Series X launch title, 43 Industries' follow-up to 2015's Halo 5 is now coming in 2021, and it'll be a simultaneous release on Xbox One and Xbox Series X. During a recent showcase, a trailer showed off our first proper look at gameplay in Halo Infinite. The 8-minute video offered a glimpse at some of the new features coming to Master Chief's arsenal, including a grappling hook. 
Skull and Bones
Release date: TBC 2021
Genre: Pirate ship sim
What is it? A naval combat game themed around pirates and being a pirate. 
What to look out for: Although it's been delayed, and delayed, into 2020, you should still be excited about Skull and Bones. Taking inspiration, and source material, from the naval combat sections of Assassin's Creed 4: Black Flag, Skull and Bones is all about making masts crumble into matchsticks, bringing multiplayer to that watery combat with big boats and a lot of loot. There's a single-player campaign too, where you can practice your best Jack Sparrow impression, we're just not sure when you'll actually get to play it.
Dying Light 2
Release date: TBC
Genre: RPG / Survival horror
What is it? A sequel to the ever-popular Dying Light. 
What to look out for: Parkouring zombie killing is the name of the game in Dying Light, and you're about to do it all again in Dying Light 2. Building on the success of the original, this game takes place 15 years after the first, with one human settlement still standing amongst the infected world. This one is leaning heavier into the RPG elements, with difficult choices to make that result in sacrifices and locking off parts of the map. You'll help some, and hinder others, but it'll be an exciting journey nonetheless. It's bigger, better and more brutal. 
Beyond Good & Evil 2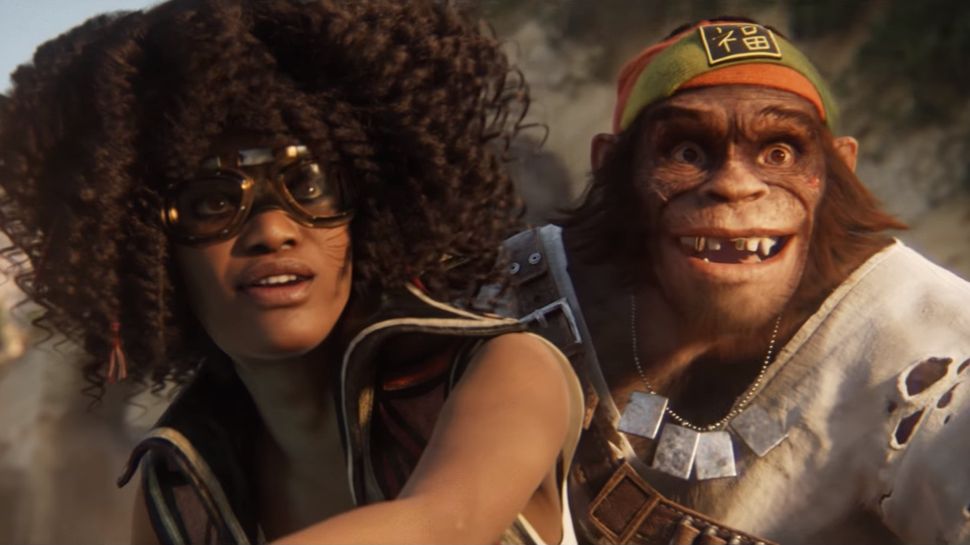 Release date: TBC
Genre: Action-adventure, space exploration    
What is it? The long (looooooong) awaited prequel to the last-last-gen classic. 
What to look out for: Space monkeys. A vast sector of the universe to explore with your ever-expanding ship crew. Gameplay that scales from ground-level, action-adventure to full-scale, interstellar flight. A densely textured, philosophically fuelled civilisation that explores slavery, control, genetic engineering, cultural cross-pollination, and all the long-term, spiralling knock-on effects that come with that. Beyond Good & Evil 2 might have taken the best part of 15 years to appear, but Michel Ancel's follow-up looks so, so much grander, more exciting, and more thoughtful than we ever imagined it could be. 
Looking to upgrade your Xbox to take full advantage of all these new games? Here are the best Xbox One X deals. Or if you're thinking more about next-gen, be sure to check out our rundown on everything we know about the upcoming Xbox Series X price, pre-orders and bundles.