As we see out the remainder of the year, there are lots of upcoming Xbox One games to get excited about. We're already looking ahead to releases in 2020, and while we inch ever closer closer to the release of Microsoft's next-gen console Xbox Project Scarlett, there are still plenty of reasons to keep your excitement levels high thanks to the generous helping of upcoming Xbox One games in the pipeline.
If you haven't tried the best games of 2019 or the majority of the best Xbox One games, there's plenty to tide you over until the next big thing rolls around. In the near future, you'll be up to your neck in games like Ori and the Will of the Wisps and Doom Eternal, so now's the perfect time to whittle down your backlog! We've highlighted all of the upcoming Xbox One games we're most looking forward to, ordered by launch date, followed by a list of all the known Xbox One release dates.
Ori and the Will of the Wisps
Release date: February 11, 2020
Genre: Platformer
What is it? The sequel to one of the Xbox One's finest – and most unexpected – games to date.
What to look out for: The original game, Ori and the Blind Forest, immediately stood out among the Xbox One's indie line-up by being distinctly not much like a stereotypical Xbox One game at all. Delicate, atmospheric, lushly presented, and dripping with dreamlike whimsy, Moon Studios' iteration on the exploring, platforming, ability-growing model cemented by Metroid is executed with almost enough charm to be a Nintendo game itself. We don't know a huge amount about the sequel yet – all we've seen is an announcement trailer at Microsoft's E3 2017 press conference – but we do know that it will take Ori beyond the first game's titular tree village, and out to investigate larger mysteries in the wider world.
Final Fantasy 7 Remake
Release date: March 3, 2020
Genre: JRPG
What is it? It's back, more beautiful, not just a simple retelling and released episodically. It's Final Fantasy 7 but not as you know it.
What to look out for: A proper remake of Final Fantasy 7 has been a long, loooong time coming. But, after literal decades of rumours, it's coming. It'll be more action based than the original, with real-time combat a la Final Fantasy 15 mixed in with the traditional turn-based affair. That will come like a dagger to the heart for purists, but could mean a whole new wave of players get to enjoy the gloriousness that is Final Fantasy 7.
Doom Eternal
Release date: March 20, 2020
Genre: Action
What is it? The sequel to the 2016 Doom reboot, but this time with more guns, gore, and heavy metal.
What to look out for: As the direct sequel to the 2016 reboot, Doom Eternal picks up where the story left off, but Bethesda promises that it's bigger and better than anything Doom has delivered before. Combat's taking a step up, with new weapons and a snazzy new grappling hook, and the story will see you jump dimensions to new locations like Mars, and Heaven! Of course, it's all in a bid to save Earth once again.
Cyberpunk 2077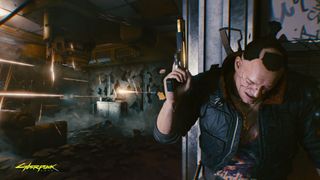 Release date: April 16, 2020
Genre: RPG
What is it? The Witcher meets Deus Ex in a sci-fi RPG where advanced technology has both cured and cursed humanity.
What to look out for: And you thought The Witcher was big. CD Projekt RED has already confirmed that Cyberpunk 2077 "far, far bigger" than Geralt's last hurrah, another open-world RPG taken from an unusual source - in this case a pen-and-paper role playing game last heard of a decade ago. You'll explore an open world called Night City in the first-person perspective, encountering all kinds of friendly or hostile NPCs and trying to fend for yourself in this technologically advanced future.
Gods and Monsters
Release date: Fall 2020
Genre: Adventure
What is it? A new adventure set in a Greek world of mythology from the creators of Assassin's Creed Odyssey.
What to look out for: Announced at E3 2019, Gods and Monsters is a brand new storybook adventure from the team behind Assassin's Creed Odyssey, which will bring us a brand new, fantastical adventure based on the stories found in Greek mythology. The Gods of Olympus have turned to you for help, embuing you with their powers to take on the mythological creatures that have invaded the Isle of the Blessed. Saving Gods and killing Monsters is your focus, and this adventure will be wrapped up in a beautiful art style that could be one of the most interesting open-world adventures to date.
Vampire: The Masquerade – Bloodlines 2
Release date: TBC 2020
Genre: RPG
What is it? A vampire RPG - need we say more?
What to look out for: Vampire: The Masquerade - Bloodlines 2 throws you into the seedy underbelly of Seattle where creatures roam, but thankfully you're a vampire. Turned as an act of vampire terrorism during the 'Mass Embrace', you'll soon get caught up in vampire faction politics, where you're still just trying to deal with your new way of life. This is an RPG at its core too, filled with player choices, a strong narrative, and branching dialogue options too.
Halo Infinite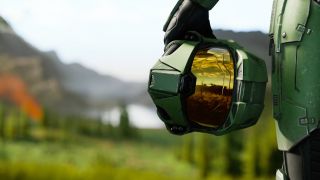 Release date: Holiday 2020
Genre: Action adventure
What is it? The next-gen, next stage adventure for Master Chief and co.
What to look out for: It's still a while off, but 343 Industries' follow-up to 2015's Halo 5 is coming, and it'll be a simultaneous release on Xbox One and Project Scarlett. The first Halo Infinite trailer almost seems to suggest that Master Chief's next adventure will of touches of MMO and sandbox gameplay, or at least be more open-ended. We certainly can't wait.
Watch Dogs Legion
Release date: TCB 2020-2021
Genre: Action adventure
What is it? An action-packed hacking adventure set in post-Brexit London, in a hopefully alt-future for Blighty.
What to look out for: Years after the UK pulls out of the EU, London is facing quite the dystopian future, and Watch Dogs Legion puts you straight in the middle of it. You're building a Dedsec team in a city where hackers and drone run rife, but you'll have your pick of whoever you want for your own crew. Yes, literally everyone. Absolutely every NPC in London is available to recruit, and then become a playable character, ranging from a slick East London geezer, to a parkouring grandma. This could be in the most interesting game in years.
Dying Light 2
Release date: TBC
Genre: RPG / Survival horror
What is it? A sequel to the ever-popular Dying Light.
What to look out for: Parkouring zombie killing is the name of the game in Dying Light, and you're about to do it all again in Dying Light 2. Building on the success of the original, this game takes place 15 years after the first, with one human settlement still standing amongst the infected world. This one is leaning heavier into the RPG elements, with difficult choices to make that result in sacrifices and locking off parts of the map. You'll help some, and hinder others, but it'll be an exciting journey nonetheless. It's bigger, better and more brutal.
Beyond Good & Evil 2
Release date: TBC
Genre: Action-adventure, space exploration
What is it? The long (looooooong) awaited prequel to the last-last-gen classic.
What to look out for: Space monkeys. A vast sector of the universe to explore with your ever-expanding ship crew. Gameplay that scales from ground-level, action-adventure to full-scale, interstellar flight. A densely textured, philosophically fuelled civilisation that explores slavery, control, genetic engineering, cultural cross-pollination, and all the long-term, spiralling knock-on effects that come with that. Beyond Good & Evil 2 might have taken the best part of 15 years to appear, but Michel Ancel's follow-up looks so, so much grander, more exciting, and more thoughtful than we ever imagined it could be.
Looking to upgrade your Xbox to take full advantage of all these new games? Here are the best Xbox One X deals in 2018.