2017 is already shaping up to be a great year for all things Xbox. The upgraded, 4K-spouting Xbox One X is coming! All flavours of existing Xbox One are selling fast. Long dormant series like Phantom Dust are finally re-emerging. Xbox Game Pass is a Netflix style subscription service that lets you download numerous Xbox One games without having to purchase them outright, and it's coming soon. Most importantly, though, we've got some amazing games coming up: Destiny 2, Call of Duty: World War 2, and Star Wars Battlefront 2 to name a few. Our list of the best upcoming Xbox One games is in chronological order, moving deeper into the year (and years) as we go. We'll be updating this article regularly, but the current selection is thus...
Cuphead
Release date: September 29, 2017
Genre: Platform-shooter
What is it? A combat/platformer hybrid with seriously charming animation that comes across as part Steamboat Willie, part Contra.
What to look out for: It's not fair to judge a book by its cover - but books kind of want you to. Same goes for Cuphead. Studio MDHR wants you to notice its homage to 1930s animations the second you look at its retro combat-platformer. You will. Nothing else has ever looked like Cuphead, meaning we want to see all of it.
FIFA 18
Release date: September 21, 2017
Genre: Football
What is it? The biggest football game around, licensed to the hilt and packing Ultimate Team to ensure all your time is forfeit.
What to look out for: There's a FIFA 18demo you can try right now if you want a taster, and we've some FIFA 18 demo tips to help you get the best of that. For the main game, this year will be the second time we get to play The Journey, FIFA's story-based Campaign mode. Ultimate Team is adding multi-format legends, now known as Icons. Other new additions include the German third division. EA are promising to four specific areas of focus, including responsiveness, explosiveness, fluidity, and personality. There will also be improved dribbling, better team AI, and set pieces plus we're promised a more friendly penalty system.
Forza Motorsport 7
Release date: October 3, 2017
Genre: Racing
What is it? The flagship for the Xbox One X, this game is showing just how stunning cars can look when they're racing around Forza's dynamic environments.
What to look out for: Taking full advantage of the Xbox One X's 4K capability, it's taking racing to the most realistic level so far. Putting you on dynamically-changing tracks that will sometimes throw rain at your tires, it's an extravaganza for the eyes. As if "living weather" and a solid 60fps wasn't enough, there's about 700 cars for you to choose from. Try fitting all of them into your garage! Turn 10, the team behind this super-powered racing game, reckons it's the most "technical and comprehensive racing game ever made", complete with "rattling and vibrating car parts". Which pretty much means any racing enthusiast needs to check it out.
Middle-earth: Shadow of War
Release date: October 10, 2017
Genre: Open world action-RPG.
What is it? The sequel to Monolith Productions' remarkable 2014 Lord of the Rings spin-off.
What to look out for: Middle-Earth: Shadow of Mordor ended on a cliffhanger of grand fan-fiction proportions. Talion (the much abused ranger) and his spirit friend/tormenter/guide Celembrimbor (crafter of the Rings of Power) had ravaged the Dark Lord Sauron's army and taken control of a chunk of the land one shan't simply walk into. They'd gotten revenge on the killer of Talion's family but ran into a problem: since Sauron's a magic ghost overlord, they can't exactly kill him. So they set out to build their own new ring of power to take him out. That's where Shadow of Mordor picks up, with Talion and Celebrimbor wielding their own ring to rule them all, commanding their army of orcs and uruks to try and take down Sauron once and for all. They won't - we've seen the movies after all - but they will engage in massive army-on-army battles in greatly expanded Nemesis system.
The Evil Within 2
Release date: October 13, 2017
Genre: Action-horror
What is it? Sequel to the mind-bending, disturbed The Evil Within, this time its looking to centre around Sebastian's five-year-old daughter Lily.
What to look out for: Our hardened detective from the first game has taken another trip into the white goo of the STEM system and is being haunted by similarly ghastly memories. Featuring a serial killer who freezes his victims by snapping them with an old-timey camera and some ominously-circling white crows, fire is also a strong theme that's sure to give us plenty of horrifying burned zombies stumbling our way. A grim priest looks to be the arch-villain of the piece, as suggested by the fact that he caused a wave of fiery devastation to head towards Lily. Lovely.
South Park: The Fractured But Whole
Release date: October 17, 2017
Genre: RPG
What is it? The sequel to the last South Park game, looking again a lot like a playable version of the show.
What to look out for: South Park: The Fractured But Whole is all about really, really stern humour. Like a racially themed difficulty setting that's just a joke. Demo's so far has shown off some things that seem strong even for the show. Laugh, or complaints, aside, this has revamped it's combat with a new, grid based system and focuses this time on rival wannabe superheroes fighting a min civil war. No you haven't heard that set up before.
Assassin's Creed Origins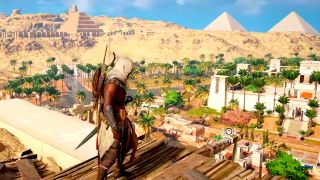 Release date: October 27, 2017
Genre: Action/adventure
What is it? Assassin's Creed's big come back after a year off to refresh everything. This is a whole new start for the series.
What to look out for: Everything. Assassin's Creed Origins is a whole new start for the series and almost avery facet of the game's been overhauled in some way. The combat is now more combo based and less about fighting enemies in a circle. Progression is RPG based, and the Egyptian map is a huge, seamlessly open world with horses and boats to get about on, as well as Black Flag style naval battles. As the name suggests, you'll be seeing the birth of the order, playing as Bayek - a man who's not an assassin yet but is about to have a really cool idea for a club.