There's still plenty of upcoming Xbox One games on the near horizon, even as Xbox Game Studios turns more of its attention to the Xbox Series X. While it's certainly true that a great many of the new games for 2023 are new-gen ready, there's still some developers out there who are ensuring that new Xbox One games release this year.
Better still, so many of the upcoming Xbox One games that we've rounded up for you below are going to be added to the Xbox Game Pass list on day one. So keep on reading to find the most exciting upcoming Xbox Ones games on the way, put in release date order for easy viewing.
New Xbox One Games for 2023
The Texas Chainsaw Massacre
Developer: Gun Interactive
Release date: August 18, 2023
Game Pass: Yes
The Texas Chainsaw Massacre is the latest classic IP to join the rush of asymmetrical horror games out there on the market. You'll be working together with friends to survive the family, and we can only imagine that there will be plenty of fighting in online lobbies to decide who will play as Leatherface, the Hitchhiker, or any of the other family members trying to find and kill their victims. Oh, and watch out for grandpa!
Armored Core 6: Fires of Rubicon
Developer: FromSoftware
Release date: August 25, 2023
Game Pass: No
You may know FromSoftware as the studio responsible for the likes of Dark Souls and Elden Ring. But before it focused on developing action-RPGs with sharp difficulty spikes, FromSoftware made a name for itself through creating larger-than-life mech games – and it's finally returning to them in 2023, with Armored Core 6: Fires of Rubicon. With the promise of massive mechs to control and a suitably ruined world to explore, we can't wait to five back into this franchise.
Sea of Stars
Developer: Sabotage Studio
Release date: August 29, 2023
Game Pass: No
Sea of Stars is a love letter to some of the best JRPGs. With its tactical turn-based combat, vibrant 2D pixel-art, and massive open world that focuses on exploration and adventure, Sea of Stars looks set to take the retro revival of classic role-playing games to new heights. Sea of Stars releases on August 29, and everything we've seen of it so far has been delightful.
Under the Waves
Developer: Parallel Studio
Release date: August 29, 2023
Game Pass: Yes
If you loved Quantic Dream's narrative adventures like Detroit: Become Human and Beyond Two Souls, make a note of Under the Waves. Set in the depths of the North Sea, you play as a professional diver named Stan. You'll be navigating more than rip currents and creatures of the deep, however, as Stan tries to make peace with a devastating tragedy that has shaken his entire world. Being isolated in the dark, unknown depths is harrowing enough, but the emotional grounding of Under the Waves is what really makes this upcoming Xbox One game stand out.
Lies of P
Developer: Neowiz Games
Release date: September 19, 2023
Game Pass: Yes
Xbox players have spent years crying out for a Bloodborne that they can call there own, and Lies of P may just be the next best thing. This new soulslike has you playing as Pinocchio as he fights to regain his humanity and locate his creator, Mr. Geppetto, in a suitably gothic world. We were impressed by what we played of the game last year, noting in our hands-on Lies of P preview that it could well be a "breakout action-RPG of 2023."
Payday 3
Developer: Starbreeze Studios
Release date: September 21, 2023
Game Pass: Yes
A high-octane FPS series is getting its third instalment in Payday 3. We'll be banding up with fellow no-good thieves to plot heists of grand proportions, from sneaking past enemies through secured buildings to letting bullets rain down should our cover get blown. There's also your classic clown-masked bank robbery in full Joker style, dealing with hostage situations, and brutal rooftop showdowns between your crew and the cops. The game supports up to four players in co-op, too, so it's safe to say Payday 3 will bring the frenzied action when it comes to Game Pass in September.
Assassin's Creed Mirage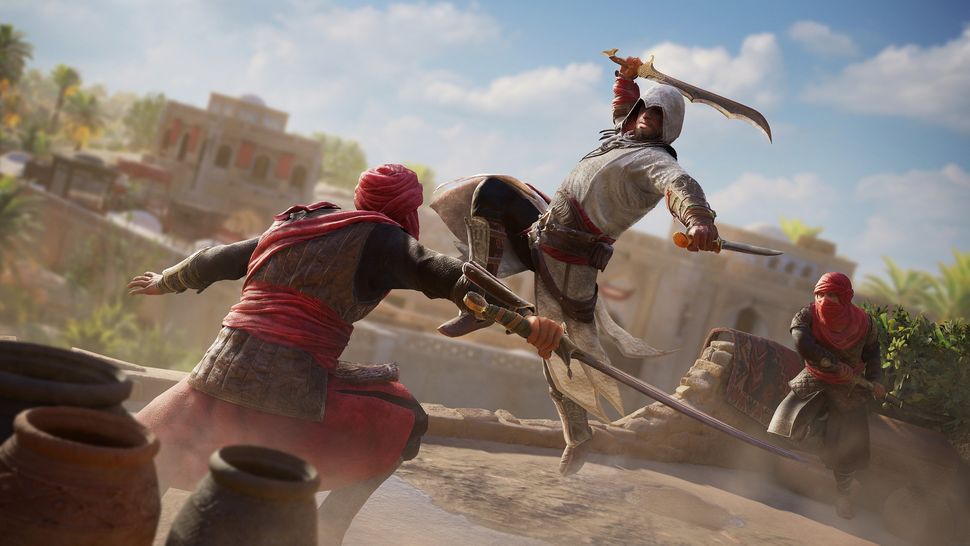 Developer: Ubisoft
Release date: October 5, 2023
Game Pass: No
Ubisoft is turning away from massive open worlds and action-RPG combat for this upcoming Assassin's Creed games. Assassin's Creed Mirage is going back to the series roots with a "more intimate scale", pulling focus onto stealth, parkour, and assassinations. Set in 9th Century Baghdad, Assassin's Creed Mirage is promising to be a breath of fresh air for any of you who have become a little exhausted by the size of games like AC Origins, Odyssey, and Valhalla.
Endless Dungeon
Developer: Amplitude Studios
Release date: October 19, 2023
Game Pass: No
Amplitude Studios is extending the Endless universe with a new tactical-action roguelite – Endless Dungeon. In it, you'll recruit a squad, dive into an abandoned space station, and fight for your life against a never-ending wave of monsters. To escape you'll need to reach The Core with your crystal intact, but you won't do that without dying a few times along the way; strap in for an action game that'll test your ability to respond to an ever-escalating set of situations in real-time.
Like a Dragon Gaiden: The Man Who Erased His Name
Developer: RGG Studio
Release date: November 9, 2023
Game Pass: No
RGG is really spoiling us, with two Like a Dragon games in development currently. The Yakuza games and their spin-offs reached popularity thanks to Xbox Game Pass, but this late-2023 entry won't be making the cut unfortunately. Gaiden is a fighting game set in the crime-ridden underbelly of Japan's gang syndicate, meaning you could be throwing hands in the middle of a crowded Tokyo street or delivering an almighty beatdown in front of a traditional Japanese house. Either way, Like a Dragon Gaiden is looking like classic RGG in its purest form.
New Xbox One Games TBC 2023
Hollow Knight Silksong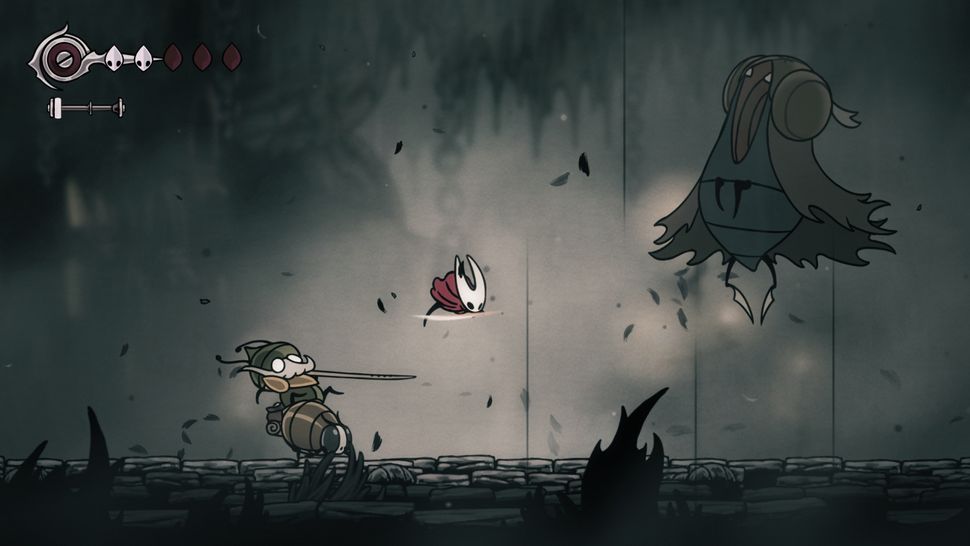 Developer: Team Cherry
Release date: TBC 2023
Game Pass: Yes
Hollow Knight is considered to be one of the best metroidvania games of the decade, so anticipation is running high for its sequel. Developer Team Cherry started out with every intention of creating DLC for the first game, although it quickly spiraled out of control as it worked on a new universe to explore, a new protagonist, and a suite of new combat mechanics. All that makes Hollow Knight Silksong one of the most anticipated Game Pass releases of 2023.
Like a Dragon: Infinite Wealth
Developer: RGG Studio
Release date: TBC 2024
Game Pass: Yes
Fans of the Yakuza games can rejoice: Like a Dragon is back, and Infinite Wealth heralds the return of Ichiban Kasuga as our protagonist. It was announced during the Xbox Showcase 2023, and although the accompanying trailer is funny, we can't glean too much from it: Kasuga washes up on the pristine sands of a Hawaiian beach, scaring a lady off with his alarming nudity but otherwise seemingly confused as to how he got there. We're just about as clued up on the whole thing as our buddy Kasuga here, but the trailer must have done something right since we're already wondering what exactly Infinite Wealth has in store.
Palworld
Developer: Pocketpair
Release date: January 2024 (Early access)
Game Pass: TBC
Described by Jeff Keighley as "like Pokemon with guns", Palworld is an upcoming monster collecting and fighting game coming to Xbox consoles and PC in 2024. If you've ever wondered what Blastoise would look like if he could carry a minigun on top of his built-in water jets, you're in for a lovely surprise. The 3D animations seen in the announcement trailer are definitely reminiscent of newer generation Pokemon titles, as is the celebratory arcade music underpinning it all. There's no confirmation yet whether it will be making a day-one debut on Game Pass, but we're crossing our fingers for this one.
Path of Exile 2
Developer: Grinding Gear Games
Release date: TBC 2023
Game Pass: TBC
After numerous delays pushing it further and further out of reach, Path of Exile 2 is set to launch sometime in 2023. It's better late than never for this free-to-play fantasy RPG, with it being a decade since the first Path of Exile launched, but we're hoping it'll be worth the wait. MMORPG fans will find a lot to love here especially, given the top-down camera angles and complex fantasy world you'll be exploring, so it's just a matter of waiting even more patiently for a concrete release date.
Persona 3 Reload
Developer: Atlus
Release date: Early 2024
Game Pass: Yes
A classic title in the Persona series is getting a remake in Persona 3 Reload. Though the trailers managed to get leaked shortly before its announcement, it's good to have confirmation that developer Atlus is hard at work on not only a P3 remake, but a chibi version of Persona 5 too. The anime-style RPG will this time not feature a female lead, and with Atlus describing P3 Reload as "reborn for the modern era", players could expect some other surprise features alongside the familiar ones.
Towerborne
Developer: Stoic Studio
Release date: TBC 2024
Game Pass: Yes
Action-adventure Towerborne is an upcoming Xbox One game that sees us exploring the vast wilderness in a world where humanity stands on the brink of extinction. Don't let the cutesy, brightly-colored cartoon graphics fool you: despite how beautiful Towerborne's world is, it's plenty dangerous. The tower in question is known as the Belfry, and it's the last remaining refuge for human beings to take shelter from the monsters and creatures lurking outside. There's no confirmed release date for it just yet, but we can expect to see Towerborne on Game Pass whenever it launches in 2024.
If you want to see what titles you'll have access to if you do make the jump to the new Xbox console, check out the lineup of upcoming Xbox Series X games for 2023 and beyond.