The Crackdown 3 release date has slipped to February 2019 which means Xbox One's last big incoming exclusive is out of this year. However there's going to be plenty of new E3 2018 games announced soon, so let's see what Father Microsoft brings you at the show.
You can check our E3 2018 Schedule for when everything's happening. The rumours currently are very heavily leaning towards a new Fable 4 and almost certainly a new Forza Horizon after a chatty Xbox exec in Europe said we'd hear more at E3. We'll almost certainly see some future plans to expand Sea of Thieves and potentially something Halo 6 shaped, if only a tease.
For now, however, let's look at what are best upcoming Xbox One games for 2018 and beyond.
There are a lot of upcoming Xbox One games on the way, so this is a big list. You can work though it in order if you want, or skip to the games you want to see using the page links and guide below (in the order everything's out).
The best upcoming Xbox One games PAGE 1
The Awesome Adventures of Captain Spirit
The Crew 2
Anthem
Shadow of the Tomb Raider
Forza Horizon 4
Assassin's Creed Odyssey
Call of Duty: Black Ops 4
Battlefield 5
Red Dead Redemption 2
Hitman 2
Fallout 76
Skull & Bones

The best upcoming Xbox One games PAGE 2
Gwent: The Witcher Card Game
Call of Cthulhu: The Official Game
Kingdom Hearts 3
Metro Exodus
Cyberpunk 2077
Ori and the Will of the Wisps
Beyond Good & Evil 2
DayZ
Ashen
The Awesome Adventures of Captain Spirit
Release date: June 26, 2018
Genre: Adventure game
What is it? A free Life Is Strange spin off featuring a young boy with a big imagination.
What to look out for: What we've seen shows Chris, a 10-year-old boy, running around the garden imagining all sorts of super powered adventures which, on its own, is interesting enough: battling monsters, visiting space and blowing up a snowman's face with the power of his mind (firecrackers). But this is Dontnod and its relationship to the Life is Strange series suggests there will be more to it - the father's apparent drinking getting an obvious nod during the trailer. Whatever happens it's mean to be a short, self contained story with numerous secrets and options to be discovered through multiple play throughs (including links to Life is Strange 2). It's also free. Did we mention it was free? Because it's free.
The Crew 2
Release date: June 29, 2018
Genre: Online racer
What is it? The sequel to Ubi racer that sees you driving, flying and boating across a huge open world adventure.
What to look out for: The second game has gone all out with its motoring action, by not only letting you drive just about every vehicle imaginable, you can also switch freely between them. If you get bored of racing you can swap instantly to a plane and soar away from the road. Then, seconds later, swoop over a river and switch to a boat. All of this is happening across a huge, open world interpretation of America, giving you the freedom to indulge just about every kind of racing, flying and boating imaginable. If you're hot for The Crew 2 you may want to consider investing in an Xbox One steering wheel to make it as special as possible.
Shadow of the Tomb Raider
Release date: September 14
Genre: Action/adventure
What is it? The third instalment of Crystal Dynamics Tomb Raider series reimagining a modern, younger Lara on her journey to becoming the famous character we know and love.
What to look out for: Hopefully we'll actually see Lara become the Tomb Raider this time as after three games she should have had all the practice she needs. Shadow of the Tomb Raidersees her in the South American jungle, still fighting the evil Trinity organisation and slightly activating the apocalypse, which she should probably sort out in between the all the stealth kills and showing off with the bow. So far, from what's been shown, it feels more like a continuation than a progression for the series. But considering the game's stealthy, crafting open world action is always strong, that's no bad thing.
Forza Horizon 4
Release date: October 2
Genre: Racing
What is it? The return of Xbox's open work racer, this time in a version of the UK full of roads and suddenly no driving laws.
What to look out for: The big new thing this time around are new dynamic seasons. These will not only affect the weather in-game and so driving conditions, but all change up courses, routes and stunts. It's also now a shared open world meaning that whatever you get up to in it's UK setting, all the other cars around you will be other people.
Assassin's Creed Odyssey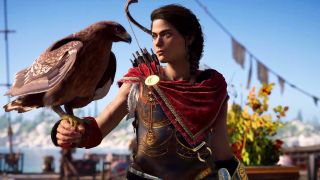 Release date: October 5
Genre: Adventure/RPG
What is it? The latest Assassin's Creed heads to Greece with two playable characters to chose from, and a more RPG flavoured make over.
What to look out for: This is the Assassin's Creed that's having a good stab at being a bit of Bioware game - there's a ton of dialogue options that can affect outcomes and relationships, and you can bang whoever you want. You can play as either Alexios or Kassandra, depending on who you chose, and relationships are gender neutral so you can make friends with anyone. Assassin's Creed Odyssey is also upping its RPG game, deepening those mechanics and - in a big change for the series - a wanted meter now replaces desynchronisation as a method to keep you in line. Do too many bad things and you'll end up with people out to get you. So play nicely.
Call of Duty: Black Ops 4
Release date: October 12
Genre: Shooter
What is it? Activision's annual war-em-up is back with a multiplayer only return to the BLOPs world.
What to look out for: It's all about the battle royale mode, Blackout, which promises to create a last man standing mega-map challenges out of every location, character and event from the BLOPs series. What will be interesting this year is that there's no single player campaign (allegedly a result of moving the release date to dodge Red Dead Redemption 2). Instead there's solo challenges for the various multiplayer characters, three Zombie campaigns (with bot support so you can play alone) and that battle royale mode. It'll be interesting to see how the lack of a proper story mode will affect it's reception though, and how it might affect the game going forward.
Battlefield 5
Release date: October 19
Genre: Shooter
What is it? EA and DICEs big scale war shooter built on objective-based multiplayer, lots of pretty, and all the explosions.
What to look out for: Battlefield's thing is looks pretty while everything around you explodes, so don't expect the WW2 set Battlefield 5 to change that anytime soon. One big new thing this time, however are the Grand Operations, an evolution of the last games basic Operations. These are huge multiplayer battles that take place over 4 in-game days. How you progress from each day to the next depends on your success at each stage. For example, the more artillery you sabotage on day one, the more resources you get for day two and so on. Another interesting change will be a new live service, mirroring Fortnite's battle pass system. It's called Tides of War in Battlefield 5, and revolves around chapters that last two or three months full of themed multiplayer events, co-op missions, and single player missions. As for when you can try all this, there'll be a beta stating October 11 if you have EA Access on Xbox One, with the Deluxe Edition released on October 16, and the Standard Edition following after on October 19.
Red Dead Redemption 2
Release date: October 26th, 2018
Genre: Open-world action-adventure
What is it? Seriously? The sequel to Rockstar's phenomenally successful Red Dead Redemption, a phenomenally good open-world action game about the wild, wild west.
What to look out for: Yee-haw! Full disclosure: don't let the convincing cowboy impression fool you. We actually know very little about Red Dead Redemption 2, other than the fact that we want it now. Scraps of information suggest that it'll be single player with multiplayer aspects, and has been scheduled for a 2018 release. Whispered rumours imply we might be playing as John Marsden's son, and you're sure to see some familiar faces as people are theorising that forming your very own band of misfits will be a big part of the game (as suggested by the early concept art). Likely set towards the end of the Wild West era (we see steam trains and brick housing in the trailer), it's possible that the cowboys will have new struggles to contend with as they start to feel the hot breath of progress on their neck.
Hitman 2
Release date: November 13
Genre: Stealth
What is it? Agent 47 is back once again, killing targets around some of the globe's most glamorous locations.
What to look out for: One of the big new things for Hitman 2 is its massively upgraded crowd tech. The Miami race track level revealed so far is apparently one of the biggest things developer IO has ever created. In it you'll find over 2000 people milling around and, as long as you haven't upset them, you can use them as cover to blend in and avoid nosey guards. There's no hard story info yet but we know 47 is hunting down Providence defectors in Miami, suggesting we'll be working with the secret, world controlling society from the last game. Good news for fans as well: the sniper rifle smuggling briefcase is back and this time it can be used to smuggle more than just guns. Elsewhere it's much the same as the pervious game, and the series, so far - steal outfits, sneak into areas; try to kill the mark with as little, or as much, fuss as you like.
Fallout 76
Release date: November 14
Genre: Open world RPG
What is it? Fallout goes online with Fallout 76's multiplayer mix of raiding and world building.
What to look out for: Fallout 76 is definitely an online , multiplayer game but one that Bethesda swear you can solo if you hate that idea. Even if you play alone though, all the other people in the world will all be real, adding a little extra friction to you moral choices. As inhabitants of Vault 76 this is technically a prequel as you all set out to reclaim the world now the radiation has settled. This is story lead with the action involving exploration, boss fights and settlement building using the Construction and Assembly Mobile Platform - CAMP for short. As well as striking out into the wasteland looking for resources you can also find nuclear codes to fire one of the missiles scattered around the West Virginia location. Do that and you'll A) kill everyone wherever it lands, and B) open up an irradiated, high risk.high loot zone to explore.
Just Cause 4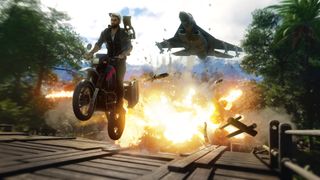 Release date: December 4
Genre: Open world action
What is it? Rico is back to skyjack planes and blow up an entire country under the pretence of saving it.
What to look out for: There's an interesting tonal change by the looks of things with Rico's return. He's still using a grapple hook to ping between cars and helicopters while blowing up just about everything he can reach, but this time there doesn't seem to be a regime to topple. At least initially. Instead there's The Black Hand, the "largest private army in the world." It's apparently done something bad which might something to do with an apocalyptic tornado destroying where ever Rico is. Also on the 'new things' front is a jetpack Rico can use which means between that, his parachute and wingsuit means he's got all the falling bases covered.
Skull & Bones
Release date: Q3/Q4 2018
Genre: Action-adventure piracy sim
What is it? Assassin's Creed 4: Black Flag without the Assassin's Creed, basically.
What to look out for: Land? Where you're going, you don't need land. Ubisoft's entirely sea-based adaptation of Black Flag's hit pirateering gameplay is currently billed as a tactical action game, in which you take command of a ship and set sail to seek your fortune, build out the strength of fleet, wreck other ships and, well, wreck even more ships. It might not have the giddy, playground-pirate tone of Microsoft's Sea of Thieves (see next entry), but with a single-player campaign as well as multiplayer, it might be a tad more versatile.