As 2018 begins to wind down, all eyes are focused on the best upcoming games for 2019, a journey that starts with Resident Evil 2 Remake in January. Capcom have totally remade the game in the Resident Evil 7 engine and the results not only look spectacular, but play brilliantly as well. (You can read more on what we think with our Resident Evil 2 Remake hands on.)
After the dead rise in January, shortly followed by Kingdom Hearts 3 then there's a rush of interesting things to start the year off in style: Metro Exodus, Anthem and Crackdown 3 are all due in February, with The Division 2, Sekiro: Shadows Die Twice and Devil May Cry 5 all arriving in March.
That's just the first three months of 2019! To see what else is on the way then read away and start planning when you're going to fit it all in.
There are a lot of upcoming Xbox One games on the way, so this is a big list. You can work though it in order if you want, or skip to the games you want to see using the page links and guide below (in the order everything's out).
The best upcoming Xbox One games PAGE 1
Resident Evil 2 Remake, January 25, 2019
Kingdom Hearts 3, January 25 2019
Metro Exodus February, 22 2019
Anthem, February, 22 2019
Crackdown 3, February 2019
The Division 2, March 15, 2019
Sekiro: Shadows Die Twice, March 22 2019
Devil May Cry 5, March 8 2019
Rage 2, Spring 2019
Star Wars Jedi: Fallen Order, Holiday 2019
The best upcoming Xbox One games PAGE 2
Control, TBC 2019
The Dark Pictures Anthology: Man of Medan, TBC 2019
Gears 5, TBC 2019
Wolfenstein: Youngblood, TBC 2019
Cyberpunk 2077, TBC
Ori and the Will of the Wisps, 2019
Beyond Good & Evil 2, TBC
Skull & Bones, 2019
Ashen, TBC
Resident Evil 2 Remake
Release date: January 25 2019
Genre: Survival horror
What is it? One of the greatest survival horror games reimagined in a modern gaming engine.
What to look out for: This about as far from the usual HD remaster as you can get. Rather than recreate the original Resident Evil 2, this is a completely new game inspired by it. The basic story is the same - zombie outbreak, Raccoon City, Leon and Claire trying to escape uneaten - but it's all remade in the Resi 7 engine so it looks incredible, using a new over the shoulder camera to replace the old fixed views of the original.
Kingdom Hearts 3
Release date: January 25 2019
Genre: Action-RPG
What is it? The long awaited next chapter in Disney and Square Enix's absurdly charming, long-running RPG collaboration.
What to look out for: If you think the wait for Final Fantasy 15 is bad, the time spent anticipating Sora and Mickey's latest quest is downright agonising. We've waited for this direct sequel for seven years, through an entire console generation, sifting through portable game after portable game to finally get our bone. The lore is jumbled and messy, and the direction of the new game is nigh impossible to predict, but one fact remains: Kingdom Hearts 3 is real, and it is coming. Hard facts are somewhat scarce, but we know Sora picks up another Master's keyblade on Destiny Island, three-character parties return, while different worlds have their own Keyblade transformations - like the sword morphing into a rocket launcher. Bosses also give Sora the chance to use Attraction Flow summons, a set of finishers that sound like exhausting Disneyland rides. We hope Scar returns so we can fire some 'Buzz Lightyear Astro Blasters' into his furry face.
Metro Exodus
Release date: February 15, 2019
Genre: FPS / action-adventure
What is it? A return to the notoriously difficult wasteland of Metro, with the low-tech combat and grueling survival management that the previous games are famous for.
What to look out for: Revisiting the Russian wasteland, Metro Exodus looks remarkably colourful for a post-apocalyptic game, but the creatures look just as deadly as before. If the previous games are anything to go by, we're in for a well-written treat, rife with studies of human survival and tense combat. Details about the story elements are few and far between at the moment, but the train that rampaged its way through the end of the trailer might suggest that you'll be travelling around Russia on the railroad for some of the game.
Anthem
Release date: February 22 2019
Genre: Shooter
What is it? Imagine Destiny meets Titanfall, and size down the giant mechs to human-sized exoskeletons called Javelins. That's Anthem.
What to look out for: Looking to be a co-op shooter set some time after nature has reclaimed most of the planet, you're a Freelancer who ventures out beyond the safety of the walls that separate what's left of civilisation from the wilderness. You can explore both underwater and the air using your Javelin exosuit, and by the sounds of it you won't be sticking to one suit either, as Patrick Söderlund described the "unique play style" and "devastating combat" that each suit offers. Four player co-op is looking to be a significant part of Anthem , so get ready to buddy up and explore the lush wilderness with your gun-toting squad.
The Division 2
Release date: March 15, 2019
Genre: Online shooter
What is it? Ubi's second go at an online RPG style shooter, still set in the aftermath of a global bioterrorist attack.
What to look out for: While the original game didn't quite hit the mark Ubisoft has a good ability to stick with things and make them work (see Rainbow Six: Siege) so while The Division wasn't an explosive launch, it's continued to build a player base. That makes The Division 2 an interesting proposition as it's being build largely of the feedback from it's players. While the basic cover based shooting, raids and loot chasing is largely the same, there's going to be a focus on more content to start the game and a much stronger end game.
Crackdown 3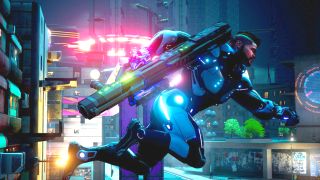 Release date: February 2019
Genre: Third person shooter
What is it? The third instalment of Microsoft's super-powered, city jumping cop shooter.
What to look out for: It's going to come out. It has to. At this point Microsoft has thrown so much at Crackdown 3 it can never admit defeat. First announced back in 2014 it's been delayed often and shown little, not really leaving much to go on. It's core idea was the use of cloud computing to provide incredible city-sized destruction, which is also rumoured to be behind all the delays. What we have seen looks the series' familiar skyscraper jumping, street shooting crime fighting, just much prettier. Expect to see the hype machine rev it's engines after Christmas if that Feb date holds.
Sekiro: Shadows Die Twice
Release date: March 22, 2019
Genre: Adventure
What is it? A stern test of sword skills in an ancient, monster filled japan. From the people that made Dark Souls.
What to look out for: While From are mostly known for Dark Souls, its experiments with Bloodborne showed it could vary it's 'really hard fights' idea. The Souls system is built around character builds and dodging, Bloodborne on a parry system that encourage confrontation; Sekiro: Shadows Die Twice is a whole new beast, forgoing any RPG elements to focus more on stealth and a grappling hook for increased mobility. It also uses a combat system build around the idea of unbalancing opponents to create openings for a single killing blow.
Devil May Cry 5
Release date: Spring, 2019
Genre: Combat
What is it? The latest demon hacking monster battling adventure from Capcom.
What to look out for: It's a shame Ninja Theory's brilliant DmC didn't find an audience - non-Devil May Cry fans didn't care, and actual fans hated it for not being the same. So Capcom has gone back to the old template of long coats and 90s metal crescendos, bringing back the same mix of cocky quips and combo linking demon slicing for Devil May Cry 5. While the whole gang appears to be here - from Dante onwards - the story seems to focus on Nero who's replaced his Devil Bringer arm with the Devil Breaker: a series of gadget filled arms he can use to spice up his combat options. That includes grappling hooks, electricity, explosive blasts and more.
Rage 2
Release date: Spring, 2019
Genre: FPS
What is it? Bethesda's shooty sequel that sees you fighting post-apocalyptic gangs and mutants thousands of years into Earth's post-asteroid strike future
What to look out for: Much like the original game this almost looks a little like a slightly more bawdy, scaled down take on Fallout - an open world post apocalyptic shooter with more of a linear, combat focus than full roaming freedom. As well as a range of ferociously eccentric weapons, there are vehicles to get about in, faction to meet/kill and interesting mutant creatures to document (also kill).
Star Wars Jedi: Fallen Order
Release date: Holiday 2019
Genre: TBC
What is it? A new story based Star Wars game from the TitanFall developer, Respawn.
What to look out for: At this point, the release date is all we really have on Star Wars Jedi: Fallen Order. There's little story details other than it's set after Order 66 lead to the slaughter of the Jedi in Revenge of the Sith. By the looks of that title it sounds like we'll be following a Jedi of some kind as they try to escape the Empire's attempt to wipe them out. We know it's third person, and with former God of War director Stig Asmussen at the helm it sounds like a Jedi fighting game's on the way. Whether that's any one we know (Obi-Wan FTW!) remains to be seen but it's an interesting period to set a game.