With Red Dead Redemption 2 out most of you will probably be busy for a while exploring the old west. However, there are other games on the way (inconvenient, I know) which means you might have to make some room soon for things like Fallout 76 in the very near future.
And that's just the near future. Skip ahead a month or two and games like Resident Evil 2, Crackdown 3, Metro Exodus, Anthem, Sekiro: Shadows Die Twice and plenty more are all very imminent. Get comfy then and take a look at everything that's heading to the Xbox...
There are a lot of upcoming Xbox One games on the way, so this is a big list. You can work though it in order if you want, or skip to the games you want to see using the page links and guide below (in the order everything's out).
The best upcoming Xbox One games PAGE 1
Overkill's The Walking Dead, November 8
Hitman 2, November 13
Spyro Reignited Trilogy, November 13
Fallout 76, November 14
Battlefield 5, November 20
Just Cause, 4 December 4
Resident Evil 2 Remake, January 25, 2019
Kingdom Hearts 3, January 25 2019
Metro Exodus February, 22 2019
Anthem, February, 22 2019

The best upcoming Xbox One games PAGE 2
The Division 2, March 15, 201
Crackdown 3, February 2019
Sekiro: Shadows Die Twice, March 22
Devil May Cry 5, Spring 2019
Rage 2, Spring 2019
Star Wars Jedi: Fallen Order, Holiday 2019
Control, TBC 2019
The Dark Pictures Anthology: Man of Medan, TBC 2019
Gears of War 5, TBC 2019
Wolfenstein: Youngblood, TBC 2019
Cyberpunk 2077, TBC
Ori and the Will of the Wisps, 2019
Beyond Good & Evil 2, TBC
Skull & Bones, 2019
Ashen, TBC
Overkill's The Walking Dead
Release date: November 8
Genre: co-op shooter
What is it? The people behind Payday turn there co-op shooter skills to the zombie apocalypse.
What to look out for: While there's an obvious Left4Dead comparison to be made here, there's a far more grounded feel here. Noise is just as important in the game as it is in the show, as you avoid guns as much as possible and creep though decaying towns and cities. Avoiding the horde and other human survivors is key as you play with three other friends through the streets of Washington DC.
Hitman 2
Release date: November 13
Genre: Stealth
What is it? Agent 47 is back once again, killing targets around some of the globe's most glamorous locations.
What to look out for: One of the big new things for Hitman 2 is its massively upgraded crowd tech. The Miami race track level revealed so far is apparently one of the biggest things developer IO has ever created. In it you'll find over 2000 people milling around and, as long as you haven't upset them, you can use them as cover to blend in and avoid nosey guards. There's no hard story info yet but we know 47 is hunting down Providence defectors in Miami, suggesting we'll be working with the secret, world controlling society from the last game. Good news for fans as well: the sniper rifle smuggling briefcase is back and this time it can be used to smuggle more than just guns. Elsewhere it's much the same as the pervious game, and the series, so far - steal outfits, sneak into areas; try to kill the mark with as little, or as much, fuss as you like.
Spyro Reignited Trilogy
Release date: November 13
Genre: Platform adventure
What is it? A lovingly crafted remake of all three original Spyro games.
What to look out for: Like the Crash Bandicoot remaster this is a complete remake of the original Spyro games, perfectly rebuilding the original levels in a shiny new modern engine. The aim is to recreate the experience exactly, right down to getting one the original voice of Spyro 2 and 3, Tom Kenny, back to rerecord the dialogue, and even Stewart 'used to be in The Police' Copeland to write new music.
Fallout 76
Release date: November 14
Genre: Open world RPG
What is it? Fallout goes online with Fallout 76's multiplayer mix of raiding and world building.
What to look out for: Fallout 76 is definitely an online , multiplayer game but one that Bethesda swear you can solo if you hate that idea. Even if you play alone though, all the other people in the world will all be real, adding a little extra friction to you moral choices. As inhabitants of Vault 76 this is technically a prequel as you all set out to reclaim the world now the radiation has settled. This is story lead with the action involving exploration, boss fights and settlement building using the Construction and Assembly Mobile Platform - CAMP for short. As well as striking out into the wasteland looking for resources you can also find nuclear codes to fire one of the missiles scattered around the West Virginia location. Do that and you'll A) kill everyone wherever it lands, and B) open up an irradiated, high risk.high loot zone to explore.
Battlefield 5
Release date: October 19
Genre: Shooter
What is it? EA and DICEs big scale war shooter built on objective-based multiplayer, lots of pretty, and all the explosions.
What to look out for: Battlefield's thing is looks pretty while everything around you explodes, so don't expect the WW2 set Battlefield 5 to change that anytime soon. One big new thing this time, however are the Grand Operations, an evolution of the last games basic Operations. These are huge multiplayer battles that take place over 4 in-game days. How you progress from each day to the next depends on your success at each stage. For example, the more artillery you sabotage on day one, the more resources you get for day two and so on. Another interesting change will be a new live service, mirroring Fortnite's battle pass system. It's called Tides of War in Battlefield 5, and revolves around chapters that last two or three months full of themed multiplayer events, co-op missions, and single player missions. As for when you can try all this, there'll be a beta stating October 11 if you have EA Access on Xbox One, with the Deluxe Edition released on October 16, and the Standard Edition following after on October 19.
Just Cause 4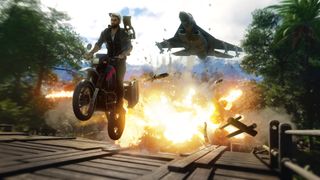 Release date: December 4
Genre: Open world action
What is it? Rico is back to skyjack planes and blow up an entire country under the pretence of saving it.
What to look out for: There's an interesting tonal change by the looks of things with Rico's return. He's still using a grapple hook to ping between cars and helicopters while blowing up just about everything he can reach, but this time there doesn't seem to be a regime to topple. At least initially. Instead there's The Black Hand, the "largest private army in the world." It's apparently done something bad which might something to do with an apocalyptic tornado destroying where ever Rico is. Also on the 'new things' front is a jetpack Rico can use which means between that, his parachute and wingsuit means he's got all the falling bases covered.
Resident Evil 2 Remake
Release date: January 25 2019
Genre: Survival horror
What is it? One of the greatest survival horror games reimagined in a modern gaming engine.
What to look out for: This about as far from the usual HD remaster as you can get. Rather than recreate the original Resident Evil 2, this is a completely new game inspired by it. The basic story is the same - zombie outbreak, Raccoon City, Leon and Claire trying to escape uneaten - but it's all remade in the Resi 7 engine so it looks incredible, using a new over the shoulder camera to replace the old fixed views of the original.
Kingdom Hearts 3
Release date: January 25 2019
Genre: Action-RPG
What is it? The long awaited next chapter in Disney and Square Enix's absurdly charming, long-running RPG collaboration.
What to look out for: If you think the wait for Final Fantasy 15 is bad, the time spent anticipating Sora and Mickey's latest quest is downright agonising. We've waited for this direct sequel for seven years, through an entire console generation, sifting through portable game after portable game to finally get our bone. The lore is jumbled and messy, and the direction of the new game is nigh impossible to predict, but one fact remains: Kingdom Hearts 3 is real, and it is coming. Hard facts are somewhat scarce, but we know Sora picks up another Master's keyblade on Destiny Island, three-character parties return, while different worlds have their own Keyblade transformations - like the sword morphing into a rocket launcher. Bosses also give Sora the chance to use Attraction Flow summons, a set of finishers that sound like exhausting Disneyland rides. We hope Scar returns so we can fire some 'Buzz Lightyear Astro Blasters' into his furry face.
Metro Exodus
Release date: February 22 2019
Genre: FPS / action-adventure
What is it? A return to the notoriously difficult wasteland of Metro, with the low-tech combat and grueling survival management that the previous games are famous for.
What to look out for: Revisiting the Russian wasteland, Metro Exodus looks remarkably colourful for a post-apocalyptic game, but the creatures look just as deadly as before. If the previous games are anything to go by, we're in for a well-written treat, rife with studies of human survival and tense combat. Details about the story elements are few and far between at the moment, but the train that rampaged its way through the end of the trailer might suggest that you'll be travelling around Russia on the railroad for some of the game.
Anthem
Release date: February 22 2019
Genre: Shooter
What is it? Imagine Destiny meets Titanfall, and size down the giant mechs to human-sized exoskeletons called Javelins. That's Anthem.
What to look out for: Looking to be a co-op shooter set some time after nature has reclaimed most of the planet, you're a Freelancer who ventures out beyond the safety of the walls that separate what's left of civilisation from the wilderness. You can explore both underwater and the air using your Javelin exosuit, and by the sounds of it you won't be sticking to one suit either, as Patrick Söderlund described the "unique play style" and "devastating combat" that each suit offers. Four player co-op is looking to be a significant part of Anthem , so get ready to buddy up and explore the lush wilderness with your gun-toting squad.