We're creeping towards the busiest season of the year, which means there are plenty of brilliant upcoming Xbox One games to look forward to, and don't forget we've got Xbox Project Scarlett to get excited about too.
If you haven't tried the best games of 2019 or the majority of the best Xbox One games, there's plenty to tide you over until the next big thing rolls around. Later this year, you'll be up to your neck in games like Star Wars Jedi: Fallen Order and Gears 5, so now's the perfect time to whittle down your backlog! We've highlighted the upcoming Xbox One games we're most looking forward to, ordered by launch date, followed by a list of all the known Xbox One release dates for 2019.
Control
Release date: August 27, 2019
Genre: Shooter
What is it? A supernatural shooter filled with telekinetic powers as you fight the forces of darkness.
What to look out for: With Alan Wake/Max Payne Remedy behind this you know it's going to be weird, dark and with an interesting/odd story. It sees the hero Jesse using a supernatural, shape changing gun and a range of power to fight an evil, otherworldly force known as The Hiss. It takes place in the Oldest House, the headquarters of the Federal Bureau of Control - government agency tasked with tracking, finding and controlling dark forces and artefacts. With a set up like that this could go anywhere and is all the more exiting for it.
Star Wars Jedi: Fallen Order
Release date: November 15, 2019
Genre: Action adventure
What is it? A new story-based Star Wars game from Respawn Entertainment, the same studio behind Apex Legends and Titanfall.
What to look out for: Star Wars Jedi: Fallen Order looks like the single-player Star Wars game we've been waiting for, with a focus on narrative and deep character development. As Star Wars Jedi: Fallen Order takes place between Episodes 3 and 4, the Jedi are being hunted down, and our hero Cal Kestis is trying to lay low and remain undetected. Of course, that evasion doesn't last long, and he'll need to bust out his lightsaber and Force powers to fight back against the elite Empire assassins who are hellbent on executing him as part of Order 66.
Gears 5
Release date: September 10, 2019
Genre: Third-person shooter
What is it? The next entry in the Gears of War series and one promising big changes.
What to look out for: Surely you think you know Gears of War - big lumbering men shooting from behind walls. But while this has some of that at it's core there's a lot of changes being teased with what we've seen so far of Gears 5, and not just from the abridged name. Firstly Kait is the lead character here for example, which is a big change from the armored chins we've had before. And there are some changes to the core gameplay with what looks like improved speak and melee options. The rest is all a bit of a mystery apparently pivoting on Kait's Locust heritage in some way.
Ori and the Will of the Wisps
Release date: February 11, 2020
Genre: Platformer
What is it? The sequel to one of the Xbox One's finest – and most unexpected – games to date.
What to look out for: The original game, Ori and the Blind Forest, immediately stood out among the Xbox One's indie line-up by being distinctly not much like a stereotypical Xbox One game at all. Delicate, atmospheric, lushly presented, and dripping with dreamlike whimsy, Moon Studios' iteration on the exploring, platforming, ability-growing model cemented by Metroid is executed with almost enough charm to be a Nintendo game itself. We don't know a huge amount about the sequel yet – all we've seen is an announcement trailer at Microsoft's E3 2017 press conference – but we do know that it will take Ori beyond the first game's titular tree village, and out to investigate larger mysteries in the wider world.
Beyond Good & Evil 2
Release date: TBC
Genre: Action-adventure, space exploration
What is it? The long (looooooong) awaited prequel to the last-last-gen classic.
What to look out for: Space monkeys. A vast sector of the universe to explore with your ever-expanding ship crew. Gameplay that scales from ground-level, action-adventure to full-scale, interstellar flight. A densely textured, philosophically fuelled civilisation that explores slavery, control, genetic engineering, cultural cross-pollination, and all the long-term, spiralling knock-on effects that come with that. Beyond Good & Evil 2 might have taken the best part of 15 years to appear, but Michel Ancel's follow-up looks so, so much grander, more exciting, and more thoughtful than we ever imagined it could be.
Cyberpunk 2077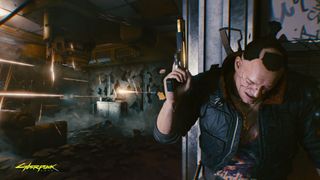 Release date: April 16, 2020
Genre: RPG
What is it? The Witcher meets Deus Ex in a sci-fi RPG where advanced technology has both cured and cursed humanity.
What to look out for: And you thought The Witcher was big. CD Projekt RED has already confirmed that Cyberpunk 2077 "far, far bigger" than Geralt's last hurrah, another open-world RPG taken from an unusual source - in this case a pen-and-paper role playing game last heard of a decade ago. You'll explore an open world called Night City in the first-person perspective, encountering all kinds of friendly or hostile NPCs and trying to fend for yourself in this technologically advanced future.
Upcoming Xbox One games for June 2019
The Sinking City - June 25
Redeemer: Enhanced Edition - June 25
Car Mechanic Simulator - June 25
Monster Jam Steel Titans - June 25
F1 2019 - June 28
Upcoming Xbox One games for July 2019
Stranger Things 3: The Game - July 4
Attack on Titan 2: Final Battle - July 5
Bear With Me: The Complete Collection - July 9
Wolfenstein: Youngblood - July 26
Madden NFL 20 - July 30
Upcoming Xbox One games for August 2019
Age of Wonders: Planetfall - August 6
Remnant: From the Ashes - August 20
Life is Strange 2: Episode 4 - August 22
Control - August 27
Upcoming Xbox One games for September 2019
Borderlands 3 - September 13
Monstrum - September 24
Blacksad: Under the Skin - September 26
Upcoming Xbox One games for October 2019
Moons of Madness - October 31
Upcoming Xbox One games for November 2019
XIII - November 13
Star Wars Jedi: Fallen Order - November 15
Upcoming Xbox One games for December 2019
Life is Strange 2: Episode 5 - December 3
Looking to upgrade your Xbox to take full advantage of all these new games? Here are the best Xbox One X deals in 2018.