A Hogwarts Legacy guide will help master a massive world of magic. You might know the films and books but there's a difference between watching wizards and witches and being one yourself. This guide collects all our top Hogwarts Legacy tips, explainers, walkthroughs and more to get everything you need. Whether that's getting a broom, solving door puzzles, collecting all the Daedalian keys and plenty more.
There's a lot to grapple with here thanks to an open world and plenty of side missions and extras - prioritizing your time can get tricky with so many quests to juggle alongside your main missions. So check out our Hogwarts Legacy guide to make the most out of your time at everyone's favorite magic boarding school.
Hogwarts Legacy review
The GamesRadar+ Hogwarts Legacy review highlights how we've been impressed by what Avalanche Software has been able to achieve with its recreation of iconic locations such as Hogwarts School and Hogsmeade. Although, we thought that authenticity was inconsistently. Overall, with fun combat, busy RPG systems, and a vast open world, Hogwarts Legacy is a great first attempt that maybe tries to do too much all at once.
Hogwarts Legacy release date
The Hogwarts Legacy release date was February 10, 2023 for PS5, Xbox Series X, and PC. The Hogwarts Legacy PS4 release date and Xbox One is May 5, 2023 with the Nintendo Switch version arriving November 14, 2023.
Hogwarts Legacy price
Warner Bros. Games has confirmed the Hogwarts Legacy price across PlayStation, Xbox, and PC platforms. They are as follows, at the time of writing:
Hogwarts Legacy price – PS5 and Xbox Series X: $69.99 / £64.99
Hogwarts Legacy price – PS4 and Xbox One: $59.99 / £54.99
Hogwarts Legacy Deluxe Edition price – PS5 and Xbox Series X: $79.99 / £74.99
Hogwarts Legacy Deluxe Edition price – PS4 and XboxOne: $69.99 / £64.99
Hogwarts Legacy Collector's Edition price – PS5 and Xbox Series X: $299.99 / £279.99
Hogwarts Legacy Collector's Edition price – PS4 and Xbox One: $294.99 / £274.99
Hogwarts Legacy Collector's Edition
The Hogwarts Legacy Collector's Edition comes with everything included in the Hogwarts Legacy Deluxe Edition as well as a suite of other exclusive content. You'll get an Onyx Hippogriff Mount, a Kelpie Robe to dress your character in, a steel case to hold the game, and a life-size floating Ancient Magic Wand with Book Base. It's an interesting package that, naturally, comes with a pretty large price tag.
Hogwarts Legacy story
The Hogwarts Legacy story takes us to the wizarding world in the 1800s - 100 years before the Harry Potter books. It features an original story, as a fifth-year student of Hogwarts, who finds they hold the key to an "ancient secret" that is threatening wizarding world.
Between quelling a goblin rebellion, defeating cruel poachers, and helping out your three companions on friendship quests, you'll still have to make time for your magical studies if you swot up on everything you've missed as a late-joiner. You meet a host of fresh faces, and some of them have connections to those you might've seen or read about in the Harry Potter series itself.
Hogwarts Legacy guides
Tips
From clothing transmog to potions ingredients, these Hogwarts Legacy tips let you in on nine things we wish we knew before starting our journey. There's no spoilers here, it just gets you up to speed faster than finding things out the long way around.
Should you pick Witch or wizard, and what house differences are there?
This Hogwarts Legacy wizard or witch guide will help you decide which dorm to place your character in. It also explains whether there is any differences to worry about, so check it out if you're unsure. And, while everyone knows the differences between Hufflepuffs and Ravenclaws, are there any actual Hogwarts Legacy house differences in the game? We'll help set you straight.
Wands
When you visit Ollivanders and finally get to choose your wand, our guide on Hogwarts Legacy wand flexibility will help you work out which option is the one for you. Read that and you can head into the game knowing all the differences between your unicorn hair and phoenix feature cores.
Need more gear slots?
You won't be playing for long before you see the "your gear slots are full" warning. Here's how to get more Hogwarts Legacy gear slots so you can keep looting those Ashwinder camps in peace, and look good doing so.
Broomsticks
Here's how to unlock your Hogwarts Legacy broomstick and start flying. Once you've unlocked the ability you'll be able to go shopping for your first broom in Hogsmeade, and we can help you understand what differences you might expect between models and how to upgrade them.
How to change appearance
This guide on how to change your appearance in Hogwarts Legacy will help you craft a new look whenever you want. From altering your eye color, facial scars, markings, and other cosmetic delights to personalizing your character.
Where to get more spells
There are loads of spells to get but most of them are locked behind missions. Here's a look at all the Hogwarts Legacy spells in the game and when you can expect to learn them, including all three unforgivable curses for you rebel students out there.
How to get more spell slots
Once you have a few spells under your belt you'll want more Hogwarts Legacy spell slots so you can use more at once. Here's how to use those Talent points to make life easier for yourself during some particularly frenetic combat sequences.
Main quest list
Whether you want to know how close you are to a certain plot point, class or just how near you are to completing the Hogwarts Legacy main quest list, this has every main mission in order of appearance (because some can be played in any order). This won't have side or friendship missions though, as these are largely tied to certain storyline moments only unlocked through the main campaign. There are also four house-specific quests.
Where to find the Room of Requirement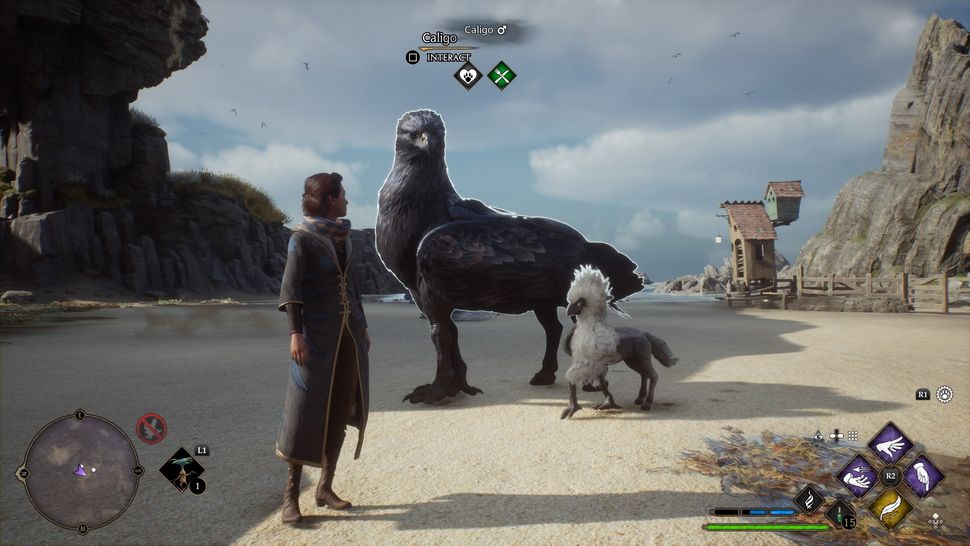 The Hogwarts Legacy Room of Requirement serves a cosy secret hideaway out of sight of your peers. Once unlocked, you can raise creatures, brew potions, grow plans to use in battle, and have a friendly chat with Weasley's house elf, Deek.
How to unlock the Eyeball chests
Here's how to crack open those Hogwarts Legacy eyeball chests you can find all over the game. Once you know what they are and how to get in them, you can start collecting all rewards inside. Here's a hint: you'll need the Disillusionment charm first.
How to open locked doors
You'll need our guide on how to crack Hogwarts Legacy level 1 locks if you want open all the sealed doors you keep passing. This guide tells you how to access the quest you'll need to learn Alohomora, which involves a spooked caretaker and a lot of collectibles.
Should you steal the feather for Weasley?
One of the first decisions you'll need to make in the game is whether or not to take a Fwooper feather for your classmate. Here's the outcome of whether or not you steal the Hogwarts Legacy feather from Professor Sharp's class during Potions.
How to solve the puzzle doors
If you've seen those Hogwarts Legacy puzzle doors around the castle and can't work out how to open them, we've can help. These arithmancy puzzles involve symbols and a cypher to work out, so you'll need to find a piece of paper hidden in the castle to help you.
Where does the Ghost of Our Love map point?
There's an interesting treasure map to find during a mission called Jackdaw's Rest. It leads you to a secret spot to find hidden treasure in the Forbidden Forest, but if you're having trouble tracking down the location of the floating candles, our full walkthrough of the Hogwarts Legacy Ghost of Our Love mission will help you.
How to solve Merlin trials
There are stone circlets all around Hogwarts requiring mallowsweet herbs to activate a puzzle. Hogwarts Legacy Merlin trials have a variety of solutions, and luckily for you we have them all in one useful guide to help you work out what you'll need to solve them.
Where to find Daedalian keys
The Daedalian key mystery is one of the first side quests available in the game. These sneaky keys are hidden in various nooks and crannies of the castle, and our Hogwarts Legacy Daedalian key locations guide will help you track them all down. You'll get an ornate House Relic Robe appearance for completing the mission.
Where to find Mandrakes
This shrieking plant can stun enemies in battle so you'll want to some Hogwarts Legacy mandrakes as soon as possible to help in a fight. Whether you're looking to buy seeds or get some from the Herbology greenhouses, we've got you covered.
How to get large pots
You'll need a bigger potting table if you want to plant some fluxweed and venomous tentacula. If you're stumped on where to find one to build in your Room of Requirement, check out our guide on Hogwarts Legacy large pots and grow them to your heart's content.
Sephronia's Quiz answers
During Weasley's Last Assignment, you'll looking for Field Guide pages and one of them will lead you to the library, where Ravenclaw student Sephronia will be waiting for you with a Hogwarts Legacy quiz. Our guide tells you all the answers to all three levels of her tricky trivia, and you'll be rewarded with some potions for your efforts.
Where to find Troll bogeys
This guide on where to find Troll Bogeys in Hogwarts Legacy will show you how to find and access troll lairs in search of this very disgusting, albeit very useful potions ingredient.
Where to find Demiguise statues
The Caretaker's Lunar Lament mission will see you looking for Hogwarts Legacy demiguise statues. Some of them are right under your nose, while others require a higher levels of Alohomora to reach. Our list compiles all the easiest demiguise moons to get so you'll have no problem finding them and unlocking the most powerful form of the spell.
Where to find the Gobstones
Finding Hogwarts Legacy gobstone locations isn't too hard when you know what to look out for. But you will need a specific spell in order to retrieve them for Zenobia, just make sure you keep an eye out for high places.
Pets and creatures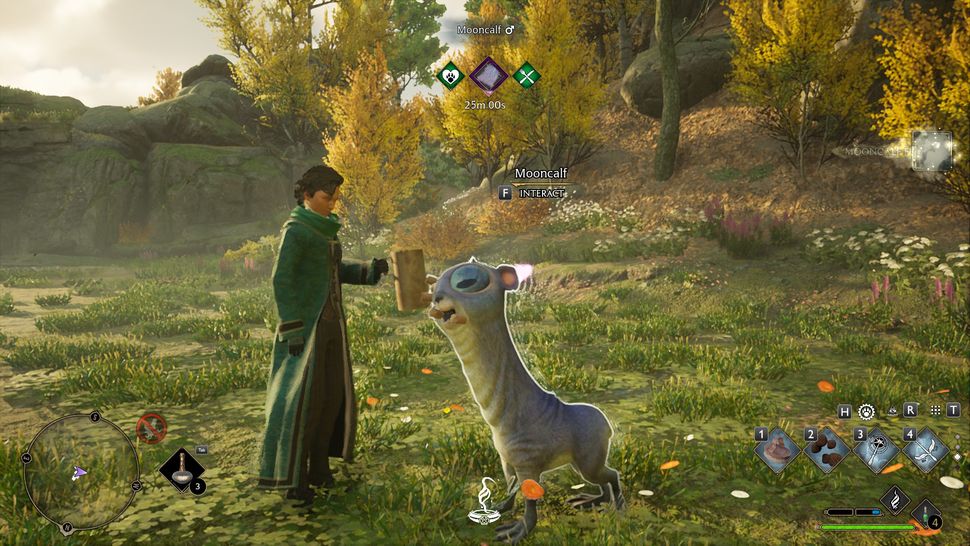 Here's everything you need to know about Hogwarts Legacy pets, from rescuing endangered creatures to keeping and feeding them in your own private vivarium.
How to access the PS5 exclusive mission
There is a special mission only for PlayStation and it just happens to be one of the best, creepiest missions in the game. Here's how to find the Hogwarts Legacy PlayStation exclusive mission, where you'll have the opportunity to open your very own store.
What's better: Fidelity VS Performance?
Hogwarts Legacy is a visually stunning game, so when it comes to optimal settings, you'll want to choose carefully. We explain everything you need to know about the Hogwarts Legacy fidelity vs performance graphics mode debate, including what you can expect from each and what you'll sacrifice in the process.
How to get Twitch drops
If you want some exclusive gear appearances to start your journey off in style, you should check out our guide on Hogwarts Legacy Twitch drops. You'll find step by step instructions for how to link your Twitch and Warner Brothers accounts, how to keep track of your winnings via your Twitch Inventory, and other key information needed to snag some rare items.
Is there multiplayer?
If you're wondering whether Hogwarts Legacy multiplayer exists, we have some unfortunate news. Still, it's worth checking out what we know so far about the possibility of a multiplayer mode in the near future
The release of Hogwarts Legacy has been the subject of criticism and debate due to J.K. Rowling's public stance on gender identity, which continues to challenge the inclusivity at the heart of the Harry Potter community. Here is our explainer on the Hogwarts Legacy controversy.
Hogwarts Legacy Collector's Edition
The Hogwarts Legacy Collector's Edition comes with everything included in the Hogwarts Legacy Deluxe Edition as well as a suite of other exclusive content. You'll get an Onyx Hippogriff Mount, a Kelpie Robe to dress your character in, a steel case to hold the game, and a life-size floating Ancient Magic Wand with Book Base. It's an interesting package that, naturally, comes with a pretty large price tag.