Hogwarts Legacy is an upcoming open-world RPG set in the Wizarding World. Taking place in the 1800s before the events of Harry Potter, you'll be meeting a host of new characters and exploring a new story as you fly on brooms, brew potions, and more. First announced during the September 2020 PS5 showcase, we've since seen more trailers of the adventure, with the latest dropping during the Gamescom Opening Night Live 2022 event.
Originally slated for release in 2021 before being pushed to Holiday 2022, news also recently confirmed Hogwarts Legacy has now been delayed into February 2023. Below, we've gathered together everything we know so far about Hogwarts Legacy in one place, from story details to gameplay, platforms, and more.
Hogwarts Legacy release date and platforms
After Warner Bros. Games revealed that it's due to launch in "Holiday 2022", news confirmed Hogwarts Legacy has been delayed and will be now be releasing February 10, 2023.
The game was originally set to launch in 2021, but was then delayed into April 2022 before being pushed back to a holiday window and then ultimately into 2023. It will launch in February on Xbox Series X, Xbox One, PS5, PS4, PC. While Hogwarts Legacy is also set to release on Switch, it's expected to arrive at a later date, with news of a launch date said to be coming "soon."
Hogwarts Legacy story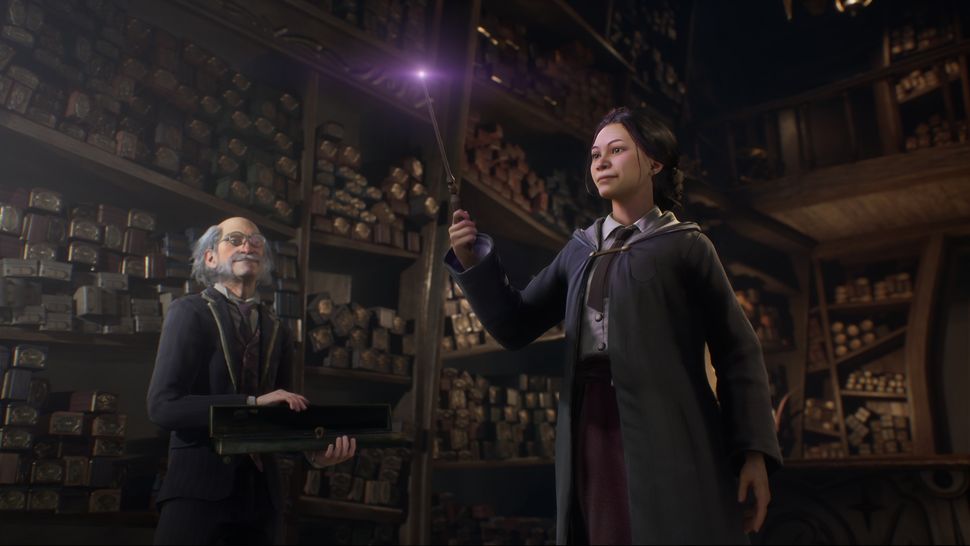 The Hogwarts Legacy story will see you playing as a completely customizable character who's joining the School of Witchcraft and Wizardry late as a fifth-year student. It turns out you're also someone who holds the key to an "ancient secret that threatens to tear the wizarding world apart". You're capable of manipulating mysterious ancient magic and will need to help uncover why this forgotten magic has suddenly made a resurgence and the ones that are simultaneously trying to harness it.
This is set in the late 1800s, so many decades before the world of Hogwarts that we know. So while Hogwarts Legacy isn't a direct adaptation of the books and films, it will be "anchored in Wizarding World lore" - aka you won't be seeing Harry, Ron, or Hermione in this adventure.
Along with living the life of a Hogwarts student, you'll also "embark on a dangerous journey to uncover a hidden truth of the wizarding world", says Warner Bros. Games. There's a dangerous villain to be quashed in this brand new, totally untold story, which has been created by developers Portkey Games and Avalanche.
"It's such an honor to work on such an amazing franchise and the team is dedicated to delivering an authentic Wizarding World experience that both Harry Potter and RPG fans will enjoy," said John Blackburn, studio general manager of Avalanche. "Hogwarts Legacy is so special because it allows players to immerse themselves in a new narrative that is filled with complex characters and, of course, magic."
Hogwarts Legacy explores dark magic
In the Gamescom Opening Night Live showcase, a new Hogwarts Legacy gameplay trailer dropped that gave us a look at the dangers and benefits of dark magic in the wizarding world. Featuring a Slytherin student by the name of Sebastian Sallow, the description for the trailer suggests we'll be presented with the decision to befriend Sebastian and whether or not you "embrace or reject the Dark Arts as you uncover his family's mystery through his companion quest line".
Hogwarts Legacy gameplay features
We were treated to a 14-minute Hogwarts Legacy gameplay walkthrough as part of a special March PlayStation State of Play, which outlined many of the game's systems and mechanics. You can watch that above, and we'll break out the key beats below.
This is an open-world RPG, which will let you explore Hogwarts and the surrounding areas - including Hogsmeade and the Forbidden Forst - either on foot, by broom, and perhaps even by Hippogriff.
Game Director Alan Tew promised (opens in new tab) "the opportunities to experience hundreds of memorable moments, small and large, that fans grew up with and know by heart: from being Sorted in the Great Hall, exploring a new secret chamber in Hogwarts, or impersonating others with Polyjuice Potion; to protecting innocents from a dangerous troll, dodging fireballs from a Hungarian Horntail, or soaring into the sky on the back of a friendly Hippogriff."
You'll be able to choose the Hogwarts house you're sorted into at the start of the game, and then play as a fifth-year student at Hogwarts, taking classes such as Charms, Defence Against the Dark Arts, Herbology, and Potions. In between your studies, you'll be able to explore Hogwarts, which - as you'd hope - comes complete with its trademark secrets, enchantments, and other mysteries and puzzles.
The Room of Requirement will also become a frequent haunt, as a kind of base where you'll be able to catch up with your studies away from the classrooms. You'll be given space to grow plants, brew potions, and even collect magical beasts in fully customizable vivariums.
"There are familiar haunts like the Great Hall, clocktower and hospital wing, but also completely new places like the bustling kitchens," explains environmental lead Boston Madsen. "Having felt like a student in these halls myself through the development of this game, I can honestly say there are still areas I come across that I didn't know about before."
Outside of Hogwarts, there are plenty of mysteries to discover too, which will also really test your magical abilities. You'll be working alongside Professor Figg to investigate a potential goblin rebellion.
You'll also want to explore Hogsmeade to visit the shops, and other vendors to find supplies, clothing, and other gear. The areas on the outskirts are also filled with puzzles and danger too.
In terms of combat, you'll be using a combination of spells and potions to take on your attackers. You'll need to master the Shield Spell, Stunning Charms to counterattack, and others to chain together powerful spell combinations and even Finishers to really obliterate your foes. There are dozens of spells to learn that will help you define your own attack style too, so lots to get involved with before you even start to experiment with potions that can increase your power. You'll even be able to summon plants to help you in battle if that's your thing.
As this is an RPG, there are also talents, upgrades, and skills that define your progressions as a character. You can level up your abilities using skill points you'll earn by carrying out various activities, and then really dial into the type of witch or wizard you want to be. There's gear to be looted, crafted, and purchased too.
You won't be doing all of this alone though, as Hogwarts Legacy also has a range of student companions that you'll be able to meet on your journey.
Will there be Hogwarts Legacy microtransactions?
Hogwarts Legacy will not include microtransactions, it has been confirmed. In a tweet (opens in new tab), community manager Chandler Wood said: "We've seen this question coming up and want to set the record straight. There are no microtransactions in Hogwarts Legacy."
Is J.K. Rowling involved?
After J.K. Rowling made transphobic comments, there's been a lot of concern surrounding whether the author has any involvement in the creation of Hogwarts Legacy. Warner Bros. Games states in the FAQ that "J.K. Rowling is not directly involved in the creation of the game, however, her extraordinary body of writing is the foundation of all projects in the Wizarding World. This is not a new story from J.K. Rowling."
Although she is not involved in the development of Hogwarts Legacy, GamesRadar+ acknowledges the role of J.K. Rowling in the creation of the Wizarding World, as well as her publicly-stated, harmful views regarding the rights of transgender people. If you'd like to offer your support to the communities affected by Rowling's rhetoric, consider donating to the National Center for Transgender Equality (opens in new tab) in the US, or Mermaids (opens in new tab) in the UK.
---