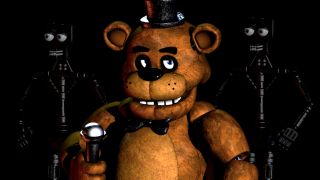 Games on the silver screen
When you think of video game to movie adaptations, it may be difficult to stay positive given the genres somewhat colorful history. Blockbusters like Prince of Persia or even Doom cant hold a candle to the excellent games and worlds that inspired them. And as the ever-changing landscape of the film industry reshapes itself, we hope for newer, memorable, and more faithful tales worthy of the established names they've been given.
And theres a whole bevy of video game-inspired movies on the horizon, ranging from wow (Warcraft, Assassins Creed) to WTF (Asteroids, The Sims). Even if it takes them forever and a day to actually release (again, like the Warcraft and Assassin's Creed movies), we can't wait for these movies to hit theaters for better or worse.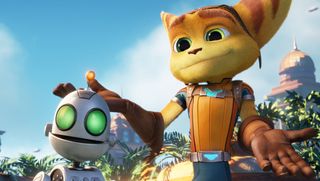 Ratchet and Clank
Release date: April 29, 2016
For a long time, we knew basically nothing about the upcoming Ratchet and Clank film other than the fact that it would be ready in 2016. That parts still true, but now we know it will focus on how the pair met, and itll feature the voice actors from the game series reprising their roles. We had our first glimpse at the film during Sonys presentation at E3 2014, which clearly depicted a humorous, buddy-cop romp that will no doubt entice plenty of kiddies (and parents) into theaters.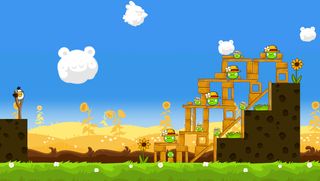 Angry Birds
Release date: May 20, 2016
Hooray children's movies! Angry Birds: The Movie was announced by Rovio back in 2012, but information has been scarce since that initial reveal. It's still well into development, and the CGI feature is set to release in 2016. Of particular note is the team member John Cohen, producer of Despicable Me, and the fact that Rovio is financing the movie directly, so they retain creative control. That can only be a good thing.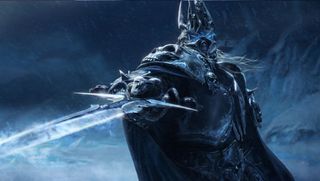 Warcraft
Release date: June 3, 2016
Warcrafts origins will be explored in cinematic form, retelling the initial encounter between humans and orcs. Rather than focusing on specific factions, the movie will place emphasis on both sides of the conflict. Ben Foster (X-Men: The Last Stand, Pandorum) has been confirmed to play Medivh, with Travis Fimmel, Paula Patton, Dominic Cooper, Toby Kebbel, Rob Kazinsky, and Clancy Brown confirmed as cast members. Newcomer Burkely Duffield is poised to play a major role in the movie as well, but that has yet to be revealed.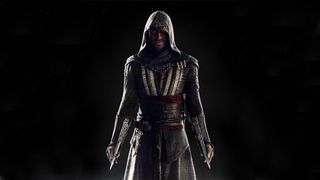 Assassin's Creed
Release date: December 21, 2016
The Assassin's Creed film adaptation is now set to release on December 21, 2016, according to Fox. That puts it just a week after the first Star Wars spin-off movie, so we'll see whether semi-historical assassination or B-team sci-fi adventures capture audience's attention. The film stars Oscar-nominated actor Michael Fassbender (who looks good in Assassin garb) and is directed by Justin Kurzel, who also worked with Fassbender on Macbeth (2015). Take the new date with a grain of salt, though - the production has seen some troubles with a long string of dates and writers attached over the years, and you never know if it will go into hiding yet again.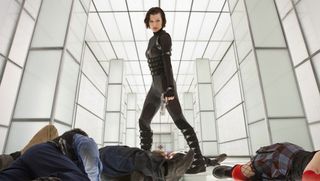 Resident Evil: The Final Chapter
Release date: January 27, 2017
Previously known as Resident Evil 6, the film is now tentatively titled "The Final Chapter", with filming pushed from August 2014 to summer 2015 due to Milla Jovovich's pregnancy. The forthcoming entry in the live-action Resident Evil saga will find Alice, Jill, Claire, Chris, Leon, Ada, and Wesker in a rush to reach to The Hive, where The Red Queen is plotting total destruction of the human race.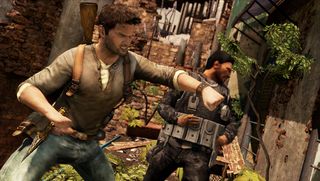 Uncharted
Release date: June 30, 2017
The saga of the Uncharted film is long and arduous, but it shows the resolve of a company who's completely confident in the movie's success. The project started in 2011, but directorial issues over budget and story have turned into a three-year revolving door of directors and writers. Only recently have a director (King of Kong's Seth Gordon) and a script (written by Safe House writer David Guggenheim) been nailed down, so Sony's determination may pay off sooner than we thought.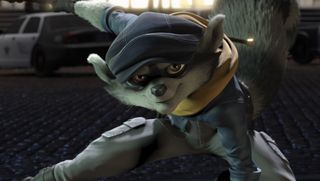 Sly Cooper
Release date: TBA
The film centers on Sly racing to recover pages from the Thievius Raccoonus before it falls into the hands of Clockwerk. The film will feature voice actors from the video game series, with the exception of Kevin Miller (Sly Cooper), and its got a release date of 2016.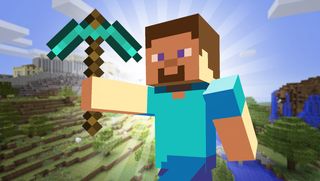 Minecraft
Release date: TBA
After The Lego Movie found massive success with the younger set, it seemed like a no-brainer that the wildly popular sandbox title from Mojang would head to the big screen. Confirmed by Notch himself back in February, Mojang and Warner Bros. Pictures are working together to make the film a success. Heck, they've even signed on Roy Lee, the producer behind The Lego Movie and head of production company Vertigo Entertainment to make sure it's the best it can be. There's no solid release date, but it'll likely be within the next year or so, given the fact that Minecraft's popularity is still going strong.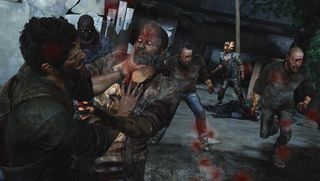 The Last of Us
Release date: TBA
Sony and Naughty Dog told us that The Last of Us would be transitioning to the big screen, with the game's story writer Neil Druckmann penning the movie script as well, and I immediately tried to think of the best cast for the film. The Last of Us is very early in the development process; in fact, all we know for sure beside Druckmann writing the script is that Sam Raimi's Ghost Light Productions will produce it. We have some time before this movie drops, but it'll be worth the wait.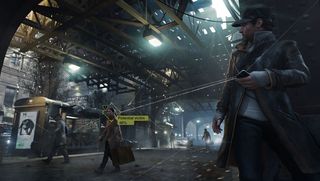 Watch Dogs
Release date: TBA
Ubisoft must be awfully big on Watch Dogs - a movie was in the cards before the game was evening out, and it's since been reported that Paul Wernick and Rhett Reese have been tapped to write the film. It may be on hiatus at the moment, but it's still in the work's despite Watch Dogs' so-so reception, so its eventual release seems a little likelier than before.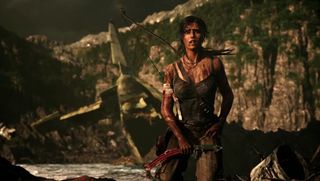 Tomb Raider
Release date: TBA
Just as the video game franchise rebooted in 2013, the Tomb Raider movie franchise will also be restarted soon, as GK Films obtained the movie rights to the franchise in 2011 and immediately partnered with MGM for the project. Not a lot is known about the new Tomb Raider film, but development started as soon as the GK/MGM partnership was finalized, so perhaps we'll hear about Lara Croft's newest movie exploits soon.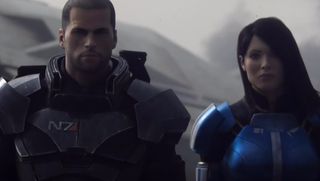 Mass Effect
Release date: TBA
The Avi Arad-led Mass Effect film has been in the works since 2010, but you wouldn't know it with the sheer lack of information. The only thing we've heard is that it's a long way off; that could mean two years, or it could mean ten years. Shepard on the big screen would be too good to be true, as Mass Effect is one of my personal favorite series, so I'm willing to wait as long as it takes for it to come out.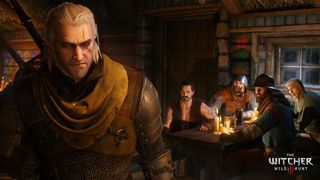 The Witcher
b>Release date: 2017
While theres technically already been a Witcher movie based on Geralts exploits, 2001s The Hexer didnt exactly have the weight of the critically-acclaimed video game series to support it. But with the recent success of The Witcher 3: Wild Hunt all things silver-haired and magic are currently in right now, and a 2017 release window has already been nailed down with Sean Daniel (the Mummy series) set to produce.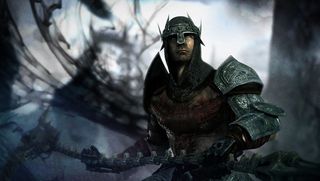 Dante's Inferno
Release date: TBA
Back in 2010, when Dante's Inferno came out, a full-length movie separate from the animated, direct-to-DVD feature was announced. However, that was before both the game and the animated movie sported lower-than-anticipated sales figures. What does this mean for the movie? Well, a new director and producer were just signed, but I still don't have a lot of faith in this coming out, which is a shame. I actually enjoyed Dante's Inferno and haven't forgotten it ended with a cliffhanger... they could really use someone like that in the director's chair. HINT HINT EA HINT.
Evil Dead remake director Fede Alvarez is in talks to helm the film, with Former Strike Entertainment partners Eric Newman and Marc Abraham producing in conjunction with EA Entertainment VP Patrick O'Brien.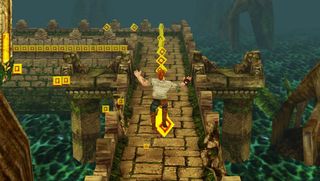 Temple Run
Release date: TBA
First the Angry Birds movie was greenlit, and now Temple Run is joining the pack as Warner Bros. has entered negotiations for a film adaptation overseen by none other than Harry Potter producer David Heyman. Helmed by animation vets Fergal Reilly and Clay Kaytis, the film adaptation will follow an explorer who finds himself chased by demonic monkeys after he takes a sacred idol from (where else?) a temple. Basically, it's the same back story from the iOS game, fleshed out. The film's due for a 2016 release, and it wouldn't be surprising at all if we saw a new mobile tie-in. Somehow.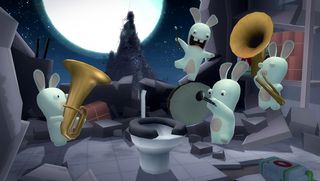 Rabbids
Release date: TBA
The Ubisoft movie studio won't just focus on mature films; the Rabbids franchise has been quite successful for them too, and a family-friendly movie to go along with the popular Nickelodeon TV series makes perfect sense. Preliminary reports suggest that the movie will be live-action with CGI Rabbids running amok, similar to the recent Smurfs movies. I personally never understood the Rabbids' appeal, but there's plenty of people out there who don't feel the same way, so I hope they enjoy the movie when it releases.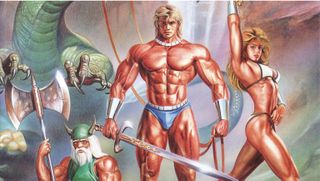 Sundry Sega properties
Release date: TBA
Sega's given its production arm Stories International free reign to adapt forty of its franchises, including Shinobi, Golden Axe, Altered Beast, Virtua Fighter, and Crazy Taxi. The company says it's looking to partner with 'major studios' to turn these franchises into TV series, digital series and - yep, you guessed it - feature films. That leaves a lot of possibilities open, but expect to see news about at least one or two of those good old Sega classics heading to the silver screen in the future.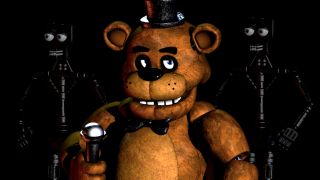 Five Nights at Freddys
b>Release date: TBC
Based on the popular indie game of the same name, Five Nights at Freddys the movie will follow a similar set up. Set in a Chuck-E-Cheese style restaurant where one of the house animatronics becomes a murderer at night, the hero needs to survive their shift. How thatll translate to film has yet to be determined, but Gil Kenan (Monster House) is set to direct and has already started teasing his inspirations for the possible animatronics.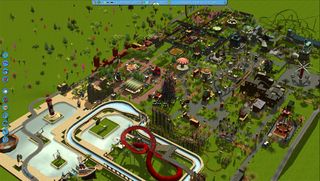 Rollercoaster Tycoon
Release date: TBA
Yes, there is a Rollercoaster Tycoon live-action/CGI hybrid movie in the works. No, I have no idea what the Rollercoaster Tycoon story could possibly involve. Could it be a We Bought A Zoo premise where a Joe Schmo buys a theme park and turns it into a mega-success? That's about all I can come with. I want this movie to release now, just so I can see what the writers came up with.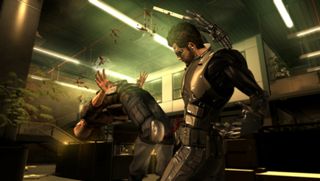 Deus Ex: Human Revolution
Release date: TBA
Here's one that I really hope sees the light of day, because Human Revolution is one of my favorite games of the last generation. The movie has a director in Scott Derrickson of Sinister fame, with he and his Sinister co-writer C. Robert Cargill coming together again to write the Deus Ex script. No actors have signed on yet, but there's one only clear choice for the lead role: Elias Toufexis, the man who voiced Adam Jensen in the game. No one will play him better.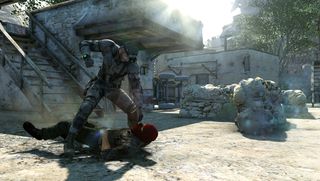 Splinter Cell
Release date: TBA
The Splinter Cell movie is still way early in development (it doesn't even have an announced director yet), but the new Ubisofy film division did get one big decision out of the way: Tom Hardy is their Sam Fisher, and that's a fantastic choice. Along with the oddly-voiced Bane, Hardy has proven his acting chops in Inception and Band of Brothers. I'm pretty pumped to see how he handles the head of Fourth Echelon.
Doug Liman is to direct, and the film will focus on a younger Sam Fisher.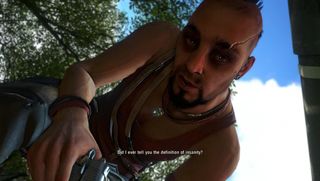 Far Cry
Release date: TBA
See? I told you there'd be a lot of Ubisoft in this piece! Now I am aware of the Uwe Boll Far Cry movie a few years back (though I try not to be), but this should take that bad taste right out of my mouth considering Ubisoft themselves are in charge. They have yet to announce anything about the film, other than it will exist, so the hope that it'll follow the story of Far Cry 3 still lives. Vaas is too cool of a character to ignore.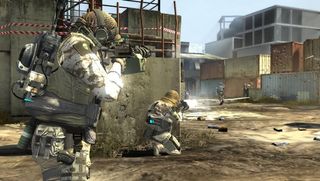 Ghost Recon
Release date: TBA
...and the Ubisoft train keeps on rolling! (This is the last one, I promise). Like Far Cry, Ghost Recon is merely one of the franchises Ubisoft plans to make a movie about, with very little actually done for the project. However, Ubisoft has reached out to a very big name to supervise the project: Michael Bay, Mr. Transformers and Pearl Harbor himself. Do you know what that means for the Ghost Recon film? Explosions!
UMP and Warner Bros. have announced that Michael Bay will produce and help develop the project.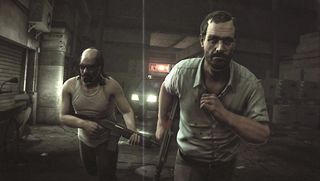 Kane and Lynch
Release date: TBA
While it languished in obscurity after losing its original director, the film is still on. Bruce Willis and Jamie Foxx seem to have been replaced, however. Gerard Butler and Vin Diesel are now rumored to star in the film, which also has a new director. F. Gary Gray will helm the project, who has worked with Butler before on Law Abiding Citizen.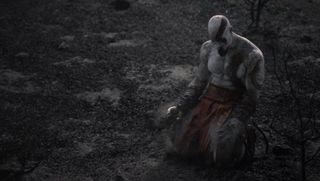 God of War
Release date: TBA
Believe it or not, the live-action God of War movie has been in development since 2005, but we've haven't heard a damn thing about it. No directors, no producers, no actors, no nothing. There have been a lot of different script writers, but nothing has stuck. I'm beginning to think this film has a long road ahead filled with Herculean obstacles, but there's no denying a God of War movie would be a blockbuster, so maybe it will come eventually.
Marcus Dunstan and Patrick Melton are revising the script, which is purported to be loosely based on the plot of the first game, where Kratos must face off against Ares and become the new God of War.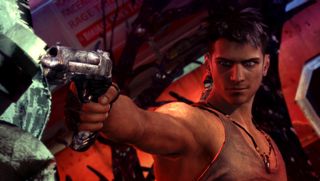 Devil May Cry
Release date: TBA
Remember when Capcom announced that Hollywood was making a Devil May Cry movie back at E3? I do, and I was jazzed about seeing Dante slay some demons on a big screen. Of course, that was back at E3 2011, and we haven't heard a thing in the almost three years since. Will this movie ever come to pass? I have no idea, but I'm still waiting for some sort of announcement... even if it'll never come.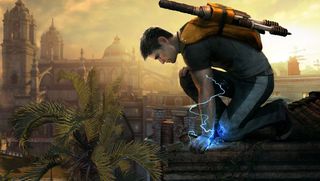 inFAMOUS
Release date: TBA
An inFAMOUS movie might have happened at one point, but back in 2011 inFAMOUS 2 producer Brian Fleming put the kibosh on that, saying he was "skeptical" of it ever coming to pass. With all of the superhero movies out there, inFAMOUS would have fit in perfectly against the likes of Iron Man and Thor...but maybe that's what scared those in charge of the project away. Oh well, no more Cole MacGrath on a big screen.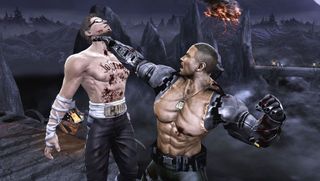 Mortal Kombat
Release date: TBA
After the incredible Mortal Kombat: Rebirth web series finished up, director Kevin Tancharoen was tapped to make a full-length movie in the same vein, which would be downright awesome. However, there's been some squabbling over budget and other things, so Tancharoen is making a second Rebirth season while things get sorted out. More Rebirth is always a good thing, but I hope he doesn't use all of his ideas on the web series; that Mortal Kombat movie would be incredible if it happens.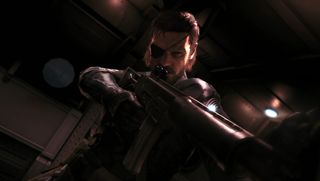 Metal Gear Solid
Release date: TBA
Oh, Metal Gear...we've waited so long to see you on a movie screen (since 2006, to be precise), but the sheer lack of any pertinent information makes us think that you'll never come to pass. I used to have visions of a live-action Solid Snake infiltrating a massive Shadow Moses Island at my local theater, but now...now I think it's a dream that'll never come true.
Sony Pictures is moving forward with the film, with Jordan Vogt-Roberts rumored to direct and Avi Arad rumored to produce. Solid Snake will be the star as confirmed by Kojima, but as far as whos playing him? Thats anyones guess.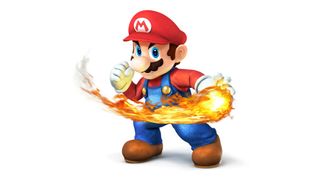 Mario
Release date: TBA
It looks like Sony Pictures Entertainment is locking down a Mario animated feature film with Nintendo, at least according to emails that leaked as part of the movie company's hack some months ago. Aside from Bowser's cameo in Wreck-It Ralph, you're probably grievously aware of the last Mario movie: 1993's Super Mario Bros., which starred Bob Hoskins and John Leguizamo as the plumber duo taking on a bizarre sci-fi dystopia re-imagining of the Mushroom Kingdom. Given Nintendo's historical reticence and Miyamoto's own animation projects, it's interesting that the company is even considering this deal.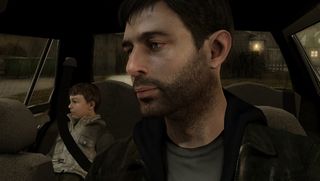 Heavy Rain
Release date: TBA
A lot of detractors called Heavy Rain an interactive movie when it launched in 2010, which gave more creedence to the movie rights being gobbled up soon after it launched. Originally it was reported that Heavy Rain's feature film was coming fast, but it's been three years with not a peep about it. It would make for a good film, I just hope they get the accents right. We Philadelphians don't sound like that.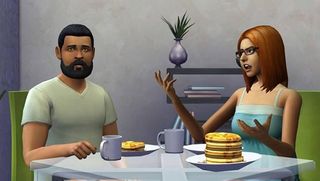 The Sims
Release date: TBA
There is a live-action movie based on a video game based on real life in the works. It was announced back in May 2007, but nothing has been heard since. If a big Hollywood studio wants to make a Sims movie, I volunteer to let them follow me around for two weeks and see real life in action. There'll be a lot of sitting...and typing...and game playing. Reality television, meet the reality movies!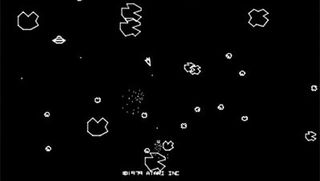 Asteroids
Release date: TBA
You are not hallucinating: Universal Pictures picked up the rights to a movie based on the classic black and white space shooter way back in July 2009. We've heard basically zilch since then, but there has been some activity behind the scenes. The script was recently re-written by David Goyer, the man who wrote Man of Steel, but the director search continues after Roland Emmerich backed out a few years ago. If this movie does make it to theaters, I hope it's in black-and-white AND retains all of the original sound effects somehow.
Producer Lorenzo di Bonaventura has joined the project. There are rumblings that it will be more of a space opera than a disaster film.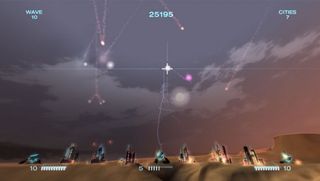 Missile Command
Release date: TBA
Thought the last slide was weird? Missile Command's movie rights were claimed by 20th Century Fox back in 2011, showing that there's a movie idea to be had basically anywhere you look. However, that's about all we know about the project, which means it could have fallen by the wayside...especially after Battleship came and went. Maybe some ideas are best left alone.