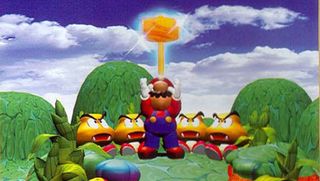 Mario, the secret king of role-playing games
Marios has a past filled with incredible spin-offs, appearing in everything from typing tutors to basketball games. His success in virtually all those genres is worth celebrating, but of all his side jobs, arguably Mario is at his best when jumping into the realm of role-playing games. Starting with his first RPG, Mario made it his own while still keeping the action recognizable for the level-grinding, loot-collectors out there. With the arrival of his newest quest, the certifiably fun Paper Mario: Sticker Star, its the perfect time to look back on the more than 15 years of RPG excellence, a legacy that began with...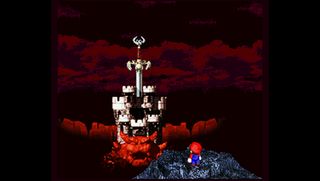 1996: Super Mario RPG: Legend of the Seven Stars (SNES)
The journey to RPG glory began with the simply named Super Mario RPG. The game was the result of a partnership between Nintendo and one of its closest third party partners, RPG mastermind Squaresoft (which would eventually become Square Enix). Though Mario creator Shigeru Miyamoto was involved in the game, most of the heavy lifting was handled by the vets at Square, as players can tell by the heavy emphasis on stats and equipment. And while it began Marios era of RPG greatness, it also marked the end of an era: it was the last real game Square made for a Nintendo system before throwing its development might behind Sony.
The collaboration culminated in Square creating a truly massive adventure for the jumping plumber. Though it starts with the standard Princess kidnapping, soon Bowsers plans are cut short by a gargantuan sword that plunges into Toadstool Castle. Archfiend Smithy and his metallic gang arrived with that massive sword, replacing the King Koopa as the biggest threat to the Kingdom. To stop this new threat, Mario began his quest for the seven star pieces that could set the world right again. And unlike in his previous games, Mario wasnt going to do it alone...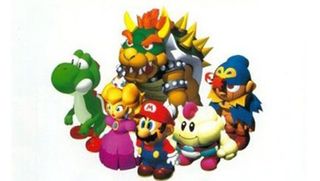 Friends old, new, and altogether strange
Mario's choice of teammates was notable, including Princess Toadstool--one of her last localized appearances under that name--and Bowser, marking the first time the two enemies ever worked together. While it was great to see the Princess taking an active role instead of playing victim, ultimately the game marked Bowser's slow decline from badass dino-mofo to the continual failure he is today. And Mario made some brand new friends, like Mallow, a kid who thinks he's a frog but is secretly heavenly royalty, and Geno, a childs marionette inhabited by a powerful star spirit.
All those characters looked great at the time thanks to the popular pre-rendered graphics made famous by Donkey Kong Country, though today everyone looks like digitized knockoff toys hopping around a stiff, plastic world. Strange as it may look, choices such as exploring the world in Marios recognizable platforming style and carefully timing button presses in battle to score crucial extra damage, gave the game a uniquely Mario feel. For all those qualities, Super Mario RPG also made some weird choices that later games dropped, either due to copyright (we'll get to that later), or because the controls didn't really fit the tone of the Mario universe. More than a few were dropped by the time Mario returned to RPGs.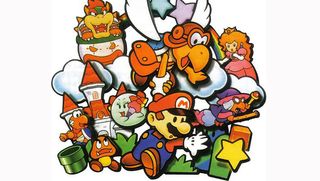 2001: Paper Mario (N64)
Originally called Super Mario RPG 2 until some legal red tape got in the way, when Nintendo finally decided to give Mario another RPG adventure years later, Square was deeply involved with Sony, so Nintendo instead had an internal team craft a totally new world and scenario. Intelligent Systems took over development, a smart choice as that team worked on the incredible strategy games Advance Wars and Fire Emblem. The developers used their expertise to adapt many of the techniques and choices of SMRPG, giving the game a visual overhaul and a slew of new tricks.
Instead of going with the originals cutting edge look, Paper Mario purposefully used flat and cartoony characters to populate its colorful world. It gave the whole game a more playful air, and thanks to an outstanding script, it was even funnier than its cheeky predecessor. Mario's set of teammates was smaller than before, but were much more useful in and out of fights, thanks to their unique attributes that helped him explore papery environments. Additionally, Marios pals each had distinctly funny personalities thanks to the aforementioned stellar writing, which continues to be one of the best traits for the Paper Mario series. Moreover, while not on your team, the captive Peach was playable during chapter interludes, sneaking around her occupied castle Solid Snake-style. In fact, the game was filled with little moments like those that bucked RPG traditions, proving the game was out to blaze its own trail.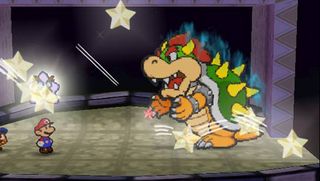 RPG trappings, but still classic Nintendo
Despite its obvious differences with the SNES game, Paper Mario has a lot in common with its predecessor. In both games, after Peachs castle is sacked, Mario (and friends) must search for seven stars to gain the power to stop the big baddie. Battles worked basically the same too, though your button-pressing abilities were more important than ever in battle, as the menus were streamlined, attacks unfolded much faster, and Mario only had one support character in battle, as opposed to two previously.
And as was the case in SMRPG, it was the last hurrah for its system, coming out on the Nintendo 64 a matter of months before the GameCube. While it easily stands out as part of the incredibly small number of N64 RPGs, Paper Mario would be a classic on any system and proved way too late that the 64-bit runner-up was capable of role-playing greatness.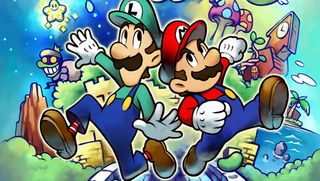 2003: Mario & Luigi: Superstar Saga (GBA)
The first handheld Mario RPG came midway through the GBAs lifespan instead of during its death throes, counter to the first two console RPGs. The portable adventure was developed by AlphaDream, which to this day has only made a few games outside of the Mario & Luigi sub-series. The team was a splendid choice to put the Bros through their RPG paces, as one of AlphaDreams founders was a director for Super Mario RPG.
Seen only in the periphery of the first two role-playing games, Luigi co-stars this time around, though he's treated more as comic relief than a true superstar. No one, not even Bowser, has heard of Luigi, and he's the butt of every available joke.Also returning to the spotlight in Superstar Saga were Bowsers little-seen children from Super Mario Bros. 3, appearing as bosses throughout. But the setting was brand new...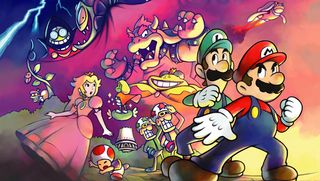 Explore the Beanbean territory
Set in Beanbean Kingdom, the Mushroom Kingdom's sister country, Mario and Luigi are first tasked with saving Princess Peach's voice from the evil Cackletta, and eventually the duo has to rescue Peach altogether from the witch and her wickedly awesome sidekick Fawful. Bowser's kind of a third wheel to the brothers exploits until he's possessed by a temporarily weakened Cackletta, becoming infamous Bowletta. As is often the case, the two plumbers have to collect pieces of a star, but it's only 4 this time around. Ultimately you descend into Cacklettas gut--perhaps foreshadowing sequel Bowsers Inside Story--and beat up Bowletta's organs.
Superstar Saga's most memorable addition was the interplay between Mario Bros; basically theyre as malleable as Silly Putty, able to mold into whatever the situation calls for. Whether smashing Mario to half his size, turning Luigi into a surfboard, or electrocuting Mario to get to secret areas, the plot hinged upon those two working together, making it different enough to be worthy of starting a third branch of the Mario RPG franchise.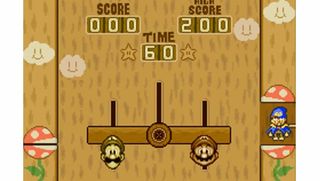 Geno (briefly) returns
As mentioned before, no Super Mario RPG-specific character has appeared outside that game, save for one exception in Superstar Saga. When Mario and Luigi go to an arcade, a pachinko-like minigame is hosted by Geno, or at least a doll similar to the one he inhabited. At the end of the game's credits youll spot Square Enix's copyright for use of the character, a clear indicator for how difficult making a SNES sequel would be. All that red tape for one fleeting appearance? Yeesh.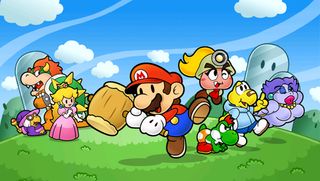 2004: Paper Mario: The Thousand-Year Door (GameCube)
Intelligent Systems hit another homerun with The Thousand-Year Door, which arrived in its typical timeframe a.k.a. right as its home system was slipping into its sunset year. Though not as fresh or unique as the first game and hampered by some unwelcome mid-game backtracking, it was still worthy of the Paper Mario name.
Doors story ticked all the boxes for a Mario RPG. Save Princess Peach? Check. Bowser as comic relief? Check. Collecting stars to fight great evil? Check. Even the majority of Mario's sidekicks are the same species and found in virtually the same order as his cohorts in the first Paper Mario. What separated Thousand-Year Door from its predecessor? The biggest factors were comedy becoming an even bigger part of the game, and it obviously looked much sharper than the N64 original. Aside from the graphics, the game took advantage of the systems power in some interesting ways...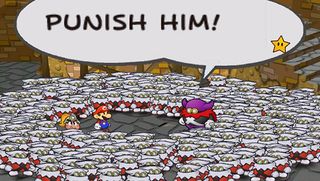 A cast of hundreds
Thanks to the simplistic yet charming visuals, the devs were able to cover the screen with more than 100 characters simultaneously. This was not only visually remarkable, but it also helped with the new battle mechanic of an audience watching every fight as it happened; they throw healing items if the fights going well or leave bored if you arent doing so hot. Additionally, the idea of a paper Mario was taken much more literally, transforming Mario into such items as a paper airplane to glide to new areas, a boat to float on water, and a tube to roll under low openings.
While Mario battled the mysterious group known as the X-Nauts, Bowser and Peach were the focus of several playable interludes. Bowser travelled through 2D stages that parodied classic Super Mario Bros stages, and Peach does her best sneaking around as a captive of the X-Nauts. The final battle had another Mario first, players had to battle Princess Peach, though technically shes possessed by the malevolent Shadow Queen. And just in case players finished the campaign thinking Paper Mario games were too easy, there was the Pit of 100 Trials, a brutal sub-world full of 100 consecutive, stamina-taxing battles.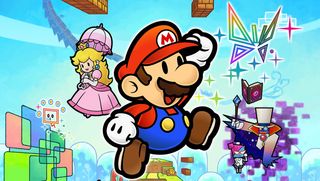 Honorable Mention: Super Paper Mario (Wii)
Sadly, Thousand-Year Door remains the final console Mario RPG to date, though the action-RPG spin-off Super Paper Mario was almost as good. Originally planned as one of the last GameCube games, it instead became an early Wii release as the GC version got swept under the rug. This time the focus was all on platforming, made much more interesting thanks to the novel idea of turning 2D levels 3D for a limited time to reach new areas. It might not have technically been an RPG, but developer Intelligent Systems still found space for the trademark graphical style and referential humor, making it a side game worthy of the franchise.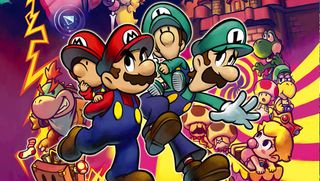 2005: Mario & Luigi: Partners in Time (DS)
The two screens of the Nintendo DS were a perfect destination for a duo like Mario & Luigi. Unfortunately, while both screens were used often when the brothers were separated, their first game on the handheld--Mario & Luigi: Partners in Time--rarely took advantage of the DSs touch screen or mic capabilities in interesting ways. However, even if the controls werent all that creative, the two characters filled both screens with hours of entertainment in a story that teamed up the stars with their younger selves.
Thanks to a convenient rift in time and space, Mario and Luigi get all Muppet Babies as they meet up with their infant selves from the Yoshis Islands games. Alien mushrooms--the Shroobs--have invaded the past and it takes the combined strength of four Mario brothers to stop the weird intruders. Of course, stopping them involves collecting star pieces, this time to rebuild the Cobalt Star so our heroes and Peach can travel back to the present. Did we mention Peach got kidnapped again? And guess who did it...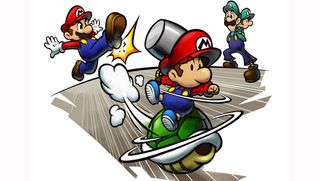 A battle for the ages
As you might expect, Bowser is in the way again in Partners in Time, though this time hes Baby Bowser with the Magikoopa Kamek as his caretaker. Along the way the Bros meet some odd fellows, such as Hammer Bros conversing in 1337 speak, Prof. E. Gadd from Luigis Mansion and a gigantic pink Yoshi trying to eat all the other Yoshis. Though the non-speaking evil Shroobs didnt have much funny stuff to do, the rest of writing met the series witty standards.
While Partners in Time was a solid game, it didnt really change all that much from the first game aside from assaulting the player with baby versions of all the major characters. Plus, the Shroobs had nothing on Fawful, who does make a brief (and welcome) cameo as a bean merchant while plotting his revenge on the Mustaches.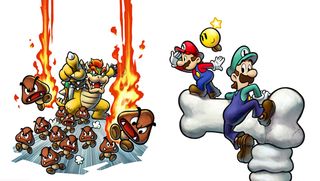 2009: Mario & Luigi: Bowsers Inside Story (DS)
One of the last major DS games from Nintendo, Bowsers Inside Story made for a spectacular sendoff thanks to AlphaDream operating at the top of their game. Unlike Partners in Time, Inside Story took advantage of all the abilities of the DS in many inspired ways. Based on the dozens of ways the touch, voice, and splitscreen options were used, the devs seemed to be challenging themselves to come up with as many uses as humanly possible.
What really opened up those possibilities was the inclusion of a third unwitting teammate to Mario and Luigis quest for peace, the dastardly Bowser. Dethroned by invaders, the boorish and violent King of the Koopas battles the new enemies in the normal world, while Mario and Luigi are trapped inside Bowsers body, giving the giant lizard physical boosts and fighting any aggressive viruses. Bowsers unknowing team-up is half the fun of the game. Whats the other half of the fun?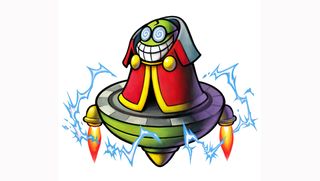 Return of the (would-be) king
Bowsers Inside Story marks the return of one of the greatest and most overlooked bad guys in Mario history. After biding his time for years, Bowsers Inside Story features the return of Fawful, the hilariously misspoken archfiend of the Beanbean Kingdom. His intricate revenge plot has the small pile of fury taking over the Mushroom Kingdom and defeating the mustaches (his name for Mario and Luigi) almost completely. Though a thorn in the side of the heroes, fans loved to see the return of Fawful and his minions, if for no other reason than to read his dialogue. Here are some of his best quotes:
Your plan that I laugh at now makes for more laughing!

Lucky hits will shower down like a happy waterfall! You will have such fury!

Your strongest enemies will fold like napkins who are crying!

Beef? I am lacking in beef. Fawful is beefless.

Bowser keeps appearing like an ugly rabbit from the hat of a magician who stinks!

I HAVE FURY!
How can you not love that guy?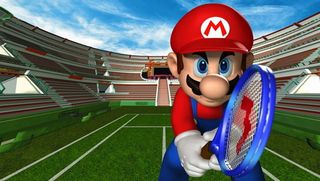 1999-2005: The Mario Sports RPGs (GBA and GBC)
Camelot developed a slew of lovable Mario sports games for the N64 and GameCube back in the day, but many missed the technical feat the team was pulling off on Game Boy Color and Game Boy Advance at the same time. The portable versions of Mario Golf and Mario Tennis not only translated the simple sports gameplay perfectly to handhelds, but Camelot also made them engrossing RPGs on top of that.
Though Camelot was great at sports games, it was once a top RPG house, creating both the Shining series for Sega and a trilogy of Golden Sun games for Nintendo. When tasked with making handheld versions of those superb sports games, the devs couldnt stop themselves from making those handhelds ports addicting RPGs as well. Mario and company were usually your final challenge in each story, so even though these are only Mario RPGs provisionally, the main stars are all there, making these worth including in a retrospective like this.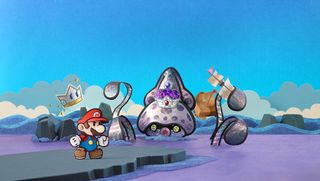 2012: Paper Mario: Sticker Star (3DS)
After taking such a long time off, Intelligent Systems returned to its franchise this year, this time in its first ever portable entry. Subtitled Sticker Star, the game still looks and plays the same as previous entries, but the already light emphasis on RPG standbys like stats and equipment have been dropped altogether. Almost all of that has been replaced by an overwhelming appreciation for collecting and using stickers, and maintaining your sticker supply ends of being much more strategy intensive than you might have thought.
The story is still an adorable celebration of everything Mario, including some great cameos and clever writing on the part of all the characters. Though not as deep as the original Paper Mario or Thousand-Year Door, it fits its new portable home perfectly, and it even has some surprisingly poignant moments later on. You can see more of our thoughts on the game in our recent Paper Mario: Sticker Star review.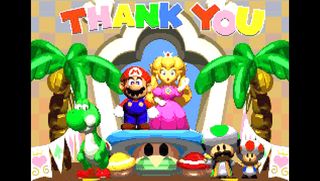 Whats next?