Scorpio is coming! Xbox One is selling fast. Long dormant series like Phantom Dust are finally re-emerging. Xbox Game Pass is a Netflix style subscription service that lets you download numerous Xbox One games without having to purchase them out right, and it's coming soon. Agony, Rare-style platforming in the gorgeous looking Yooka-Laylee, open world glory in Middle-earth: Shadow of War and even Destiny 2; 2017 is a very, very good year for Xbox.

From the sci-fi paranoia of Prey to gorgeous, eccentric indies like Cuphead, there's plenty to look forward to in the coming year.
Our list of the best upcoming Xbox One games of 2017 is in chronological order, moving deeper into the year as we go. We'll be updating this article regularly, and the next big game you can look forward to is…
Bulletstorm: Full Clip Edition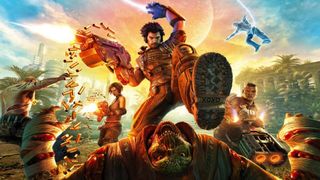 Release date: April 7, 2017
Genre: Shooter
What is it? One of the most frenetic, dirty-minded shooters from PS3 and Xbox 360 gets a second shot in this remaster.
What to look out for: People Can Fly put their name on the shooter world map with Painkiller, an adrenal first-person shooter that married the speed and bluster of early works like Doom with 21st century tech. Then came Bulletstorm, which was Painkiller after it drank a full bottle of cheap whisky and watched Anthony Jeselnik standup for a whole weekend. Bulletstorm, with its focus on chaining absurd attacks like tossing an evil robot into the air and then kicking it in the groin straight onto a cactus, was a delight for those that played it but most missed it on Xbox 360 and PS3. This new version invites Xbox One players to try it for the first time.
Yooka-Laylee
Release date: April 11, 2017
Genre: Platformer
What is it? A delightfully colourful, open world platformer that harkens back to the classic age of N64 Rare hits like Banjo-Kazooie.
What to look out for: Perhaps Rare's newest just isn't quite Rare-y enough for you. Allow Playtonic - a studio made up of ex-Rare staff from the good old days - to provide your old-school, new-look fix. You might recognise the two-names-in-one title or the walking animal-flying animal combo as just a tad Banjo-Kazooie-esque. Here's the spiritual sequel you've been waiting for. This Kickstarter smash has the vibrant colours, platforming focus, even the seaside postcard British humour (there's a snake called Trowzer - I'll leave that one to you) of '90s Rare. With five different worlds, a multitude of double team moves, and a tonne of collectibles, you won't get closer to the disarming spirit of an N64 platformer without going through a serious attic rummage.
Little Nightmares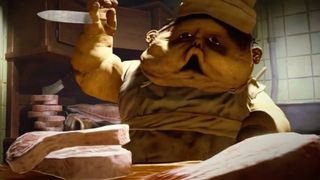 Release date: April 28, 2017
Genre: Platformer
What is it? A spooky, disturbing platformer about a small person surviving in a nasty world.
What to look out for: Tarsier earned a name for itself as a reliable studio pumping out interesting PS Vita games like Little Big Planet Vita. Little Nightmares shares some platforming DNA with that series, but this freaky platformer for Xbox is also of a piece with Limbo and Inside by Playdead. is an opportunity for Tarsier to earn renown as a developer of originals rather than as a studio for hire.
Prey
Release date: May 5, 2017
Genre: First-person shooter
What is it? Once considered vapourware on par with Duke Nukem Forever, this portal-spawning shooter reboot is back on track.
What to look out for: Prey is happening, but from the trailer shown at E3 2016, no-one is entirely sure what it's going to be about. The cinematic showed the presumed protagonist repeatedly waking up in the same apartment to the same events like he was stuck in a Groundhog Day time loop. The only thing that would change is that his body is becoming infected with what looks like a bad case of pinkeye. Knowing Prey, it's probably some kind of alien infection you don't want to catch. And yes, there are aliens, but these space creatures don't seem to have solid mass and act more like ghostly shadows than physical beings.
Injustice 2
Release date: May 16, 2017
Genre: Fighting
What is it? Now you can duke it out between Batman and Wonder Woman, Harley Quinn and Superman, and a ton more of DC's superheroes to see which one comes out with less bruises.
What to look out for: If Injustice 2 looks vaguely familiar, that would be because it marks Netherrealm Studios' return to the slick new engine that powered Mortal Kombat X. Fans will be overjoyed to see previously obscure characters take their turns battling it out. Plus it's mixing some things up with the addition of upgradable gear to outfit your favourite characters with. Battles later on are sure to get harder as the heroes become progressively more decked out in brand spanking new costumes, so get those fisticuffs ready.
Click 'Next Page' below to see more great upcoming Xbox One games in 2017 and beyond