We've been dutifully working through them since Season X, so by now we have a good idea about how Fortnite Missions work. Each of these weekly challenge sets are centred around a different theme or character, and they give us a distraction from trying to earn an elusive Victory Royale while also throwing out tons of XP to get you levelling up in no time. With the February 2020 start of Fortnite Chapter 2 Season 2 getting ever closer, it's worth putting in the time now to finish as many missions as possible, as all the checklists (as well as the Fortnite rewards linked to them) will vanish at the point where the current season ends. If you're seeking some guidance for clearing any of the challenges featured in Season 1, we've got all of your requirements for the Fortnite Missions covered in this handy guide.
What are Fortnite Missions?
To find all of the Fortnite Missions, navigate to the Challenges tab and you'll see them laid out in two horizontal rows. Each week there will be a new themed limited-time mission which replaces the old daily challenges, along with the Alter Ego challenges which are tied into your season level and the other weekly missions you'll be taking on.
Missions are the overall name for each set of challenges, then each objective contained within is a specific challenge. There's initially three challenges available in each mission, then when you complete one, it will be replaced with a different one, for a maximum of 11. Finishing eight of them unlocks the reward item for that Fortnite mission, which will then help you find Fortnite hidden letters in loading screens which links back to the Alter Ego challenges. It's all connected! Read on for guides to completing specific missions and challenges.
Fortnite New World mission
The Fortnite New World challenges help to kick off the new chapter in Fortnite history by making sure you explore the island to discover what's new. After revealing named locations and landmarks, you'll move on to riding Fortnite motorboats, catching a weapon with your fishing rod, carrying a knocked player over a short distance and more.
Fortnite Open Water mission
Despite what the name might suggest, the Fortnite Open Water challenges don't actually involve much swimming, fishing, or indeed boating. Instead you'll be checking out various coastal locations, hiding in Fortnite Hideouts, sniping opponents from distance and more.
Fortnite Forged In Slurp mission
Although you'll be seeing plenty of the blue stuff, the Fortnite Forged In Slurp challenges are more about different types of weapon rarity. You'll also need to use some Fortnite weapon upgrade benches, and dance at the Fortnite Compact Cars, Lockie's Lighthouse, and Weather Station locations.
Fortnite Dockyard Deal mission
With so much water around the map, it's not surprising that we got some nautical Fortnite Dockyard Deal challenges to contend with. As well as jumping boats through Fortnite flaming rings, you'll need to explode Fortnite gas pumps to damage an opponent, and visit the Fortnite Boat Launch, Coral Cove, and Flopper Pond locations.
Fortnite The Lowdown mission
The theme running through the Fortnite The Lowdown challenges is damaging opponents while assisting your own team. You'll need to visit all of the Fortnite EGO outposts, as well as reviving and healing your teammates plus rebooting one of them through the Fortnite Reboot Vans.
Fortnite Hunter and the Hunted mission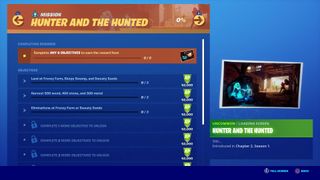 To complete the Fortnite Hunter and the Hunted challenges you're going to need to go exploring and search out some specific objects. As well as consuming Fortnite Foraged Items such as apples, mushrooms, and coconuts, you'll need to visit five Fortnite Landmarks in the same match so get your hiking boots on.
Fortnite Trick Shot mission
If you want to beat the Fortnite Trick Shot challenges then you're going to need to watch you health, whether it's visiting the Fortnite Orchard to consume foraged apples or catching and eating various fish. You'll also need to head to the Fortnite Pipeman, Hayman, and Timber Tent locations then do some dancing, so be prepared to get funky.
Fortnite Dive mission
To get through all of the Fortnite Dive challenges you'll need to hit the water, whether you're gunning for eliminations at Fortnite Hydro 16 or taking on the swimming time trials in the nearby lake. You'll also need to damage and quickly snag some Supply Drops, and use the Harpoon Gun to pull various items (and players) towards you.
Fortnite Chaos Rising mission
If you're taking on the Fortnite Chaos Rising challenges then you'll need to know where the Fortnite Motorboat time trial is to kick things off. As you progress, you'll want to boogie at the Fortnite Green, Yellow, and Red Steel Bridge locations to tick them off your list, and take a ride along the Fortnite Ziplines in a couple of matches to complete everything.
Fortnite Remedy vs Toxin mission
To clear the Fortnite Remedy vs Toxin challenges you'll need to visit three of the four Fortnite food trucks, as well as passing by three different Fortnite bus stops in a single match – thankfully there's plenty of them so you have a few choices of route for this.
Fortnite Rippley vs Sludge challenges
To tick off all of the Fortnite Rippley vs Sludge challenges you'll want to search a load of chests to earn Gold Scavenger Medals, smash up a handful of SLURP containers, then track down the Fortnite hidden gnome between Logjam Woodworks, wooden shack, and bucket tree location.
Fortnite 8-Ball vs Scratch challenges
To complete the list of Fortnite 8-Ball vs Scratch challenges you can follow our lead to dance at Fortnite Rainbow Rentals, Beach Bus, and Lake Canoe locations, swim at different Fortnite No Swimming signs, search the Fortnite hidden gnome between Fancy View, a Wooden Shack, and a Big House, then finally visit one of the Fortnite Mountain Base Camps.


Fortnite patch notes | Fortnite tips | Fortnite map | Fortnite Chapter 2 weapons | Fortnite weapon upgrade benches | Fortnite achievements | Fortnite Creative codes | Fortnite 2FA | How to enable cross platform Fortnite matches | How to level up fast in Fortnite