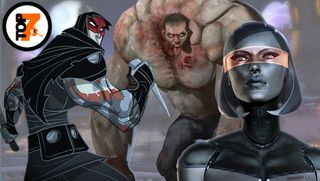 Reach out and punch someone
When video game characters encounter beings from an unknown plane of existence, their response is usually the same: Pummel the ever-loving snot out of him/her/it. Thats why crossover fighting games are such raucous fun, offering up canon-shattering combat between unlikely pairings of heroes and villains. Its a sure-fire formula for a good time, popularized by the Super Smash Bros. series (itself an advancement of The Outfoxies) and Capcoms legendary Versus games. The fighting sub-genre was very recently revitalized by the release of PlayStation All-Stars: Battle Royale.
In fact, plenty of companies have tried their hand at brand-blending beat-em-ups: Jump Super Stars, Onimusha Blade Warriors, Cartoon Network Punch Time Explosion, and the upcoming Blizzard All-Stars are all worthy crossover conflicts. Whether in a tag-team setup or a chaotic four-player free-for-all, its always a delight to see a divergent cast of famous characters beating the bejesus out of one another with a barrage of series-referencing attacks. This might not be a list of the most likely company-based fighting crossovers, but theyre undoubtedly the ones we want the most.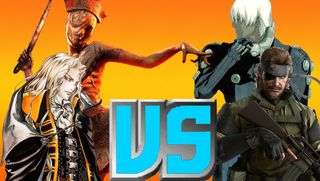 7. Konamis Kick-Punch Ruckus
Konami-centric crossover fighters kind of already exist. Castlevania Judgment was a bust, but Japanese gamers got a last-gen Smash Bros. simulacrum called DreamMix TV World Fighters. This colorful clash of familiar characters looks like it wouldve been directly up our alley, and marks the pre-Smash Bros. Brawl appearance of Solid Snake in a fighting game. But the Konami franchises had to share the limelight with Hudson and toy company Takara, and the game releases neglect the rest of the Konami-adoring world.
Given the darker nature of Konamis recent games, we can definitely picture copious amounts of blood and guts getting sprayed when Pyramid Head, The Fury, Bryce Boltzmann, and Trevor Belmont try to eviscerate one another. Thats not to say that kids cant enjoy the chaos, watching as Goemon and the Gradius Moai head settle a score that started way back in Konami Krazy Racers, whilst Frogger flees from the duo of Contras Bill and Lance (in pixelated NES form, like little Ice Climbers with guns).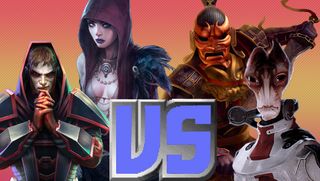 6. BioWare Battle
BioWares built up a reputation for crafting incredibly engrossing games, emphasizing epic stakes, ethical role-playing, and the endeavor to make sweet love to our party members. But isnt it about time we embraced our Dark Side and Renegade roots, and just let our fists do all the talking? The action-oriented combat of Jade Empire was a good start--but to achieve true greatness, BioWare must devote themselves to the ways of frantic four-player fisticuffs on the divine plane of two-dimensional fighting.
Watching a catfight between Morrigan and Miranda Lawson would be a must. Wed also squeal with delight at the sight of Urdnot Wrex performing a Krogam buttslam on Darth Malak, while a Dragon Age Archdemon goes claw-to-leg with a Jade Empire Toad Demon transformation. For bonus obscure-reference points, wed go gaga for the inclusion of MDK2s bizarrely helmeted hero Kurt Hectic, because apparently BioWare developed that game back in the day.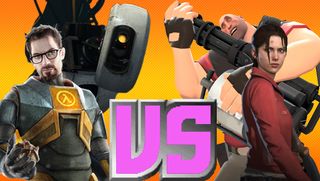 5. Valve presents: Savage Source Strife
Valve has a funny habit of picking up on intriguing game ideas, assimilating them, and fostering the core concepts into consistently stellar works. Counter-Strike, Portal, and Dota 2 all come to mind, each a powerful franchise born from the embryo of someone elses idea. So whos to say that the PC gaming goliath couldnt take a stab at iterating on a beloved console brawler? With Steam as the de facto platform for purchasing PC games, a Valve-made fighter would have a built-in audience ready to try a few rounds. And integration with the Steam Workshop would give resourceful gamers a way to expand the fighters roster and stage selection indefinitely, without Valve having to lift a single collective finger.
Its a given that Gabe Newell himself would have to enter the fray, trading blows with an aluminum-bat-wielding Team Fortress 2's Scout as they both evade incoming fire from Dota 2's Lina Inverse and an M4A1-packing Counter-Terrorist. Alyx Vance would no doubt try to shoot up Chell for making moves on her mute man, and perhaps--in a twist that would bring Shyamalan to his knees--Gordon Freemans outer-dimensional encounters with GLaDOS, Boomers, and Snipers would be the true Episode 3.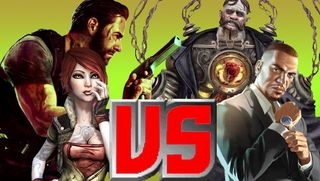 4. Take-Two Interactives Titanic Throwdown
This one requires some imagination. Its a given that a romp between Rockstar Games leads would be a riot: Claude and James Earl Cash would brutally beat one another with baseball bats, while Max Payne and John Marston exchange slow-motion gunfire from across the stage. Cole Phelps could use interrogation tactics to browbeat Jimmy Hopkins into straightening out and flying right. But Take-Two also owns 2K Games, publishers of such blockbusters as Borderlands, BioShock, the Civ series, and XCOM. That means we could potentially pit Mahatma Gandhi against a terrifying Handyman while the Salvador shows those creepy Sectoids whos boss.
The goofy match-ups wouldnt stop there, either: We want to see Jackie Estacados Darkness tentacles choking out Serious Sam in a Midnight Club street racing stage. Spec Ops Martin Walker could settle things more civilly with the cast of Rockstar Table Tennis over a deadly game of ping-pong. The final level of the single player campaign would involve going back in time to murder the ultimate enemy: Duke Nukem Forever.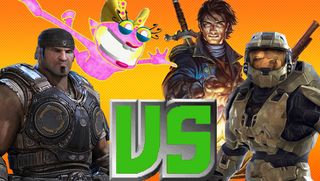 3. Microsoft Match of the Millennium
Let us wipe the blatant racism of Kung Fu Chaos from our memories, if it was ever there to begin with. Done? Good. Now that Nintendo and Sony have both put their best brawling foot forward, the balls in Microsofts court to match the mirthful melees put forth by its peers. And isnt it high time we found out what happens when Marcus Fenixs Lancer and Master Chiefs Energy Sword collide? Theres also a bevy of XBLA/Windows exclusive indies to pull characters and stage themes from--Splosion Man, Fez, Mark of the Ninja, Shadow Complex, and Small Arms all warrant inclusion in some form.
Our good buddies at OXM crafted a list of the 21 characters theyd like to see in a battle royal of Microsoft mascots, and it pretty much covers all the bases. While we might shed a tear for lost potential at seeing so many washed up Rare properties, Voodoo Vince and Blinx have waited their entire virtual lives for this kind of exposure. But please, Microsoft--we guarantee this one would not be Better with Kinect.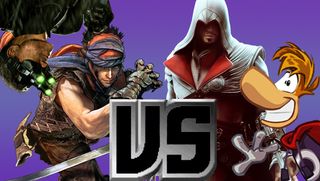 2. Ubisofts Academy of Champions: Brawler
Whos the smoother stealth killer: Ezio Auditore or Sam Fischer? How could the Ghost Recon soldiers possibly combat an army of aggravated Rabbids? Which lovable, rotund sidekick would win in a fistfight: Peyj or Globox? These questions and more would all be answered in a crossover from the first-class French developer. Though it has plenty of top-notch shooters, action adventures, and platformers under its big-budget belt, Ubisoft has yet to dip a pinky toe into the raging waters of the fighting game pool. Perhaps creating a branded four-player brawl is just what Ubisoft needs to make the bold statement that its on the same level as publishing giants like Nintendo and Sony.
As PlayStation All-Stars did with Metal Gear Rising and DmC, Ubisoft could use this opportunity to supercharge hype for its upcoming games. Were picturing the inclusion of an ever-shifting urban stage tied to Watch Dogs, a Might & Magic: Clash of Heroes battlefield, or Jade as a playable pugilist in her (dare we hope?) Beyond Good and Evil 2 incarnation. If, for marketing reasons, Ubisoft has to include the Just Dance, Imagine, or Petz brands, it can relegate their cameos to throwaway items.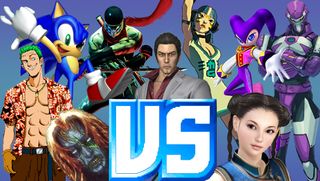 1. Sonics Superstar Clash
How does this not exist yet?! Segas no stranger to colossal character crossovers, having taken inspiration from strikingly similar Mario-themed mash-ups many times in the past. Sonic & All-Stars Racing (unnecessary ampersand and all) brings together a gaggle of disparate Sega celebrities for some kart racing action. Sega Superstars is a functional imitation of Mario Partys minigames, minus the game board and plus a reliance on the ill-fated EyeToy. So why hasnt Sega started work on its own version of what is arguably Nintendos most popular crossover? Besides the lesser-known Fighters Megamix, that is.
The fan-pleasing possibilities are staggering. Beat and Gum grinding on cyclopean mastodons in a Space Harrier-themed stage. Ristar and Pulseman in 3D. Zeus commanding House of the Dead zombies to Rise from your grave in an Altered Beast landscape, so that they can feast on the flesh of Jacky Bryant and Joe Musashi. Were debating on whether the final boss should be a horrific oversized Seaman or a sentient version of the orange Dreamcast spiral, exacting its wrath on the player for not keeping it alive. Please, Sega, were begging you: Make our wildest dreams come true.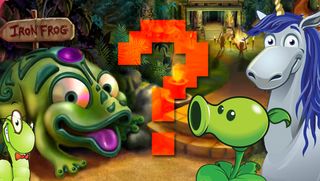 Madcap video game melees
Those are the multi-franchise fighters we want the most. What company would you like to see throw their popular properties in the ring? We want to know just what kinds of glorious scuffles it would make possible; the most-wanted suggestion will be added this Friday as your official Community Choice.
Looking for more crazy crossovers and ferocious fighters? Allow us to point you in the general direction of the Top 7 Best fighting game characters and 9 Disney / LucasArts crossovers that need to happen.