It's been a bumper week at E3 2019, with new announcements popping off all over the place and a whole host of E3 2019 games to get excited about - on top of the awesome new games of 2019 we already knew about, of course. This ever growing list features many future contenders for our round up of best games of 2019, be they on PS4, Xbox One, Nintendo Switch, or PC. With so many exciting upcoming games vying for your attention, it pays to plan ahead and figure out which titles you need to save up for, or book that vital release date off work. Here, you'll find the biggest new games of 2019, alongside some smaller titles that should also pique your interest.
It's all ordered by release date for easy browsing, with weekly updates to expand the lineup and account for any unfortunate delays. New games including Astral Chain and The Legend of Zelda: Link's Awakening have been added, while Gears 5, The Outer Worlds, Cyberpunk 2077, and more now have release dates. Be sure to check back regularly, and prepare yourself for another year full of wonderful games big and small.
Bloodstained: Ritual of the Night
Platform(s): PC, PS4, Xbox One, Switch
Release date: June 18, 2019 (PC, PS4, Xbox One) / June 25, 2019 (Switch)
We were so accustomed to a steady stream of excellent 2D Castlevania games for so long that we didn't realize what we had until they were gone. No more! The mastermind behind Castlevania: Symphony of the Night, Aria of Sorrow, and many others is bringing us the crowdfunded Bloodstained. Koji Igarashi's first major post-Konami project is Castlevania in all but name, with the same smooth action, gothic atmosphere, and haunted locale spelunking we loved for so long. It's been delayed to spruce up the quality after some middling feedback on an early demo, so hopefully the extra time in the oven helps it meet the big expectations for a Kickstarter game of this caliber.
Crash Team Racing Nitro-Fueled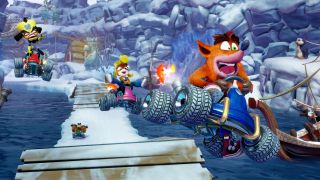 Platform(s): PS4, Xbox One, Switch
Release date: June 21, 2019
Depending on who you ask, Crash Team Racing is the superior kart racer to the genre-defining Mario Kart series. Some might go so far as to say it's the greatest game Crash Bandicoot has ever been in. But even if you're not one of the CTR devout, there's always fun to be had from multiplayer races full of chaotic items, crafty shortcuts, drift-friendly turns, and copious amounts of explosive crates. Crash Team Racing Nitro-Fueled gives this PS1 classic a modern makeover just like Crash Bandicoot N. Sane Trilogy did, with spiffy new graphics, kart customization, and online multiplayer (in addition to local splitscreen races). It's the perfect party game, and will surely hit older folks' nostalgia centers like a speeding car driven by an orange marsupial.
Judgment
Platform(s): PS4
Release date: June 25, 2019
Sega has a knack for crafting some extremely engrossing, lovably quirky open-world games; for proof, just look at the cult fandom for the beloved Yakuza series. Judgment - also known as Project Judge or Judge Eyes - is a spin-off of Yakuza, set in the same Kamurocho district made famous by that series. But instead of playing as that suave, soft-hearted strongman Kazuma Kiryu, Judgment stars Takayuki Yagami, a private detective who's hellbent on tracking down a serial killer. With familiarly hard-hitting combat mixed with investigative elements, Judgment has already enjoyed a successful launch in Japan, and will hopefully wow Western fans as well (even after some cocaine-based controversy).
The Sinking City
Platform(s): PC, PS4, Xbox One, Switch
Release date: June 27, 2019 (PC, PS4, Xbox One) / Autumn 2019 (Switch)
Nothing says 'Lovecraftian' like a detective story set in a grimy, seaside village where fishpeople are just trying to get by. Horror/noir hybrid The Sinking City is set in a very different vision of the 1920s, starring private investigator Charles Reed as he solves murders and mysteries in the flooded town of Oakmont. You'll interact with mutated NPCs who seem to have lives of their own, face off against hideous monstrosities and cultists, and do some down-and-dirty detective work in the pursuit of the truth, all while trying not to completely lose your mind.
Super Mario Maker 2
Platform(s): Switch
Release date: June 28, 2019
Nintendo is bringing player-created Mario levels to Switch with Super Mario Maker 2, a continuation of the first game's amazing toolset for constructing your very own 2D levels. If you can think it, there's a good chance you can build it - and as we've already seen on Wii U and 3DS, the community is a boundless well of inspiring designs and unexpected challenges. On top of all the existing tools that let you make stages in the many styles of Mario's biggest 2D games, Super Mario Maker 2 adds new course parts, enemies, and features, including custom camera scrolling and the oft-requested ability to create slopes. You can also add in the Super Bell from Super Mario 3D World that turns everyone's favorite plumber into an adorable, wall-scaling cat.
Marvel Ultimate Alliance 3: The Black Order
Platform(s): Switch
Release date: July 19, 2019
In what will surely make many of us feel terribly old, it's been a decade since Marvel Ultimate Alliance 2 gave us co-op arcade-style brawling as our favorite Marvel superheroes. And out of nowhere, Nintendo has secured Marvel Ultimate Alliance 3 as a Switch exclusive - the perfect fit when you consider the relative ease of getting four Joy-Con controllers for maximum multiplayer fun. Your team of heroes is going up against Thanos and his minions in The Black Order - who you last saw in Avengers: Infinity War - and you'll have to punch, claw, and smash your way through legions of goons to reach them. With vibrant visuals, a host of new heroes (and a few villains?) joining the roster, and the option for local or online co-op, Marvel Ultimate Alliance 3 is looking like the perfect opportunity to team up with pals.
Fire Emblem: Three Houses
Platform(s): Switch
Release date: July 26, 2019
Isn't it about time that the Fire Emblem series mixed its turn-based tactics with a JRPG take on Harry Potter's Hogwarts? Your male or female protagonist is recruited to be a teacher at the prestigious Officer's Academy, and which of the school's three houses you choose to take under your wing will have huge implications for the story and battles alike. Once you've signed up to be a professor with the Black Eagles, Blue Lions, or Golden Deer, you'll foster your students' academic and combat abilities, eventually becoming a mentor to a would-be ruler. When you're not in class or on the battlefield, you can free-roam the giant Garreg Mach Monstastrey housing the Officer's Academy or chat with a mysterious girl named Sothis who only you can see.
Wolfenstein: Youngblood
Platform(s): PC, PS4, Xbox One, Switch
Release date: July 26, 2019
Like father, like daughters - especially when it comes to killing Nazis by the hundreds. The newest game in Bethesda's rebooted Wolfenstein series follows Jess and Soph Blazkowicz, the twin daughters of series hero B.J. who go looking for their dad after he goes missing. There's been a time skip since the events of Wolfenstein 2: The New Colossus, as the Nazi-slaying action takes place in Paris circa 1980 of this technologically advanced alternate timeline. Given that Wolfenstein: Youngblood follows the inseparable Terror Twins (as fearful Nazis have come to nickname them), this will be the first game in the FPS series built around co-op, with support for two players embodying the Blazkowicz girls in their cybernetic Power Suits. But if you opt to play solo, you'll still get an AI partner so you don't have to go it alone as you rampage through the Nazi forces shooting everything that moves.
Control
Platform(s): PC, PS4, Xbox One
Release date: August 27, 2019
The next game from Remedy Entertainment is a weird one, and we mean that in the best way possible. Control fuses elements of Max Payne's gunplay with Alan Wake's surreal, thoroughly creepy atmosphere. You play as Jesse Faden, a woman lured into an underground facility called The Oldest House, where the Federal Bureau of Control offices have been taken over by otherworldly forces. You'll have to fight off mind-controlled soldiers and trans-dimensional entities using a morphing pistol known as the Service Weapon and some supernatural abilities you'll gain over time, Metroidvania-style. With its ethereal visual effects and unsettling vibe (inspired in part by SCP Foundation fiction), Control is a headtrip perfect for anyone who wants to shoot at Lovecraftian horrors which humanity can't even begin to understand.
Astral Chain
Platform(s): Switch
Release date: August 30, 2019
Bayonetta 3 isn't the only Switch exclusive that PlatinumGames has in the pipeline. Astral Chain is another rip-roaring, third-person brawler being directed by the lead designer of the phenomenal Nier: Automata, so you know to expect some top-notch, combo-heavy action. As a member of the high-tech Neuron police force protecting a cyberpunk city, you'll need to fight back invading creatures from another dimension with the help of Legion, your partner/weapon. Battles will be decided by how you utilize the dual nature of combat, as you and Legion choose to fight together or apart depending on the opposition.
Click 'Next Page' below to see even more new games of 2019 and beyond!