We're hurtling towards the end of the year, which can only mean one thing... the games are coming. Yes, this list of new games of 2019 is about to really hit its peak, with titles like Star Wars Jedi: Fallen Order and Pokemon Sword and Shield rounding out a brilliant year of gaming that has added some top notch titles to our best games of 2019. This ever-growing list features many future contenders for our round up of , be they on PS4, Xbox One, Nintendo Switch, or PC. With so many exciting upcoming games vying for your attention, it pays to plan ahead and figure out which titles you need to save up for, or book that vital release date off work. Here, you'll find the biggest new games of 2019, alongside some smaller titles that should also pique your interest.
It's all ordered by release date for easy browsing, with weekly updates to expand the lineup and account for any unfortunate delays. New games including Astral Chain and The Legend of Zelda: Link's Awakening have been added, while Gears 5, The Outer Worlds, Cyberpunk 2077, and more now have release dates. Be sure to check back regularly, and prepare yourself for another year full of wonderful games big and small.
Control
Platform(s): PC, PS4, Xbox One
Release date: August 27, 2019
The next game from Remedy Entertainment is a weird one, and we mean that in the best way possible. Control fuses elements of Max Payne's gunplay with Alan Wake's surreal, thoroughly creepy atmosphere. You play as Jesse Faden, a woman lured into an underground facility called The Oldest House, where the Federal Bureau of Control offices have been taken over by otherworldly forces. You'll have to fight off mind-controlled soldiers and trans-dimensional entities using a morphing pistol known as the Service Weapon and some supernatural abilities you'll gain over time, Metroidvania-style. With its ethereal visual effects and unsettling vibe (inspired in part by SCP Foundation fiction), Control is a headtrip perfect for anyone who wants to shoot at Lovecraftian horrors which humanity can't even begin to understand.
Astral Chain
Platform(s): Switch
Release date: August 30, 2019
Bayonetta 3 isn't the only Switch exclusive that PlatinumGames has in the pipeline. Astral Chain is another rip-roaring, third-person brawler being directed by the lead designer of the phenomenal Nier: Automata, so you know to expect some top-notch, combo-heavy action. As a member of the high-tech Neuron police force protecting a cyberpunk city, you'll need to fight back invading creatures from another dimension with the help of Legion, your partner/weapon. Battles will be decided by how you utilize the dual nature of combat, as you and Legion choose to fight together or apart depending on the opposition.
Gears 5
Platform(s): PC, Xbox One
Release date: September 10, 2019
If you thought Gears of War 4 played it a little too safe with its Stars Wars: The Force Awakens-style torch-passing story, Gears 5 wants to remind you that the series is never one to adhere to expectations. The Coalition's new protagonist is no longer walking dude-bro JD Phoenix, but former sidekick Kait, who decides to abandon her post as a Gear and discover her identity, now that we know she's related to the Locust Queen Myrrah in some form or another. Everything we've seen so far looks unexpectedly brilliant, but here's hoping Gears 5 has a few more surprises up its armoured sleeve than 2016's so-so reboot.
Borderlands 3
Platform(s): PC, PS4, Xbox One
Release date: September 13, 2019
It's been a long time coming, but Gearbox is finally giving us more of what we so desperately wanted with Borderlands 3, the next chapter in this beloved co-op loot shooter series. The cel-shaded, post-apocalyptic wastes are being lorded over by the big bad Calypso Twins, and a new foursome of Vault Hunters is out to stop them (fighting alongside plenty of familiar faces like Brick, Mordecai, Lilith, Tiny Tina, and many more). You'll take on the role of Moze the Gunner, Amara the Siren, FL4K the Beastmaster, or Zane the Operative as you mow down countless bandits, mutants, and critters in the pursuit of new guns, with over a billion variations for how these randomized firearms can blast your enemies to bits. I'm already itching to get my hands on a rifle that sprouts little legs and starts sprinting towards its target.
The Legend of Zelda: Link's Awakening
Platform(s): Switch
Release date: September 20, 2019
It's been over 25 years since The Legend of Zelda: Link's Awakening first graced the Game Boy, capturing the rich gameplay and captivating world of A Link to the Past and morphing it into a seaside adventure perfectly suited for Nintendo's handheld. Now, the classic island adventure is being lavishly remade for the Nintendo Switch, coating the tropical action in a coat of lovely HD paint while replicating its iconic level designs. The adorable new art style is subtly distinct from the likes of A Link Between Worlds, with Link and co. resembling cute minifigures - but the gameplay looks just as timeless as the original.
Phoenix Point
Platform(s): PC, Xbox One
Release date: September 2019
Whether you played the original X-COM back in the day or love the modern reboots from 2K, there's just something satisfying about defending the planet from hostile aliens via tactical, turn-based battles full of sudden surprises and miraculous saves. If you're waiting impatiently for XCOM 3, you'll be happy to know that Phoenix Point - headed up by Julian Gollop, creator of the original X-COM - will scratch that same sci-fi strategy itch. In the desolate post-apocalypse of Phoenix Point, humanity has split into factions following a viral outbreak, and horrific aliens are terrorizing the wastes. As one of the factions fighting to protect Earth, you'll need to ally (or war) with other factions to bolster your forces, then take the fight to hordes of hideous, crab-human-hybrid mutants to ensure our species' survival.
The Outer Worlds
Platform(s): PC, PS4, Xbox One
Release date: October 25, 2019
If you're one of the many folks who was disappointed by the largely lifeless wasteland of Fallout 76, and you've still got a hankering for a truly great first-person RPG, The Outer Worlds could very well be the cure for what ails ya. This sci-fi adventure comes to us courtesy of Obsidian Entertainment, the studio behind Fallout: New Vegas, and it's packed with space-age personality. You'll meet chatty NPCs and shoot up all kinds of bandits and rogue robots during your travels, exploring an alien frontier that blends the Wild West with the Silver Age of space heroics. If you have a soft spot for Fallout, Borderlands, Rage, or any combination of the three, The Outer Worlds is definitely one to keep an eye on.
Death Stranding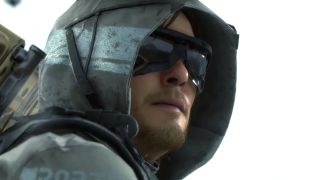 Platform(s): PC, PS4
Release date: November 8, 2019 (PS4) / TBC (PC)
Death Stranding is Hideo Kojima's first game after the Metal Gear franchise, and it's exclusive to PS4. Naturally, it features weird old babies and stars Norman Reedus, Mads Mikkelsen, Lea Seydoux, and other familiar faces from Hollywood. Each trailer has generated even more questions while giving few answers, but everything we've seen has been breahtaking, with main character Sam (Reedus) narrowly avoiding all kinds of nightmarish creatures as he delivers parcels around the world. Here's the best breakdown you'll read, but if you want the TLDR version: it's Kojima doing another high-quality action adventure with a ridiculously big budget, so get excited.
Pokemon Sword and Shield
Platform(s): Switch
Release date: November 15, 2019
Game Freak's best-known series officially enters Generation 8 now we know Pokemon Switch is called Pokemon Sword and Shield, the second set of mainline games on the Nintendo Switch after Pokemon Let's Go Eevee and Pikachu. The catch-'em-all, Gym-battling adventure takes place in the region of Galar this time around, which resembles modern-day England with its sprawling, picturesque countryside, contemporary city, and snowy villages. We're already having the most difficult time choosing between the three Pokemon Gen 8 starters, but social media seems to be quite taken with Sobble, the timid Water Lizard type.
Star Wars Jedi: Fallen Order
Platform(s): PC, PS4, Xbox One
Release date: November 15, 2019
Respawn Entertainment's Star Wars Jedi: Fallen Order had quite the showing at Star Wars Celebration 2019, and it looks like the Star Wars game we've been waiting for. This single-player, third-person adventure follows Cal Kestis, an incognito Jedi who avoids detection by following three cardinal rules: "Don't stand out. Accept the past. Trust no one." But when he uses the Force in desperation, he finds himself on the run from an Imperial Inquisitor known as the Second Sister, who will stop at nothing to wipe this Jedi out like all the rest. Fallen Order takes place between Episodes 3 and 4 (hello there, Star Wars: Rogue One), when Order 66 is in full effect, so we can't wait to see how Cal fights for his survival using his lightsaber, Force powers, and wits.
Shenmue 3
Platform(s): PC, PS4
Release date: November 19, 2019
The Shenmue series was never a huge commercial success, but thanks in part to Kickstarter and thousands of fans' hard-earned dollars (plus some generous funding from Sony), the project is fully underway. In Shenmue 3, you'll take the role of a martial artist named Ryo Hazuki as he attempts to uncover who is responsible for his father's murder. It promises to have gameplay reminiscent of the previous titles, enabling players to take on enemies in hand-to-hand combat, upgrade combat abilities, and explore a living world full of villages, shops, and an active populous.
Doom Eternal
Platform(s): PC, PS4, Xbox One, Switch
Release date: November 22, 2019
Of course a sequel to 2016's Doom reboot is happening. Not only was it a magical comeback for FPS veteran developer id Software, but the game's flippant approach to contemporary game design and indulgent storytelling was a breath of fresh air in a claustrophobic corridor of play-it-safe products. Doom Eternal will bring the horrors of Hell to the Terra Firma itself, and Doomguy is not happy about it. Ready your trigger fingers for another epic battle with the underworld's pantheon of demonic fiends and nasties.
Click 'Next Page' below to see even more new games of 2019 and beyond!