Zenless Zone Zero is one of those upcoming PC games that you'll want to keep a close eye on. It's from HoYoverse, the studio behind the immensely popular Genshin Impact. There's only a little Zenless Zone Zero news floating around right now, especially as the studio is hard at work on Honkai: Star Rail, but we have collected everything there is to know about the game so far for you right here.
Zenless Zone Zero release date
HoYoverse is yet to announce a Zenless Zone Zero release date. However, following the game's reveal in May 2022, the developer has been holding regular closed beta tests to get community feedback on this upcoming action RPG. With HoYoverse expected to launch Honkai: Star Rail as a new game of 2023, it's likely that Zenless Zone Zero will launch after.
Zenless Zone Zero platforms
While miHoYo has seen massive success with Genshin Impact on PS5, PS4, and Switch, it would appear that the studio is keeping a tighter focus with its new action-RPG. The confirmed Zenless Zone Zero platforms are PC and iOS, and HoYoverse is yet to say whether it will ultimately come to console.
Zenless Zone Zero story
In Zenless Zone Zero, you'll be uncovering the mysteries behind the world known as New Eridu, the last remaining urban civilization. The rest of the world has been destroyed by a supernatural disaster known as the Hollows; gateways that seem to appear out of thin air, giving way to twisted dimensions full of ethereal monsters.
The people of New Eridu managed to survive by extracting resources from the Hollows. Since then, the Hollows have become industrialized and monetized under the city's administration, leading to rivalry between various companies, gangs, and fanatics. However, to explore the Hollows, you need a professional guide known as a Proxy.
And guess what? You, the player, happens to be one such Proxy. You'll be teaming up with various groups of explorers, all with their own reasons to enter the disordered dimensions. Once in there, you'll battle monsters, help your employers to achieve their goals, and learn more about their stories.
The Zenless Zone Zero Hollows & New Eridu
One of the most important locations in Zenless Zone Zero is the big city, New Eridu. It's described as a "colorful metropolis" that is home to disaster refugees and survivors. The city is full of gangs, Hollow Raiders, "crazies", conspirators…. And Hollows.
Yes, the Hollows are the cause of the apocalypse, but not to worry; in New Eridu, the Hollows are used for industrial purposes. Little other-dimensional money-making machines, basically. The Ether extracted from the Hollows give New Eridu its special magic. Inside these abnormal spherical dimensions, we'll find monsters, thugs, Proxies, agencies, Hollow Raiders, and… Well, that sounds like half the city.
Zenless Zone Zero gameplay details
Zenless Zone Zero gameplay will be quite different from other HoYoverse titles. Everything we know about it so far indicates that we should expect action-RPG combat which are layered with roguelike mechanics.
You'll be taking on the role of Proxy, leading the character through hostile alternate dimensions called Hollows. Eventually, you'll be able to recruit other characters to your party, gaining the necessary strength to tackle some of the more challenging Ethereal. Eventually you'll be able to combine the powersets of these heroes, building combos and issuing more damage as you work to survive the more metropolitan city design which the game is set within.
Zenless Zone Zero factions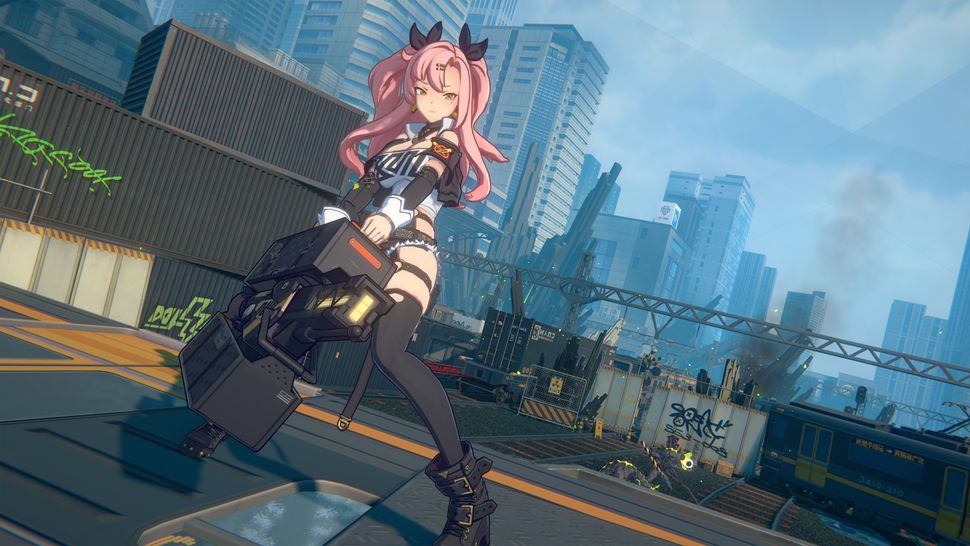 While Hoyoverse is yet to outline the full extent of the factions in this world, we do know of a few so far from all of the trailers. Below you'll find a brief overview on the key Zenless Zone Zero factions which we know about so far.
Gentle House, a.k.a. Cunning Hares: "always available for the right price". Apart from the girl with the cat ears, we've got a character description for every member of this odd-job agency below.
Belobog Industries. Interestingly, the big city in the other upcoming HoYoverse game, Honkai: Star Rail, is also called Belobog. Who's ready for the multiverse?
Faction Unknown This faction is yet to be detailed, but we do know that Soldier 11 is in their ranks. .
Victoria House Keeping. A girl in a maid costume and a wolf-like guy. It's unknown whether they're here for actual cleaning of demon-fighting.
Kitsune/oni faction. The final faction doesn't display a name yet, but its members are a black-haired girl with fox ears and a blue-skinned alien girl with horns. They appear to be mercenaries.
Zenless Zone Zero characters
There are 12 Zenless Zone Zero characters confirmed so far across the five main factions. That isn't all though, with Hoyoverse set to announce at least another five characters in the near future. The announced Zenless Zone Zero characters are as follows:
While we wait for more Zenless Zone Zero information, why not check out some of the best action games which you can play today.