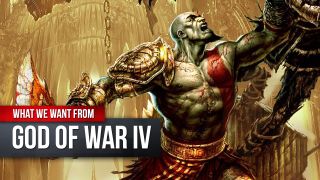 Will the God of War return?
Rumors are pointing towards a new God of War game hitting the PlayStation 4, and it's only a matter of time before we know exactly what it's going to entail. Some believe Kratos will throw his Blades of Chaos at Persian gods, while others argue that he's going to be pulling the heads off of the likes of Ra in Egypt. We're holding out hope for one set in the modern era, but we don't know if that's in the cards.
Either way, there's one thing everyone agrees on: Greece has to go. We've assembled a list of gods we want to slay in future God of War games to start getting excited for the potential sequel.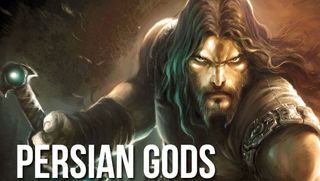 Persian
Some rumors point towards Kratos slaying different members of Persian mythology, so we've fished up (pun intended, but you won't get it until later) some immortals that the God of War would have some fun slaying.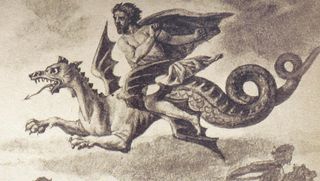 Zahhak
The Contender: A monster with three mouths, six eyes, and three heads, cunning, strong, and demonic. Man, once you start using demonic as an adjective you know theres an issue. This guy is pure evil: he possesses kings to destroy their kingdom, he cuts heroes in half with a saw, and lives in an inaccessible fortress so even if you wanted to settle your beef with him you couldnt.
The Fight: Because youre Kratos, you make your way into this inaccessible fortress by means of slaying everything in your path. The fight is reminisce of Hercules and the Hydra, with you slicing off those heads one by one until youve turned Zahhak into Pure.
The Finisher: We believe in Karma, and so Kratos takes a decorative saw off the wall and uses it to slice Zahhak in half. Because screw you dude.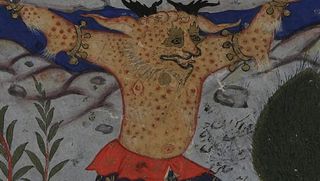 Aka Manah
The Contender: Depending on who you talk to, Aka Manahs name can either mean Evil Mind, Evil Purpose, Evil Thinking, or Evil Intention. Common thread: evil. Aka Manah is so evil, in fact, that his name became a descriptor, with people of ancient Persian times using it to mean, I done messed up bad. In one of the most famous iterations of Aka Manah, he poses ninety-nine questions to weaken a prophet's conviction. Pop quizzing = pure evil.
The Fight: Half puzzle, half fight, Aka Manah will try his darndest to confuse you with illusions and tricks. But once you fight through those, youre left to brawl with his true form: a man with the head of an elephant, a mouth of tusks instead of teeth with long hair and blue eyes.
The Finisher: Kratos rips out Aka Manahs tusks and eviscerates the God with them. Obviously.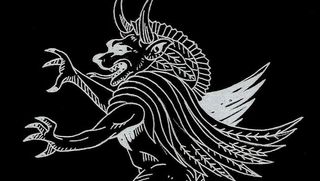 Angra Mainyu
The Contender: God of darkness, the eternal destroyer of good, personification and creator of evil, bringer of death and disease. Angra Mainyu introduced the frost in winter, the heat in summer, and everything else thats awful. You know when youre sitting on your couch and its, like, 80 degrees outside and youre like, man, Im just uncomfortably hot right now. You can thank Angra Mainyu for that. But in all seriousness this guy is all the worst parts of Hades, Lucifer, and Abaddon.
The Fight: Angra Mainyu is said to be readying an army of darkness to sweep the land of the holy. That means that Kratos will have to slog through thousands of underlings before getting to the big guy himself. Mainyu will also be a few hundred feet tall which Kratos will have to climb because reasons.
The Finisher: At the end of the fight Kratos is blessed with the divine spirit of the holy Gods. He climbs to Angra Mainyus head and, using his arm which has transformed into a Holy Drill, bores down through the skull, brains, mouth, throat, heart, lungs, liver, stomach, bowels, kneecaps and out through the feet of Angra Mainyu. Ouch.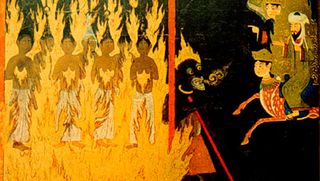 Asto Vidatu
The Contender: So check this immortal asshole out. He is the Persian demon of death whom, its said, no human has escaped. How does he do that? Well after you die, as youre rising to heaven, he fishes you out of the sky with a noose. Are you serious? Hes not even the God of death, hes just a demon whos taken it upon himself to make the afterlife miserable for everyone.
The Fight: After a brief stint in the Persian underworld, Kratos decides its time to go back to the land of the living. All of a sudden a noose loops around his ankle and pulls him back down. Thus begins the long-range fight of Kratos throwing boulders/his blades all while trying to avoid that dreaded noose.
The Finisher: Who doesnt love irony? Kratos rips the noose from Asto Vidatus grasp and uses it to pull the demon apart limb from limb.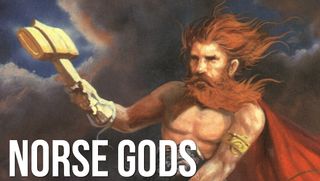 Norse
Norse mythology is teeming with warmongers and trouble starters; many could give Kratos a run for his orbs and players an exciting change of pace. From lords of thunder to defenders of Asgard, there are a tons of worthy candidates to toss in Kratos' path. For example...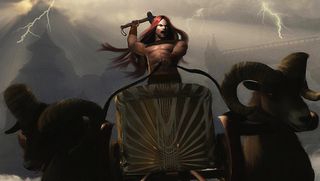 Magni
The Fight: The showdown takes place in mountains of Jtunheimr, land of giants, where Kratos ascends its highest peaks while dodging falling debris and hammer blows form Magni up above.
The Finisher: Kratos rips Mjolnir from Magni's broken hands, winds up with the twirl of the DualShock analog stick, and smacks Magni off the mountain peak.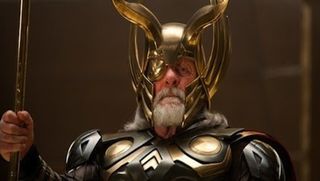 Odin
The Fight: Drawn to the ghostly halls of Valhalla, Kratos meets Odin in all his shape-shifting, spear-chucking, beard-whipping glory. Between up-close scuffles, Odin retreats to the rafters to summon enemies from Kratos' past who have been lurking within Valhalla in anticipation of the Spartan's arrival.
The Finisher: Kratos snaps off a golden shield from Valhalla's roof and uses it to shove Odin inch-by-inch into the hall's mighty oven.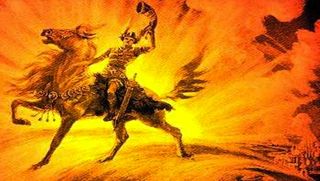 Heimdall
The Fight: Kratos stumbles across the Bitfrost as the legendary bridge cracks and warps with every blow of Heimdall's mighty horn.
The Finisher: Kratos first spears Heimdall with a jagged fragment of the Bitfrost. Before the god can get back on his feet, Kratos recovers Gjallarhorn, takes a deep breath, and incinerates the god with one long note.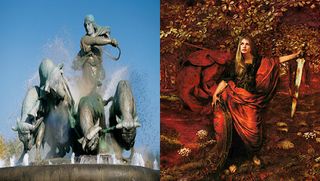 Gefion & Sjfn
The Fight: Kratos is lured into Sjfn's Pleasure Dome where hordes of brainwashed, love-sick warriors are eager to rip off a piece of the Ghost of Sparta. Gefion observes from high above, swooping in with her trademark plough to smash Kratos aside and clear the arena for wave after wave of fighters.
The Finisher: Kratos wrestles control of Gefion's plough, dismantles the pillars of the Pleasure Dome, and watches from afar as Goddesses are buried in its rubble.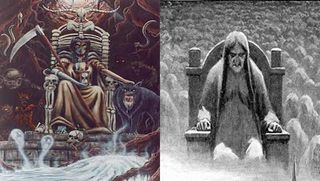 Hel
The Fight: Kratos ascends one of Hel's (the land, not the lady) demonic mansions floor by floor, hacking away at Hel (the lady, not the land) from various heights and avoiding the wreckage as the hell-house falls down around him.
The Finisher: Kratos tears a razor sharp roof ornament from its foundation and plunges it deep into Hel's bosom.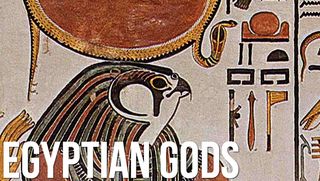 Egypt
Egypt's legends are fertile grounds for tales of war, murder, revenge, and devastation. You'd be hard-pressed to find any god, goddess, or monster who hasn't gotten their hands dirty--and if there's one thing Kratos likes in his victims, it's a sordid past.
With over a hundred Egyptian deities to choose from, here's who we'd like to fight first...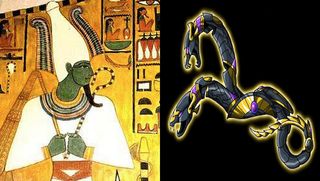 Osiris and Nehebkau
The Fight: Kratos sprints through a maze-like string of catacombs towards Osiris's throne room, fending off attacks from Nehebkau at every turn.
The Finisher: Kratos uses Nehebkau's defeated body as a lasso, snags Osiris by his goatee, and flings him into Duat's burning ring of fire.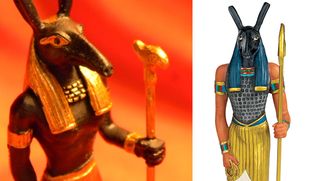 Seth
The Fight: Kratos and Seth trade blows in the eye of a desert storm. Buried ruins emerge as the storm intensifies, altering their arena with every passing second.
The Finisher: Swept up by the storm, Kratos smashes Seth's snout and pile drives the stunned god into the ruins below.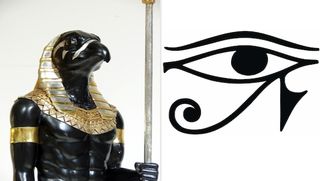 Horus
The Fight: Horus sits atop his throne as Kratos maneuvers his deadly gauntlet below, occasionally stepping in to disrupt the warrior's progress.
The Finisher: Kratos bests the last of Horus' tests and is duly rewarded with a mighty feast/orgy inside Horus' temple. Who said these things always have to end up bloody?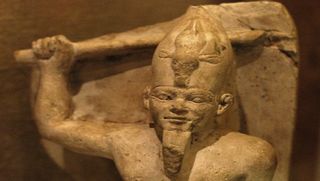 Reshef
The Fight: Kratos and Reshef trade shots across the raging Nile Delta, and after a harried scramble across the raging waters, Kratos washes ashore at Het-Rehsp to land the final blow.
The Finisher: Kratos drags Egypt's battered God of War to the shores of the nile, dunks Reshef below its surface, and holds him under until the air bubbles stop.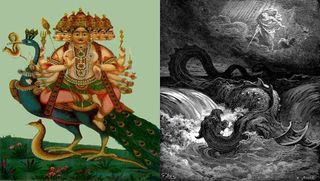 Yam
The Fight: Think Moby Dick, except with Kratos as the rage-filled Ahab and Yam's pet Leviathan as the bloodthirsty whale (yeah, we didn't read the book). The fight begins aboard a ship, but moves underwater when Leviathan yanks Kratos below and pulls him kicking and punching into Yam's stronghold.
The Finisher: Hacking off the Leviathan's limb, Kratos frees himself in enough time to wrench a tooth from the monster's jaw and stab it through Yam's throat.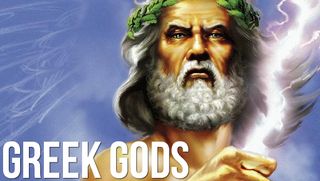 Greek
At last we come to the Greeks. What can we say? We're a sucker for the classics. True, Kratos has already reduced the Greek pantheon by a considerable amount, but there's still more Greek higher-ups that we'd like to see face those Blades of Chaos....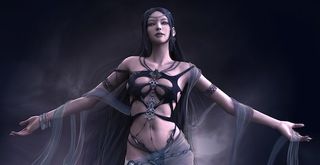 Nyx
The Contender: The daughter of Chaos and Goddess of the Night, Nyx is known as the mother of dark spirits and that shady chick who (allegedly) slept with Cerberus to create the hellhounds. Yeah, let that sink in for a moment. Since Kratos is destined to slaughter a handful of her offspring in later adventures (i.e. Thanatos and The Fates), it's only fair that Nyx gets a chance to dole out some motherly vengeance ... even if it's a tad preemptive.
The Fight: Nyx is often depicted atop her chariot, but Helios already cribbed that style in God of War III. Instead, we see Nyx going the winged-goddess route and weaving in and out of the shadows as Kratos deals with her hellhounds. Freezing Nyx in place with the Life Cycle would be key to victory, with the prize being Nyx's Shroud, which would grant Kratos the power to summon his own hellhound in battle.
The Finisher: De-winged and beaten to a pulp, Kratos whips the hellhounds into a frenzy and sets them loose to feed on their creator.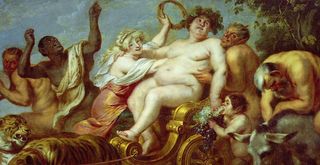 Dionysus
The Contender: Dionysus--God of booze, sex, and rock-and-roll--has so far been shafted from a full God of War appearance, and to us that's a major party foul. This is the deity who's notorious for switching moods on a dime; offering free drinks one moment and drowning villagers the next. It's this unpredictable madness that makes Dionysus more than an immortal frat boy, and a serious threat to Kratos.
The Fight: It begins with Kratos crashing Dioynsus's orgy where he must launch ecstasy-addled followers at the god to knock him from his golden perch. With Dionysus dethroned, Kratos would lay into him via QTE, ending each combo by smashing his smug face with the nearest goblet. And then, who knows? A drinking game would be cool.
The Finisher: Kratos severs Dionysus's arms, dunks his head into a vat of wine, and holds him underwater until the bubbles stop.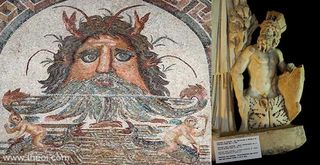 Pontus
The Contender: Before Poseidon got his feet wet, it was Pontos (son and wife of Gaia) who ruled the seas. We also loved God of War III's opening battle with Poseidon, so digging up his predecessor is a smart way to re-imagine one of the series's most memorable encounters.
The Fight: It starts with Pontus decimating Kratos ship and using its debris to knock Kratos from his floating platform. Between dodging the missiles and fending off sea nymphs, players would need to freeze the debris in mid-air with the Life Cycle and use the suspended flotsam and jetsam as a make-shift bridge to Pontus.
The Finisher: Kratos plunges into Pontus's throat, hooks his chains to a swirling crate of dynamite, and hucks it at Pontus's heart.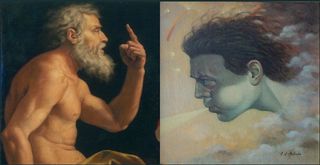 Aeolus
The Contender: Serving as a ruler of the winds, Aeolus isn't the highest ranking god around, but his ability to move unseen would make him an exciting challenge. Putting this deity down could reward players with a weapon imbued with the powers of wind or an item allowing Kratos to slip by ancient traps unseen.
The Fight: Lifted skyward on the back of a Phoenix, Kratos would need to scan the skies for Aeolus, lock him in place with the Life Cycle when he materializes, and take his shot as the Titan hovers defenseless. The lofty battle would end with a free-fall beatdown.
The Finisher: Kratos grates Aeolus against the side of a mountain and is blown to safety once the god's body reverts to its natural form.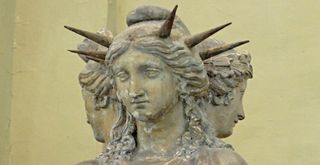 Hekate
The Contender: Hekate is revered in Wiccan circles as the Goddess of magic, ghosts, necromancy, and pretty much everything that goes bump in the night. As the witch of all witches, she would pose a supernatural challenge to Kratos, and perhaps award players with Hekate's Crown, allowing them to raise fallen enemies to do their bidding.
The Fight: A God of War game isn't complete without a trip through hades, and seeing as Hekate has a ton of underworld connections, it's about time she got her hands dirty. Hekate's fight would play out as something of a horde mode, pitting Kratos against waves of undead while Hekate controls the horde from the middle. As a twist, Hekate could remap Kratos controls, forcing players to wrestle with a possessed Spartan.
The Finisher: Ripping out Hekate's tongue to silence the witch for good, Kratos strings her up with the entrails of the undead and pulls her apart with one final tug.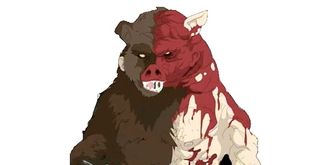 Agrius and Oreius (aka the Bear Twins)
The Contender: Agrius and Oreius were the sons of Polyphonte, who was tricked by her daughter Aphrodite to fall in love with a bear and--well--you know where this goes. While giving birth to illegitimate man-bear twins--envisioned by South Park above (minus the pig)--sounds like the plot of an awesome sitcom, it's also a perfect set up for a dual-boss encounter.
The Fight: The fight would take place on the Bear Twins themselves as they rampage through a forest. Kratos, of course, would be hopping between the two, hacking off weak points. With Agrius down, the battle would transition into a QTE sequence as Oreius carries Kratos to the edge of a cliff.
The Finisher: Kratos slashes Oreius's ankles with Agrius's severed claw and kicks him off the cliff where the man-bear is impaled by a mighty redwood.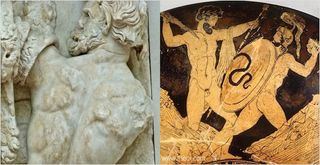 Porphyrion
The Contender: Porphyrion was king of the giants until he took an Eros to the knee. But since death is but a speed-bump in God of War, we see no reason why Sony can't resurrect the former big boy for one more showdown. After all, he is the freaking King of the Giants, and in our book that means VIP access to any fight.
The Fight: One giant. One Spartan. One ring. This mano-a-mano match would take place in a coliseum where Kratos would have to find a way of stunning Porphyrion in battle, after which he'd use his chains to grasp surrounding columns and bring them crashing down on the giant's helpless body.
The Finisher: Kratos QTE's a path to Porphyrion's heart, zaps it with Life Cycle magic, and steps back as Porphyrion freezes in place.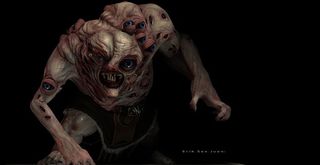 Argus
The Contender: Hera's 100-eyed pet had a low-res part in God of War: Betrayal, but he was cut from God of War III after the developers decided he didn't fit the plot. We call shenanigans. A 100-eyed monster fits any plot, anywhere, anytime--no excuses.
The Fight: We see Argus chasing Kratos through an ancient city, forcing players to run, leap, and swing for safety while popping the beast's eyes with pointy objects along the way. To finish the fight, Kratos would need to rebuild a tower with Life Cycle magic, scurry up its topmost turret, and stand his ground in a face-to-face showdown with the former giant.
The Finisher: Kratos binds Argus to the tower with his chains, dislodges a nearby statue, and drives it through Argus's remaining eye.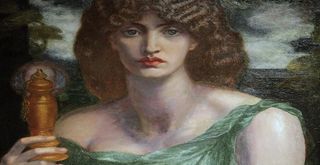 Mnemosyne
The Contender: As the Titan of memory and remembrance, we envision Mnemosyne putting Kratos through an epic mind-trip populated by his inner-most demons, nightmares, and past foes. Considering the fate of Kratos's wife and child, Mnemosyne would have a lot of material to work with.
The Fight: Unshackled by game logic, developers could cast Kratos in his own episode of This is Your Life, re-introducing enemies and bosses from his past and--dare we say?--future. Mnemosyne would control the nightmare from afar, swooping in for a final showdown only after Kratos has bested her tests.
The Finisher: Kratos smashes a hole into Mnemosyne's noggin and lays waste to the gooey brain matter inside.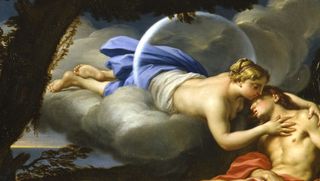 Selene
The Contender: Remember Helios? Greek personification of the sun? The dude who had his head bashed in by Kratos right before it was ripped off and used as a handy flashlight? Yeah him. Well, Helios has a sister, Selene--Titan of the moon--and since God of War likes to keep it in the family, we'd like to see her shortly. Plus, if tradition serves, her head would make a handy telescope.
The Fight: As cool as a Selene-O-scope may be, we don't see Kratos killing this relatively peaceful Titan. Instead, we envision Selene testing Kratos' skill against waves of underlings while she hangs peacefully above, lit behind by a dreamy moonscape. Too artsy? Maybe, but in the ultra-violent world of Kratos, a little breather from the blood and guts might be a nice change of pace.
The Finisher: Kratos yanks Selene from the sky, and coerces her into handing over whatever magical MacGuffin he needs to continue.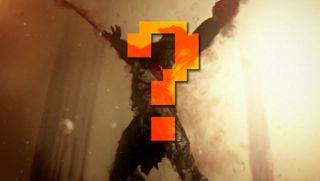 Finish him
That should keep Kratos busy. At least until God of War V.
With hundreds of qualified candidates to choose from, we couldn't possibly cover every potential match-up. Let us know who we missed and who you'd like to see pit against the Ghost of Sparta in the comments below. Reversely, if you are one of the gods listed in this feature and wish to reign bloody vengeance upon its author, we ask that you submit your request through the proper channels.
Craving more God of War? Read our God of War: Ascension review, and find other video game eye candy in The most visually striking games of this generation. .